20+ Best Eco Friendly & Sustainable Gifts
December 3, 2019 | Kathryn Kellogg
Last Updated on January 13, 2022
Say goodbye to boring gifts that no one cares about and hello to Eco Friendly Gifts that are thoughtful, useful, sustainable, and ethical. If finding practical and environmentally friendly gifts is your goal, you just struck gold!
Adopting a more minimal and low-waste lifestyle is incredibly easy to do and it just makes sense to include the practice into gift-giving as well.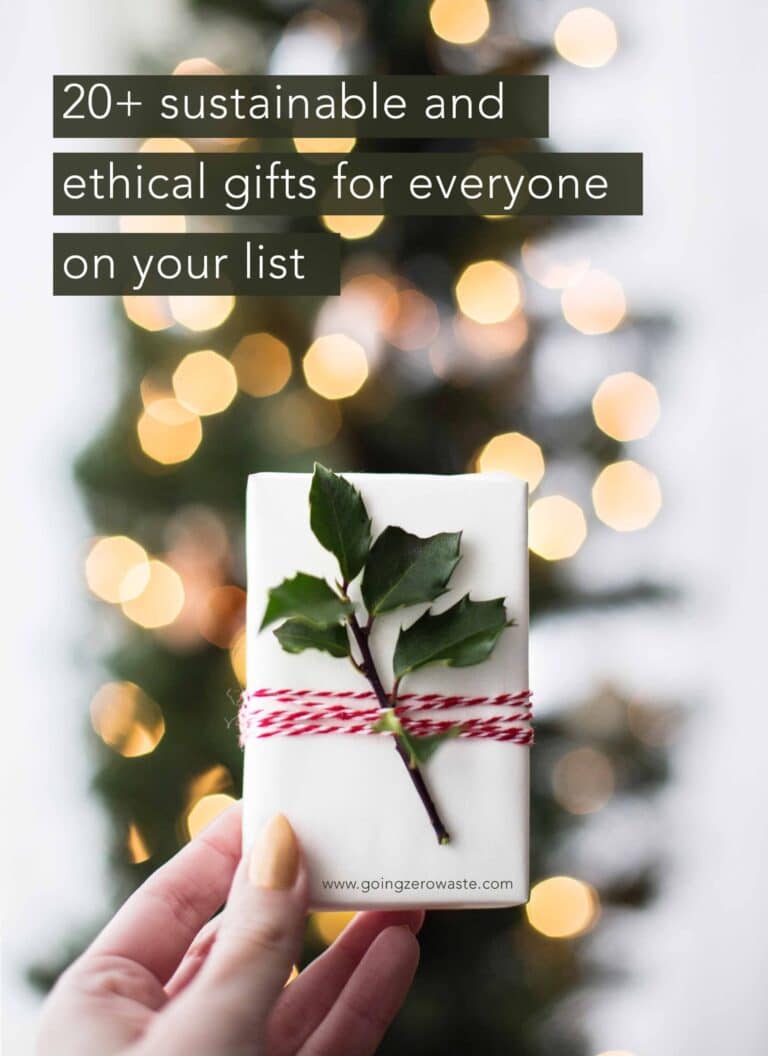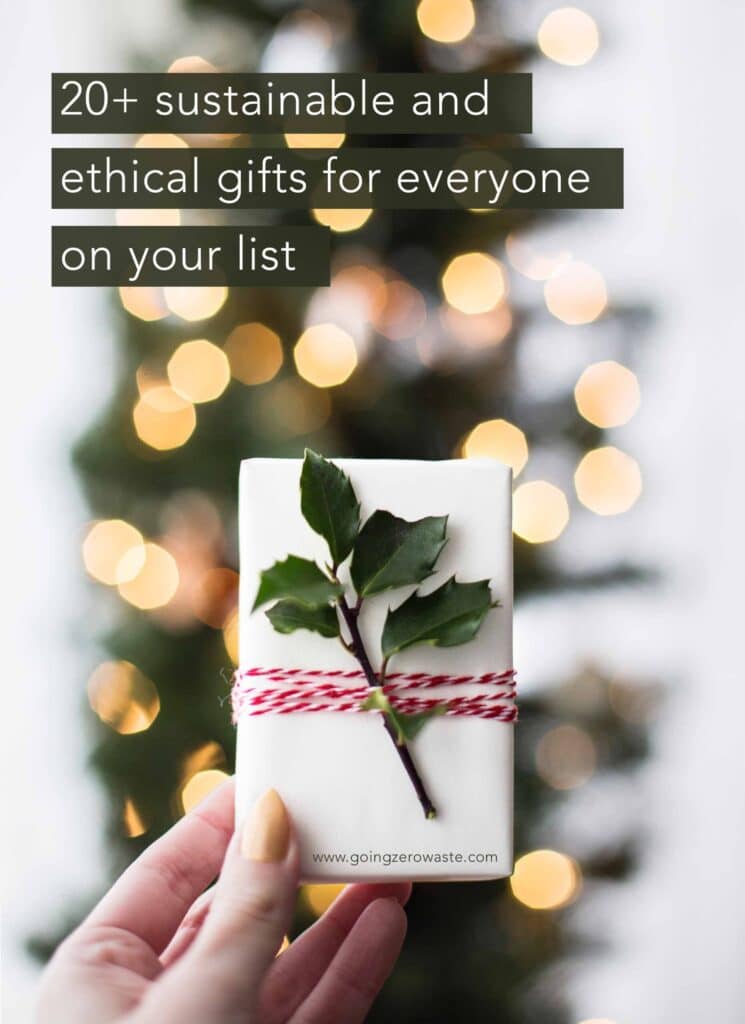 Some of the links below are affiliate links for more information please see my disclosure policy.
This sustainable gift guide offers many ideas that your environment loving friends and family will adore. You will find ethical gifts for the adventurer, fashionista, budding environmentalist, and foodie in your life. Additionally, we will explain what eco-friendly gifts are as well as other common questions.
I adore gifting and receiving physical gifts as well as gifting experiences and consumable gifts.
Gifting physical gifts is a rare opportunity to spread the sustainable living message in a kind way.
what are eco-friendly gifts?
They are gifts that aren't hurtful to our environment and are made with low-impact supplies and materials. This means that they won't leave a negative effect on the environment. In many cases, the times are made with recycled or repurposed materials ensuring we aren't depleting natural resources.
sustainable gifts for the adventurer
I think there's a direct correlation between being present in nature and wanting to preserve it.
Plus, getting outside also helps to decrease stress, improve mood, and gives you some good old vitamin D!
So, if you're looking for a gift a friend who loves being outdoors, you are going to love these ideas!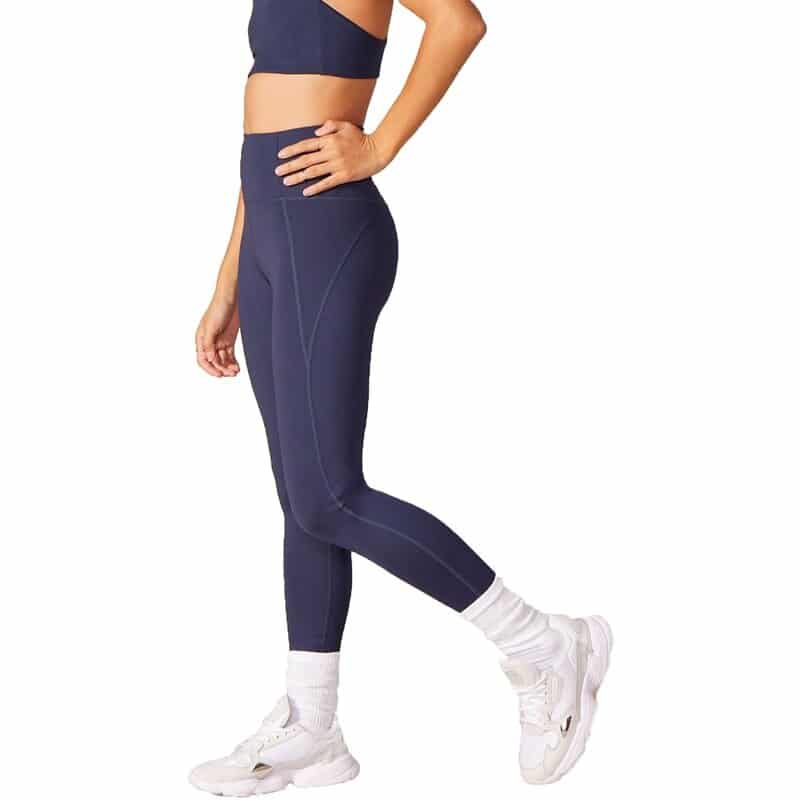 Girlfriend Collective Leggings
These leggings are made from 25 post-consumer water bottles which prevents 18.61 pounds of CO2 emissions, and saves 3.11 gallons of water compared to typical alternatives!
You can feel extra good about buying them through Earth Hero (the motherland for sustainable living supplies) because they give back to 1% for the planet with every purchase and they offset the carbon footprint for all of their purchases!
Another one of my favorite aspects is that Girlfriend has a recycling program called ReGirlfriend so you can send your leggings back for recycling.
Check out the Midnight Leggings use the code 'GOZERO' to get 10% off!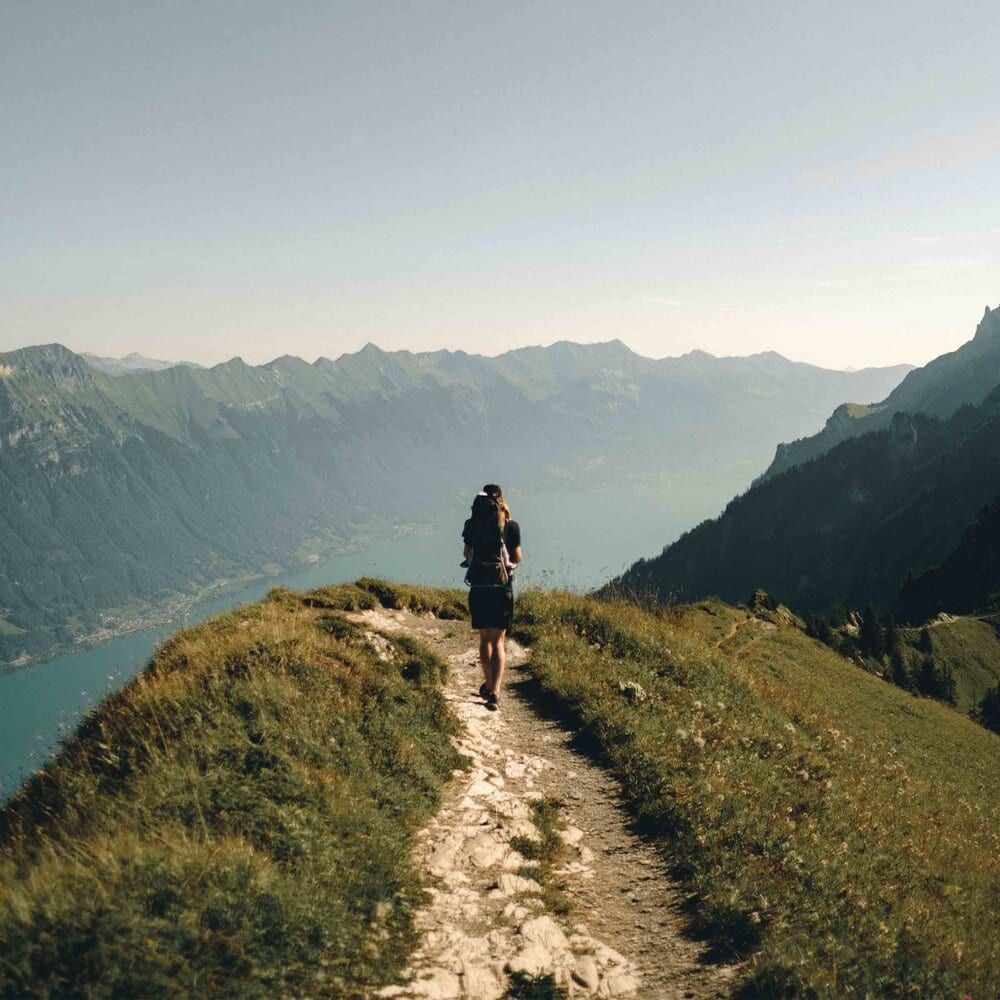 REI Adventures
Know someone who wants to get outside and explore the world in 2020?
Then you've got to check out the REI Adventures tab!
REI offers trips of a lifetime so you can scale Half Dome, kayak through the Grand Tetons, or adventure to an exotic location.
You'll get to meet likeminded individuals and be on the trail with local and knowledgeable guides that practice Leave No Trace principles.
This trips are especially great if you're just starting out because a guide will be there to help you get settled and show you the way!
Check out all REI Adventures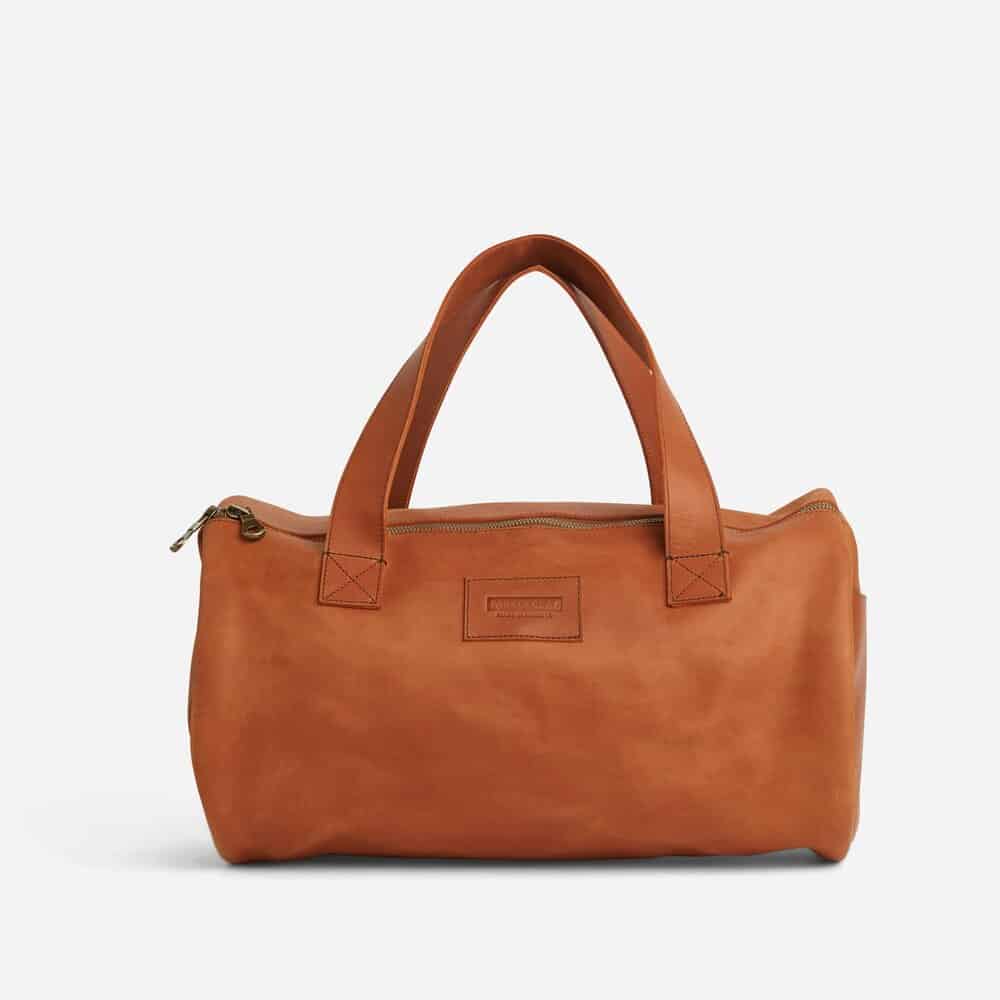 Parker Clay Overnight Bag
This stylish overnight bag is perfect whether you're heading home for the holidays or a little weekend getaway.
Parker Clay uses sustainable leather and they employ artisans from Addis Ababa.
Many of the women they employ have been impacted by human trafficking and the sex trade.
They provide pensions, health care, paid time off, access to transportation to and from work, and even laundry service!
Check out the Overnight Bag
environmentally friendly gifts for a new home or apartment
These sustainable gift ideas are ideal for someone who moved and is on an eco-friendly journey. College students, first-time homebuyers, and people who live in an apartment will adore these considerate and useful gifts.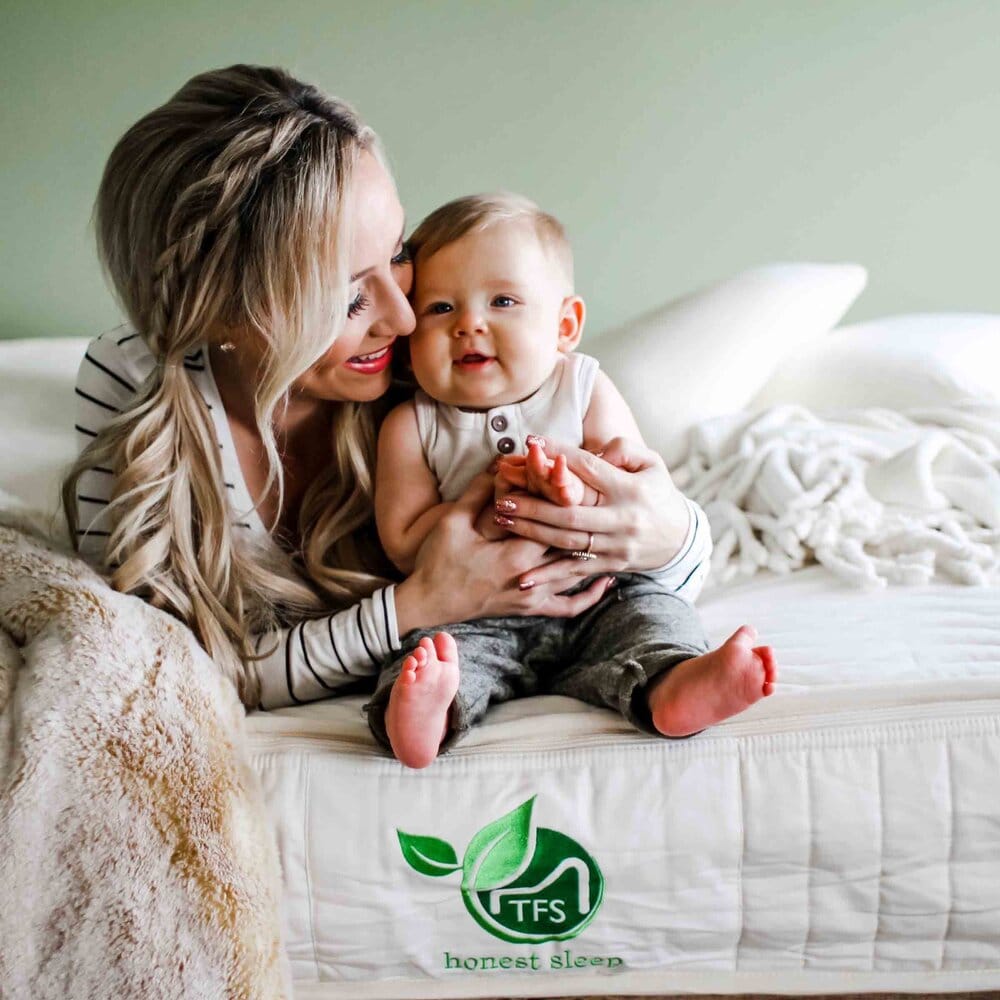 Nova Organic Latex Wool Futon Mattress
I've had my Futon Shop mattress for almost three years now and I am so incredibly happy with it!
The Futon Shop's mattresses are hand stitched right in the heart of San Francisco. They're insanely comfortable and they're made with certified organic ingredients so you don't have to worry about off gassing when you go to sleep.
Their organic mattresses are priced so reasonably this really is the perfect gift for someone who just got a new place!
Check out the Nova Mattress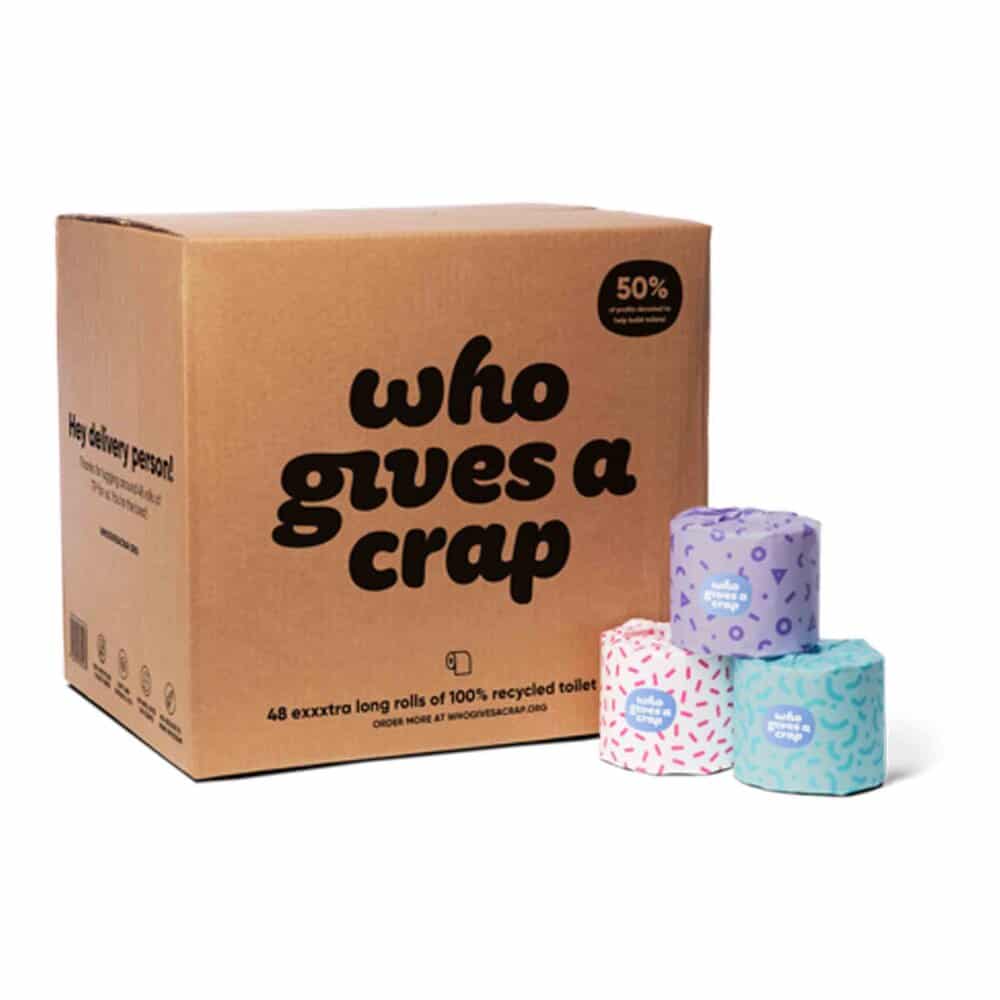 Recycled Toilet Paper
You know you're an adult when you get really excited about receiving toilet paper! It's even better when it's delivered right to your door step.
Who Gives A Crap donates 50% of their profits to fund hygiene and sanitation projects like clean water and toilets.
They have a tree-free option, but my personal favorite is their 3-ply made with recycled paper, and they don't use inks, dyes, or scents!
Check out the Recycled TP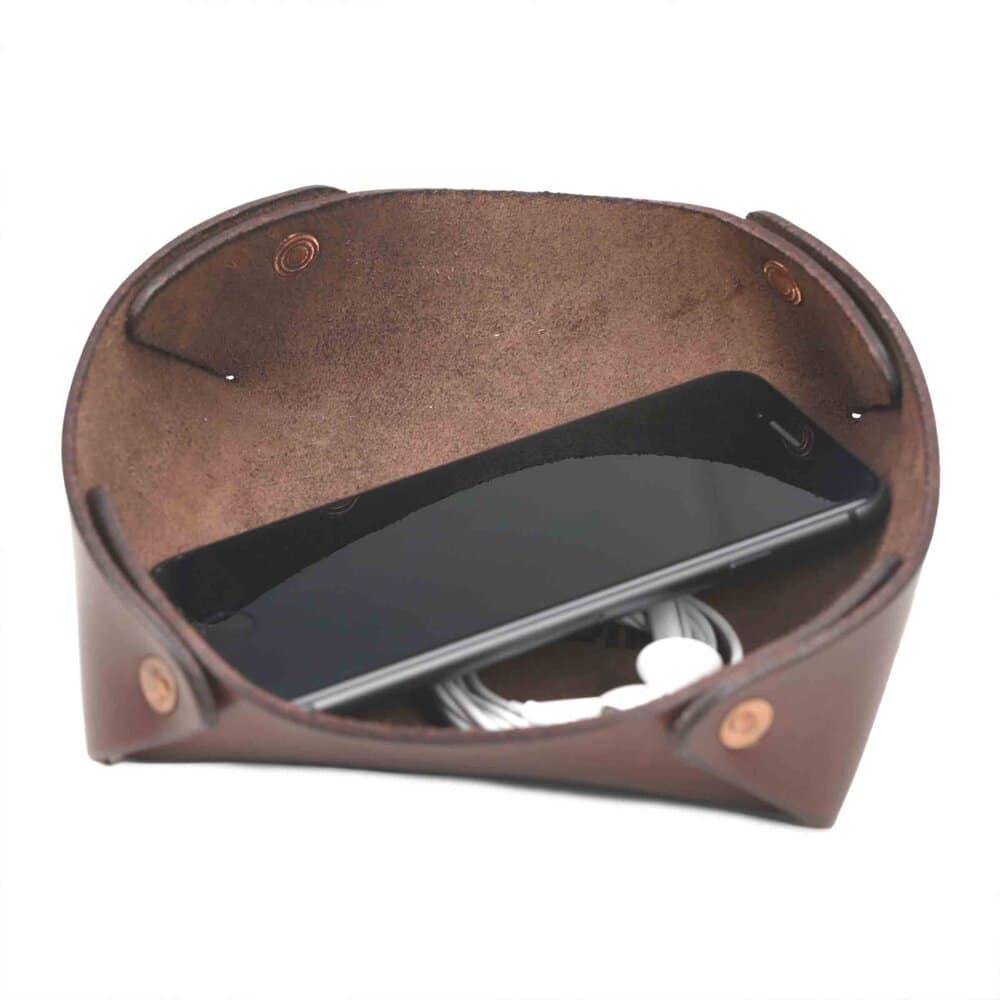 Leather Valet Tray
Justin has this tray sitting up in his office and its perfect for keeping his keys, phone and wallet organized!
This full grain, vegetable tanned leather tray is burnished with beeswax, and has a lifetime warranty.
Alta Andina's handcrafted leather goods are ethically made with their transparent supply chain located in the Andes.
Check out the Valet Tray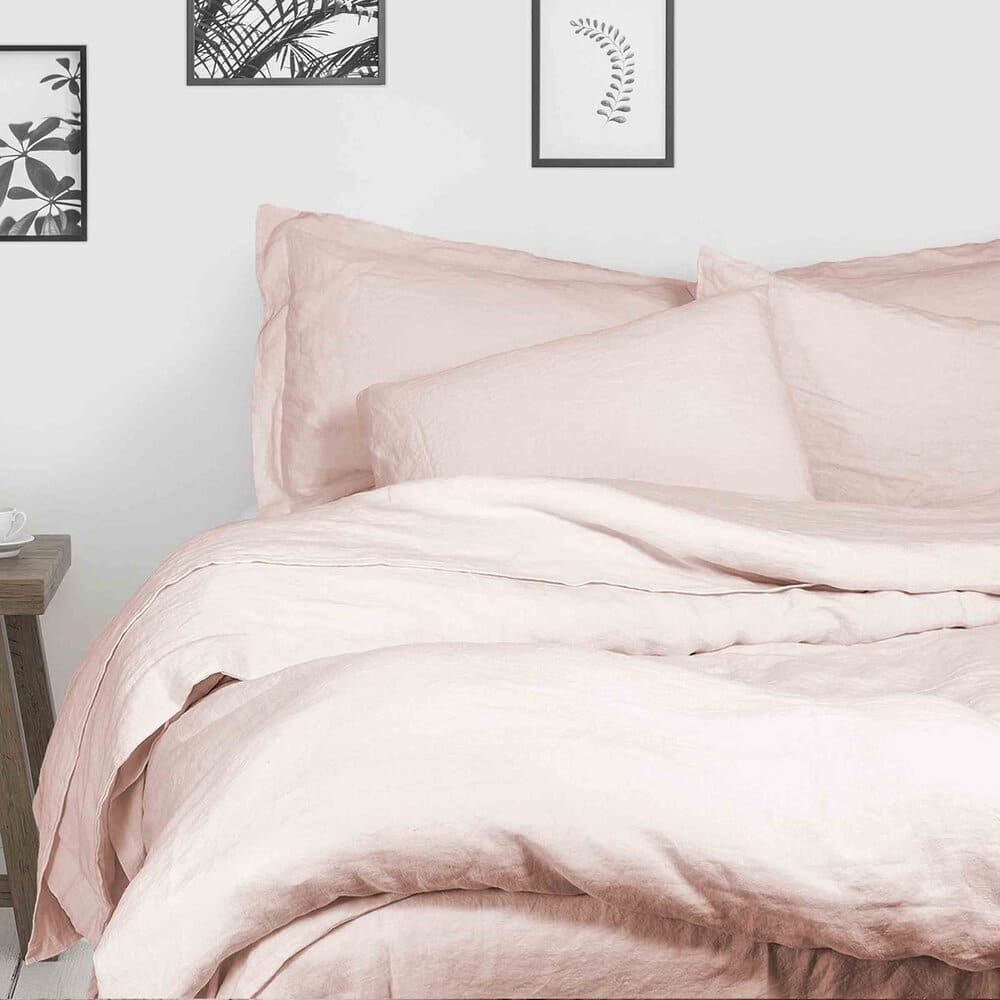 Bedding Bundle
Linen sheets are my all time favorite type of sheets. SOL Organics uses linen made from the finest Certified European Flax in the world.
Linen is wonderful at temperature regulation keeping you cool in the summer and warm during the winter making this set perfect year-round.
SOL Organics is fair trade uses no plastic packaging for shipping, and proceeds from each sale goes to charity.
Check out the Linen Bedding Bundle and get 20% off with the code 'GZW20'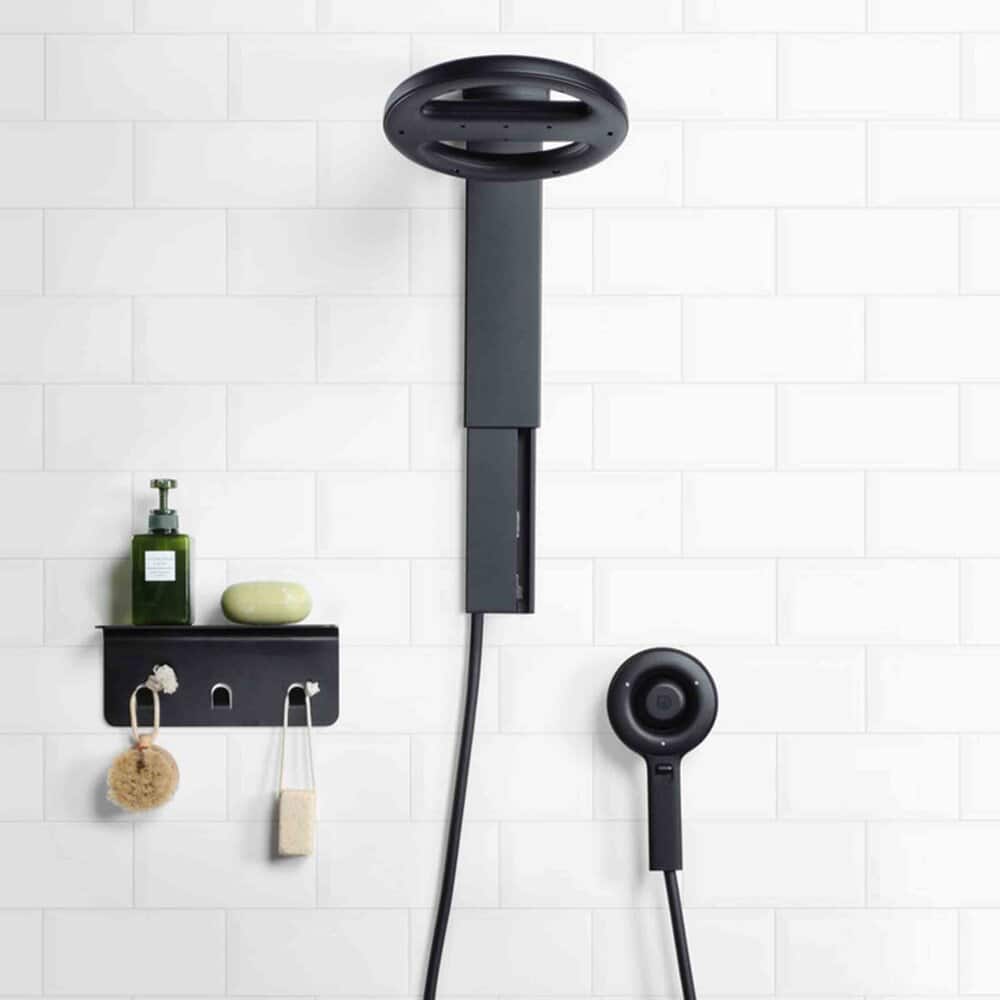 Nebia Shower 2.0
This is a revolutionary shower experience! The Nebia shower offers 3X faster droplets and 2X greater coverage than a standard shower, all while saving up to 65% of water.
The Nebia shower head is easy to install, slides to accommodate all heights, and provides a spa-like experience to start or finish your day.
US made and US sourced with low-impact, recyclable packaging.
Check out Nebia 2.0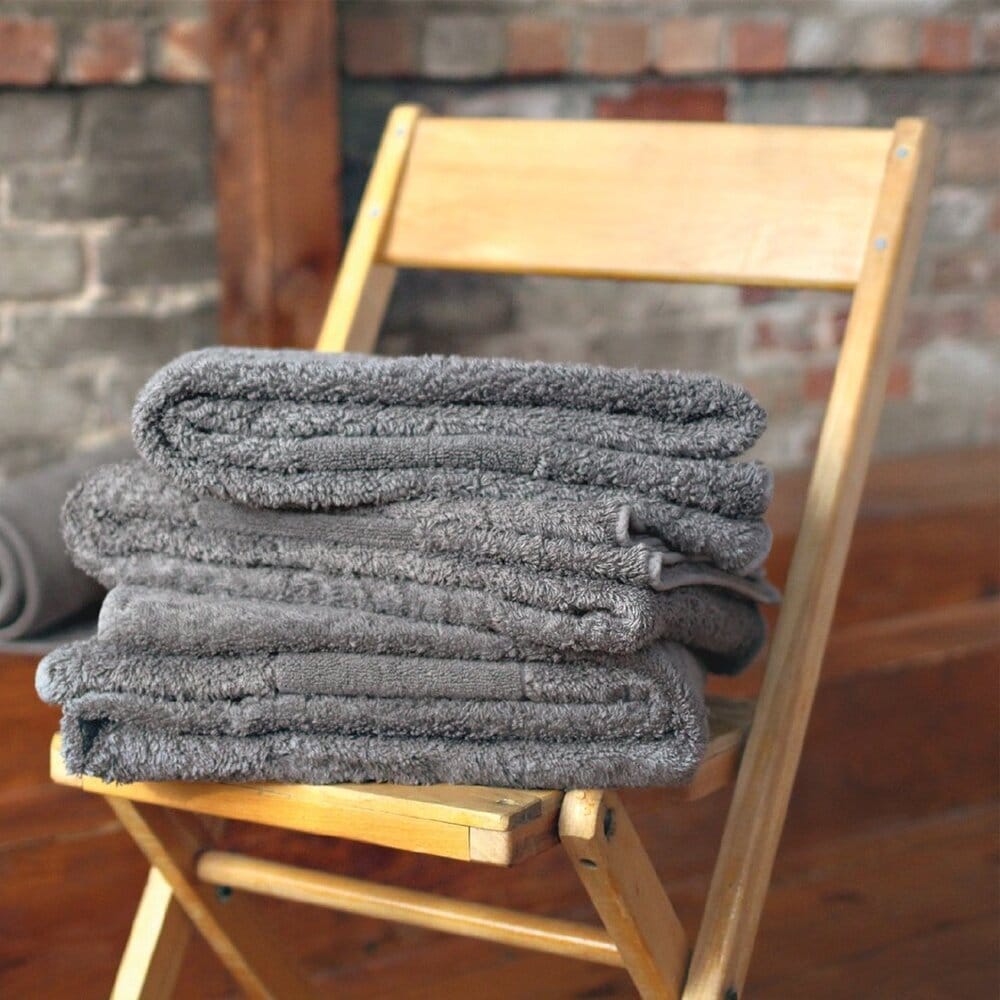 Organic Bath Towels
These towels are hands down the softest, coziest towels of all time. They're my absolute favorite. They're made of super plush organic cotton – a super Plush Long Staple 700 GSM High Pile Z Twist to be exact!
SOL Organics uses Fair Trade cotton, all of their workers are paid a living wage, and they never-ever use child labor.
They don't use any plastic packaging for shipping and proceeds from each sale goes to charity.
Check out the Organic Bath Towels
eco-friendly gift ideas for the budding environmentalist
When I first started going zero waste I was on a super tight budget.
Most of my fancy zero-waste items were given to me by friends and family during Christmas.
So whether you're trying to foster someone's love for the planet or spark an interest in ethical gifts, these are some great ideas that are budget friendly.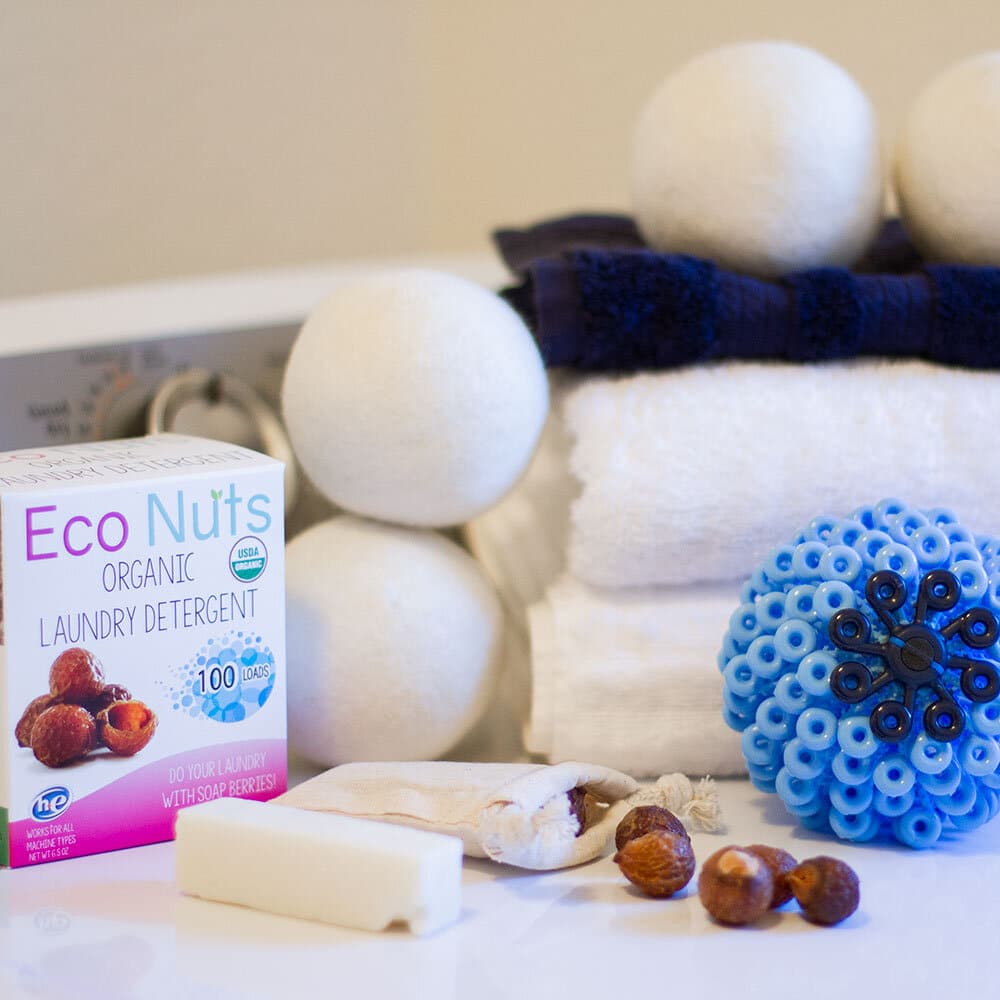 Non-Toxic Laundry Bundle
This bundle is the perfect gift to get someone interested in greening their cleaning routine.
This bundle from Earth Hero includes a Cora Ball which catches microplastics to prevent them from winding up in waterways, wool Dryer Balls which replace dryer sheets, soap nuts, a laundry stain stick, an a mesh laundry bag made of organic cotton which is great for keeping all of your delicate items together.
All of Earth Hero's shipments are carbon neutral and they give back with every purchase!
Check out the Non-Toxic Laundry Bundle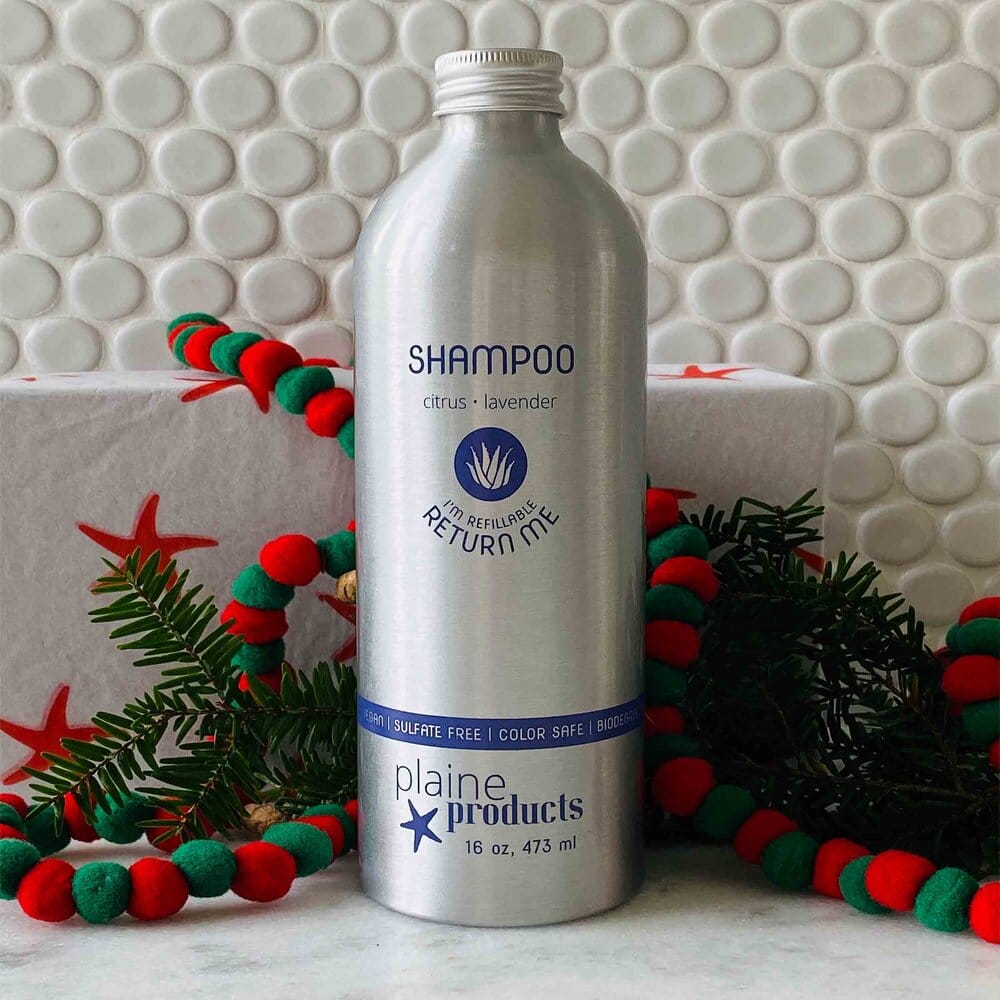 Shampoo & Conditioner Gift Box
This liquid shampoo and conditioner comes in an aluminum bottle that you can send back to be sanitized and refilled, but hold onto your plastic pump! They're so serious about refilling that the plastic pump is a separate item, but don't worry it is free with your purchase if you need one.
Plaine Products is also a member of 1% for the planet so you can feel good about a portion of each sale going back to charity.
Check out Plaine Products Shampoo and Conditioner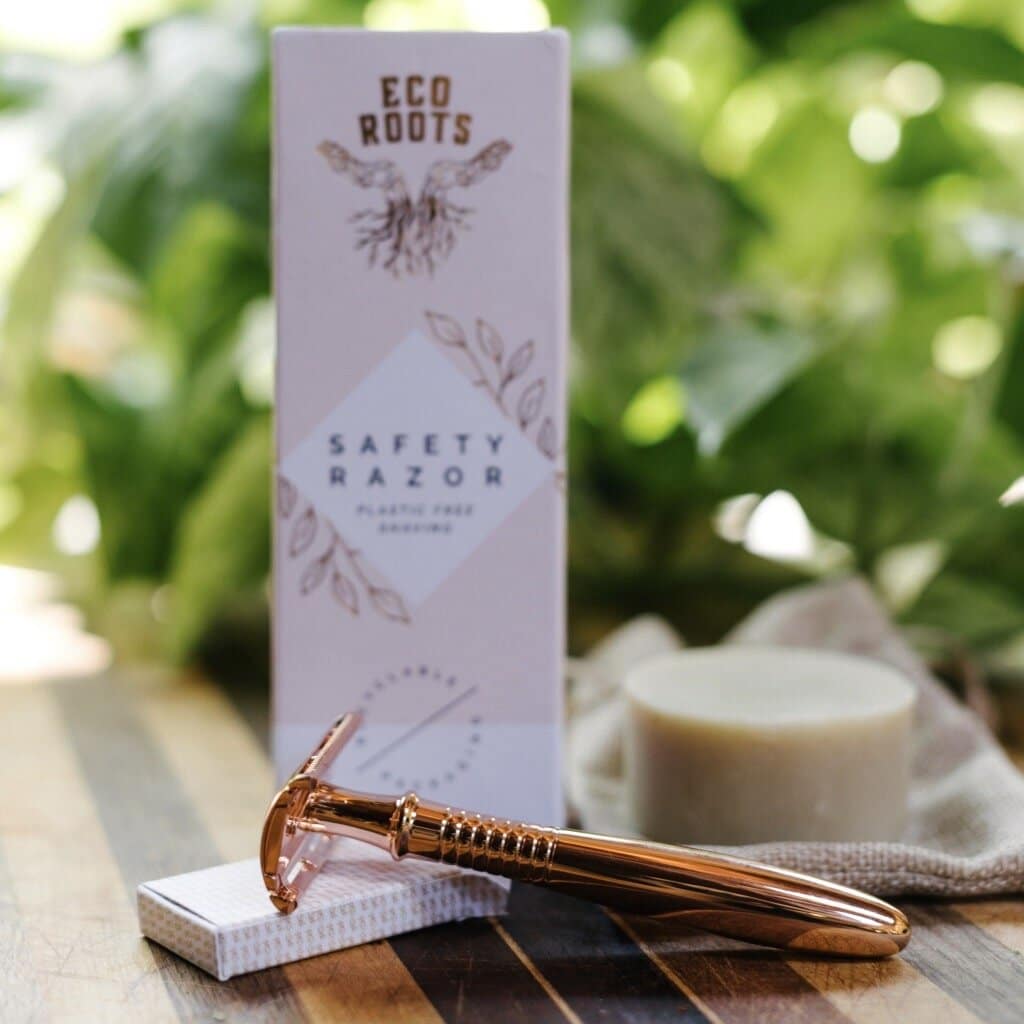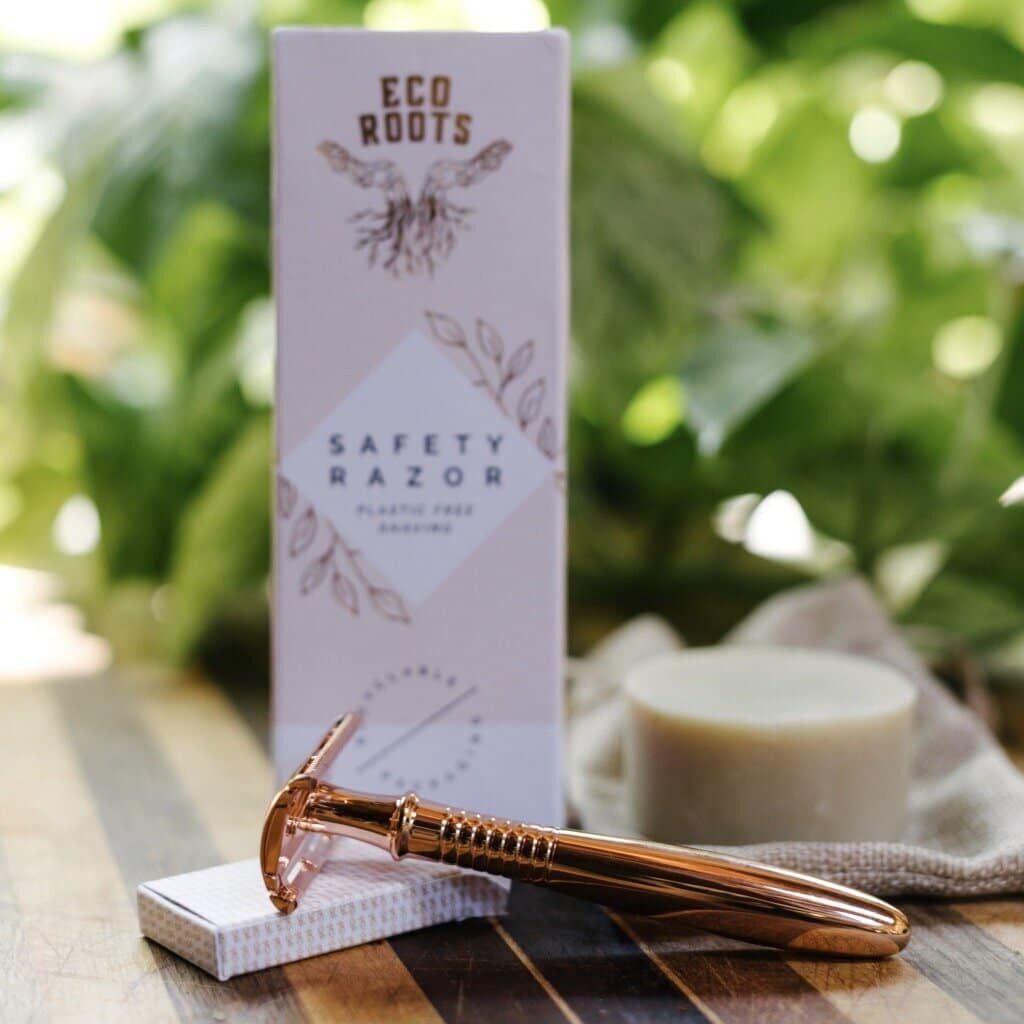 Safety Razor
This Rose Gold Safety razor will be your poshest bathroom accessory. But, beyond its dashing good looks, these safety razors save a ton of waste, money, and will give you the closest shave.
This rose gold beauty comes from Eco Roots. All of their products are sustainably sourced and they ship in recyclable and upcycled materials – completely plastic-free!
But, my favorite part of Eco Roots is that they donate a portion of each sale to Ocean Conservancy.
Check out the Rose Gold Safety Razor and get 15% off using the code 'GZWRAZOR'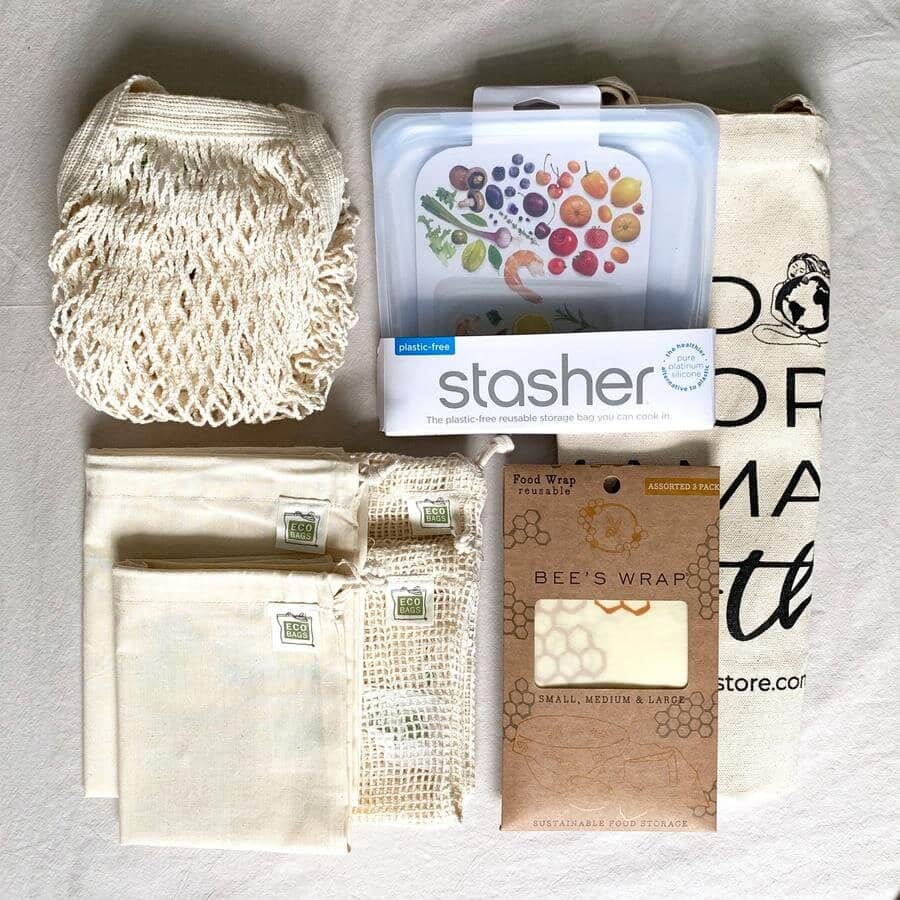 Farmers Market Kit
This kit is great for anyone looking to be a little bit more eco-friendly at the grocery store.
The kit from the Zero Waste Store includes a natural cotton string bag with long handle which can hold up to 40lbs, a reusable silicone sandwich bag, a "We do it for mama earth" tote bag, a medium and large organic cotton mesh and muslin produce bags, as well a pack of beeswax food wraps.
The Zero Waste Store packs & ships 100% plastic-free using post-consumer boxes and mailers.
Check out the Farmers Market Kit
eco friendly gifts for the fashionista
When you think of sustainable fashion, you might think about oatmeal-colored, shapeless sack dresses.
Well, I am thrilled to let you know that the sustainable fashion scene is rich with interesting textures, shapes and you can find something absolutely PERFECT!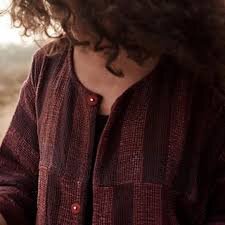 Zero Waste Coat
Matter Prints works with a curative philosophy inspired by tradition. They source heritage prints and styles and reinterpret them in a modern manner.
Their collection is full of pieces focusing on heritage prints and textiles from artisan communities.
One of my favorite aspects of Matter Prints is their pattern cutting process; they use a method to reduce textile waste, and this coat is the perfect example of how beautiful wasting nothing can be!
Check out the Zero Waste Coat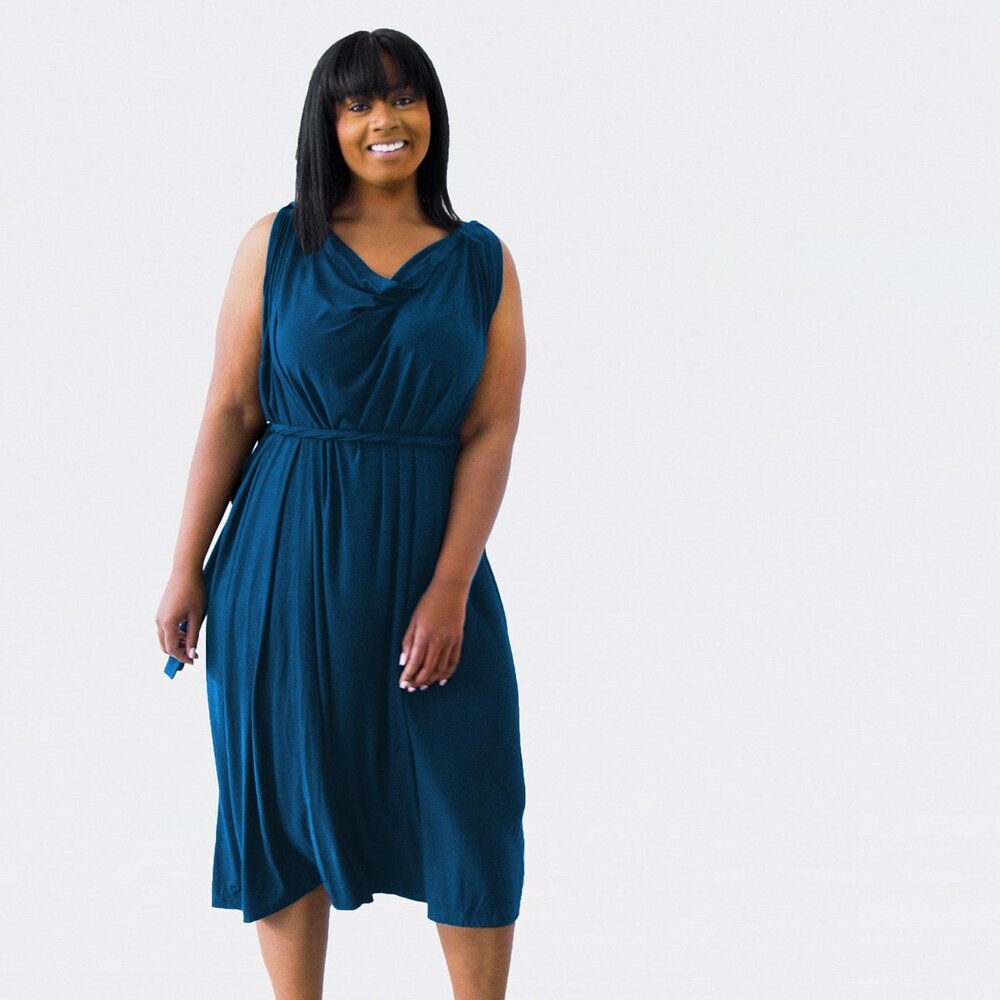 The Chrysalis Cardi
You might be thinking, "This photo looks nothing like a cardigan…" And, you'd be correct! This isn't your average cardi.
The Chrysalis will soon be the most versatile piece in your wardrobe! It can be styled 8+ ways making it the perfect addition to a small wardrobe or for someone who travels a lot.
Encircled is a sustainable clothing brand made in Canada and designed for women who want to feel put-together while being extra comfortable.
Check out the Chrysalis Cardi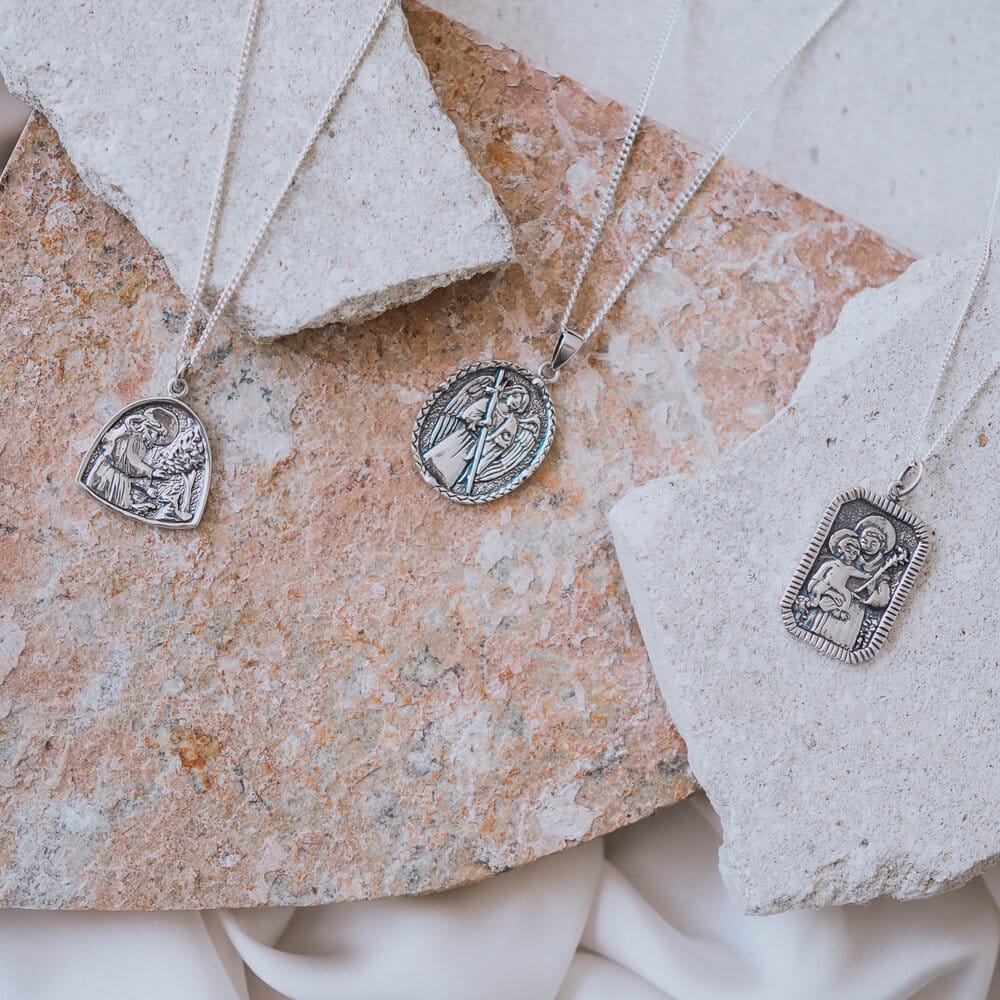 Saint Pendants
Luna & Rose makes jewelry using an entirely closed loop production system. That means they have zero waste from any of their collections! Their pieces are made from recycled sterling silver (so hard to find!) and recycled gold.
They're also part of 1% For the Planet so they give back to environmental causes with every purchase. I'm partial to Luna & Rose's St. Assisi, patron saint of the animals and environment, necklace that I have, but they have many other saints like the Saint of Friendship to the Saint of Mothers which might interest you more!
Check out their Saint Pendants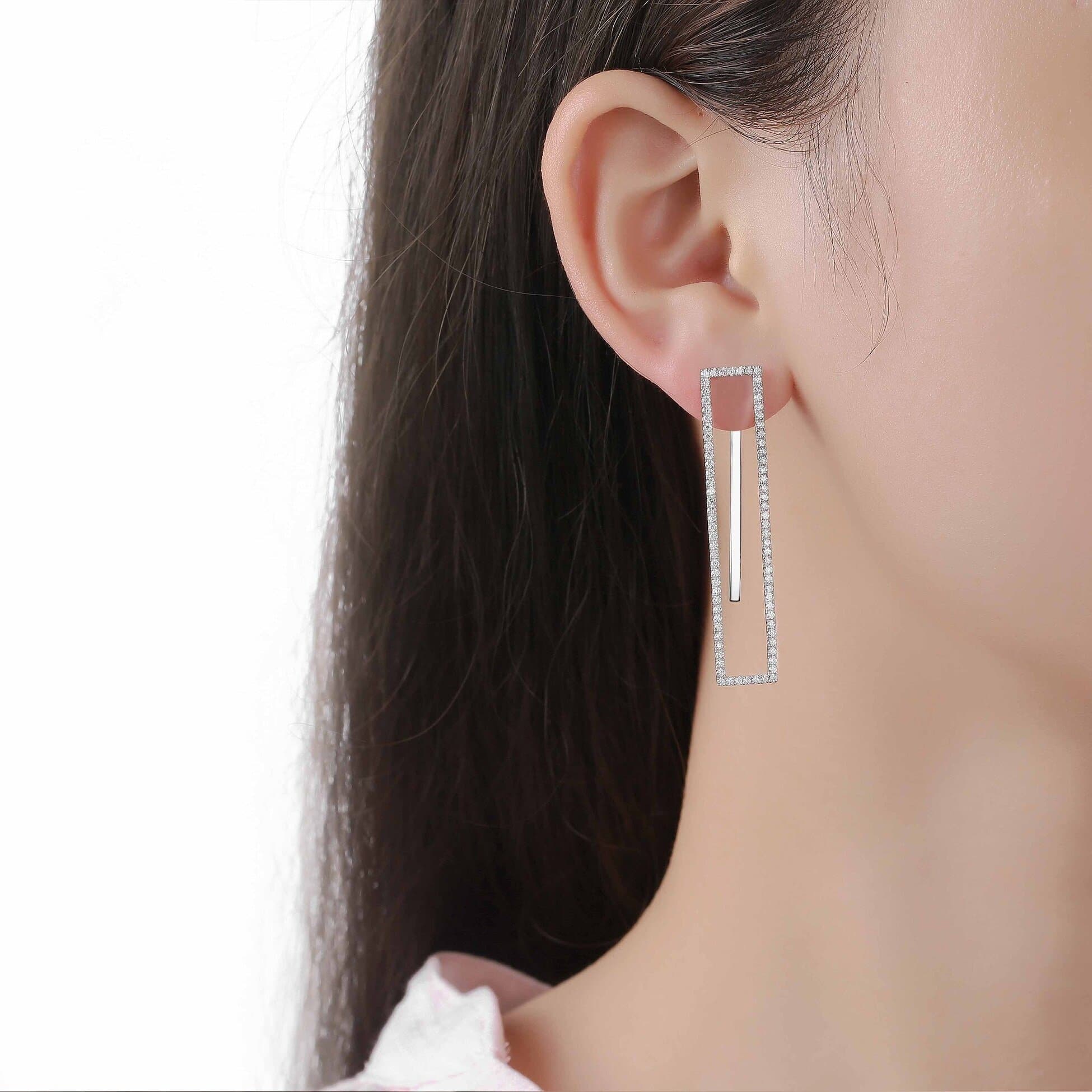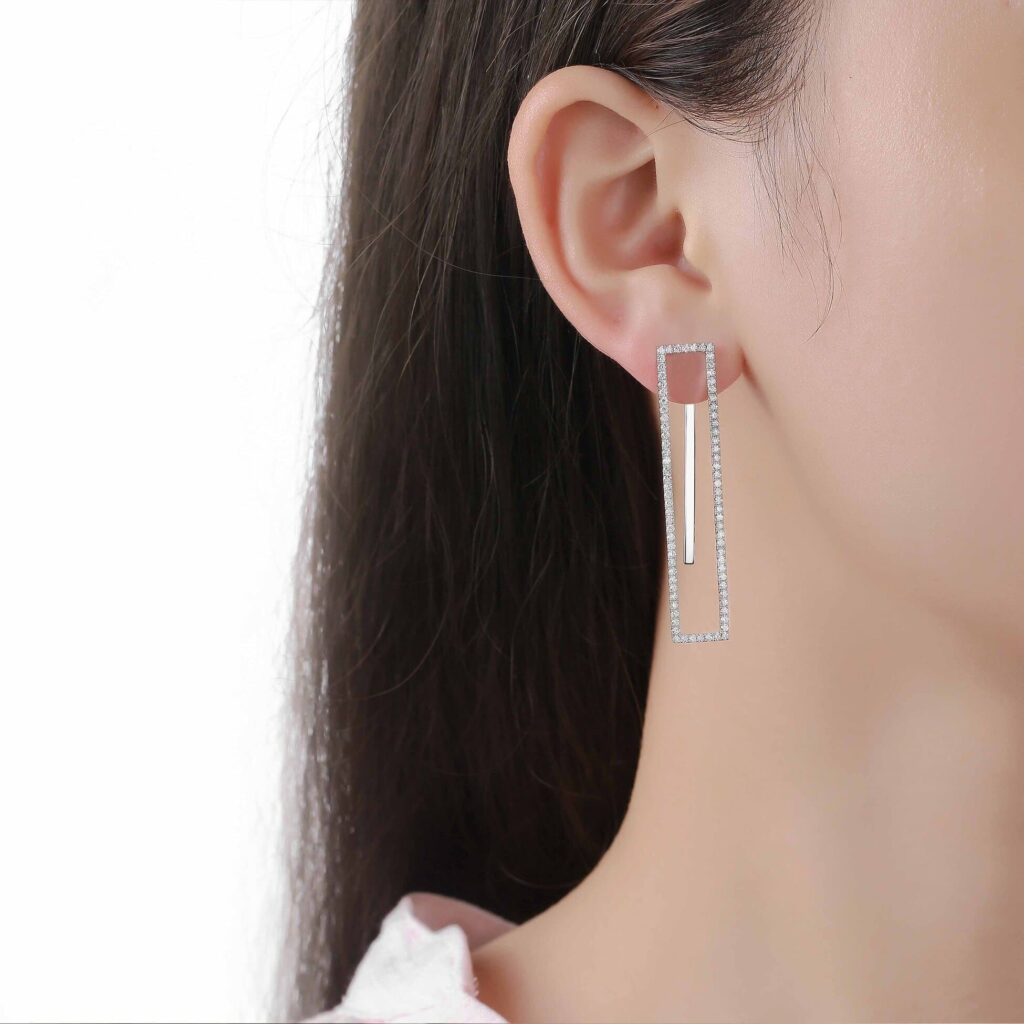 Skyline Bold Earrings
Smiling Rocks creates some beautiful pieces with lab grown diamonds. These skyline bold earrings are perfect for gifting this holiday season!
You'll find rings, necklaces, earrings and bracelets, but one of the best things about this company is their commitment to giving back.
For every purchase made, Smiling Rocks will donate 10 percent to the charity of your choice. You can choose to help fund educational support, environmental protection, medical support or animal protection.
Check out the Skyline Bold Earrings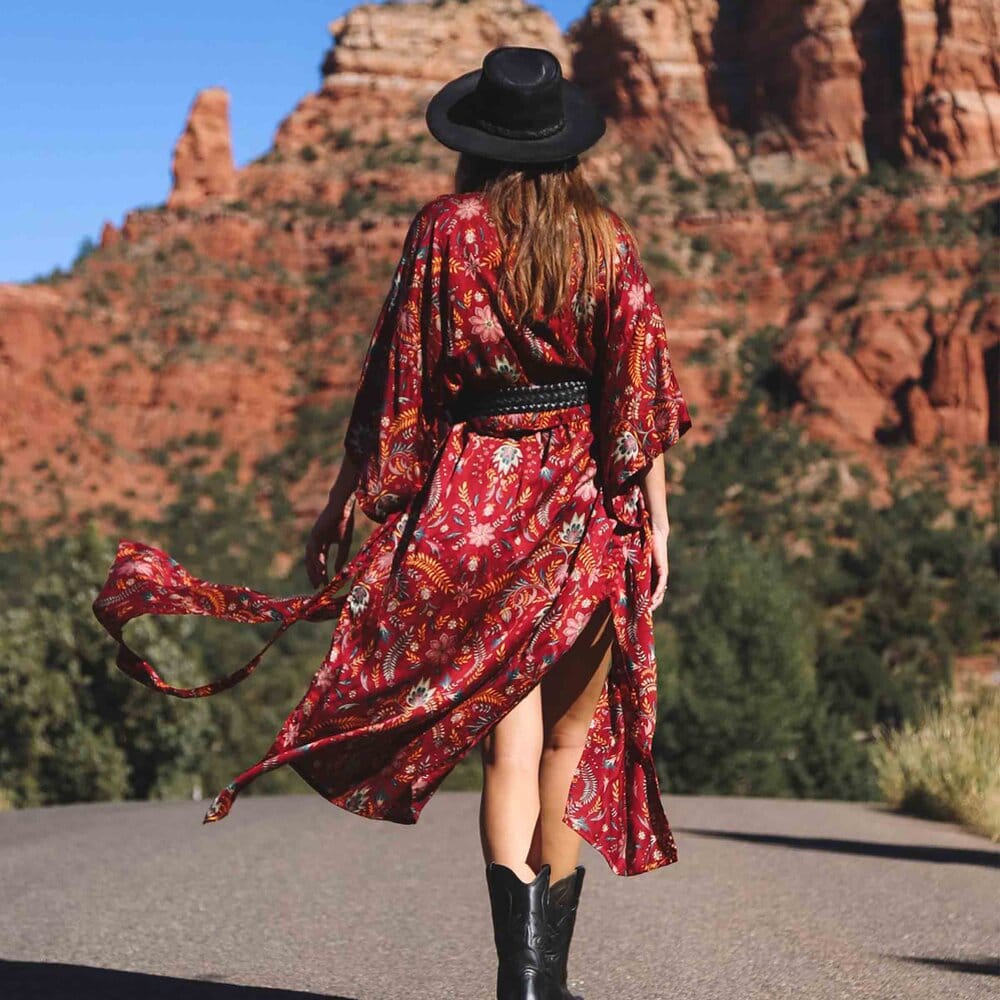 Aisha Maxi Kimono
This gorgeous robe is perfect for all occasions whether you're lounging around the pool or heading for a night out! Tamga Designs is known for gorgeous hand drawn prints which tap into the vibrancy and expression of a colorful life!
Tamga Designs is ethically crafted in Bali and this one-size fits all piece is made from 100% Micro-TENCEL a plant based material.
Check out the Tamga Designs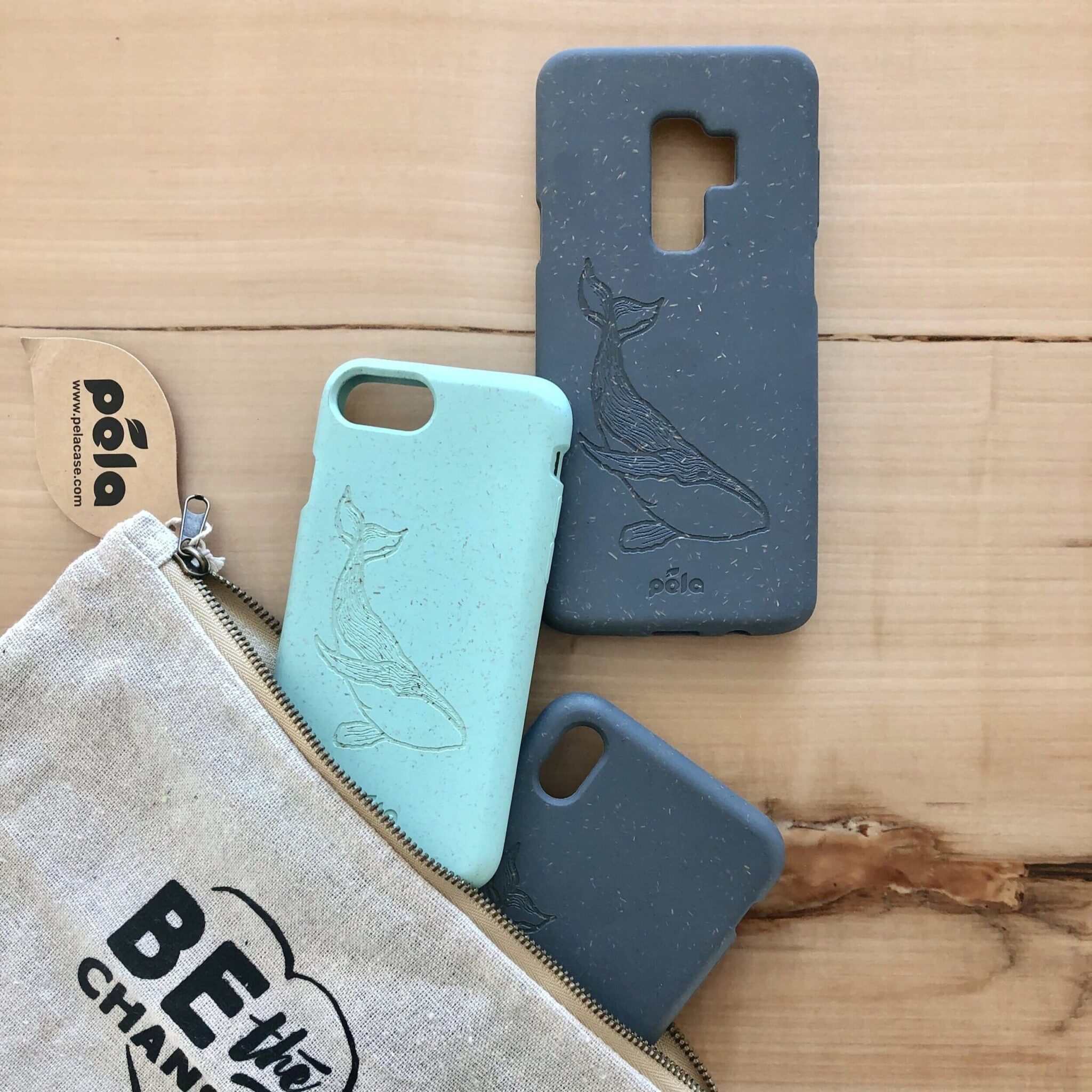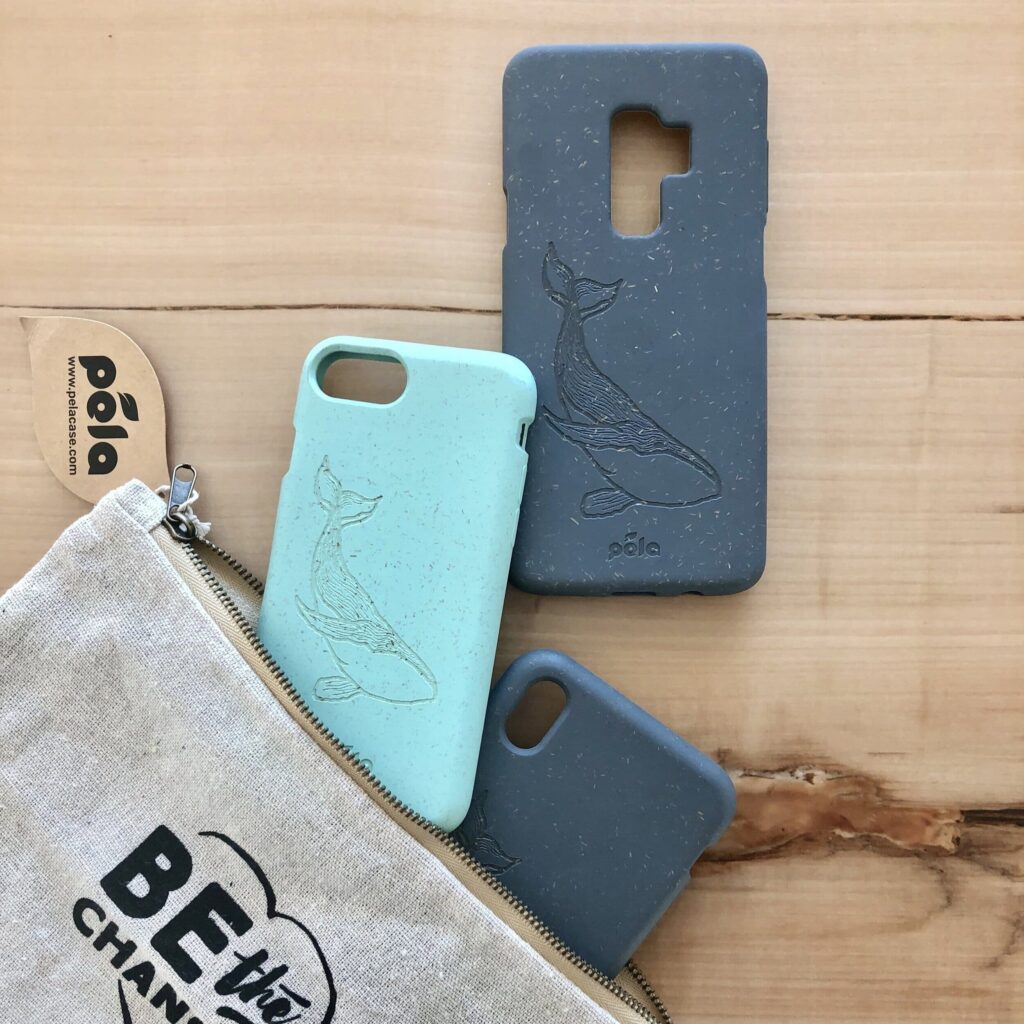 Pela Case
Know anyone getting a new phone this year? Gift them an adorable and compostable phone case!
A portion of proceeds from each Pela Case sold goes directly to supporting clean water initiatives.
One of my favorite thing about Pela is that they take full ownership over the lifespan of their product. If you can't compost you case for any reason, you can send it back and they'll take care of it for you.
Check out Pela Case
sustainable gift ideas for the foodie
I LOVE good food. I mean who doesn't?
Here are a few of my favorite ethical kitchen items for the foodie in your life!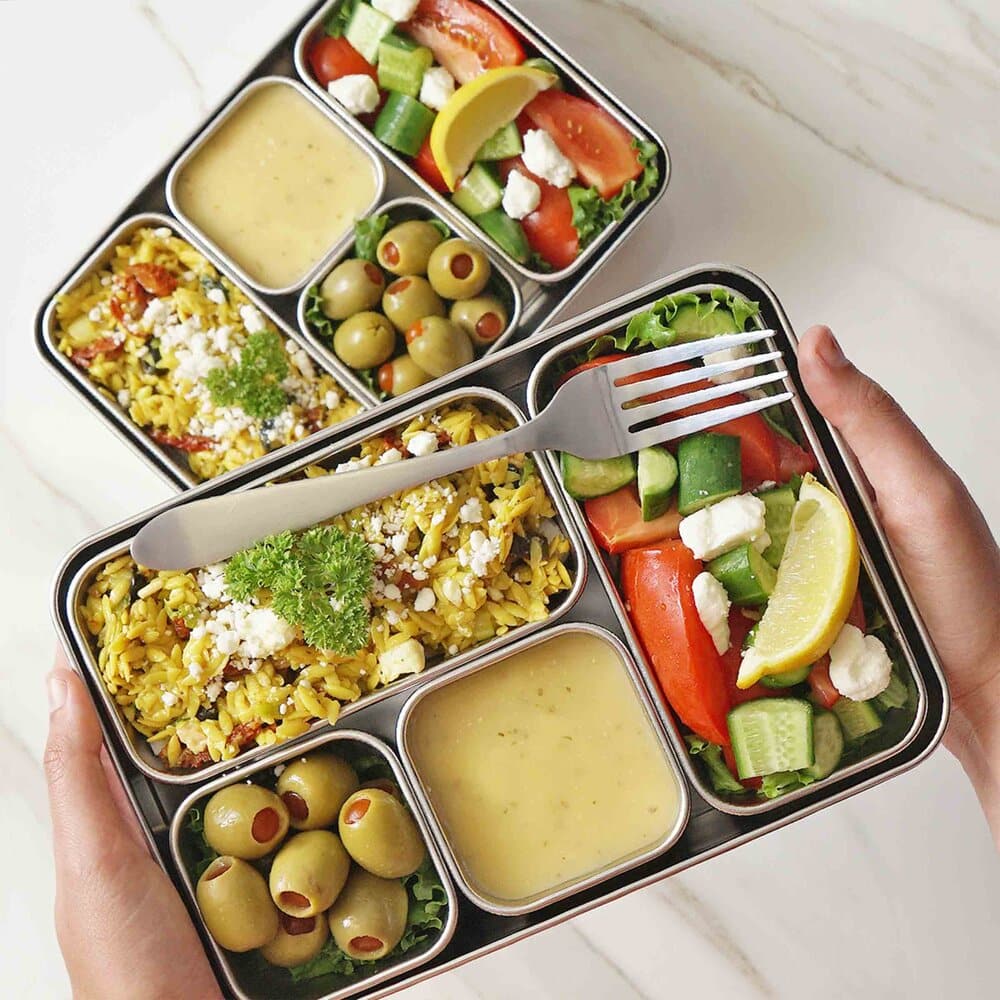 reVessel Adventure Kit
This adventure kit is designed as a completely modular system so all of the pieces can be used together or separate making this perfect for packing up leftovers, getting take away, bringing lunch to work or school, and even for meal prepping.
The kit is also leakproof and oven safe making it a foodies best friend. ReVessel also gives back a portion of each sale to Farmer's Footprint and Changing Tides.
Check out the reVessel Adventure Kit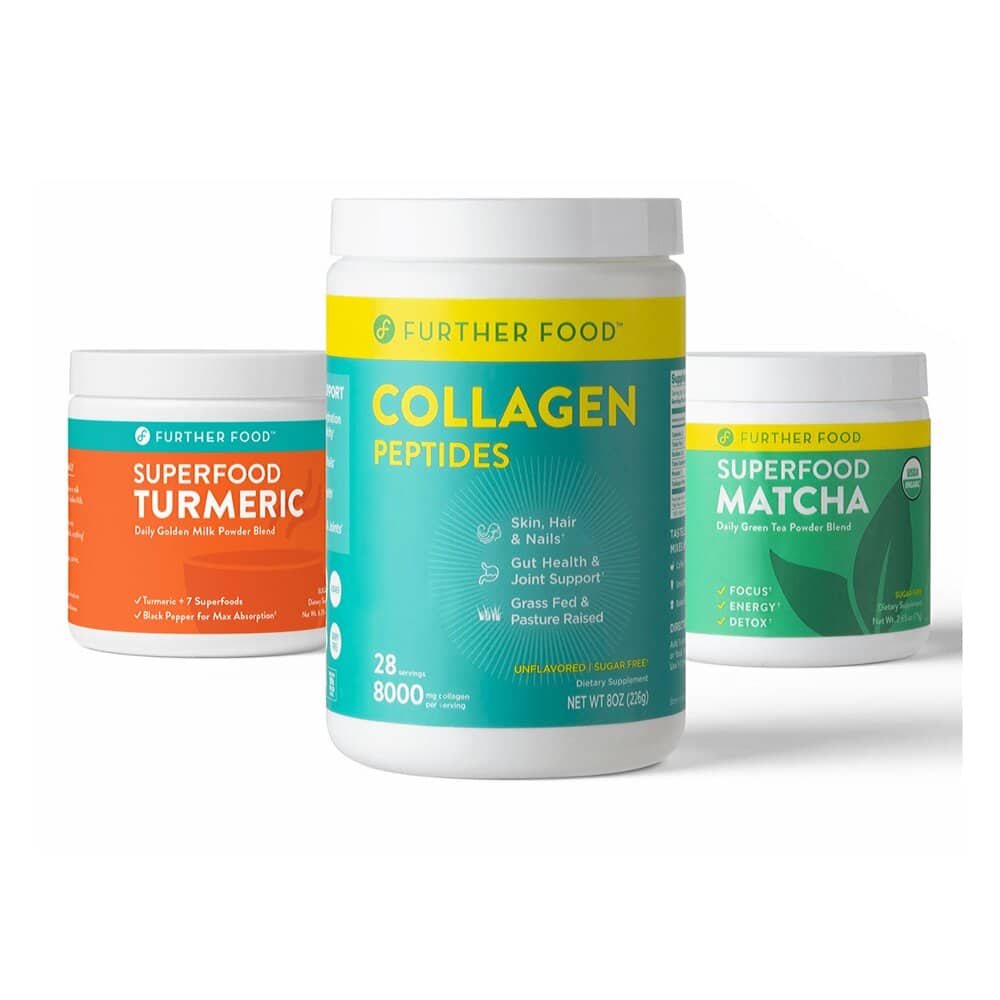 Bestselling Bundle
The best thing about the Further Food blends is that they've already mixed the adaptogens in!
While Further Food is packaged in plastic, they use 100% post-consumer recycled plastic #2.
Using recycled plastic reduces the carbon footprint by 78%, drastically improves the carbon footprint for travel due to it being lighter than glass, it consumes 90% less energy, and it's a pure plastic (not a mix!) so it can be recycled again and again.
Check out Further Food's Bestselling Bundle and get 15% off with the code 'GOINGZEROWASTE'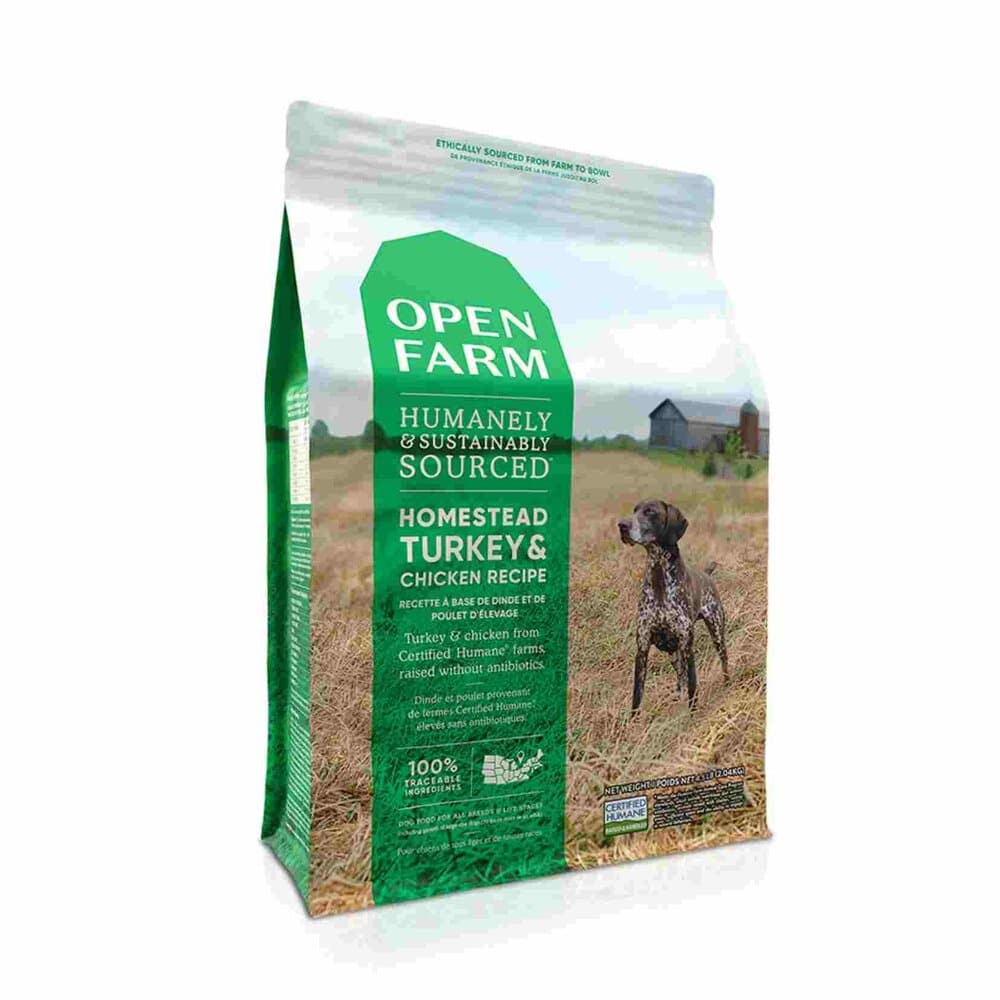 Homestead Turkey & Chicken
Let's be honest, Nala is probably a bigger foodie than me. And, that girl is picky! She's a food snob and has been known to turn her nose up at A LOT of good food.
However, she LOVES Open Farm! And, I love Open Farm because they have amazing traceability, and they source from Certified Humane farms. They've also partnered with Terracycle so all of their packaging can be taken back for recycling.
Check out Open Farm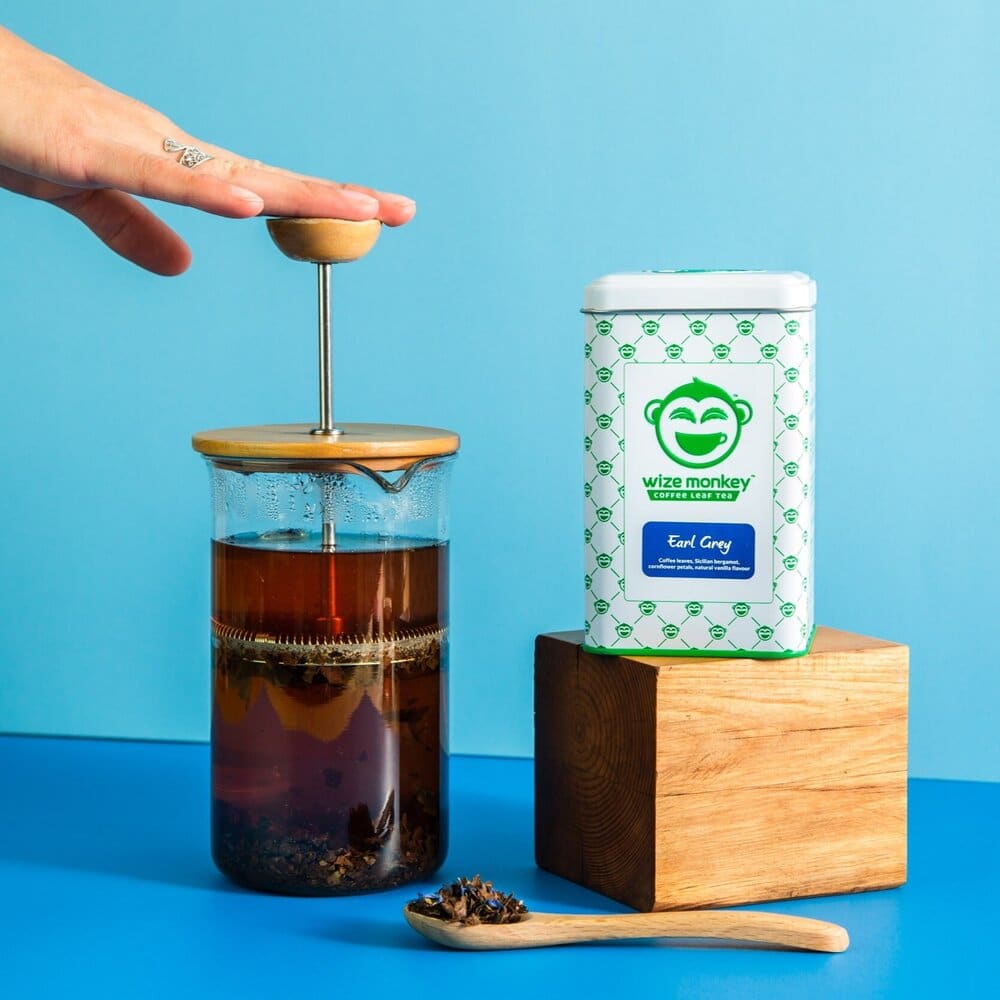 Loose Leaf Tea Gift Set
Wize Monkey has made an award-winning delicious tea from coffee leaves. Yes – coffee leaves! Sounds crazy, but when you taste it, you'll know why it's critically acclaimed.
Coffee leaves normally get discarded during the 9 month off season when most most farmers are out of work so Wize Tea is helping by offering employment during that time! My personal favorite is the loose leaf Earl Gray.
Check out Wize Tea
how to gift wrap ethically
You went to the trouble of choosing a thoughtful gift, so be sure to go for minimal packaging too. Using materials that have been recycled such as old newspapers, cardboard, or fabric are great options and will help cut back on waste. Check out my complete guide on eco-friendly gift wrap.
are homemade gifts sustainable?
Yes, homemade gifts are sustainable! Not only are they thoughtful, but they are an eco friendly option that doesn't cost a lot of money either. Check out my DIY Lip Scrub, Dry Shampoo, and Toothpaste for some easy beauty product gift ideas.