Eco-Friendly Father's Day Gifts
May 24, 2019 | Kathryn Kellogg
Last Updated on June 14, 2021
This year I rounded up a few eco-friendly Mother's Day Gifts, and thought it was only fair to do the same thing for dear old dad.
When it comes to shopping for my dad, I have it pretty easy because he loves to cook.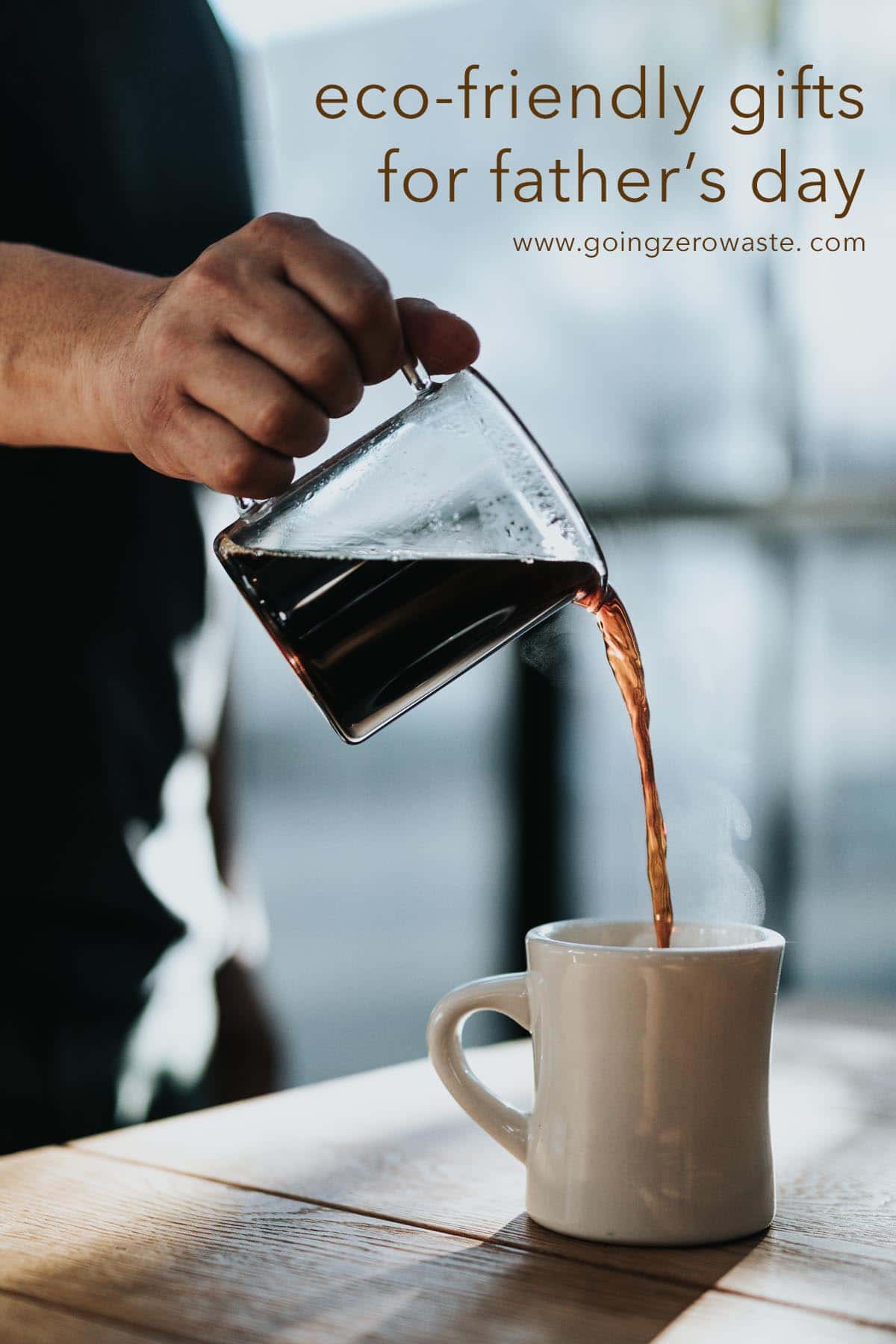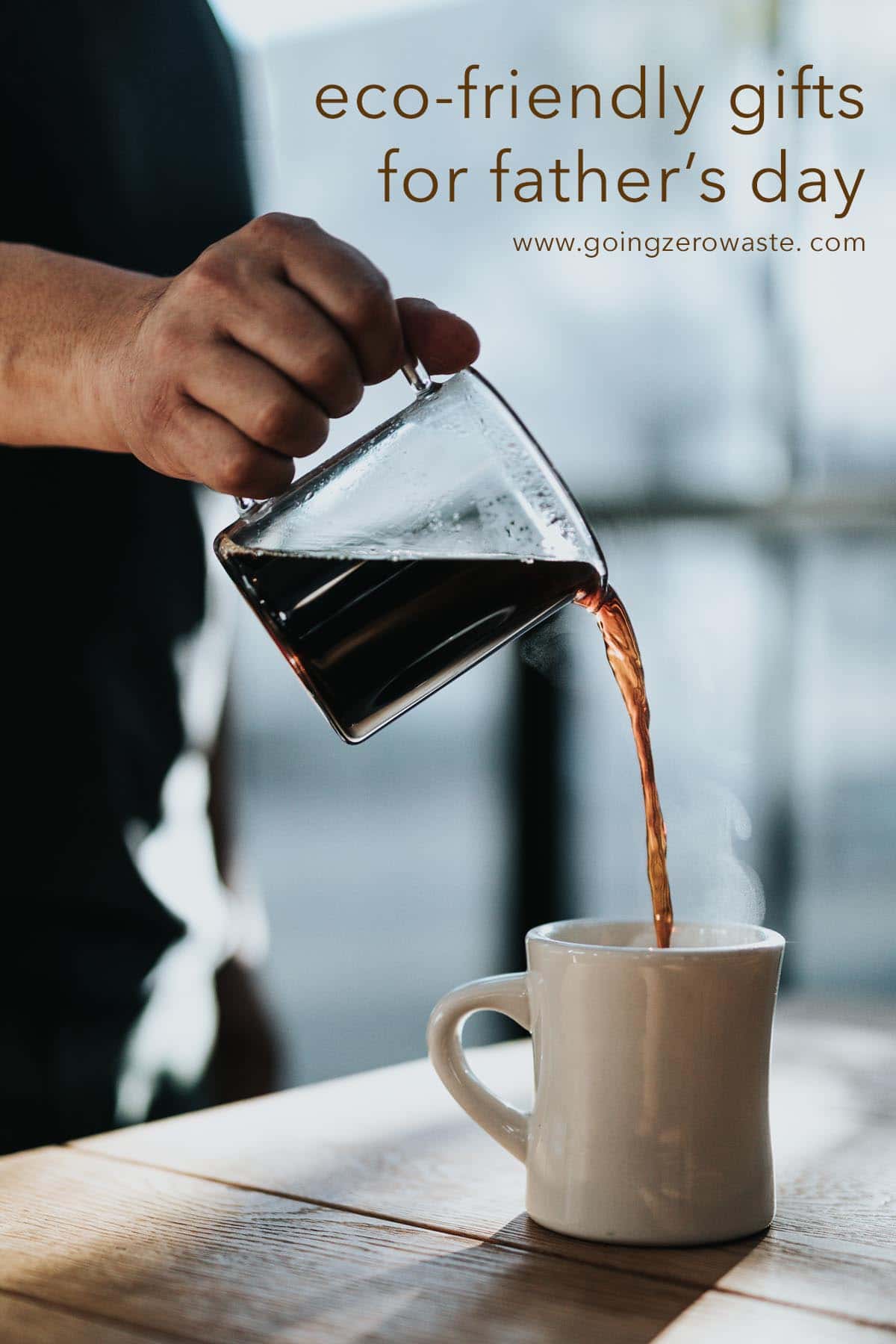 He likes good food and wine both of which are consumable gifts – my favorite type of gifts to both give and receive.
Consumable gifts are great because you get to enjoy them, and then once they're gone… they're gone.
They don't stick around taking up space and creating clutter.
Check out this post for a complete guide to consumable gifts.
TBH, the last thing my dad needs is more stuff.
He pretty much has ALL of the stuff that he needs. I'm guessing you dad probably does too?
After all most people are left with the conundrum, "What can I gift my dad that's not a tie….?"
Well, not today!
I've rounded up a list of things that I'm considering buying my dad for Father's Day some of the links below are affiliate links. For more information please see my disclosure policy!
1. ask him what he wants:
I think first and foremost, you should ask him if there's anything that he actually wants or needs. Maybe he needs new socks or really wants a sous-vide cooker with a 4 pack of stasher bags.
If that sounds oddly specific, that's because it's what my dad actually wants.It blows my mind that people try to buy other people gifts without asking them what they want.
So much waste could be saved by simply asking the other person. So, before you go on a buying spree – ASK.
2. fair-trade coffee:
My dad is a big coffee drinker, and buying coffee beans is always a safe bet.
Similarly, for me, buying me a nice box of loose leaf tea is always appreciated and will definitely be consumed. When my boss went to London he brought my back a box of Earl Grey from Harrods and it was SO thoughtful!
Way better than getting a t-shirt I probably wouldn't wear. I've rounded up a few different types of sustainable coffee that are organic and fair-trade. If he'd prefer a cup of tea check out these six sustainable tea brands!
3. a gift-card for a round of golf:
My dad is a pretty classic dad in that he loves to hit the golf course. We even used to play together when I was younger. Golf courses have long been seen as a blight in the eco-friendly community, but after being asked to attend the Waste Management Phoenix Open (a zero waste event for more than 16,000 people) I decided to look into how eco-friendly golf courses really are.
The answers might surprise you! So, see if there's a sustainable golf course near you, and buy him a gift card for a game!
Or maybe he could use a new golfing polo? Leisure of NYC makes an incredible, high quality 100% Supima cotton basics. This polo is so much moree breathable and comfortable compared to the usual polyester aka plastic variety.
And, if your dad is anything like mine, he loves a good bargain and this is the best – their clothing has a lifetime guarantee! That's a testament to quality materials and construction that's made right here in the U.S. Pair this with a pack of golf balls or tees, and it's a perfect golfing package!
You can get 15% off Leisure of NYC with the code Kathryn.
4. sailing lessons:
My dad loves to sail.
As a kid my dad thought it would be fun to take my mom and I on a three day sailing excursion while he got his sailing license.
All I remember is being sea sick which has put me off on traveling by boat for any extended period of time.
Even the ferry ride into SF can make me feel a little dizzy so while I may not be going on any sailing expeditions any time soon, I think sailing lessons would be a great gift!
5. a nice bottle of wine:
I live near Napa which is wine central in the US. Any time my dad comes to visit we typically go to a few wineries for tastings.
I always joke that wine tasting is one of the most eco-friendly activities in the bay area.
Everything is local, made on site, and you taste out of real glasses! #ZEROWASTE. 😉
If you're headed to the bay area you can check out my favorite places zero waste edition which includes a list of my favorite wineries.
6. tickets to a concert:
Now, my husband is only a father to our dog, but he's a bit modern and I started thinking about what I would buy him for Father's Day.
And, if I were to pick out the perfect gift for Justin, I would definitely be tickets for a concert.
Justin loves music so if you're trying to buy a gift for a music lover, concert tickets might be the way to go.
7. take him out to dinner:
I mean is there really anything better than going out to a nice dinner together?
This is one of my favorite gifts to give people.
8. a homemade fresh loaf of bread:
Who doesn't love fresh, homemade bread! It's the perfect gift if you're into baking.
9. undershirts, socks, hankies:
My husband can always use undershirts, socks, hankies or boxers so most of these items make their way into his stocking during Christmas.
I've also rounded up a few places you can find sustainable basics for men, but will be writing a whole post on that soon as an accompaniment to the post I did for Women's Sustainable Everyday Underwear.
10. speakers:
I know that Justin would love to have a portable speaker to bring on picnics this summer and is pretty much always in need of headphones.
House of Marley is one of the few brands that's offering sustainable electronics.
They use mindfully sourced materials including bamboo, FSC™ certified wood, recyclable aluminum, plastic and fabrics.
11. organic cologne:
Justin really likes to wear cologne.
It's funny because he applies cologne daily before he leaves, but I'm lucky if I ever remember to apply perfume.
Last year I slipped a vial of DedCool into his stocking and he's loved it so much!
I always trust Credo when it comes to product recommendations because they do all of the homework for me to make sure that everything reaches a very high level of criteria when it comes to clean beauty.
You can learn more from the Credo Creed.
12. sustainable spirits:
I feel like spirits are also a really popular gift to give guys so when you're looking for spirits try and look for ones that are sustainable.
Unfortunately, we don't have many distilleries around where I live so I pretty much have to buy them in store.
ABSOLUT:
Absolut is an incredibly sustainable vodka, and they're a zero waste company.
Their main by-product is stillage which is what's leftover from the wheat fermentation.
Their stillage is an excellent food source and is used to feed thousands of pigs and cows in the surrounding area which reduces the need to import soy-based feed. (Soy is one of the leading causes of deforestation in the rainforest)
Absolut has one have one of the most energy-efficient distilleries in the world which is completely carbon neutral! You can read more about their sustainability initiatives here.
PATRON:
Patron is an incredibly sustainable tequila.
They're proactively funding a study with a top agricultural research center in Mexico to ensure the sustainability of the Weber Blue Agave plant for the entire industry.
They create more than 5,500 tons of fertilizer compost a year from leftover agave fibers from the production process, and take used agave fibers from 10 neighboring distilleries free of charge.
Since 2015, Patron has reforested or donated approximately 16,000 trees to their local community of Atotonilco el Alto, Jalisco. Read more about their sustainability initiatives.
GLENGOYNE:
Glengoyne is an incredibly sustainable whiskey. They filter their whiskey in a natural way that produces less waste, energy, and increases wildlife.
They're situated in the wetlands are rich of biodiversity.
The wetlands are home to around 14,500 plants of 20 varieties – attracting songbirds, dragonflies and lots of other wildlife.
They're an exclusive partner of the Wildfowl and Wetlands Trust (WWT).
Wetlands are incredibly good at keeping carbon dioxide out of the atmosphere.
Wetlands cover less than five percent of the world's surface, but they lock away about a third of its terrestrial carbon which is even more lot more efficient than, say, a forest.
Learn more about their sustainability initiatives here.
I would love to know, what are you getting your dad for Father's Day?