Gift Wrapping: How to Keep it Easy, Eco, and Chic
December 7, 2021 | Kathryn Kellogg
Last Updated on December 7, 2021
Let's talk about gift wrapping, traditional wrapping paper is glossy, glittery and colorful, but it's trash. No, literally – you can't recycle it. But, the good news is that you can wrap presents beautifully without creating a lot of rubbish, and scrapping the wrapping paper will cut down your on your holiday waste by a sizable amount.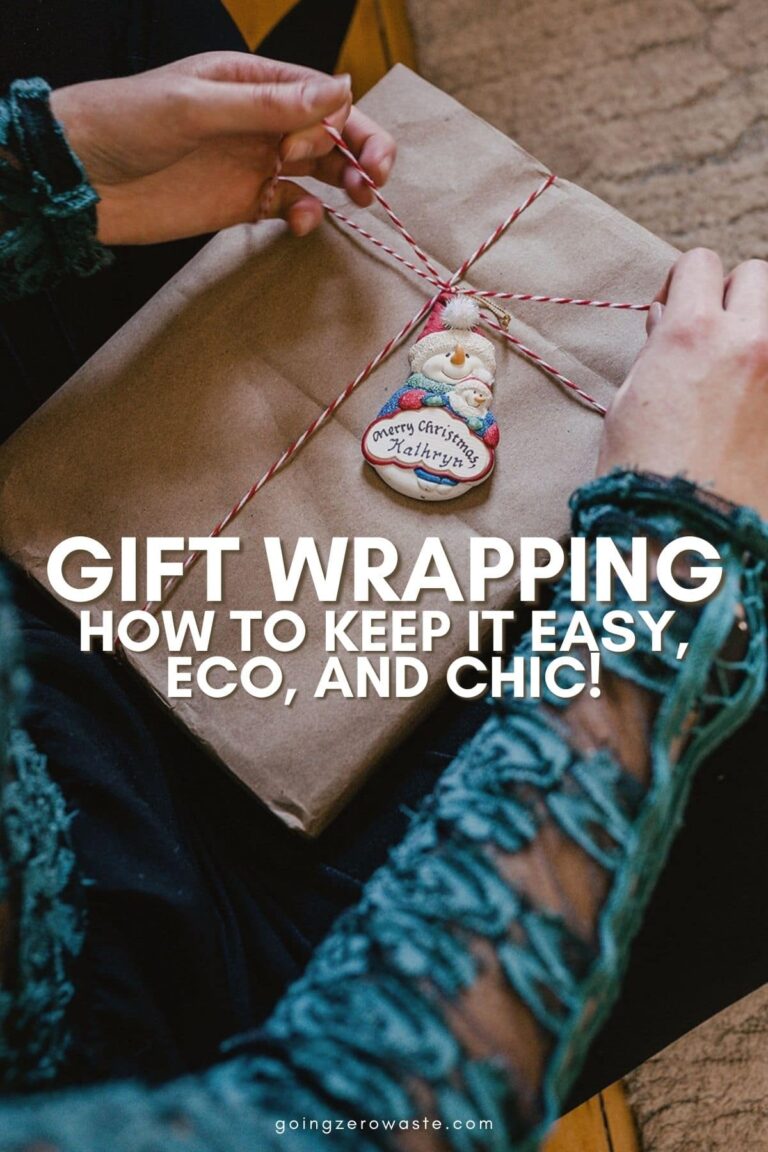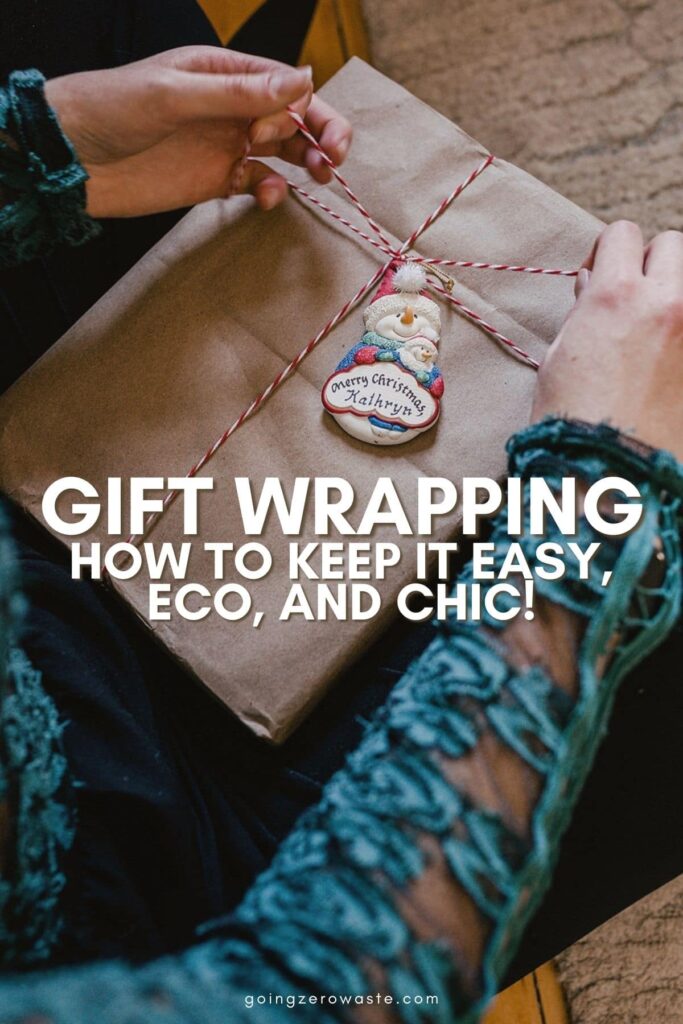 Not only that, but eco gift wrapping is so much more original. It's a great way to stretch your creativity, save money, and of course give some of your recycling a second life. So many of the gifts you see photographed below are items you could easily find in a recycling bin.
If you want to get a little fancier with your gift wrapping, you can also check out the thrift store, antique shop, an estate sale or call your grandparents. I get SO many of my holiday decorations from relatives who have too many and are more than happy to pass them along to literally anyone who'll enjoy them.
can you recycle that?
According to Stanford, "Americans throw away 25% more trash during the Thanksgiving to New Year's holiday period than any other time of year. The extra waste amounts to 25 million tons of garbage, or about 1 million extra tons per week!"
One easy way to reduce your waste during this time frame is to switch to eco-friendly wrapping. A few other ways is to reduce food waste, shop for experiences over things, and and remember what the season is really about – spending time with your loved ones.
You can get my full guide to a sustainable holiday in my blog post the Ultimate Guide to an Eco-Friendly Christmas.
is wrapping paper recyclable?
Most gift wrap or wrapping paper is not recyclable because it's made with plastic. If it's glossy, metallic, or sparkly it's most likely made with Mylar a plastic film coated with aluminum. A prime example is the photo below. That gold metallic wrapping paper isn't recyclable and neither is the ribbon.
If you can't tell whether your wrapping paper is paper or plastic, you should try a scrunch test. Grab your wrapping paper and scrunch it, if it resists scrunching, it's plastic. If it retains some of it's scrunch it might be paper. The best bet is to try some of the eco-friendly alternatives listed below.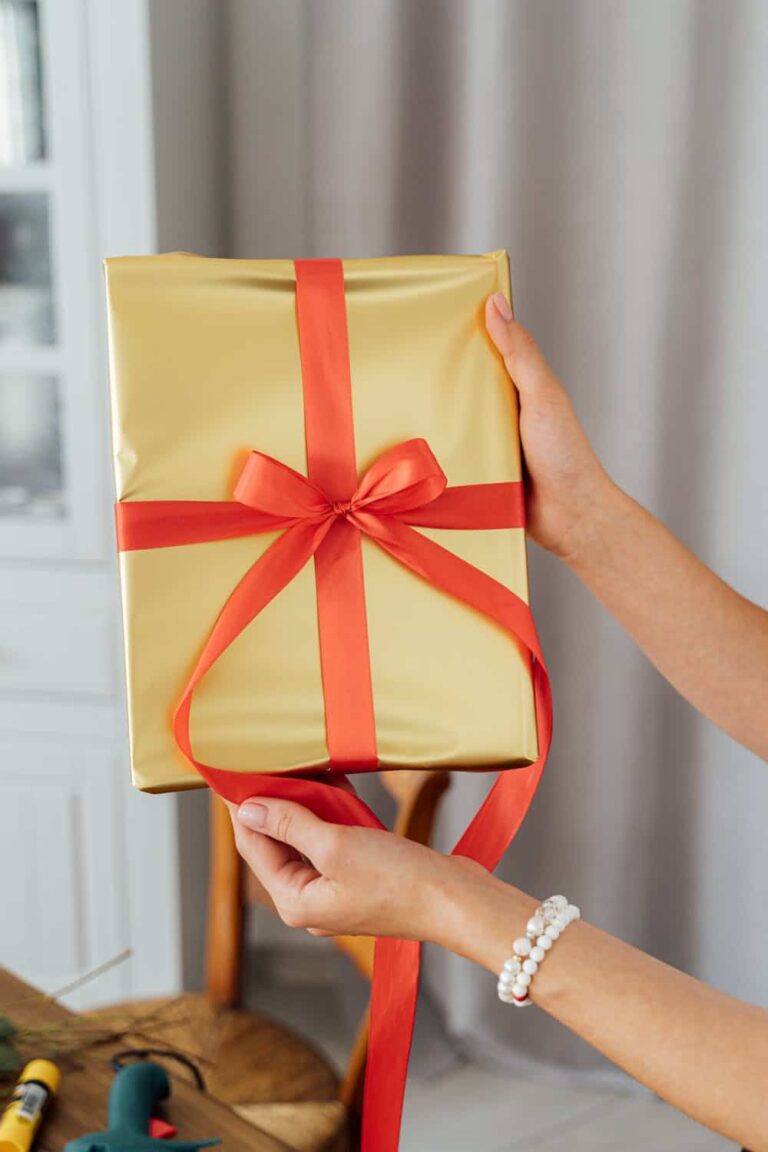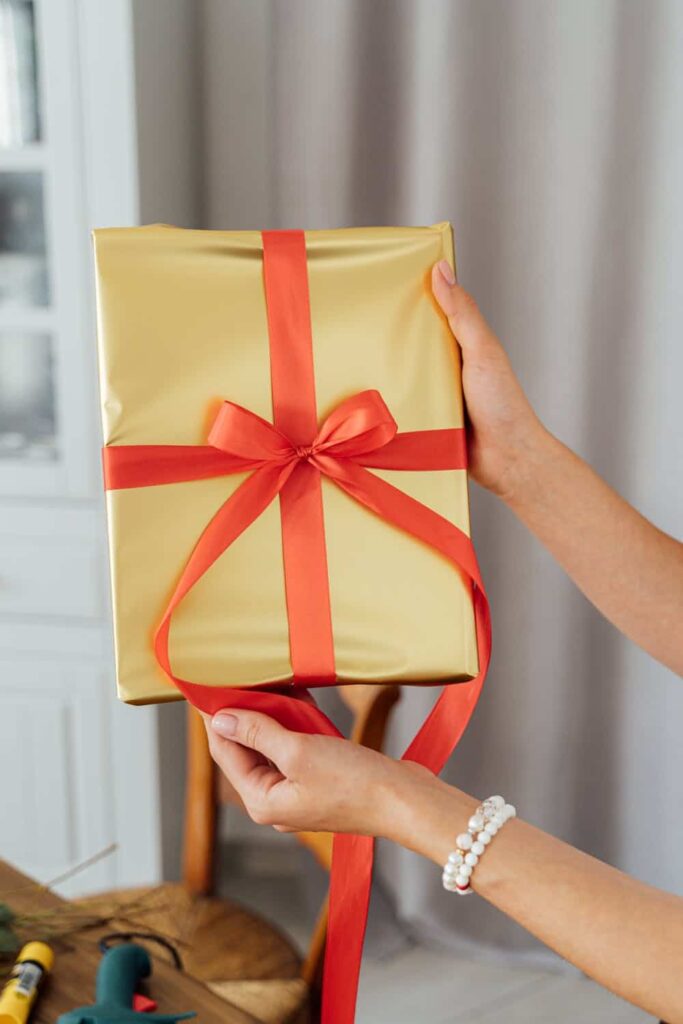 are gift bows recyclable?
Shiny bows that you peel and stick onto packages are NOT recyclable. For creative and eco friendly gift bow ideas check out the additional decorations section.
Be sure to check out my post how to recycle paper the right way for more information.
are bubble mailers recyclable?
If you're shipping your presents to friends or family, you might want to avoid those bubble-lined mailers. The majority of them are not recyclable. If you can somehow manage to remove the bubble-liner from the inside (which is incredibly difficult and I haven't managed to do it yet) you can recycle the paper aspect of the mailer.
is tissue paper recyclable?
Tissue paper is reusable so you should try and save it for another present. If it's unable to be reused you can compost it as long as it doesn't have glitter in it.
how do you wrap a gift like a pro?
You can wrap a gift like a pro by following this simple three step method. You need the base wrapping, the fastening, and a special touch. Mix and match these elements to create endless variations.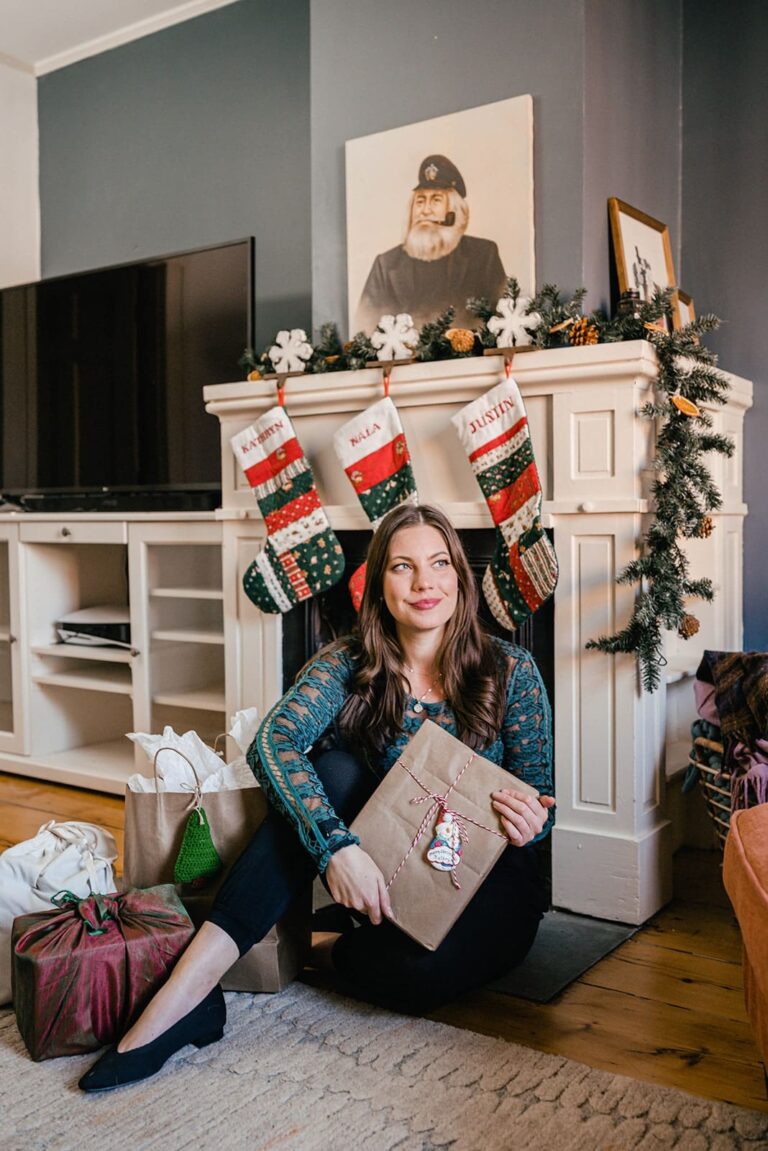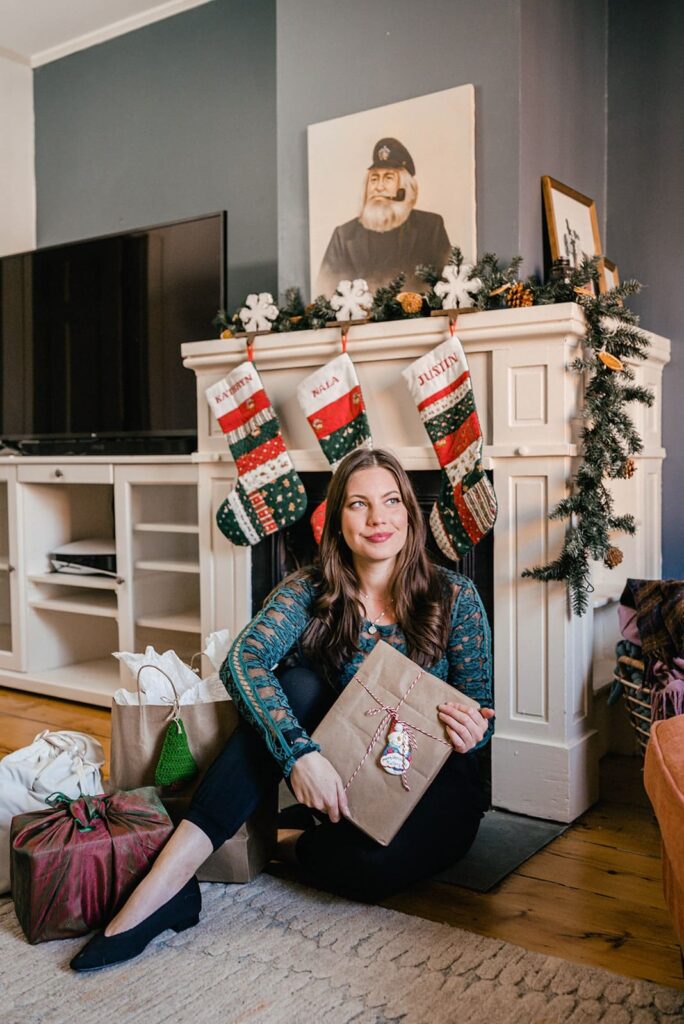 gift wrapping alternatives for wrapping paper:
butcher paper:
Butcher paper, either white or brown, is never in short supply. With the rise in popularity of online shopping I can always find it in recycling bins or with friends, family, and neighbors.
Similar to shop bags, once you cut the paper to size and wrap the gift as you would with traditional wrapping paper, you can doodle festive drawings on the paper or use some festive stamps. You can almost always find holiday themed stamps at the thrift store.
newsprint and newspaper:
There's a lot to be said about using newsprint as recycled wrapping paper. The comic section is always adorable. I like to use newsprint two ways. I like to use it to wrap small gifts, or use it as the stuffing in a gift bag.
It can be easily found in a recycling bin or in the free circulars that wind up in your mailbox despite your anti-junk mail campaigns. Newsprint can either be colorful or standard black and white, either of which look super cute as eco-friendly gift wrap.
fabric wrapping:
The art of furoshiki is a time-honored ancient tradition that hails from Japan and has been used for swaddling gifts for over 1200 years. Using silk or even imitation silk made by natural fabrics like hemp can provide a stylish alternative to paper wrapping, and there is always a plethora of these colorful scarves at thrift stores.
Several companies also sell beautiful swatches of fabric sold in different sizes to wrap a multitude of gifts.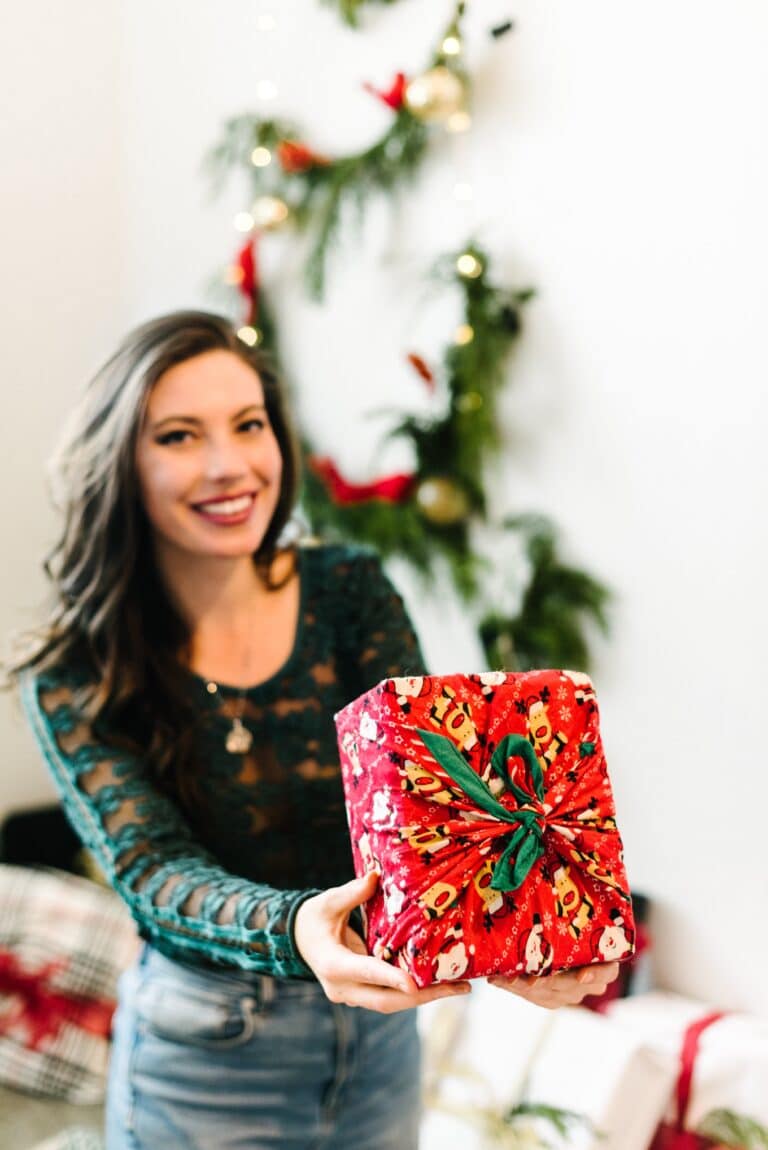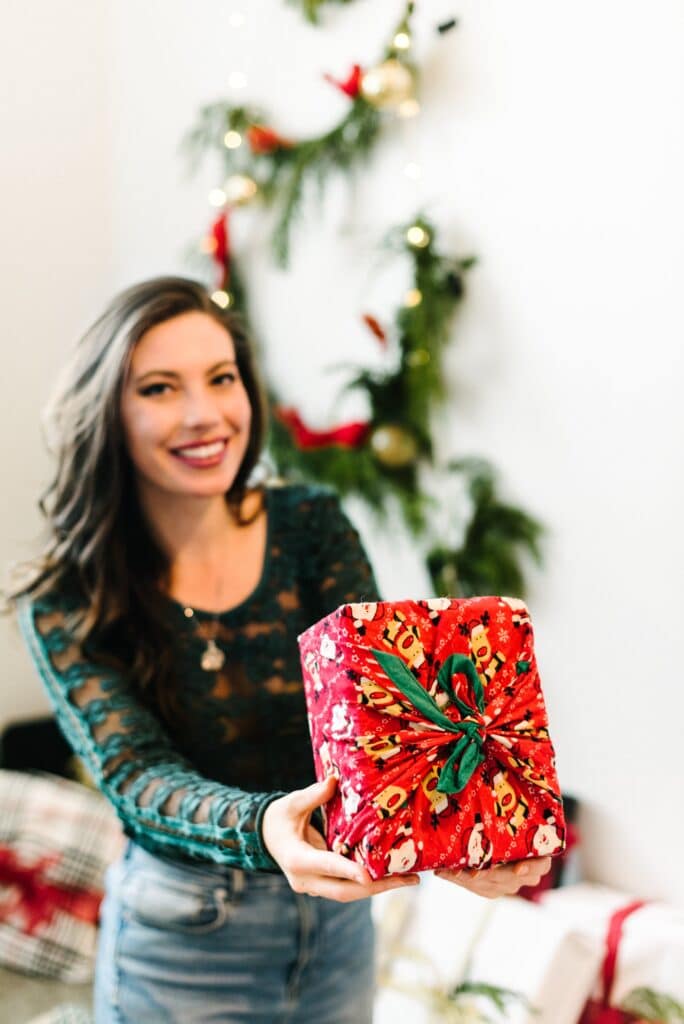 cloth napkins:
While cloth napkins can be a little bit more rigid than silk scarves, cloth napkins are a sustainable gift wrap alternative that have also been around for hundreds of years. Cloth napkins are a dime a dozen and can be found in most thrift stores. Coming in a variety of different colors, cloth napkins are perfect for any scheme, going with any additional decorations you can think of and the knot on top makes the perfect bow.
vintage maps:
Before the days of Waze or Google Maps, paper road maps were used for driving directions. Imagine that! These old paper road maps or even vintage world maps make a striking eco-friendly gift wrapping alternative that is sure to turn heads. I have even used city maps that I've acquired after traveling and the colors simply can't be beat, add a nice big bow or a simple decoration for the perfect gift.
gift wrapping alternatives for holiday bags:
shop bags:
If you wind up with some paper shopping bags from places like Trader Joes, Whole Foods or even cafes and coffee shops. These bags are a great eco-friendly gift wrap option. You probably a have a few lurking in your cabinets or found in your recycling bins at work.
If your bag has a logo on the center, One of the viewers from my holiday webinar had a great tip as well! They said to take an old greeting card and glue it on top of the logo. Get my recipe for homemade glue (which is at home compostable friendly) at the bottom of my blog post on upcycling old magazines. Place the card over the logo of the bag!
Of course you can also use this brown paper to wrap a gift too. Remember in grade school when you would cover your textbooks with paper bags and then draw or color on them? Using shop bags as sustainable gift wrap is just as fun but even better because you can really dress them up. 
After cutting the shop bags flat, the non-printed side can be used as a canvas. You can decorate the paper with handwritten messages, drawings or even custom stamp designs—all of which adds a personal touch. 
reusable cotton produce bags:
This is a great double present because you can use produce bags at the grocery store or farmers market. They can be a bit shapeless so you might need to get a bit creative to add a bit more pizazz to them, but I've heard them referred to as santa sacks which is super cute! If you choose to sew some of your own, you could always choose a nice colorful fabric.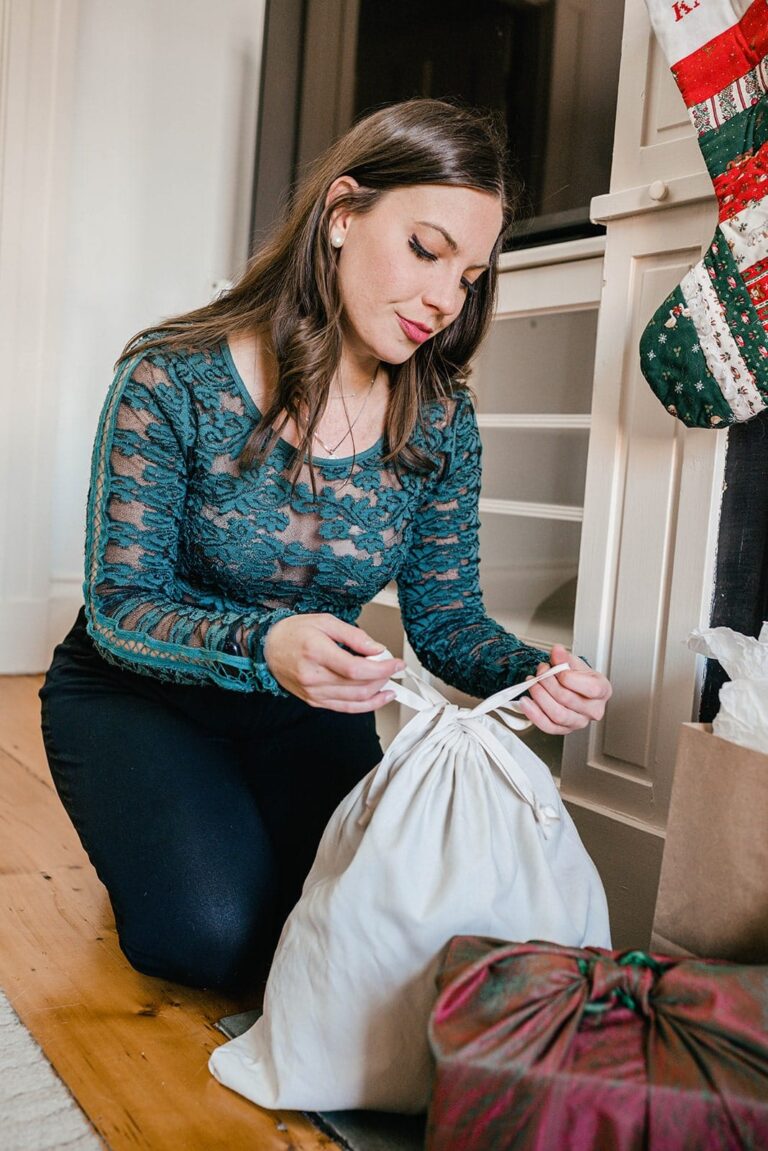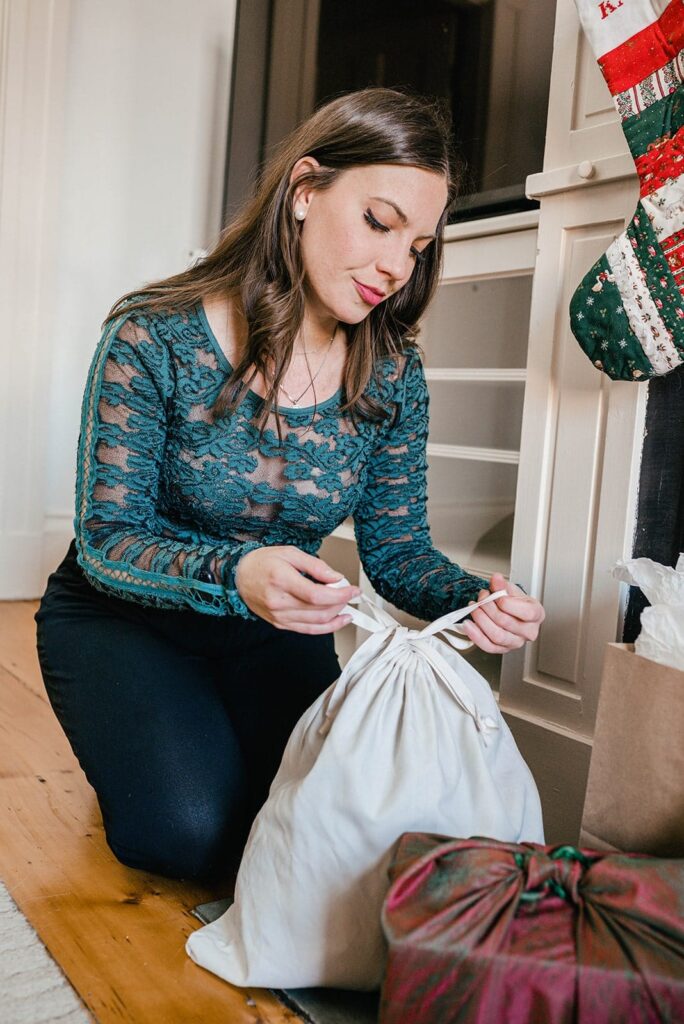 cookie tins:
Depending on the size of the gift you're giving, cookie tins could be a super cute option for gift wrapping and you can find them in nearly any thrift store. There are a lot of wrapping options here, too, either wrapping the tin with another form of gift wrap or even just adding custom decorations to the already unique design of the tin.
sustainable fastenings:
biodegradable paper tape:
A lot of people might not think about how much waste traditional scotch tape promotes. Nowadays, though, there are so many different types of biodegradable tape that you can use to hold your packaging together. For eco-friendly gift wrapping you can use washi tape or compostable paper tape made with wood fibers or bark as well as natural adhesives. The tape also comes in a million different colors and patterns which lend to a super cute wrapping that will make anyone look like a gift wrapping pro.
upcycling old t-shirts, sweaters, and flannels: 
Wouldn't a bow made from an old plaid shirt you never wear be so cute? Cut your shirt into thin strips and use them wrap around your present to create a unique and beautiful bow.
ribbons:
Ribbons are reusable! In many of the photos on this post, you'll notice I use ribbons to tie my presents. I have some beautiful red and gold ribbons, and reuse them year after year.
twine: 
When I tie a present in brown paper or newsprint, much like in the Sound of Music, I tie my packages up with string. I've had a spool of cotton string in the house for years. It can be used to make homemade candles, used for cooking, or to tie up packages. And, I also have some very festive red and white striped twine.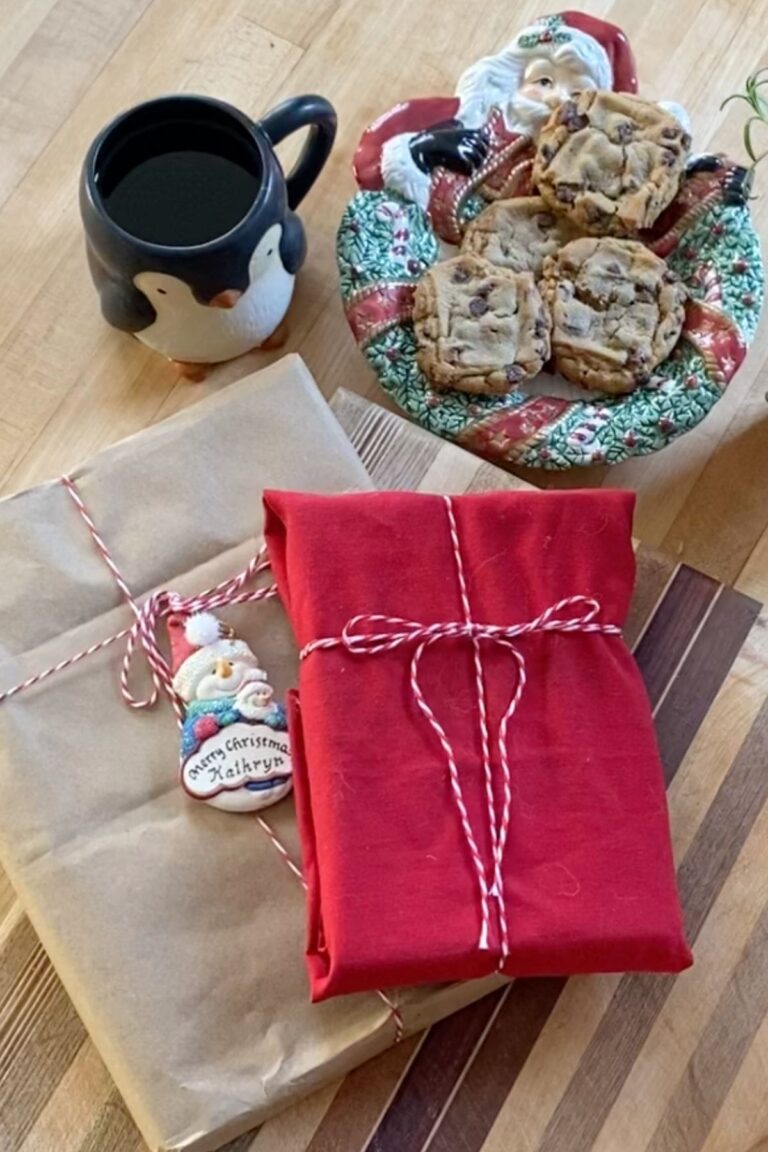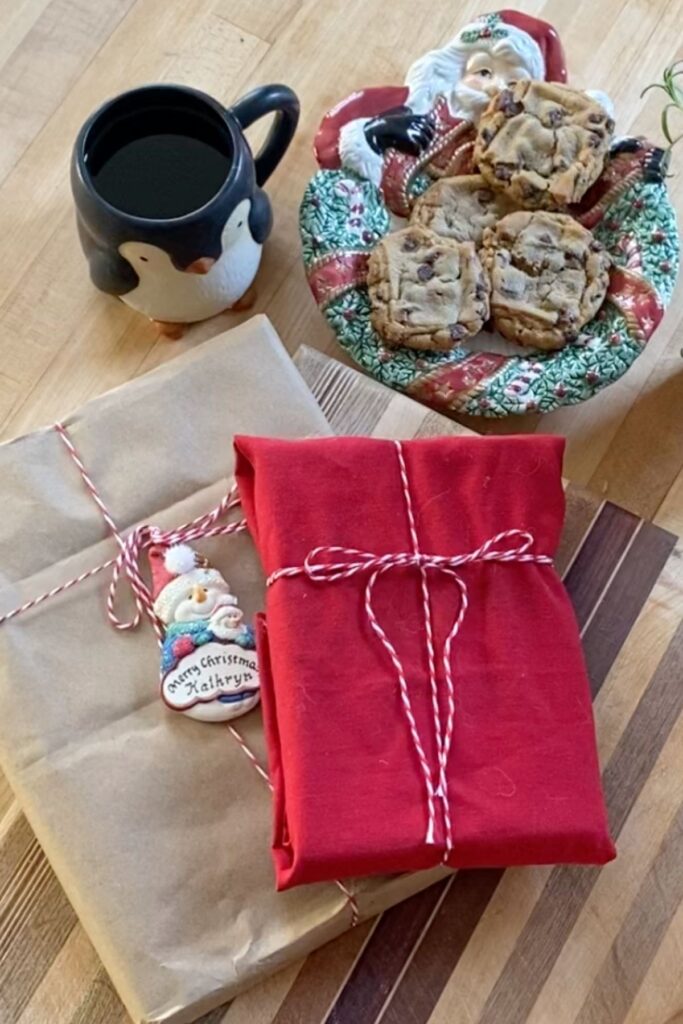 additional decorations:
This is where you get to get really creative! I love getting to design the packages. Some of my favorite decorations are listed below. 
ornaments: adding an ornament to a gift is a great way to really make the package pop. Plus, it's something the receiver can use year after year with their holiday decorations.
broaches: I love broaches. I used to have a whole bunch back home. There are so many beautiful ones in thrift stores or maybe in your grandmothers jewelry box. When you tie your packages up with scarves or napkins, pin them on the bow to add a little bit of festivity. 
dried oranges: Dried oranges are some of my favorite holiday decorations. They smell amazing and are SO easy to make. I thinly slice the oranges and sandwich them between a cloth tea towel. 
Then I set them on a metal drying rack for 24 hours. Bake them on the drying rack for 2-3 hours at 200 degrees Fahrenheit.
Leftover dried oranges can be boiled with cinnamon sticks to make a stove top potpourri.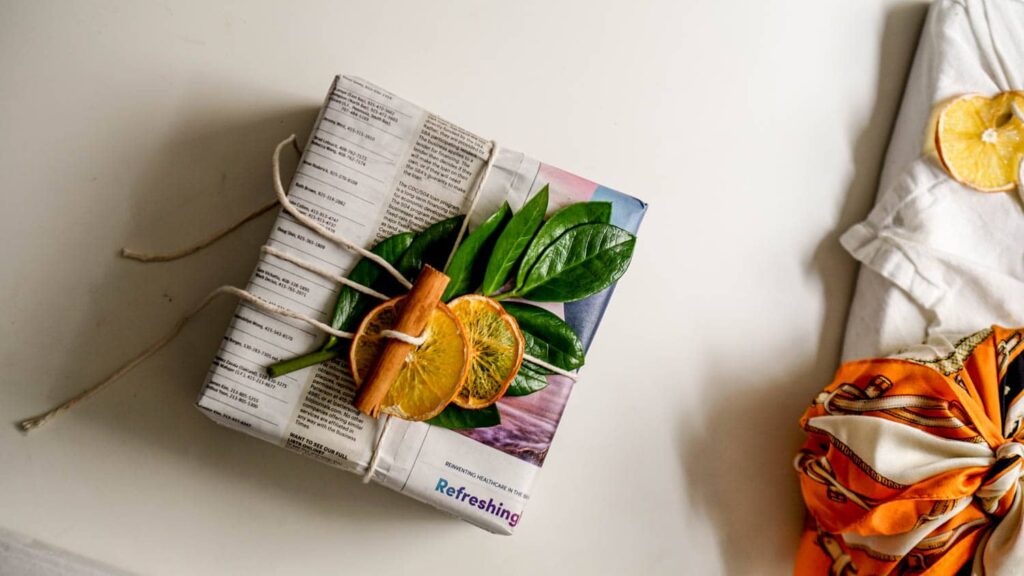 cinnamon sticks: Another beautiful and compostable decoration! Tie them with some string and add a splash of greenery for a beautiful present.
fresh herbs: I'm biased towards rosemary because it's the only type of herb I have managed to not kill. It's also fairly hearty and pretty festive so it will stay green on your packages instead of turning brown. 
pine needles: Of course the fresh scent of pine is lovely and oh-so festive! Nothing says happy holidays more than a couple of festive pine needles. You can typically go pick up some fallen branches for free from the local Christmas tree lot. 
old christmas cards: For years, I have collected old Christmas cards. I cut the signature portion off and leave the front with the pretty pictures to add to packages and use in the future.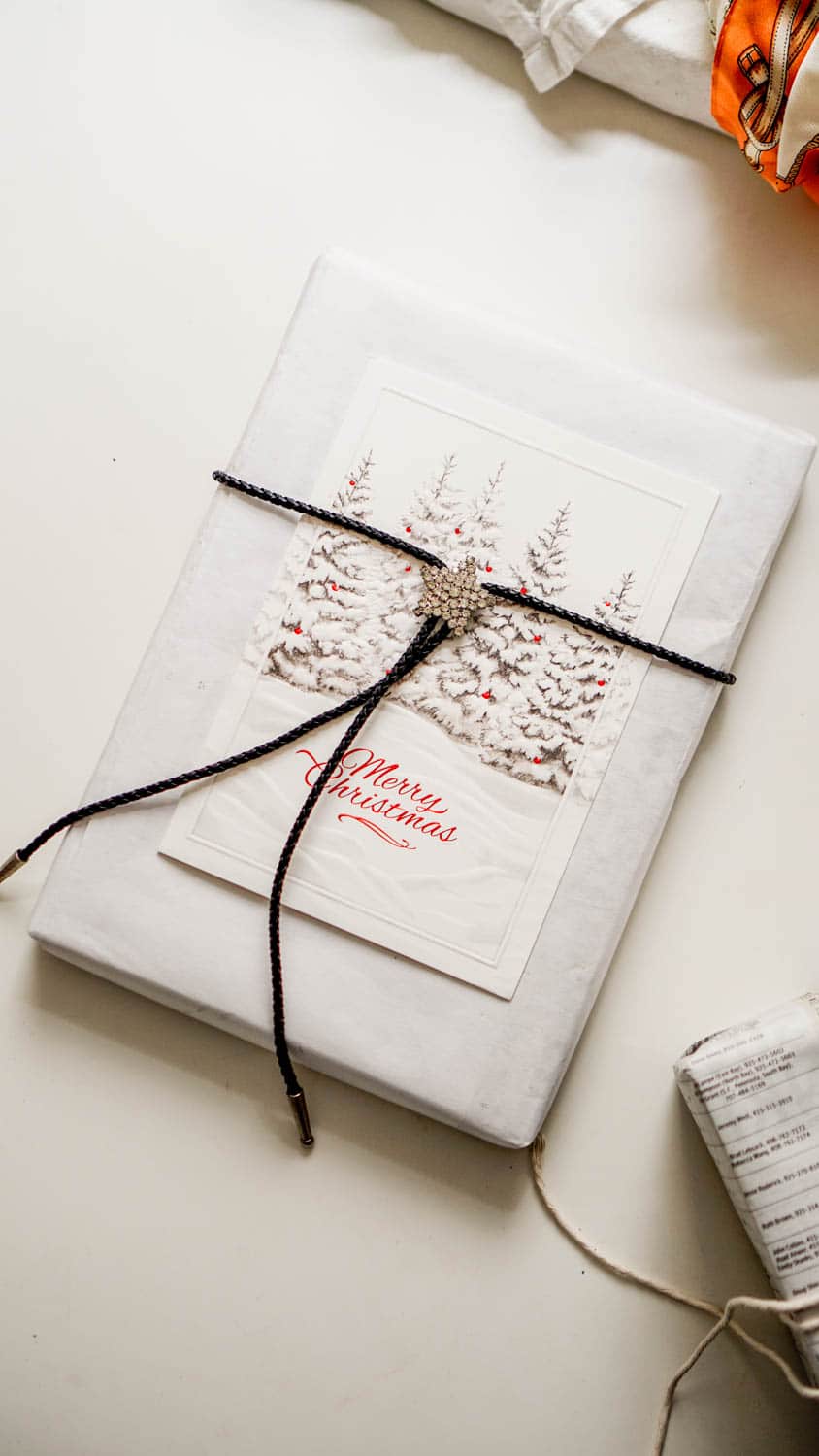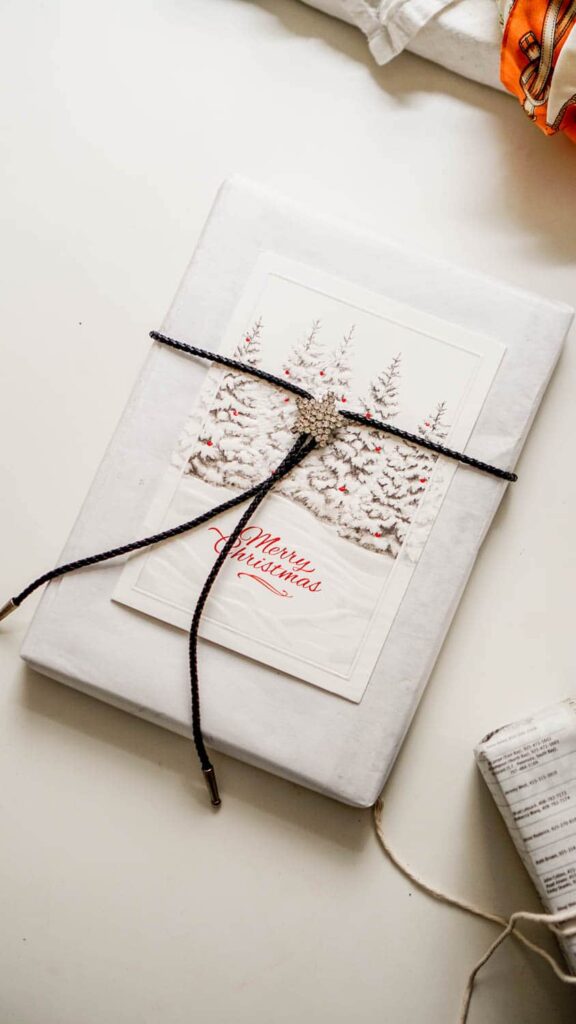 What do you think? Would you give any of these sustainable wrapping ideas a try? If you're looking for a few more posts focusing on creating a more sustainable holiday, you have to check these out!