12 Eco Friendly Backpacks For School
August 3, 2021 | Ariana
Last Updated on March 9, 2022
I hope you enjoy this compiled a list of the best eco-friendly backpacks for school that are great for students of all ages. Many of them can also be used for work, hiking, or going camping too!
Using a durable backpack for school or work is a must if you carry a lot of heavy items such as books, computers, or other supplies. While there are many sturdy backpacks to choose from, not all of them are sustainable. With just a few clicks, you can have a new eco friendly backpack delivered right to your door! These sustainable backpacks are perfect for school, hiking, travel, work, and beyond.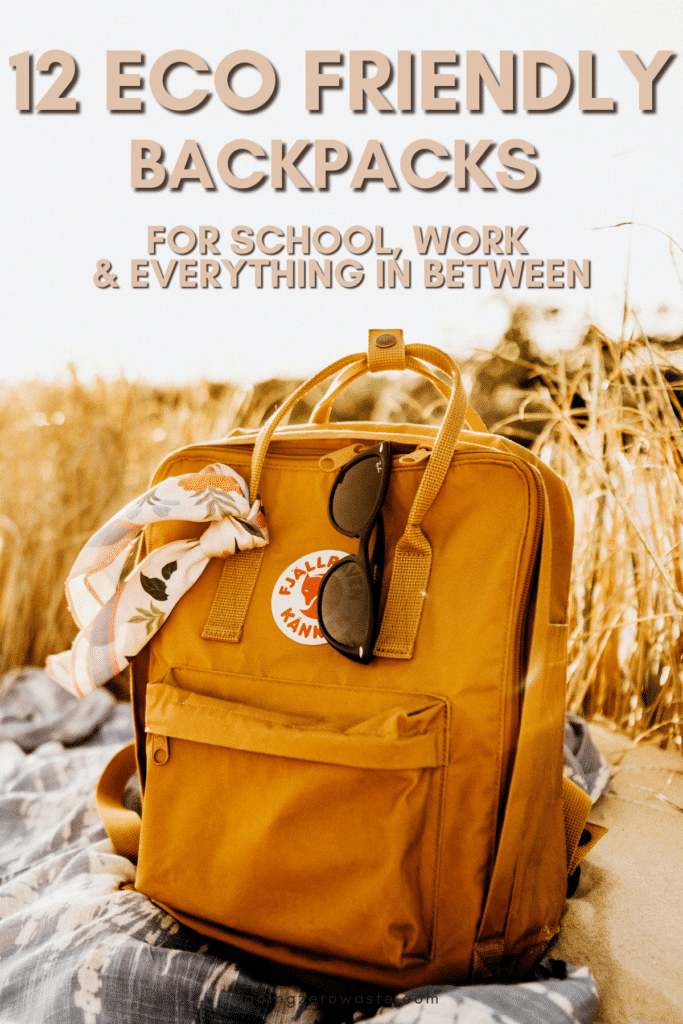 sustainable backpacks
Back to school shopping is a huge market – in 2015 alone, Americans bought over 174 million backpacks, according to the Travel Goods Association.
Personally, I still have my backpack from the 8th grade. It was a very well made Ralph Lauren backpack. Because it was so well made, it's lasted me a long time. But not every backpack is made equal. There are some that won't withstand a year, let alone several. 
If you're in need of a new backpack, investing in high quality, durable, and sustainably made backpack is ideal. You want a backpack that will last you, but also is made with the workers and environment in mind.
The bags featured on this list are ethically made, have an assortment of compartments, and are giving back to our world and its people.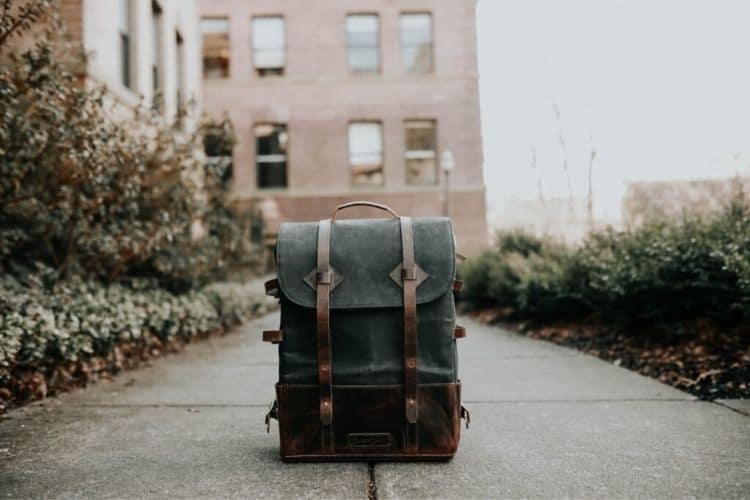 how to choose eco friendly backpacks:
sustainable materials
Most backpacks are made up of a mish mosh of materials all at once. They're almost always virgin materials that require more energy to make and deplete natural resources to get.
These are the materials most commonly found in backpacks:
Cotton
Canvas
Nylon
Rip-Stop Nylon
Ballistic Nylon
Kodra Nylon
Leather
Denim
PVC
Polyester
Polypropylene
Cordura
A majority of the time, brands are not transparent about where they source these materials and how they were treated.  
the truth behind virgin materials
In order to get virgin materials, you must first extract them from the earth using unsustainable practices, such as mining, fracking, or drilling. Then it takes more energy to assemble those raw materials into usable materials.
Plastic is one of the most common materials in backpacks. In other words, plastic doesn't break down, it just breaks up into microplastics over time.
You'll want to invest in brands that use sustainably sourced materials like recycled plastic, Global Organic Textile Standard (GOTS) organic cotton, and upcycled rubber. The GOTS certification ensures the fabric is truly organic and sourced from green supply chains.
All the brands on this list utilize various strategies to ensure their materials are sourced sustainably and responsibly, be it by using recycled materials, low impact dyes, and organic fabrics.
There are also several brands that give back to the earth with every purchase by removing plastic from waterways, planting trees, or helping fund renewable energy projects.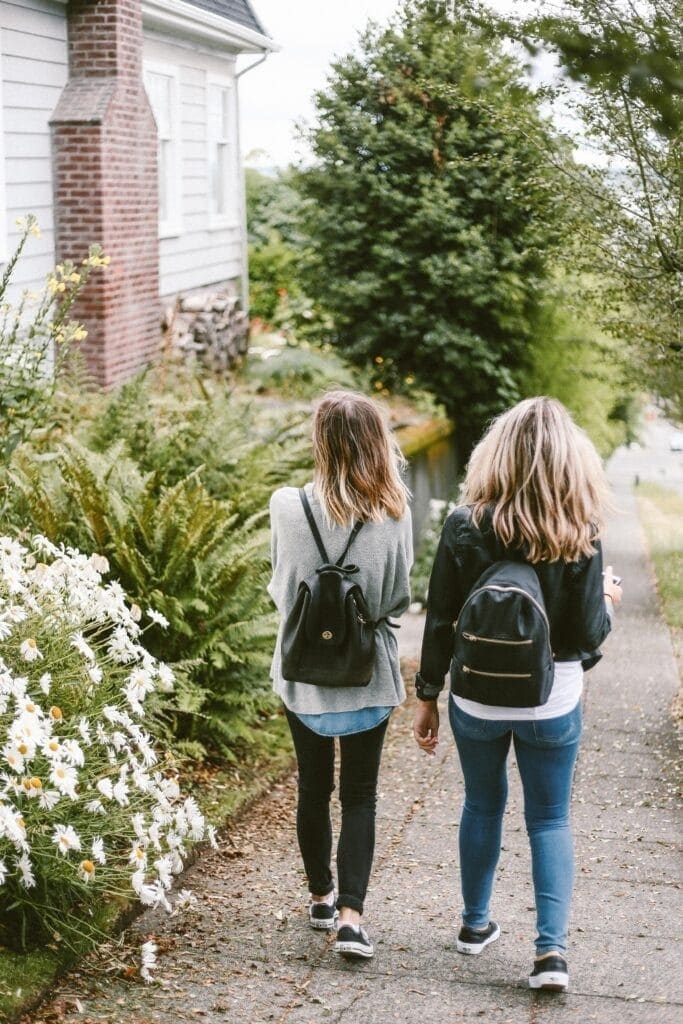 choosing a durable backpack
Truth is, backpacks are hard to recycle due to their many parts. This means most end up in the trash.
When an item doesn't need to be replaced, it means less will go to waste and doesn't support mass consumerism. A lot more goes into making a backpack than just materials alone – there's all the water, chemicals, and transportation emissions to think on.
The textiles needed to make backpacks have a heavy water footprint. The fashion industry (which includes backpacks for school) is the second most water-intensive industry in the world, consuming around 79 billion cubic meters of water per year. Fabric dyeing is responsible for 17 to 20% of global water pollution.
When we toss backpacks in the trash, we are also wasting the resources it took to make them. For this reason, it's essential to find a durable backpack that will last for several years, rather than just one.
All the backpacks on this list are from high quality brands that put a lot of time into the design and durability of their products. They have several compartments and pockets that will prove quite useful for carrying laptops, pens, books and more. Some even have high tech compatibilities, like solar chargers.
These sturdy backpacks are designed to last several years, so think of them as investments.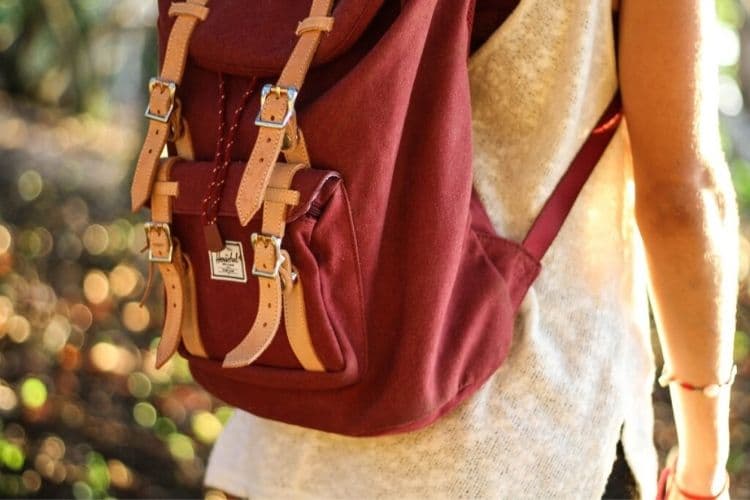 eco friendly backpacks and prioritizing ethical production:
How a backpack is made, and by who, matters. Who made it? Did they earn a living wage? How are they treated on the job? These are all questions we should ask for every item we buy.
Humane treatment of workers and fair living wages are essentials, non negotiables. It's unfortunate this has to be considered when buying a backpack, but you'd be shocked at how many brands just want cheap labor to meet demands.
Fast fashion brands are most known for their exploitation of workers. For more info, check out the blog post What is Fast Fashion, Anyways?
Make sure you're supporting brands that offer fair wages and safe working conditions, always. When choosing a backpack for school look for brands that disclose their factory information, work with artisans who are preserving fragile cultural heritages, and are fair trade certified.
All the brands on this list are transparent about their practices, pay their workers fairly, and offer employees a safe work environment. Some of these brands even feature age-old techniques, traditions, or art forms that are in decline or in danger of being lost forever. 
12 sustainable and eco friendly backpacks
Ready to grab an eco friendly backpack for yourself or are you needing some sustainable kids backpacks? Whatever you're in need of – there's bound to be something for you on this list.
I've gone ahead and highlighted some of my favorite features of each brand. Check out their websites for more information.
Here are 12 eco friendly backpacks you can trust to last you on errands, in school, and on hiking trips.  
1. recover – backpacks for school
Made from recycled pet fabric and upcycled rubber
Each backpack saves several rubber innertubes from entering the landfill
Made in the USA
Charitable, 1% For The Planet
/ SHOP RECOVER /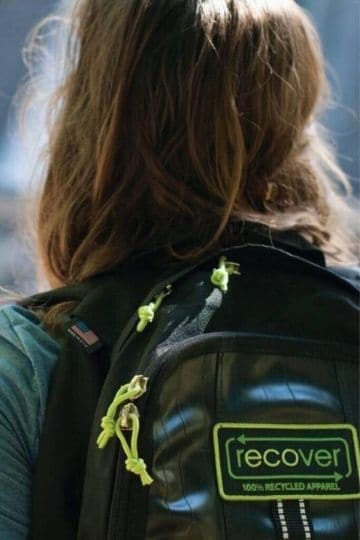 2. alchemy goods – biketube backpacks
Made from reclaimed bicycle inner tubes
72% of this bag is made from recycled materials
Vegan
Handmade in the USA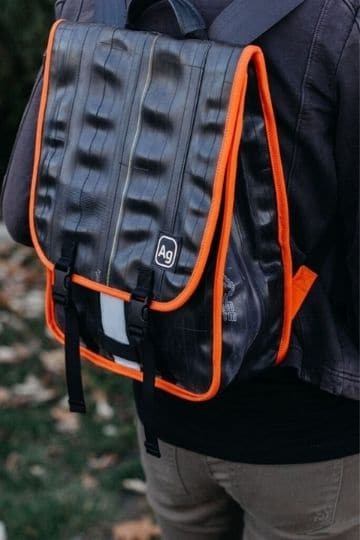 3. tentree – laptop backpack
Made from 100% recycled materials
Utilizes Repreve fabric
Safe and fair labor
Sustainable manufacturing
Plants a tree with every purchase
/ SHOP TENREE /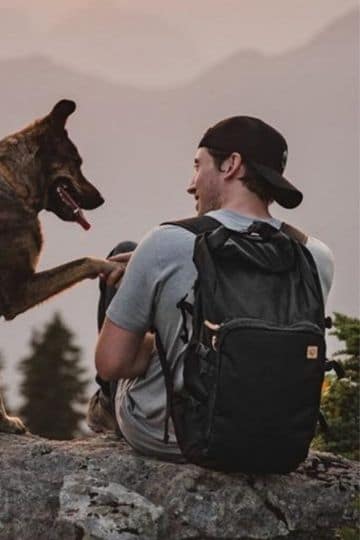 4. terra thread – durable backpacks
Handmade from organic GOTS certified cotton
Fair trade certified
Each purchase gives back to Feeding America
Made without GMOs, toxic dyes or chemicals
B Corporation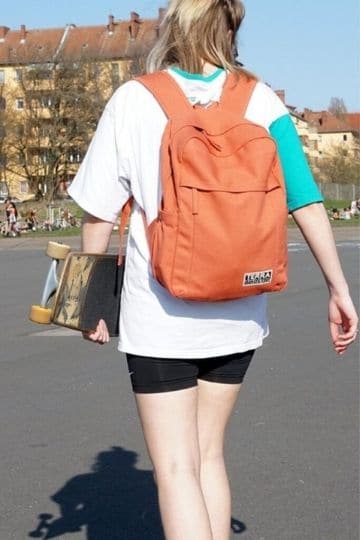 5. fluf – sustainable backpacks
GOTS certified organic cotton and recycled content
Padded with recycled polyester felt made from plastic water bottles
Made without GMOs, BPA, toxic dyes or chemicals
Safe and fair labor
/ SHOP FLUF /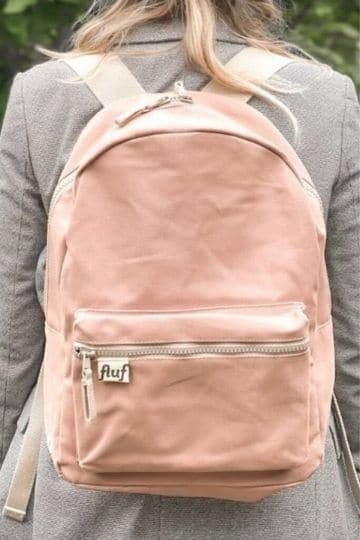 6. united by blue – adults and kids backpacks
Made from recycled pet fabric and recycled nylon
For every product purchased, 1 pound of trash is removed from waterways
Vegan
B Corporation
/ UNITED BY BLUE /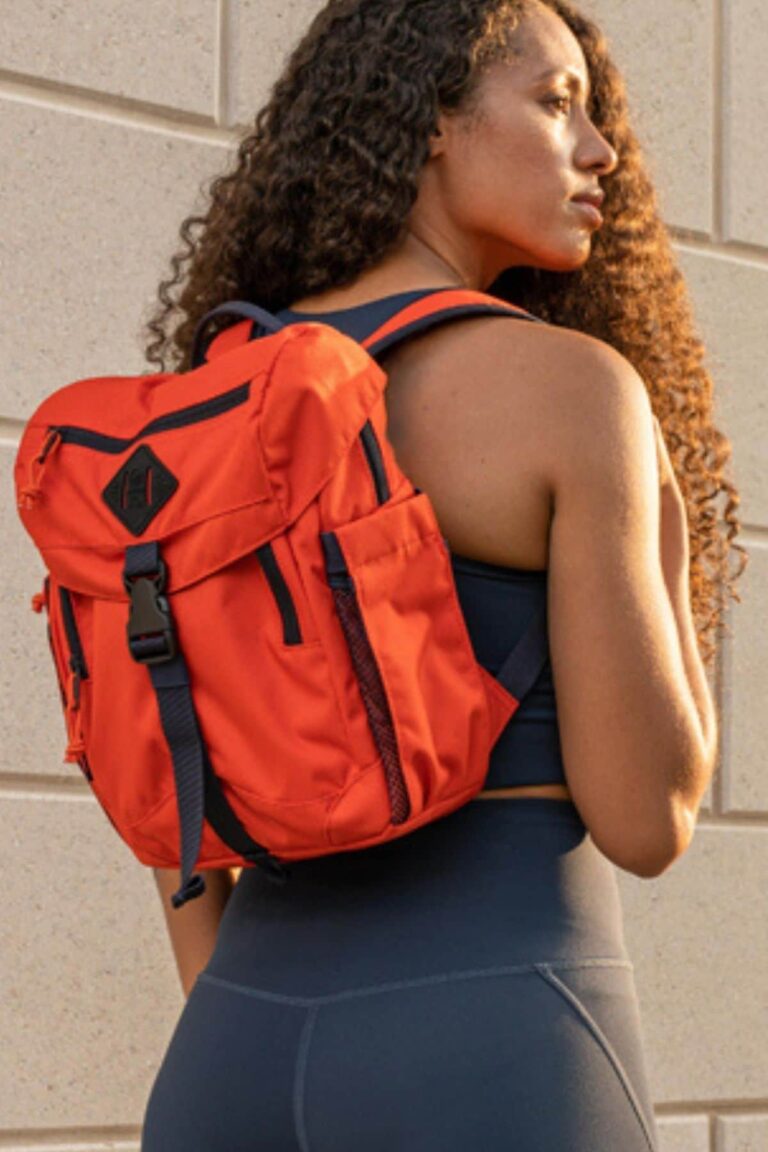 7. patagonia – eco friendly backpacks
Recycled materials
Fair trade options
Solution dyeing
Factory transparency
/ SHOP PATAGONIA /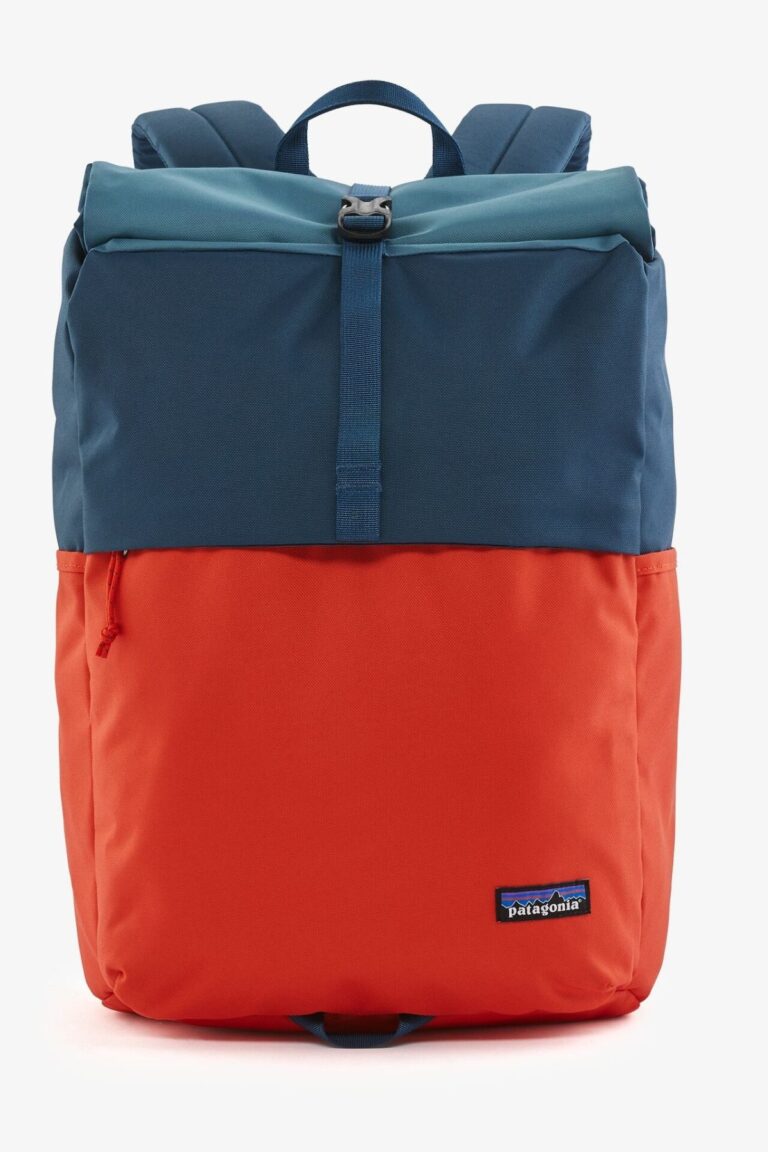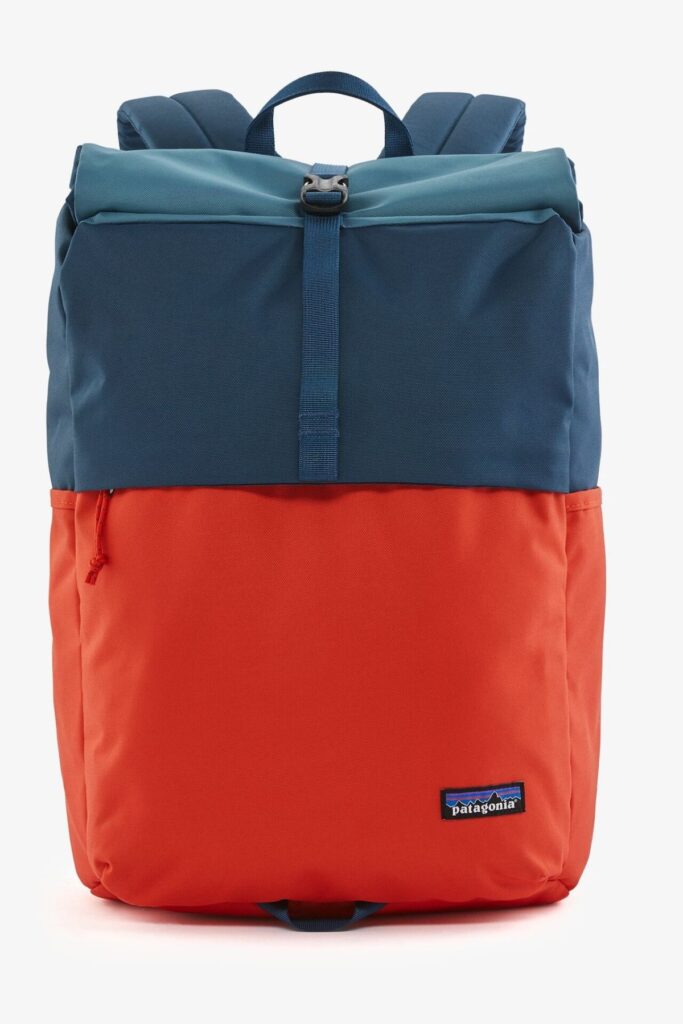 8. day owl – backpack for school
First Mile recycled canva
100% circular – no landfills
Lining and trim made from 100% recycled post-consumer plastic bottles
Algae based foam
/ SHOP DAY OWL /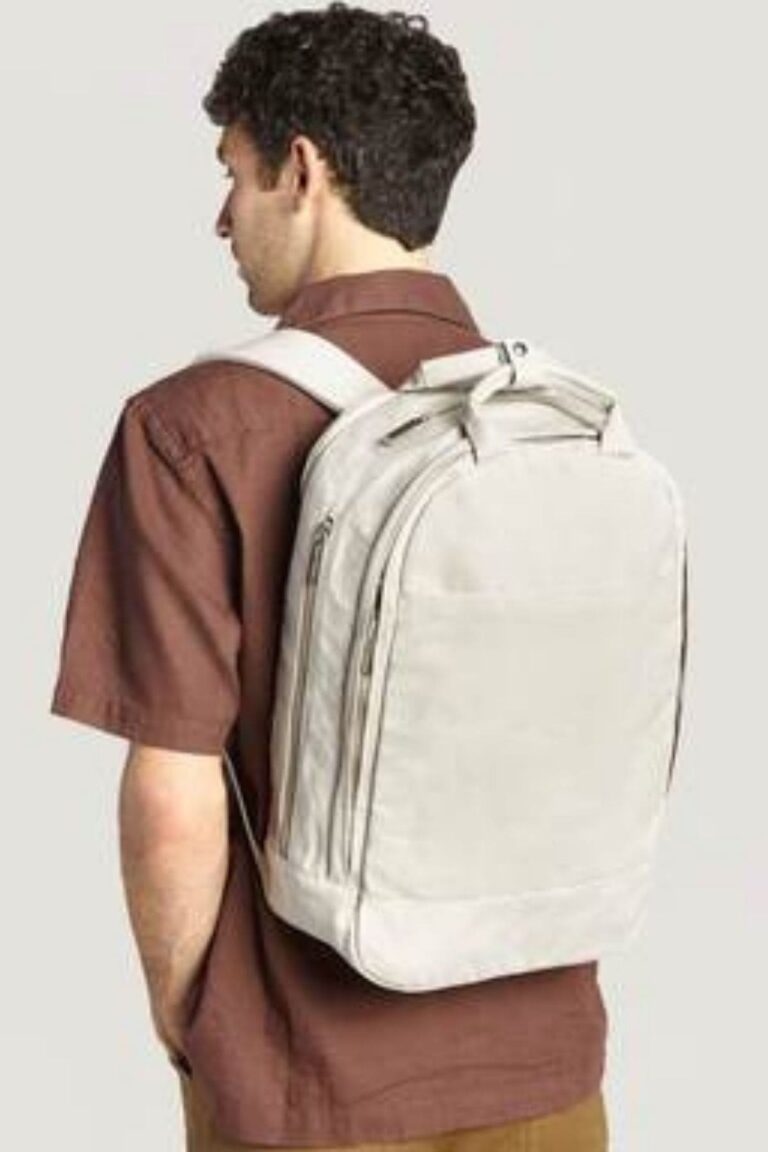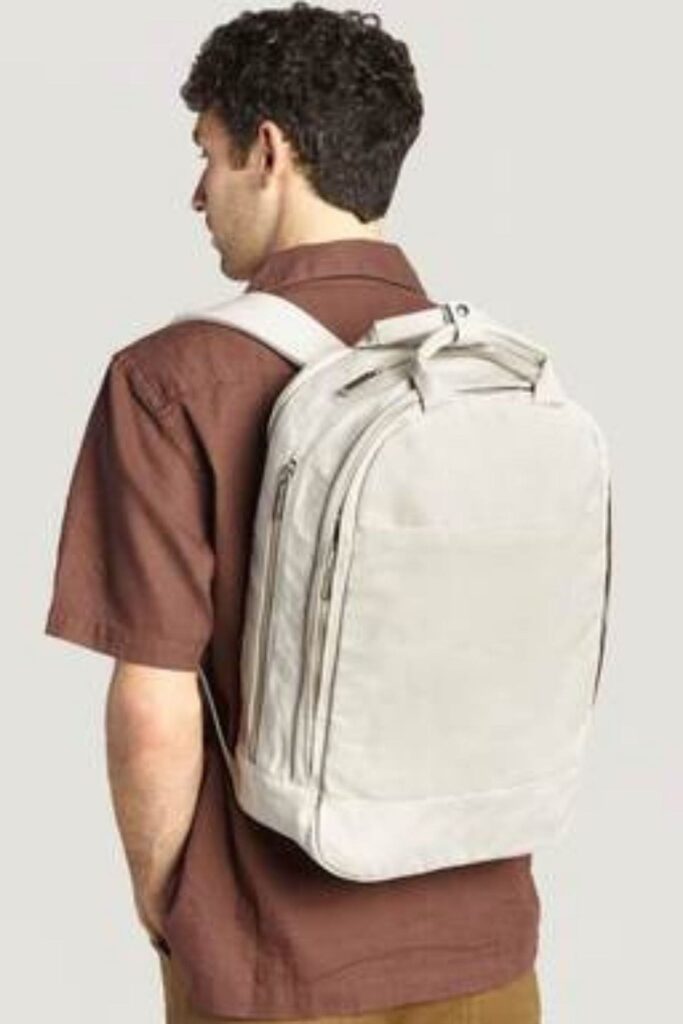 9. fjällräven  – laptop backpacks
Organic, renewable and recycled materials
Fair labor association
Climate compensation through supporting renewable energy projects
Sustainable production practices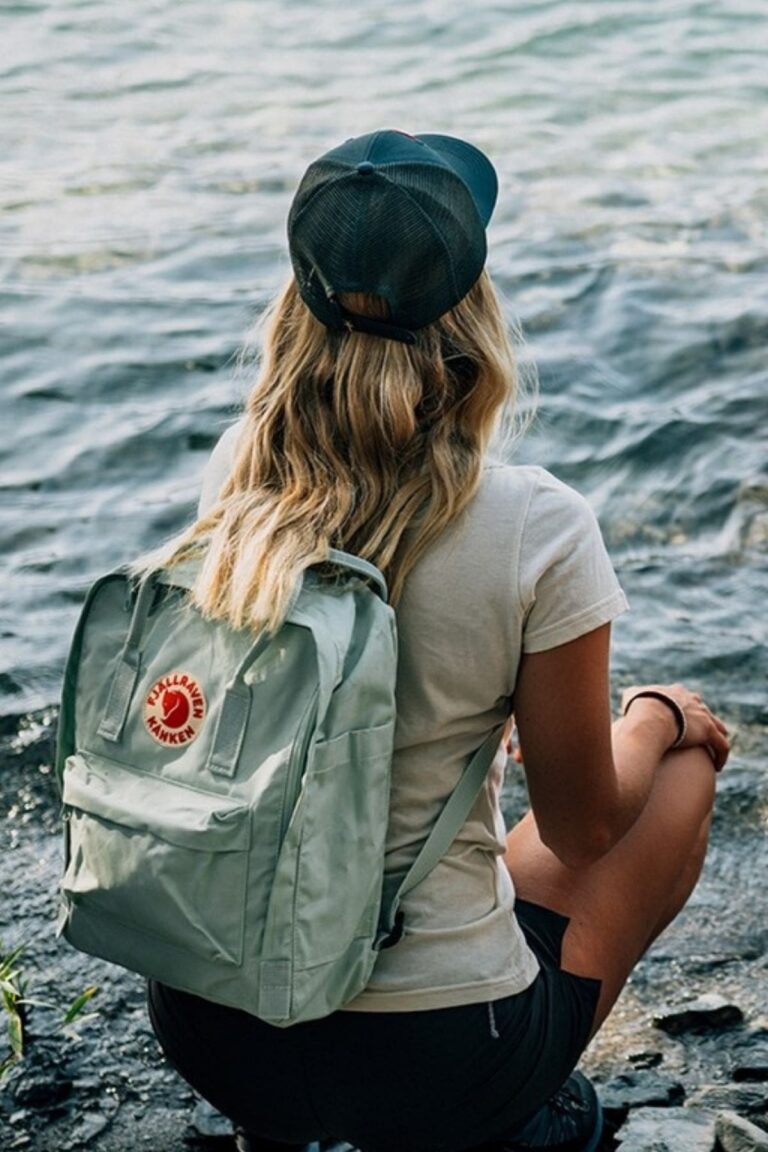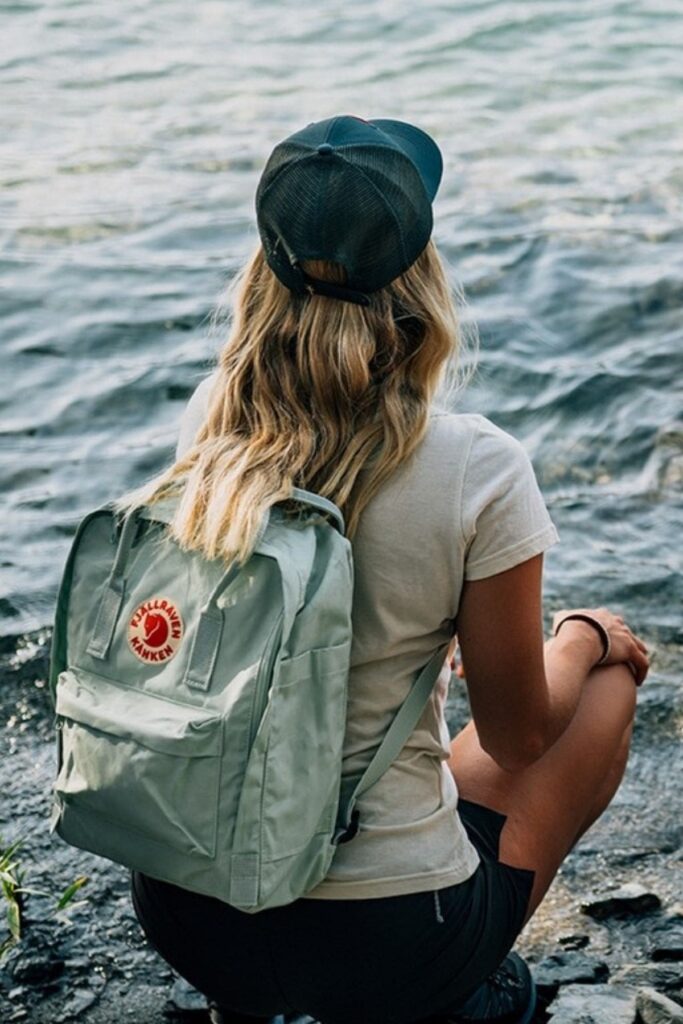 10. solgaard – sturdy backpacks
Made from upcycled ocean plastic
For every purchase, 229 plastic bottles are removed from the ocean
Includes Solarbank, a charger with solar power
/ SHOP SOLGAARD /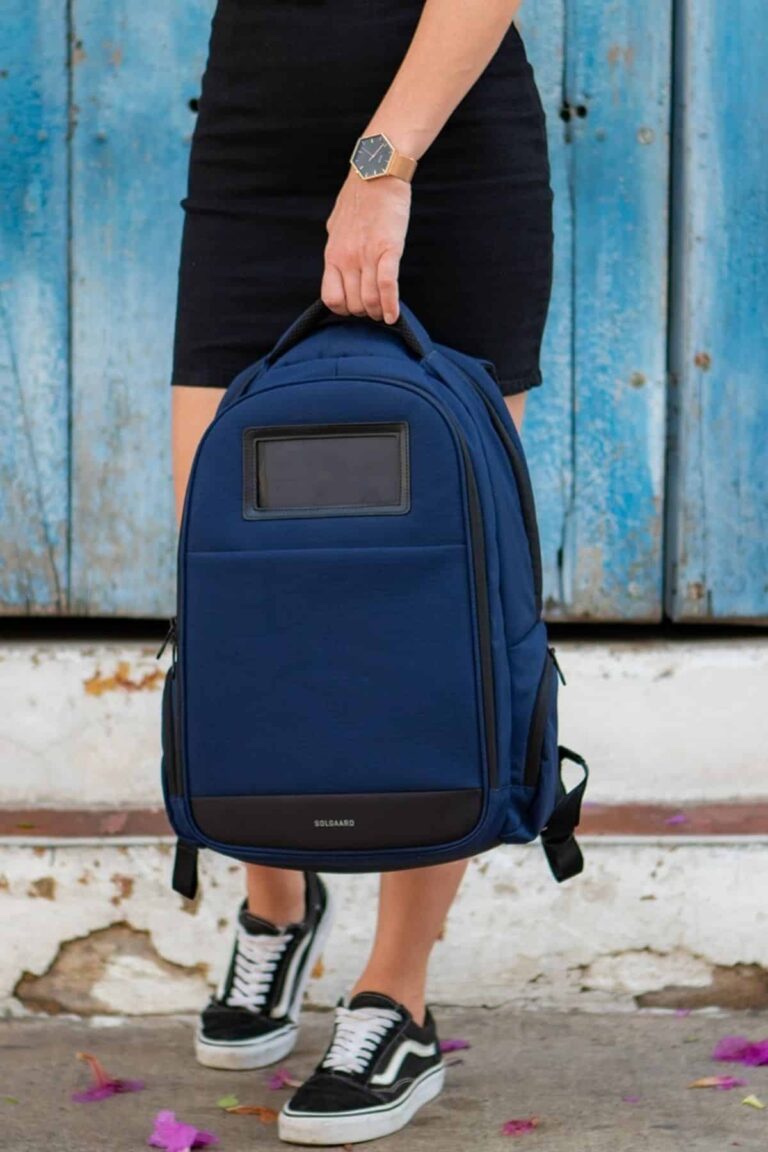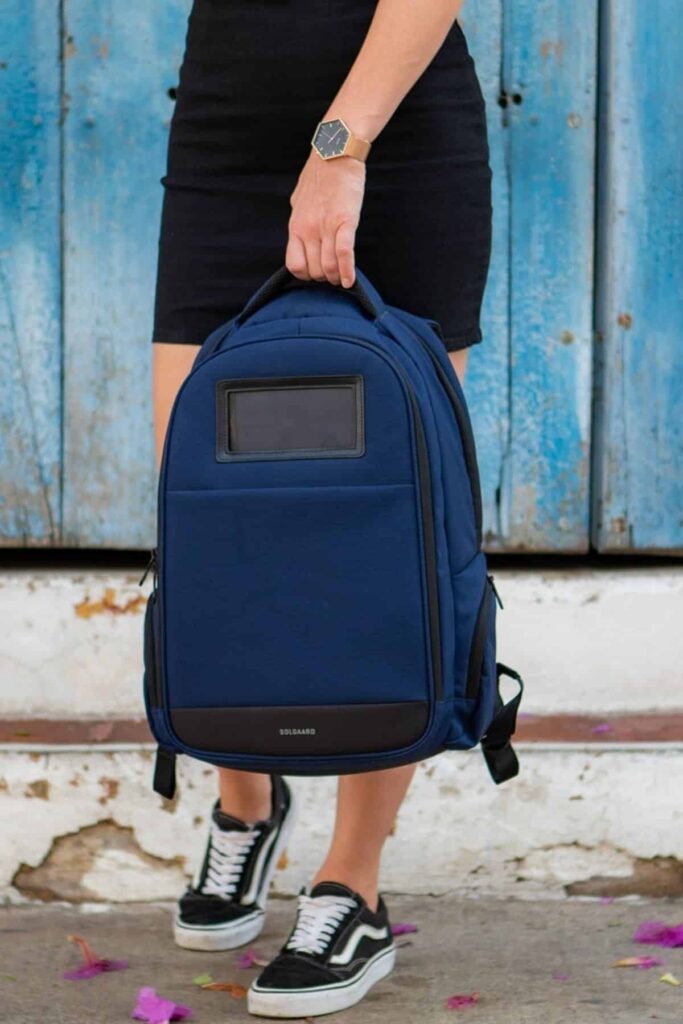 11. tiradia – designer backpack
Made of natural cork
PETA certified vegan
Fair trade
Features age-old techniques, traditions or art forms
Handcrafted in Aveiro, Portugal
/ SHOP TIRADIA /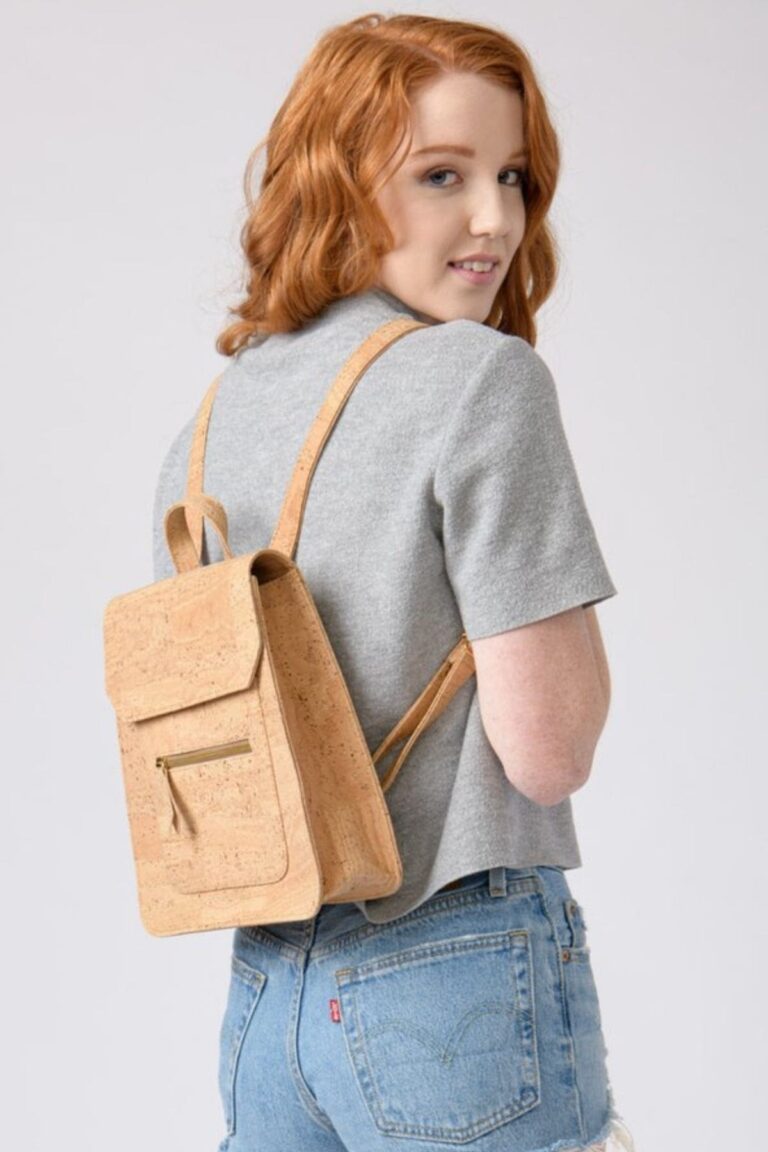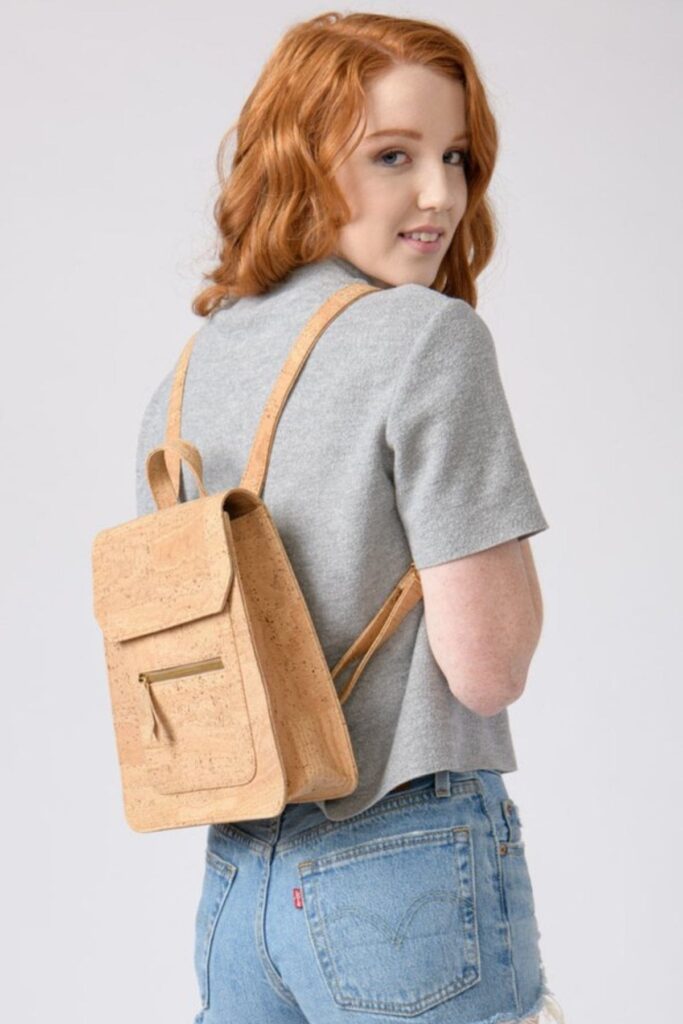 12. purse and clutch – fair-trade, sustainable backpacks
Hand processed, chemical free, vegetable treated Charcoal Black Leather
Artisans are paid a living wage for their region & work in a positive environment
Preserve fragile cultural heritage art forms and techniques
Handcrafted in Chiapas, Mexico