Bernardo Jacket Review — Is this Eco-Friendly Jacket Worth the Hype?
January 14, 2021 | Kathryn Kellogg
Last Updated on September 13, 2023
I'm sharing my Bernardo jacket review because Bernardo's sustainable jackets get a lot of hype, and I wanted to see if they were all they were cracked up to be.
Sustainable winter coats, like the Bernardo Puffer Jacket, are worth the investment — especially if you live somewhere with chilly winters! Traditional winter coats are full of plastic materials like polyester and nylon. Bernardo coats contain a vegan alternative to lightweight down, and the company uses recycled materials to make all of their jackets. It's a top sustainable winter coat option, but are they truly eco-friendly? Do they truly keep you warm? Let's find out!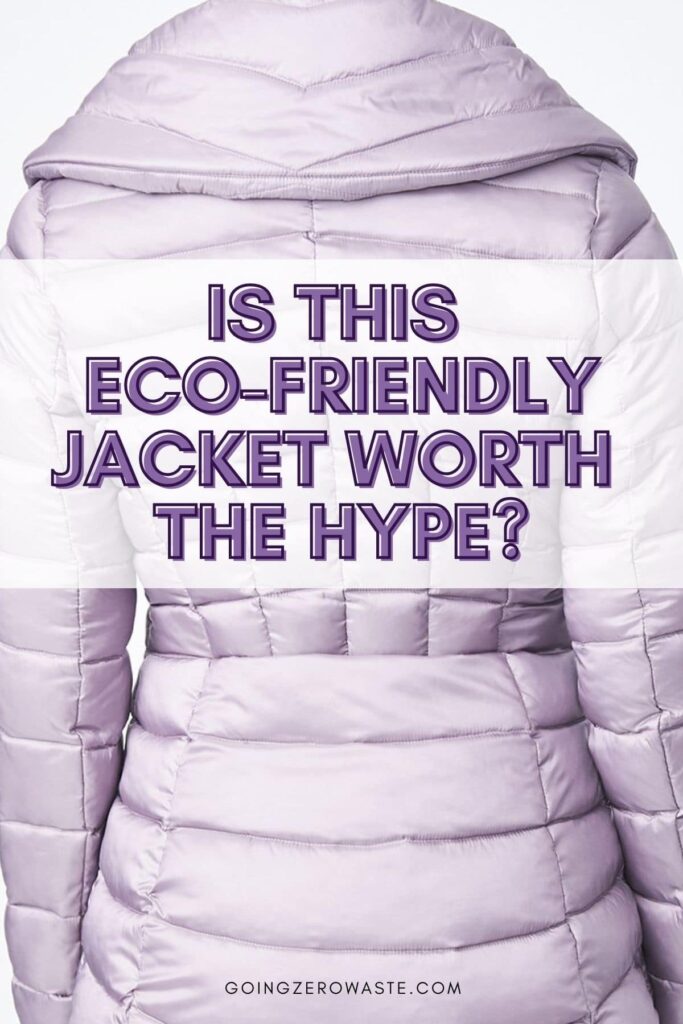 sustainable jackets
Living in Northern California, I don't really need a large, warm, puffer coat. In fact, the only time I really needed a coat was when I went to New York with my mom a few years ago and snow was in the forecast. 
Since she was coming from my childhood home, I just had her grab my old winter puffer from high school that was still hanging in the coat closet. It was a little tight in the shoulders and short in the arms, but it worked just fine for the week we were there. She took it back with her, and it hasn't crossed my mind since. 
That being said, I tend to run extremely cold. My friends tease me for over-bundling in what many consider to be mild weather, so I've been on the hunt for sustainable jackets that will keep me warm.
the need for a sustainable winter coat
Justin and I have been total homebodies this year, only leaving the house for our bi-monthly grocery trip. So, we decided we could really use a change of scenery. 
We booked a cabin in the woods about two hours away so we could get a fresh perspective — i.e. a SNOW perspective. 
My husband is from Maine, and he's been missing the snow terribly, so I thought it would be a nice treat to go see some for a few days. 
We booked a small one room cabin with a cozy fireplace and a BIG coffee table — perfect for lots of board games. We planned to take Nala on lots of walks in the snow, sip hot cocoa, and just enjoy watching big snowflakes out of our temporary windows. 
As I prepared for this trip, I ran into a problem… not having a proper, sustainable winter coat. After scouring the internet for a high quality, eco-friendly coat, I landed on Bernardo's classic designs. And, they were kind enough to gift me one to test out for the trip. 
So, let's get down to my Bernardo Coat Review!
how was your trip?
Unfortunately, the cabin wound up canceling our reservation at 1:51 in the morning before our departure.

So, we never actually made it to see the snow. I still wanted to write a review, because I'm happy to have this high-quality beauty and know she'll be with me for a long time. 
my review of bernardo coats
quality of the bernardo puffer jacket
This Bernardo jacket is made incredibly well. I was blown away by the details and sturdiness of the hardware for this Bernardo coat. The material is thick — which gives it strength — and reinforced by impeccable stitching.
The weak points in clothing are usually the seams and the zipper.
RELATED: 5 Tips for Finding Quality Clothing
The zipper on this particular jacket is heavy duty plastic, but I think that's a good thing! These plastic teeth are manufactured with high-performance resins to ensure they're EXTREMELY strong and maintain durability and flexibility even in wet and windy conditions. 
These zippers were made for fishing boats. And you know conditions can get rough out there, so this is a way of ensuring durability!  
As for the seams, I'm going to attach a photo below because they're so clean. This is a jacket that's going to stay with you for years to come, and re-wearing your pieces season after season is one of the best ways to reduce your fashion footprint. 
Bernardo is currently running a 60% off sale, so if you're in the market for a new eco friendly coat, now would be a great time to snag a good deal!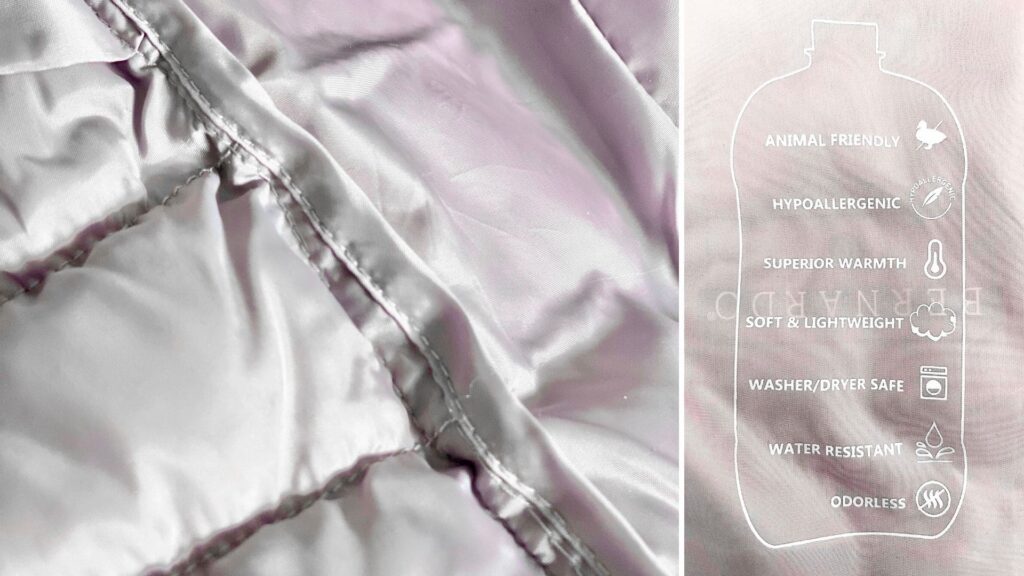 sustainability of the bernardo jacket
Bernardo's coats are made from recycled materials, and they're transitioning their whole line to reflect that.
They still have some coats on the website in transition, but the majority are being made with eco-friendly materials.
And I mean the whole she-bang — the fill and insulation, the outer shell and lining, the zipper, hangtags, and even labels.
Currently, the only thing that's not made from recycled materials is their thread and metal accents. But, they're working on getting those things from recycled materials too! 
If you're looking for a vegan alternative for light-weight down, you definitely need to check out Bernardo's offerings.
These recycled jackets are designed to keep you super warm and cruelty free.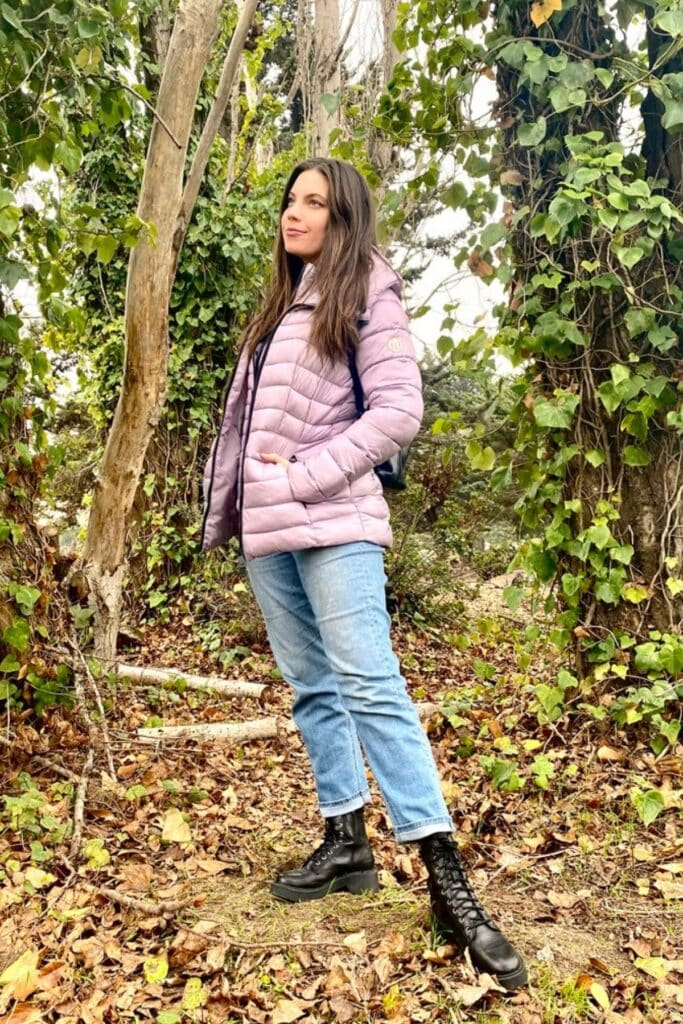 the test of bernardo warmth
As mentioned earlier, I am cold natured. I easily chill to the bone. You can ask any of my Instagram followers after they dragged me for wearing leggings under my jeans.
And a turtleneck under a sweater… accompanied with a coat, scarf, and hat — all to watch a movie outside in 55 degree weather. 
I understand that some people can handle cold weather like penguins or polar bears, but I am not that person. 
I was SO excited to get to test this Bernardo coat out in the chilly weather myself. But, it wasn't meant to be. Having a ton of faith in this jacket, it was the only coat I packed for our trip.
Wearing only a pair of jeans and a long sleeve t-shirt, I gave the Bernardo puffer jacket a small test run on a walk in 53 degree weather. To the jacket's credit, I was sweating. 
I was too cold without the jacket and too hot with it on. So, I felt comfortable enough for it to be my sole jacket in a winter wonderland. 
I don't know if we'll try to see snow again this year. Maybe next winter — and I'll give this review an update! 
the style rating
I'm a firm believer that it's not enough for a product to be eco-friendly. It also has to work incredibly well and LOOK GOOD! 
When it comes to an eco-friendly and stylish puffer, you CANNOT beat Bernardo's offerings. They've been creating outerwear for more than 40 years, and they have mastered it. 
All of their pieces have incredibly flattering lines. They offer great basics, but they also have quite a few trendy jackets if you're looking for something more modern.
I know as far as Bernardo coats go, my lavender puffer is a little trendy. I probably should have gone with something a bit more classic for the sake of sustainability. 
But, I was wooed by the beautiful shade. I love wearing pastels, and my wardrobe mostly consists of baby pink and blue. So, this lavender number fit right into my closet.
faqs
where is bernardo fashions based?
Bernardo was founded in Montreal (Quebec, Canada) by Bernard Rudofsky and Berta Rudofsky. This bustling city is known for its fashion and it's brutal winters, so you know you can trust them with your winter coat!
what is their vegan down alternative?
They call it Ecoplume Green! It transforms plastic bottles into a 100% recycled insulation. It works remarkably well at keeping these jackets warm and at reducing the plastic waste in the world!

I want to give a huge shout out and thank you to Bernardo for sponsoring this post! I can't wait to take this baby out into the snow at some point. As a reminder, their offerings are 60% off right now. So if you're looking for a new sustainable and eco-friendly coat, you should check them out.