Ethical and Eco-Friendly Summer Trends for 2019
June 3, 2019 | Kathryn Kellogg
Last Updated on September 15, 2020
I'm so excited about writing this post. Most of y'all know that I have had an interesting journey when it comes to my wardrobe.
I used to have A LOT of clothes, and was always very fashionable, but of course that involved a lot of fast fashion and a mild shopping addiction.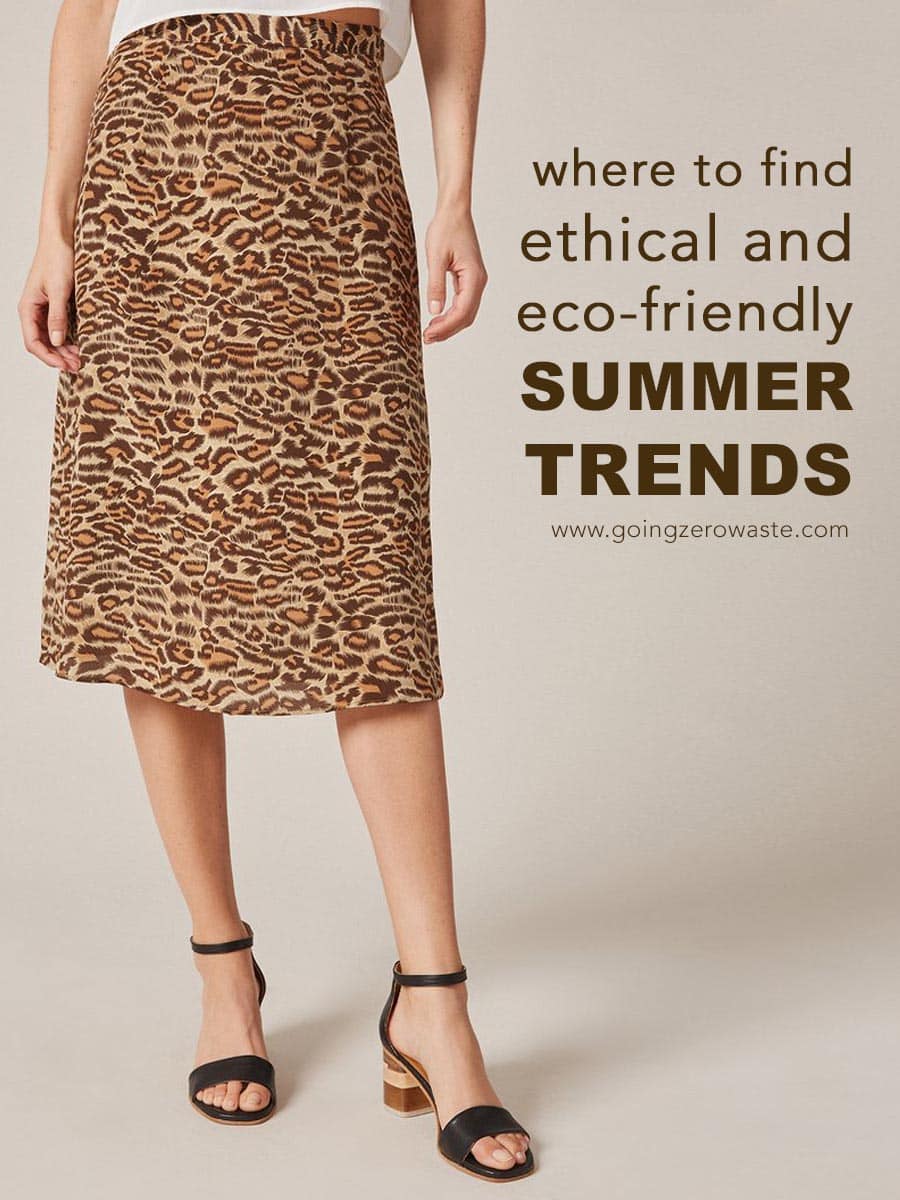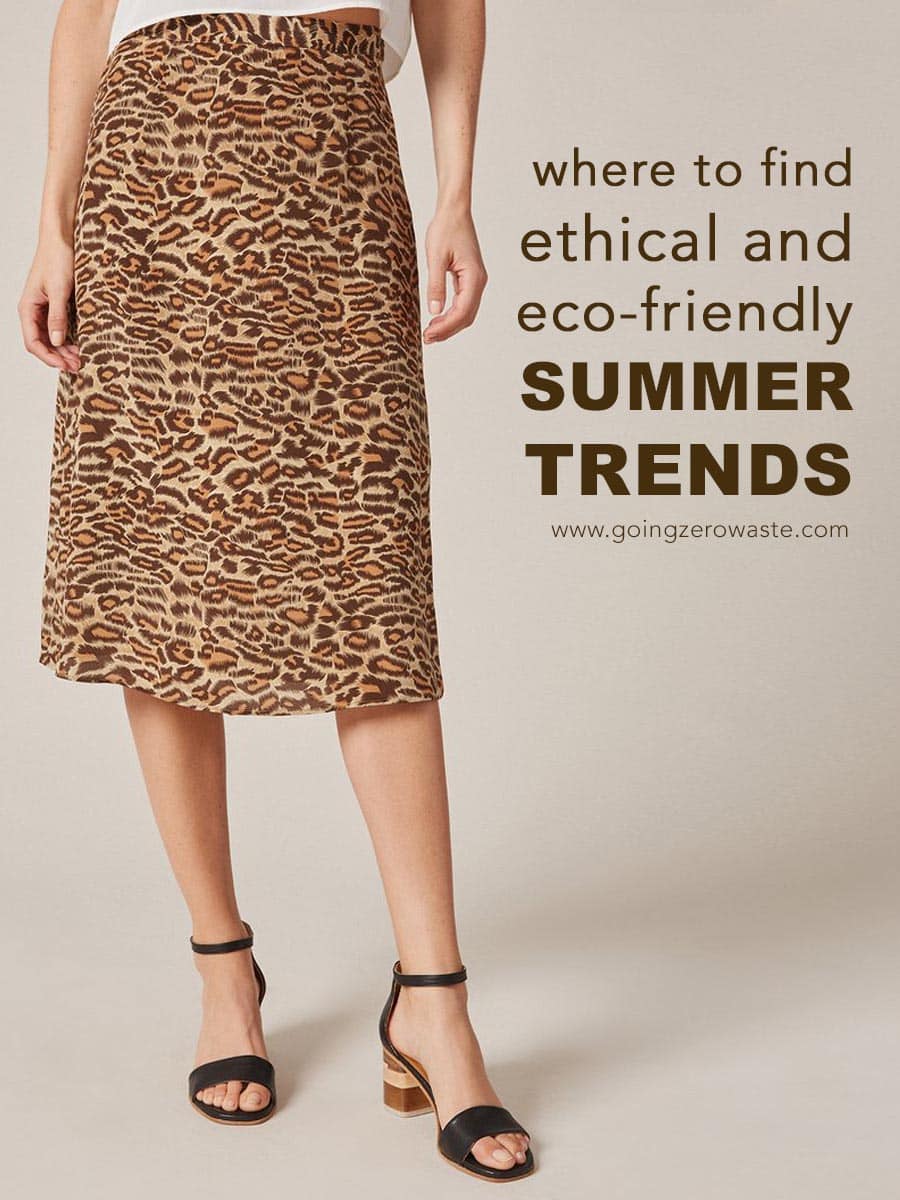 Then I decided just to cut the whole thing and drop down to an 18 piece wardrobe which crashed, burned, and went up in flames which you can read about here.
Some of the links below maybe affiliate links please see my disclosure policy for more information. All of the brands that I will be linking to are eco-friendly and ethical brands!
I've been on a wardrobe quest for a while now, and I'm finally starting to get serious about it and started the Wardrobe Project, which I've honestly been a little bit too embarrassed to post about…
But, it all boils down to building the wardrobe of my dreams. I tend to buy basics sustainably and ethically made and opt to grab trendy pieces from secondhand stores. I figured I'd round up all of the trends I'm looking for and keep you updated on the status.
You can get my 6 tips for mastering shopping secondhand and 10 places to buy secondhand online.
finding the latest trends at ethical and sustainable stores:
It's not impossible, but it is a bit more difficult because sustainable and ethical brands typically focus on pieces that are meant to stand the test of time.
That's not saying you can get cute prints and fashionable pieces, but it will be difficult to find hyper/seasonal trends… and you're not going to be able to get ahead of the trend. You'll always be a bit behind.
finding the latest trends at secondhand stores:
It can be difficult to find trends secondhand for a few reasons:
most people haven't bought the trends and then had enough time to decide to donate it.

the trendy pieces will be the FIRST pieces snatched up so you'll have to be super vigilant.
Speaking of donating clothes have you checked out my ultimate guide to recycling clothes? Yes even your holey socks and undies!
finding the latest trends at vintage stores:
You might have the most success finding trendy pieces at your vintage stores because all trends are cyclical. I mean the 80s have been back for a while and the 90s are in full SWING.
1. short suits:
Short suits are technically a 2018 summer trend, but I'm obsessed. I have never felt more Kathryn than wearing a pair of high-waisted shorts, a blazer and loafers or sneakers.
I've managed to thrift the perfect pair of vintage, high-waisted khaki shorts! If you're in my area then you have to check out my Zero Waste Guide to the San Francisco Bay Area so you can eat all the best foods and score the perfect vintage finds.
I got black high-waisted paper bag shorts and the PERFECT slightly oversized khaki blazer from thredUP and you can get $10 off your first purchase with that link!
I had a long black blazer that I was about to donate because it had a sheer ruffle lapel, but I took the ruffle lapel off. Combine that with my black and shorts and BOOM – the perfect set!
khaki shorts
Linen cotton slightly oversized blazer
2. watches:
Now, it's not like watches are all of the sudden in trend. I'm pretty sure watches will always be in trend, but it just happens to be one that I'm picking up on right now. I think that wearing a watch really brings a whole outfit together.
I have been searching for a watch with a white face, silver hardware and a tan leather strap FOREVER. And, I'm so excited to have FINALLY found one with Nordgreen a sustainable, Scandinavian watch company.
Nordgreen is a new Scandinavian watch brand. They have minimal, classic watches and offer inter-changeable straps so you (me) can finally get that watch you've been dreaming about!
They're also partnered with three non-profit organizations and every purchase you can provide two months of clean water to one person in the The Central African Republic, two months of education to a child in India, or preserve 200 sq. ft. of rain forest in Latin America.
This is the watch I got and you can get 15% off with the code ZEROWASTE15
Citizen Stainless Steel Watch <——— I also got this watch, and is one of my favs!
Classic Engineering Minimalist Watch
3. slip skirt & dresses:
I want to love this trend, I have really struggled trying to find a slip skirt secondhand. I'm not super crazy about the patterns on the ones available at Ref right now, but they do have a cute selection!
classic slip dress
slip dress with buttons down the front
slip skirt <——— this is the skirt I'm highly considering getting!
As far as slip dresses, I'm not entirely sure it's for my body type since I'm pear shaped.
4. animal print:
I've never been really into animal print, but some sort of animal print is always in season. Starting last year snakeskin was THE HOT item. And, while I'm not going to be picking up any snakeskin pieces, I did pick up a pair of leopard print loafers from thredUP.
They look to be very high quality, and I've already worn them a few times! They're made in Italy, leather, and pony hair. I always look for natural materials esp for shoes so the shoes are more breathable and last longer.
Check out this blog post if you're interested in learning about the problem with synthetic clothing.
I think the loafers are a great subtle way to play into the trend, and hopefully since they're a classic shape and a fairly classic animal print, they'll serve me for a long time.
I think that leopard is the animal print with the most longevity, and I've noticed the slip skirt/animal print trend has naturally gravitated towards each other.

Snake skin slip skirt
Leopard Print Bikini <——— GORGEOUS!
5. sneaks:
I do a lot of walking around town. Walking is my preferred form of transportation!
And, as much as I love my flats and loafers, after a few miles they can start to rub blisters so I decided it was time to invest in some sneaks. I picked up the perfect white pair from thredUP as well as a cute tan pair that I will be wearing all year long.
White sneakers are so in this spring and summer. I also think I should make a post dedicated to cute sneakers.
I don't typically love the sneaker look, I'm not really a tennis-shoe kind of gal, but I've been seriously convinced and gravitating towards my white pair time after time.
THE cool girl sneaks <—— Meghan Markle brought a lot of awareness to this sustainable brand
Navy sneaks
Black sneaks with gold rivets
White Sneaks <——— Made using ocean plastics!
6. sandals:
Strappy sandals and squared off toes are in. I don't think I'll be opting for any sharp squared off heels, but I am interested in some strappy sandals.
Reformation just launched footwear and to be honest – I'm DYING.
The Menage Sandal <——— these are the ones I reallllyyy want!
Lucia Block Heel
Olivia Sandals
7. hair accessories:
This is one trend that I really want to try, but haven't taken the plunge yet. I really love all the hair clips that I'm seeing around, but want to make the trend a little more Kathryn I'm looking for clips with pearls, bur I might get a few that are tortoise shell.
I'm not sure when or if I'm going to get to try this trend out.
I have found some super cute secondhand and ethical silk scarves that I've been using for my hair.
favorite silk scarf
barettes
clips
8. neutrals:
Neutrals are classic so they're always in style, but beige is all the rage! This one will be super easy to implement for me because I own a lot of khaki!
And, I just realized as you scroll through all of these photos you will see a recurring theme!! KHAKI.
Good news is this trend should be super easy to pick up on but the one item I am lusting after is a smaller wicker basket for the summer!
That's a Wrap <——— a very versatile piece!
Bristol Pant
Kass Jumpsuit
Neutral Patchwork Tee <——— I think we're going to be seeing patchwork come back in style in the fall
Lumi Bucket Bag
What trendy pieces are you looking to pick up this year?