How to Find Sustainable Sweaters
April 13, 2022 | Guest Post
Last Updated on May 10, 2022
When I first began my zero waste journey, I'll admit that I felt overwhelmed sometimes. But, I knew I had to start somewhere. I had already committed to eating more plant-based food, and I even started DIYing my own cleaning supplies. Next up: my wardrobe. 
Finding sustainable sweaters isn't as difficult as you may think these days. There are more and more eco-friendly sweaters out there. You should always start with the secondhand market first – meaning thrift shops or second-hand stores. Then, move on to some sustainable brands like Tradlands, People Tree, Sézane, and Patagonia. They all have some great options in a variety of price ranges.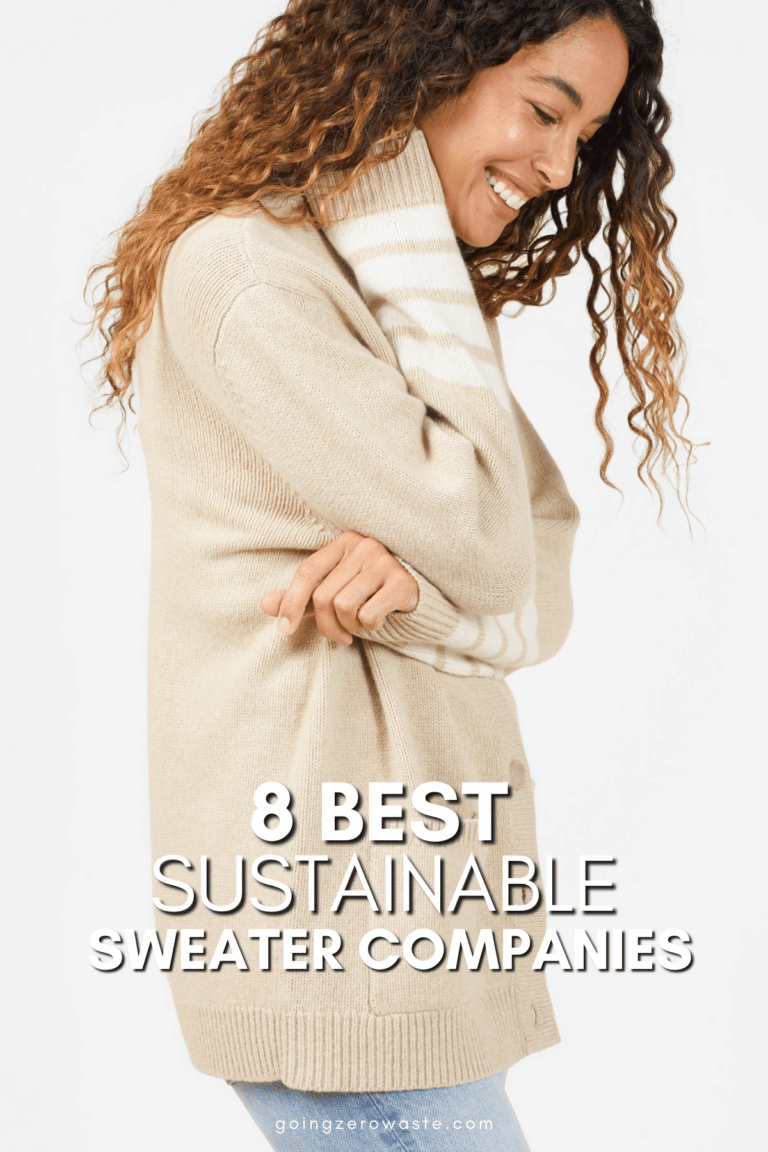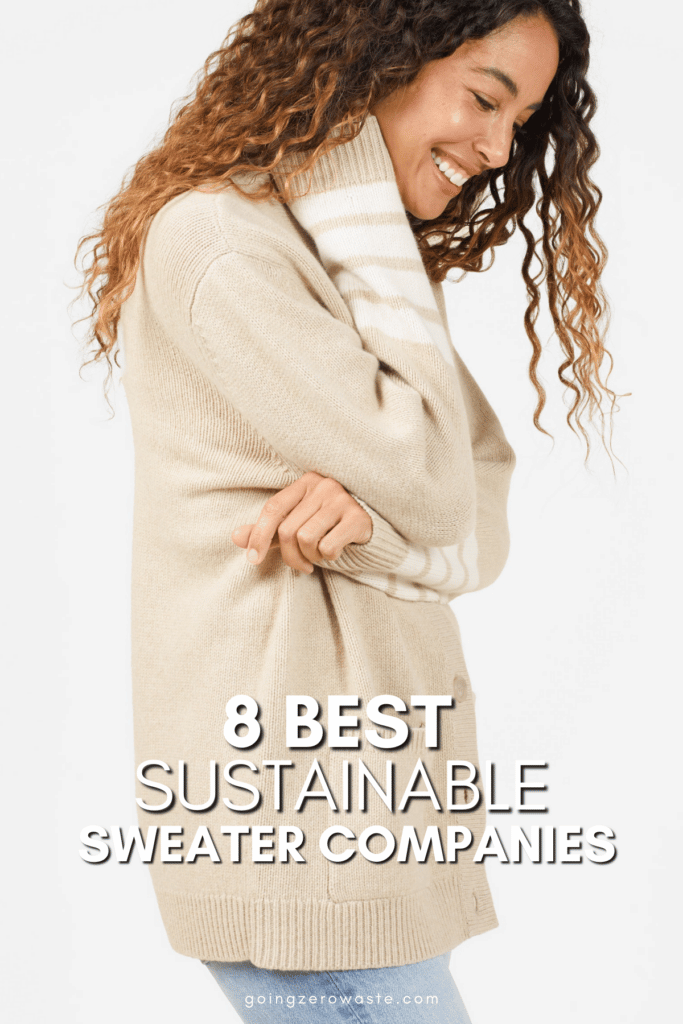 Living in New England means that you never really know what kind of weather you're going to get – even in the warmer months. Whenever I decide not to bring a sweater, I always end up wishing I had! There's nothing worse than having to cut your night short because you're freezing. Seriously.
You can avoid all of that (and feel good about what you're wearing) by investing in some sustainable sweaters.
what to look for in ethical sweaters
No matter where you are on your zero waste journey, you may be wondering just what makes sustainable sweaters, well, sustainable. You can start by asking yourselves these questions:
what's it made of?
Start simple. You'll want to avoid sweaters made from synthetic materials like polyester, nylon, or acrylic. All of these materials are made with microplastics, which can cause serious health problems and are not eco-friendly. This is mostly because they are non-biodegradable and most end up in a landfill, where they'll stay for years. Luckily for you, sweaters are one of the easiest pieces of clothing to find that are made with 100% natural fibers. Opt for brands that use wool, alpaca, or even cashmere if it's properly sourced and processed.
how's it made?
Compared to other types of clothes, sweaters are fairly straightforward as they usually involve knitting instead of cutting and then piecing together fabric. When it's done right, there shouldn't be a lot of excess materials, which is a big part of clothing waste. That said, the chemicals used when dying yarn can be harsh and bad for the planet. The process can also use a lot of water. Go for brands that are conscious of this and aim for zero waste manufacturing that uses eco-friendly dyes for their ethical sweaters, or that use renewable energy to power the necessary equipment.
is it fair-trade certified?
As you look for a sustainable cardigan or sweater, make sure to look into the brand's labor policies. Are they Fair Trade compliant? Opt for brands that are transparent about their processes or that have Fair Trade or SA8000 certifications. Another big part of Fair Trade is making sure that the people making the clothing are treated well and paid fairly. You should never support a brand that uses slave or child labor. Those aren't eco-friendly sweaters. 
could you wear it for years?
When it comes down to it, you need to choose sustainable sweaters that will last you for years at a time – and a part of that includes finding pieces that you can see yourself wearing for years. Trends come and go, there's no doubt about it. Pick pieces that are relatively classic so you know they will work with the rest of your wardrobe for years to come.
thrift store and online thrift sweaters
There are so many ways to shop secondhand. I can't stress enough that second-hand is not only cheaper, but it's also sustainable. The best place to start is your local thrift shops because there's SO much clothing available.
However, if you're looking for some second-hand online sweater shopping, check out: ThredUP, Poshmark, and Etsy. 
These companies are nice because they have filters that make looking for sustainable fabric, like cashmere, easy. ThredUP also has a fashion footprint calculator that may be helpful for examining your wardrobe habits. 
For more secondhand online store ideas check out: Online Thrift Stores and Vintage: 12 of the BEST Secondhand Shops
8 sustainable sweater brands I love
Ever meet a brand that actually wants you to shop less and buy better? Colorful Standard does!
Colorful Standard makes crewneck sweaters from recycled merino wool 
1 order shipped equals 1 tree planted 
Made using environmentally friendly dyed yarn – Oeko-Tex 
Zero waste production and manufacturing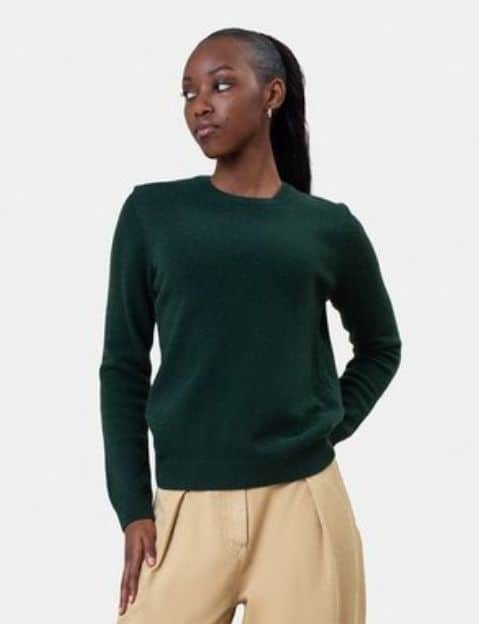 What's the opposite of fast fashion? Drumroll please… slow fashion! Obvious? Maybe. Helpful for the environment? Definitely.
Tradlands is a women's slow-fashion brand inspired by classic tailoring (think menswear-inspired) with a focus on quality materials and eco friendly sweaters.
Favorite materials include recycled polyester, Tencel, cotton, and alpaca.
The manufacturing process also tries to minimize waste.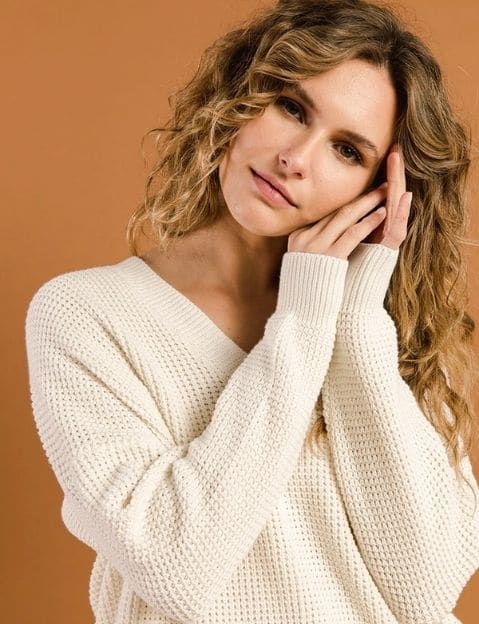 One of the reasons I love People Tree so much is that they've got plenty of sustainable cardigan options out there.
Considered to be one of the pioneers in the sustainable fashion world
Their sweaters in particular are made from 100% wool or 100% cotton.
They are hand-knitted by artisans in Nepal, who are paid fairly.
What more could you ask for?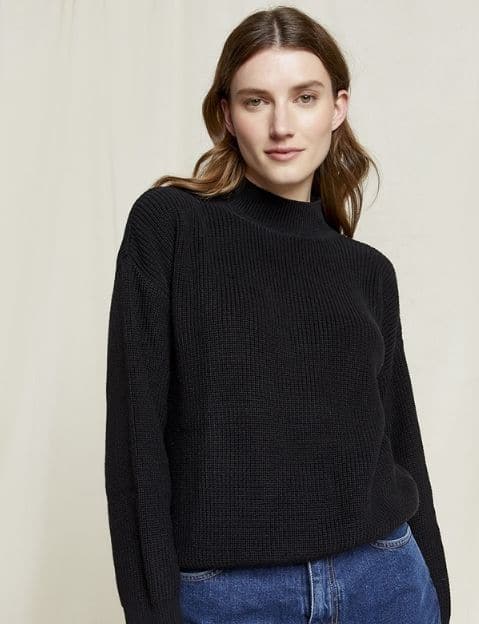 Sézane is a French brand that specializes in sustainability. Don't worry – they ship worldwide and even have a US-dedicated e-shop. 
You'll find timeless sustainable sweaters made from organic cotton and recycled polyester, to name a few materials.
If you're concerned about the waste involved in ordering online, all of their boxes are made from recycled materials too.
Their ethical sweaters are French (swoon), timeless, and eco-friendly.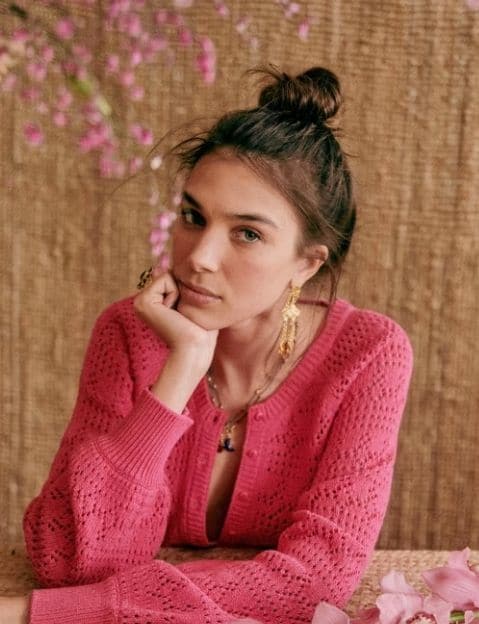 Patagonia has forty years of environmental consciousness and sustainable fashion.
Their high-performance sustainable sweaters (you can climb a mountain in these threads) are typically made from wool, hemp, and organic cotton.
Donates to environmental nonprofits
Living wage and work environment-conscious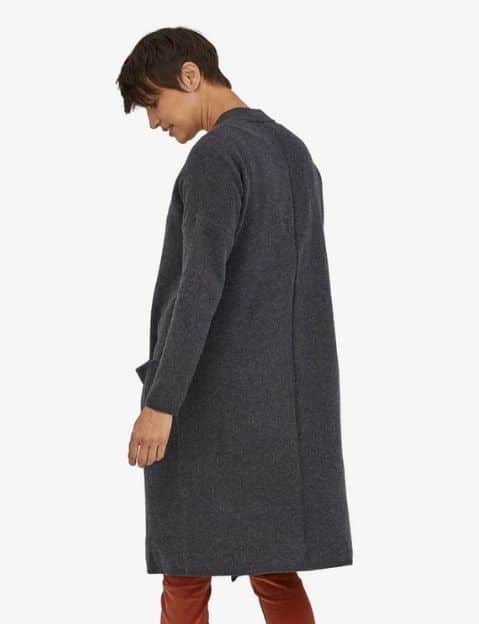 Outerknown is another brand I've mentioned on the blog before. The brand was started by all-star wave rider Kelly Slater.
It's one of the most transparent brands I've ever come across – they even have a list of their suppliers right up on their site.
They use materials like recycled cashmere and Merino wool in their sweaters.
A portion of their sales goes to the Ocean Conservatory.
The drawback to this company is that they are high priced.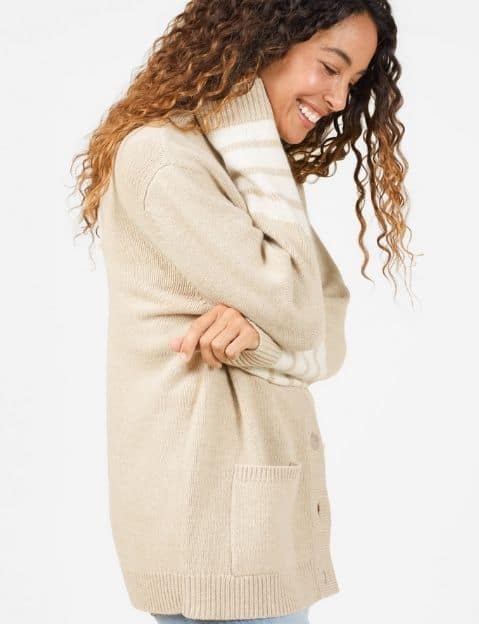 Naadam was created after the founders took a trip to Mongolia, where they saw how unfairly goat herders were being paid for their products. 
Pays their suppliers (based in the Gobi Desert) fair, livable wages.
They specialize in sweaters made from cashmere.
Naadam uses Carbon Neutral Shipping methods
Their production plants are powered by clean energy.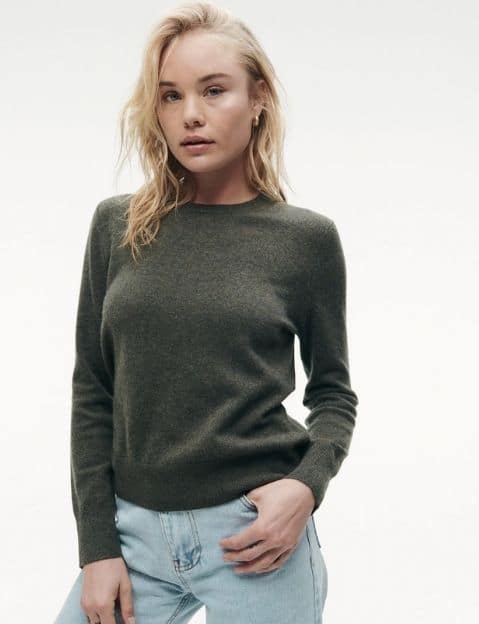 Amour Vert is a women-owned and operated sustainable fashion brand that operates out of the US. 97% of their clothing is designed and made in California.
Their production process is zero-waste.
They offer a wide selection of sweaters and cardigans made from organic cotton.
It's affordable.
Amour Vert has partnered with American Forests and plants a tree in the US for every order.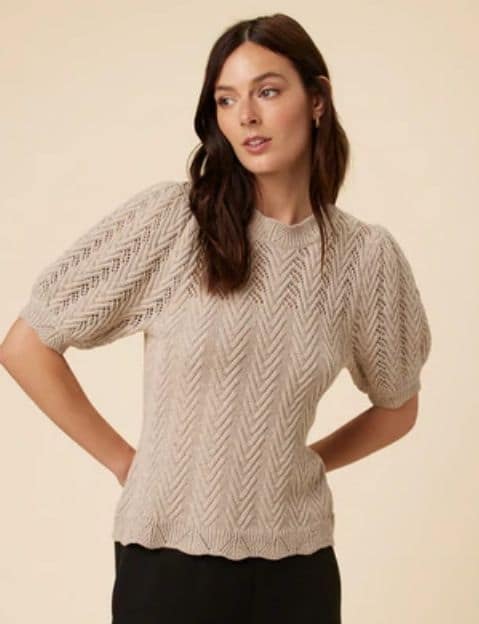 Eileen Fisher prides itself on being a sustainable slow fashion brand. These sweaters are ethically made and stylish!
Their sweaters are made with recycled cashmere, merino wool, and organic cotton.
Their merino wool is certified under the Responsible Wool Standard.
The organic cotton is sourced directly from Peru, and all of the material is grown, spun, dyed, and knit on-site to support the local economy. 
They have a clothing recycling initiative.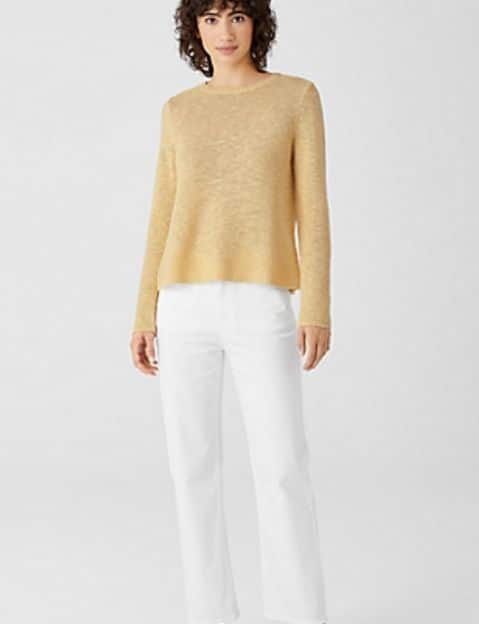 faqs
is knitwear sustainable?
Knitwear is just another word for sweaters. As mentioned, because there is not a lot of excess materials in knitting in general, sweaters are some of the most sustainable pieces of clothing out there. Because there are no excess pieces of fabric that go to waste, they can easily be made to be sustainable. Remember to check out your brand's manufacturing processes and Fair Trade practices to confirm that their eco friendly sweaters are just that: eco friendly.
is cashmere ethical and sustainable?
You've likely noticed at this point that I keep mentioning how important it is to use sustainable cashmere. It can be hard to find as there is no certification label that guarantees an ethically made cashmere product. Opt for recycled cashmere first, but if you have your heart set on a new piece of clothing, go straight to the source. Ask the retailer if they know where the cashmere was sourced and how the animals that it's sourced from (goats) are taken care of. When in doubt, move on!