How to Take Care of Your Sweaters
April 18, 2019 | Kathryn Kellogg
Last Updated on April 10, 2020
Oof. Is winter finally over? Is it finally starting to get warm?
We FINALLY had a warm day in the bay area.
It was in the high 60s the sun came out, and I didn't have to wear a jacket! Yay!!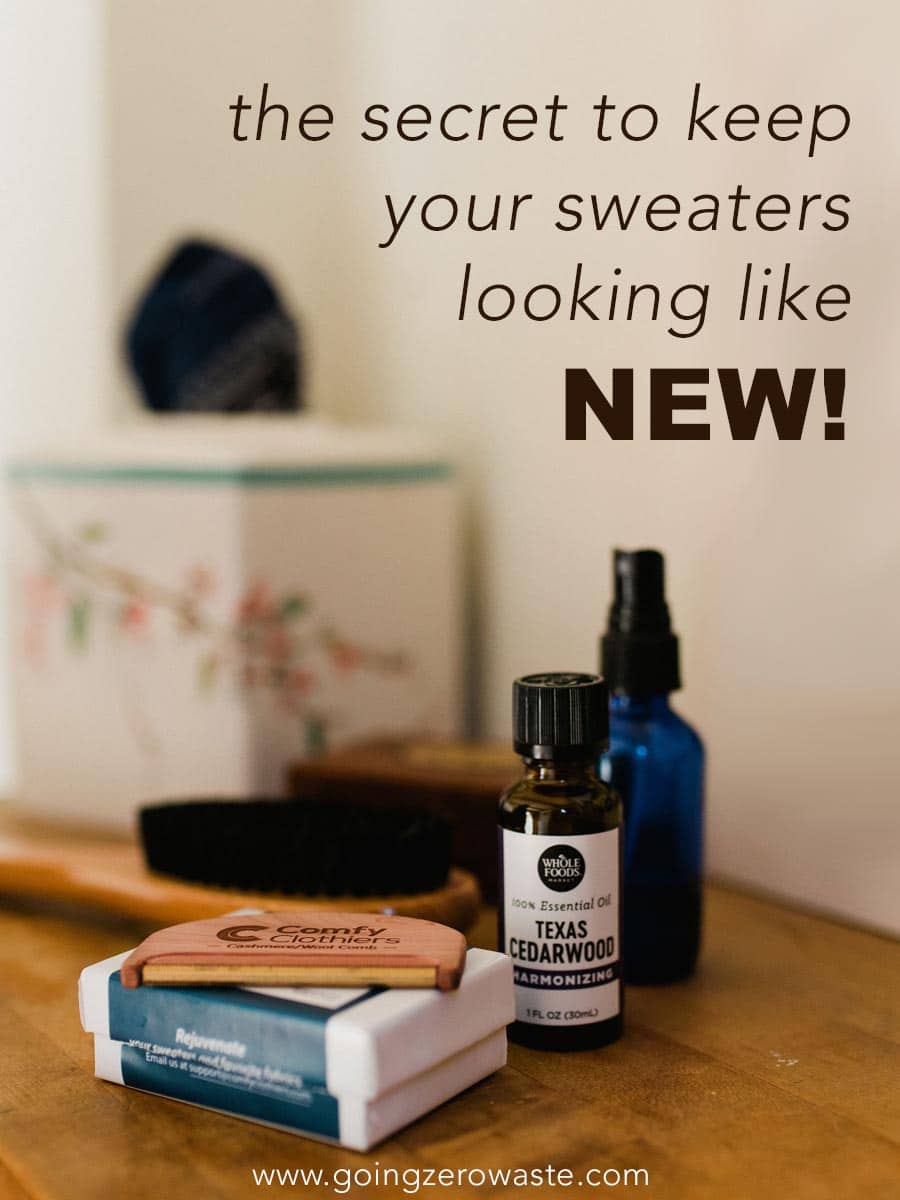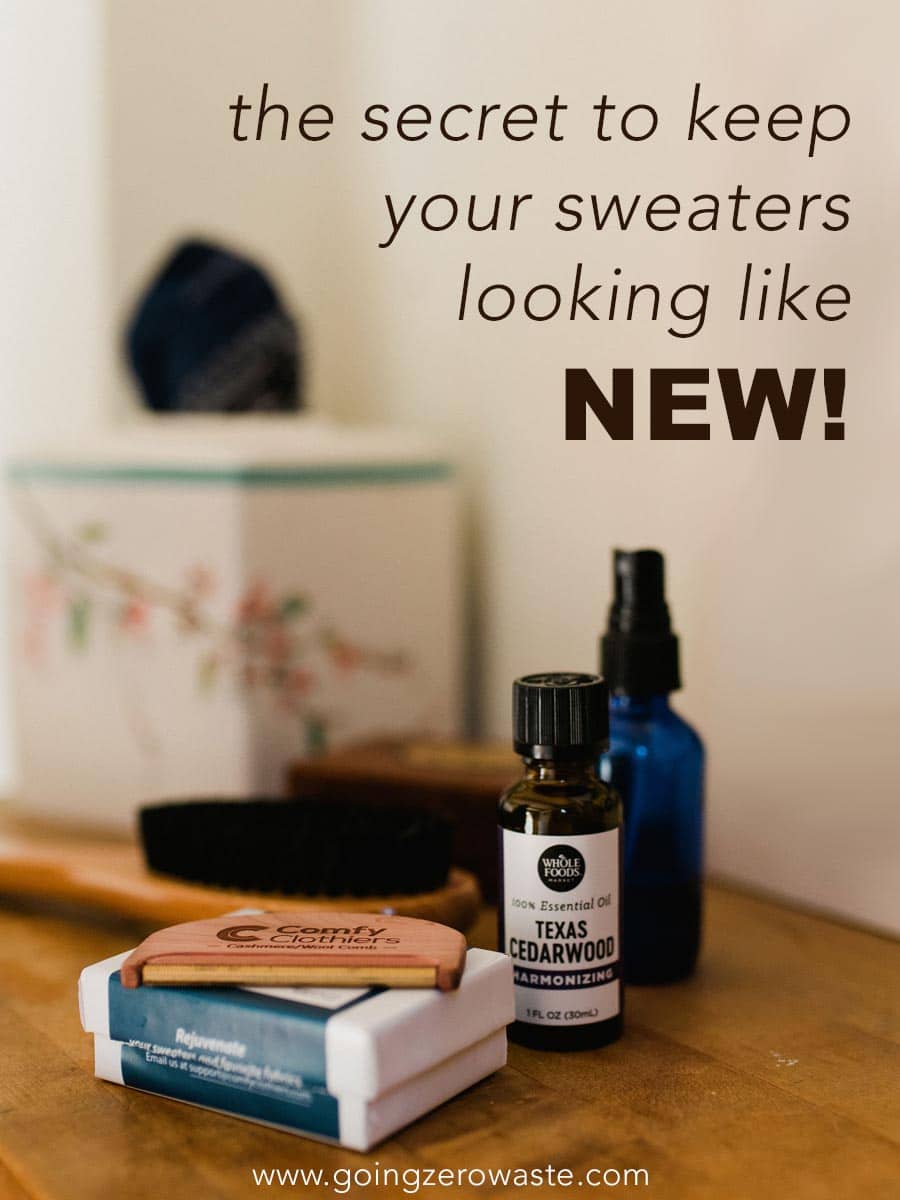 Now, if only I could wear a short sleeve shirt AND shorts. Doesn't that sound amazing?
Gosh. What I wouldn't give to wear a sundress.
So, while I may not be able to pack up all of my knits over here… it is definitely time to pack up some of the chunkier ones!
Goodbye cashmere turtlenecks – till we meet again – I will remember you fondly.
I'd like to take this time to thank my sweaters and all of the chilly winter days they got me through so figured it'd be a good time to go over some sweater care principles to keep your sweaters in tip-top shape throughout the year.
Mending, maintaining, and giving my clothing a little TLC goes such a long way in stretching my wardrobe.
I want to make sure the investment pieces I buy either from ethical retailers or secondhand shops will be with me for a long time.
One of the reasons I justify making spendy ethical purchases is because I know they will be in my wardrobe for a long time, and I'll be able to wear them for years to come.
I like classic pieces because they're versatile and have longevity.
On the flip side, having a high quality basic means that you have to take care of it!
I would be so bummed if the perfect cream, cashmere turtleneck of my dreams started to look lackluster because I didn't care for it in the proper way.
So, I've rounded up all the ways that I take care of my sweaters to make sure they look brand spanking new year after year! And, the maroon sweater photographed below is a piece I've had in my closet for the LONGEST.
It's going on 14 years old and it still looks great thanks to these tips.
1. avoid the wash:
I don't wash my clothes super often.
I only wash them once they're stinky which can take up to 10+ wears. Wool is a naturally anti-microbial so it's a great fabric choice!
Not only is it warm, but it's breathable, regulates body temperature and won't cling onto odor like polyester and acrylic.
The less frequently you wash your clothes – the longer they'll last!
2. spray it down!
I make homemade, all-natural febreze and I LOVE it.
After most wears, I spritz my clothes down with it before letting them air out.
3. air it out:
After I take a sweater off and spray it down, I let it air out.
This means I let it breathe by itself openly before I place it folded back with another pile of sweaters.
I typically lay my sweater flat over a chair to let it breathe and let air circulate around the fibers.
You'd be amazed if you did this for all of your clothes how much longer you could stretch between washes.
4. de-fuzz:
I'm slowly transitioning black out of my wardrobe… mostly because I have a white husky and seem to always have husky hair everywhere.
I invested in a nice wooden lint brush that has done wonders for keeping my sweaters in shape as well as a wooden comb to de-pill my sweaters.
The wooden lint brush did come packaged in plastic, but it's really sturdy and think it will last a long time.
Plus, the little bit of plastic packaging far outweighs the disposable lint rollers.
I picked up a gorgeous cable knit cashmere mock neck sweater that was just starting to look gray and dull after two seasons.
Once I took this little wooden comb to it, the sweater came back looking good as new!
5. but wash at the end of the season:
At the end of sweater season, you're going to want to wash all of your sweaters.
Your bodies natural oils will attract moths and critters and the last thing you want is for them to start feasting on your precious sweaters!
I lost my favorite sweater to moth holes a few years back and It was such a sad day.
You can "wash" you nice sweaters in a number of ways like taking them to an eco-friendly dry cleaner – just don't forget to bring your reusable garment bag!
You can steam them! I have a steamer and it's great for sanitizing clothes and stretching washes.
Of course, you can hand wash them in your bathtub or sink, or throw them in a lingerie bag and throw them in your washing machine on a gentle cycle.
6. store them well:
The way that my current closet is structured, I have to have my sweaters out on an open shelf, but if you can store them in a closed bin or a cedar chest, that's recommended!
No matter where you're storing them maybe try to grab a piece of cedar wood from your local home improvement store to dissuade the moths.
7. homemade sweater spray:
I occasionally like to go into my closet and spray the sweaters down with homemade sweater spray.
sweater spray:
fill your spray bottle up a quarter of the way with vodka

fill the rest of the spray bottle with water

add a few drops of cedar oil until it's pungent but not overwhelming

shake well and spray down your sweaters
I make a little bottle 2 oz and only put in about 3 drops of essential oil and use it to spray down my sweaters on a regular basis to ward off pests!
Is taking care of your sweaters part of your spring cleaning ritual?
This post may contain affiliate linking you can read more on my disclosure page.