Eco Friendly Gifts: Thrifty Ideas From Secondhand Stores
December 22, 2022 | Kathryn Kellogg
Last Updated on January 9, 2023
On the hunt for some eco friendly gifts that won't break the bank? There's a bunch of fun sustainable gifts you can make using thrift store finds.
I love hitting up the thrift store for gifts because not only are you keeping something out of the landfill, but you can also get a lot of great deals always lower than the retail price.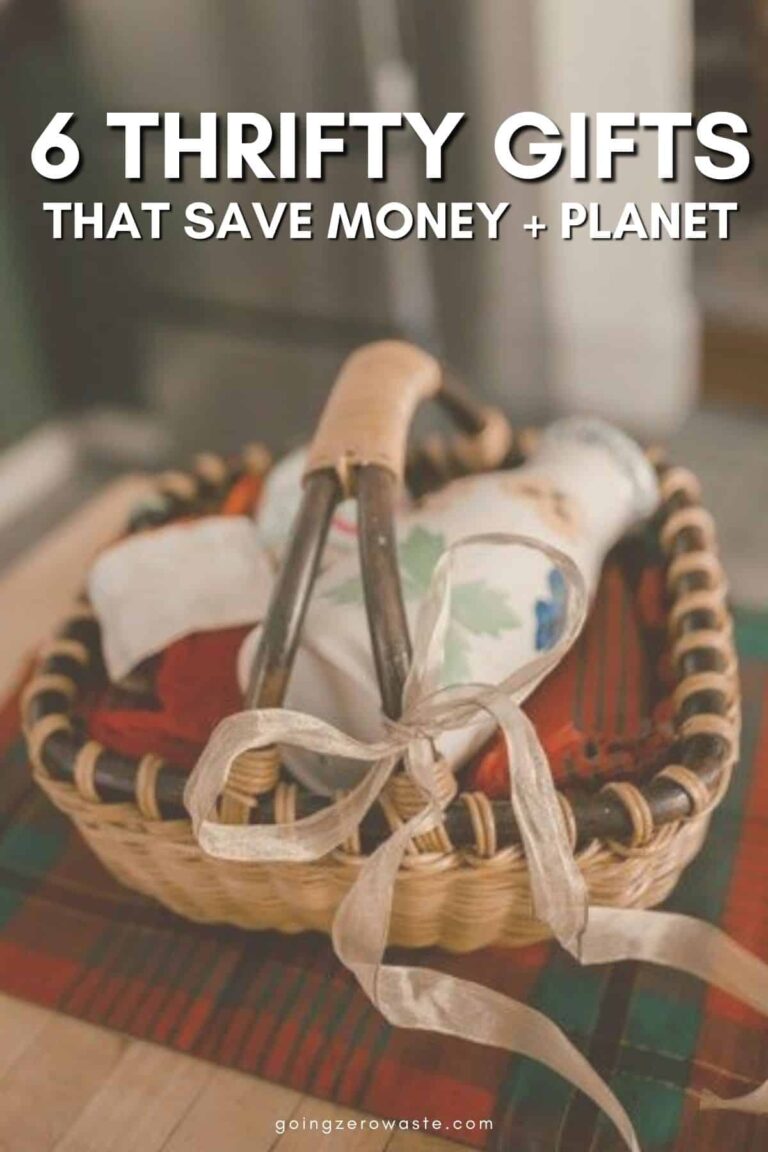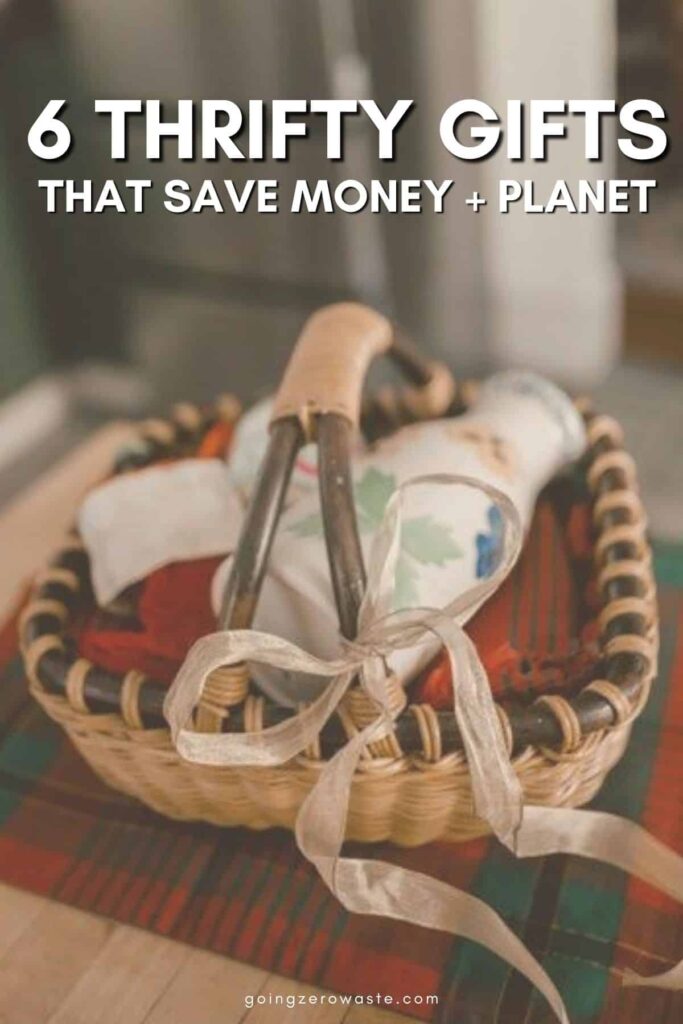 For example, something that would have a retail price of $100 or more could be marked down to $20 or lower. You never know what you'll find.
Truth is, eco friendly gifts don't have to be expensive. Recently, I went to my local secondhand shop and spotted several items that inspired me to make fun gift baskets!
Also, be sure to check out my sustainable gift guide and stocking stuffer guide for more sustainable gift ideas. Here are 6 fun eco friendly gifts you can nab from secondhand stores.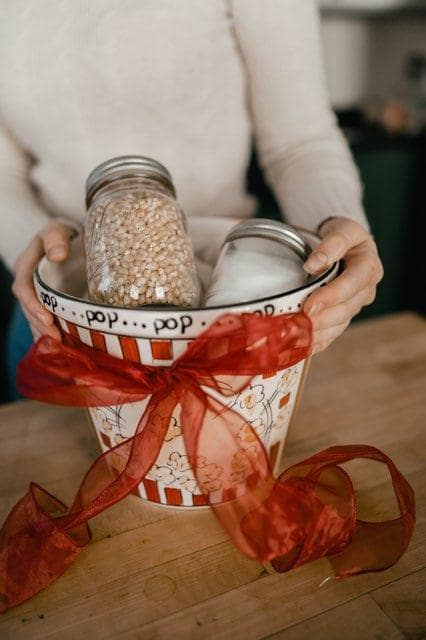 movie night bucket
You can thrift a cute popcorn bucket at your local thrift store. I found a really cute ceramic bucket that had popcorn art on it so I couldn't resist!
Include:
Homemade popcorn seasoning (I used nutritional yeast, kosher salt, garlic powder and a pinch of mustard powder)
Popcorn kernels (which you can get package free at the bulk food store + store in a glass jar)
A ticket for a movie of their choice
Thrifted popcorn bucket
Tip: Use some upcycled tissue paper, salvaged packaging paper, or shredded paper to prop up your gifts so they're at the top of the basket rather than at the bottom.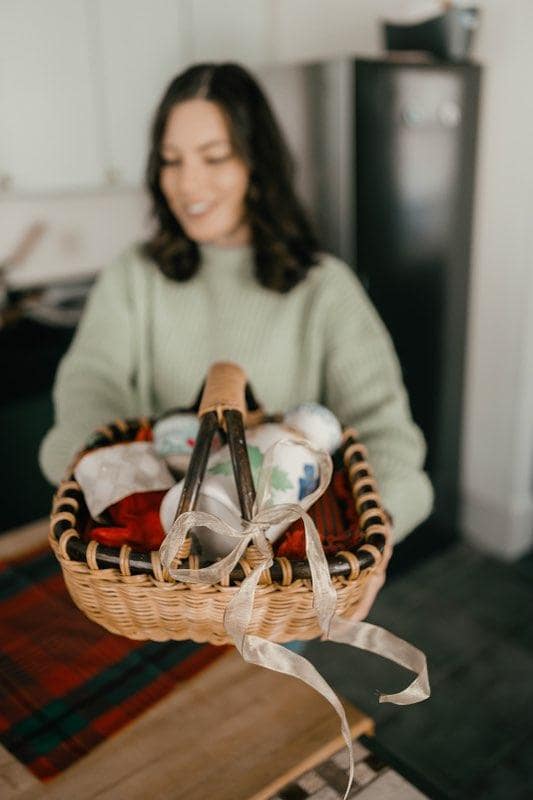 plant milk basket
I saw an adorable ceramic milk jug at the thrift store and just knew I had to make a plant milk basket.
Include:
mulled wine basket
This is the perfect gift for someone who enjoys drinking a glass of wine with dinner every night. Or it works as a hostess gift.
Include:
An inexpensive red table wine
Cinnamon sticks (you can typically find these in a glass jar)
An orange decorated with whole cloves
A thriftable wicker basket with a handle
simmer pot basket
Simmer pots are such a simple but effective way to make a home smell amazing. This holiday-themed simmer pot is a creative alternative to gifting a candle. 
Include:
Oranges
Cinnamon sticks
Cranberries
Sprigs from your Christmas tree
Mason jar from a thrift store
Tip: Store it in a glass jar and tie an upcycled ribbon around it. You can also tie on a gift tag made from upcycled Christmas cards using twine.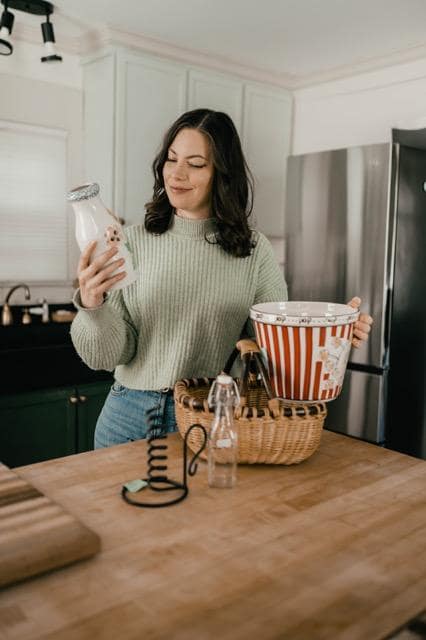 candle basket
You can place these unique candles in a basket or literally tie an upcycled bow on them and gift them as is! Most thrift stores have super unique candle holders (some that are vintage too) to choose from.
Include:
Thriftable candle holders
Tapers from a local artists and candle maker
A thriftable wicker basket with a handle
favorite drink basket
I saw some really unique glasses at the thrift store one day and it inspired me to make a favorite drink basket. What I love about these eco friendly gifts is you can customize it to whatever that person likes best!
Include:
For tea: Thriftable tea cups, compostable tea bags or loose leaf tea bought in bulk
For wine: Thriftable wine glasses, red or white wine of their choice
For hot cocoa: Thriftable mugs, DIY hot cocoa mix
A thriftable wicker basket with a handle
What do you think of these eco friendly gifts? Which basket was your favorite? Be sure to check back here as I plan to update this post with more ideas soon!