Last Updated on September 10, 2020
I am currently figuring out what I'm going to include in Justin's stocking which is bringing about a zero waste stocking dilemma. Presents seem to be easier because they can be ANY size. But, stocking stuffers have to be small… they have to fit in a stocking.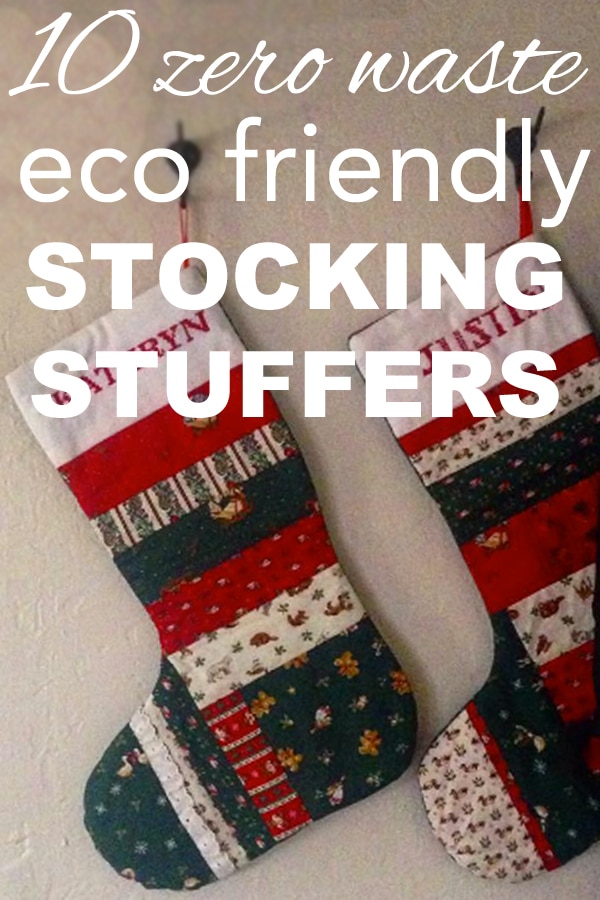 I've had a lot of fun finding eco-friendly products for stockings! I decided to share some of the favorite things I've found.
Justin's phone case has been busted for a couple of months. These things seem to bite the dust with how often I drop my phone. Buying a new case is definitely more ecologically sound than buying a new phone.
Look into a phone case that uses recycled plastic. Pela donates $3 per phone case to their partnered charities and a proud member of 1% for the planet.
2. bamboo toothbrush:
I love Brush with Bamboo. They're an amazing family business. I even had the pleasure of filming a commercial with them this year. Their toothbrushes are perfect and will easily fit into a stocking.
3. rechargeable batteries:
Rechargeable batteries are a great a gift. Never have to buy disposable batteries again.
4. stainless ear pick:
This is a great alternative to cotton ear buds. Granted, you can still poke your eardrum, so you need to be very careful using one. Any of you that have sinuses, know how bad your ears can be stopped up. This is a great plastic-free alternative to q-tips.
5. stainless razor:
If you shave and you don't have a stainless razor, you're missing out! It's a luxurious shave that will help end your dependence on plastic disposable razors. It's a little item that will save you a ton of money in the long run and just makes your bathroom look a little more luxe.
6. organic socks and undies:
Is it just Justin and me, or does everyone get socks and underwear in their stockings?
Opt for organic cotton like from PACT Organic or look into a cool zero waste company like OSOM. They used upcycled fabric to reduce textile waste.
7. non-plastic hair ties:
Did you know these exist? They do! I want some. Justin doesn't have long hair anymore, but he used to and he was notorious for stealing my hair ties. If I ever run out of hair ties, (which will probably take years) I want to switch to these.
Plus these are no crease! My current ponytail holders are not this modern, they are regular old creasers.
8. silk floss:
I always had a lot of beauty products in my stocking growing up. Maybe it's why this is a personal care heavy post. I love my water pik it's a great zero waste alternative to flossing. But, occasionally it's really nice to floss.
I'm probably one of the few people I know that enjoys flossing. Justin always has spare floss. He keeps it in the car in case of emergencies. So, throw that plastic crap out and opt for a more natural option.
9. organic seeds:
This is great if you garden or want to get into gardening. Each spring, I say this is the year I'm going to garden. While I fully believe one of these years, I will actually do it. I haven't done it yet.
But, I am an excellent gardener in my mind. I plant awesome plants, and I don't kill them.
10. tea strainers:
You can grow your own tea garden. Then you can dry the tea and put it in a nice new strainer. A couple of years ago, my grandmother sent me my great-grandmother's tea strainers. They were tiny silver teapots. They are sooooo adorable.
I'm also getting a dozen of my great-grandmother's needlepoint hankies. That's neither here nor there – I'm just super stoked. Anyways, the tea strainers are one of my favorite gifts! So, if you have a tea lover in your life, this would be a great stocking stuffer.
---
On Christmas morning, I would also love to find homemade lip balm, plastic free makeup, second hand books, hankies, tea towels – the list goes one! How are you stuffing your stockings this Christmas?
This post may contain affiliate linking you can read more on my disclosure page.