30 Zero Waste, Eco Friendly Stocking Stuffers
December 13, 2016 | Kathryn Kellogg
Last Updated on September 7, 2021
Stockings were always my absolute favorite part about the holiday season so I had to create a guide for this year's hottest zero waste and eco friendly stocking stuffers.
I love small gifts; they have always been my favorite. What can I say? I love the little things like socks, bars of soap, the occasional gift card, and chocolate! Lots of chocolate.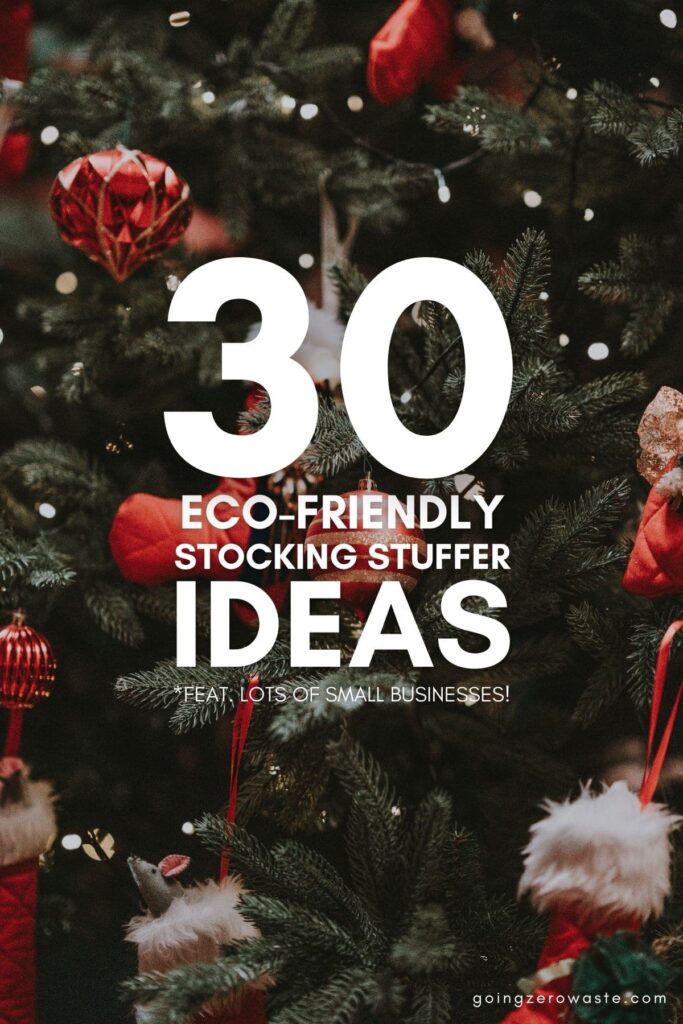 This post was sponsored. Many of the links below are affiliate links for more information please see my disclosure policy.
So, I wanted to create an easy guide so you can find a few perfect gifts that will easily slide into a stocking a Christmas morning, and so you can avoid Amazon.
If you're looking forward to stuffing stockings this year, I've rounded up some zero waste and eco friendly stocking stuffers so you can ditch plastic trinkets and gadgets for some of these zero waste, ethical alternatives.
for all those at home workouts:
One experience gift I'm super excited about receiving this year is a pass for online workout classes. I loved going to classes like barre, spin, and orange theory so I'm glad I can do classes virtually too. Here are a few of my favorite workout companions!
when you need to unwind:
I can't figure out if the holidays are more stressful this year or less? Even though I'm attending virtual gatherings, I'm still completely wiped out at the end of the day.
Here are a few small ways I like to relax and unwind. All of these eco-friendly stocking stuffers are perfect for your friend, parent, or spouse who needs to carve out some time for themselves to recharge!
for exciting trips to the grocery store:
Justin and I don't go out very often. We hit up the grocery store every 2-3 weeks, and take our daily stroll around the neighborhood to walk the pooch and stretch our legs.
We're definitely trying to keep ourselves and others safe! But, when we do leave the house here are a few of our tried and true sustainable favs that would fit in perfectly with your eco-friendly stocking stuffers!
relaxing at home:
I think my favorite part of winter is getting cozy inside so I hope this holiday season, you'll find some time to get snuggly.
Slip on your favorite jam-jams, light a few candles, snuggle with a thick blanket, sip some hot cocoa, eat a few cookies, and watch a bad holiday movie or a board game – whatever you're into.
kickin' it in the kitchen:
Whether you know an aspiring chef, love to meal prep, or generally dislike cooking, these eco friendly stocking stuffers will help reduce food waste and get dinner on the table fast! Plus, an extra treat for the kitchen's number one fan – your dog.
for the skincare fanatics:
If you're a skincare fanatic, I love you. No, really! I have sensitive acne prone skin and no matter what I do I always seem to have texture on my face.
For the first time in years, I've come prettyyyy close to fixing it. I mean it's still textured but it's better than it was last year! And, that's thanks to skincare fanatics and the geniuses behind some of my favorite products.
Check out my blog post 20 Organic Zero Waste Skincare Brands for even more recommendations!
When you want to add a little glamour:
I still want to impress… even if it is family dinner via zoom. My secret to looking put together on zoom in 30 seconds is a bright lipstick. Seriously – that's it! It's all you need to pop on camera and look great.
So, whether you've got a virtual holiday party or just all dressed up for your very exciting weekly trip to the grocery store, these are my top picks for adding a bit of glamour!
When we can travel again:
Have you already made it's-safe-again-to–travel plans? I think I'd like to go see my mom. I haven't been home to Arkansas in… a little over three years now. Sorry mom, love you – promise!
I would love to see my fam at Christmas again so maybe next year I can get that in the books. Maybe, I'll go wild and drive to Oregon – that sounds fun!
I've lived on the West Coast for more than five years and still haven't been to Washington or Oregon and would really like to change that.
nothing but the basics:
Some of my favorite stocking stuffers are the old faithfuls. The things you hate to get as a kid, but love to receive as an adult – socks, underwear, and soap. You get the drift!
Here are 30 eco friendly stocking stuffers! Of course, this is only the tip of the iceberg so be sure to check out my guide for consumable gifts and experience gifts.
I'm also working on a post about handmade gifts this year! I love to do a mix of all of these so I'm reducing consumerism as well as supporting sustainable brands who are doing good things for our planet.
Do you have a favorite sustainable brand that's perfect as a stocking filler?