Zero Waste Gift Wrapping Ideas
December 15, 2017 | Kathryn Kellogg
Last Updated on May 7, 2021
Let's talk about wrapping presents. You can wrap presents beautifully, without creating a lot of trash. Everything you see photographed was pulled from a recycling bin, from work, or around my house.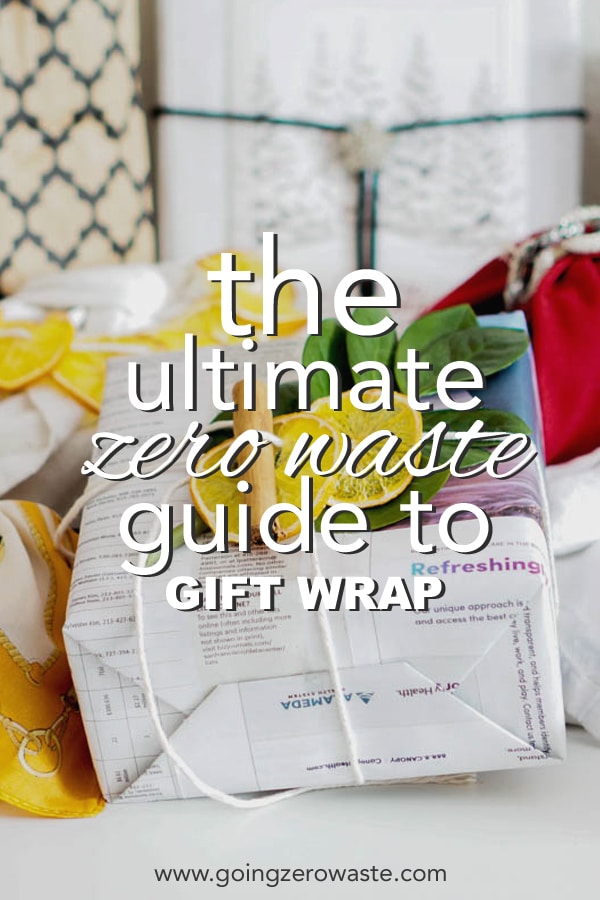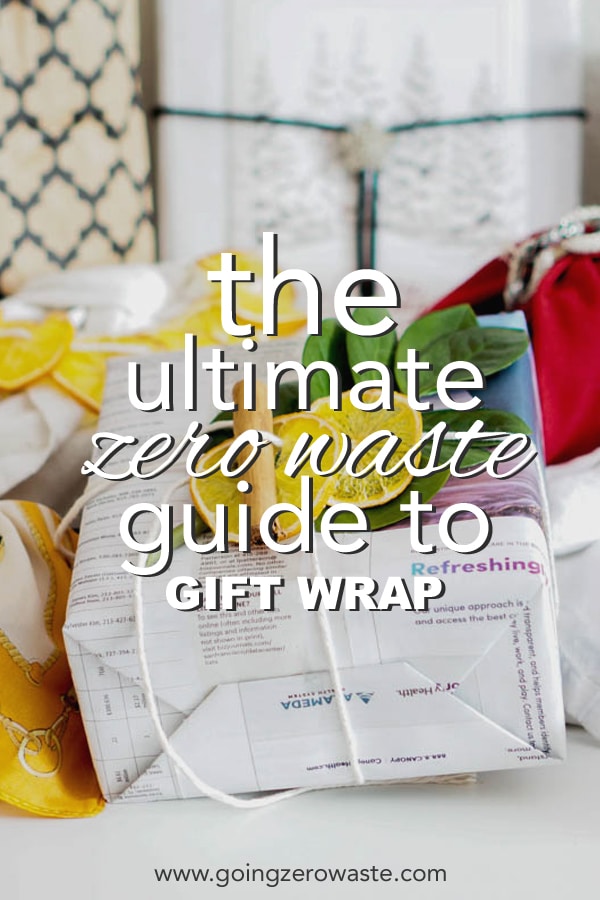 wrapping:
shop bags: I always find shop bags in the recycling. You can see the one with the brocade pattern below. One of the viewers from my holiday webinar had a great tip! They said to take an old greeting card and place it over the logo on the bag if there is one.
butcher paper: With the amount of online shopping people do in my office there's never short supply of butcher paper white or brown in stock. You can always doodle festive drawings on the paper or keep it plain and add some pizzaz in other ways.
newsprint: I think news print is such a cute wrapping idea. There's always newsprint of some kind in a recycling bin. Sometimes free circulars might wind up in your mailbox despite your anti-junk mail campaigns. They make the perfect last minute wrapping paper.
silk scarves: Of course, they don't have to be real silk, but there's always a plethora of these scarves at the thrift store. They make such a beautiful addition to any present and are a present in themselves. Tying scarves on bags is so popular right now!
cloth napkins: Cloth napkins are a little more rigid than silk scarves, but I tie them both the same way. The knot on top makes a cut bow. Cloth napkins are also a dime a dozen at the thrift store. They come in all different colors perfect for any scheme to go with your additional decorations.
additional decorations:
This is where you get to get really creative! I love getting to design the packages. Some of my favorite decorations are listed below.
twine: When I tie a present in brown paper or newsprint, much like in the Sound of Music, I tie my packages up with string. I've had a spool of cotton string in the house for years. It can be used to make homemade candles, used for cooking, or tie up packages.
broaches: I love broaches. I used to have a whole bunch back home. There are so many beautiful ones in thrift stores or maybe in your grandmothers jewelry box. When you tie your packages up with scarves or napkins, pin them on the bow to add a little bit of festivity.
bracelets: Bracelets also make a great addition to cloth napkins. Tie the bracelet around the knot to add a little bit of extra sparkle.
dried oranges: Dried oranges are some of my favorite holiday decorations. They smell amazing and are SO easy to make. I thinly slice the oranges and sandwich them between a cloth tea towel.
Then I set them on a metal drying rack for 24 hours. Bake them on the drying rack for 2-3 hours at 200 degrees Fahrenheit.
Leftover dried oranges can be boiled with cinnamon sticks to make a stove top potpourri.
cinnamon sticks: Another beautiful and compostable decoration! Tie them with some string and add a splash of greenery for a beautiful present.
fresh herbs: I'm biased towards rosemary because it's the only type of herb I have managed to not kill. It's also fairly hearty and pretty festive so it will stay green on your packages instead of turning brown.
bolo ties: Now, I did spend a good portion of my childhood in San Antonio. I have several bolo ties, and I think they make some very festive decorations for presents.
old christmas cards: For years, I have collected old Christmas cards. I cut the signature portion off and leave the front with the pretty pictures to add to packages and use in the future.
pine needles: Of course the fresh scent of pine is lovely and oh-so festive! Nothing says happy holidays more than a couple of festive pine needles. You can typically go pick up some fallen branches for free from the local christmas tree lot.
Since I don't have a tree, I plan on grabbing some branches to put in a vase as my mini-tree for our tiny house.
---
How do you wrap your presents in a low waste manner?