Last Updated on September 15, 2020
Summer is finally here! Are you ready to hit up the beach? If so, you've got to check out this guide for eco-friendly beach essentials!
I'm sure one thing you'll be packing is a swimsuit… and there's something you need to know… most swimsuits are made from plastic.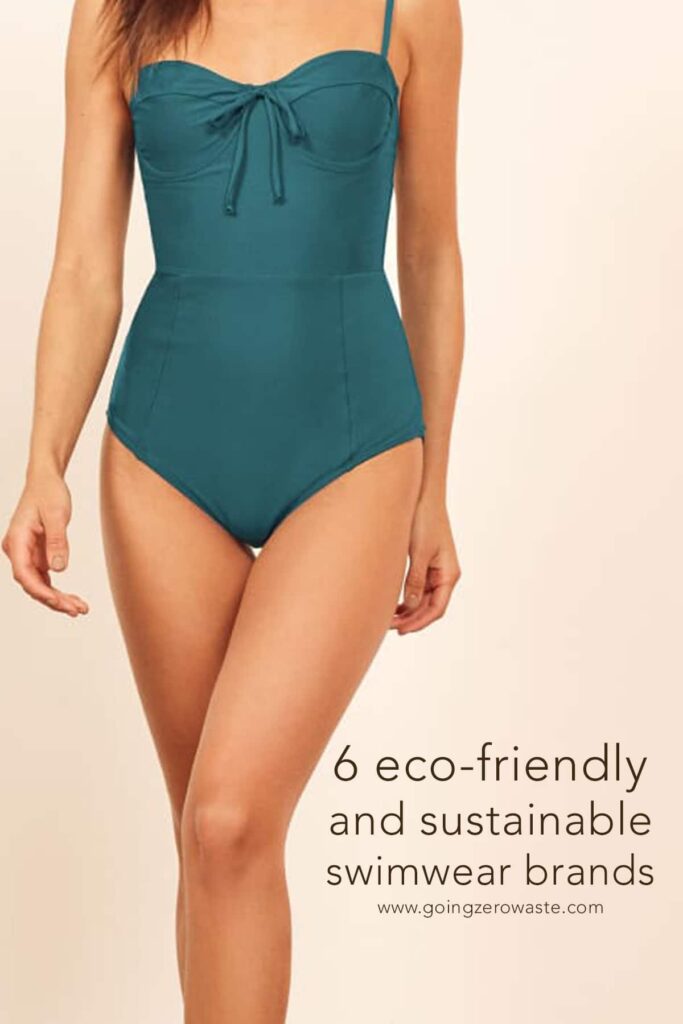 Yup. The two most popular kinds of fabrics used to make swimsuits are polyester and nylon – both of which happen to be plastic.
Do you remember the post about Microfibers? It talks all about the problem with plastic fibers.
So, does that mean you can never wear a swimsuit again?
Of course not, it'd be silly to avoid swimsuits simply because they're made from plastic, but that doesn't mean you can't make smarter choices.
Sustainable Swimwear
Here are six sustainable swimwear brands you need to check out ASAP, but first let's chat about eco-friendly swim fabrics.
Some of the links below are affiliate links for more information please see my disclosure policy.
eco friendly fabrics:
As I mentioned prior, most swimwear is made from virgin polyester or nylon.
This kind of material not only sheds micro-plastics into the water with each wash, but it's also a waste of resources.
Thankfully, there are several innovative, sustainable swim fabrics out there.
One of the best eco-friendly materials is ECONYL – it's regenerated nylon from pre and post-consumer products.
To make ECONYL, waste like fishing nets, fabric scraps and carpet flooring are used in a regeneration and purification process.
Then, the nylon is processed and turned into new swimwear products.
There are other types of recycled swimwear fabrics, such as REPREVE, which is made from recycled plastic bottles.
Yet another material is EcoLux, which is just another term for recycled nylon fibers.
If you're truly hoping to avoid plastic at all costs, you could invest in a yarn bathing suit, or a biodegradable one made from Marino wool. But, more on that later.
Ready to explore the world of sustainable swimwear?
Here are some ethical and beautiful bathing suits you'll want to wear all summer long.
loveocean:
LOVEOCEAN is an environmentally conscious and ethically produced swimwear brand for women that uses ECONYL produced in Austin, TX.
The fabric and all components are free of toxic and harmful substances for the health and environment and have the STANDARD 100 by OEKO-TEX® certification.
Their packaging, thank you cards, hang tags, and hygiene stickers are all made from recycled or biodegradable materials.
One of my favorite things about this brand is that you can mix and match sizes! You can get a small top and medium bottom, etc.
LOVEOCEAN makes swimwear with timeless designs. They're known for their high cut bottoms, and a wide variety of colors.
MY TOP PICKS are this aberdeen top and lana bottom in blue.
reformation:
I love Reformation. They're based in Los Angeles, California, and they have so many beautiful swimwear options to choose from women's bikinis, one-pieces and even beach bags to choose from.
The best part? Reformation uses sustainable and deadstock fabrics, along with eco-friendly manufacturing practices.
If you're wondering what deadstock fabrics are, they're leftover materials so if a designer ordered a bunch of fabric and they had some leftover, Reformation will pick it up, prevent it from going to landfill, and make a limited number of pieces with that fabric, pretty great, right?
They mainly utilize ECONYL in their swimsuits, so a large portion of the bathing suit is made from recycled materials.
That said, even Reformation recognizes their swimsuits are made from synthetic materials, which may shed microplastics.
They encourage the consumer to wash in cold water and line dry, or wash with a filter to prevent the microfibers from going out to sea!
MY TOP PICKS are this sweet one piece and this bikini bottom and top.
summersalt:
Summersalt focuses on quality, their swimsuits are made to last. They use recycled textiles, and their swimsuits boast five to four times the strength of compression compared to other swimwear.
This brand crafts their swimsuits from 78 percent recycled polyamide.
That means this fabric is crafted from recycled plastic, post-consumer materials and nylon waste, like old fishing nets, that are literally pulled straight from the ocean.
Yet another thing to love about Summersalt?
They have many unique styles, patterns and cuts to choose from.
There's everything you can imagine: Bikinis, one pieces, and coverups galore, celebrating all kinds of body shapes and sizes.
To make your life even easier, Summersalt took over 1.5 million measurements from 10,000 women to make finding the perfect fit for you a breeze.
Just take their style + size finder quiz to get fitted instantly.
They even have maternity bathing suits (and not just a one piece, but a maternity bikini too).
MY TOP PICKS are this retro inspired bikini and very mod one-piece
outerknown:
Shopping for sustainable men's swim trunks doesn't have to be hard. In fact, Outerknown makes it pretty easy.
Outerknown has several different kinds of men's swim trunks to choose from, but all of them are sustainably made.
I personally love their latest release: Woolaro trunks. They're made from 100 percent Australian Merino wool.
This fabric is natural, renewable and biodegradable, which means it can be composted at the end of its life. (but no worries, these are designed to last a long time)
For those who prefer a vegan option, they also offer trunks made from 86 percent recycled polyester.
There are even some trunks made from 100 percent ECONYL, meaning they're made from 100 percent recycled nylon from reclaimed fishing nets and other waste.
Along with the variety of eco-friendly materials to choose from, they also have a wide range of patterns, colors and sizes available for men.
For those who may need it, they also have a size guide available to get the perfect fit.
JUSTIN'S TOP PICK the nomadic stretch trunks
vitamin a:
Want a cute bathing suit that's also incredibly sustainable? Vitamin A has you covered.
Vitamin A is leading the way in EcoLux, a superfine matte jersey swim fabric produced locally in California from recycled nylon fiber.
This fabric produces far less greenhouse gases than conventional fibers, and also conserves energy and water in the process.
Vitamin A also has some other unique, eco-friendly fabrics, such as EcoRib and BioRib which are made locally in California.
EcoRib is a stretch-ribbed swim fabric made from nylon fiber scraps while BioRib is another ribbed fabric made from plant-based raw material sourced from castor bean.
No matter what kind of material your Vitamin A bathing suit is made from, it's bound to be super cute!
Vitamin A has a ton of shapes, colors and sizes to choose from.
I love how you can shop via cut and style too. So, let's say you wanted a halter top bikini with a cheeky bottom.
You could easily find that on Vitamin A with how they organize their selections.
They sell a surplus of bikinis, one pieces and bodysuits in tons of solid colors, stripes, florals and more. You're bound to find something you like.
Another bonus? You can grab coverups and beach accessories from this brand too.
Their coverups utilize various different eco-friendly materials such as recycled cotton, linen, and tencel a wood pulp textile made in a non-polluting, closed-loop manufacturing process.
MY TOP PICKS are this sweet one piece and this really fun t-shirt bikini
amour vert:
Amour Vert makes some of the cutest sustainable clothing pieces ever, so when they teamed up with KORE SWIM, it got me pumped.
Together, Amour Vert and KORE SWIM released an exclusive collection of super chic, sustainable swimwear you can feel good about and look good in.
There are three different suits in the collection, each tailored to compliment the female form perfectly.
Each suit is made from recycled nylon and spandex.
The recycled nylon in it is created from waste such as fishing nets, fabric scraps and industrial plastic.
Each suit is made from 78 percent recycled nylon and made locally in Los Angeles.
To keep suits in the best condition, it's recommended to hand wash in cold water and dry flat.
This unique bathing suit collection features stunning one pieces that come in a variety of colors.
MY TOP PICK is the GAIA one piece in Riad.
mamadelta:
If you're looking for a swimsuit made from no plastic whatsoever, you're in luck. Mamadelta, an Esty shop, sells handmade bathing suits made from yarn.
Yes, it's water resistant. It's also lightweight, but very durable.
It's crocheted with love and care in a Vietnam traditional handicraft village.
One of the coolest things about these bathing suits is the fact Minh, the owner of Mamadelta, employs impoverished middle-aged Vietnamese women at fair-trade wages.
She creates safe working environments for the women and dependable income, making her bathing suits fair trade.
These handmade bathing suits are so charismatic and unique!
You'll definitely be the talk of the beach wearing one of these. The beautiful yarn bathing suits come in ivory, olive, burnt orange, and burgundy colors.
At the end of its life cycle, you can definitely compost this bathing suit. But don't worry, it'll last you a long time before you have to.
MY TOP PICK this crocheted top and this crocheted bottom
Which one do you think is the cutest?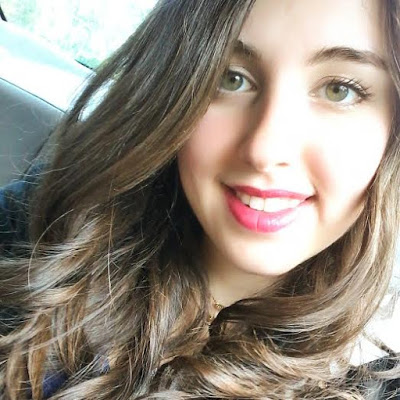 Guest Post: Ariana Palmieri is the founder of Greenify-Me.com, a blog dedicated to zero waste living and sustainability. Her work has been featured on MindBodyGreen, Green Matters, The Penny Hoarder and several other publications. Get her free e-book "10 Ways to Reduce Trash" by signing up to her newsletter and learn how to reduce your waste today.