Sustainable Swimwear: the 18 BEST Ethical and Eco Swimsuits
May 27, 2021 | bigscoots
Last Updated on January 20, 2022
Summer is finally here! And, if you're in the market for some sustainable swimwear, then you've come to the right place!
I don't know about you, but I'm so ready to hit the lake, go camping, and head to the beach this. If you're feeling the same way, you've got to check out this guide for eco-friendly beach essentials!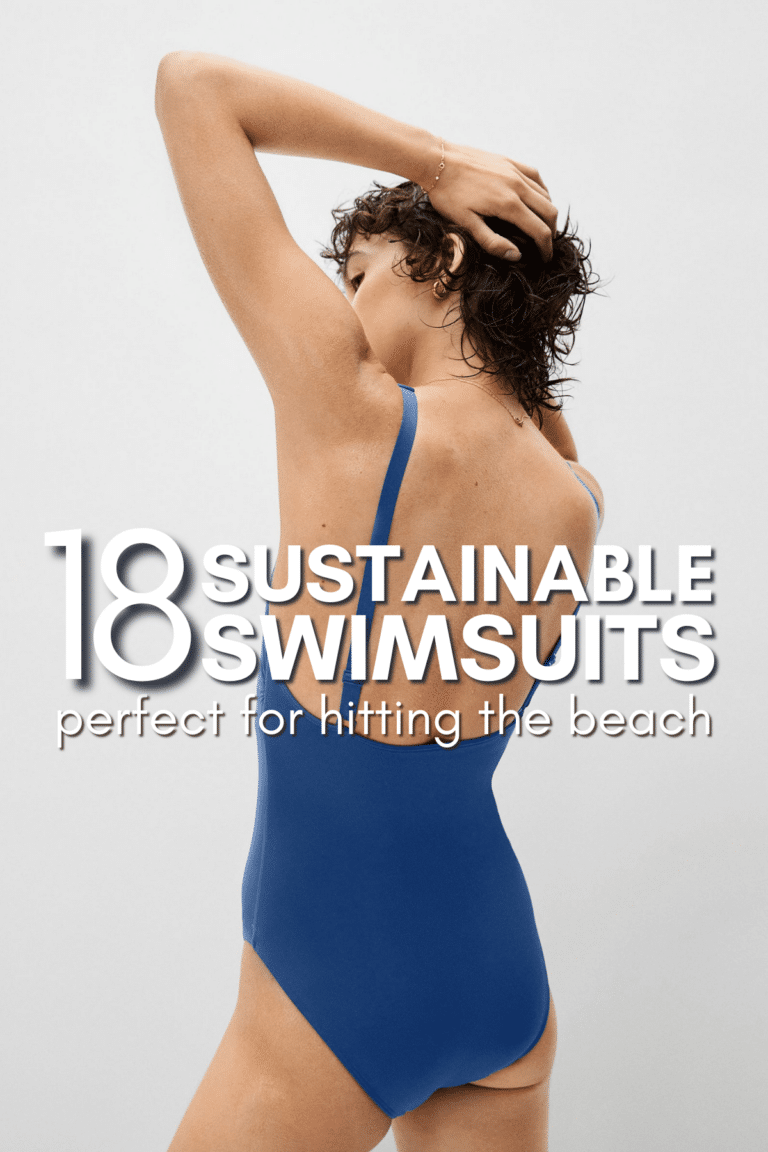 Some of the links below are affiliate links for more information please see my disclosure policy.
The two most popular kinds of fabrics used to make swimsuits are polyester and nylon – both of which happen to be plastic. Do you remember the post about Microfibers? It talks all about the problem with plastic fibers.
So, does that mean you can never wear a swimsuit again? Of course not, it'd be silly to avoid swimsuits simply because they're made from plastic, but that doesn't mean you can't make smarter choices.

A few ways I like to make more eco friendly choices when it comes to swimwear is by opting for ethical manufacturing where the workers are paid a fair wage, recycled and sustainable materials, and of course a range of fun colors and shapes.

So, here are 18 sustainable and ethical swimwear brands you're gonna love, and a few things you should be looking for when shopping. Obviously, wearing the swimsuits you already have is always the best options.

If you're lookin for a little refresh, you could always mix and match with your existing pieces or pick up a scarf or hat secondhand to complete the look. And, if getting a secondhand swimsuit doesn't bother you, then be sure to check out my blog post Thrift Stores and Vintage: The 12 Best Secondhand Shops Online.
eco friendly fabrics:
As I mentioned prior, most swimwear is made from virgin polyester or nylon. This kind of material not only sheds micro-plastics into the water with each wash, but it's also a waste of resources.
Thankfully, there are several innovative, sustainable swim fabrics out there.
One of the best eco-friendly materials is ECONYL – it's regenerated nylon from pre and post-consumer products.
To make ECONYL, waste like fishing nets, fabric scraps and carpet flooring are used in a regeneration and purification process.
Then, the nylon is processed and turned into new swimwear products.
There are other types of recycled swimwear fabrics, such as REPREVE, which is made from recycled plastic bottles.
Yet another material is EcoLux, which is just another term for recycled nylon fibers.
If you're truly hoping to avoid plastic at all costs, you could invest in a yarn bathing suit, or a biodegradable one made from Marino wool.
quality products:
As a general rule of thumb, you want to avoid brands that are pumping out new swimsuit collections almost every week.
Most sustainable and ethical swimwear brands will limit the collections they release each year to ensure the quality of their pieces. Not to mention, less collections also means less materials and resources needed to make the swimwear, keeping it sustainable.
When a brand isn't constantly releasing new collections, it means they can pay more attention to detail and develop durable pieces that will last you more than just one summer.
Less collections released also mean natural resources aren't being overused. Even if the products are made from recycled content, it still takes a lot of energy and resources to make.
Slow fashion is much better for the planet and doesn't encourage overconsumption.
ethical production:
It's important to question how your swimwear is made, just like you would your shirt or your shoes. Is it contributing to harmful environmental practices and the mistreatment of factory workers?
You want to support brands that don't harm the environment as the item is being crafted. Better yet, you want to make sure the people making the items aren't being exploited or paid pennies.
It's important to look for transparent brands that ensure their garments are made ethically. Ideally, swimwear production should be energy efficient, value water, be produced locally, and support ethical working conditions.
18 ethical and sustainable swimwear brands
Ready to explore the world of sustainable swimwear? I've compiled a list of sustainable, ethical and durable swimwear that'll last more than one summer.
I've gone ahead and highlighted some of my favorite features of each brand, but it isn't an exhaustive list. Be sure to check out their websites for more information.
Here are 18 ethical and beautiful bathing suits you'll want to wear all summer long.
---
---
---
---
---
---
---
---
---
---
---
---
---
---
---
---
---
So, have you tried any of these sustainable and ethical swimwear brands? Would love to hear your favorites in the comments!