Where to Find Sustainable and Ethical Basics
September 20, 2019 | Guest Post
Last Updated on October 24, 2022
Need some new socks?
How about a new pair of leggings? If so, don't be so quick to hit up the mall.
Everyone needs some basic essentials (like socks) to keep their wardrobe functional.
That said, your basic garments don't have to hurt the environment.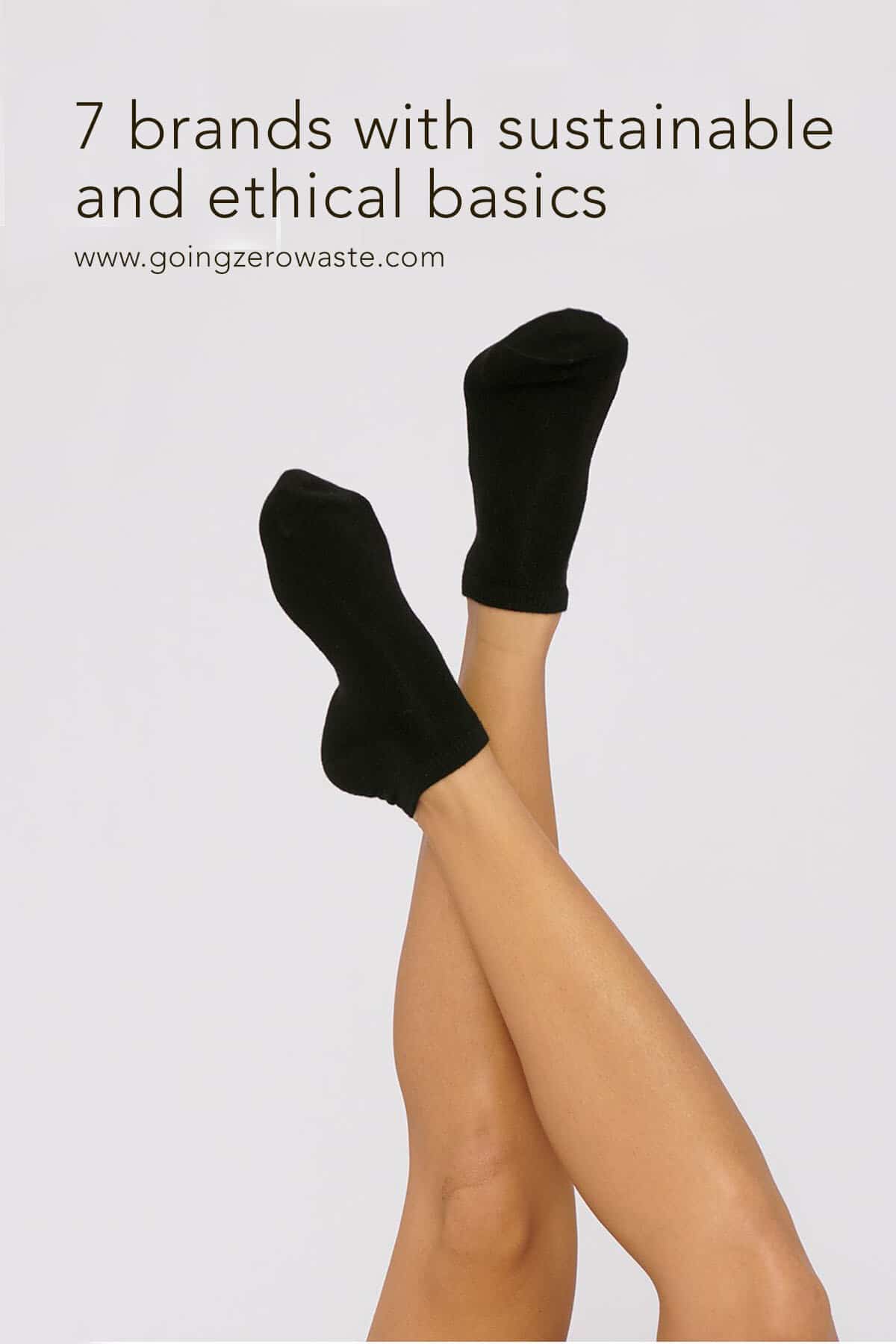 Most basic essentials sold at your local mall (like tees, socks and leggings) are made by the fast fashion industry.
They're super cheap because they're made using unethical practices and unsustainable materials.
However, if you're in the market for some new basic garments (and I'm not talking underwears), I've got you covered.
Here are 7 brands that sell sustainable basics you can feel good in.
organic basics:
Organic Basics is great because they serve both men and women in their selection of basics.
This brand has a wide selection of sustainable basics to choose from that you're bound to love.
They've got an assortment of tees, socks, and leggings that'll get you through the day.
Plus, it doesn't hurt they care so much for the environment.
All their basics are made from sustainable materials like organic cotton, recycled nylon, Tencel, recycled wool, SilverTech and Polygiene.
SilverTech is basically natural silver blended with polymer fiber and organic cotton.
This creates a soft, heat-regulating, odor wicking fabric. They use it to make their leggings.
Polygiene is a safe, permanent fabric treatment made from recycled silver salt that keeps fabric fresher longer between washes.
They use it to treat their activewear mostly (like their leggings).
Organic Basics' products are made in factories that care about the environment as much as you do, and there's never any forced labor or child labor.
All the workers are treated with respect, earn living wages and have a safe working environment.
If that wasn't cool enough, Organic Basics also offers climate credits on their site to offset your own personal carbon footprint.
They'll direct your purchase to CO2 reducing projects.
MY TOP PICKS are these ankle socks and these SilverTech active leggings
julie may:
Julie May is a UK-based lingerie brand that offers larger sizes, front fastening and underwire options, which is rare for sustainable brands. They ship worldwide.
This brand uses Organic Pima Cotton which creates incredibly comfortable bras. The brands and straps are carefully wrapped with a layer of Pima Cotton to avoid digging in or irritating the skin. On top of this, every piece is luxuriously hand-made.
Organic Pima Cotton is 5 times more durable, soft and breathable than ordinary cotton. It's organic so that means it's grown without harmful pesticides or fertilizers like traditional cotton.
Julie May is also the only underwear brand that has been tested and certified by the Allergy Free UK. This makes it an excellent option for people with rashes, skin irritations or discomfort to their bras.
Julie May also donates a portion of their sales to support UN sustainable projects like Plastic Bank and plant tress in reforestation projects.
Interested in trying them for yourself? Use code JULIEMAY for 10% off your order!
MY TOP PICKS are this supportive non-wired full cup bra (pictured below) and this dynamic back support with a front closure.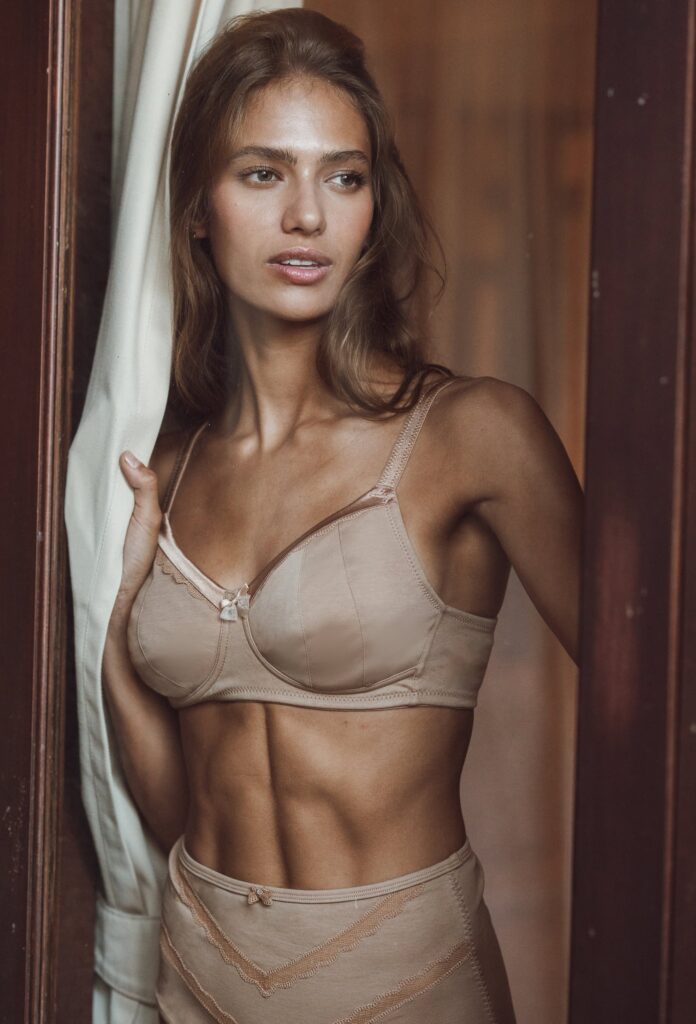 everlane:
If you're looking for some chic basics with a conscious, definitely check out Everlane.
They serve both men and women there, so what's not to love?
You'll find so many comfy tees, sweatshirts and sweaters to choose from as well as undergarments like bras and undies.
You can easily find staples from this brand you can wear in any season.
Everlane crafts their pieces using cotton as their first and foremost material.
I really love that about them because that makes a lot of their clothes biodegradable at the end of their life.
That said, Everlane's pieces are built to last. This company focuses less on trends, more on classic, well-made designs that will become quick staples in your wardrobe.
MY TOP PICKS are this cotton v-neck and this lightweight French Terry shrunken hoodie
pact:
I really love Pact because they create some of the most affordable sustainable basics around. You can also shop for men here as well!
Pact has so many tees, leggings, socks, hoodies and sweatshirts to choose from. You can shop until your heart's content.
Pact always uses organic cotton in their pieces, and they never use toxic dyes or pesticides.
Not to mention they're also fair-trade factory certified, meaning their factory workers are treated with respect and earn living wages.
Their cotton is also super soft, but be warned – they do individually wrap everything in plastic!
MY TOP PICKS are these cute premium crew socks and this lightweight hoodie
pansy:
Pansy is definitely one of my favorite places to grab some sustainable basics.
Pansy crafts everything with women in mind (plus it's a woman owned small business).
You can shop for tees, socks and leggings there. They also sell underwear and bras.
Their original underwears and bra are completely compostable at the end of their life, which is amazing.
Pansy uses USA grown cotton in all their pieces. Every garment is dyed using fiber-reactive dyes, which are non-toxic.
The organic cotton is grown in Texas and milled in North Carolina.
The actual garments are sewn in San Leandro, CA. I love how it doesn't come from overseas!
While most of their garments are made from cotton, there are some that utilize spandex (like their leggings).
However, the spandex is sourced from recycled PET plastic, which is awesome.
Another cool thing about Pansy?
Everything on the sight is designed to be worn together, so they use the same dyes on all their garments.
In other words, your socks can match your shirt! How cute?
MY TOP PICKS are the Pansy socks and Pansy leggings
boody:
If you're looking for some basics that are simple but charming, Boody is for you.
They serve both men and women, which is totally awesome.
Boody sells all the basics: Tees, socks, leggings.
They even have underwear, if you're in the market for some.
What's great about Boody is they don't overcomplicate things and stick to classic, timeless designs that will match up with anything.
They're also passionate about the environment, which is why they use rayon made from bamboo in all their products.
The reason this is so good for the environment is because bamboo grows so quickly, even after it's harvested, opposed to other crops.
Bamboo also doesn't require nearly as much water to grow as cotton.
Cotton can guzzle 5,000 gallons of water to produce just two pounds, whereas bamboo only requires 130 gallons of water to produce 3 pounds.
That's mighty impressive!
Boody is also Ecocert certified, meaning the raw bamboo they use to make their clothing is certified organically grown.
To top it all off, they're also Forest Stewardship Council (FSC) certified, meaning the farming of Boody's bamboo does not contribute to natural habitat loss or destruction.
MY TOP PICKS are these everyday ankle socks and these full leggings
amour vert:
If you're looking for some comfy but adorable tees, look no further than Amour Vert. They also sell men's wear as well, which is fantastic.
One of the things I really love about Amour Vert is that when you buy a tee, they plant a tree.
Every purchase of Amour Vert's t-shirts plants a tree in North America.
They've already planted over 200,000 trees so far!
Also, most of their tees are made from their signature beechwood fabric, aka modal.
They make sure to sustainably harvest the beechwood using a carbon neutral process and never use any pesticides, herbicides or insecticides for growing.
Beechwood fibers use 50 percent less land for cultivation and use 10 times less water than non-organic cotton.
Modal is also extremely soft, so anything made with it is bound to feel amazing on your skin!
MY TOP PICKS are this talin tee and this camille softest camisole
majamas earth:
If you're looking for some basics with a little more pop, Majamas Earth is the place to shop.
There's a ton of fun patterns and colors to choose from. Better yet, they also offer selections for men as well.
You can shop for so many tees, sweaters, tanks, pullovers, and leggings.
I really love the cut of their clothing – it's super flattering.
You'll fall in love with all the pretty designs too – they have so many pieces with florals and interesting patterns.
There are also tons of solid colors to choose from too, of course.
Majamas Earth always makes their clothing from eco-friendly fabrics.
The main fabrics they use are modal, organic cotton and recycled fibers (like poly) that take water bottles out of the landfills.
Also, if there's any leftover fabric from previous collections, they'll use it to make new clothing so nothing goes to waste.
Any other textile waste is used to make cute scrunchies and headbands they sell as well.
Everything at Majamas Earth is ethically designed, sourced and sewn right here in the United States.
Majamas also makes sure the clothing is never sprayed with chemicals, wastewater is never dumped in the ocean, and the people sewing the clothes are paid fair wages.
MY TOP PICKS are the JoJo leggings and the forte tank
Where do you get your sustainable basics from?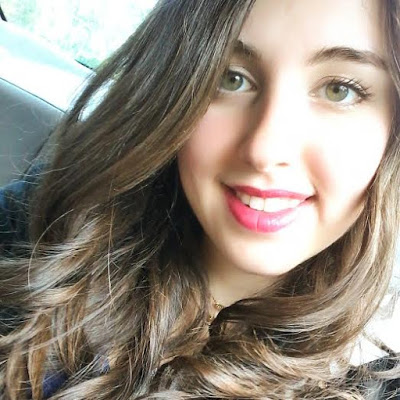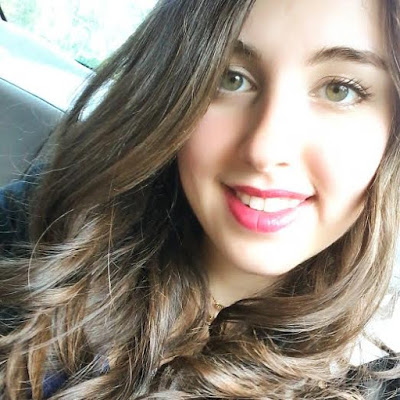 Guest Post: Ariana Palmieri is the founder of Greenify-Me.com, a blog dedicated to zero waste living and sustainability. Her work has been featured on MindBodyGreen, Green Matters, The Penny Hoarder and several other publications. Get her free e-book "10 Ways to Reduce Trash" by signing up to her newsletter and learn how to reduce your waste today.