Ethical and Sustainable Gift Guide for the Wellness Lover
December 5, 2018 | Kathryn Kellogg
Last Updated on December 6, 2023
This was probably my favorite gift guide that I've written, because I want EVERY. SINGLE. THING. (Or I already own it. 😉
Wellness and eco-friendly living go hand in hand for me. I think when we're taking better care of the planet, we're also taking better care of our bodies and vice versa.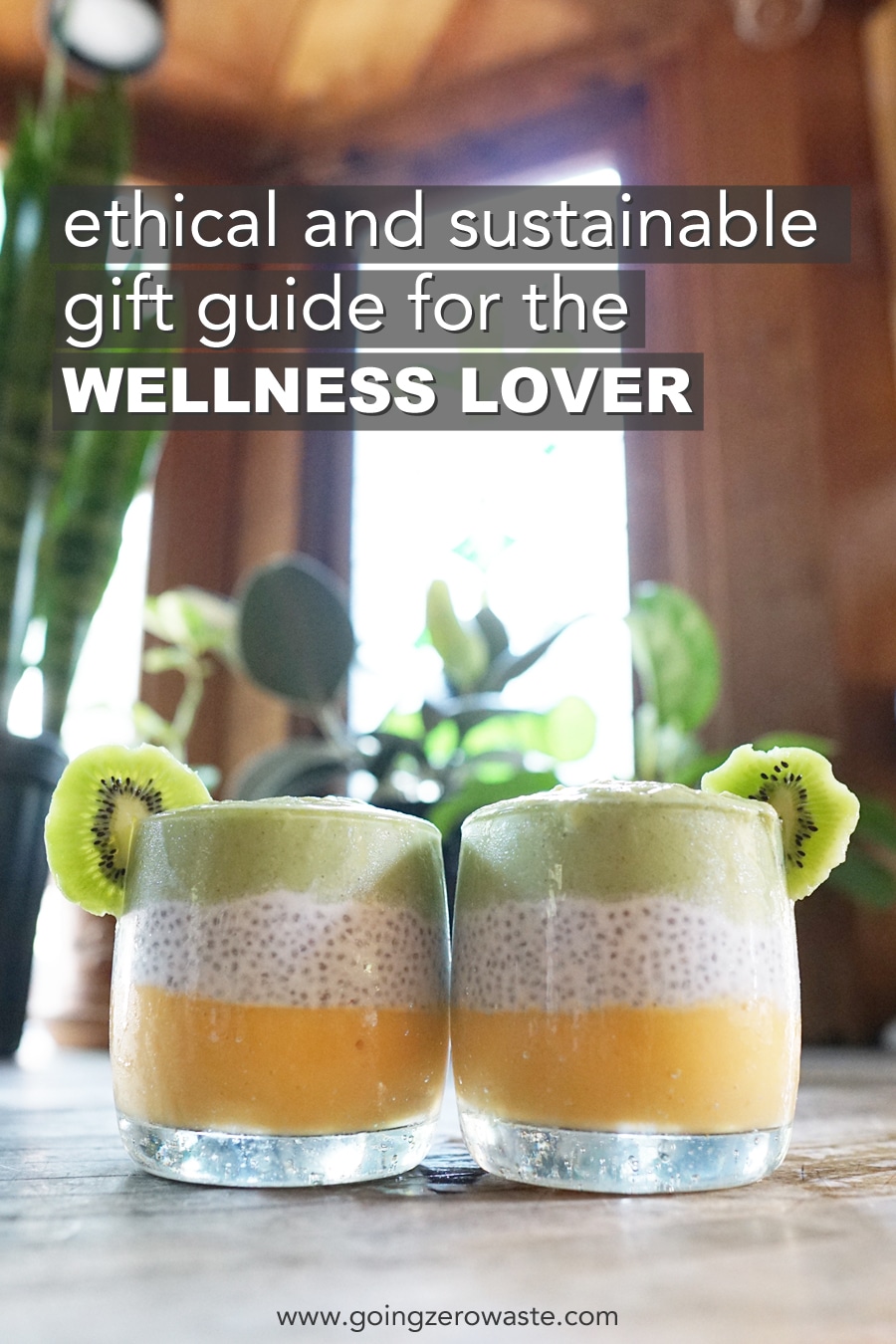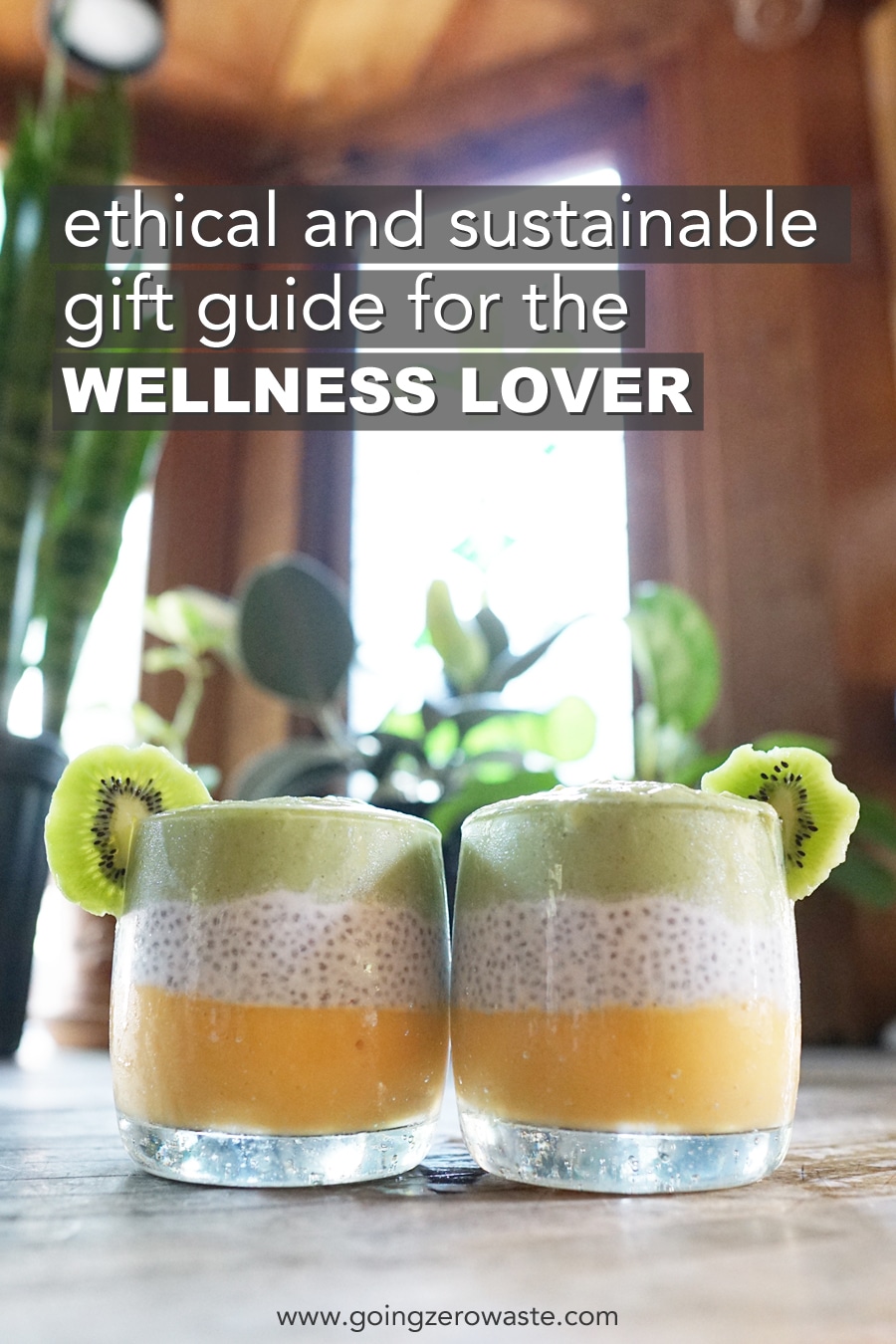 This post was sponsored and many of the links below are affiliate links which means if you choose to purchase one of the items I might make a slight commission for referring you.
organic tees:
My husband and I both have several Truth Alone tees. The tees are made of premium superfine 100% Peruvian organic pima cotton,
The lightweight jersey is naturally hypoallergenic and ideal for sensitive skin. Most importantly the t-shirts don't loose shape in the wash!
These tees really do it all from working out to going out.
Truth Alone is very conscious about sustainability and sourcing. Their Peruvian organic farming does not allow GMO seeds; it is pesticide & fertilizer free enabling biodiversity, uses 90% less water than conventional cotton, hand harvested sustaining ancient agricultural methods passed down through the generations.
These tees would also make a great stocking stuffer! My favorite is the weekend scoop neck tee, but love the crew tee for working out.
girlfriend collective:
One of the things I admire about Girlfriend Collective is how transparent they are. Their fabrics use recycled water bottles. I'm honestly pretty on the fence about using recycled plastic for clothing due to the shedding when washed.
But, a lot of active wear is polyester anyways. So is it better to use recycled water bottles to make the poly rather than virgin poly?
I like how they address this on their website. "We absolutely know this. Making something that benefits the environment is our #1 priority, and at the top of that list was getting rid of the enormous amounts of plastic in our ocean and in our landfills.
That being said, microfibers are an issue (though every single synthetic fabric releases them). We are researching on ways to limit the release of microfibers into the water system. In the meantime, you can purchase a solution now from: Patagonia."
I LOVE this blush pink set they have and it's 100% on my wish list! I'm trying to up my active wear game because my t-shirts from high school and 8 yr old leggings with holes in them don't really inspire me to work out… especially not in public…
dry brush:
Skin brushing is a great way to shed dead skin, improve circulation and help to eliminate cellulite.
Use very gently on dry skin with a few drops of detox cellulite body oil, moving up from the feet in clockwise circular movements, working your way up the body. Always move towards the heart to help the blood flow in the correct way.
What I love about this dry brush is that the handle detaches. So you can use it with your palm or the handle so you can easily get to the center of your back!
high-intensity bag:
You need a bag that works harder than you! I love this bag from Rewilder that's made with pre-industrial consumer waste.
The bag is made with auto airbags and seatbelts! The bag is super durable, water-resistant, and modern AF. Perfect for active urbanites. One of my favorite aspects is how easy the bag is to clean.
I took my bag on a weekend trip to Disneyland and it was the perfect carry-on.
thinx:
Thinx are period panties. They make awesome back up to a cup or even on light days. I love their sport pairs which are perfect for hitting the gym or snuggling up on the couch with a pupper.
If your wellness pal is a runner or a dancer, they make running shorts and leotards!
But, my personal favorite is just the plain ol' hip hugger. These make a great stocking stuffer!
deodorant:
No wellness lover is complete without an organic, all-natural deodorant that actually works! You could check out my DIY or grab this amazing new deodorant Funk Free. It's completely free of baking soda, coconut oil, and plastic.
I really like the mellow magnesium scent which features a fresh and citrusy blend of organic sweet orange, lime and bergamot essential oils
This deodorant comes in a glass jar. I was a little worried about applying the deodorant with my fingers because I don't like that type of application, but the deodorant is whipped and putting it on with fingers isn't a problem at all.
thrive:
A practical handbook to holistic wellness that extends beyond quinoa bowls and superfood smoothies. This practical handbook would be the perfect edition to your wellness lovers bookshelf.
Thrive is printed as ordered, so it can take a few weeks for you to receive it.
Here's an excerpt from the description, "Happiness is not something you can conquer in the outside world, but an ongoing, positive state of mind that must first be cultivated within you. And total wellness requires us to take care of not only ourselves, but also the planet that we all call home."
juna CBD:
CBD is all the rage right now, and I've been a fan of JUNA. I've been putting a couple of drops in my morning tea lattes. It really helps easy my anxiety and get me prepared for all of the work I have to do each day.
This type I've used is the Nude CBD. Antioxidant-rich CBD interacts with internal receptors, releasing bodily stresses while engaging the mind. Lifts the spirit, focuses thoughts, and promotes emotional well-being. Will not cause inebriation or inhibit functioning, so you can feel confident in going about your routine.
yoga mat:
Manduka yoga mats have a lifetime warranty! If they're in the market for a new yoga mat, this is the one I'd pick. There's no PVC or harmful plasticizers.
The mat is made from from biodegradable, non-Amazon harvested, natural Tree rubber with non-toxic foaming agents and non-ado dyes, and all post-industrial scrap is thoughtfully collected and utilized in the production of other materials creating a zero waste manufacturing process.
matcha:
Matcha tea is all the rage these days, and I love it! My all time favorite matcha is from Arbor teas. This company's commitment to sustainability. Their matcha is the only one I know of that's completely plastic free.
This small treat would make a great stocking stuffer!
---
Be sure to check out the other gift guides coming! And, get my tips for eco-friendly ways to wrap presents.