Ethical and Sustainable Gift Guide for the Pal who Loves to Stay In
December 6, 2018 | Kathryn Kellogg
Last Updated on April 9, 2020
As much as I loved the wellness gift guide, this one really speaks to my heart. I like going out, but honestly, I'd much rather be at home binge watching the Great British Baking Show / Bake Off snuggled with Nala, Justin, and a plate of pizza.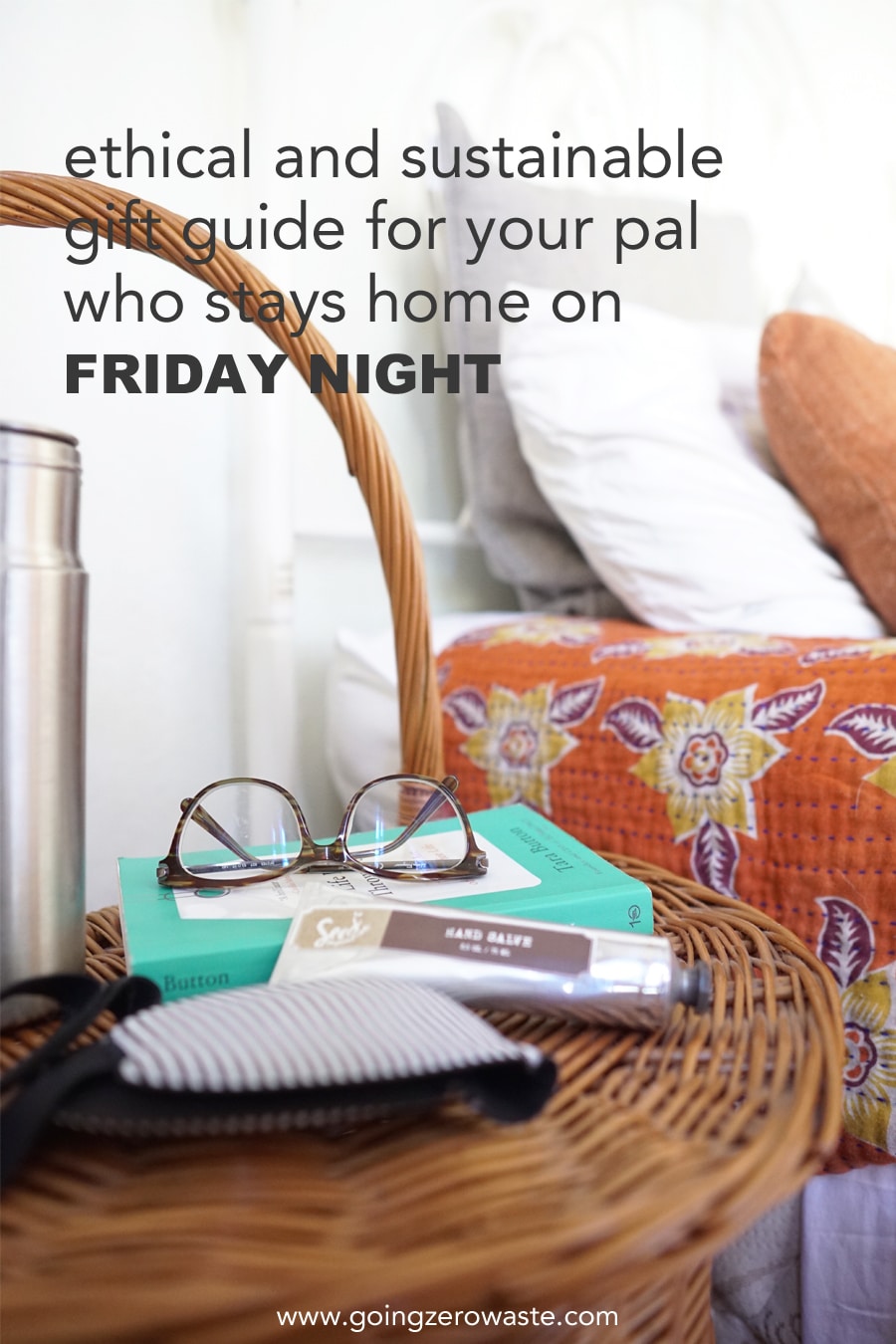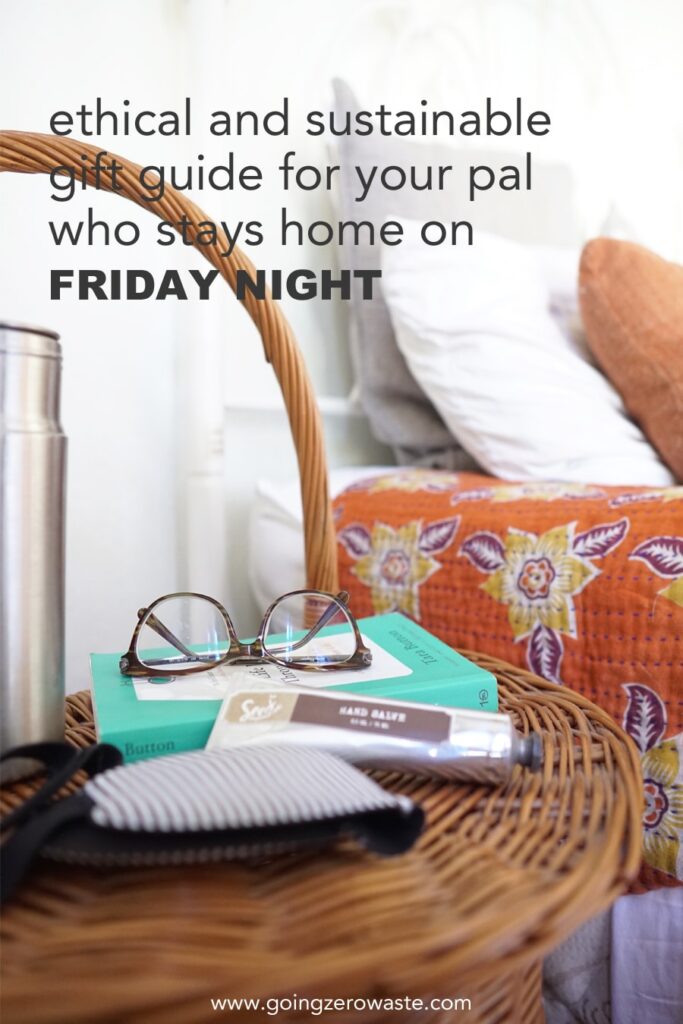 Of course, there are tons of things to do at home like drawing a bath, reading a book, sipping some herbal tea or even a glass of wine.
Man, this is getting me excited about Friday night!
This post is sponsored and many of the links below are affiliate links which means if you purchase something I might make a commission for referring you. If you have any questions please head to my disclosure policy!
sol organics:
Step one for me is getting snuggly! My bed has to be plush. I have the Percale Organic sheets in dove gray and I LOVE the texture of these sheets.
They feel a little more raw which I really like. I'd compare it to a linen cotton hybrid kind of feel. They have that texture so I feel like I sleep in place instead of sliding around on super satiny sheets.
The sheets are a little thin, so if you're looking for heavy duty winter sheets, then make sure to grab one of the sateen sets!
The company is certified Fair Trade, Organic Cotton, and GOTS certified, and they ship completely plastic free! They're shipped in a self-bag made from 100% organic cotton which can be composted, but I'm using it to buy lettuce from the farmers market! Then they're wrapped with 100% recycled paper and put inside a recycled brown shipping box. No plastic whatsoever!
And, as a huge bonus they're offering all GZW readers 20% off with the code 'GZW20' just apply it at checkout.
candle:
I love MCMC fragrances! I wore the fragrance Maine for my wedding, and I would love to burn this candle near my bedside while diving into a book.
This MCMC Dude No. 1 Candle is fresh, spicy, and woody, this fragrance is the new classic manly scent that will make you want to get close. With Virginia cedar wood, green coriander and pink peppercorn.
This candle is hand-poured in Brooklyn, with a blend of soy, vegetable and beeswax, and a 100% cotton wick. Approximate burn time of 50 hours.
hand knit socks:
I am in love with these hand knit socks! Marianne Wakerlin's wildly styled socks are hand-knit from skeins of recycled cotton yarn in a funky palette that's coordinated but mismatched.
These cozy accessories repurpose perfectly good cotton strands, which reduces the amount of water, land, pesticides, and herbicides used to grow new cotton fibers and eliminates the need for harmful chemicals to dye virgin cotton yarn.
The design, knitting, and finishing final touches for these socks are completed at small, family-owned businesses in Vermont, North Carolina, and Oregon.
pajamas:
The cutest ethical pajamas I've found come from Reformation… of course! Reformation uses deadstock fabric which is fabric save from going to landfill, and they make all of their garments in Los Angeles.
According to their website, buying their pajamas instead of new pajamas elsewhere saves 17.08 lbs.of carbon dioxide, 1340.77 gal.of water, and 1.52 lbs.of waste!
kindle:
Did you know that you can check e-books out from most libraries!? You can download them straight to your kindle. I love the kindle paper white because there's no blue light.
Blue light can suppress the secretion of melatonin which helps you fall asleep and stay asleep. So, it's best to avoid blue light right before bed.
throw pillow:
Is there such a thing as too many pillows? I love having a few throw pillows to snuggle up with and so does Nala. She's always rearranging the pillows just to her liking.
I like this throw pillow from Anchal which is handmade by an artisan in India. Every purchase of an Anchal product has an immediate impact and provides an artisan with a full-time job, health care benefits, design training, and educational workshops.
mug:
Is there anything better than winding down with a nice cup of herbal tea? There's something about sipping something warm that just calms me down. It's the perfect way to unwind from a hectic day.
If it's been an especially hectic day, then I like to sip something warm while sitting in a nice warm tub with a few candles around. Then you put on the cozy socks, cozy pa-jam-jams, in some cozy sheets, and read a book. Basically… this whole gift guide. 😉
I have a mug from Globe-In and it's one of my favorites! This mug is hand painted in Tunisia and fair trade.
---
Be sure to check out the other gift guides coming! And, get my tips for eco-friendly ways to wrap presents.