Ethical and Sustainable Gift Guide for the Beauty Guru
December 3, 2018 | Kathryn Kellogg
Last Updated on April 9, 2020
The beauty industry is one of the hardest areas to reduce your waste. It seems like a mine field trying to find something that's in decent packaging and with clean ingredients. When you do find those items, they can be a little spendy.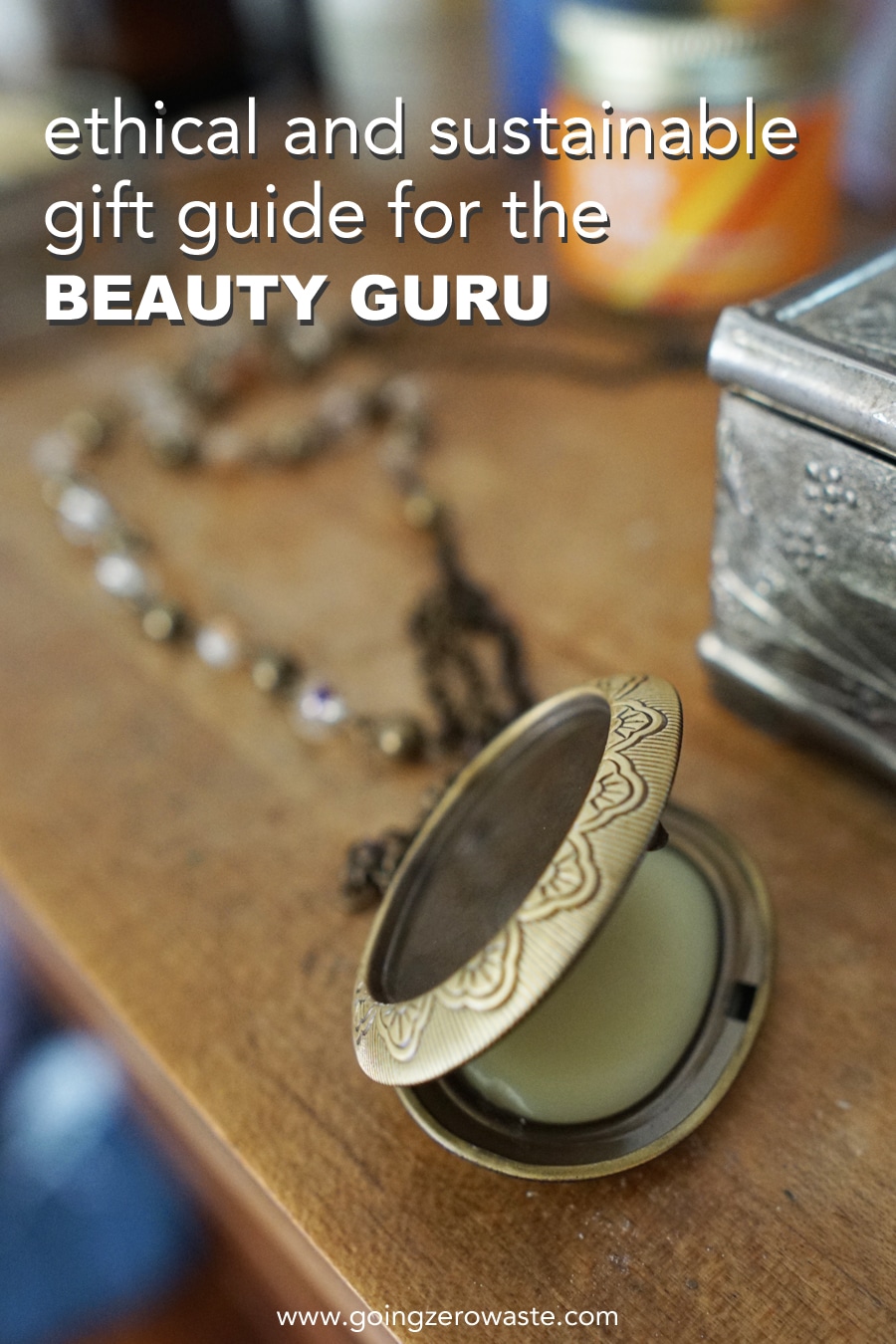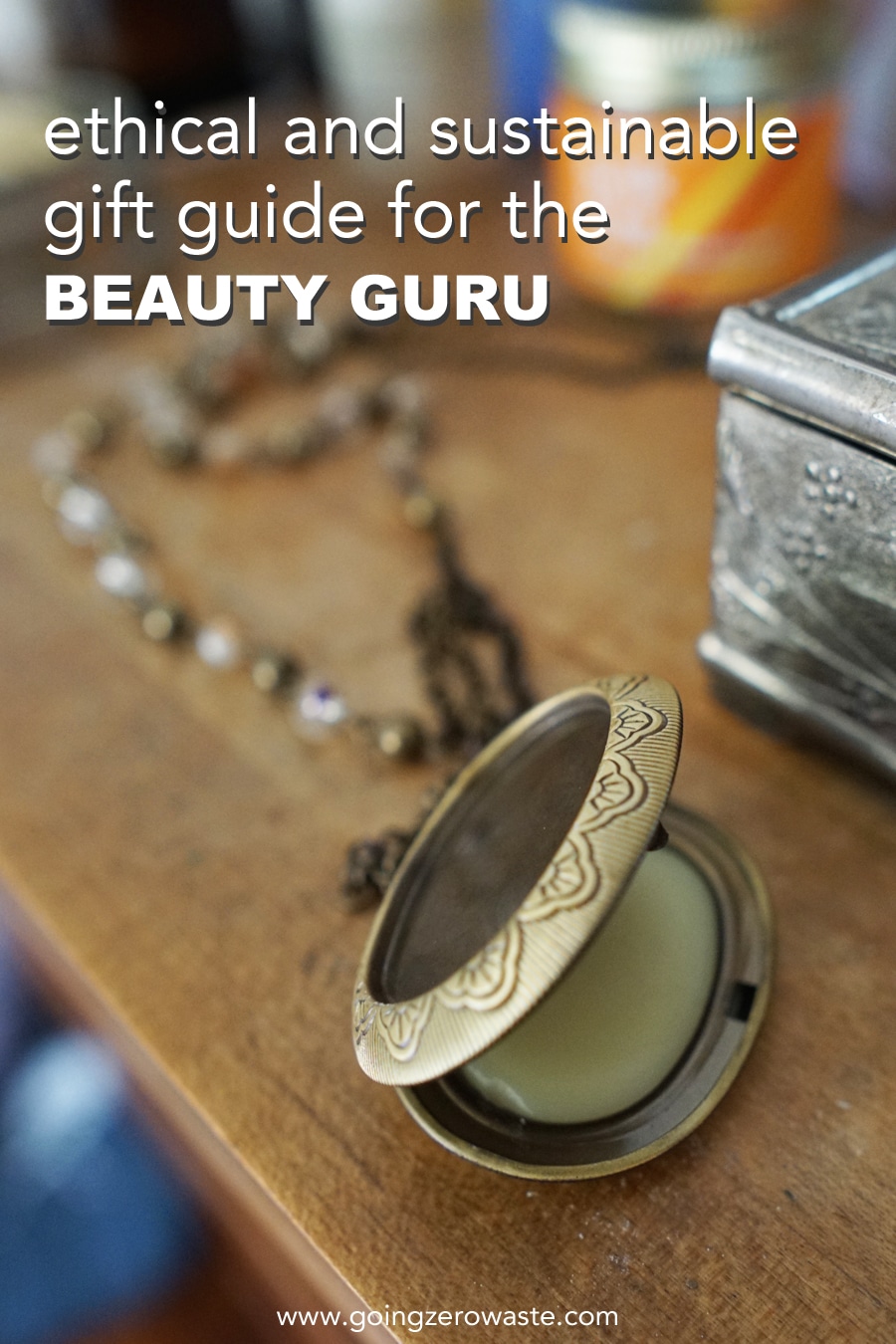 I feel like I've gotten a really well rounded list for all budgets! Perfect for a splurge item to put on your own shopping list, or a cute, small item to get for a friend.
As a bonus, beauty products are pretty small in size making them the perfect stocking stuffers!
This post is sponsored and several of the links are affiliate links which means if you choose to purchase an item, I might make a small commission for referring you. If you're interested in learning more, please see my disclosure policy.
humble hive:
I love the ethos of this one woman show! If you're looking for eco-friendly, zero waste products that aren't going to break the bank – this is the shop for you.
Lauren creates everything in her kitchen with compostable packaging and eco-friendly tins that are perfect to reuse. She also lives on a sustainable farm which is SO cool!
Your favorite beauty guru will love these non-toxic products. My personal favorites are her lip and cheek stain and her solid perfumes lockets.
But, my pick for the holidays would definitely be this amazing gift basket. You could split it up to make smaller gifts for friends, slip it into different stockings, or just give it as a big gift with the whole basket.
matter prints scarf:
Matter Prints works with a curative philosophy inspired by tradition. They source heritage prints and styles and reinterpret them in a modern manner.
Their collection is full of pieces focusing on heritage prints and textiles from artisan communities.
One of my favorite aspects of Matter prints is their design pattern cutting process, they use a method to reduce textile waste.
All of their production partners collect the leftover fabrics from every order, and they use them to make the #mattermini line.
I think this scarf makes the perfect festive and versatile gift. It's great as a holiday wrap but also a gorgeous table runner or a piece of art for the wall. I think framing textiles is gorgeous and unusual!
But, I also really love these pants!
eye mask:
For me, it all starts with my beauty sleep. This lavender and flax eye mask is handmade in California. Lavender is a relaxing scent that helps you unwind, and it's slightly weighted. It's great for unwinding for a few moments or to help your relax before bed time.
As a bonus you can throw it in the microwave, and would do a wonder for cramps.
face roller:
Rollers may aid with lymphatic drainage and the release of toxins, may reduce inflammation and reduce the appearance of puffiness, can boost circulation for added radiance and glow, and may help temporarily lift and firm the skin.
The Rose Quartz facial roller is believed to emit energetic vibrations of love and beauty. They are said to improve self-esteem and to fill the heart with feelings of self-worth, forgiveness and compassion.
compostable palette:
I love this Aether Beauty Rose Quartz Crystal Gemstone Palette. This palette is sustainably packaged: with removal of eyeshadow pans and elastic, this paper palette is fully recyclable and zero waste- the first in the industry!
shroom collagen:
Shroom Collagen is skincare you can drink! A vegan blend of skin-protecting superfoods that helps preserve natural collagen while hydrating and plumping skin from the inside out.
bath salts:
These Calm Bath Salts are a blend of floral Ylang Ylang and natural Vanilla, to relax the mind and body; these salts also include lightly detoxifying and beautiful pink salt crystals. Add a handful of these salts to your bath to infuse the water with minerals, and your body with relaxation.
face mask:
I love this face mask from Bestowed Essentials an awesome solar-powered zero waste business. This Face Mask For Sensitive Skin is a gentle combination of soap-free cleansing grains AND deep action face mask, perfect for mature or highly delicate skin.
It's dry instead of a liquid to avoid adding preservatives, and you can mix it up with any liquid you like from aloe-vera or water.
face oil:
This Marie Veronique night oil is my all time favorite face oil! I use it morning and night, and it's the only face oils I've had that hasn't caused any clogged pores. My face is really sensitive to clogging, even jojoba oil will cause under the skin congestion for me, but this night oil leaves my skin glowing.
I can't recommend it highly enough. It's packaged in glass and made locally in Berkeley, CA.
---
Be sure to check out the other gift guides coming! And, get my tips for eco-friendly ways to wrap presents.