18 Ethical and Sustainable Dresses For Summer
July 19, 2019 | Guest Post
Last Updated on July 1, 2022
These fantastic sustainable dresses are perfect for summer! Cool off in one of these unique summer dresses, and feel good about it, because they are all ethical.
Wearing sustainable dresses and other ethical clothing is important because they help preserve our natural resources. These unique summer dresses are not only fashionable, but they also help you to reduce your carbon footprint. Each of these sustainable dress companies has focused on fair wages and good working conditions for their help too.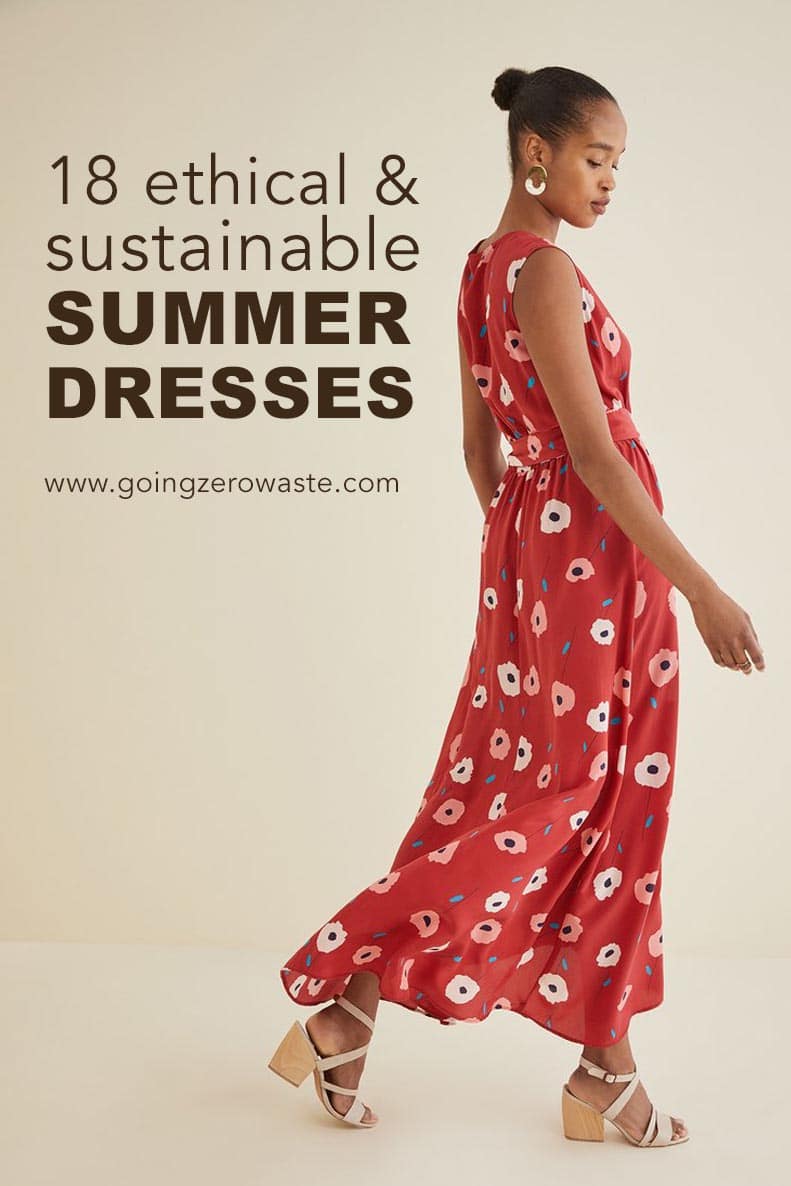 Several of the links below are affiliate links for more information please see my disclosure policy.
sustainable dresses
It's time to break out the cute summer ethical dresses! With the warm weather here, you can't go wrong with a classic sundress.
There's only one problem: Most summer dresses made in the fast fashion industry aren't sustainable.
They're made using unethical practices and produce a ton of textile waste.
One of the most sustainable things you can do is wear what you already have so that no new materials or resources are wasted in creating the dress.
I really do encourage you to look in your own closet first and see what you have, or host a clothing swap with friends!
However, if you're in the market for some cute unique summer dresses, then I've got you covered.
Here are several ethical and sustainable dresses that are perfect for summer.
ethical dresses
christy dawn:
Christy Dawn creates some ultra-swoon worthy eco friendly dresses. Seriously. And her summer collection is no exception.
why I love these sustainable dresses:
These dresses look like they stepped straight out of a fairytale with their pretty florals, soft colors, and flowy skirts.
I can totally picture myself wearing these dresses and just chilling in a beautiful meadow, hands down.
What I love most about Christy Dawn dresses is the fact they're made using only deadstock materials. In other words, the residual fabrics left over from major fashion houses.
They literally take textile waste other fashion brands create and repurpose it into something beautiful. If that's not amazing, I'm not sure what is.
My top picks are The Delphine Dress and The Rosemary Dress.
balzac paris:
If you're looking for chic, trendy, French-inspired dresses, look no further. Balzac Paris has you covered.
why I love their ethical dresses
All the dresses are made thoughtfully using sustainable materials like cotton or Tencel. Tencel is made from a cellulose fiber conceived from Eucalyptus pulp. It's a completely biodegradable material, which is awesome.
Also, some dresses are even made from textile scraps from other popular outfits in their collection. This saves tons of textiles from entering landfills (where they'd just sit and waste away for no reason). 
They also occasionally use modal and elastane in their dresses. Modal is produced from renewable cellulosic plants such as beech trees, bamboo, and pine trees, making it a biodegradable fabric. Elastane is basically similar to spandex, so it's not biodegradable, but Balzac Paris makes sure to use minimal amounts in their dresses, if any at all.
I really love how their eco friendly dresses can be worn so effortlessly throughout summer.
There's something for everyone because there are both long and short dresses to choose from.
There are also tons of fun colors, patterns, and textures on these unique summer dresses.
I'm a sucker for florals, but they have plenty of solid colored dresses too, which can transition nicely from day to night.
My top picks are the Amia Dress and this Eliane Dress.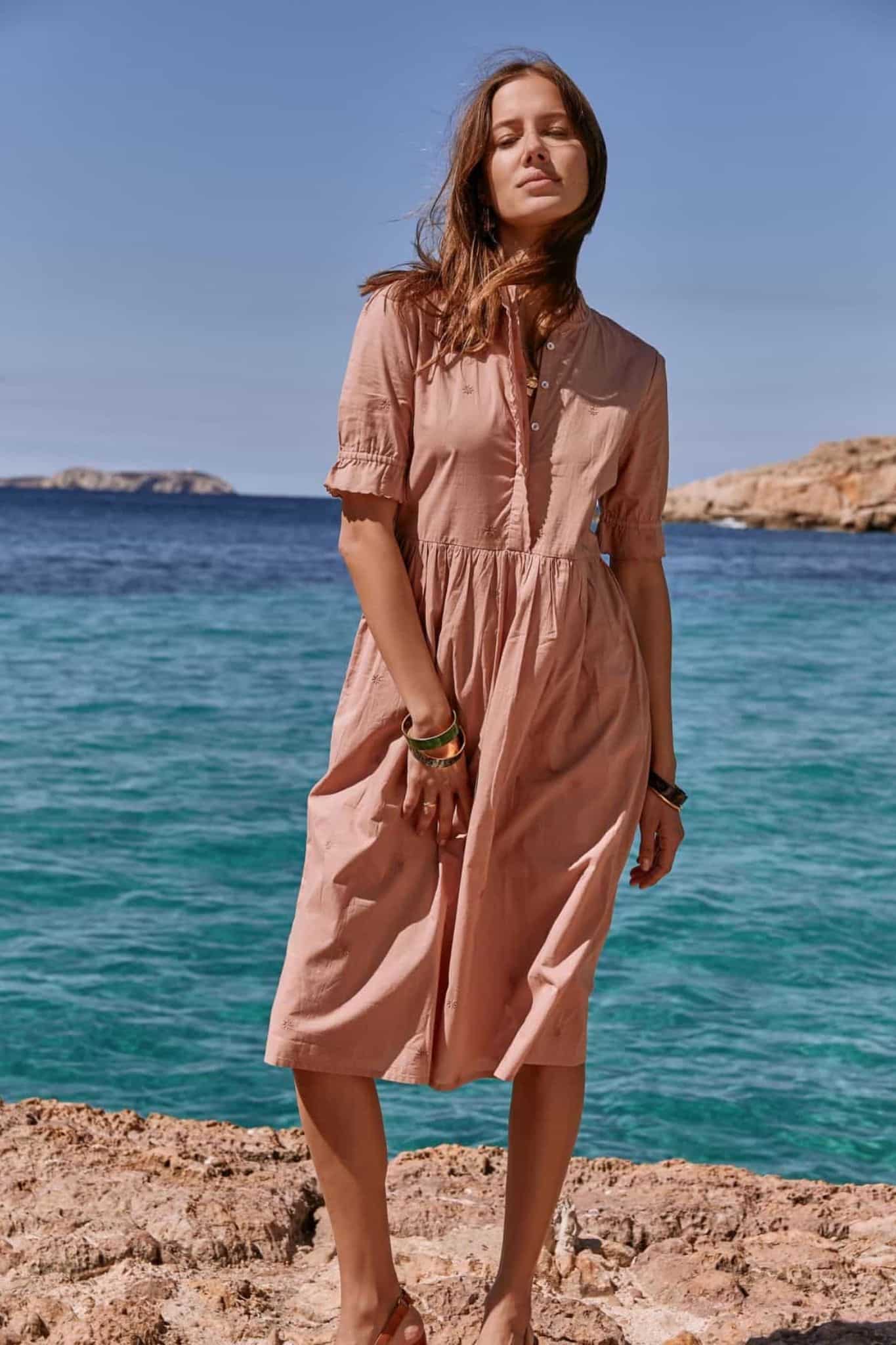 fauxgerty:
Want to buy a dress from a sustainable brand that caters to women of all shapes and sizes? Fauxgerty is the place to shop!
I really love how diverse and body positive their models are.
It helps make online shopping easier when you know how a dress will look on different body types.
Most of Fauxgerty's sustainable dresses are very flowy and perfect for twirling and frolicking about.
You're bound to look cute this summer in any of them because there's something for everyone.
Not only does Fauxgerty have some incredibly cute dresses, they also have some incredible ethics too.
All the materials they use are sustainable, from their certified organic cotton to their deadstock vintage.
Deadstock vintage is basically rescued leftover fabric, otherwise destined for a landfill, which they've used to create beautiful pieces with vibrant colors and patterns.
Also, Fauxgerty uses faux suede and an eco-friendly leather alternative to make their clothes.
The faux suede is made using the same sustainable fabric that car brands like Tesla use to create durable, comfy seats.
The leather alternative is PVC-free and uses post-consumer recycled content that won't peel or crack.
I also really love the fact Fauxgerty partnered up with Jess With Less to create The Jess Set! If you don't follow Jess on Instagram, you're seriously missing out – because she's always dishing out amazing sustainable fashion advice.
My top pick for a sustainable dress this summer is The Fiona dress.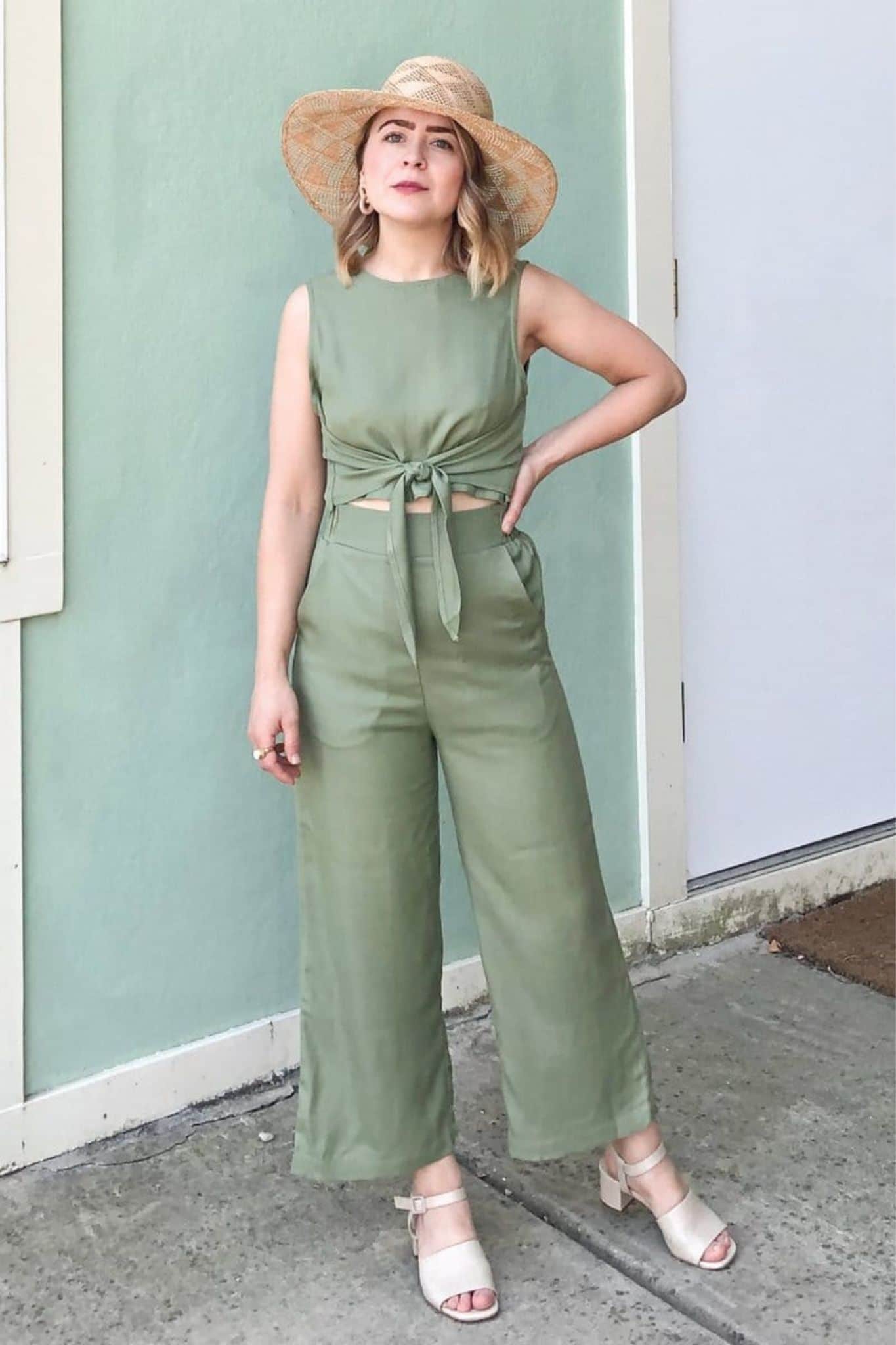 amour vert:
Amour Vert has some really cute, unique, and chic dress options to get you through the summer. 
They have everything from wrap dresses to midi dresses to babydoll dresses.
There are so many different cuts, styles, colors, and patterns to choose from — it's essentially sustainable dress heaven. 
They use a bunch of eco-friendly materials to make their dresses too, such as organic cotton, modal, Tencel, Linen, and OEKO-TEX certified Mulberry silk.
Their silk being OEKO-TEX certified means it meets rigorous testing for harmful substances ensuring that the fabric is nontoxic and safe to use against skin, which is amazing. Not many brands do that!
Many of their dresses are a blend of modal and organic cotton, but there are some dresses made from one solid material if you'd prefer.
Each dress is certainly unique though, and there's no limit to the ways you can style them.
My top picks are the Coral Wrap Dress (The PERFECT LBD!) and Hanne Silk Maxi.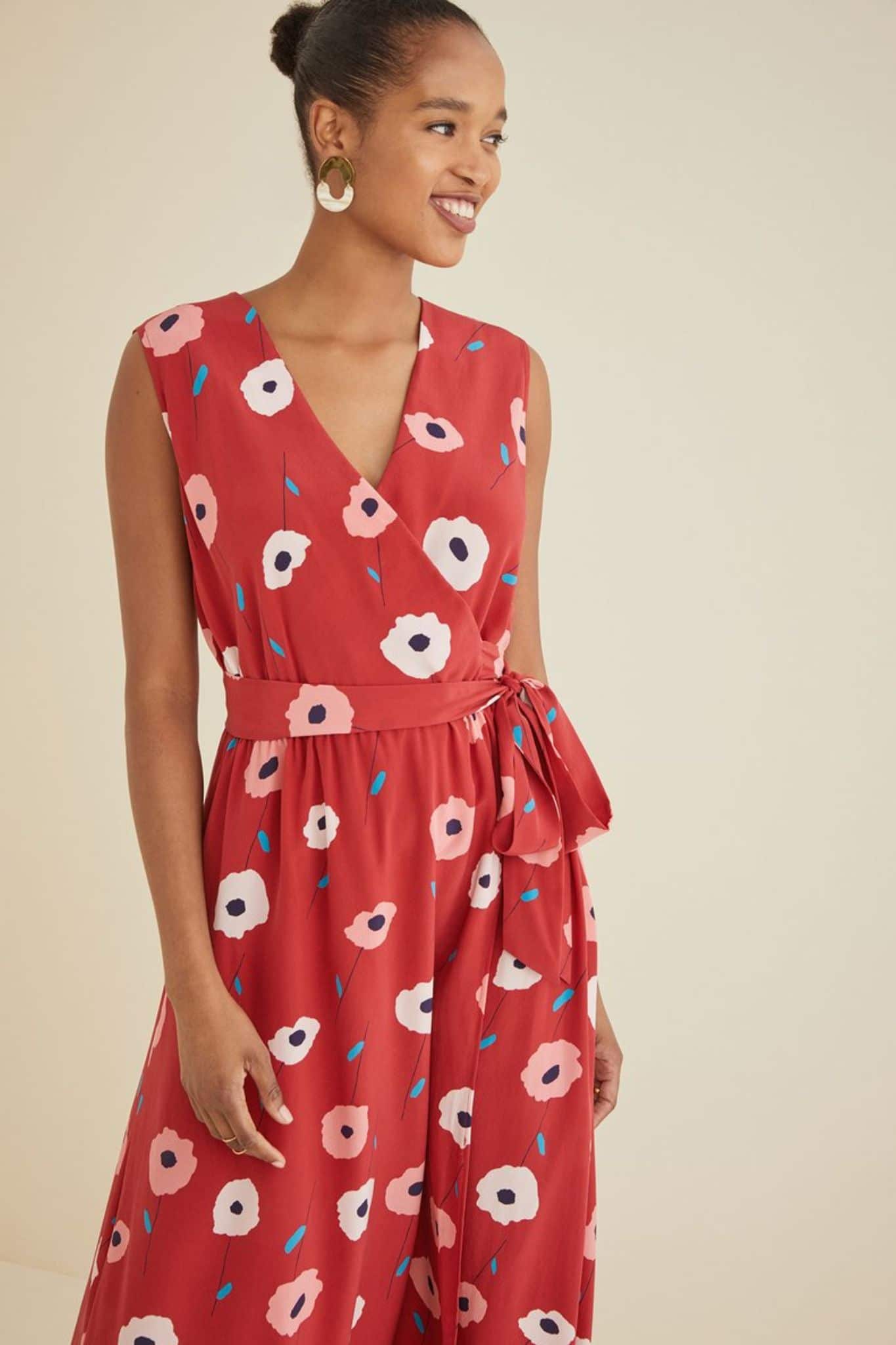 reformation:
Reformation probably has some of the prettiest, classiest ethical dresses available, if you ask me.
I cannot get over how flattering the cut and style of their dresses are. Their patterns are also swoon-worthy. Every time I see a Reformation dress, I'm tempted to get it. So tempted.
I'm in love with their dresses that have a sweetheart neckline, florals, or slits.
Reformation has a way of making sustainable dresses that are the perfect balance of cute and sexy rolled into one.
You can filter your search and shop by color, size, print, occasion, length, and price. It totally makes navigating the sight ten times easier.
Perhaps the best part about Reformation is the fact they use eco-friendly fabrics that don't harm the environment.
They use materials like Viscose, Tencel, organic cotton, recycled cotton, and linen. Viscose, aka rayon, is a man-made cellulosic fiber made from wood pulp, making it biodegradable.
Reformation is extremely committed to ensuring all its forest-based products come from sustainably managed forests. To prove this, Reformation works with the non-profit group Canopy to help drive positive change for all their forest products.
Occasionally, they will also use deadstock materials in their outfits as well, though most dresses are made from new (albeit sustainable) fabrics.
As an overall brand, Reformation is just a great shop to support.
They offer so many cool things like getting a $100 Reformation credit if you switch to wind power, and climate credits, aka carbon offsets.
They're also super transparent about their sustainability practices, which is so important.
My top picks are this Fern Dress and this Nikita Dress.
everlane:
If you prefer your dresses to look casual and cool, Everlane is the brand for you.
They make a lot of laid-back looking pieces, perfect for lounging around with your friends on a sunny day.
You never want to be bogged down by heavy fabrics in the summer, and Everlane gets that.
They make their eco friendly dresses using lightweight, sustainable materials that won't make you sweat, such as cotton, linen, and triacetate. Triacetate is made from wood fibers called cellulose, making it biodegradable just like cotton.
I love the fact that Everlane doesn't mix materials on their dresses either – it's very straightforward.
There aren't too many complex patterns with Everlane, so you can definitely get away with accentuating any of their pieces with fun accessories. 
My top picks are this Cotton Weave Picnic Dress and this Japanese GoWeave Short-Sleeve Mini Wrap Dress.
thought:
If you're looking for some dresses with unique and abstract patterns, look no further. Thought has the dress for you!
There are so many fun patterns to choose from, it's almost like you're wearing art.
Not to mention there are so many different cuts and styles available.
Their dresses are made from organic cotton, bamboo, Tencel, modal, and hemp.
Hemp and bamboo are fast growing plants that are incredibly versatile, making them easily renewable.
Another thing to love about Thought? All their dyes are Azo-free, which happens to be a harmful carcinogen.
And the finishes they use are gentle on the environment.
Similar to Reformation, you can apply filters while you shop to make finding something even easier.
You can shop by price, print type, color, length, sleeve length, style, size, or even fabric! How convenient, right?
My top picks are this Emily-Mary Tencel Midi Dress and this Emmeline Bamboo Jersey Wrap Dress.
oh seven days:
For the absolute perfect blend of feminine and rustic, you need to check out Oh Seven Days.
They create some very pretty pieces, all made from reclaimed fabric. Similar to how Christy Dawn dresses are made, Oh Seven Days sources their materials from 'runoff' fabric rolls.
Lots of textile factories often have unused fabric that's doomed to the landfill, thanks to miscalculated consumptions.
Oh Seven Days seeks to correct this problem: Being based in Istanbul, one of the textile manufacturing capitals of the world, they have access to a bunch of these factories. This means they can easily save them from the landfill and create some really beautiful dresses from them!
Another amazing thing Oh Seven Days does is it will take back your old garments and recycle them. So, when you finish wearing the pretty sundress you get from them, or it's no longer wearable, it won't have to end up in the landfill.
My top picks are this Sunday Peasant Dress and the Sophie Dress.
eco friendly dresses on consignment
thred up:
Thred Up is amazing if you're looking for affordable dresses without harming the environment.
They're essentially the world's largest online thrift store.
You can find tons of lightly worn items there for cheap.
They have dresses from so many well-known brands too, like Forever 21, H&M, and Anne Taylor. 
It's a great option for those who love conventional brands but want to help the environment at the same time.
By purchasing secondhand, you're keeping the item out of a landfill and saving a buck. 
I love how you can filter your search so much on ThredUp – you can choose to shop by size, brand, color, price, material, condition, style, skirt length, occasion, or even neckline.
It really helps you find the perfect match for you!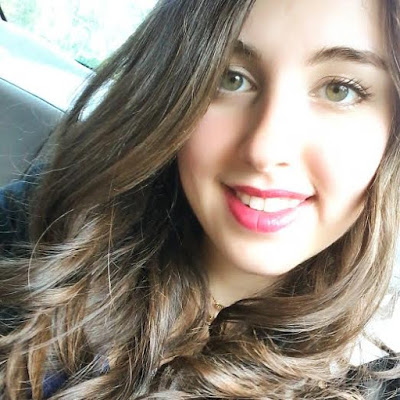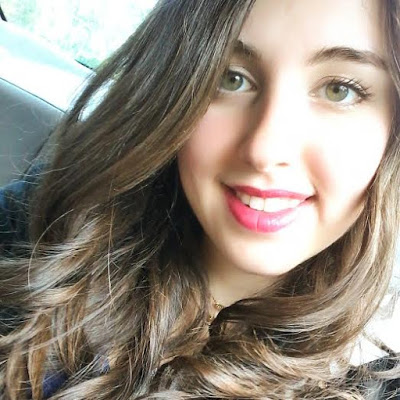 Guest Post: Ariana Palmieri is the founder of Greenify-Me.com, a blog dedicated to zero waste living and sustainability. Her work has been featured on MindBodyGreen, Green Matters, The Penny Hoarder and several other publications. Get her free e-book "10 Ways to Reduce Trash" by signing up to her newsletter and learn how to reduce your waste today.