Homemade Lotion Recipe
September 7, 2016 | Kathryn Kellogg
Last Updated on May 20, 2022
This Homemade Lotion will make your skin feel soft, refreshed, and smooth. This DIY lotion recipe is super simple and makes a great gift too!
Non greasy lotion is made with all natural ingredients like beeswax, almond oil, vitamin E, cocoa butter, and water. It's easy to make DIY lotion and it's much better for your skin than commercially prepared products. It's not made with perfumes or dyes. Instead, it's made with sustainable ingredients that leave your skin smooth and moisturized. We will teach you how to make lotion that you love.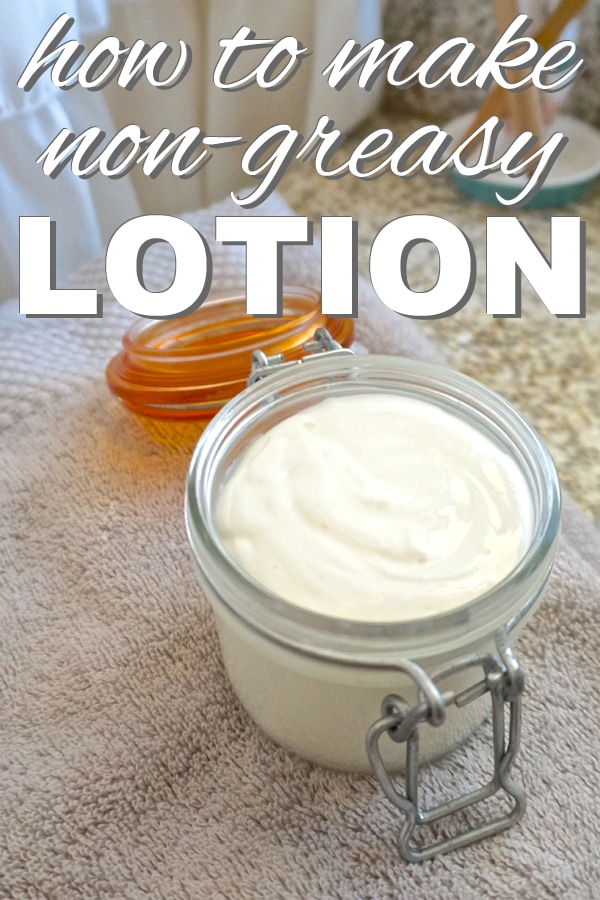 This is a really easy DIY lotion recipe. I mean, I consider most of my DIYs to be pretty easy, but this one is about as simple as you can get.
No one has time for hours of crafting elaborate, hard-to-manage recipes or crafts.
This homemade lotion is really light. It easily absorbs into my skin perfectly.
It was important to me to make a non greasy lotion that I could wear year-round. I didn't want something that sat on my skin and felt…gross! No one has time to feel greasy! Different oils absorb into our skin at different speeds. Something like safflower oil absorbs pretty quickly whereas coconut oil absorbs slowly.
While you are at it take a look at my DIY mineral sunscreen, DIY lip scrub, and dry shampoo recipe.
why you'll love homemade lotion
Only 5 ingredients
Makes your skin feel refreshed
It's a non greasy lotion
Kid friendly
Made with natural ingredients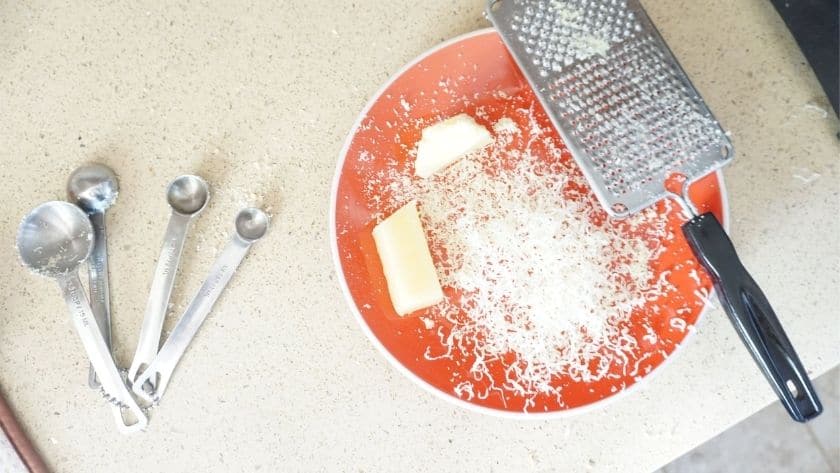 body butter vs. lotion
Boby butter is typically made of just oils and butters. Lotion is typically made with water. Homemade versions of lotion will need to be emulsified and kept in the fridge to prevent spoilage. Body butter has a much longer shelf life.
Lotions and body butter both present two very different types of moisturization. Body butter creates a barrier on the skin that seals in moisture and provides lubrication.
Lotion, however, preserves the moisture already in the skin. They have little oil and don't provide lubrication. I know what you're thinking, doesn't that make a body butter better?
Well, it depends on your skin type. If you have oily skin, a butter is better for you. If you have dry skin, stick with a lotion.
Dry skin doesn't need more oils, it needs more moisture.
I don't have oily skin; it's pretty dry – especially on my face. Bonus points: I never have to worry about shine!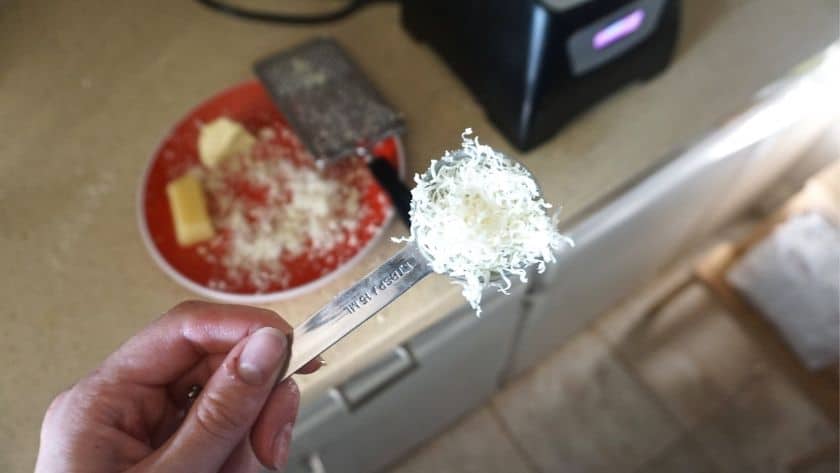 ingredients needed for non greasy lotion
2 Tablespoons of grated Beeswax
1/2 Cup of Sweet Almond Oil*
2 Tablespoons of Vitamin E Oil
2 Tablespoons of Cocoa Butter
3/4 Cup of Water
Pro Tip: You can sub the almond oil for olive oil. They have similar absorption rates. I just bought almond oil at Rainbow Grocery in bulk and I am so excited to use it!! I have also linked to a vitamin e oil that comes in glass. But, I recommend that you look at your local natural health store first. 
You can read more about what I bought in bulk at Rainbow here.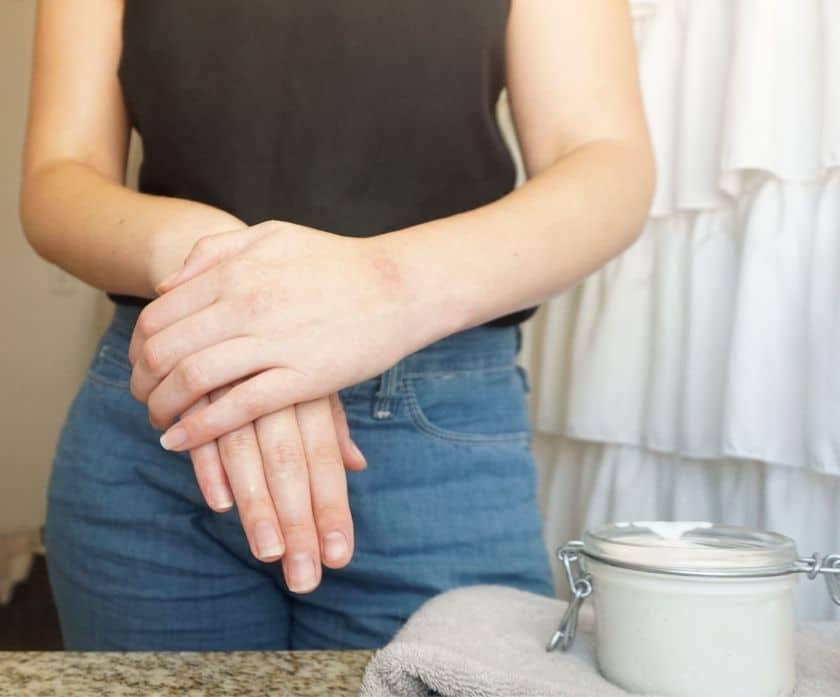 how to make lotion
step 1: melt ingredients
Melt your beeswax, almond oil, and cocoa butter in a double broiler. Once they've melted, add the vitamin e which is a natural preservative and excellent for nourishing the skin. 
step 2: blend
In the base of a blender, add the water. Once the water is blending, slowly stream in your oils. You're creating an emulsion. 
Do it VERY SLOWLY. You will see it form into a thick and creamy consistency. Pour it into a spare pump bottle or into a mason jar.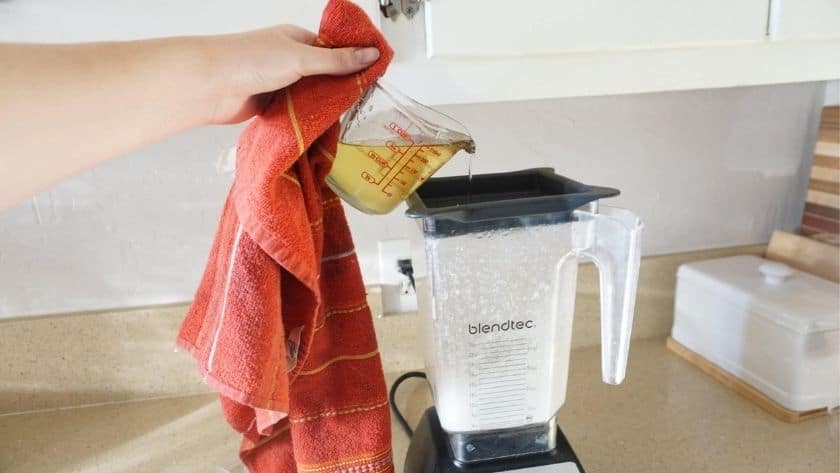 frequently asked questions
how do you store homemade lotion?
Keep it in the fridge next to your mouthwash and face scrub. What do you use on your skin? Do you prefer butter or lotion?
how long does DIY lotion last?
Typically, this lotion recipe will last up to 6 months. BUT it does need to be kept airtight and chilled. You can't leave it on the counter, or it will go bad in a matter of days or weeks.
You'll know when it's gone bad because it will change colors and will most likely have a nasty odor. Toss it if you notice it's gone bad because no one wants to rub that on their skin.
can I use shea butter instead of cocoa butter?
I haven't personally tried it, but you should be able to swap them out. If you do, keep in mind that cocoa butter is a little more firm than shea butter. So, you may need to increase the amount of beeswax you use.
is it okay to use avocado oil for this non greasy lotion?
Yep! The absorption rate is similar to olive oil and almond oil, so you should have any trouble with that swap.