Lavender Bath Salts Recipe
February 14, 2017 | Kathryn Kellogg
Last Updated on April 4, 2022
This Lavender Bath Salts Recipe smells amazing and is incredibly easy to make! With just 2 simple ingredients, you can learn how to make bath salts in minutes.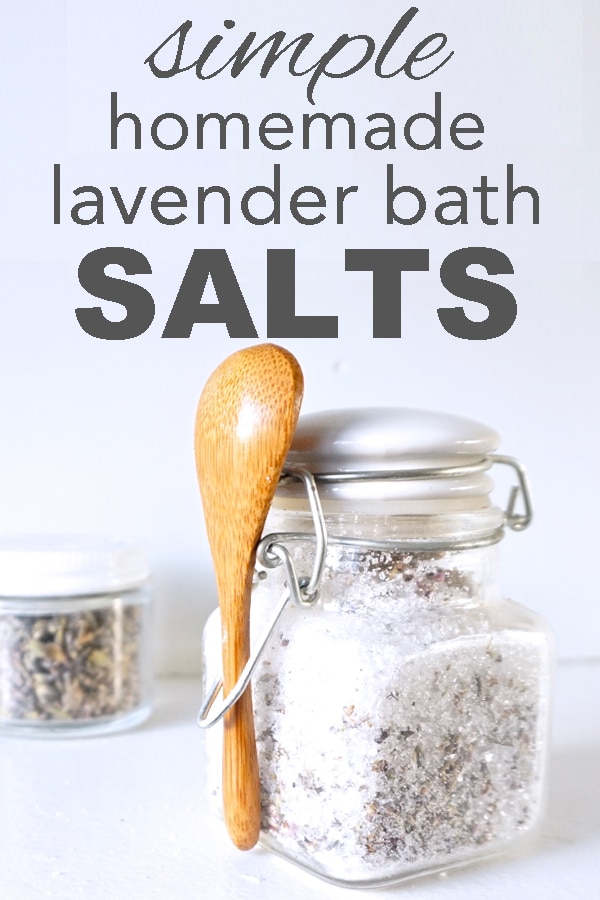 DIY bath salts can be added to your bath to aid in relaxation, and these soothing salts are also a great gift idea. This easy to follow guide will explain how to make bath salts as well as how to use bath salts. Plus, we will discuss the benefits of using lavender and Epsom salts.
There are few things I love more than a nice steamy bath. In fact, I'm pretty positive most bad days can be solved by eating a big delicious meal, taking a hot bath, and getting a good night's sleep. 
Growing up, I would always give my friends "spa" kits. My mom and I would make them together. We'd get a little basket and in it place bath salts or bath bombs, lotion, and a face mask or sugar scrub. Everything you'd need to give yourself a little pampering.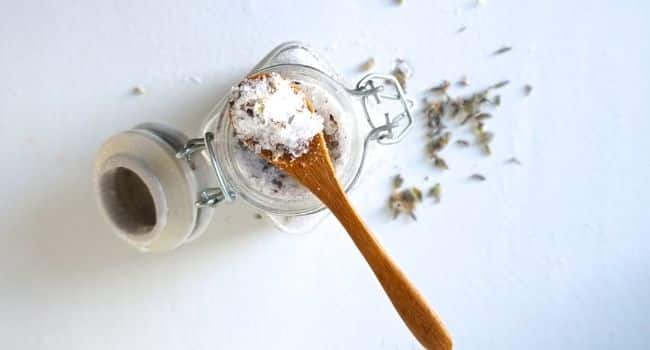 why make DIY bath salts
What I love about my lavender bath salts recipe is that the ingredients are eco friendly, and they aren't filled with harsh chemicals.
The bath salts I used to always keep by the tub were an unnatural shade of purple. I just looked up their ingredients and yikes – low-quality salt with synthetic fragrances and dyes.
Bath salts are so easy to make zero waste! There's no need for those unnecessary ingredients.
Making my own bath salts allows me to control the ingredients! Epsom salt can be found in bulk at rainbow. (You can find premade bath salts there too if you don't want to diy bath salts.)
benefits of epsom salt:
It's not actually salt. It's a mineral compound made of magnesium and sulfate. It was originally discovered around the natural healing baths in Epsom, England.
Epsom salts help to ease achy muscles and relieve stress. When we're stressed or anxious our bodies pump out adrenaline. That adrenaline depletes the body of magnesium. But, we need magnesium to raise our serotonin, which helps us relax.
In other words, we need magnesium to help us chill, and Americans, on average, aren't eating enough magnesium rich foods. So, eat some brown rice, avocado, cashews, spinach, and jump in a nice minerally magnesium rich bath. Researchers are divided over whether magnesium can actually enter your bloodstream this way…. but it couldn't hurt?
To make this extra relaxing, I add lavender.
benefits of using lavender:
Lavender helps reduce stress and anxiety. It also helps with headaches and menstrual cramps. I used to make a lavender sheet spray, and I'd spray it on the sheets before going to bed. The aroma can help with stress and insomnia.
But most importantly, lavender has always been my favorite scent. For Christmas, I was sent a jar of dried lavender from The Growing Club. As soon as I got it, I knew exactly how I would use it. Half making these sachets and half making these dreamy bath salts.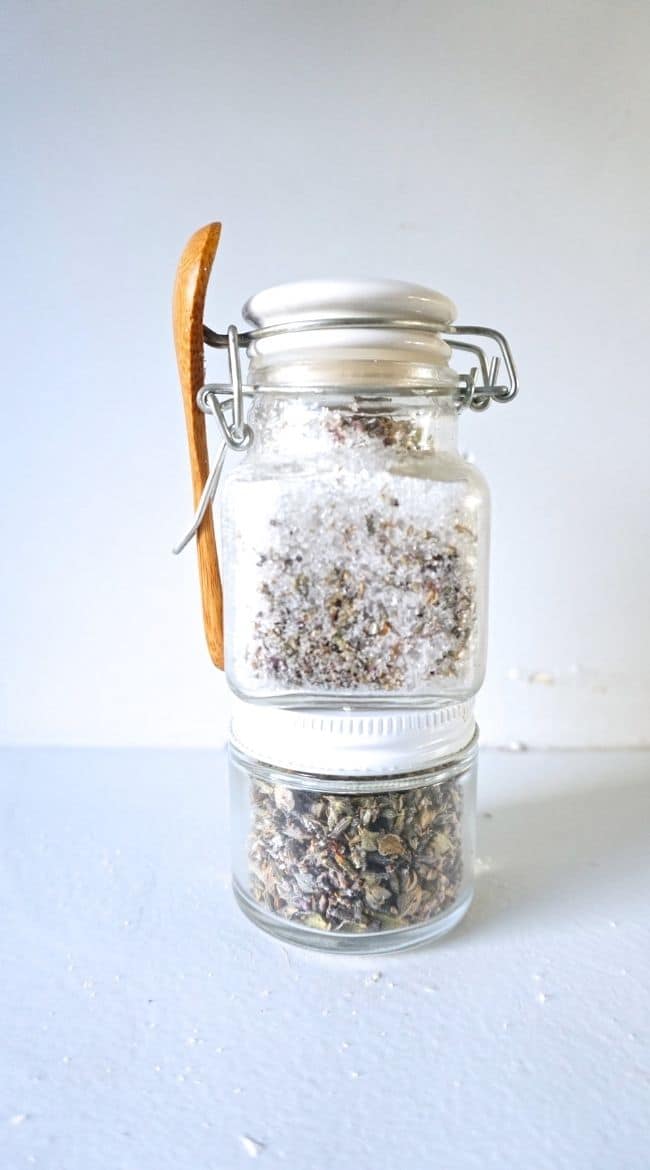 how to make bath salts
1 Part Dried Lavender (can be found in the bulk herb or tea section at Rainbow and IntegriTea)
2 Parts Epsom Salt (can be found in the beauty section of Rainbow)
Place in a small jar and vigorously shake.
IT'S THAT SIMPLE. You could also add some lavender essential oil to bump up the scent, but I don't have any.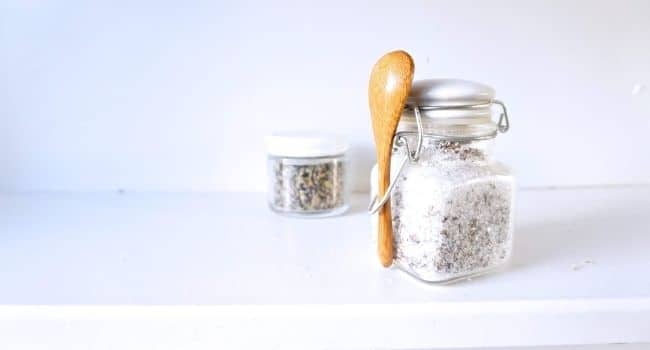 how to use bath salts
This bath salt recipe can be used in the bath, in the shower, or in a foot soak. Let's look at how to use bath salts for each of these methods.
bath
Pour 1/2 – 1 cup of the lavender bath salts into a tub with warm water. Climb in and soak for 20-25 minutes.
shower
Sprinkle the homemade bath salts on the floor of the shower. As the hot water hits them you'll get some relaxing aromatherapy! It's like a sauna in your bathroom.
foot soak
Pour 1/4 cup of the bath salts into a foot soak tub or container. Add warm water and stir around until dissolved. Place your feet in the water and soak for 15-20 minutes. Because you won't need a lot of water, you could do this daily as a way to relax without a lot of waste.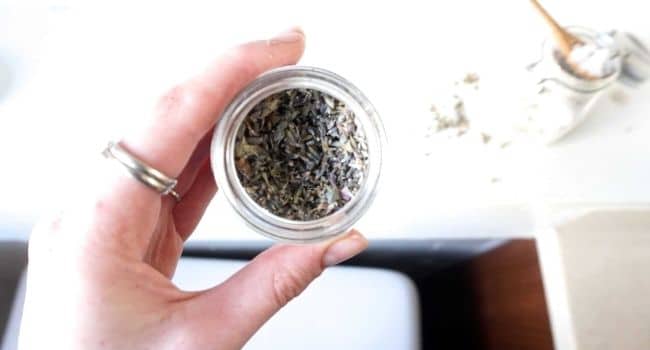 how often can you bathe with lavender bath salts?
While there is no hard and fast rule, the main thing you need to consider is your water usage. I used to take a bath with my DIY bath salts every night to relax, but that isn't the best use of our water… especially in drought-stricken California. It's important not to be wasteful of one of our most valuable resources.
Instead, I take a bath around once a month as a treat. I enjoy it so much more. I typically do a face mask and sprinkle in some bath salts for optimal relaxation.
do bath salts make good gifts?
Yes! Giving homemade bath salts has a total WOW factor. Put these in a little jar, attach a tiny wooden spice spoon, and they make a great gift for Galentine's, Christmas, or Mother's Day!  They would also be cute to hand out as party favors for bridal or baby showers.