Extra Strength DIY Deodorant
March 21, 2017 | Kathryn Kellogg
Last Updated on December 2, 2021
I There's no doubt about it, we can all get a little stinky at the end of a long day. While some people might be able to get away without wearing deodorant, I am not one of them. This easy zero waste DIY deodorant works. It's good for your body and the planet!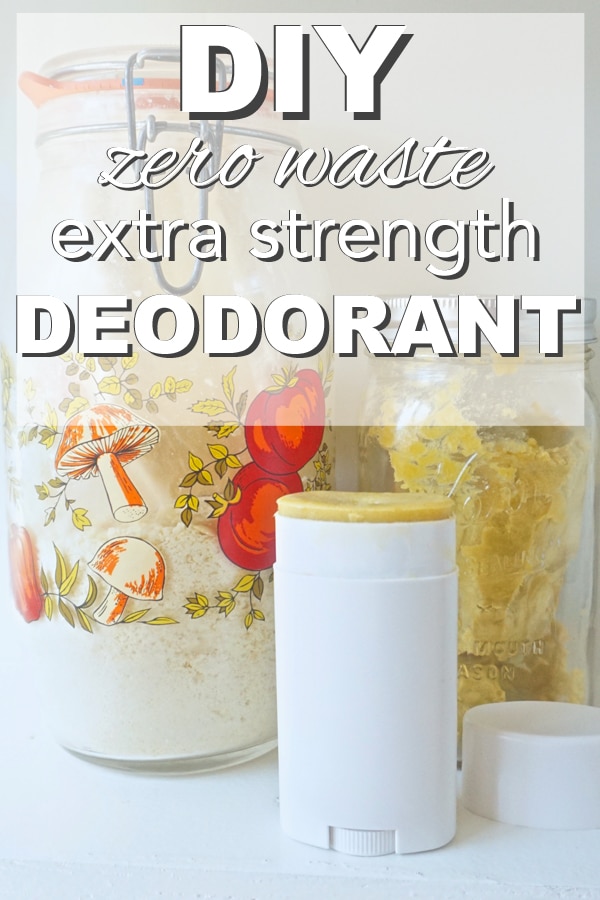 By choosing homemade deodorant, you can reduce your packaging waste, know exactly what's in the product, and save money. It's important to note that homemade deodorant is not an antiperspirant. Sweating is good! Stinking is bad.
All the ingredients for this extra strength DIY deodorant can be found right in your pantry. With such common household ingredients as shea butter, cocoa butter, and baking soda, brewing the perfect deo just got a lot easier. It's simple to make and long-lasting, my foolproof recipe will not only save you money, but also help make your lifestyle more eco-friendly!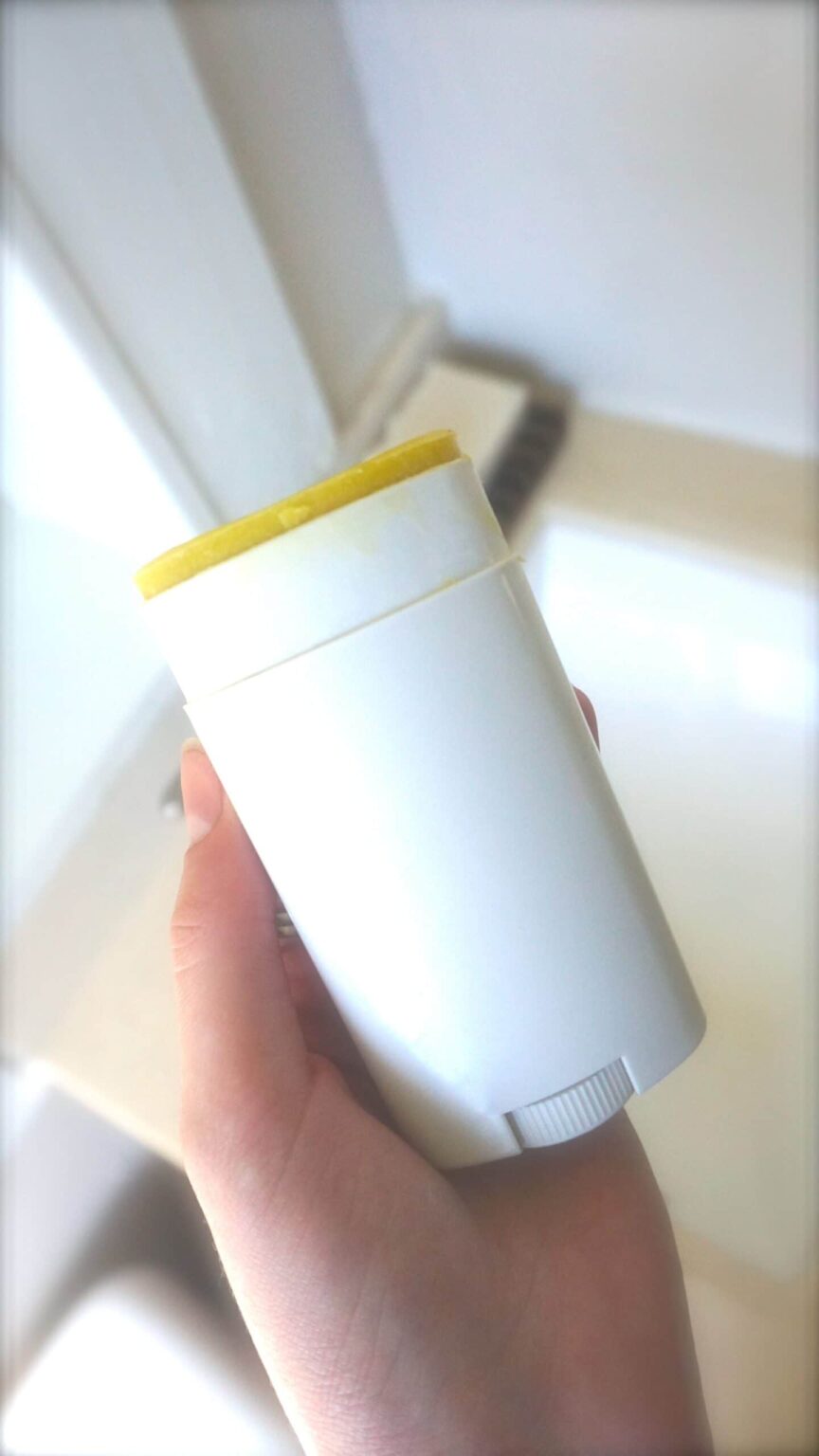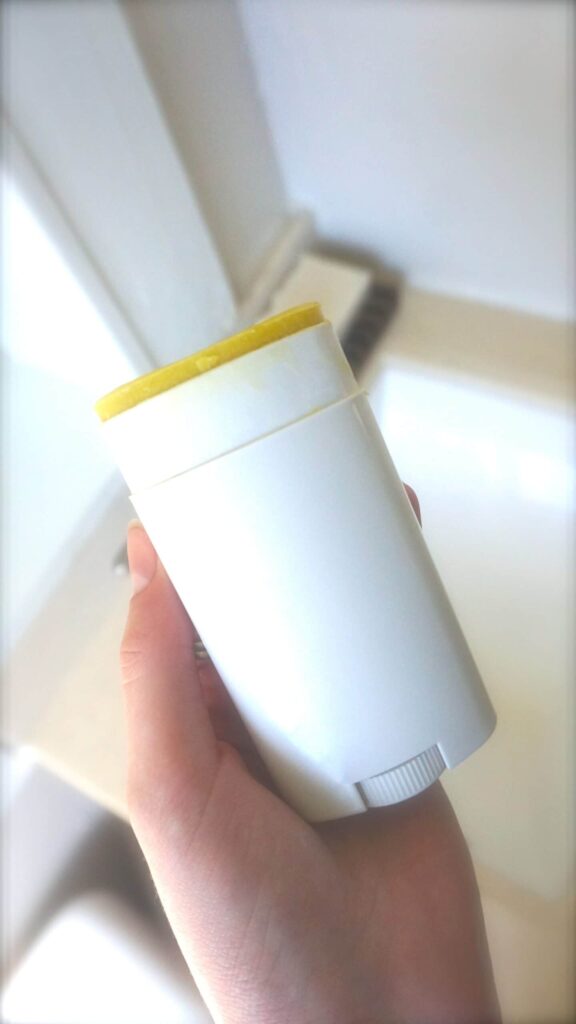 the switch to a natural deodorant recipe is easy
When making the switch to zero waste living, some of the hardest things to replace are cosmetic and personal hygiene products. Leaving your conventional (and heavily packaged) products to the trial-and-error side of natural living can be stressful and difficult. Especially when it comes to deodorant, because no one wants to smell!

Nobody wants that post-run funk following them around all day. Luckily for you, there are several DIY deodorant recipes out there that are all natural, safe, and eco-friendly with no harsh chemicals or toxic ingredients to be found! Making DIY deodorant has been one of my favorite DIYs. It's easy, fast, shelf stable, and really works.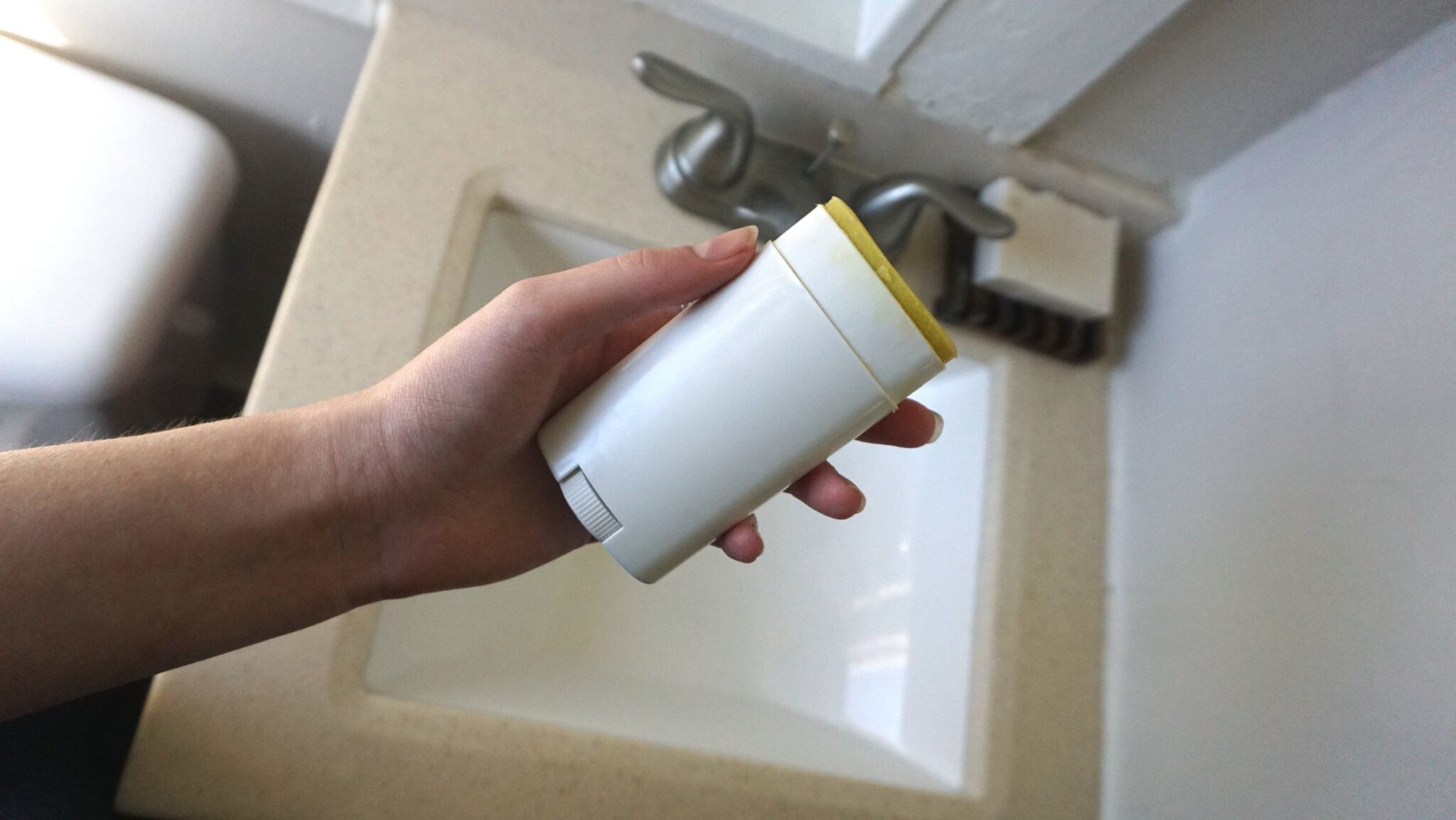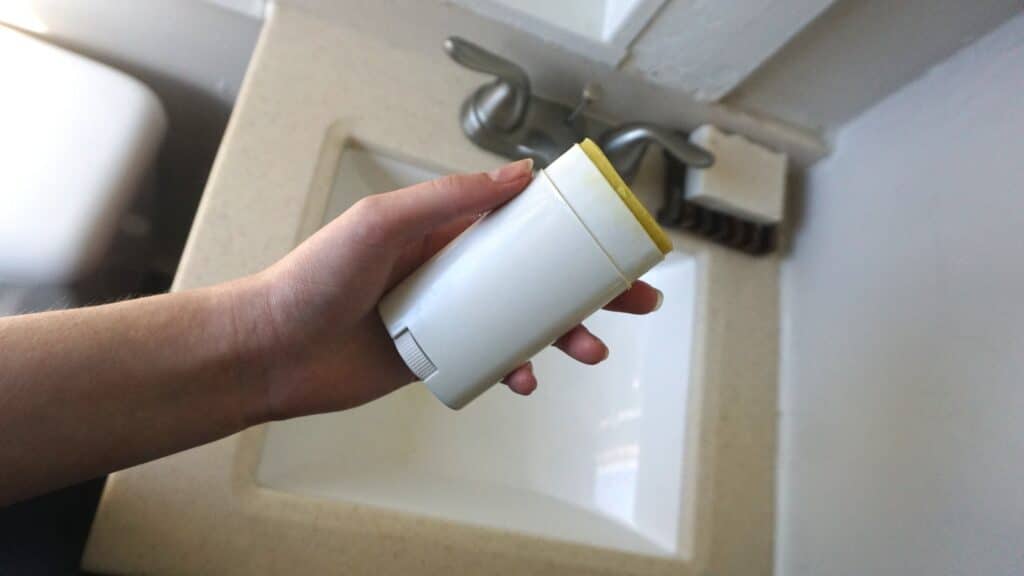 harmful ingredients
One of the reasons I started living a zero waste lifestyle was because I was struggling with a hormonal imbalance. Many of the products and plastic we use in everyday life contain endocrine disruptors which interfere with our bodies natural communication system.
One of the first products I switched out was my antiperspirant deodorant. If you want to learn more about these issues, I highly recommend the book Estrogeneration.
common ingredients to avoid:
Parabens are used as preservatives, giving them a longer shelf life. Recent research has shown that the presence of parabens in deodorants can disrupt how the body produces and regulates certain hormones.
Aluminum is one of the most common ingredients in antiperspirant. It acts as a clog, blocking sweat glands to minimize perspiration. Extra strength versions may even contain a higher amount! Once aluminum has been absorbed into the body through the skin, it mimics the effects of oestrogen. This hormone has been found in high concentrations in those that suffer from breast cancer.
Multiple studies have shown potential links between aluminum and the potentiality of breast cancer, but nothing has been proven yet.
Alcohol is added to help the product dry faster upon application and to kill bacteria. This drying effect can actually kill good bacteria that help fight off infection and help fight odor naturally. Plus, it can be painful and irritating if you have sensitive skin.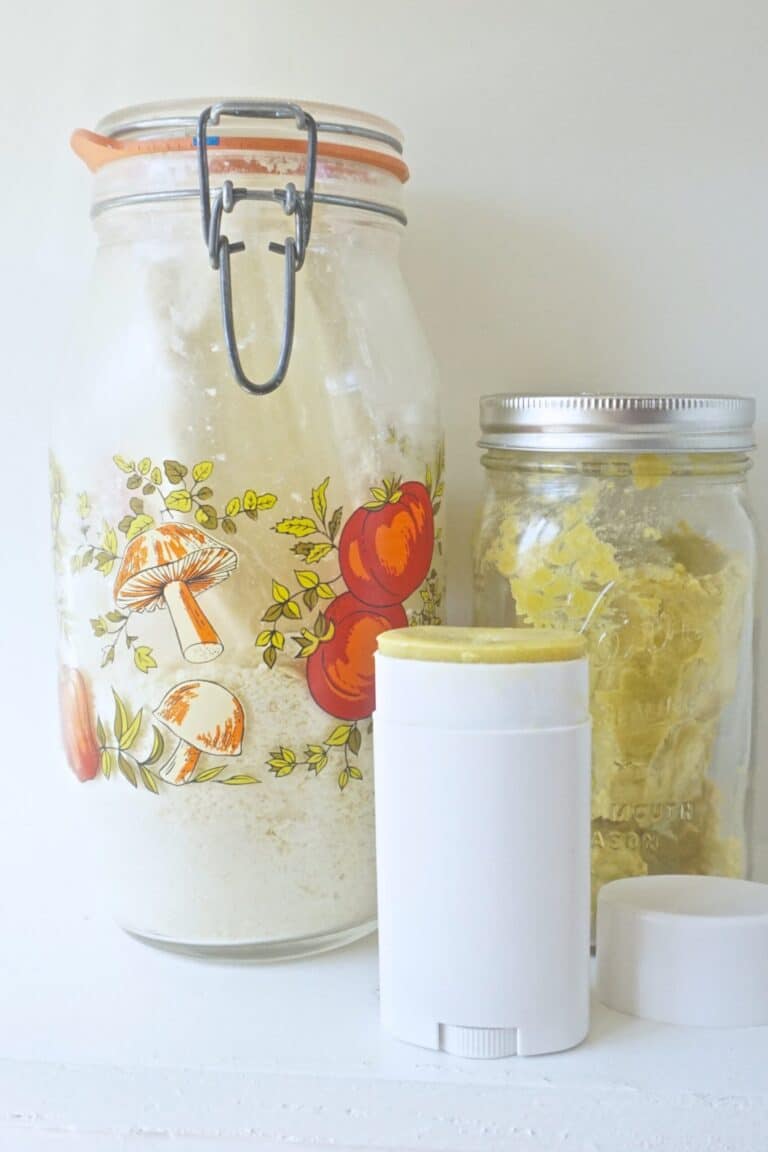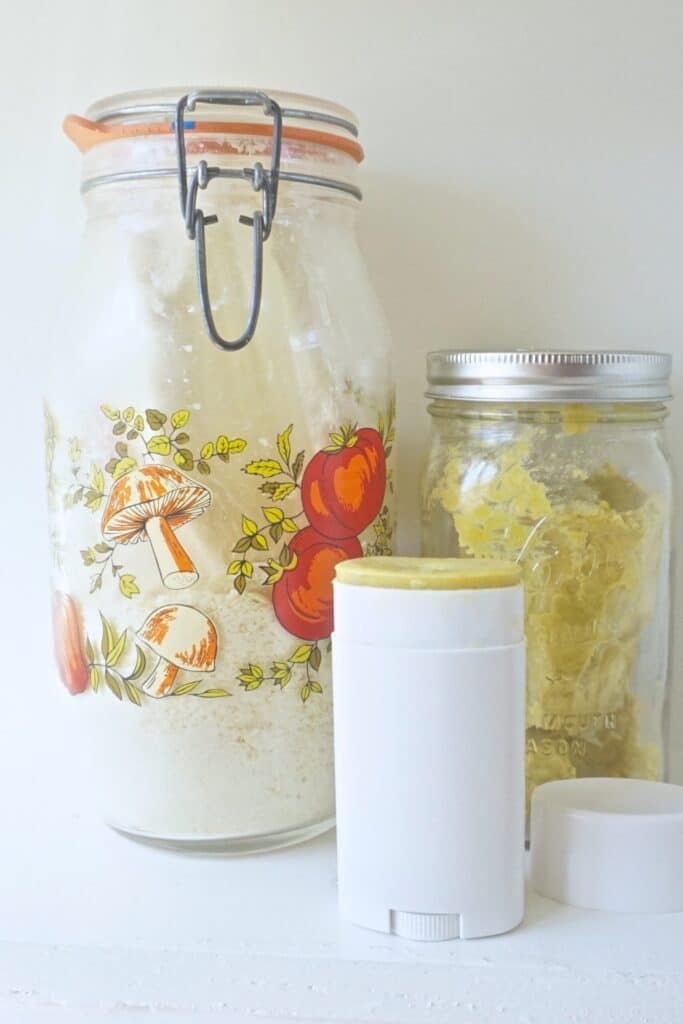 how to make deodorant
A great way to reduce waste is to start making your own products. While we aren't all seamstresses or gourmet cooks, whipping up an odor fighter at home is surprisingly manageable.

Making your own deodorant is easy and cost effective, especially since you might already have everything on hand in your pantry!
ingredients for my natural deodorant recipe:
3 Tablespoons of Shea Butter (Bought in bulk from local shop)
2 Tablespoons of Grated Cocoa Butter (Bought in bulk from local shop)
3 Tablespoons of Arrowroot Powder (Bought in bulk from Rainbow)
2 Tablespoon of Baking Soda (Bought in bulk from Berkeley Bowl)
2-3 Teaspoons of Vitamin E Oil (Bought in a package from Whole Foods)
directions for diy deodorant
Step 1: Melt the grated cocoa butter using a double broiler
Step 2: Once the cocoa butter has liquefied, add the shea butter.
Step 3: Once the shea butter has liquefied, pull it from the heat and add in the baking soda and arrowroot
Step 4: Stir well to combine making sure there are no lumps.
Step 5: Add the vitamin E oil.
Step 6: Pour into an old cleaned out deodorant container or jar and refrigerate for about an hour. Once it has fully set up it's ready to apply!
This particular recipe is oil-based and therefore very hydrating. If you're finding that there's a fine residue left over in your clothing after application try replacing coconut oil with shea butter or cocoa butter. You'll get the same levels of hydration without the excessive oiliness. Everyone's skin is different! Rest assured there's a perfect recipe out there for you.
Keep in mind that it may take your body a couple of weeks to detox and adjust to all-natural substitutes. Don't let that deter you! The body is very accommodating and will make the switch eventually. You can speed things up with a detox if you like. You can read more about detoxing in this post on zero waste deodorants.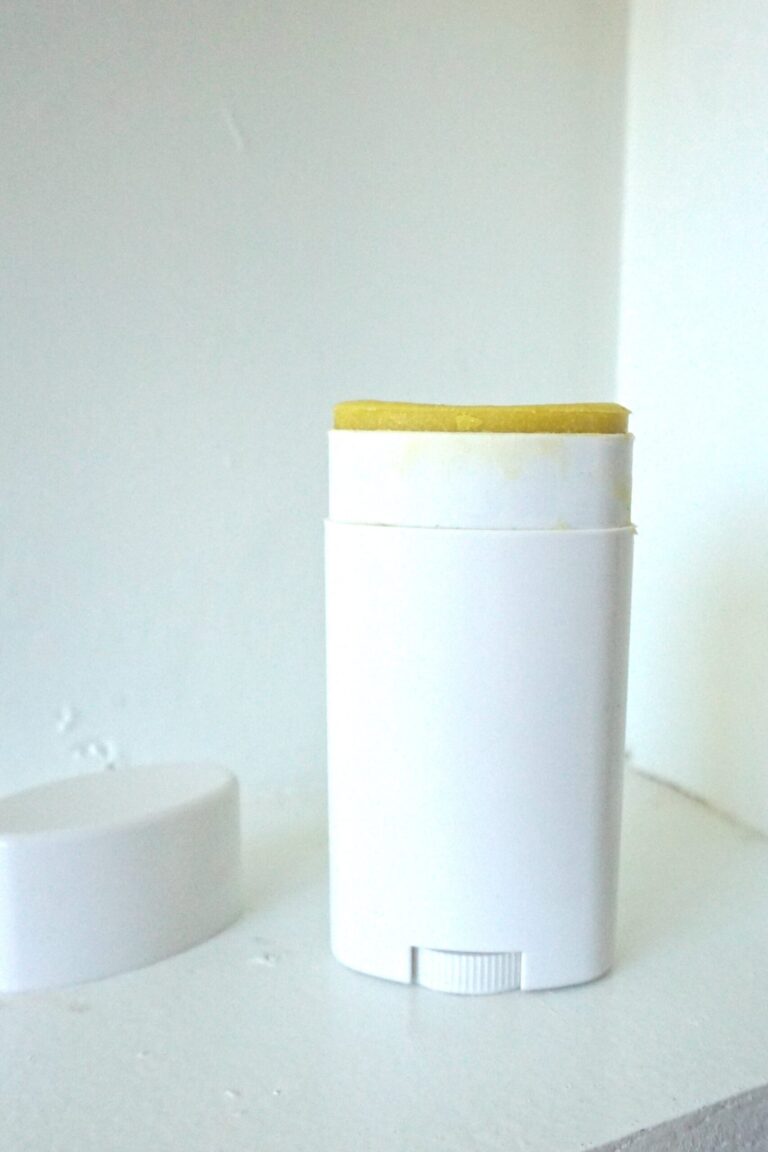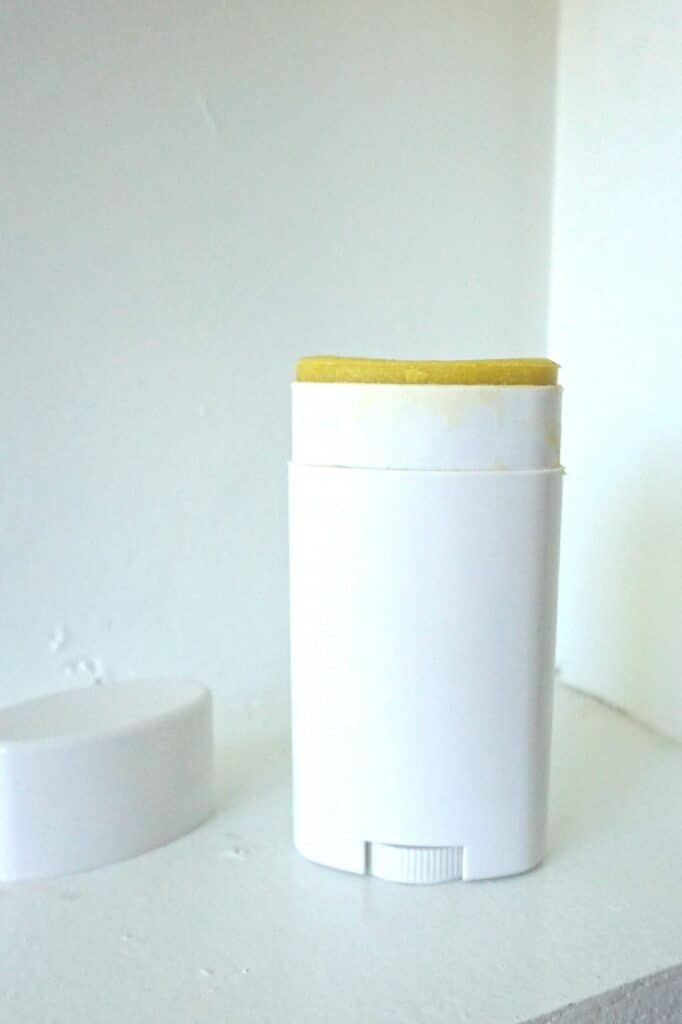 diy deodorant faqs
how can I make my diy natural deodorant stronger?
Add some tea tree oil! It's a naturally antibacterial ingredient that will add another layer of odor-fighting power, especially when combined with other essential oils like lavender. Just be sure to keep the total amount of drops the same.
do I have to add essential oil?
Nope! While essential oils add fragrance and a variety of boosts to your mixture, going without won't mess up the overall effectiveness of your DIY deodorant.
why do I still smell after switching to a more natural deodorant recipe?
Switching from an aluminum-based product to a homemade one will require a little bit of patience. Your body is going to need some time to adjust, and that's okay.

The bacteria under your arms will start to change and become more robust after about 30 days of using a natural deodorant.  You may also be able to speed up bacteria changes with a quick armpit detox process.  You can read more about detoxing in my other natural deodorant post. 
should I wear homemade deodorants at night?
With aluminum-based products, you should not. With a homemade deodorant recipe though you absolutely can! At night, your body temperature drops and your sweat glands become less active. Less active sweat glands means your sweat ducts will be able to absorb the active ingredients in your DIY deodorant a little better, blocking any BO.
---