Best Sustainable Sunglasses
May 5, 2022 | Guest Post
Last Updated on February 23, 2023
These sustainable sunglasses will have you looking your best and are made with eco friendly materials! Summertime is on the horizon! With warmer weather, longer days, and plenty of sunshine ahead, this is the perfect time to grab those sunglasses and get ready for outdoor adventures.
The best sustainable sunglasses are made from eco friendly materials including sustainably harvested organic materials, recycled plastics, and plant-based plastic alternatives. The most eco friendly sunglasses brands are also dedicated to giving back to the planet and the people through ocean clean-up efforts, worldwide eye care centers, and other various charities. These environmentally friendly companies are making it possible to have shade, style, and a clear conscience all at the same time.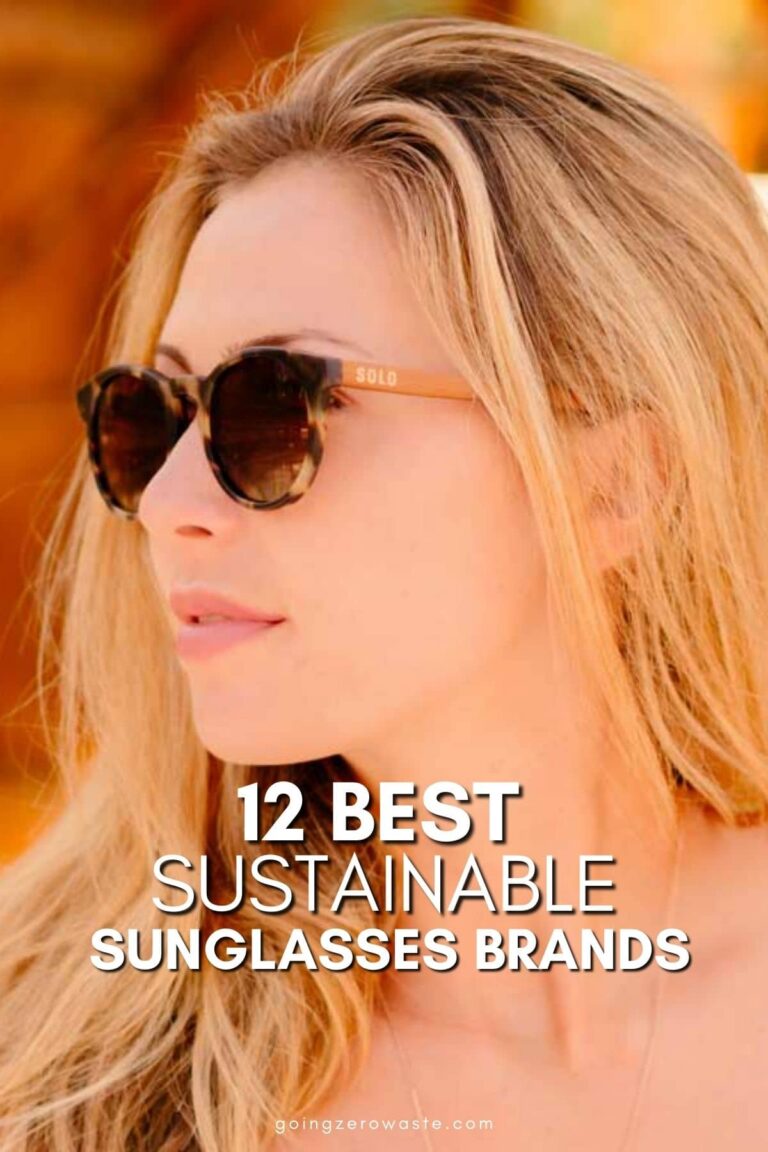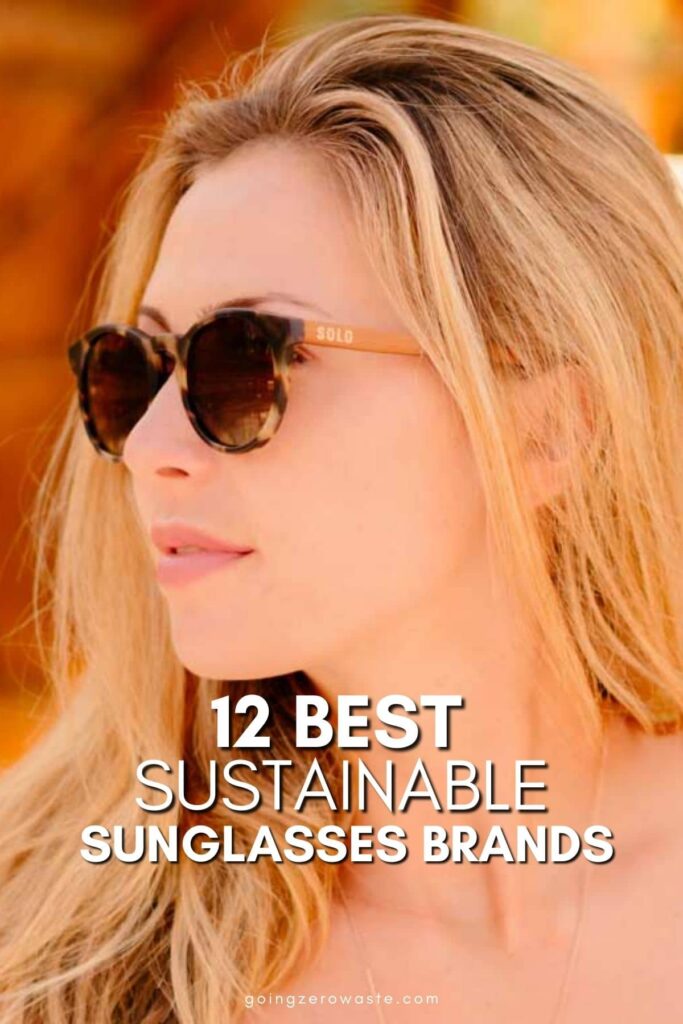 ethical sunglasses on the rise
I absolutely love sunny weather and all of the hiking, camping, swimming, and socializing that goes with it. With as much time as I spend soaking up the rays, a quality pair of sunglasses is absolutely essential.
The sunglasses industry has historically been dominated by conventional brands with minimal concern for sustainability. Plastic everywhere! Luckily, the tides are beginning to turn, and there are an increasing number of options for eco friendly sunglasses.
I've researched some of the most affordable sunglasses brands out there to help you make the best decision for your next pair of ethical sunglasses. You can protect your eyes and the planet at the same time.
how to find ethical and eco friendly sunglasses
When searching for your next pair of sustainable sunglasses, there are a few important points to consider:
materials
Seek out compostable or at least recyclable sunglasses whenever possible, and look for brands made of recycled or sustainably harvested organic materials. This will ensure your sustainable sunglasses are truly what they say they are.
If you choose organic materials, remember that "natural" does not always equal eco friendly. Be sure that you are always supporting ethical and sustainable harvesting.
Here are some top picks for eco friendly materials to look for in your next shades:
recycled plastics, often from single use water bottles and reclaimed fishing nets
recyclable and/or recycled metals
recycled skateboards
upcycled denim
reclaimed or FSC certified wood
sustainably harvested bamboo, hemp, or cork fabric
plant-based plastic alternatives such as acetate
Also, remember to consider what is used to make the cases, packing and shipping materials, and cleaning cloths, and seek out compostable and recyclable options.
To offset the carbon footprint of your purchase even more, buy your eco friendly sunglasses at your local secondhand store. It's a great way to find groovy styles while minimizing waste.
business practices
Whichever of the affordable sunglasses brands you choose, make sure that you are supporting environmentally conscious companies with fair, ethical, and transparent business practices.
Be sure that employees, artisans, and all partners along the supply chain are being fairly compensated and treated with respect. Fair Trade or B Corporation databases are good places to check for certified companies that are exemplary in this area.
I also like to seek out companies that support their respective local communities by providing jobs and donating to local charities. This ensures your ethical sunglasses are on the up-and-up through and through!
giving back
Some of the sunglasses brands I have been researching are giving back to people and the planet in some truly inspiring ways.
From ocean clean-ups to assistance with vision surgeries, these sunglasses companies are dedicated to making the world a better place. Thousands of dollars and hundreds of hours of labor are donated to various charities and initiatives each year.
It feels good to know that part of my purchase is supporting a greater mission. I have outlined some of the most impressive charitable causes brand-by-brand in the next section where I tell you about my favorite sustainable sunglasses brands. Enjoy!
12 of the best sustainable sunglasses brands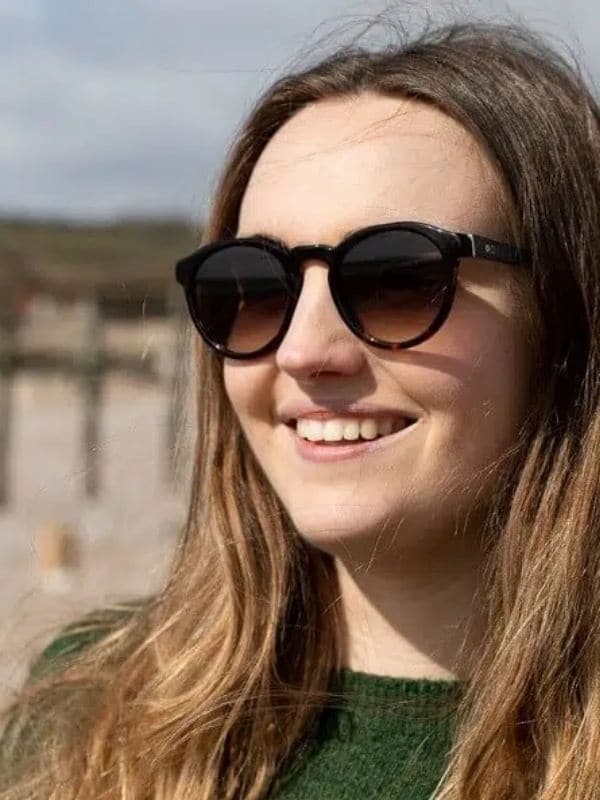 based in Brighton, UK
certified B-Corporation
100% plant based and biodegradable
stylish cases are handmade from recycled plastic by artisans in Ghana
a portion of each purchase goes toward offsetting carbon emissions
percentage of profits go toward grants to provide eye care to communities worldwide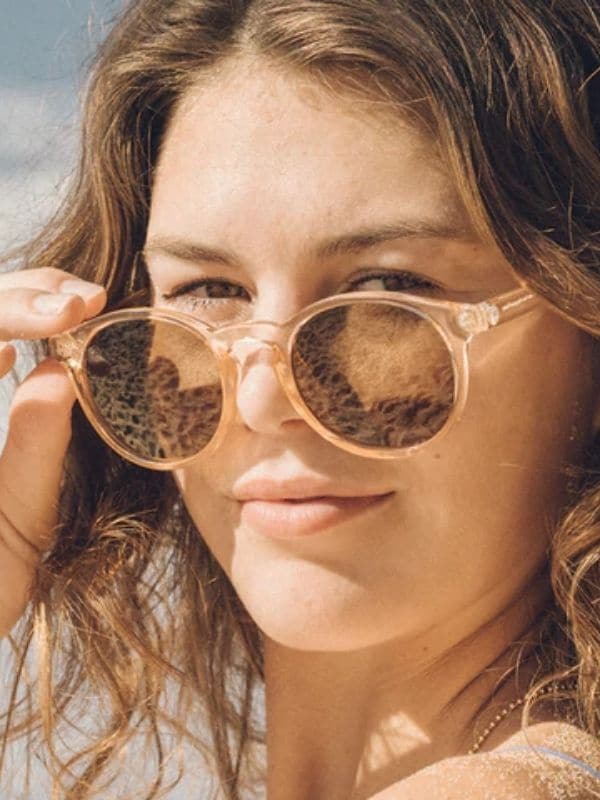 based in San Francisco
made from plastic locally sourced from US landfills
lifetime warranty and lens replacement program
gives back to 1% for the Planet
12% of all profits go to various environmental organizations
products shipped glue and plastic free in adorable cardboard origami
purchases carbon offsets and are aspiring to be certified carbon neutral soon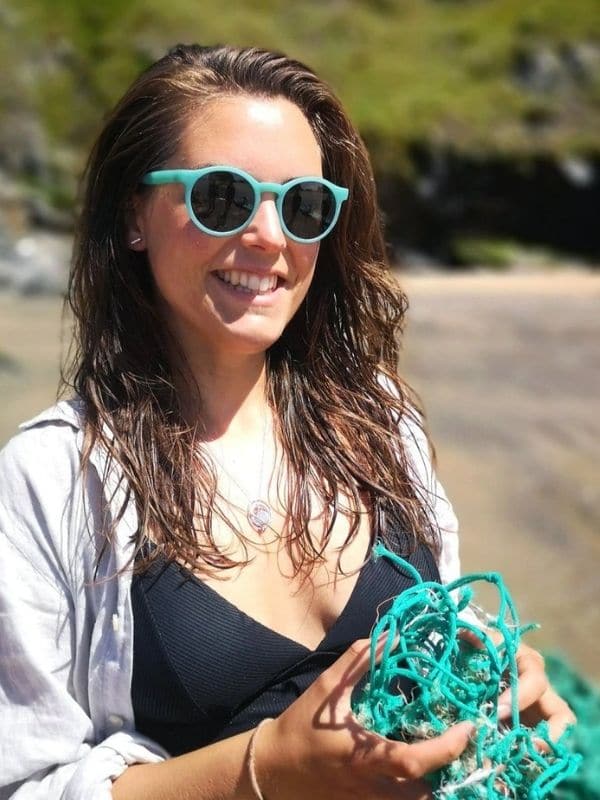 made from recycled ocean plastics and abandoned fishing nets
started by marine biologist/surfer to reduce the 640,000 tons of fishing nets left in the ocean each year
local NGOs and fishermen help recover nets for processing
non-polycarbonate, zero-waste lenses made from recycled mineral glass
lifetime warranty and lifetime buyback recycling program
plastic free packaging
regular audits of supply chain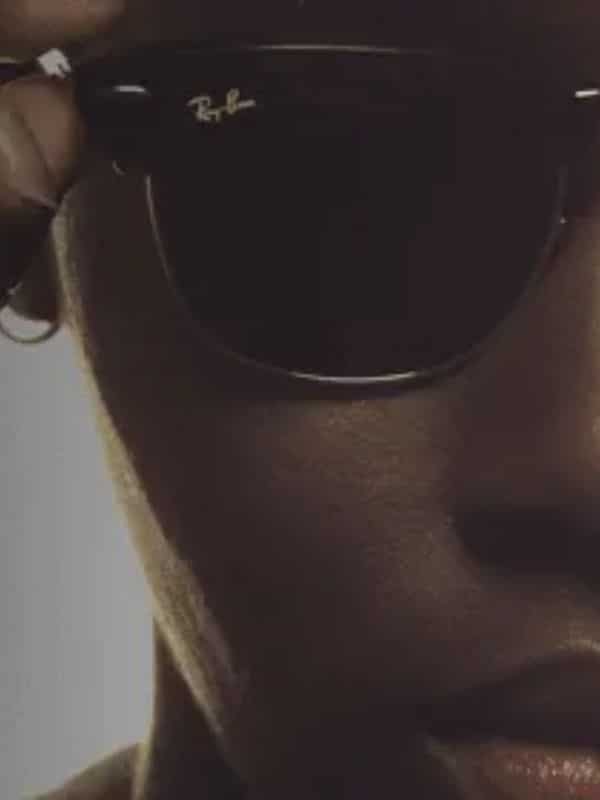 simple awesome mission
made from 100% up-cycled plastic bottles
5 recycled plastic bottles = one pair
$5 from each purchase goes to OceanCleanup
mission for a plastic-free ocean by 2050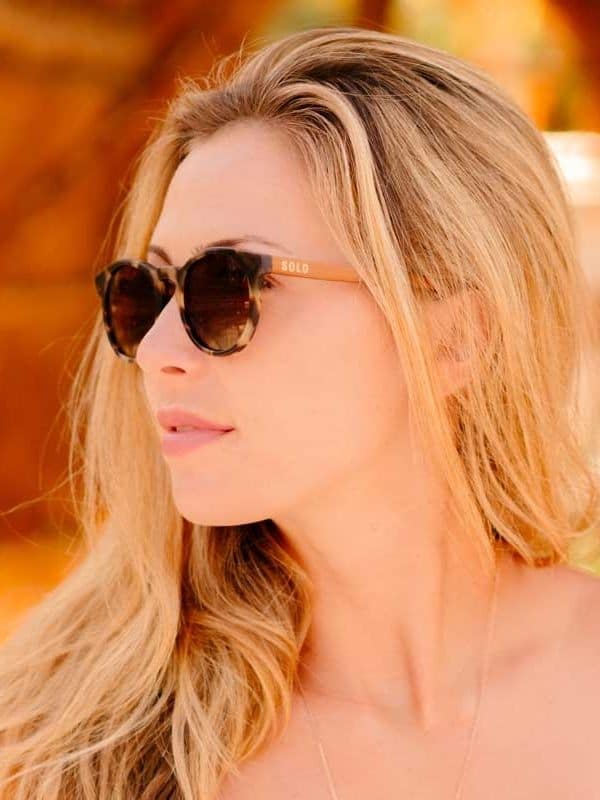 made from recycled plastic and repurposed bamboo
free shipping and returns in the US
10% of all profits go toward cataract surgeries, eye exams, and prescription glasses
have helped restore vision to over 13,000 individuals worldwide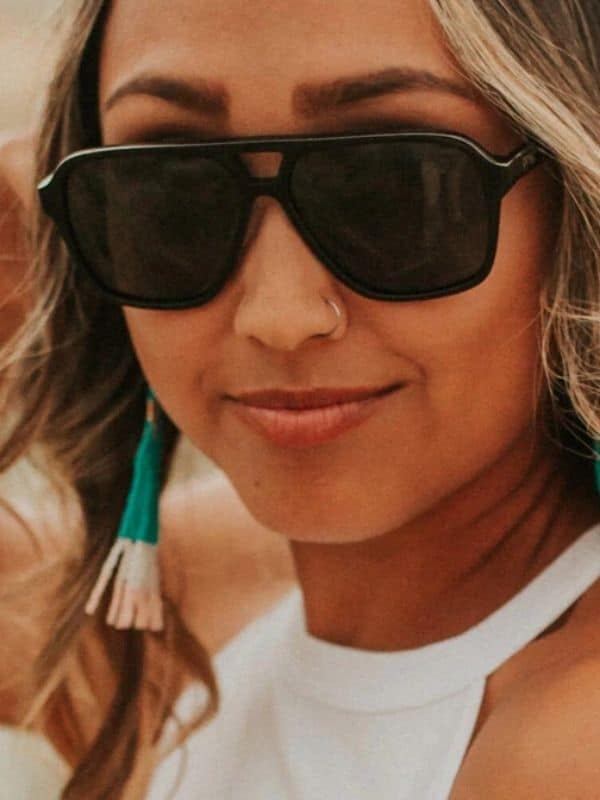 based in Boise, Idaho
made from FSC certified wood, cotton-based acetate, recycled aluminum, and repurposed skateboard decks
cases made from sustainably sourced wood
recycling program for old, unwanted frames
charitable donations have helped to plant 200 trees, donate 1,200 pairs of glasses, complete 240 cataract surgeries, and provide over 6,000 health and vision screenings worldwide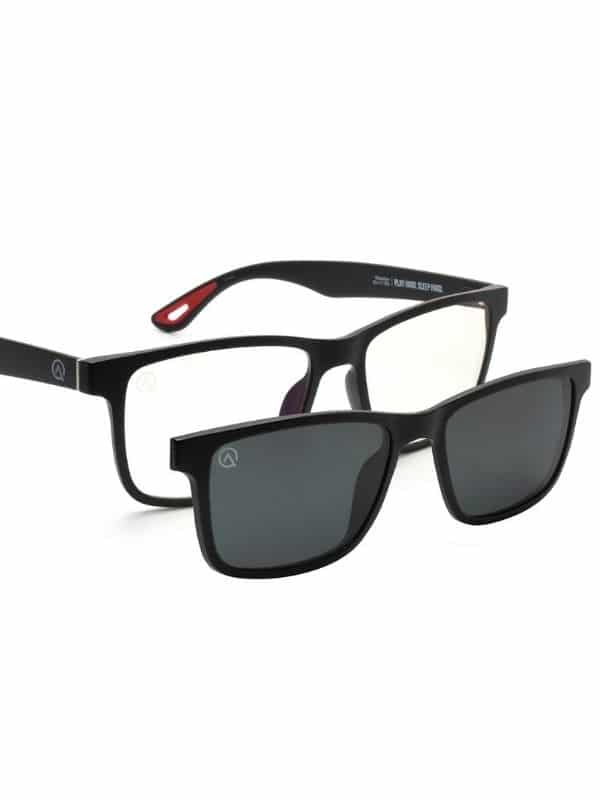 made from 100% recycled, single use plastic bottles
based in Flint, Michigan and committed to "Flint First" philosophy
works with local community to supply employment to low-income and incarcerated populations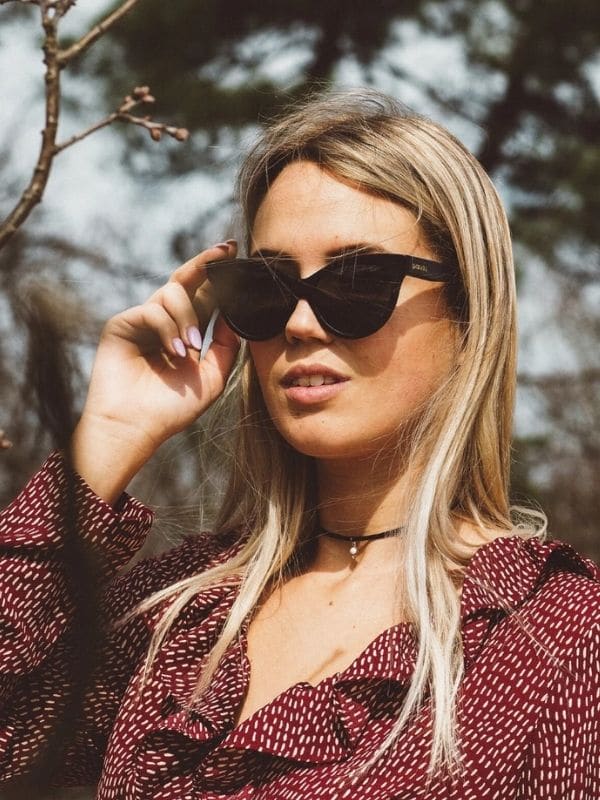 community oriented company based in Washington State, USA
made from sustainable bamboo
philosophy of "Fashion with a Purpose"
free shipping
portion of proceeds go to starting eye centers worldwide, including employee training, prescription glasses, and free eye exams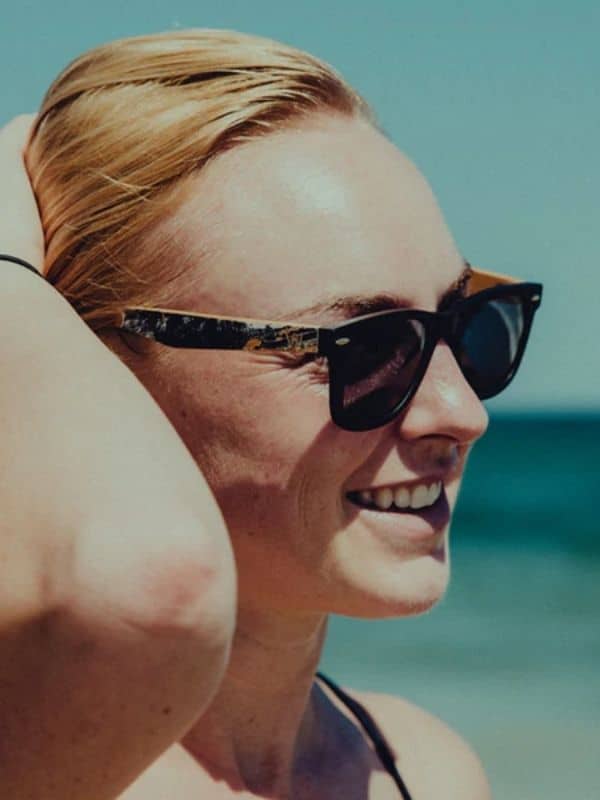 based in Chico, CA
made from bamboo, wood, and recycled skateboards
recycling program allows you to send back frames for 50% off next order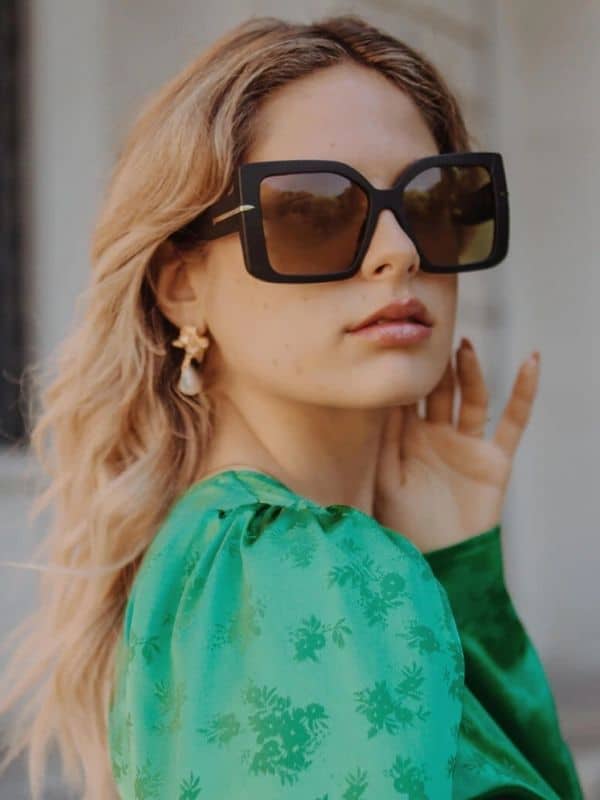 made from recycled water bottles
even cleaning cloths are made from recycled materials
portion of proceeds support nonprofits to protect oceans and waterways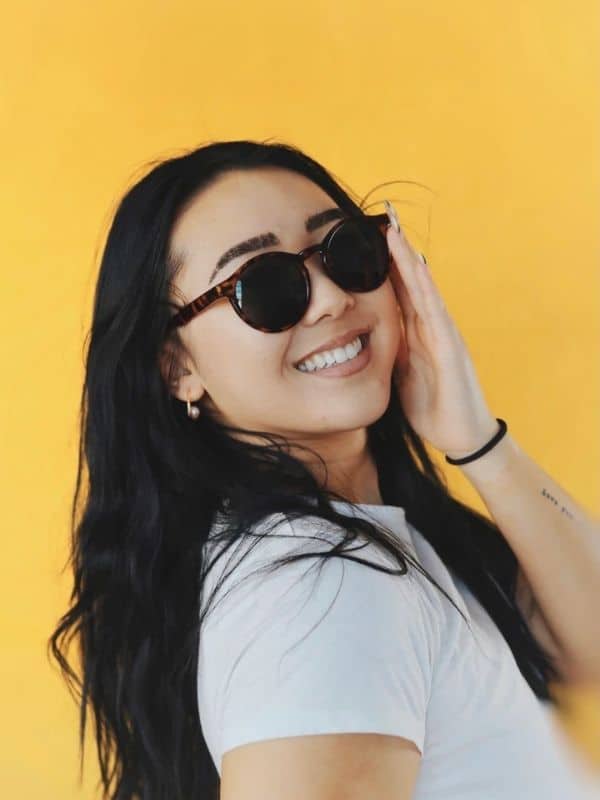 made from 100% recycled plastic
accessible price point
$5 of each purchase goes to environmental charities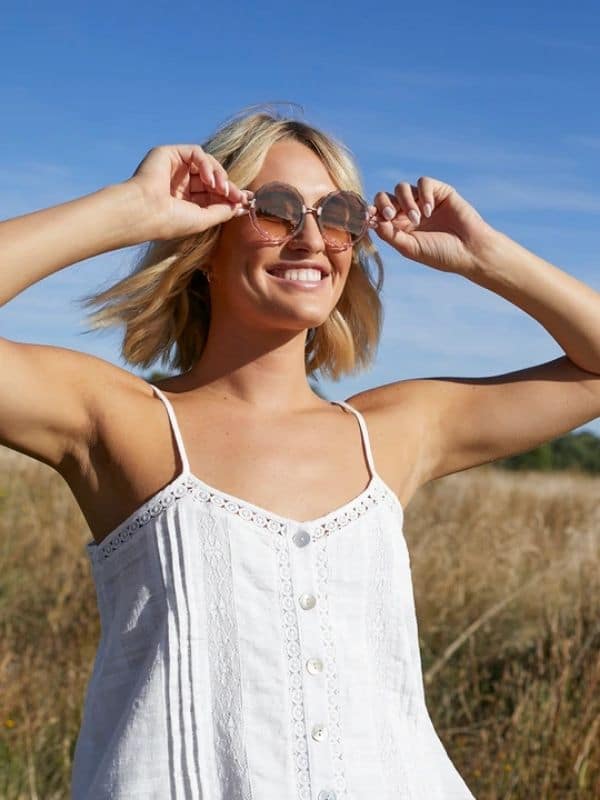 based in Melbourne, Australia
made from plant-based acetate, cork, and hand-pressed foliage
committed to minimal waste and sustainable materials
scratch resistant and UV protective lenses
faqs
what is acetate and is it sustainable?
Acetate is a plant based cellulose made from trees or other plants like cotton. While it is definitely better than virgin plastic products, the verdict is still somewhat out on the sustainability of its production overall. We will be sure to stay tuned for updates.
is acetate plastic biodegradable?
Acetate plastic, or cellulose acetate, is much more biodegradable than petroleum based products and even has the ability to biodegrade in seawater. These plant-based plastic alternatives are definitely a step in the right direction. However, the best biodegradable products will always be made from sustainably harvested, organic materials.
where do I find eco friendly sunglasses?
It is always best to shop locally whenever possible. Check your local second-hand stores for stylish shades and other fashion finds before heading to larger retail corporations. This is a great way to support your community and minimize waste.
If you shop online, seek out companies close to you and/or those dedicated to offsetting the carbon footprint of every purchase.
are these affordable sunglasses brands?
The brands featured in this article range from luxury price points to very affordable price points. Plus, many of the brands offer discounts for signing up for their email list, as well as robust sale and clearance sections to make way for new collections. You'll be able to find something for every budget!
Enjoy the sunshine, my friends!