6 Thrifting Tips to Help You Master Secondhand Shopping
August 10, 2018 | Kathryn Kellogg
Last Updated on September 19, 2023
Every now and then I get flooded with requests for all my best thrifting tips, because it can be tough to find quality things in the sea of clothes and other items people donate if you don't know what to look for.
Learning how to thrift really isn't difficult if you have someone to show you the reins. Shopping second hand is an amazing way to get quality, name brand items at a fraction of the cost without harming the environment. With my second hand shopping tips, you can fill your closet with all of the best to-die-for items without contributing to fast fashion waste!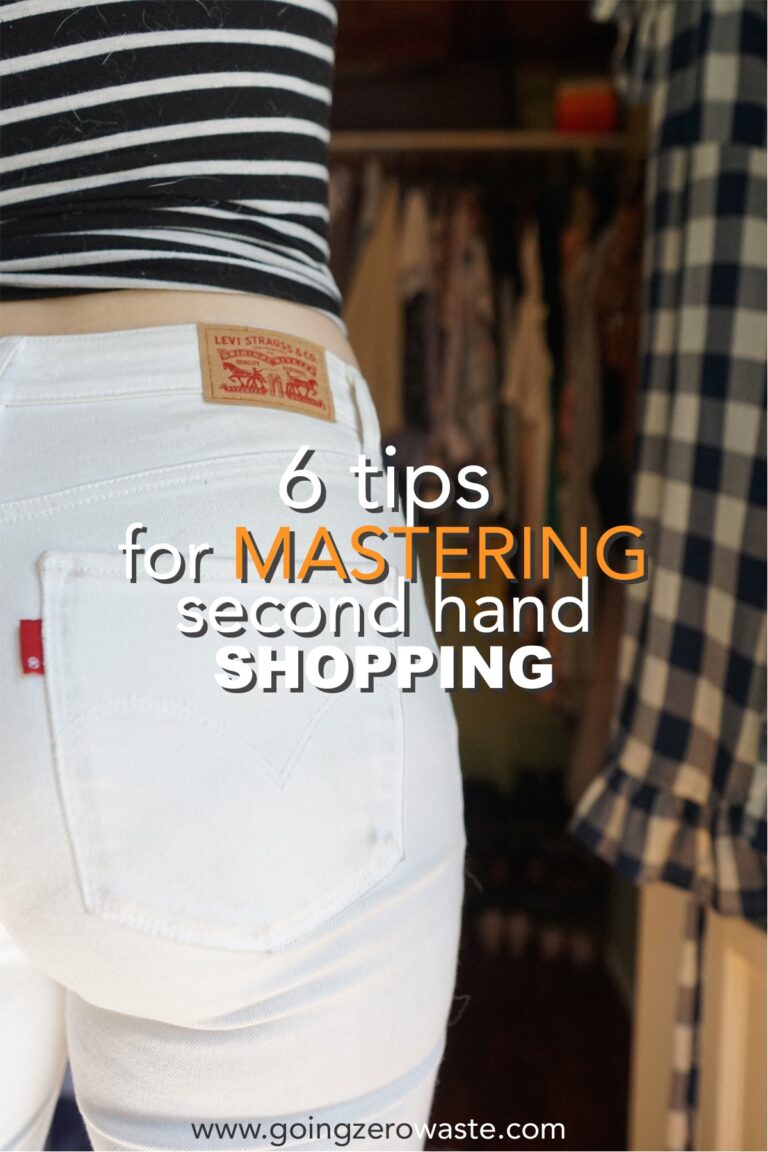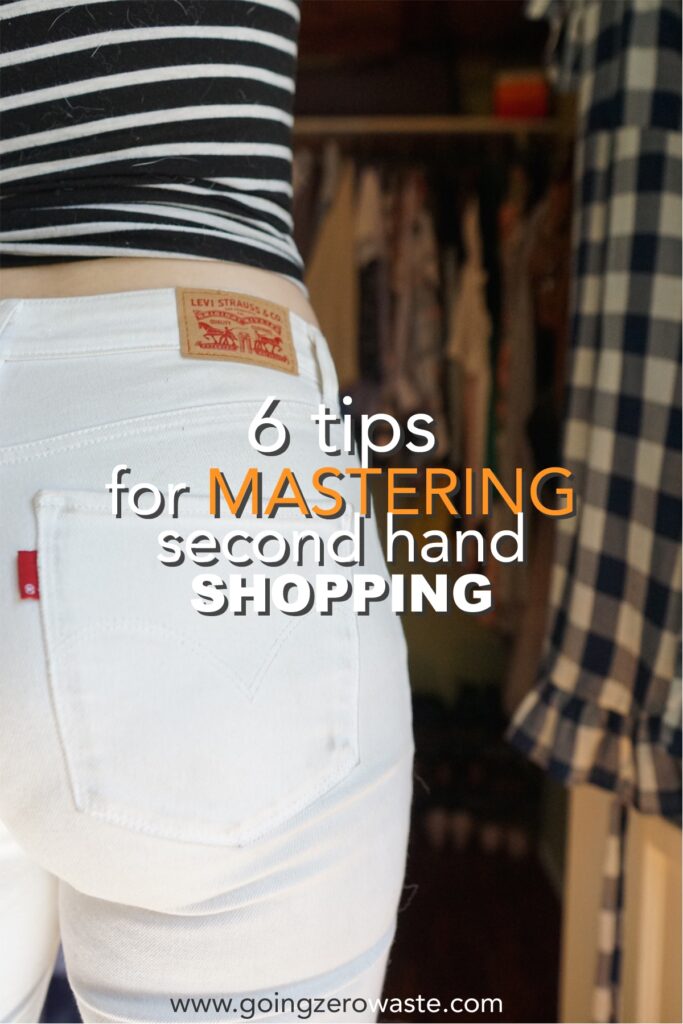 shopping second hand
So with that all being said — it's here, it's here! The official Going Zero Waste guide to shopping second hand. 
I love secondhand shopping. It's been my preferred method since I started shopping for myself around middle school.
I remember my first trip to the thrift store. I was in drama club (of course) and we went to Goodwill to buy costumes for a show.
When I was at this mega Goodwill in San Antonio, TX, I found so many cool pieces of clothing! After that eye opening trip, I would beg my mom to go to Goodwill and the answer was always, "No." 
My mom was not a huge fan of secondhand shopping. It wasn't until recently that she came around. Finding designer duds with tags still attached on eBay for a fraction of the cost!? She was sold.
learning how to thrift in store
However, my love for Goodwill and other thrift stores has never wavered. Shopping for second hand clothing has always been a way for me to snag designer looks for less.
I love the thrill of the bargain. Being an actor most of my professional life, I haven't always had the funds to buy nice "new" clothing. Learning how to thrift in person and online has helped me look the part without overextending my bank account.
My favorite thrifted find was a long sleeve, black lace torch dress. It was cut high and straight across the neck and had a tasteful deep cut in the back. I bought that dress from an antique store for $8.
It fit like a glove. That dress looked like it was made for me. I would wear it to the theatre all of the time and I was consistently stopped (by women with much, much more disposable income than me) and complimented.
It's my favorite dress I've ever worn. I have no photos in it because cameras and phones were still two separate objects. I bought it when I was a junior in high school and try as I may, my hips will never, ever, ever, fit into it again.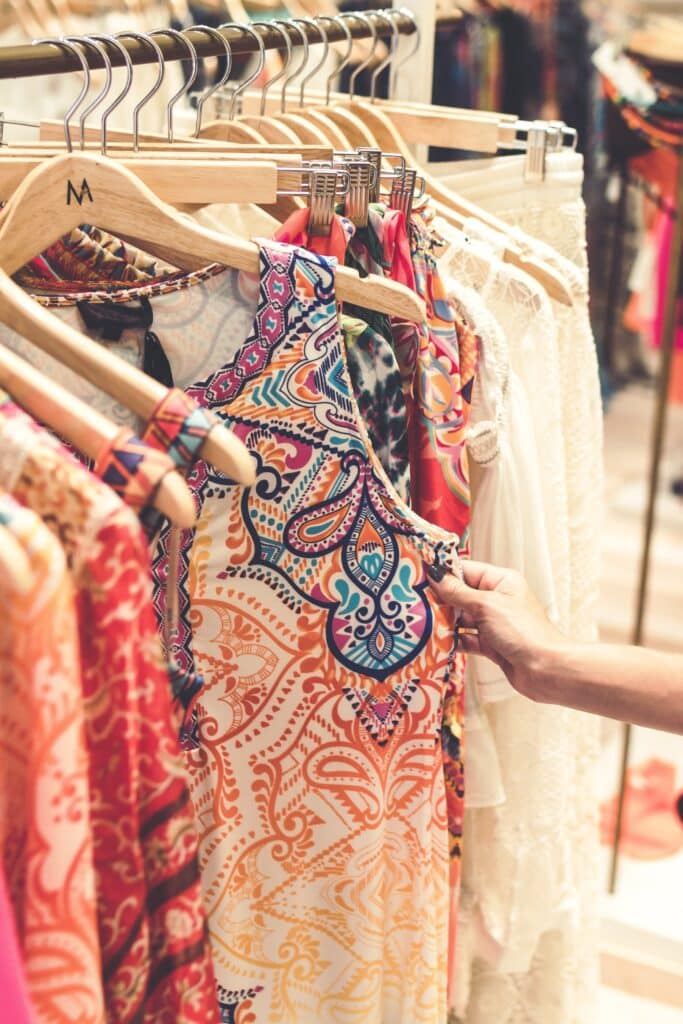 second hand shopping tips
This guide you're about to read has been years in the making. It's everything I've learned about creating a secondhand wardrobe. Throughout the years I've accumulated a ton of second hand shopping tips. I've kept some and abandoned (or evolved) others.
The secondhand market has changed drastically, so you have to be willing to adopt your thrifting tips accordingly. There are a few differences between shopping in 2007 and now. 
Clothes aren't made like they used to be. If you haven't watched the True Cost documentary, you should. Our thrift stores are being flooded with poorly made clothing that just doesn't last.
Shopping secondhand is wayyyyyy cooler. Which is amazing!! But, it also means it's not as easy to find fashionable pieces that haven't already been picked over. 
Deals are harder to come by. Most thrift stores are starting to mark up designer brands. While it's still cheaper than buying first hand, it's still not as good of a deal as it used to be. 
So, let's get started.
my best thrifting tips for modern times
1. get comfy:
When I'm shopping, I'm a woman on a mission. I was never the kind of girl who wanted to go to the mall and browse. I like to shop and try on very efficiently. 
This means slip on shoes with socks. Yes, I look like a total nerd, but it's SO much easier to try on shoes and clothes in the dressing room. I don't like putting my bare feet on dressing room floors. It grosses me out. 
I also typically wear a dress that easily pulls on and off. This way I can be in and out of the dressing room in a flash.
Moral of the story: dress like you're going to be undressing…. a lot. 
2. be prepared to leave:
This one is huge, and what I struggle with most. If I've spent 30 minutes combing through racks and another 30 minutes trying all of the things on, you can bet I want to leave with a reward.
It just doesn't work that way. You will leave empty handed more often than not. In order to keep my wardrobe small, functional, and not waste money — I have to LOVE a piece. 
I mean really, really LOVE it.
If it doesn't fit perfectly, put it back. If you don't immediately say, "This is one of the best things I've ever put on my body!" put it back.
When in doubt… put it back.
How many times have you regretted leaving something on the shelf? Probably one or two times. 
Now, how many times have you bought something, put it in your closet, not worn it, and regretted buying it? Probably more times than you can count.
Better safe than sorry. Walk out empty handed.
3. know thy wardrobe:
Before shopping, you should intimately know your wardrobe. We're often drawn to similar items. My kryptonite is sweaters. I have at least 20 sweaters, and around 5 of them are pink.
So, when I go to the thrift store and see an adorable pink sweater OF COURSE I'm going to pick it up because I love pink sweaters!!!
Because I know my wardrobe, I have the foresight to put it back because I don't need any more pink sweaters. 
You have to know what's in your wardrobe before you go shopping.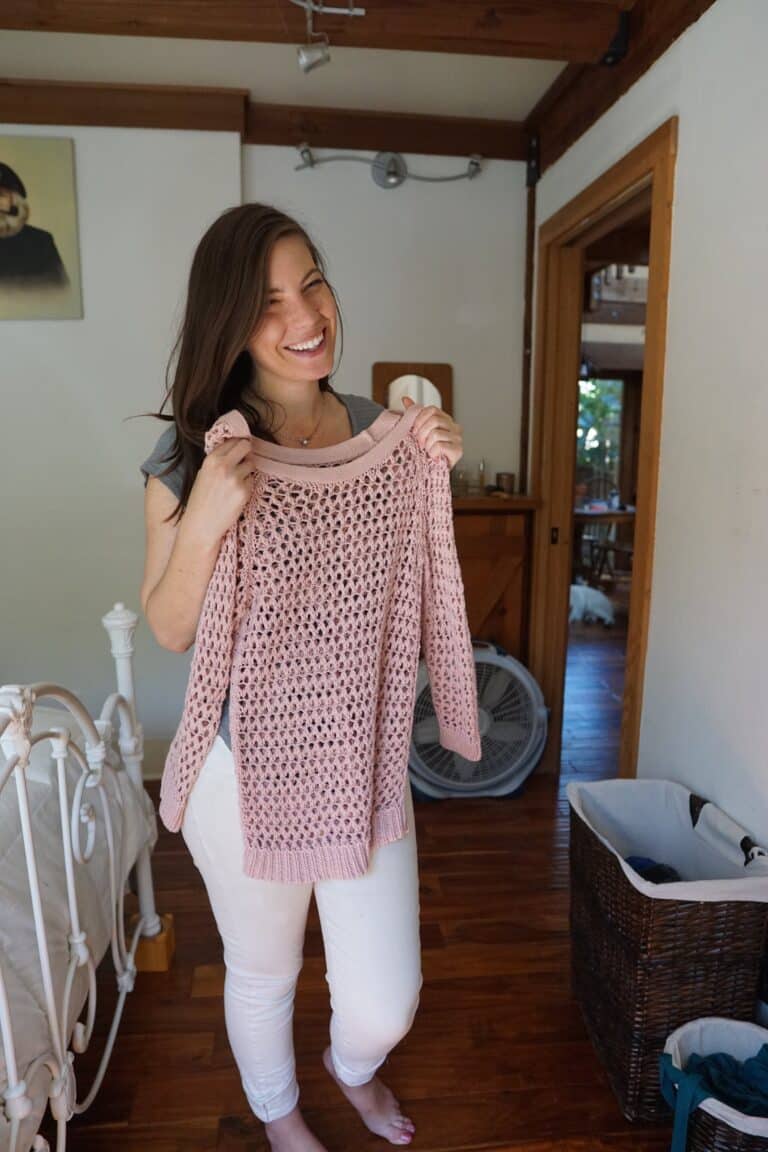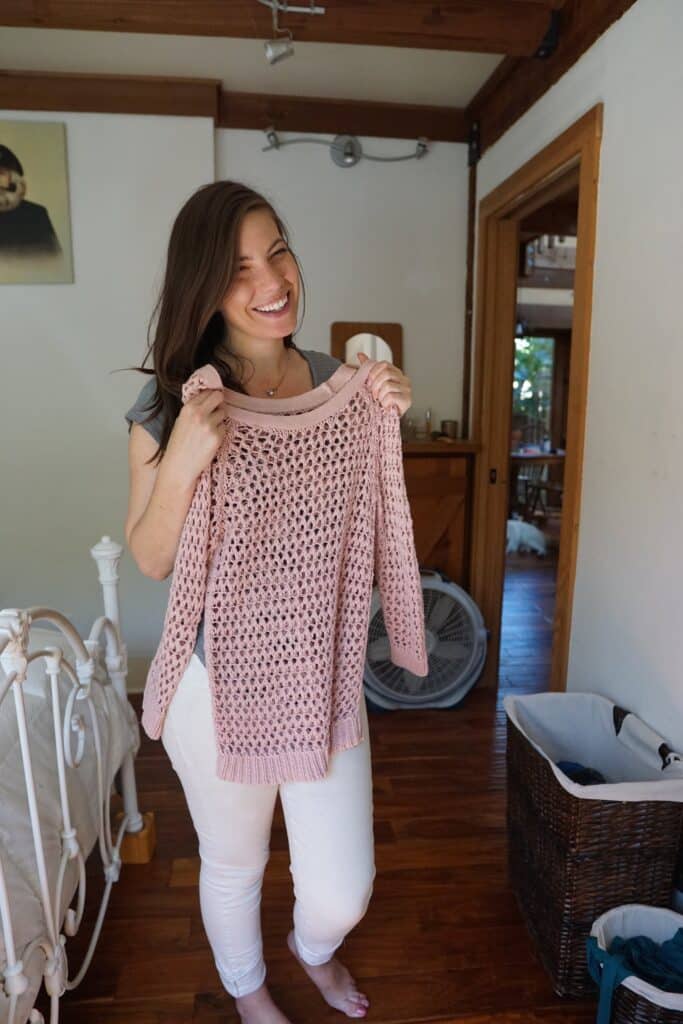 What colors do you reach for most in your wardrobe?
Are there any particular colors you love, but don't wear? I love the color green, but I just don't wear it very often.
I'm not drawn to wearing green, so if I found a gorgeous green dress — even if I love the fit — chances are I'd pass over it simply because it wasn't one of my favorite colors to wear. 
What are your favorite pieces to wear and why?
Off the top of your head, what are the five favorite pieces in your closet? More importantly, why do you like wearing them? 
Yellow Shirt Dress: It flatters my shape, it's a happy color, and it has embroidery — which is quirky, fun, and bespoke.
Navy Blue Dress: It really flatters my shape, I like the short sleeves, and I like how heavy it is and how well it hangs.
Pink Striped Sweater: I love pink sweaters, and this one fits perfectly. I love wearing it with shorts! 
White Cable Knit Sweater: It's tight but not too tight. I feel like a tennis player when I wear it.
Blue Wrap Skirt: I love the pattern. I love how it accentuates my waist and how it can be tied in a number of ways. 
Check out the 10 x 10 challenge to see how many different ways the wrap skirt can be tied.
After reading my list, what would you say are some of the important characteristics of clothing? There are a couple of words that are repeated: like things that accentuate my waist. 
I'm pear shaped so having clothing that comes in at the waist and then drapes over my hips is very, very flattering. 
So, if I see an empire waisted dress, low-rise jeans, or long tunic tops — no matter how much I love them — they probably won't get a ton of use in my closet because my wardrobe isn't built for that style.
I don't have the appropriate styles to mix and match and layer. The piece will go unworn.
Are there recurring brands you like?
I have a couple of brands that I just love because they fit my body and my aesthetic perfectly! I love NYDJ for jeans. Amour Vert is another favorite because they design for pear shaped women. I also love Lacoste.
I can easily find NYDJ and Lacoste second hand because I know it will fit. When you find brands that you like and know how they fit your body, it will make your life easier.
It will help shape your list and give you direction when shopping! See if you can find a few brands that you love for the fit, look, and aesthetic. 
4. know thy self:
I am pear shaped which means there are certain styles that flatter me and certain styles that don't. Pear shaped means the largest part of my body is my hips.
When I'm dressing, I can balance my hips by adding dimension to my shoulders and chest through a ruffle, cinching in my waist, and having plain bottoms.
Now, these are guidelines, not rules. There's a way for every body shape to wear every style, you just have to be a little more careful. 
One of the easiest ways (especially when shopping secondhand online) is to know your measurements!
If I have a shirt that's 22″ in length, it will look TERRIBLE on me. If it's 24″ or 18″ it will be fine. But, when it's at 22″ it hits the exact largest part of my body bringing all of the attention to it.
If you can pinpoint why you don't like the way things look, you can make better decisions in the dressing room. Here are a couple of things you should know: 
Measure your bust, waist, top of hip, full hip, and inseam. 
Know what colors flatter your skin tone
Know your body shape and what type of silhouettes are flattering and unflattering
Figure out your style!
Check out this post on finding your style and this post about how I found my style and how it's evolved.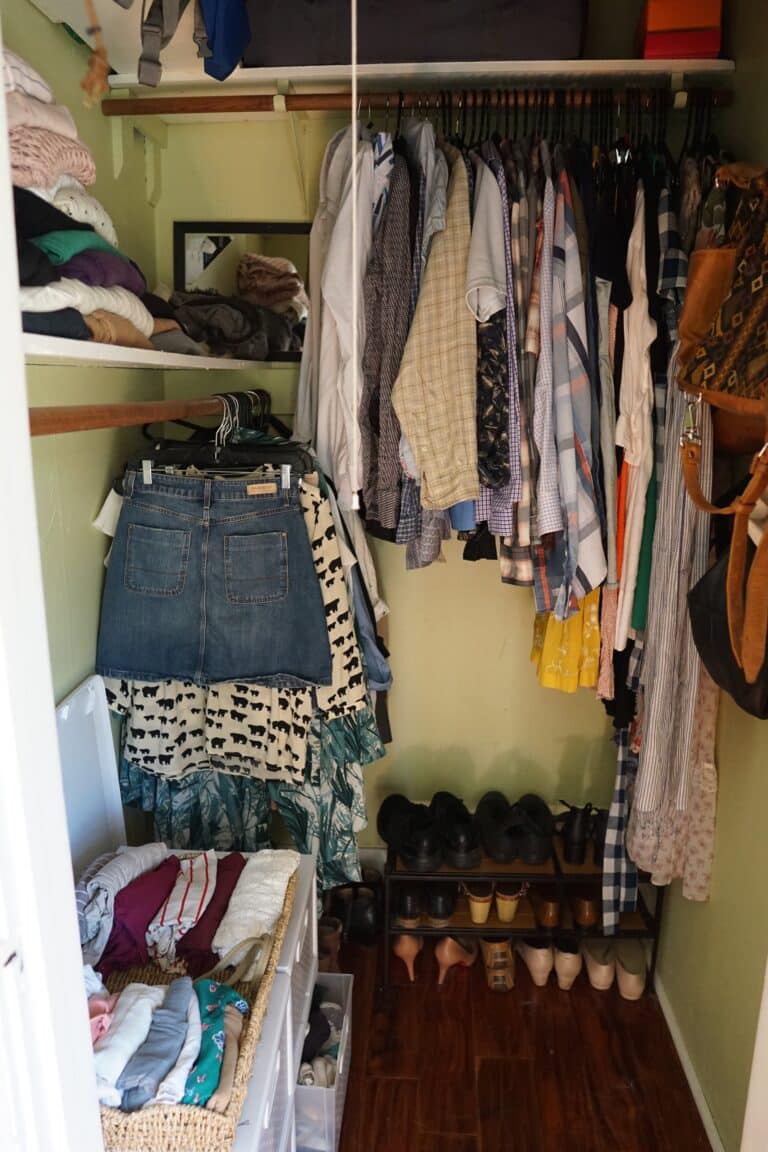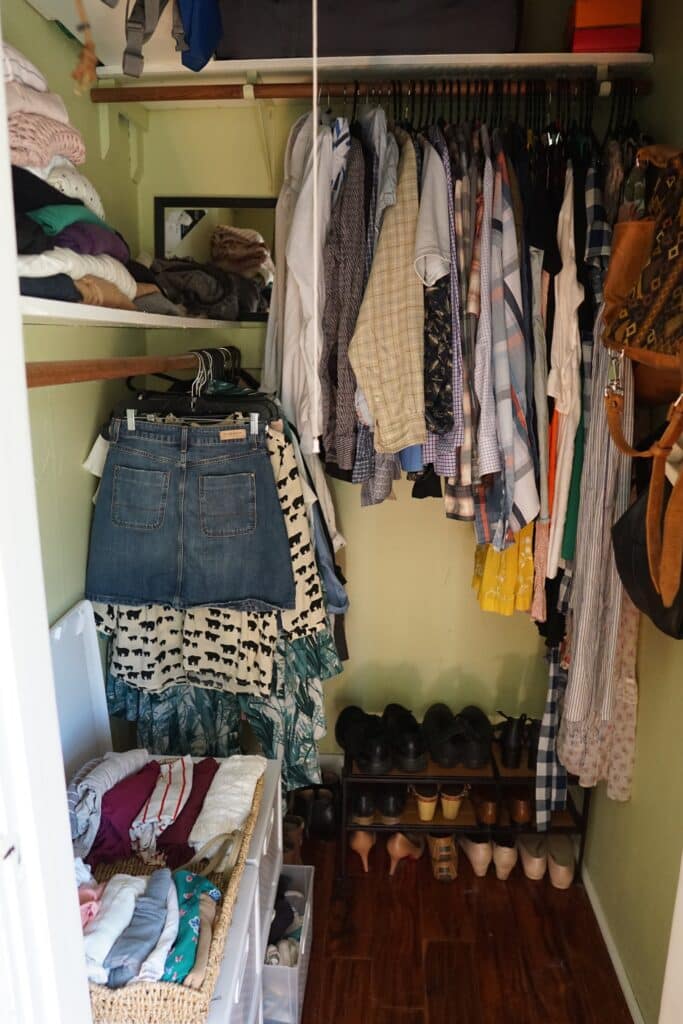 5. have a game plan:
Before going shopping, you should know what you're looking for.
What are the gaps in your wardrobe? Do you need another pair of jeans? Maybe you need more tank tops for summer? Or more winter blouses for work?
Write down what's missing from your wardrobe and focus your attention on finding those things. If something else jumps out at you, by all means, give it a try — but try to focus on the list. 
By staying focused on the list and task at hand, you're more likely to walk away with something you'll actually wear. 
6. know where to shop:
There are different levels of secondhand shopping ranging from Goodwill to high end consignment shops. The more work you have to do with hunting through the bins and racks, the cheaper they are.
The more highly curated, the more you pay for that service. Here's a list in order of shops might want to visit: 
thrift shops:
Some of the most common thrift stores are Goodwill, Salvation Army, and Savers. You have to do a bit of digging, but you'll typically find the best bargains at these stores.
Also, check around your town for a family owned thrift shop. 
resale shops:
These shops have buyers who go through and accept clothing like Buffalo Exchange and Plato's Closet. They tend to sell stuff at a decent price. Most of the clothing in the store is current and in fashion. 
If you're short on time, you should definitely hit stores with a more curated selection.
consignment shops:
There are a lot of high-end consignment shops. Instead of being paid a small sum upfront like with resale shops, consignment shops pay out after the items have been sold.
This means they're very picky and selective with what comes in. While they still have good deals, they often cater to higher end brands.
If you're looking for nice office wear or something to wear to a cocktail party a consignment shop would be your best bet. 
online:
Shopping secondhand online can be risky as you can't normally send the items back. Double check your measurements with the measurements of the garment before buying.
Or shop somewhere like ThredUp where you can send the clothing back if it doesn't fit.
I love shopping at ThredUp because you can search and typically find exactly what you're looking for. If you haven't used ThredUp before you can get $10 off your first purchase*.
faqs
do thrift stores take credit/debit cards?
Many people suggest taking cash with you when you thrift. Some suggest it so you have 'bargaining power': I only have $15, will you accept that? However, shops are much less likely to barter now than they were even just a few years ago.
In fact, most shops accept credit cards right now, especially if they allow returns. Having a card on file makes the return process much more convenient. However, having cash on hand never hurts to make sure you stay within your budget!
is it unethical to shop at thrift stores if you can afford to shop elsewhere?
Absolutely not. Many thrift stores use their profits to donate to charity. This means that the more they sell, the more they have to give, regardless of who's buying.
It would be unethical to show up at a charity event that gifts items to the less fortunate if you can afford to buy your own things, but shopping at a thrift store is not the same thing.
As far as sustainability and eco ethics go, shopping second hand first keeps new products off the market and reduces waste, which makes it a great practice regardless of your tax bracket!
---
I hope that you have found this guide to second hand shopping helpful! Let me know if there are any questions you have.
I'm working on posts for ethical basics because I find shopping for basics to be a challenge at the thrift store.
All of the tank tops I've bought from ThredUp have been kinda wonky. People don't typically donate perfectly good basics, so I often need to purchase those first hand.
For the first blog post in the series, check out my guide to sustainable everyday underwear.
This post contains affiliate links. It's denoted with an asterisk. This means if you choose to purchase one of these items I will make a slight commission for referring you. You can read more on my disclosure page.