5 Tips for Defining Your Personal Style | Creating an Ethical Wardrobe
September 24, 2019 | Kathryn Kellogg
Last Updated on April 11, 2020
When I started trying to create an ethical and sustainable wardrobe, a few years ago, I had a major shopping problem.
I also had ZERO sense of my personal style.
I treated clothing more like a costume, like a character I would be for the day rather than a true extension of myself.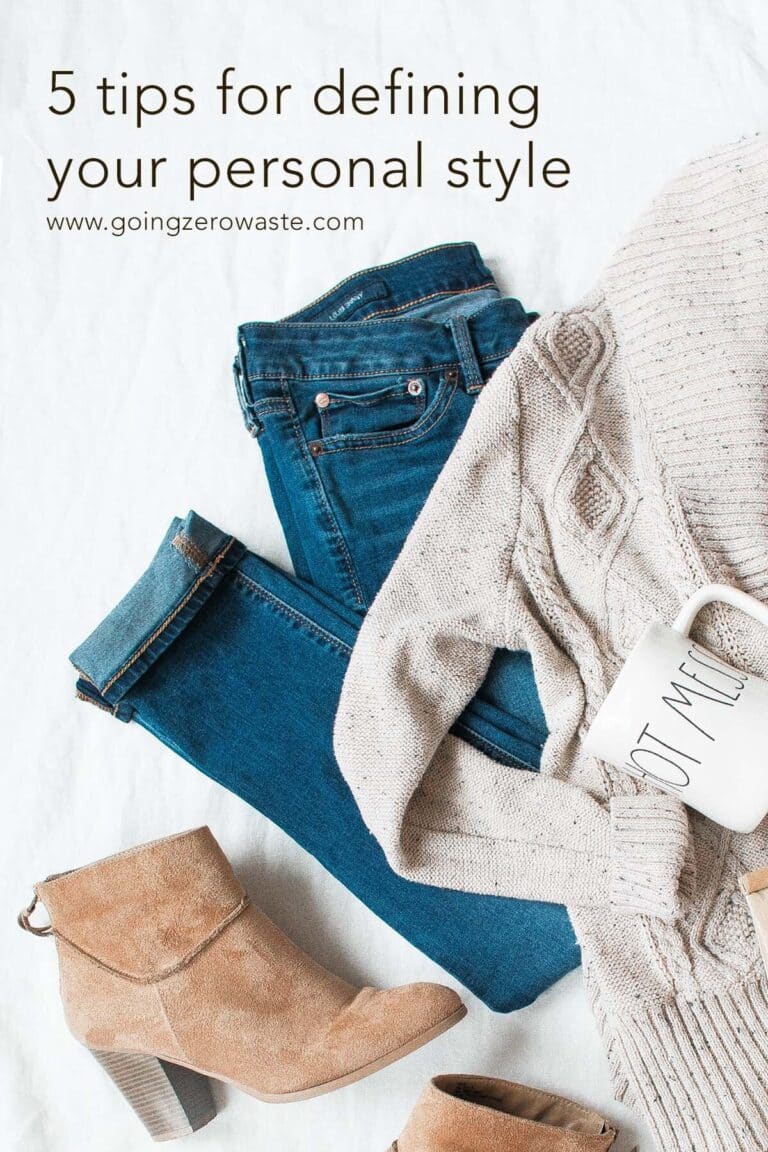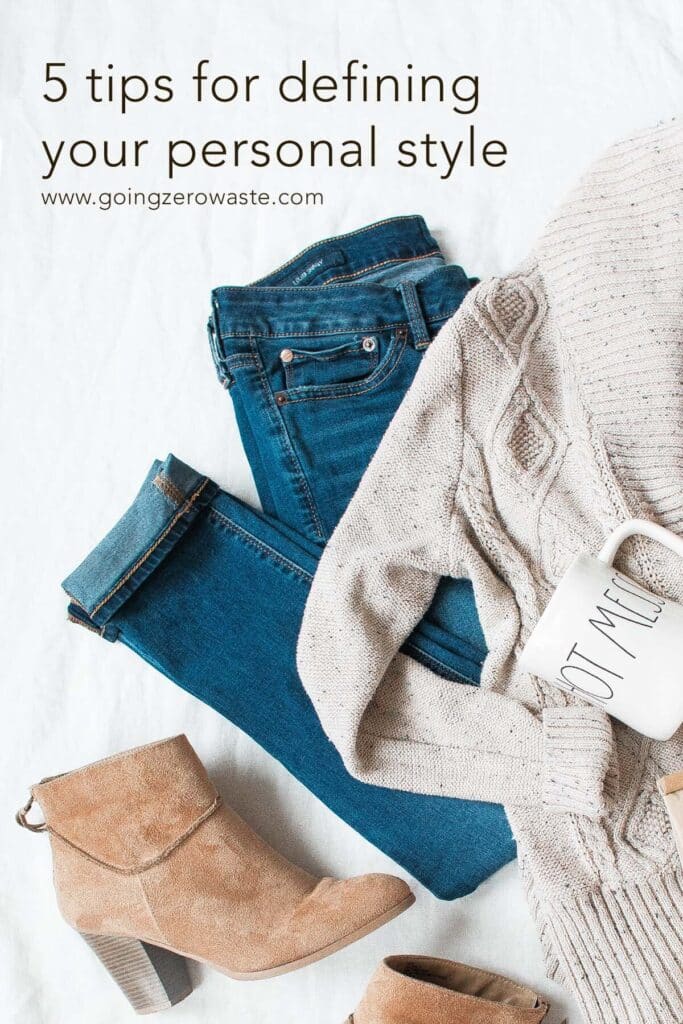 When I first learned about the problems with fast fashion, I donated most of my clothes to adopt a simple, versatile 18 piece wardrobe.
It did not go according to plan. I HATED it, you can read more about it in this post. And, I've been slowly figuring things out since then.
It's been about a year that I've really started learning personal style, color scheme, understanding what I do and don't like about clothing, and of course nailing that ever elusive personal style.
I feel like I'm finally, FINALLY hitting a pretty good rhythm.
My personal style has developed by creating boundaries.
Many times when you think about personal style, you think about what you like.
For me, I love power suits, frilly dresses, boho chic, edgy, vintage, preppy – I love ALL of the styles.
But, it's not necessarily practical for me to wear a power suit when I work from home.
And, I hear you, "Wear what you love!!"
But, honestly, I'm not going to sit around my house and go to the grocery store in a suit.
I'm just not going to do it when my old pair of jeans and a sweater sound sooooo comfy.
It's not about what I like, it's about what I do.
1. dress for what you do:
Many of us get caught up in the fantasy idea of dressing for who we want to be rather than dressing for who we are.
My best recommendation is to sit down and write out the activities that you normally participate in. My list looked something like this.
work from home/weekend (7x a week)

attend client meetings (1-2x a week)

speaking/panel discussions/interviews (1-2x a month)

go out with friends/date night/party (1-2x a week)

dressier (1-2x a month)
From this list you can tell that the majority of my wardrobe should probably be jeans and sweaters.
When we go to our closet and think, "I HAVE NOTHING TO WEAR!?" It's because we haven't bought appropriate clothes for the certain occasions.
Once you've figured out your categories, you can start putting together outfits that fall into each of these categories, and figure out where you have holes in your wardrobe.
work from home/weekend – typically jeans/pants, simple top/sweater, casual dress

attend client meetings – a little more formal, typically no denim

speaking/panel discussions/interviews – NO denim, blazers, silk shirts, slacks

go out with friends/date night/party – skirts, dresses

dressier – cocktail attire
I'm currently going through my closet creating outfits and putting them in one of these categories.
I also have themed categories for costumes… but that's because I'm a theatre kid and more than half of our parties have themes….
But, I figured that's probably only relevant to me, and theatre kids everywhere.
2. get realistic about the weather:
This is my personal denial. Which I guess to say, if you're in denial about anything, then it's time to come clean to yourself.
I realized that I'm always living like I'm leaving. I've moved over 20 times.
I've moved 5x in the last 5 years. I've never stayed in a place longer than a year, so I prevent myself from truly settling in and creating a true home with my space.
And, I've treated my closet the same way. I am from Arkansas.
It is either hot or cold. It isn't hot and cold in the same day unless there's an unusual weather event.
In Northern California, it is consistently hot and cold in the same day.
You wake up with it being 40 degrees then it heats up to 78 or 80 and everything bakes because there's no A/C and when the evening comes around the fog has rolled in and it's dropped back down to 40.
You have to dress in layers, and my wardrobe has never been layerable.
So, now I'm shopping with layers in mind, and I'm thinking about how my wardrobe has to come together because most outfits will need four pieces.
Top

Bottom

1st layer (typically a sweater)

Outer layer (a coat or jacket)
3. know your pain points:
Ah, yes, the pain points. This is where I realized how petty and particular I am.
Honestly, I HATE how finicky I am, but it's better to be honest with yourself about all your quirks upfront so you don't wind up wasting your money on something you never end up wearing.
You're going to read this list and think I'm out of my mind, but the fact is every piece of clothing that meets this criteria gets about 100x more wear than the pieces that don't.
HATE clothing that has to be fidgeted with

I have to be able to walk at LEAST a mile in any pair of shoes comfortable (i.e block heels, no taller than 2-3")

natural fibers (NO POLY!) Favorite fibers are wool, viscose, tencel

In summer, I don't like wearing sleeves under the 1st layer

Really like white tops with colored and unique bottoms

Tops MUST be fitted or at least tailored

Can't stand shoulder details that prevent you from layering

Have white husky who's hair gets on everything. (!) EVERYTHING (!)
ACTION ITEM! Pour yourself a glass of wine, beer, kombucha, whatever floats your boat and get serious about the things that drive you nuts, and the things you LOVE.
4. discover what flatters you:
Do you know your body shape? If you don't, measure your bust, waist, and hips.
With a quick google search you see what styles flatter your proportions.
I've struggled a bit with ethical fashion because many of the shapes just aren't flattering to my body shape.
I'm pear shaped which means that my hips are larger than my bust.
If I wear a shirt that's large and open at the bottom, it tends to exaggerate how large my hips are.
And, I love my hips and my booty!
I'm not trying to hide or disguise them, but I do want to look proportional and balanced.
I also want to show off and highlight my small waist.
And, wearing shapeless shirts tends to hide the part of my body that I want show off.
Not necessarily literally showing it off, but accentuating it with the clothing that I'm wearing.
Knowing what I want to highlight, really helps me shop for clothing.
ACTION ITEM! Take some time to figure out what parts of your body you'd like to highlight.
Maybe that's your arms or waist or legs! Whatever it is, once you figure it out you'll
5. color palette:
This year, I got really serious about a color palette. To make sure I was on the right track I went to see Donna Fujii who does color analysis.
It was such a fun experience, I went with some friends and left with a swatch book of shades that look best for my coloring.
Thankfully, I was already on the right track color wise, but after that appointment I narrowed it down to my favorite colors.
Blush Pink

Navy Blue

Baby Blue

Wine Red
Now, when I go to the thrift store, I only look at these color sections.
I don't look at the green or purple sections because I know I don't really reach for those colors and they won't play into the color palette that I've already built for myself.
If you want to follow along with me building out my sustainable and ethical wardrobe please give me a follow on my other instagram account!
build a wonder wardrobe:
If you're still struggling, my friend Daria from Wonder Wardrobe has created an awesome e-course to teach you how to make a flattering, coordinating wardrobe that works for you.
I just started the course and I'm really interested in learning how to make my pieces more interchangeable.
She makes these wardrobes for YouTube and it's absolutely fascinating! I LOVE her channel. Seriously, it's mesmerizing to watch – check out this video.