6 All-Natural Toothpaste Brands + DIYs to Try
July 12, 2019 | Guest Post
Last Updated on February 24, 2022
These 6 All-Natural Toothpaste Brands will have your teeth feeling clean, looking good, and are free from harsh chemicals.
Using organic toothpaste is an important step to excellent oral care. Conventional toothpaste is packaged in plastic tubes, and can contain some questionable ingredients such as fluoride, parabens, and sulfates which are bad for the environment and our health.
Keep reading to learn the best trusted toothpaste brands that will keep your smile bright and healthy.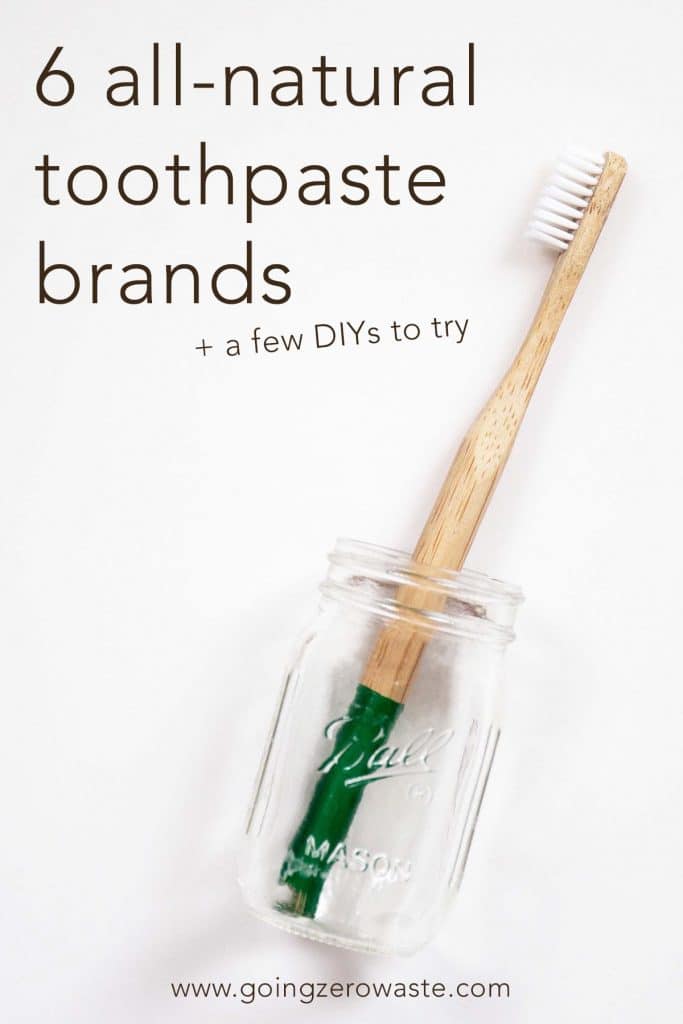 why use organic toothpaste
The truth is you don't need all those unpronounceable ingredients to get that 'clean teeth' feeling. In fact, most dentists say the most important part of brushing your teeth is the toothbrush. Ever since I made the switch to zero waste toothpaste, my teeth have never felt cleaner. Here are the top reasons to start using fluoride free toothpaste today:
Safely cleans your teeth
Makes your breath fresh
Fights and kills bacteria
It's safe for older kids and adults
Naturally removes stains without damaging enamel
Works on sensitive gums and teeth
treat yourself natural clay tooth powder:
Have you ever used tooth powder before? It's not hard to get the hang of, plus it's kind of fun to try something new and different.
Treat Yourself's natural clay tooth powder is full of natural ingredients that are actually good for your teeth. It's an excellent toothpaste without fluoride.
Why You'll Love It:
I love the fact this natural toothpaste comes in a reusable glass jar.
It tastes great and doesn't leave any weird aftertaste.
It's a fluoride free toothpaste that doesn't contain any artificial colors or flavors.
How To Use: To use tooth powder, you just run your toothbrush under water, dip it into the jar, then brush like normal with the powder attached to your toothbrush bristles.
Ingredients:
Treat Yourself's natural clay tooth powder only uses natural ingredients you can trust such as calcium bentonite clay, cinnamon, turmeric, clove, activated charcoal, and essential oils of frankincense and myrrh.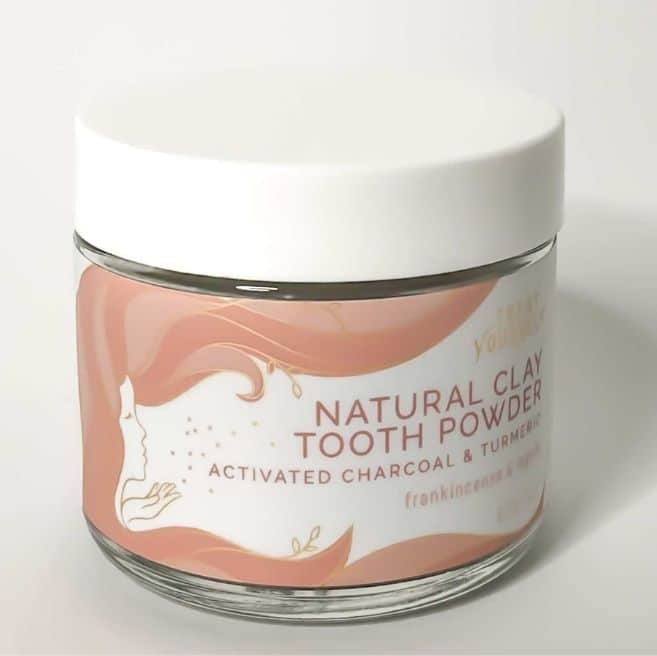 davids natural toothpaste:
Perhaps you really love the idea of toothpaste coming in a tube. That's cool: Davids Natural Toothpaste has you covered.
If you're looking for an all-natural toothpaste that comes in a recyclable tube and helps support our local economy, this is definitely the toothpaste for you.
Why You'll Love It:
This toothpaste comes in a 100 percent recyclable metal tub with a small plastic lid.
You can cut it open and rinse it out, then recycle.
The tube comes packaged in a box made of FSC certified paperboard that's manufactured with renewable wind energy. How cool is that?

Each box comes with a metal "key" to help you roll up the tube and get the very last drops out of the tube so nothing is wasted, not even the last drop.

To make their brand even more conscious, they've been EWG verified for consumer safety and health.
This toothpaste is made from 98 percent USA origin ingredients which is fantastic because the more locally sourced ingredients, the less carbon emissions emitted.
Ingredients:
It's a trusted toothpaste without fluoride and sulfates. Plus, it's vegan and cruelty free.
Their ingredients consist of calcium carbonate, purified water, baking soda, vegetable glycerin, hydrated silica, xylitol, sodium cocyl glutamate, carrageenan, peppermint oil, spearmint leaf oil, anise seed extract, wintergreen leaf extract and stevia leaf extract. A fluoride free toothpaste with natural ingredients. What's not to like?
Learn the purpose of each of the ingredients on their very transparent ingredient list.
Related: 5 Ways to Reduce Your Carbon Footprint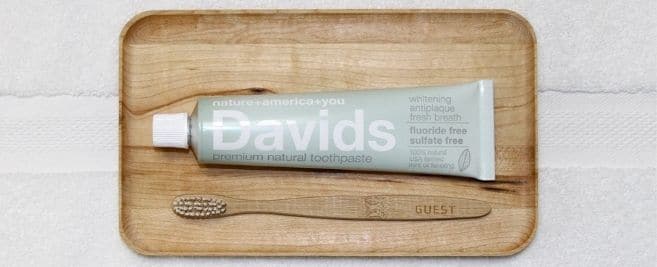 uncle harry's fluoride free toothpaste:
Uncle Harry's toothpaste is very popular within the zero waste community because their natural toothpaste can be bought in glass jars which can be reused when empty. While the lid is plastic, it's a step in the right direction.
Why You'll Love It:
Their natural toothpaste helps support tooth enamel remineralization.
It also helps maintain a natural alkaline pH, which is very important for overall oral health.
Uncle Harry's is a 100 percent vegetarian company that never tests on animals. All their organic toothpaste options are completely vegan.
Unlike the other toothpastes I've listed, they come in a wide array of flavors as well, such as spearmint, cinnamon, peppermint and anise.
Uncle Harry's even has children's toothpaste options that are completely safe for kids and more palatable for youngsters.
How To Use: Scoop a little from the jar using your toothbrush or small utensil, brush for one to two minutes, then rinse like normal.
Ingredients:
None of their products contain soy, gluten or dairy ingredients.
This is one of my favorite toothpaste brands because all of their products are free of fluoride, triclosan, artificial sweeteners and sodium laurel sulfate at all times.
RELATED: Zero Waste Flossing Options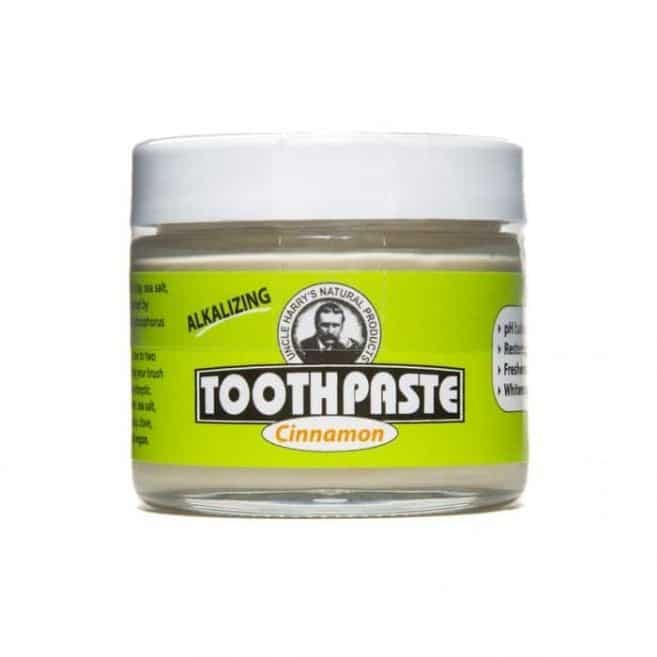 diy peppermint baking soda natural toothpaste:
If you prefer DIYs, this peppermint baking soda toothpaste is easy to make. This is my personal favorite homemade toothpaste option. I use it all the time.
Why You'll Love It:
You'll get that super clean feeling and have fresh breath after using it too.
You can store this three-ingredient toothpaste in an empty glass jar you have lying around.
Super effective and low cost.
It's super simple to make, only requiring three ingredients: Baking soda, coconut oil and peppermint essential oil.
How to Use: To use, just dip your toothbrush into the toothpaste, then brush away.
There's no need to splash it with any water. Just rinse your brush off when you're done and you're good to go.
PRO TIP: If you find baking soda to be too abrasive on your teeth, try using a little less than the recipe recommends and adjust it to meet your needs.
Making this recipe has honestly saved me so much money: The ingredients are cheap and easy to find waste free.
RELATED: 15 Simple Swaps for a Zero Waste Bathroom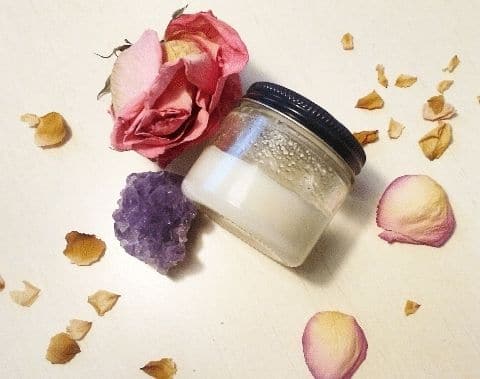 dentist approved toothpowder:
If you're looking for a tooth powder that's all natural and one your dentist will love, look no further. This dentist approved toothpowder is the best.
Why You'll Love It:
You only need three ingredients to make it: Xylitol, baking soda and bentonite clay.
All the ingredients can be found in bulk, or sustainable packaging. How cool is that? It has none of those icky additives like artificial coloring.
Xylitol is a natural sweetener, baking soda dislodges plaque from the teeth and bentonite clay draws out toxins which gives you healthy and clean teeth.
All you need to do is put the ingredients together in a glass jar and shake it up. 
It'll leave you with clean breath without an aftertaste! Perfect for people who prefer minimal to no flavors with their toothpaste.
The sweetness of the xylitol should cancel out the saltiness of the baking soda, leaving it with a rather neutral taste.
Related: Life Without Bulk Option
PRO TIP: Make sure to use a wooden or porcelain measuring spoon to touch the bentonite clay, as metal will deactivate it.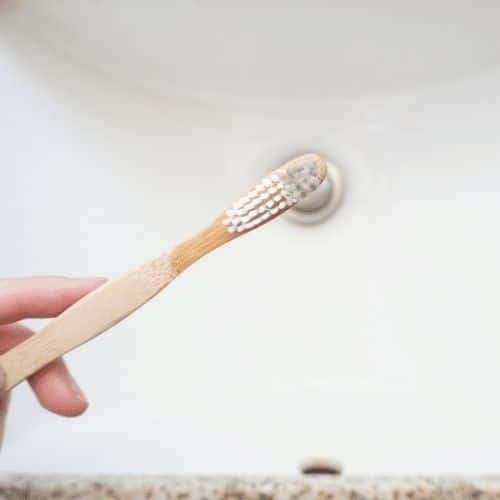 charcoal toothpaste without fluoride recipe:
This charcoal toothpaste recipe is perfect for giving you an extra white smile.
Why You'll Love It:
It only requires three ingredients: activated charcoal, coconut oil and baking soda.
Your teeth are going to feel super clean after using this toothpaste.
You can also add a few drops of essential oil for a refreshing aftertaste (I'd use peppermint or spearmint essential oil).
You can find most of the ingredients for this in bulk, or sustainably packaged.
How To Use: Use it once or twice a week to help whiten your teeth. This shouldn't be your main toothpaste because activated charcoal can cause sensitivity.
Just dip your brush into the toothpaste and brush your teeth like you normally would.
Your teeth will turn a bit black at first using this toothpaste, but have no fear. When you rinse out your mouth, it'll be stain free and feel super clean.
You can store your homemade toothpaste in a small metal tin or a small glass jar you're repurposing.
PRO TIPS WHEN USING ACTIVATED CHARCOAL:
Be aware it can get pretty messy! Activated charcoal can stain things, so don't wear nice clothes while using this DIY.
The activated charcoal is a powerhouse ingredient which binds to grime, dirt and stains beyond the surface, drawing them out.
The activated charcoal may be a bit tricky to find plastic free, so keep that in mind.
You should be able to purchase activated charcoal plastic free online at the Refill Revolution though (along with other awesome ingredients for making DIYs).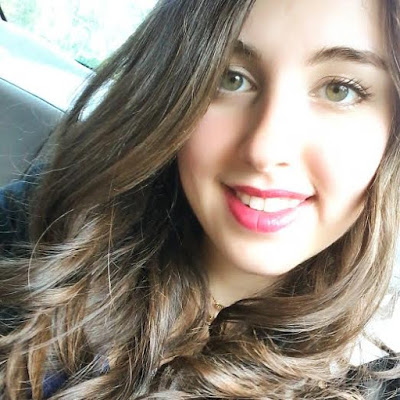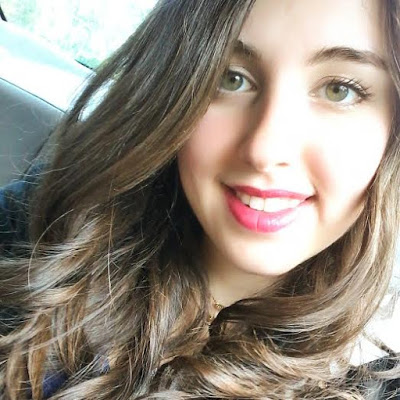 Guest Post: Ariana Palmieri is the founder of Greenify-Me.com, a blog dedicated to zero waste living and sustainability. Her work has been featured on MindBodyGreen, Green Matters, The Penny Hoarder and several other publications. Get her free e-book "10 Ways to Reduce Trash" by signing up to her newsletter and learn how to reduce your waste today.