6 Reasons to Try Nix Mouthwash
May 26, 2022 | Ariana
Last Updated on May 26, 2022
Take a walk down the oral care aisle and you're bound to see rows of single-use plastic bottles full of artificially colored liquids. The main reason they add colorants to mouthwash is mostly to help them stand out from competition – it doesn't have any health benefits.
Conventional mouthwash creates a lot of packaging waste. Think about it: The plastic cap on top wrapped in unrecyclable film plastic, plus the plastic bottle itself. While packaging should never be the only thing we focus on, it's certainly worth taking into account.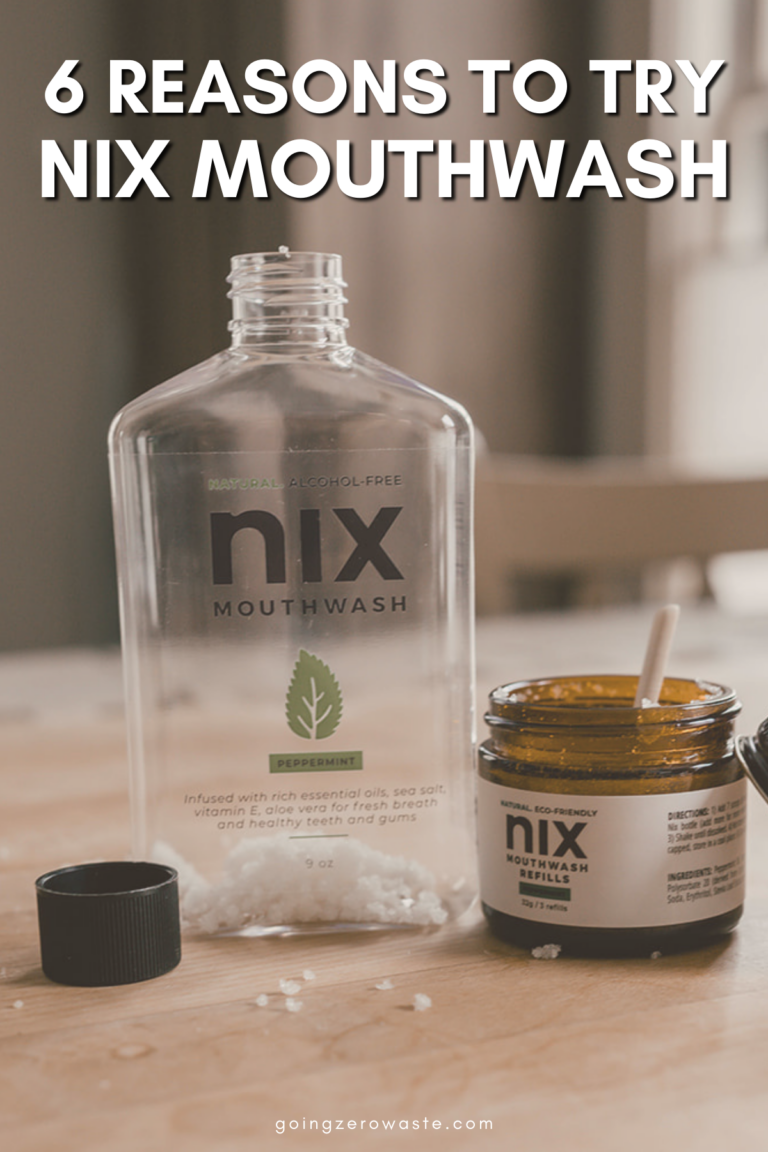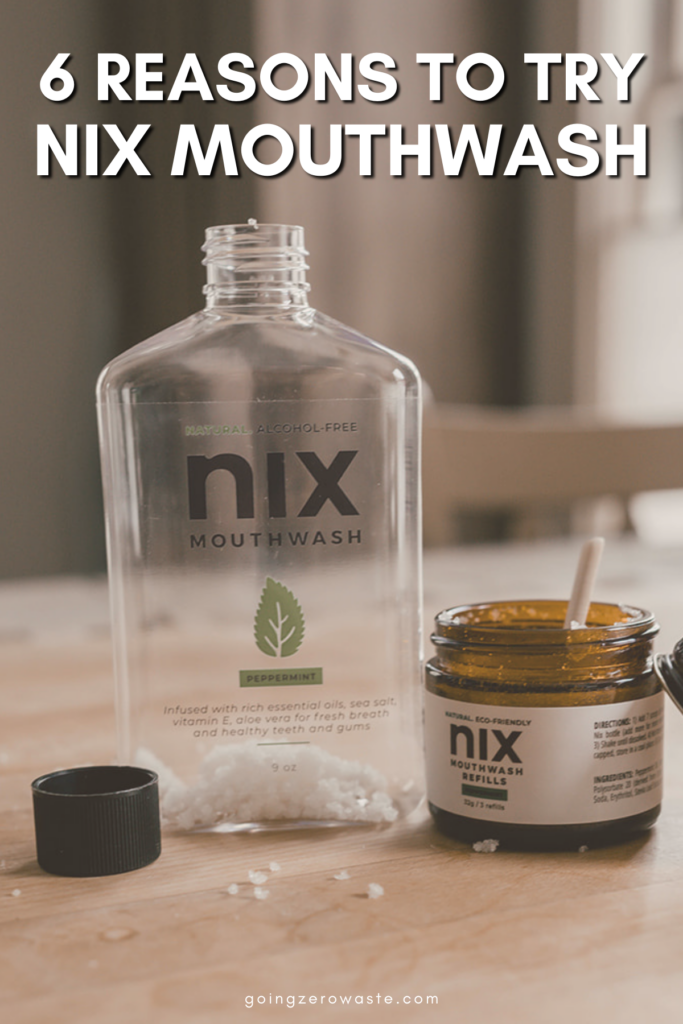 This post was sponsored by Nix Mouthwash. All thoughts and opinions are my own. For more information please see my disclosure policy.
On top of all that I've always had very sensitive teeth so finding a gentle mouthwash that didn't burn my gums has been really difficult. Most mouthwashes contain some type of alcohol, which can actually dry out the mouth and irritate the gums. In my case, my mouth would actually start peeling on the inside after using mouthwash!
Cheek peeling may be caused from sodium lauryl sulfate (SLS), which can be found in some mouthwashes and toothpaste. If you're experiencing this too definitely check with a dentist to get some insight on this, but never ignore peeling.
Thankfully, I think I've found a good solution. That's where Nix Mouthwash comes in. They've created an all-natural and refillable mouthwash that's gentle on the planet. Here's 6 reasons why you should try Nix Mouthwash.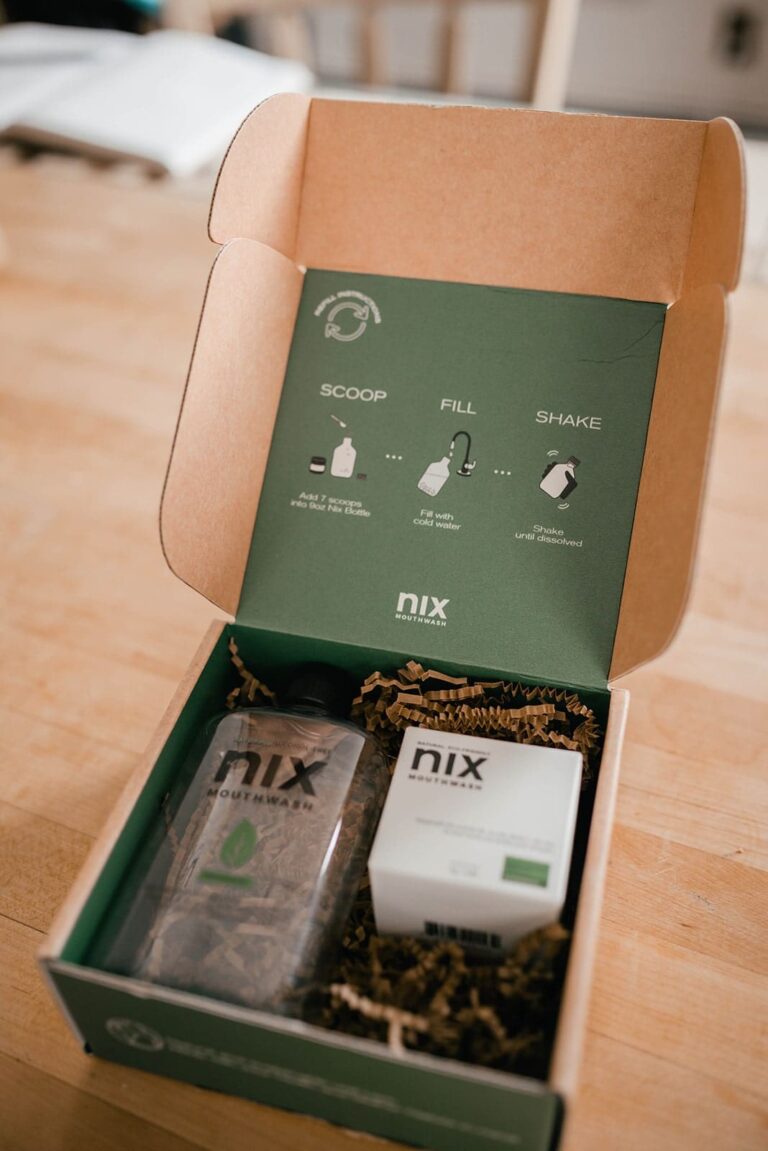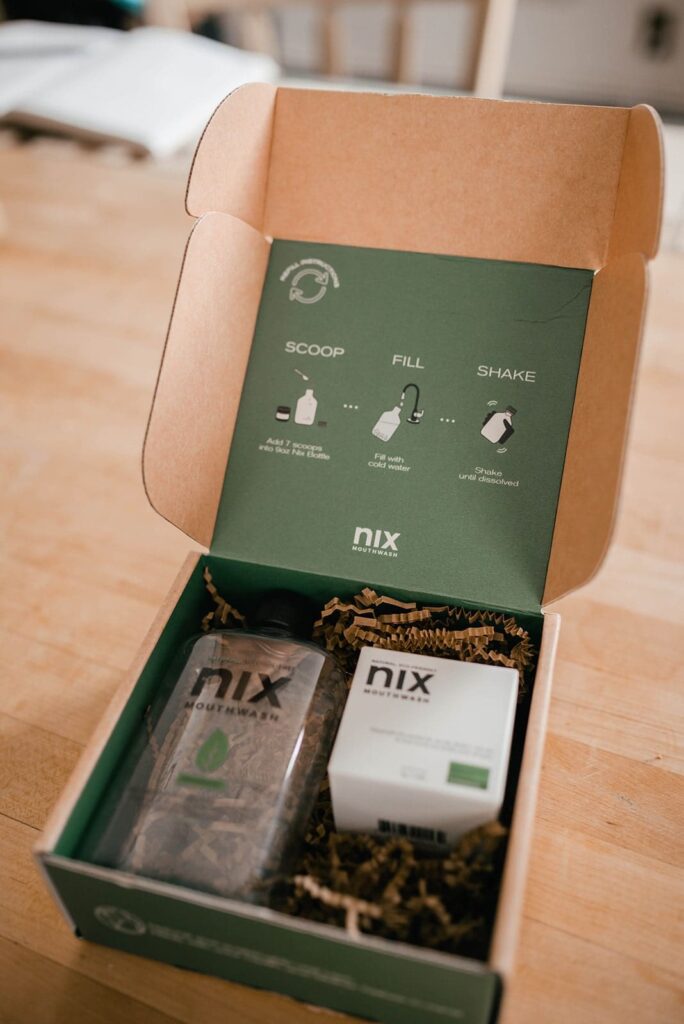 plastic free shipping
When Nix Mouthwash arrived at my doorstep, there was zero plastic packaging. It came in a cardboard box sealed with paper tape. Inside the products were cushioned with compostable shredded paper.
With more of us ordering items online, the recyclability of delivery packaging needs some work. Digital sales ballooned 71 percent in the second quarter of 2020 due to the pandemic, creating a wave of packages – and packaging – that's ultimately headed for the landfill, incinerator or the environment.
Fortunately, cardboard boxes, like what Nix uses, are recyclable. Just be sure to flatten them by slicing through the packaging tape before adding to the bin.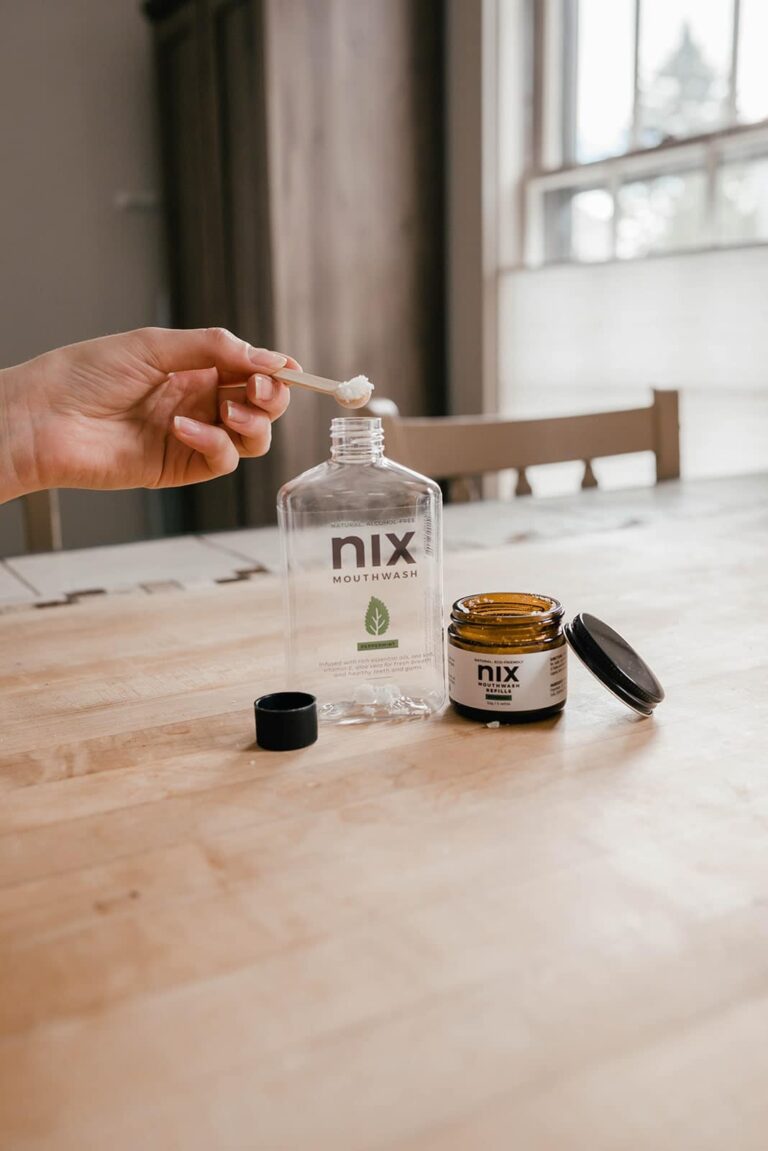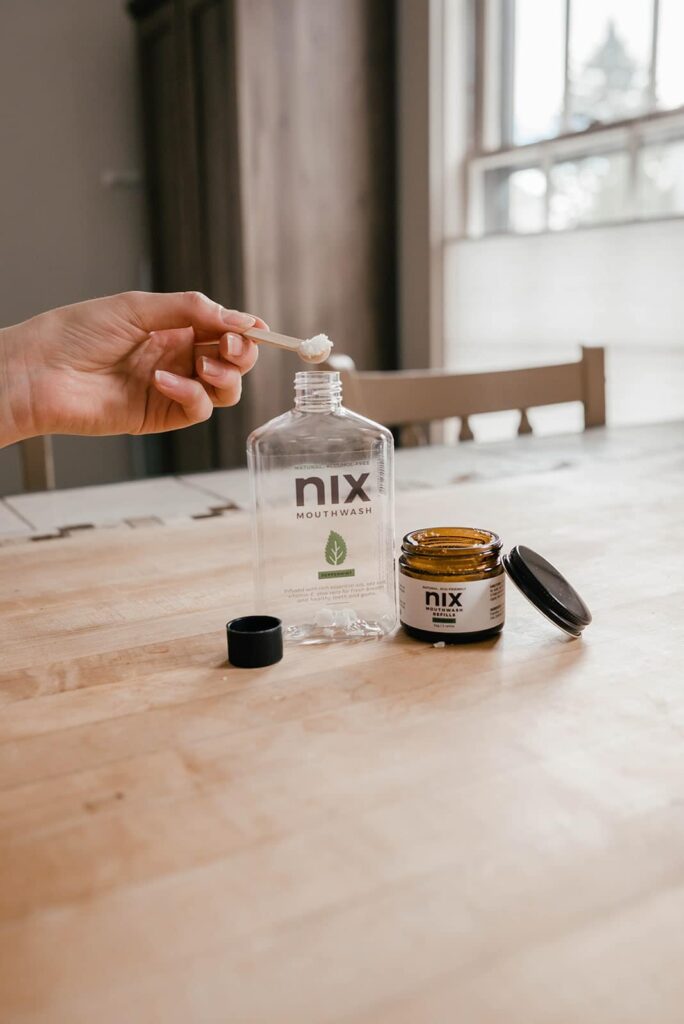 refillable product
Did you know each year, over 500 million plastic mouthwash bottles end up in landfills? That's enough to wrap around the earth three times!
Nix mouthwash changes that: While the 9oz Nix bottle is plastic, it's meant to be reused over and over again. The mouthwash refills come in a glass jar with a bamboo scoop.
You can also opt to use your own container if you prefer to avoid the plastic entirely (they'll deliver just the refill jar to you from the start – that's an option). For subscription orders, they send refills every three months.
The instruction for use is simple:
Add 7 scoops of mouthwash crystals into the 9oz Nix bottle (or your container of choice)
Fill it with cold water and shake until dissolved
Use like any other mouthwash!
Once you've emptied the glass jar of mouthwash crystals, don't toss them! You can reuse and upcycle them as plant holders, DIY candle holders, office supplies (think paper clips, staples, pins, etc.), or spice containers. The possibilities are endless.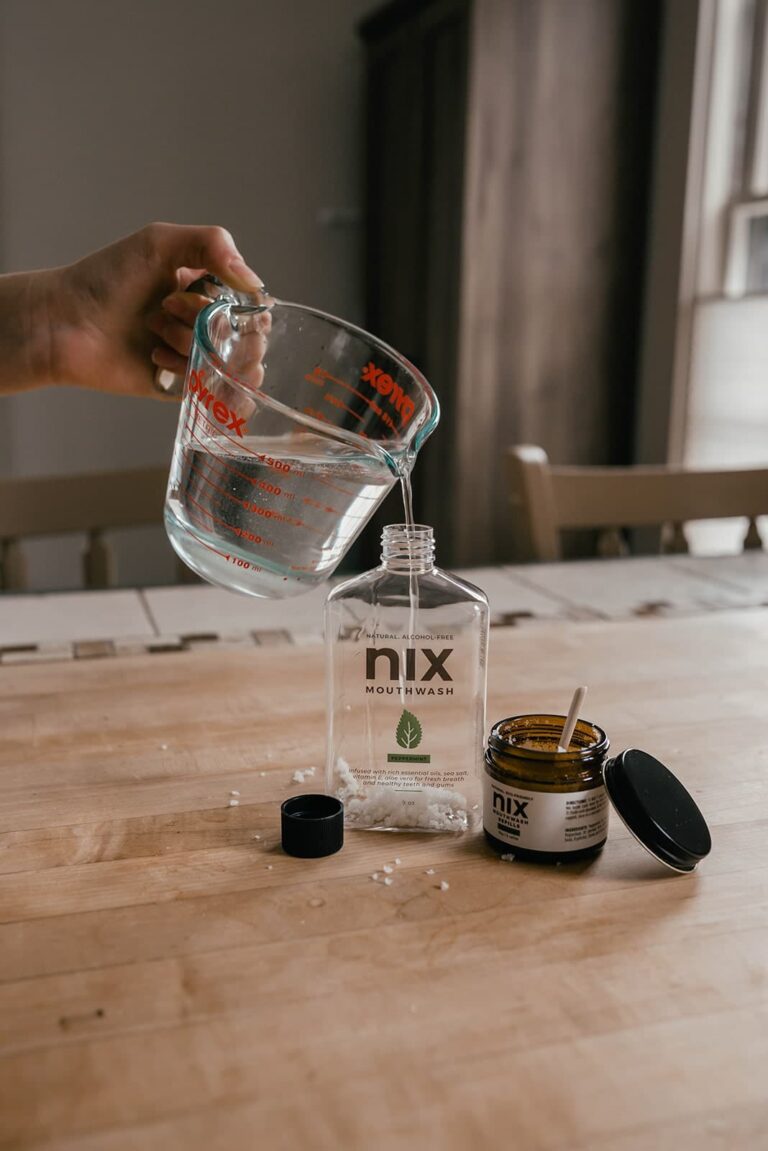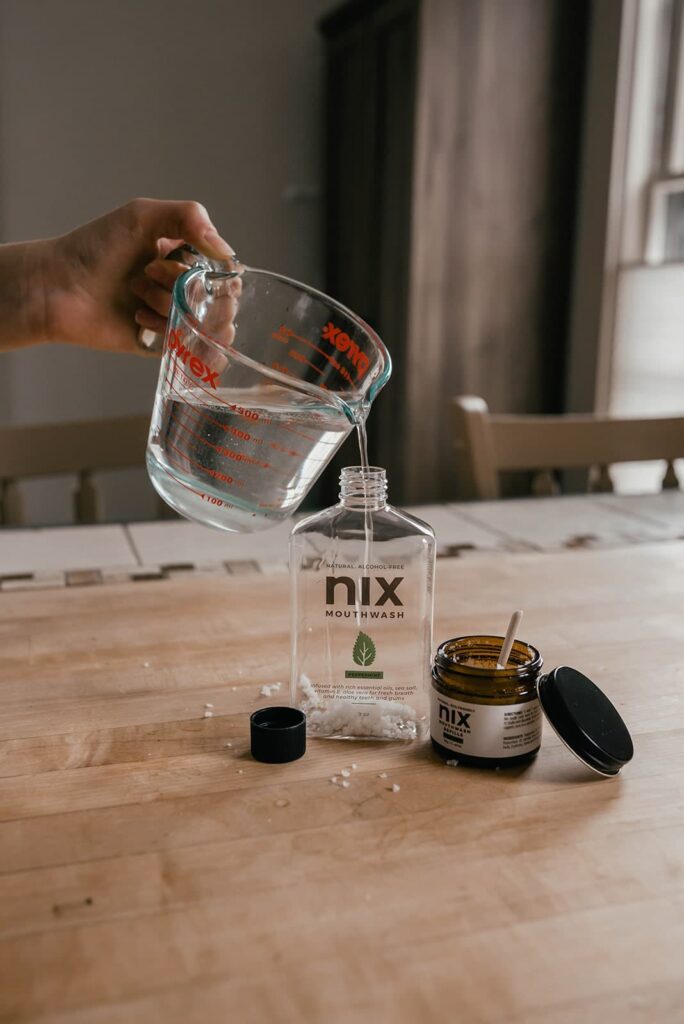 Reduces carbon emission and saves water
Water is a precious resource: Only .007% of the water on our planet is available to feed and fuel its 6.8 billion people. So it's incredibly important we conserve water where we can and keep waterways clean.
While the liquid inside mouthwash bottles contains water, the plastic bottle its packaged in also required water during the production process to be made.
To give you some perspective, it takes 3 liters of water to make ONE liter of bottled water. An average sized mouthwash bottle is 1 liter (aka, ~33 oz, not counting anything bigger).
Nix Mouthwash cuts this water waste down by selling refillable mouthwash crystals that come in a glass container. While they do sell a plastic bottle (which is meant to be reused repeatedly), it's only 9ozs which means it uses up a lot less water to make. Plus, reusing the Nix bottle repeatedly would more than make up for the water it took to produce it. And of course, you always have the option of using your own bottle and just purchasing the refills from the start.
Their refills also reduce the carbon footprint because they're not shipping around liquid (which weighs more). Liquid mouthwashes are 95%+ water after all. The liquid mouthwash equivalent to Nix's non-water refills is ~6x heavier, so Nix is essentially saving 6x the carbon emissions.
Because there's less packaging to worry about, Nix Mouthwash has a much smaller carbon footprint when it comes to transportation. The flat square packaging means they can load up much more product into a truck than conventional mouthwash (which ultimately means less trucks on the road!).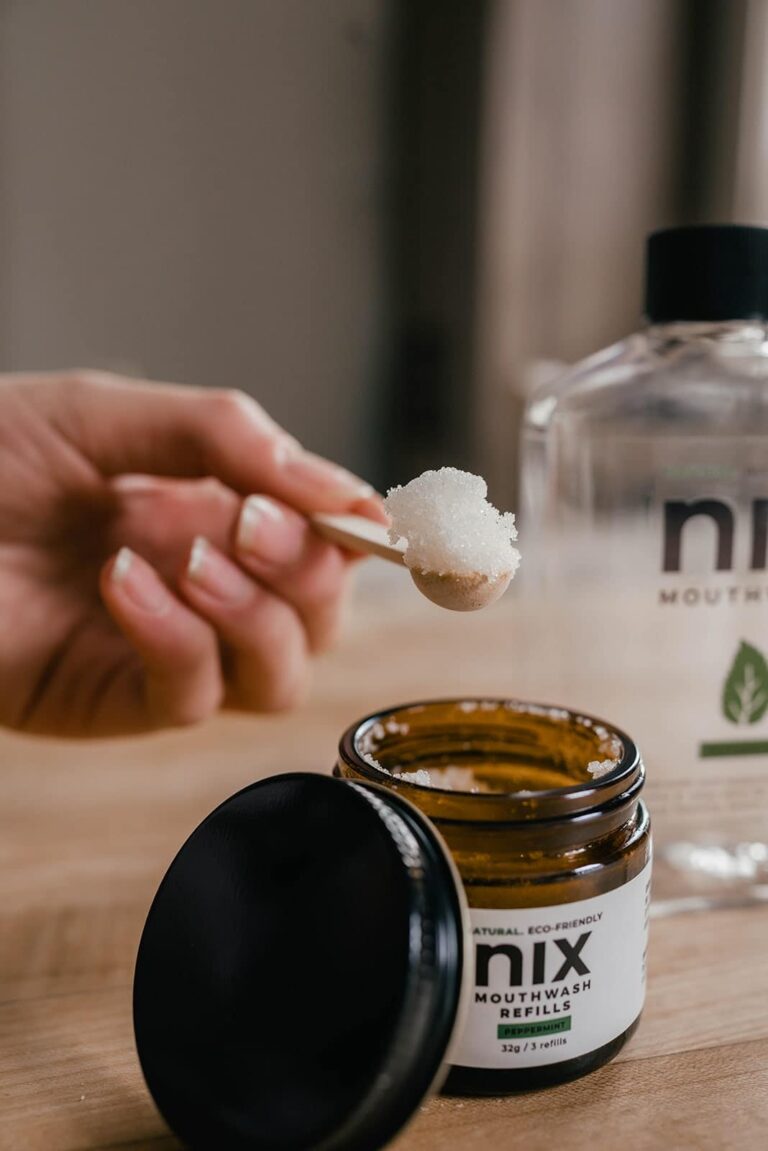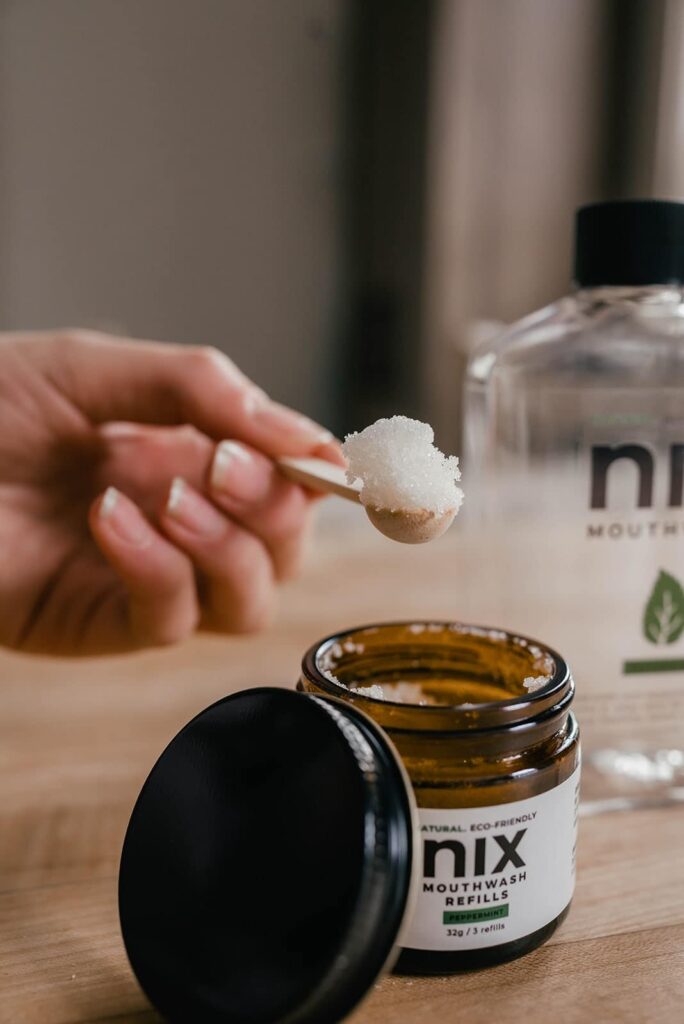 natural, non-toxic ingredients
Unlike conventional mouthwash which is full of chemicals, preservatives, and artificial dyes, Nix is made with only natural and non-toxic ingredients. Conventional mouthwash ingredients may even destroy the bacterial balance in your mouth, cause imbalances in pH levels, and just mask bad breath (instead of treating it).
Nix has meticulously researched and experimented with the highest quality natural ingredients to create their formula. When you look at their label you'll see only 10 ingredients, all of which are naturally derived.
FYI, the ingredients in mouthwash also get spit down the drain which means they end up in our waterways. And depending on the ingredients in the mouthwash, that can lead to waterway pollution.
Some problematic ingredients in conventional mouthwash include sodium lauryl sulfate, polysorbate, cetylpyridinium chloride and benzalkonium chloride – all of which have been shown to be toxic to organisms in the aquatic environments where these chemicals end up after we spit them down the drain.
Nix Mouthwash knows what we put in our mouths, and down the drain, are equally important. That's why their products are nontoxic to both humans and aquatic ecosystems.
Here are some of their highlighted ingredients.
peppermint oil
Derived from peppermint leaves, reduces bad breath more effectively than some chemical mouth rinses.
vitamin e
Antioxidant known to prevent oral cancer, repair tissue damage and increase immunity.
aloe vera
Fights gingivitis and other periodontal diseases; controls bacteria that causes cavities and plaque more effectively than some commercial toothpastes.
sea salt
Fights bad breath and gingivitis and heals wounds and infections in the mouth.
erythritol
Cavity fighting natural sweetener that inhibits plaque and gingivitis causing bacteria.
stevia leaf
Possesses therapeutic effects against tooth decay, inflammation, obesity, diabetes and cancer.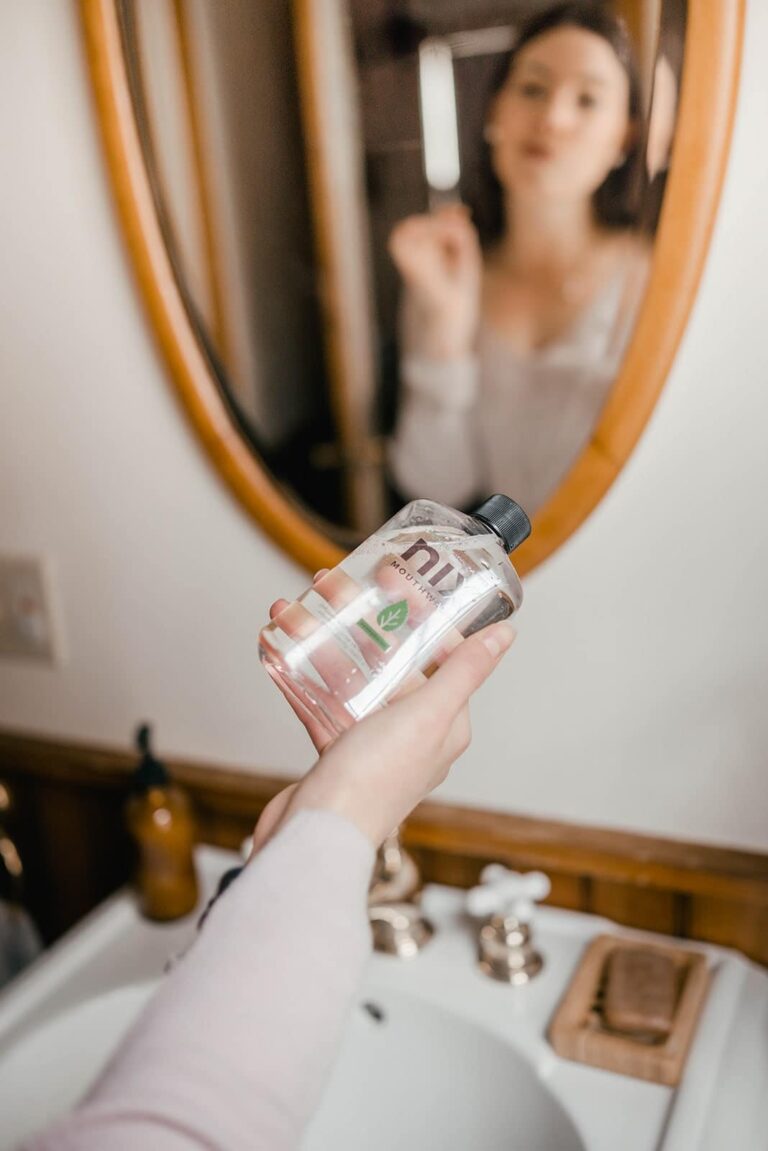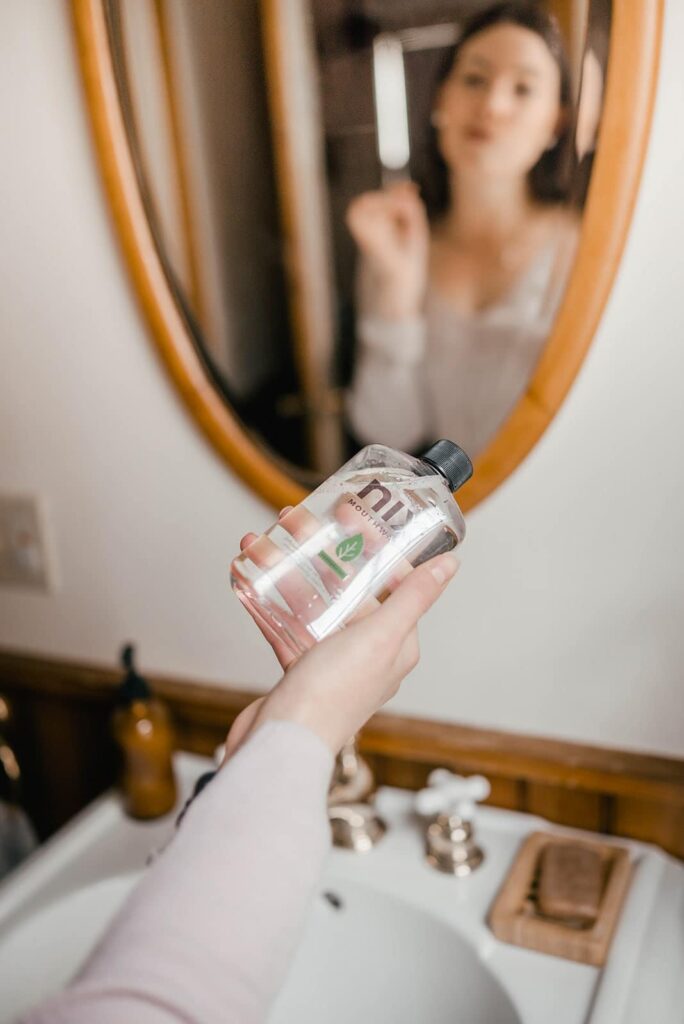 gentle but efficient
One of the best qualities of Nix Mouthwash is that it's gentle. This is in part due to the fact it contains no alcohol whatsoever.
Not sure about you, but my mouth often burns after using traditional mouthwash. It doesn't leave it feeling great or refreshed, but in discomfort. I can't spit it out fast enough.
With Nix, while the peppermint oil used provides a minty fresh sensation that's cooling, it's not overpowering. It thoroughly rinsed my mouth without any burning sensation, and I don't feel I have to hurry the process along. It has a very pleasant taste.
If you prefer even more minty freshness, you can add up to 15 scoops instead of 7 scoops of the mouthwash crystals. But 7 scoops was more than enough for me.
Recently I had to go to the dentist for my checkup and cleaning and I'm convinced using this mouthwash, along with regular flossing and brushing, helped me out a ton!
Usually, my gums bleed a lot during a cleaning, but this time around, I barely bled at all. My hygienist was really impressed and told me to keep up whatever I'm doing – so Nix Mouthwash really works.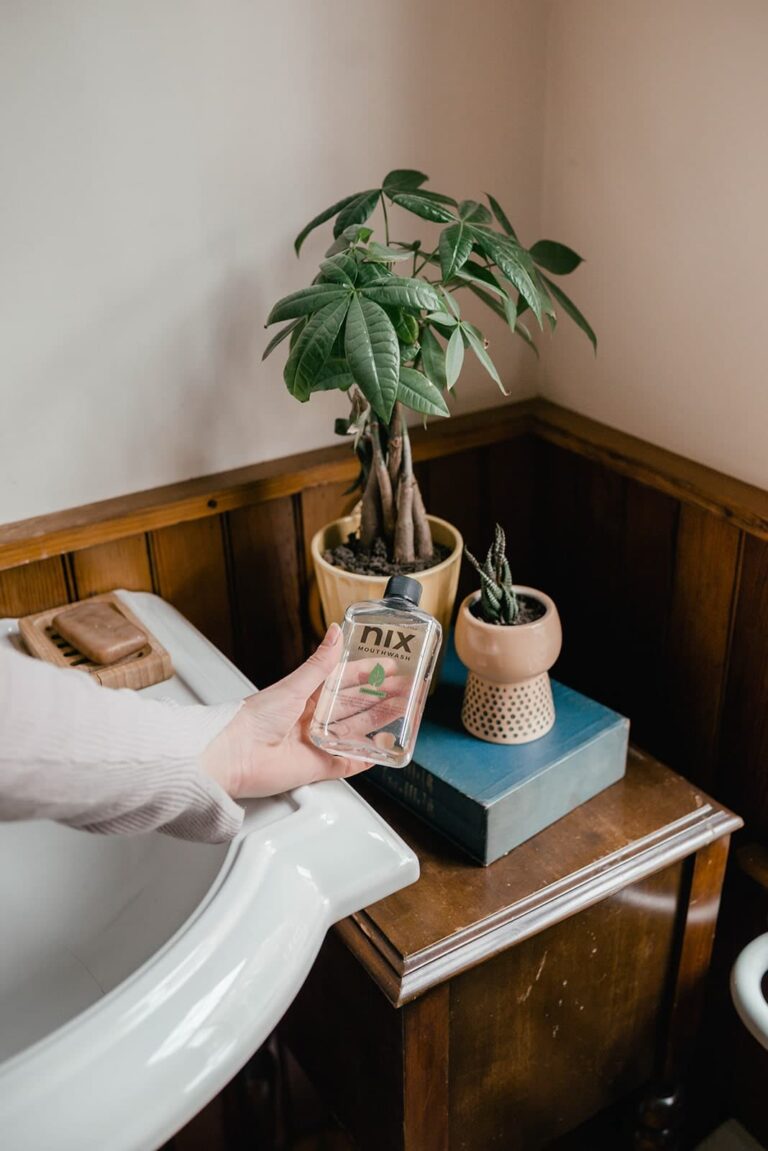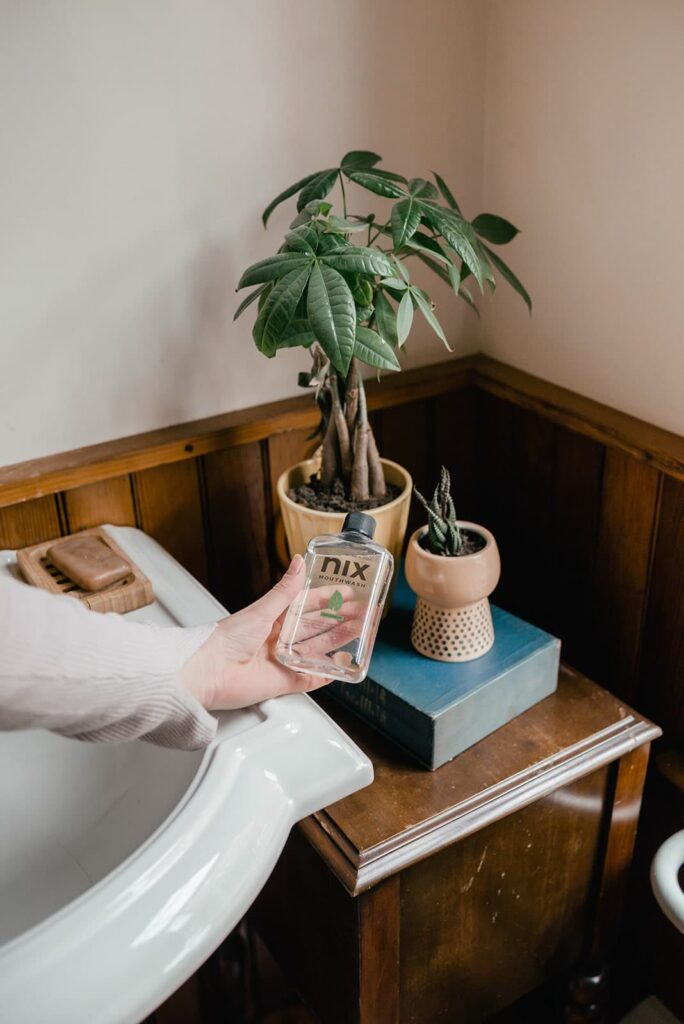 gives back
On top of all this, Nix gives back by donating 10% of their profits to non-profits that tackle environmental issues and help underprivileged children receive adequate dental care in the U.S. and abroad.
They partner with organizations like Global Dental Relief, which sends volunteer dentists to rural communities every year. In some countries, many children have never seen a toothbrush. This organization helps provide access to toothbrush and toothpaste which can prevent significant health problems like infection, heart problems, or even death.
For me, it's important to see a company giving back because this shows they're not just thinking about their bottom line. Nix has a triple bottom line that puts planet, people and profit into the equation which is something more brands should do.
I'd like to thank Nix Mouthwash for sponsoring this post. Would you consider switching to their mouthwash? Head over to their website for more information.