The BEST All Natural Deodorants: 18 Brands that Actually Work
April 1, 2021 | Kathryn Kellogg
Last Updated on April 14, 2023
Looking for an eco friendly and sustainable all natural deodorant? It can be difficult to find one that actually works. I've tried a bunch to hopefully make that decision a little easier!
Zero waste deodorant is a healthy, effective swap for wasteful plastic packaging and unhealthy ingredients. These 18 brands each offer an eco friendly deodorant that still smells amazing while keeping the environment safe. Plus, every plastic free deodorant listed here is effective and safe for your body! These 18 brands are vetted by me for a zero waste deodorant you know you can trust.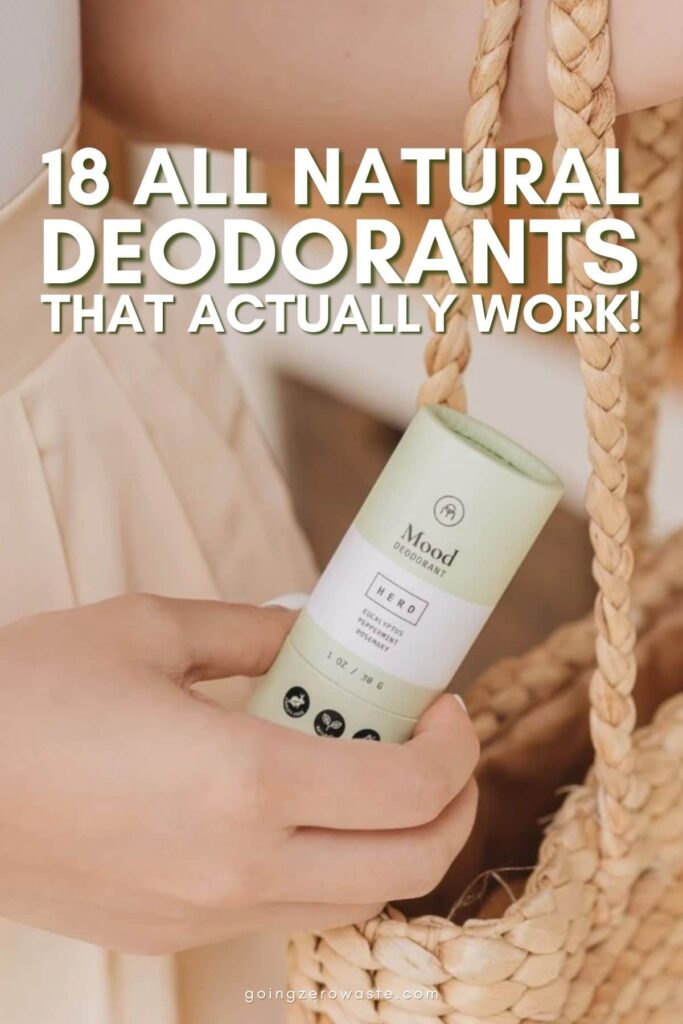 Some of the links below are affiliate links. For more information please see my disclosure policy.
healthy, plastic free deodorant
Deodorant is one of the first things I switched when moving to a more natural lifestyle, because it can be full of questionable ingredients like aluminum and parabens that I'd personally rather avoid.
Beyond that, a lot of deodorants are packaged in single-use plastic pushup containers that you can't recycle curbside. Don't forget — the smaller the container, the more likely it is to get lost in recycling facilities. Check out my recycling series for more tips on how to recycle the right way!
A few brands are partnered with Terracycle, which is a step in the right direction, and more innovative packaging is hitting the market every day.
But, no matter how good the packaging or how clean the ingredient list on the eco friendly deodorant — it still has to, ya know, work.
I've tried each all natural deodorant from the first 7 brands on this list and will be giving you my honest review.
zero waste deodorant and sweat
Just so we have a base line — when I was going through puberty, I was an over-active sweater. I used prescription strength deodorant that was so strong it stopped ALL sweating under my arms. My pores were blocked with so much aluminum, it was undoubtedly a contributor to my hormone imbalance.
I detoxed my armpits almost 10 years ago and switched to natural deodorant. Now, I think a combination of detoxing, ditching toxins, choosing natural fibers, and getting older all resulted in me sweating less.
Plastic fibers like polyester are not breathable, so they make you sweat, and more often than not — stink! Read more in my post about plastic fabrics and microplastics.
I work out almost daily. I do a broadway workout class twice a week, Jazz dance class once a week, hit the gym for weight lifting and HIIT 2-3x a week, and walk Nala an average of three miles a day.
I'm pretty active, so these all natural deodorants have to keep up. I've tried seven of them on the list and will continue to update this blog post as I try more.
Also, feel free to let me know in the comments which sustainable deodorant you'd like for me to try next!
why you'll love eco friendly deodorant
These brands offer plastic free deodorant that doesn't contribute to landfills and is recyclable.
These brands offer natural solutions to body odor without any of the common questionable ingredients of traditional deodorant.
They work! These brands will keep you feeling fresh and odor free all day, even if you're active.
how to choose an all natural deodorant:
Before we get into the sustainable deodorants I've tried (or would like to try), let's talk about what I look for. There is A LOT of natural deodorant on the market, and they're not all created equal.
naturally derived ingredients:
I always like to check my ingredient labels and look for things like certified organic, ethical and/or local sourcing, and naturally derived ingredients sourced from plants like trees, fruits, flowers, clays, etc.
I avoid parabens — you can spot them pretty easily, because that's what they end in. For example, a few common ones in beauty products are methylparaben, propylparaben, butylparaben, and ethylparaben.
I also avoid aluminum, sulfates, and phthalates. Everything I've included on this list meets that criteria.
thoughtful packaging:
Packaging is important to me, but it's not the only thing that's important to me.
There are a lot of factors to consider when making a purchase. Sourcing, ethically made, workers being paid a fair wage, ingredients, etc.
Packaging, of course, is one of them. But, something that is packaged in plastic isn't an automatic no for me if it's excelling in every other area.
That being said, most of the products listed in this post are low waste, if not completely plastic free. There's a mix of all natural deodorants in glass jars, metal tins, cardboard push up containers, and even refillable options!
a quick note on skin sensitivity:
Lots of natural deodorants have baking soda, which can irritate sensitive skin, so I've made sure to note if a brand has a baking soda free option available!
And if you're feeling adventurous and want to try making your own deodorants, try out a few of these DIYs:
and a note on scent:
Coconut formulas don't work super well with my body chemistry. I try to avoid that scent, and that's worked really well for me! So, if you've only tried a natural deodorant that didn't work well for you in that scent, I'd recommend another one.
the best all natural deodorant that actually works!
faqs
what makes a sustainable deodorant?
In order for a deodorant to be sustainable, it needs to use natural, sustainable ingredients, be aluminum free, and come in glass, metal, or recyclable packaging for a truly zero waste deodorant.
how long do natural deodorants last?
This obviously varies by brand, but many of these companies go a long way! Many will last up to 3 months (or even longer!)
Have you tried any of these all natural deodorants? Would love to hear your favorites in the comments below!