Lust Worthy Sustainable and Ethical Holiday Party Dresses
December 13, 2018 | Kathryn Kellogg
Last Updated on September 15, 2020
Typically, whenever I say I'm going to write a short blog post… I can't do it. I wind up speaking at length about any and everything.
I think it's one of the things that makes my blog great, but sometimes I just want to write a quick post just for fun.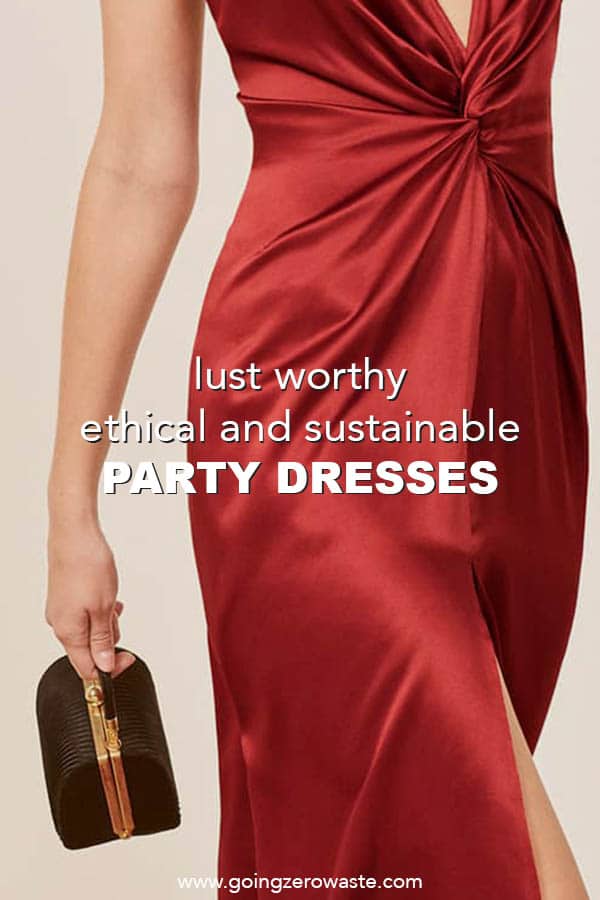 And, that's what this post is supposed to be! Short, sweet, and a lot of fun.
I started looking for ethical party dresses for the holiday season and fell in love with so many, I thought you might want to see them too.
I'll start with the two dresses that I bought this year. I got this wrap dress from Amour Vert an ethical company that focuses on sustainable organic fabrics made locally in San Francisco and this one from Reformation which uses dead stock fabrics and made in Los Angeles. I got the Reformation dress in Navy, but the green is SO very festive!
If you're looking for some styling tips, check out this post.
All of these dresses are linked in order left to right and top to bottom! Some of them might be affiliate links.
I LOVE this slinky number from Reformation. It feels so festive and just a touch of

sexy without being over the top.

This is a new designer I just found called Emerson Fry, and I'm LOVING this disco ball dress is made in NYC. It's just what I want to look like on NYE.

This dark green dress from Reformation is the one I linked to up above.

Nanette Lapore is another new designer I recently found. Their clothing is made in New York and they have some especially festive pieces. I love this very 80s reminiscent dress. While hot pink might not be the first color that springs to mind when you think of the holidays, I think it'd be so perfect to sip champagne and watch the ball drop.

Black Halo has to have the BEST holiday selection. Emerson Fry had a silver sparkler Black Halo has a slinky gold number and even one in forest green. If you want to sparkle you've got to check out their site.

Lastly is another Nanette Lapore called the Fire Breather and honestly – it totally reminds me of being a dragon! It's just so festive for ringing in the new year and screams PARTY DRESS!!
I had so much fun putting this guide together. I hope that you enjoyed it and maybe stumbled onto a new sustainable fashion brand.
Let me know in the comment section, if you'd like to see more guides like this in the future.
I love supporting sustainable and ethical brands because I want to see ethical and sustainable companies to succeed.
But, I also love shopping secondhand too! I'm sure you could find something extra festive at ThredUp – a great place to order the perfect festive dress.