Zero Waste in San Diego
November 5, 2019 | Kathryn Kellogg
Last Updated on April 11, 2020
I took a little vacation last week.
I met up with my mom in San Diego! She still lives in Arkansas so we don't get to see each other very often.
I thought it would be nice to meet up in a little beach town for a fun Mother / Daughter weekend.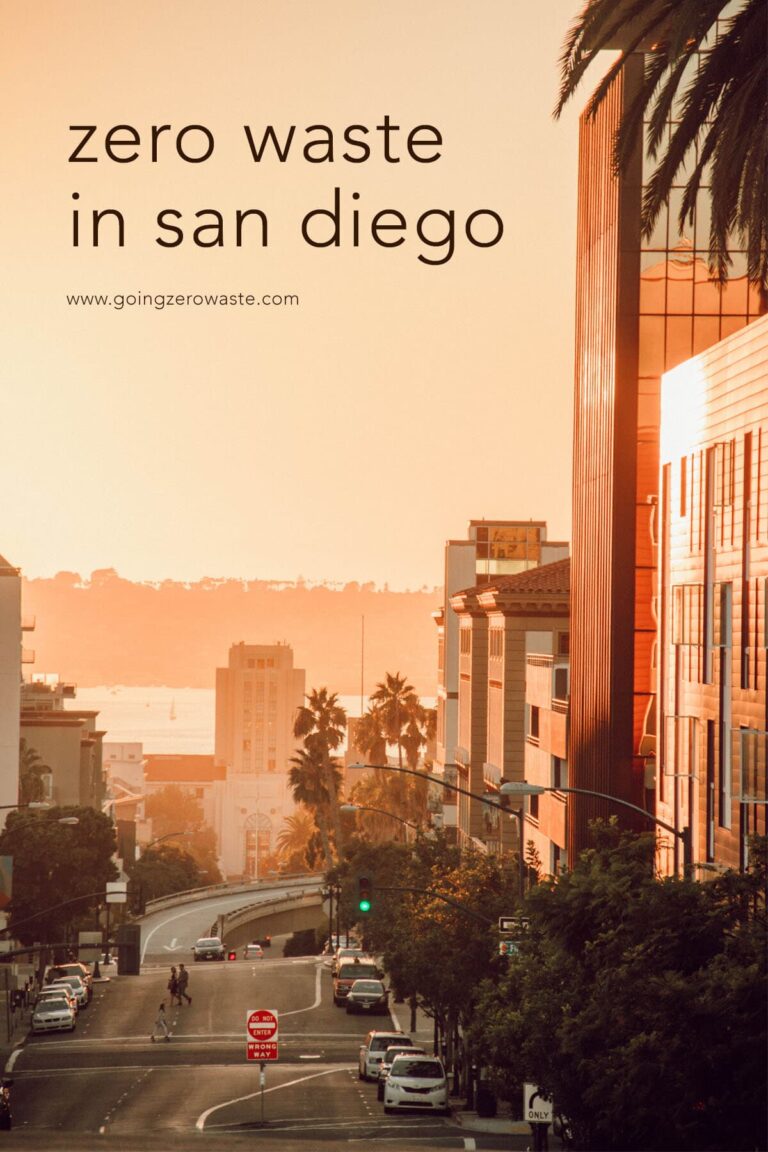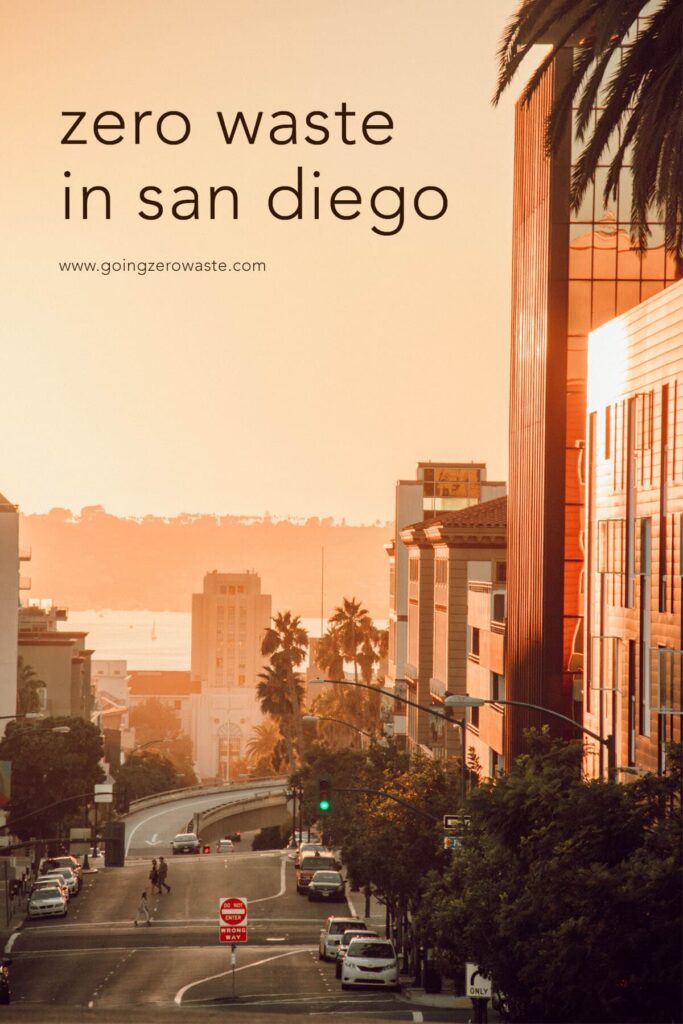 We didn't stay in San Diego very long, but I really wanted to round up some of the neat places we visited!
I looked all over the internet to find cool zero-waste/eco-friendly places to frequent in SD and it was a little tough finding a definitive guide.
So, if you're reading this to prepare for a trip to San Diego – let me just tell you – you're going to have a great time!
where to stay:
We stayed at the Catamaran Resort which has managed to divert 70% of their waste from landfill and have onsite composting – which is something I struggled to find in San Diego.
Their restaurants are also Ocean Friendly certified by Surfrider.
We ordered room service for dessert, (more than once!) and I've got to say the skillet brownie was the best on the menu.
The Catamaran has a private section of beach where you can lounge as well as great walking paths.
My mom and I strolled around the inlet every evening.
The Catamaran also has a ship called the Bahia Belle which is a fun little cruise that pings back and forth between its sister resort the Bahia.
There's dancing and drinking onboard. We, unfortunately, didn't get a chance to catch it, but I plan on visiting again and will make it a priority to hop on!
The hotel was also VERY close to the boardwalk with lots of good places to eat with amazing views.
And, lastly, I have to talk about the spa!
OMG. The spa was incredible. We both got a massage, but we had access to the spa all day long.
Between the steam room, sauna, and relaxation room we were very content to spend our morning sipping cucumber water and letting the stress from the outside world melt away.
The spa had a great selection of green beauty products, but I was pretty excited to find Coola there.
If you're looking to pick up some reef-safe sunscreen in SD now you know where to go.
where to eat:
Tacos. Tacos. Tacos. Who doesn't love tacos!? I had tacos and margaritas for almost every meal and I'm not complaining.
I found San Diego to be very vegetarian friendly, but it was a little tough for vegan food.
However, there is a Café Gratitude in Little Italy!
Honestly, I wish I had more time in San Diego to eat, visit the museums, and spend more time in Balboa Park.
La Playa Taco Shop:
OMG. These tacos! If you're staying at the Catamaran, this shop is right around the corner.
Neither my mom nor I are big eaters so we split a lot of meals. We got three tacos to share, but these were SO good that we ordered two more.
Cafe Coyote:
Cafe Coyote have an extensive vegetarian menu, but I really went here for the tortillas! I honestly wish I had brought some home.
Oceana Coastal Kitchen:
The Oceana Coastal Kitchen is a nice restaurant at the Catamaran Resort.
We ate dinner here and had a wonderful time! The Cadillac margarita was my go-to and we also loved the three mushroom flatbread and the yasai roll.
Buon Appetito:
We loved our dinner at Buon Appetito!
I could have feasted on the bread and marina served at the beginning of the meal all night long!
Their red sauce is some the best I've ever had so we kept it simple with just noodles and red sauce! Of course, we also got some chianti.
Their portions are very big so if you're not a big eater I do recommend splitting.
Baja Beach Cafe:
The Baja Beach Cafe place was SO fun. I did not order a margarita here because we went for breakfast, but I definitely plan to stop in again.
My mom and I split the pancakes and a skillet breakfast.
Harbor Breakfast:
Harbor Breakfast is absolutely darling! Great food and I loved sitting at the counter, it's definitely a must for breakfast.
I love to eat roasted potatoes and fruit for breakfast and this place did not disappoint.
My mom and I also split their pumpkin pancakes. I wasn't super crazy about them, but my mom thought they were amazing!
where to drink:
LJ Wine Bar:
The LJ Wine Bar is an absolute MUST. They're a completely zero-waste winery and tasting room.
Even the labels are reusable – how cool is that!
We picked up two bottles to enjoy while we were in SD and then returned the bottles to be refilled and reused.
Water Bar:
The drinks and view can't be beat at the Water Bar. My mom and I enjoyed some cocktails and relaxed for the afternoon – it was honestly perfect!
Mom got a rum and cherry coke which was stellar.
Babcock & Story:
Babcock and Story is associated with the Coronado Hotel. I love Coronado Island with its golden sand, so making a pit stop at the hotel bar was on my must list.
My mom and I enjoyed a cocktail, the view, and a little snack. It was lovely!
what to see:
We didn't have a ton of time to visit museums as we weren't in town for too long, but we did a hop-on, hop-off trolley tour which I absolutely LOVED!
We stopped off in Old Town where we toured the Mormon Battalion Museum and got some fresh tortillas.
We hopped off on Coronado Island to enjoy the golden sand beaches and grab a drink at the hotel bar.
We also walked around seaport where we rode the antique carousel, and then we finished in Little Italy where we ate some DELICIOUS pasta!
Of course, if you're visiting you should also make a point to visit Balboa Park!
Have you been to San Diego? I would love to know what you enjoyed doing while there!