Zero Waste at Disneyland
August 31, 2018 | Kathryn Kellogg
Last Updated on January 2, 2023
With a little preparation, you can enjoy a zero waste Disney adventure! Disneyland planning is fun and will get you excited for your trip!
Realistically, most of us don't think of any Disney destinations as zero waste. While you can't control the resources used to operate a Disney adventure, you can plan ahead and opt for zero waste options. We will discuss the Disney trip must-haves, Disneyland planning tips, and Disneyland restaurants.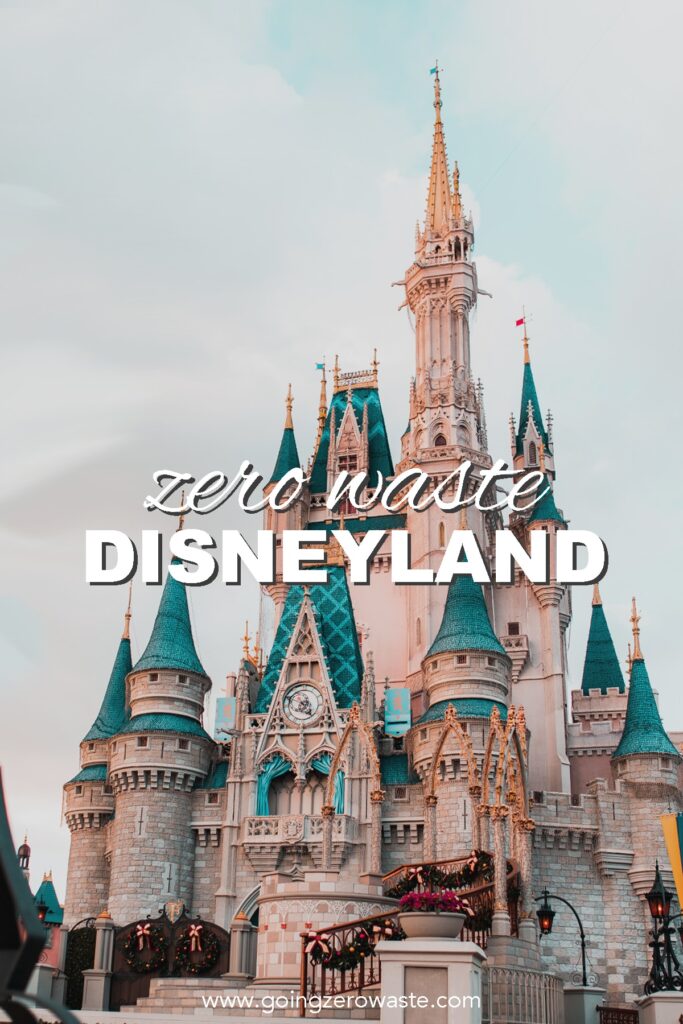 This post was sponsored by Rewilder, but all thoughts and opinions are my own. For more information, please see my disclosure policy.
disney adventure
A while back, I went to Disneyland for my friend's Bachelorette party! I was pretty excited to attempt zero waste during my Disney adventure.
I went in with pretty low expectations because this trip wasn't about me. This trip was about my friend and hoping that she had the best bachelorette weekend EVER!!
However, I still took a lot of strides to prevent as much waste as possible.
If you're a bride-to-be or a bridesmaid, check out my zero waste bachelorette party for low waste inspiration.
While this article is geared towards my experience at Disneyland, it really doesn't matter which of the Disney destinations you will be going to. It's all pretty relevant information.
disney trip must haves:
We went to LA on a Friday and left on a Monday. We went to the park for two days and lounged by the pool for a day. Every night we went out and did something fun like bowling, dinner, etc.
So, I packed two pairs of shorts, four tops, three dresses, a swimsuit, coverup, and pajamas. I also packed a pair of tennis shoes for the park, flip-flops for the pool, and sandals for going out. I also managed to get it all inside of my new favorite backpack from Rewilder!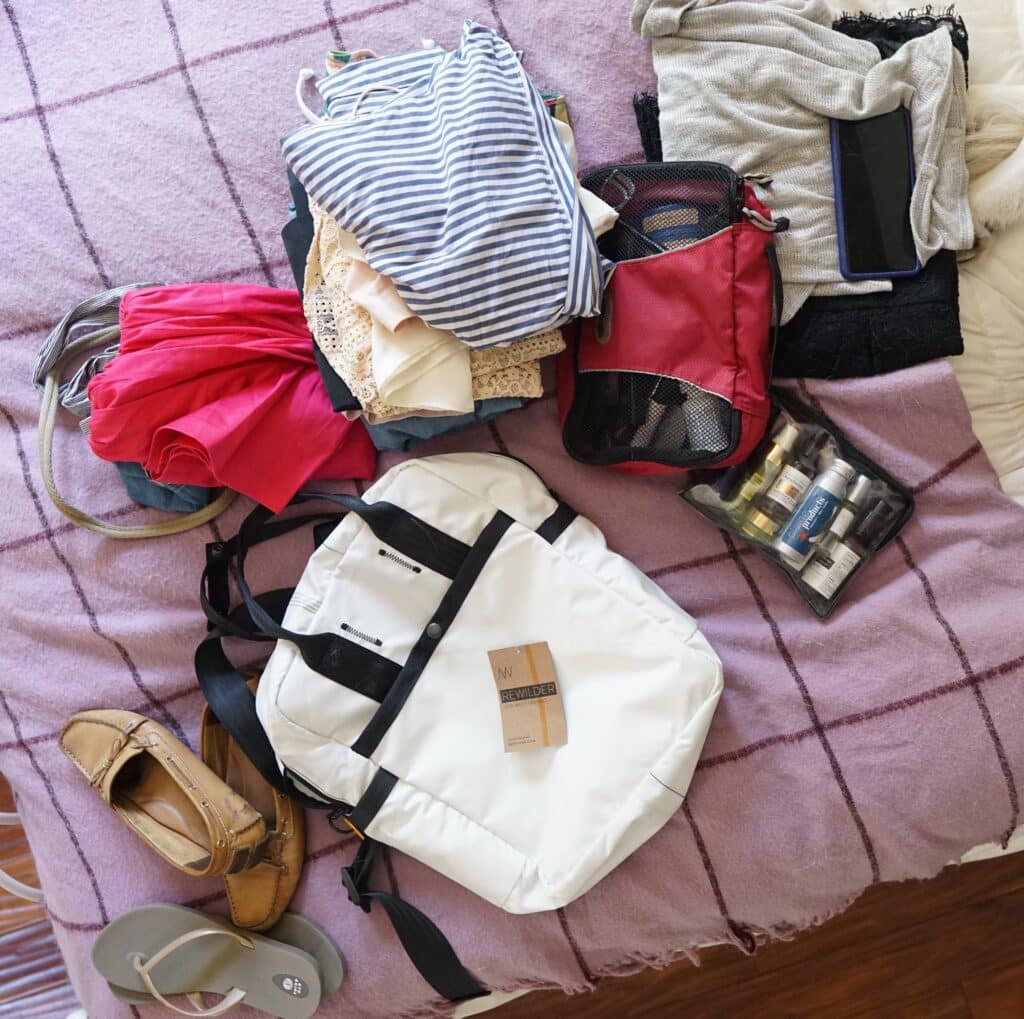 The backpack was a gift, and I am loving it! It's sleek, stylish, and surprisingly fits a TON without being overly bulky.
Seriously, watch my video and you can see how I fit all of that and my toiletries into the bag for our Disney destination weekend.
When Rewilder reached out to me, I was really impressed by their ethos. Their backpack is made out of 100% pre-consumer waste. It's a zero waste operation, and they're made in LA.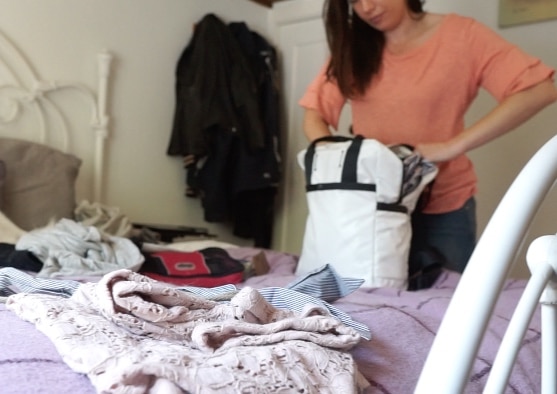 The backpack is made out of unusable airbag material, and the handles and straps are made out of safety belts that were rejected by auto manufacturers. The airbag material is also completely waterproof!
Perfect when you've got your laptop and are caught in a downpour. You don't have to worry about your precious electronics fritzing out.
One thing I love about the material is how easy it is to clean. We all know how hard it is to keep white things white, but the airbag material just wipes clean
disneyland planning:
Two of the most important things I brought were my water bottle and sunscreen!
I got a 12oz Klean Kanteen with a cafe lid perfect for coffee or water while in the park. Several people reached out to me through IG to let me know that the cafe lid leaks.
I asked Klean Kanteen about it and they told me to tighten the screw on the lid, and that fixed the problem! If you have a cafe cap, make sure that you tighten the screw on the lid so it won't leak in your bag.
When it came to suncreen, I bought a bottle of Aesop's sunscreen because all of their products are packaged in glass. I thought it would be a pretty good option.
So, I went to the store where the clerk got it for me and put it in my own reusable bag. When I got home, I realized that the bottle was actually plastic. I was pretty bummed, but it worked really well!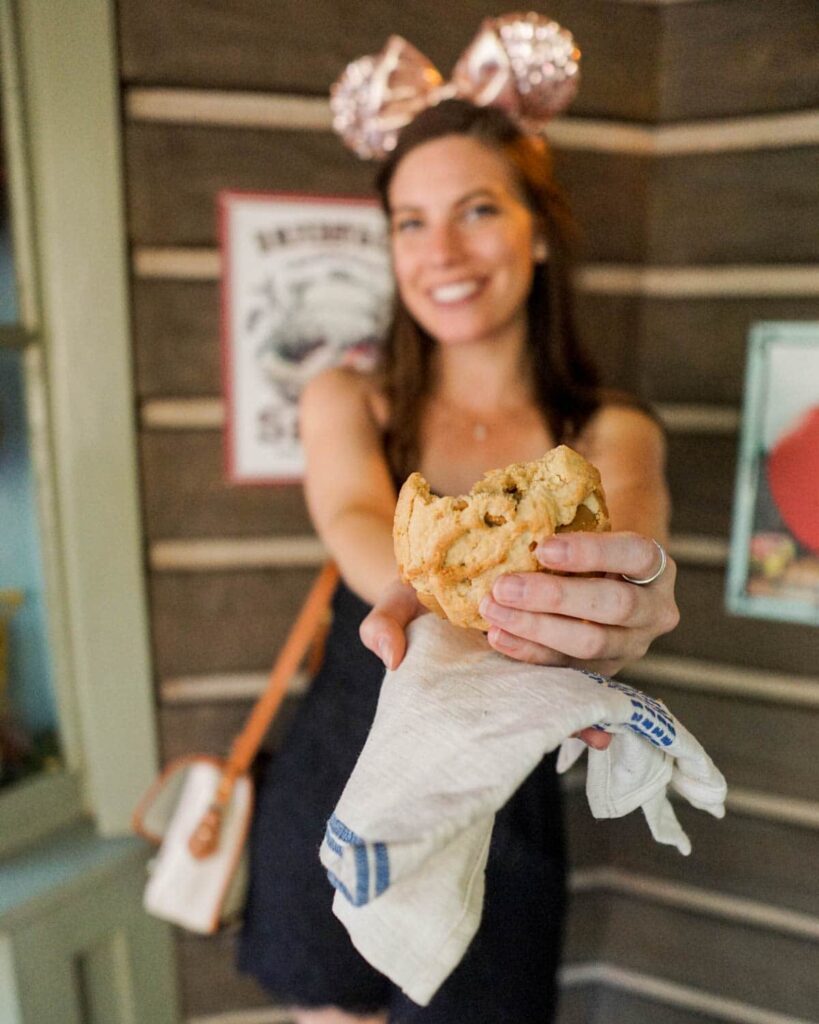 It does appear that they also have sunscreen in a metal tube, which might be one of the best options currently on the market. I really haven't found many options when it comes to buying sunscreen.
So, I also used my Marie Veronique tinted SPF on my face which is what I use every day as foundation.
I applied twice at the park (12+ hours) and didn't burn a bit! I'm pretty good about picking out shady spots.
I typically wear a hat too, but we all wore matching Minnie ears.
Water:
Make sure that you bring a metal water bottle with you. Disney doesn't allow glass containers in the park. I had my sunscreen decanted into a small 2oz glass bottle, and that was small enough to be let through, but they certainly wouldn't allow a glass mason jar.
There are TONS of water fountains all around the park. They are everywhere, even several while waiting in line for rides.
There were also several water taps outside of quick service stations where I filled my bottle up. If we got awards on the trip, I would have had the award for 'Most Hydrated.'
I filled my bottle at every water station I saw, and then chugged all of it! Staying hydrated is SO important… especially when you're hot and have been drinking.
I didn't drink a lot of alcohol in Disneyland specifically from a hydration standpoint. It seemed that all of the drinks you could get to walk around with would come in a plastic cup, and they were also verrrryyyy sugary.
I'm very, very sensitive to sugar, so I had to be really careful with what I ate and drank. There was A LOT of sugar at Disney. It's a theme park… so I'm not sure what I expected…
A note on the water in LA. I personally found it to be pretty disgusting, but after drinking around a gallon my tastebuds acclimated. My tip is to either power through or bring a big water bottle with a filter.
drinks:
When we went out at night, I'd have a drink or mayyyybe two? I'm not a very heavy drinker and was trying to avoid lots of sugar. We ate and drank at the Disneyland restaurants. If you're dining in one of the Disneyland restaurants everything is reusable; just make sure to ask for no straws!
The big snafu was at the pool. Several of the ladies ordered some drinks pretty early, and I could see that all of the drinks were coming down in plastic cups…
From what I was told, the drinks were also very, very sugary. I really wanted a drink by the pool, so I made a conscious decision to try and reduce my plastic waste and sugar intake by ordering a shot of rum with lime and a Zico coconut water.
Now, a shot at Disney is a cup. I got an ACTUAL cup (8oz) of rum on the rocks.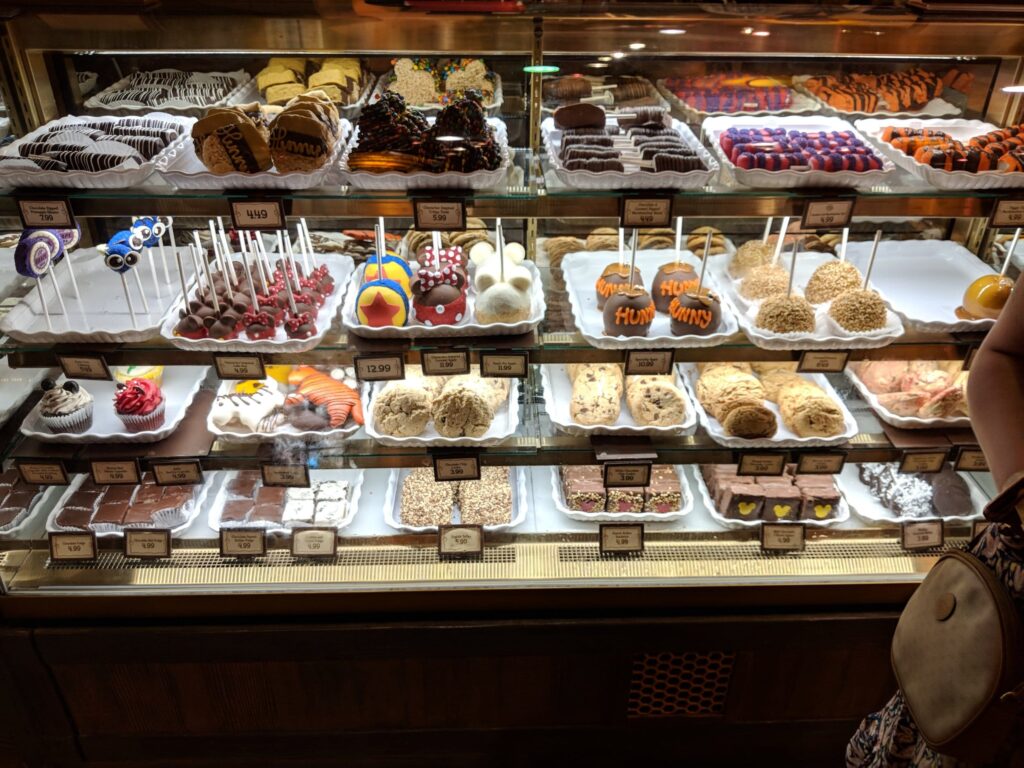 I mixed my own drinks in my Klean Kanteen.
So, I was able to make around six drinks (I shared) for all of the girls for $18. It was a bargain, much healthier, and wayyyyy less waste than ordering 6 individual drinks.
So, if you're at the pool, my recommendation is to mix your own!
There's also a water fountain by the bathrooms so you can fill up your own water bottle to stay hydrated.
I will say it was pretty humorous that our waiter came by and said, "Hey girls, I brought you your drinks without straws because Disney IS FINALLY catching up with the times and banning straws and stirrers. Save the turtles you know!?"
Everyone in the party turned to me immediately and said, "Have you been chatting with the waiter!?"
For the record, I had not. He's equally excited about #SavingTheTurtles without any influence from me.
Disneyland Restaurants:
We ate mostly at sit-down restaurants or what's referred to as table service. Everything you'll find at a table service restaurant is reusable down to the cloth napkins.
Disney is highly, highly aware of allergies. Everywhere they went, they asked if we had allergies before eating, which is so considerate!
Having grown up with a severe dairy allergy, I really appreciated the attention to detail. And, part of me wonders how they would have reacted if I said I was allergic to plastic…..
It was also pretty easy to find veg friendly options at the sit-down restaurants. Even at the pool, the food was served on real plates! I did carry a napkin and bamboo fork on me which came in handy.
I'm going to list the restaurants we ate at, but know that there are a lot more options than just this.
disneyland restaurants:
Steak House 55 for high tea
The Lamplighter – ask for no straw with drink orders
Disneyland Hotel Poolside – ask for no straw, bring a napkin and fork, and fill up your water bottle at the fountains
Splitsville
Al Fresca Tasting Terrace (Cannot recommend highly enough!!)
Carthay Circle
snacks:
When it comes to snacks, look for the carts that serve only with paper like a Mickey pretzel or a churro.
Make sure to carry the paper out with you to compost it!
You can also find many stores that have bakery cases. If you ask really, really nicely they'll place the treat straight into your cloth napkin. I picked up a cookie to share.
Another conscious wasteful decision I made was trying out the world famous dairy-free Dole Whip! I had to try some. It was delicious, and I do not regret it one bit. Besides, one tiny plastic dish really isn't the end of the world.
As far as Disney goes, you can pack your own snacks! So, fill up a stasher bag or two full of granola to bring into the park.
frequently asked questions:
Did you buy any accessories or souvenirs why or why not?
I did not buy any accessories. Initially, I was going to ask a friend if I could borrow their ears before I went, but the Maid of Honor bought all of us matching ears for the park.
I brought my ears home and will re-wear them if I go to Disney again. I did not buy any souvenirs. I'm not a hardcore Disney goer, and I couldn't foresee myself wanting to wear Mickey clad gear in the real world.
However, if that's your style and something that you would absolutely love to wear, then by all means pick something up. Just remember to bring a reusable bag!
Did you suffer every time you saw single use plastic?
I didn't suffer…. but I certainly dreamed of a world full of reusables. I also did a little happy dance every time I saw someone filling up their reusable water bottle!
Is it still fun to go on a Disney adventure as an adult?
Yeah, I had a lot of fun. I really enjoyed the Cars ride and the Guardians of the Galaxy ride formerly known as Tower of Terror.
I don't think that I'm going for a solo trip anytime soon, but I definitely enjoyed myself.
Are there recycle bins in the park?
Yes! There are recycling bins, but unfortunately no compost bins.
What is Disney doing to reduce their environmental footprint?
I'm actually pretty impressed with several of their initiatives. If you're interested in reading more I can highly recommend their Environmental Goals and Targets PDF.
Zero waste is actually one of their longterm goals, with a goal to reduce 60% of their waste by 2020. Here's a snippet from the PDF.
"Meeting the 2020 target will require the adoption of a waste management hierarchy, as follows:
Reduce
Reuse
Recycle or Compost
Non-thermal waste-to-energy, such an anaerobic digestion
Landfill (with energy/methane recovery) or thermal waste-to-energy (incineration with energy recovery)
Landfill without energy recovery
Incineration without energy recovery
Following this hierarchy will require more aggressive waste prevention, reuse (internal and external donations), and recycling and composting programs, for both operational and construction waste.
We expect to combine technical efforts such as improved source separation of recyclables and organics, and development of new or enhanced programs with regional Materials Recovery Facilities (MRFs), composting and anaerobic digestion facilities, with initiatives to increase employee awareness and engagement on reducing the amount of waste generated."
What three things would you tell Disney to change to reduce their waste?
Having said all that, while I am excited about their initiatives and am looking forward to seeing them implemented, there are still a few things I would like to see emphasized.
Make sure that compost is readily available and that there would be a lot of education around composting.
I'd love to see a Wall-E world that focused on environmental education.
That they allowed reusables to be refilled at the WHOLE park! Cups, coffee, bowls, you name it! With washing stations and educational signs!
Clearly, education is something I'd love to see them focus on. I believe they do quite a bit of that at Animal Kingdom in Disney World, but I've never been to Animal Kingdom.
Anyways, a girl can dream right!?
Have you been on a Disney adventure recently? What did you think of their waste management?
If you're headed to Disney, let me know if you found this review helpful, and be sure to leave any extra tips you might have in the comments for those traveling soon!
A huge shout out and thank you to Rewilder for sponsoring this post!
If you're traveling, their airbag backpack makes the perfect carry-on and weekend trip companion. Make sure to check them out!