My Zero Waste Honeymoon
January 30, 2018 | Kathryn Kellogg
Last Updated on September 15, 2020
Justin and I got married May of 2017. Clearly this post is coming a little late. We left for Maine right after our courthouse wedding.
You can read more about the wedding in part 1 and part 2.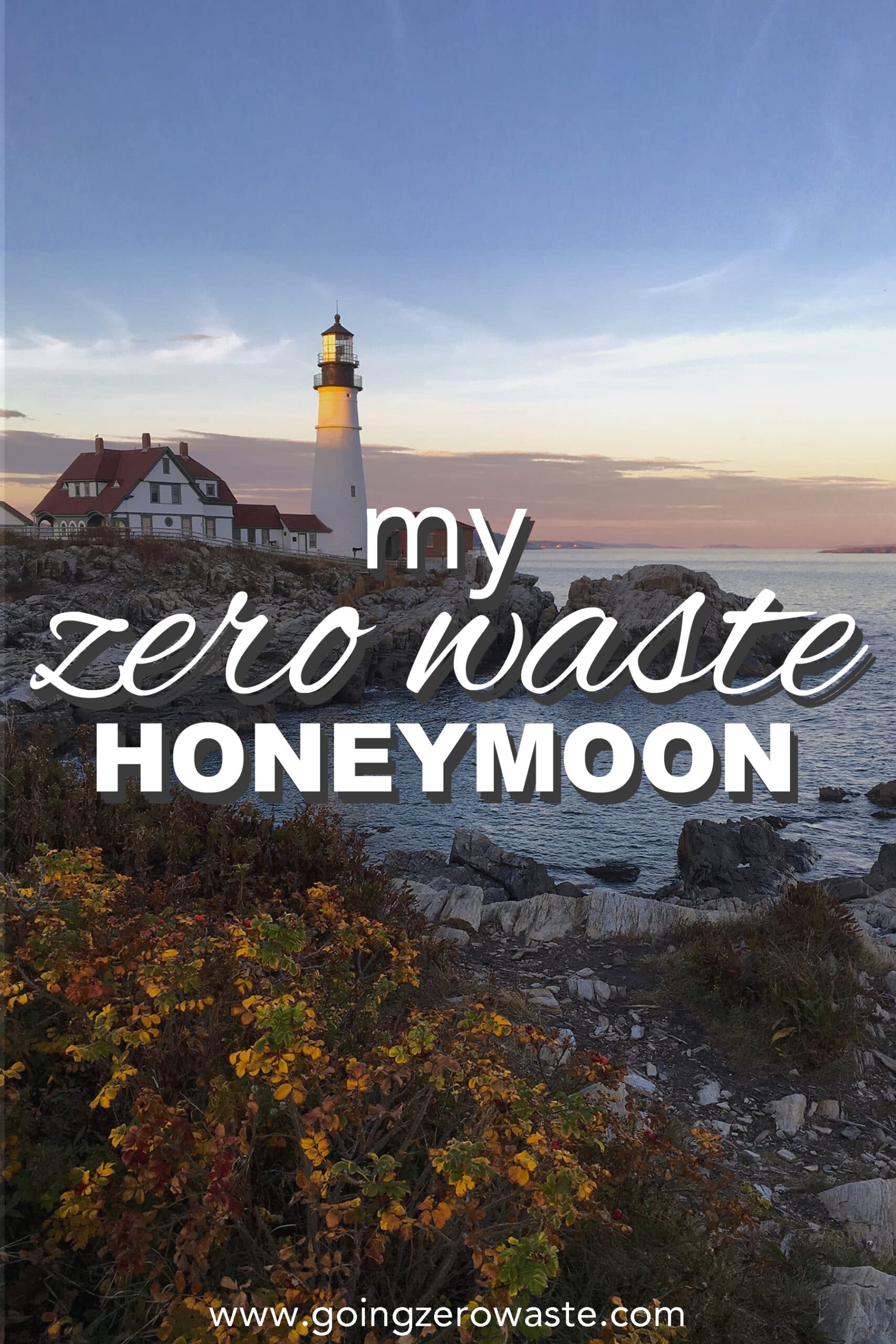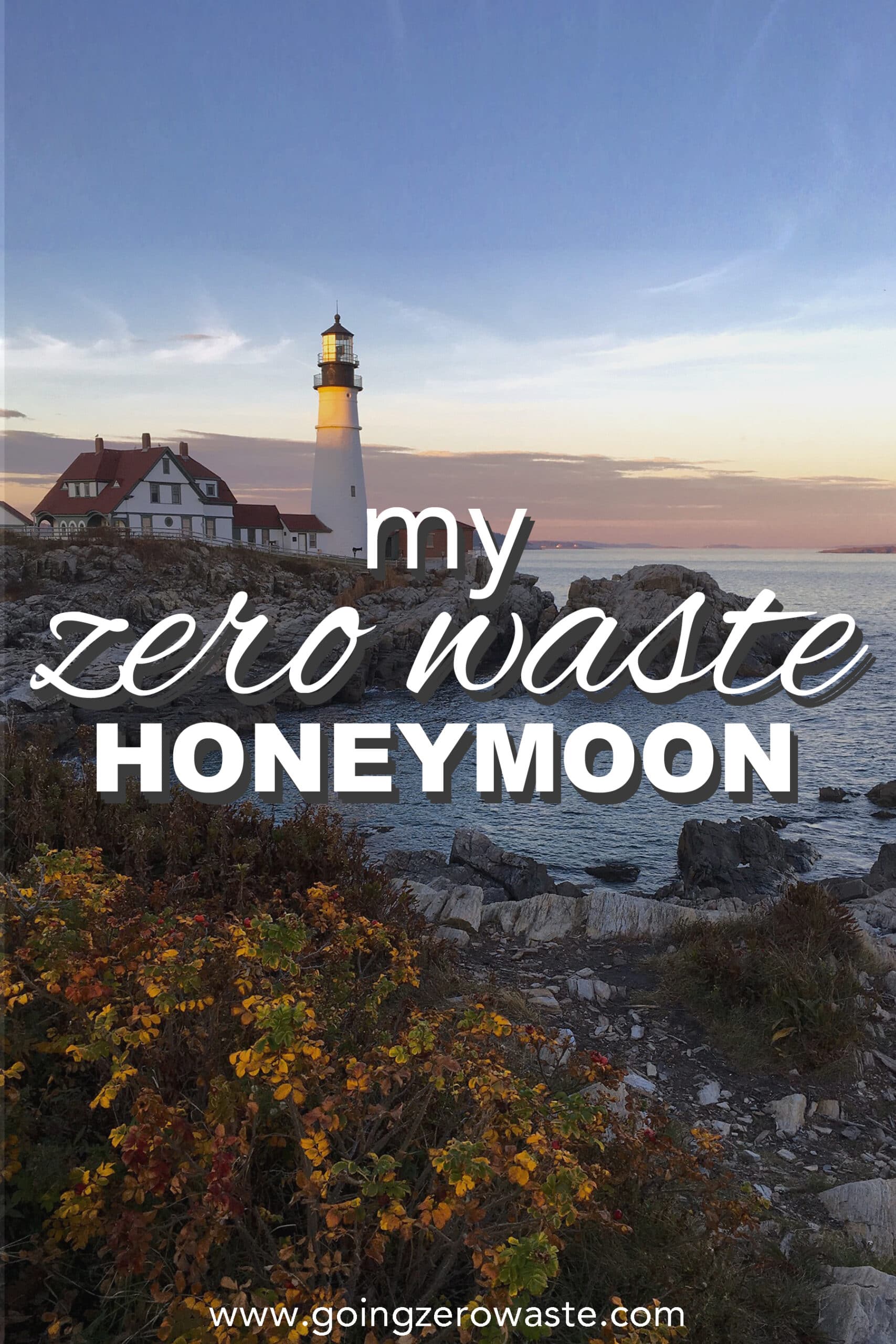 We spent our wedding night at the Marker Hotel which was so lovely! The next morning, we woke up and took a Lyft to the airport for our very first full-length vacation together.
We've taken a couple of weekend getaways, but this was the first time we've ever been on a plane together and actually had more than three days of vacation at a time.
the flight:
I haven't flown much since going zero waste, and I definitely haven't flown such a long distance. The flight from CA – ME is pretty lengthy. Justin grew up in Maine, but it was my first time visiting.
I was very impressed by the composting stations in the Oakland Airport. Because the flight was so long, I decided to grab sandwiches from a deli before we boarded.
You can pack food in your suitcase to bring on the plane, but we didn't have access to a kitchen to prepare anything the night before. (Besides, would you really be making a sandwich on your wedding night? I didn't think so)
I went to a deli in the airport, and I walked up and said, "I'll have that sandwich to-go, in this container. Thank you!" A smile and confidence is all you need to bend everyone to your zero waste will.
It worked out perfectly, and we were able to have dinner on the plane without having to worry about creating any trash.
For more information on zero waste flying check out this post here.
rental car:
When we landed in Maine, we reserved a compact economy car. They upgraded us to a monster truck. I tried to tell them we didn't want the upgrade, but apparently… it was all they had left.
It was pretty hilarious. Eco girl drives monster truck.
If you're only going to be staying in Portland, ME, there's really no need for a rental car, but we were doing a bit of traveling down the east coast.
where we stayed:
We stayed at The Danforth Inn in Portland, and it was gorgeous. We had a cozy fireplace in our room. There was a secret billiards room and lookout tower. We spent most nights down at the dreamy hotel lounge (gorgeous custom wallpaper and living moss lamps!) sipping adventurous cocktails. There is not a bad cocktail on the menu! I'm pretty sure we tried them all.
Breakfast was included in our stay too, but we only made it to breakfast once (because we were sleepy…) and I'm kicking myself for not going more! 3 course gourmet breakfast!! I'm so sad that was included in our room and we overslept. Live and learn I guess.
If you're ever staying at the Danforth… don't miss the breakfast!
But, don't feel too bad for us. We still ate a lot of breakfast around town. Justin was having fun showing me all of his favorite restaurants.
what we did:
It rained a lot during our trip. It was also surprisingly pretty chilly.
We spent most of our time eating, drinking, and participating in other indoor activities. Portland is a very walkable city, and the Danforth is centrally located to downtown.
I really loved the history of the city. We toured the Victoria Mansion and it was gorgeous. It was incredibly over the top with stained glass, wood work, and carved plaster. The wallpaper and paintings were just exquisite. The whole house was opulent if not slightly obscene.
It was a fascinating piece of history. We took the tour, and I enjoyed hearing about life in the mid-1800s. (Since going zero waste I'm even more fascinated by life before plastic.)
Justin and I have always loved museums. Visiting the museum was a really enjoyable way to spend an afternoon, but nothing particularly sticks out from the experience. Most of the places we went didn't allow photos inside.
We were looking for other rainy day activities and stumbled into our first escape room. It took place in The Pharaoh's Tomb. If you read about my birthday party, you know – we clearly became fans!
It was so much fun! It was like living in a real life Nancy Drew Game with hidden clues, riddles, puzzles, trap doors and more!
hiking:
It was a little too chilly and rainy for any extensive hiking. But, we did walk around several beautiful state parks. We spent an afternoon at Ft. Foster and an afternoon at Ft. McCleary.
The air was so crisp and the views were breath taking.
We visited Strawbery Banke on one of the few sunny days. It was SO cool! It's a small colonial town that evolved through the 40s when it was purchased and preserved as a museum. You can walk through 300 years of history and see life BEFORE PLASTIC!
Of course, the whole before plastic thing was my specific interest and not the goal of the museum. It's set on 10 acres and full of gardens. (I have always loved history and other eras, but this extra plastic-free layer get's me even more excited!)
The homes towards the end of the tour focused on life during WWII. Lots of WWII propaganda about victory gardens, recycling, meatless Mondays, wheatless Wednesdays, and not wasting a thing.
There was also a bulk store. It was just a regular general store, that talked about how food used to be purchased. It's amazing how much we've changed since then when it comes to buying food. I have to say, we did it better back then.
In Portsmouth we hit up another escape room with some of Justin's friends officially sealing our fate in nerdom for all eternity. It was absolutely amazing. I have to say it is by far the best escape room we've done. It took place in an antique dealers study. The antique dealer was kidnapped and we had to find a hidden necklace in order to fulfill his ransom.
We barely escaped and lived to tell the tale.
music:
There's so much live music in Portland, and we stopped by the SPACE Gallery and One Longfellow Square for some really enjoyable tunes.
what we ate and drank:
We went to so many amazing restaurants. Portland is definitely a foodie town, and you're not going to go home hungry. I don't remember every where we ate and drank, but here's a pretty decent list.
what I packed:
We both only packed carry-on's. Bringing a checked bag increases your emissions, so try and just go for the carry-on.
For liquids we packed Plaine Product minis, and it's also important to remember to bring dish soap! This way you can wash your take-out tiffins.
I also struggled with it being spring time and having to dress warmly. Some of the links below are affiliates. Most all of these items I bought second hand and these are similar options or the same.
clothing:
zero waste tools:
what we bought:
Neither Justin or I are big souvenir people, but I couldn't pass up on a toothpaste crank. I've been looking for one for months! Justin still uses Tom's and this is a great way to use up every last drop.
I bought it at the store Folly 101. It's a great place to buy a lot of zero waste essentials like cloth napkins, wooden spoons, jars, farmers market totes, bamboo dish scrubs, and naked soaps.
We also had to bring a present home for Nala. We stopped by a local pet boutique and bought a giant moose antler and a rope lobster. Both came completely package free.
trash we made:
I'm pretty proud to announce that we didn't make any trash while on our honeymoon. Everything was easily avoided with the tools we brought.
I hope you enjoyed a peek into our trip to Maine!