Zero Waste Guide to Ethical Engagement Rings
December 6, 2016 | Kathryn Kellogg
Last Updated on December 7, 2023
This zero waste guide to ethical engagement rings will get you started on your way to a sustainable, eco-friendly wedding!
An ethical engagement ring is something that doesn't cross a lot of people's minds. After all, aside from the (optional) cushioned box, there's no plastic, right? Unfortunately, the diamond trade isn't always sustainable or fair. These sustainable engagement rings offer options for finding ethical diamond engagement rings as well as places to find alternative material rings. Plus, recommendations for fair trade companies for a selection of fair trade engagement rings!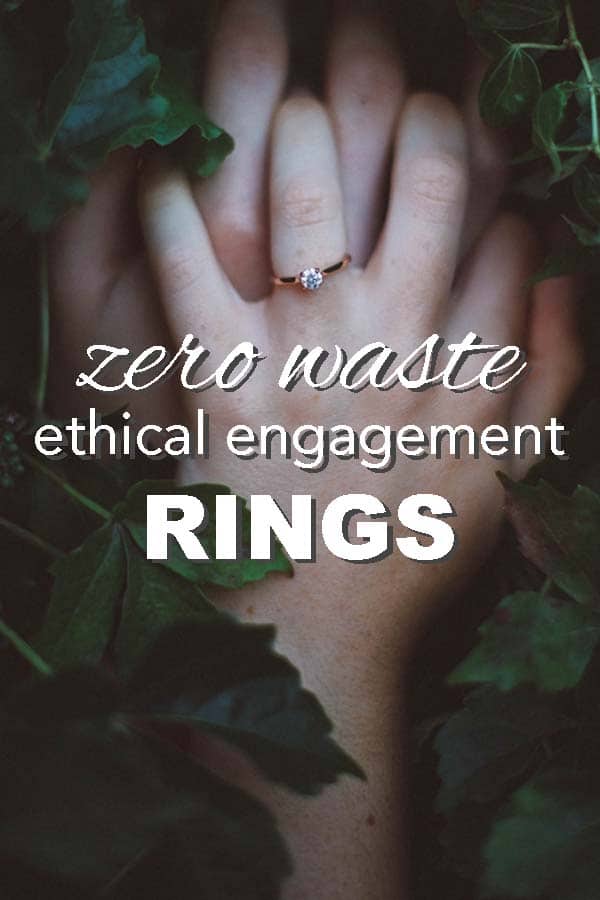 ethical engagement rings
As most of you know, I am engaged! I am so excited to start the wedding planning process.
After I announced the engagement, I received several emails asking about sustainable engagement rings.
There's a pretty high environmental and human rights cost with diamonds and gold. I think everyone is pretty familiar with the concept of conflict diamonds.
But, did you know that a single wedding ring produces 20 tons of waste?
a need for sustainable engagement rings
Mining for precious metals leaves behind toxic waste that often winds up in the ocean. Gold mines use 182,000 tons of cyanide each year to separate the gold from the stone.
This contaminates the groundwater and results in a significant loss of land. The land is stripped-mined, destroying it forever.
The cyanide poisons the groundwater, killing fish and making water undrinkable or usable for irrigation. In Indonesia, they just dump the toxic wastewater into the ocean.
You can read more about the problems with mining for precious metals here.
So, if diamonds, gems, and precious metals present problems — how can you make better choices?
a solution for ethical diamond engagement rings
Thankfully, the second-hand market is RICH with tons of options for ethical engagement rings, alternative material engagement rings, and even upcycled and recycled options!
Justin and I started looking for rings at the beginning of the year. For me, the most important aspect of the ring: secondhand and inexpensive.
I cannot fathom spending $1000 or more on a ring. I would much rather go on an awesome vacation! Nor can I imagine purchasing something with an up waste stream of 20 tons!
Justin surprised me with the ring, but we did go out and explore all the cool places to buy vintage rings. Here's what we found for ethical diamond engagement rings and more.
pawn shops:
The local pawn shop is actually where my ring came from! I had never been to a pawn shop before, and it was amazing. It looked just like a jewelry store. They had so much to offer. Tons of glass counters, mirrors, and attendants to let you try anything on.
They had an awesome selection of modern engagement rings and vintage rings. I've always been drawn to vintage and untraditional stones, but it was nice to see a large selection of both while we shopped for our ethical engagement ring.
antique stores:
If you love vintage rings, you have to go to an antique store. They typically have a glass counter by the register where they keep both costume and real jewelry. I had more difficulty tracking down help in the antique stores we visited, but they had some very unique rings.
Lots of amazing cocktail rings. Some of my favorites were amethyst and amber, but they were a little too fun for my taste. I like to keep things pretty simple, but they were pretty to look at.
etsy:
Etsy is a great option. They have a lot of vintage and antique jewelry, but there are also a lot of really talented artists that make rings. You can chat with the creator about the metal and gems and really get to know the process.
Getting involved is always a great way to know your consumption and make an informed choice. Being an informed consumer is the most powerful thing you can do!
eBay:
eBay has been the ideal second-hand marketplace since its emergence in the late 90s. However, I would be pretty skeptical of high-end jewelry unless it was coming from a very reliable source with great feedback.
pre-loved:
Did you know a lot of jewelry stores have a "pre-loved" section? The jewelry has been cleaned and inspected by a jeweler and is sold for around 50% off the original price. My mom has found some fabulous deals on estate jewelry in our town's jewelry store back home.
ethical companies offering fair trade engagement rings:
If you can't find something that you're looking for secondhand, then look for an ethical and sustainable company. A lot of new companies even used recycled metal! I'm also really interested in these smog diamonds.
But, some of my favorite ethical companies are Fair Trade Jewellery Co., Melissa Joy Manning, Bario-Neal, and Trumpet and Horn.
They don't just offer fair trade engagement rings, but they make some truly beautiful pieces for all budgets too.
faqs
what is the most ethical stone to use for an ethical engagement ring?
Lab grown diamonds are the most ethical stone out there. However, they're not all created equally! It's important to choose one grown in a lab that uses sustainable practices for a synthetic diamond that's ethically grown.
how can you tell if a jewelry company uses ethical practices?
Look for companies that are compliant with the Kimberley Process.
The Kimberley Process Certification Scheme is the process established in 2003 to prevent "conflict diamonds" from entering the mainstream rough diamond market by United Nations General Assembly Resolution 55/56 following recommendations in the Fowler Report.
You can also ask questions like, "Is this stone traceable?", "Where was this gem mined?" etc. to gather information about the mines. Most fair trade and ethical companies advertise their practices and are happy to ask questions about them. Be wary of companies who cannot give you details about the practices of their sources!
Have you ever bought vintage or second-hand jewelry? Do you have any favorite ethical companies?