Zero Waste Wedding Part 2
May 26, 2017 | Kathryn Kellogg
Last Updated on February 17, 2022
I am SO excited to be sharing my zero waste wedding part 2 with you. We eloped at San Francisco City Hall, and it was perfect. It was just our immediate families and my best friend.
All of the photos in this post were taken by the amazingly talented Allison Andres.
She also took our engagement photos which are featured in our zero waste home tour. If you missed part 1 you can read it here.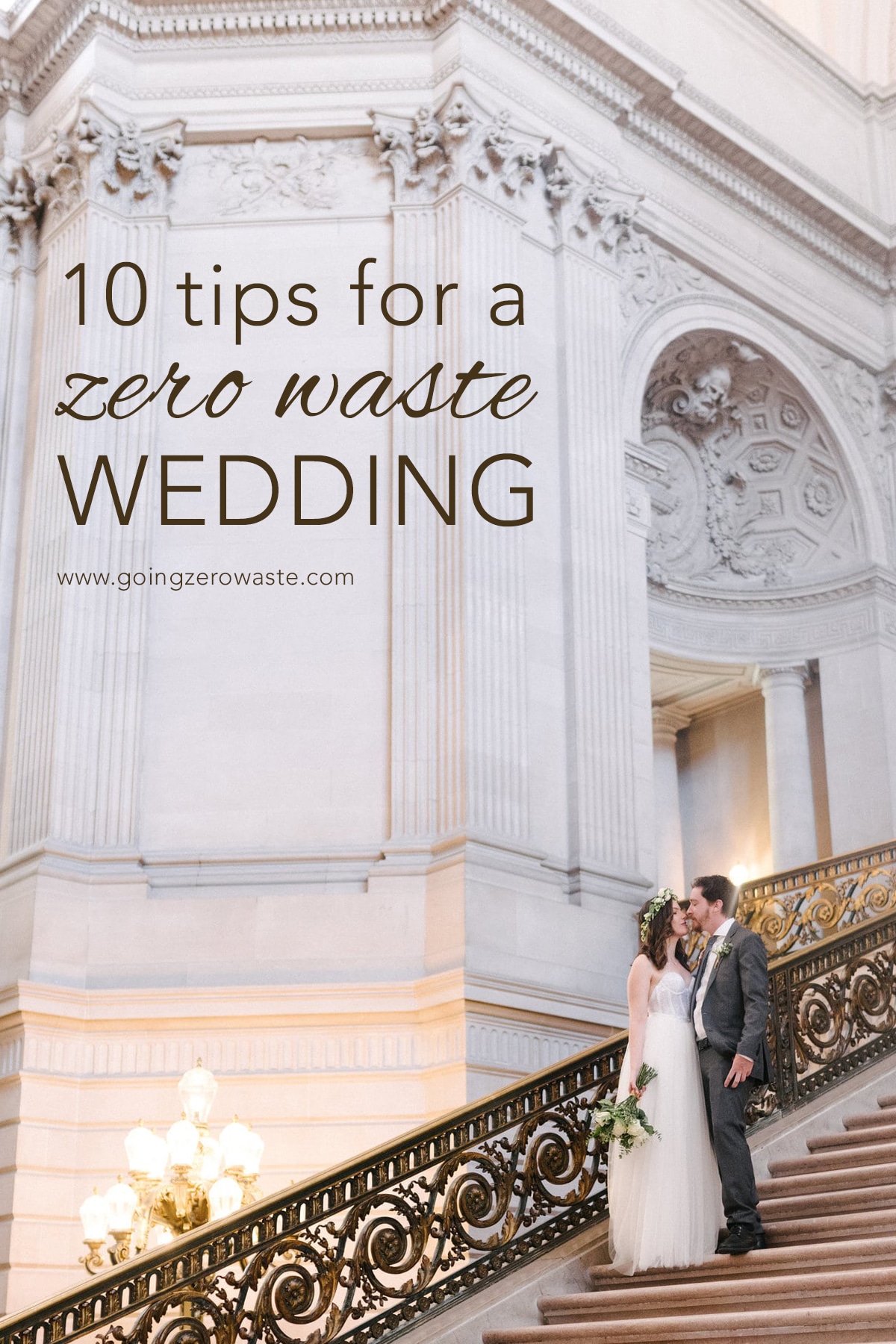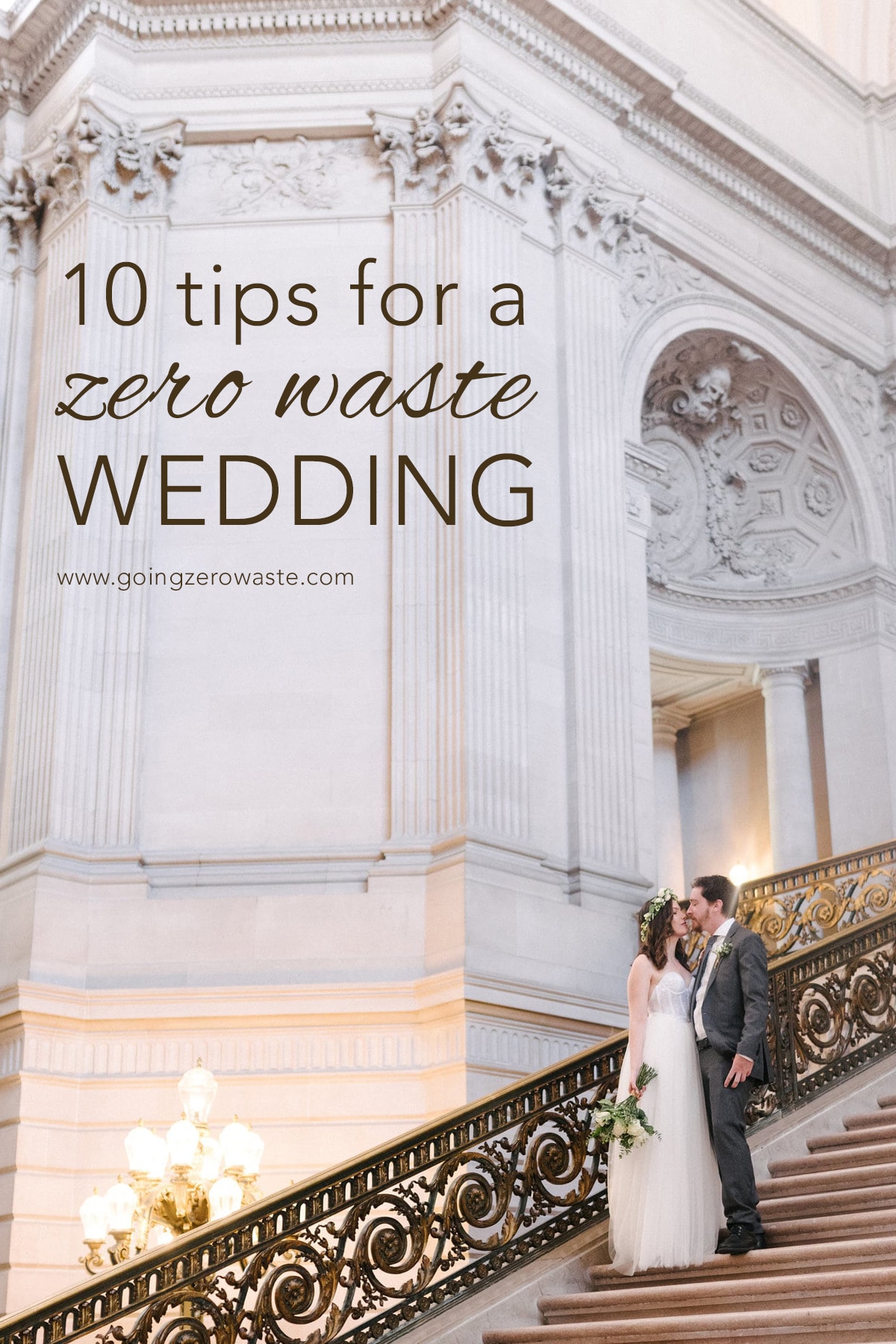 On Sunday afternoon, Justin and I ferried into San Francisco with our families. The weather was perfect! Like – I don't need a jacket – perfect. I honestly can't think of a single time I've been in SF and not needed a jacket.
Once in SF, we walked to our hotel The Marker. I cannot rave enough about our experience at this hotel. They went above and beyond in every single aspect! They upgraded us to a junior suite which was so nice!
Justin and I had separate rooms the first night so I got to hang out in the spacious jr. suite for an extra night!
Once everyone settled into their hotel rooms, we met in the hotel living room for wine and champagne. We decided to check out the pizzeria in the hotel called Tratto. It was delicious!
Their Italian soda cocktails were all served with stainless steel straws. How cool is that!? After dinner, our parents went to bed and my future sis-in-law, my bridesmaid, Justin and myself all snuck down to the Bourbon and Branch library.
It happened to be right around the corner of our hotel. We had a lot of fun, but we didn't stay out too late because I had to get my beauty sleep. 😉
Danielle and I woke up early the next morning to start getting ready.
\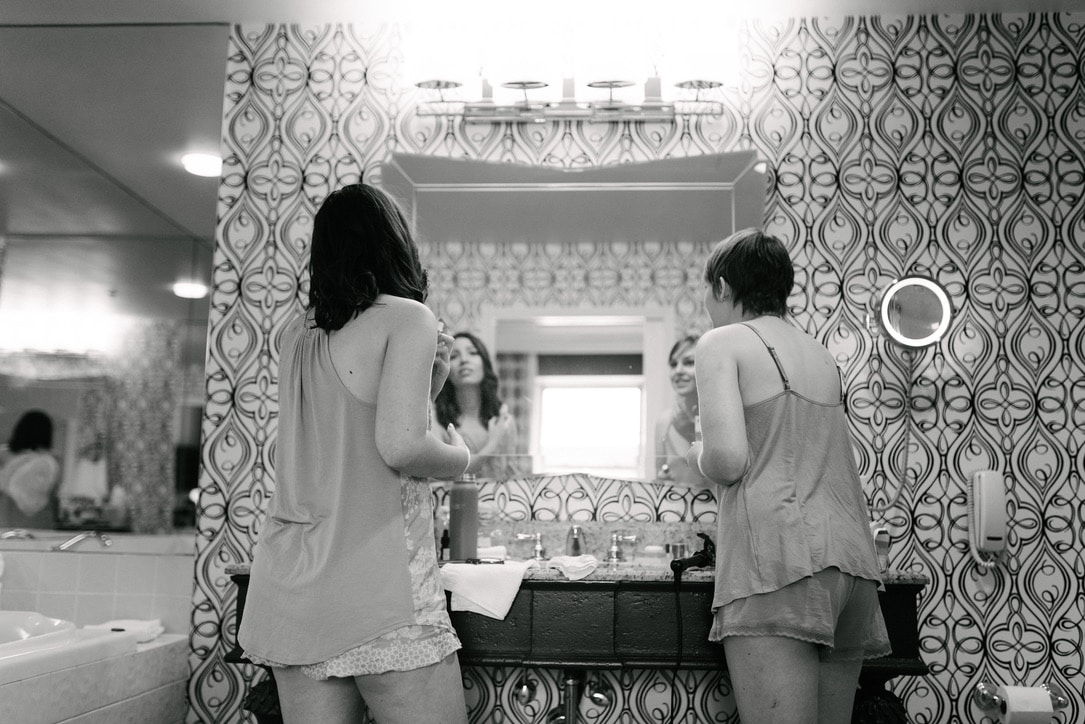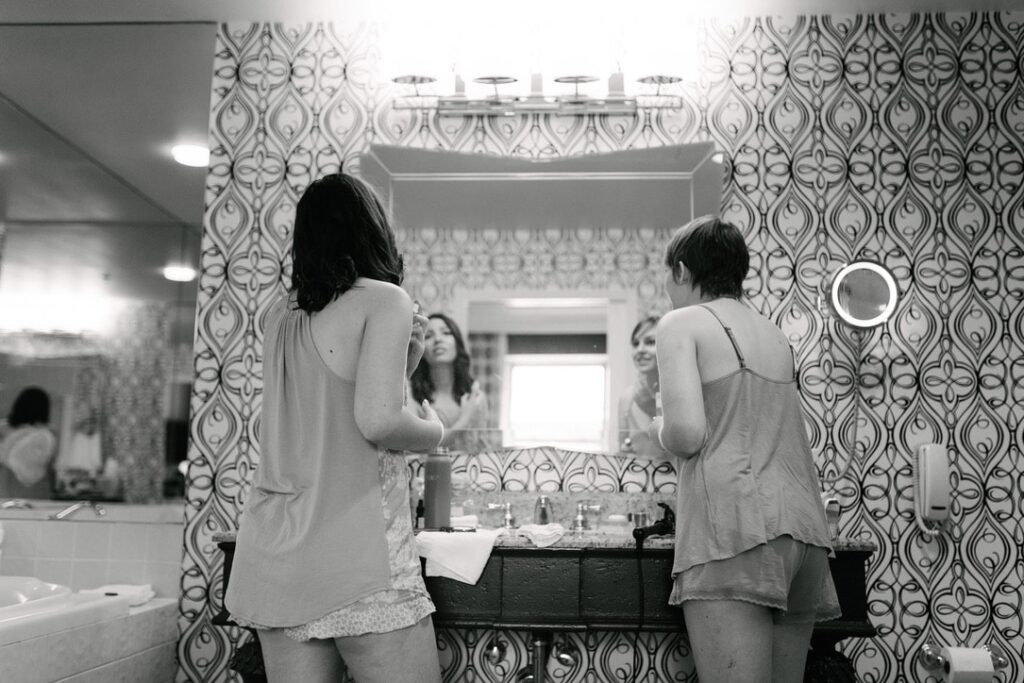 1. hair and makeup:
During my hen party Danielle and I went to credo beauty to purchase some makeup for the wedding day. Credo beauty is a mecca of organic, green beauty. Almost everything is sold in sustainable packaging.
HAIR: I washed my hair the day before with Plaine Products, which I talk about in this post. I curled my hair with a curling iron and used an organic hairspray I bought at Credo. I love it because of the packaging. It is in a plastic bottle, but it's clear and can easily be refilled with a homemade salt spray or hairspray.
EYES: I borrowed an Alima Pure eye pencil and Kjaer Weiss mascara from Danielle. I also used my Kjaer Weiss eyeshadow.
FOUNDATION: I used the RMS uncover up and used some bare minerals powder on top. I've had the bare minerals PZW.
LIPS and CHEEKS: This was the other product I bought at Credo beauty. I bought a Tatta Harper lip tint in green glass and I absolutely love it! The color is exactly what I was looking for.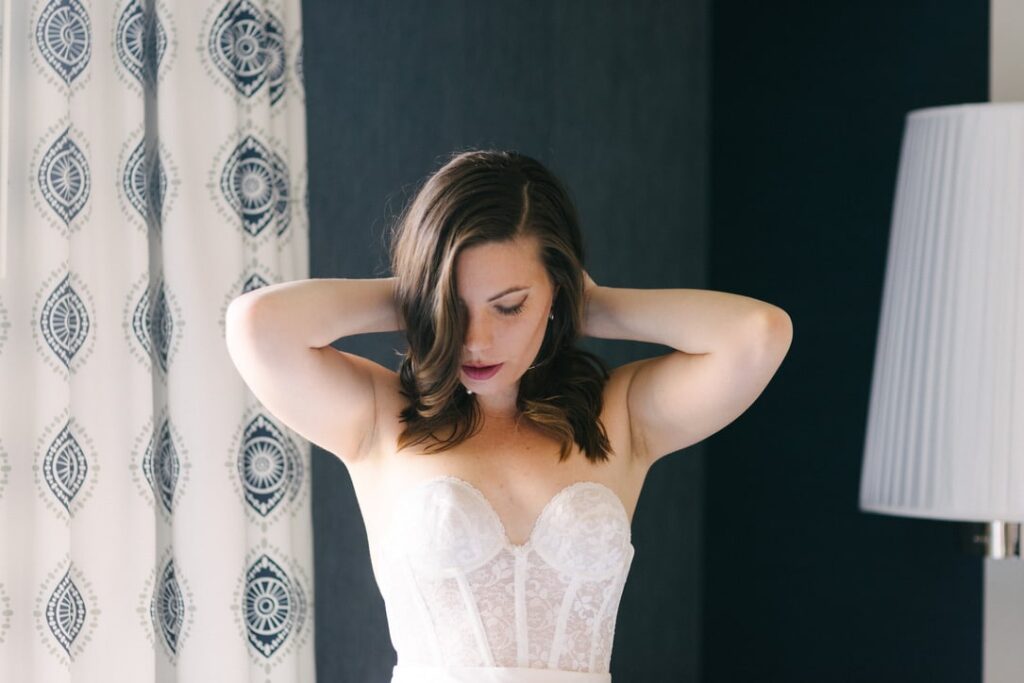 2. the dress:
You can read all about my mostly miserable wedding dress shopping experiences here. I wound up finding a wedding skirt second hand on eBay for $100 and then I purchased a vintage corset top on Etsy for $35.
I am so happy with the way it turned out! I am not sure if I want to sell it or if I should chop the skirt off and dye the whole thing hot pink! What do you think?
Related: Finding a Sustainable and Ethical Wedding Dresses
a safety pin emergency:
When standing still the skirt rested on the top perfectly. When moving, the train is rather heavy and pulled the skirt down revealing a strange peek-a-boo in the back.
There was a Walgreens right across from the hotel. We ran in and grabbed some safety pins which were packaged in plastic. I have zero regrets. My dress looked perfect in the rest of the photos.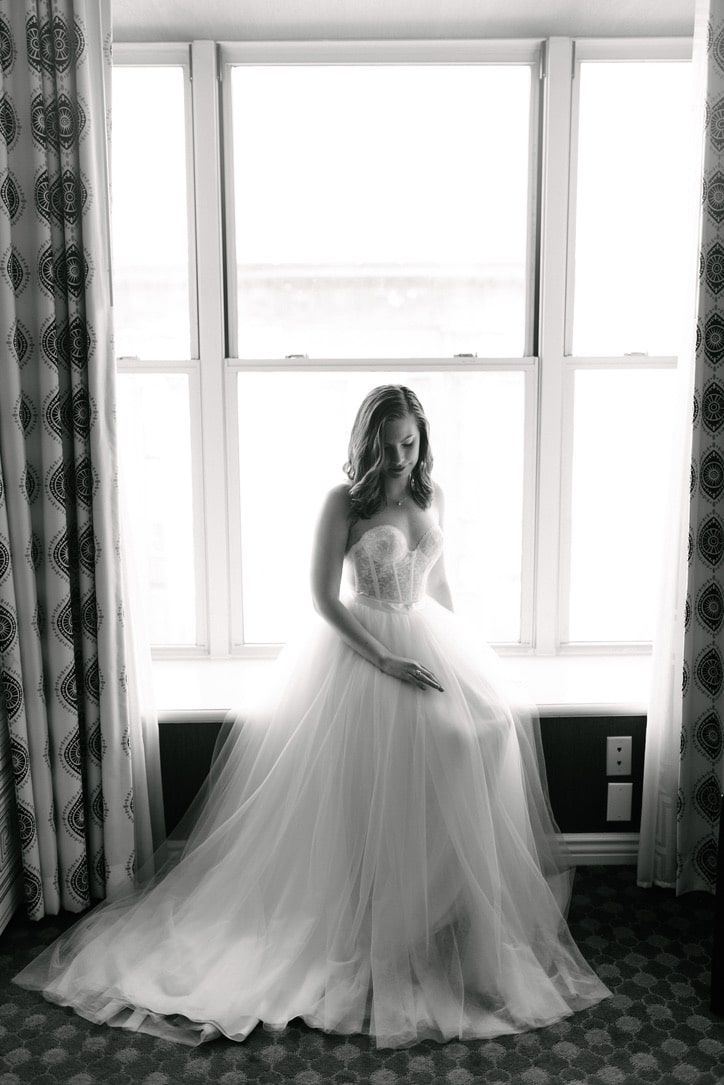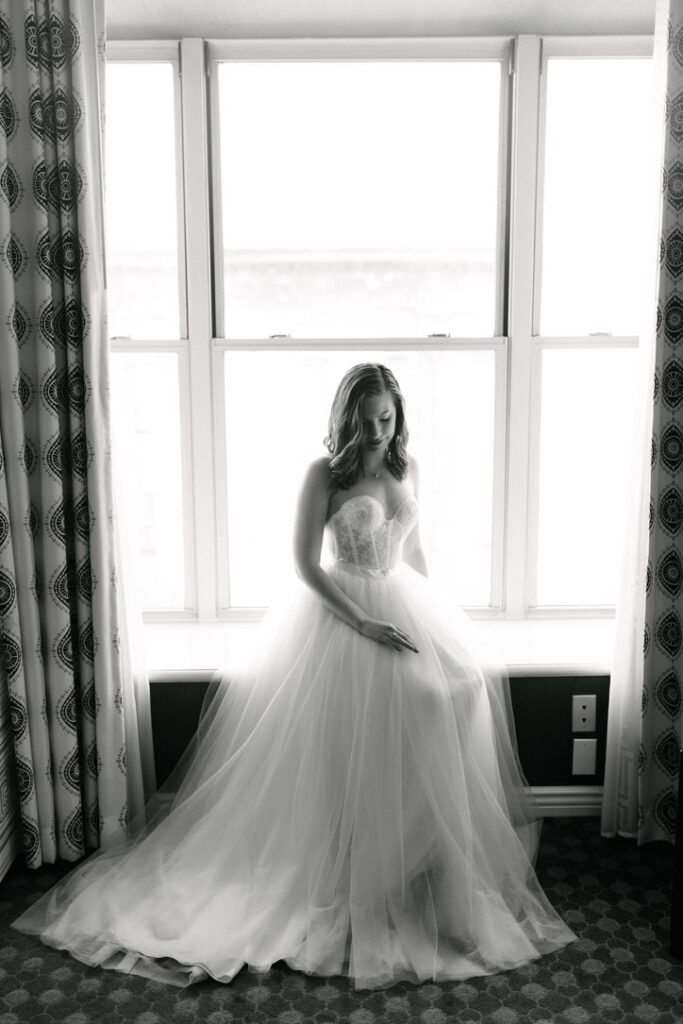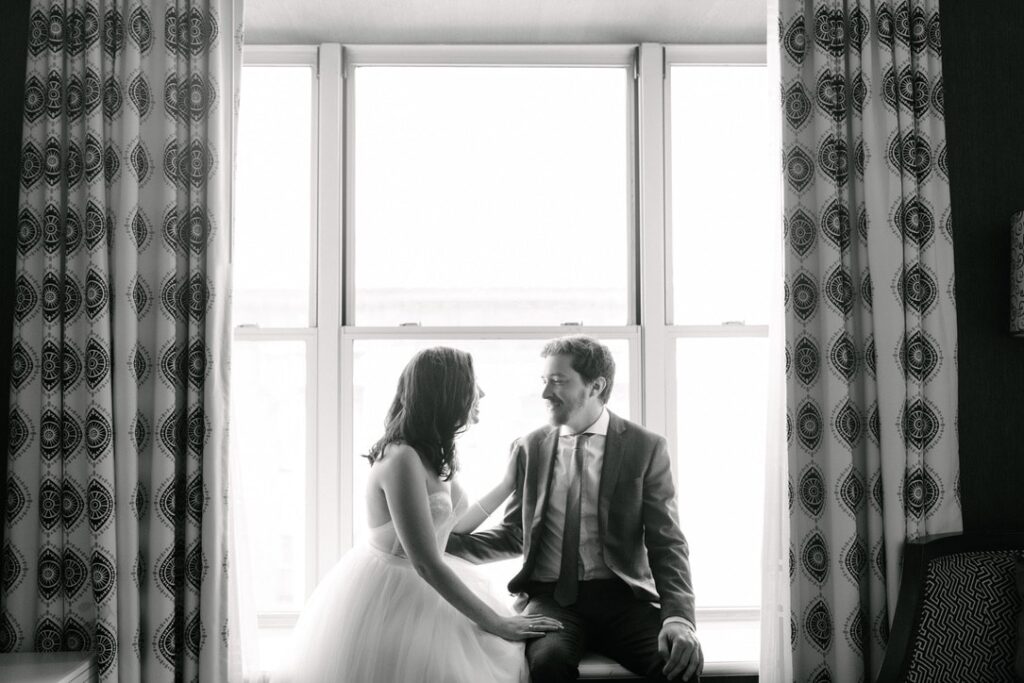 3. first look:
The jr. suite had pocket doors which were a huge blessing! I was nervous about the first look location, but the pocket doors presented an amazing solution!
I was most nervous about this part of the wedding. What if he looked at me like it was any old Monday?
In fact, I started having nightmares that when I walked down the aisle he was wearing huge sunglasses so I couldn't see his reaction. Thankfully there were no sunglasses, and you can see his reaction below. 

4. flowers:
My mom picked up the flowers and the cake the morning of the wedding at Whole Foods. The flowers were all plastic free! The headpiece and boutonniere did come in a small cardboard box.
But, I'm so happy with the way they turned out. Whole Foods was very reasonably priced. The flowers are sustainable, all in season, and fair trade.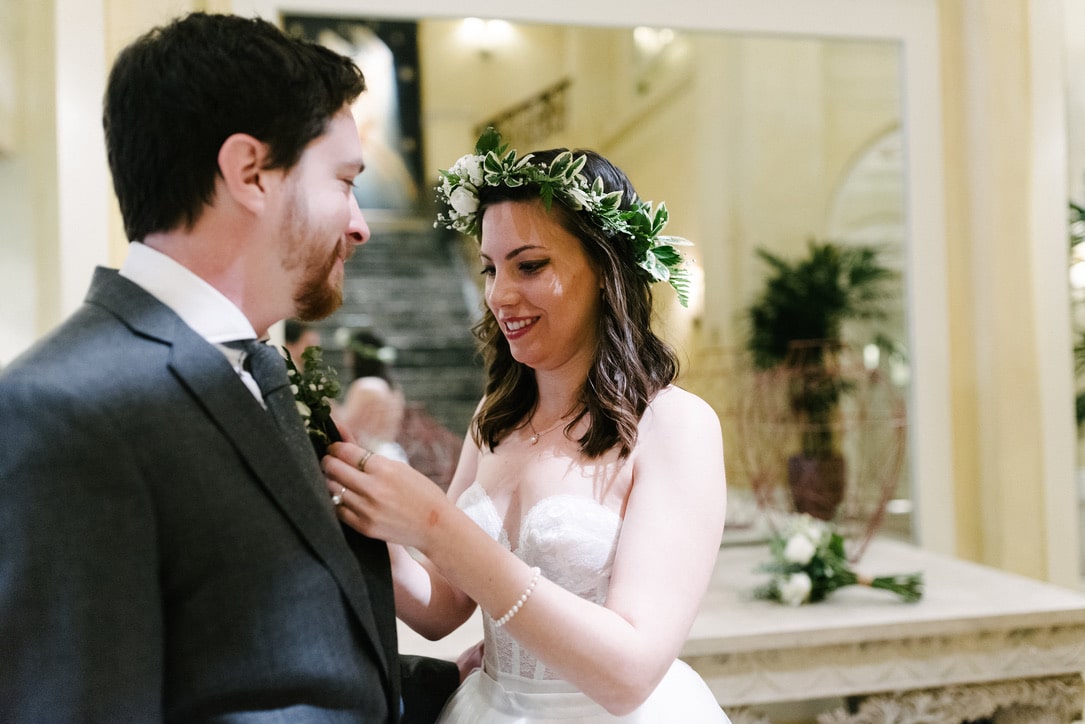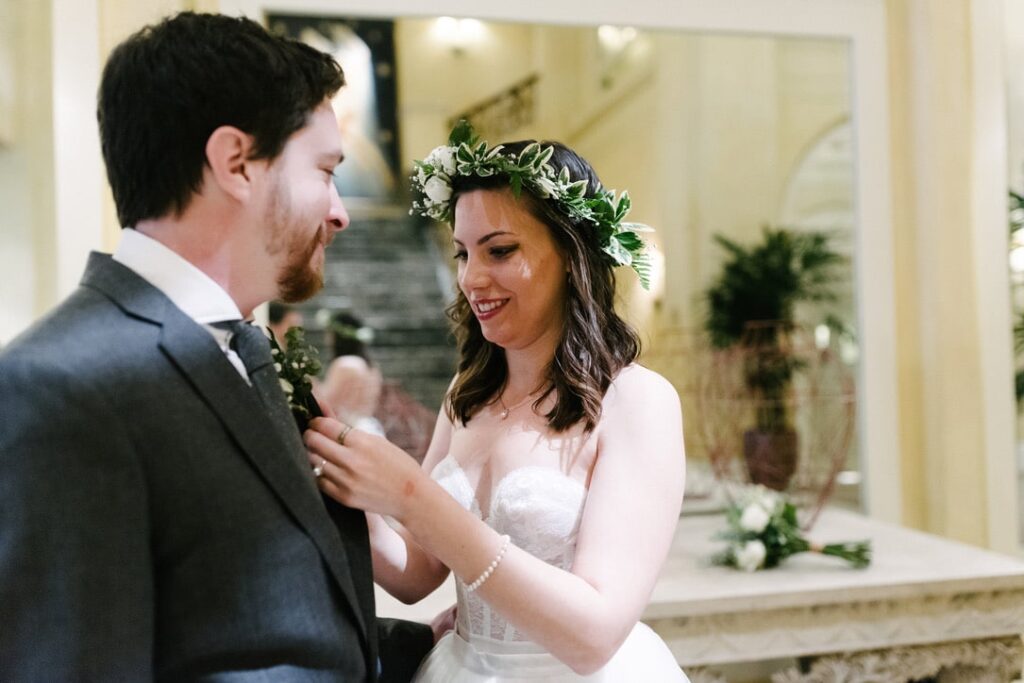 5. transportation:
Our immediate families flew out to be with us. They did not have vehicles and I was not about to bring mine to the city. We all used Lyft to carpool to city hall and to the reception afterward. Did you know that Lyft is carbon neutral?
6. the ceremony:
We arrived at City Hall and it was very similar to going to the DMV.
You wait in line. You take a number. You sit and wait/run all over city hall and take pretty pictures. They call your number. You head up and sign your marriage license and then you wait until your officiant is ready.
We had the cutest officiant. I loved her!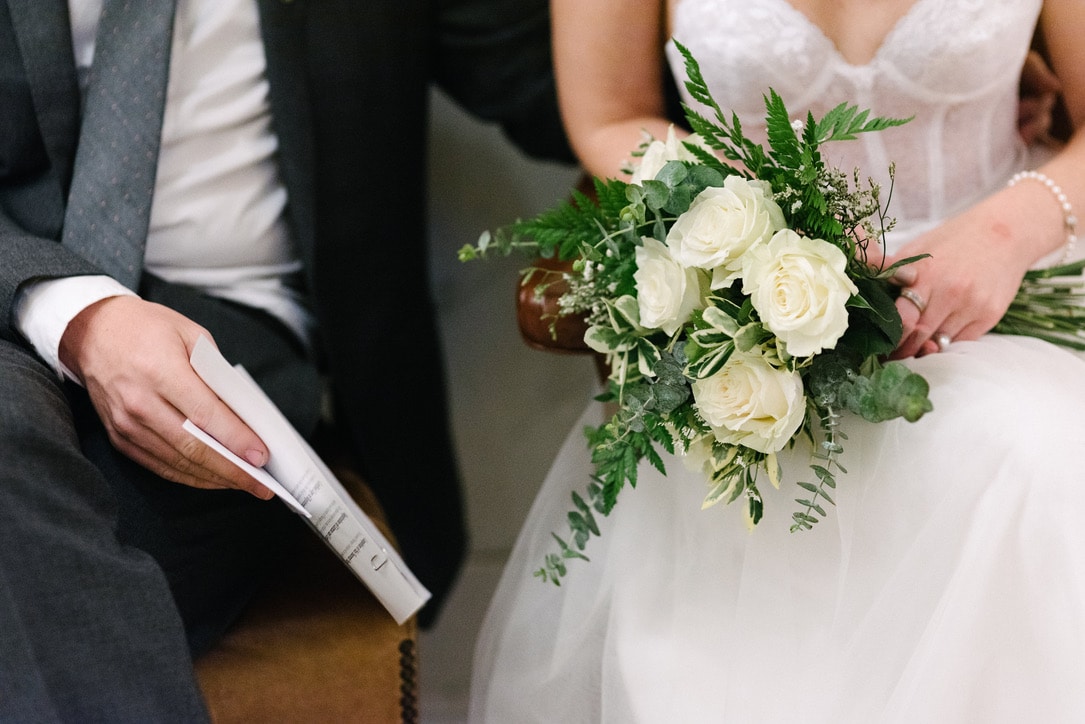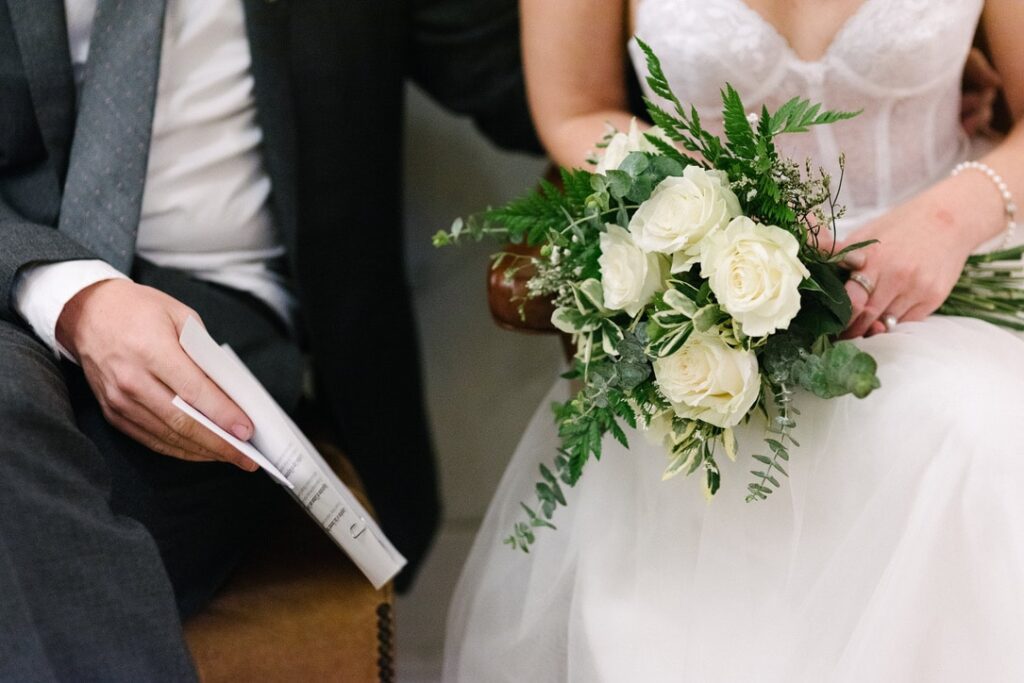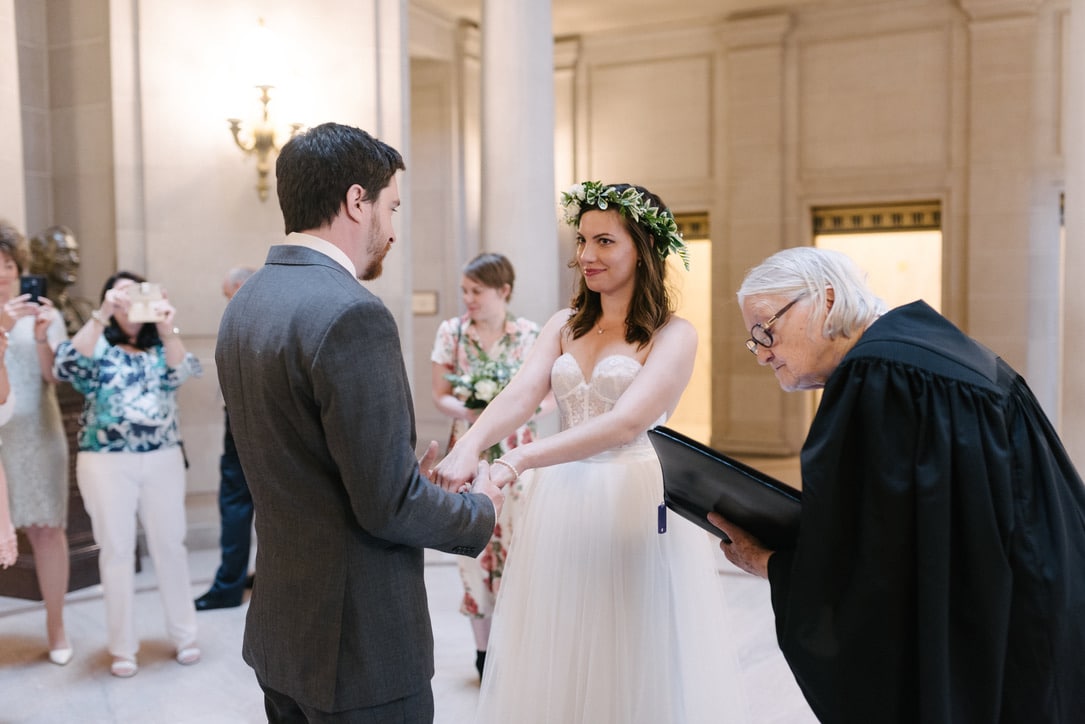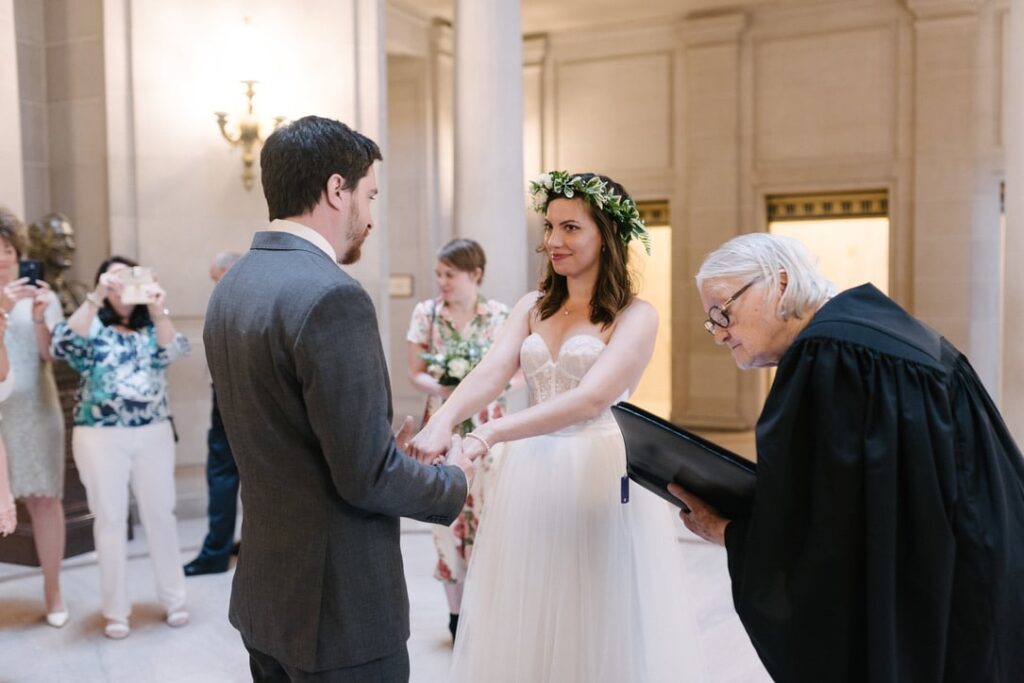 7. picture time:
After the ceremony, we took family photos. Justin and I took some photos together and then we headed to the restaurant.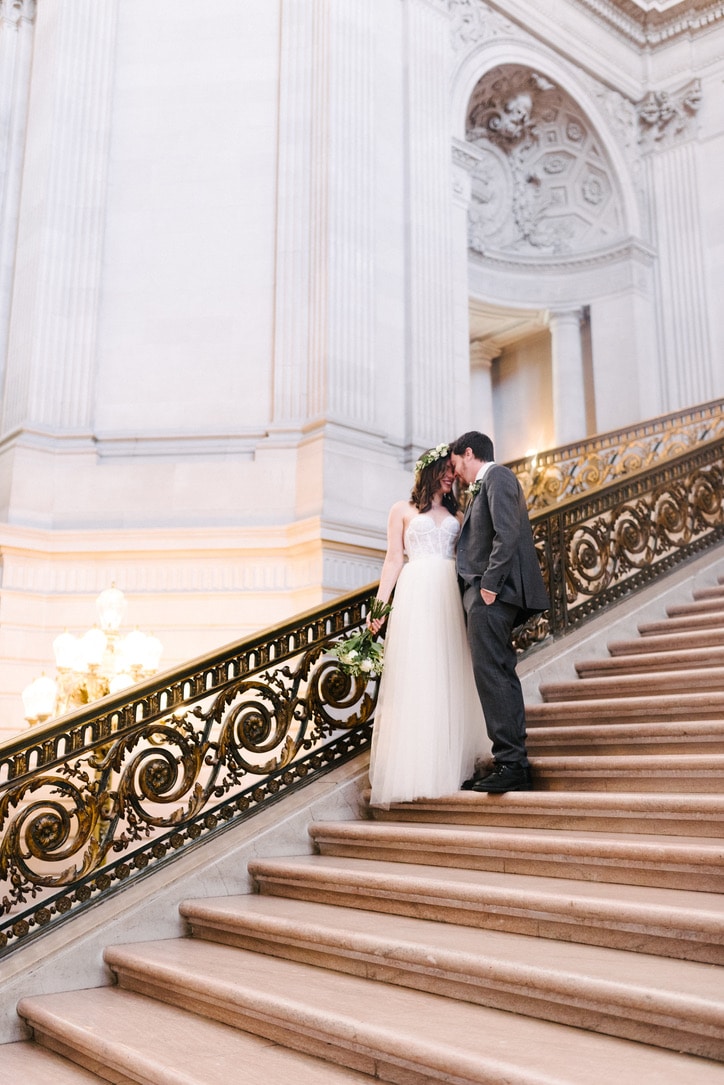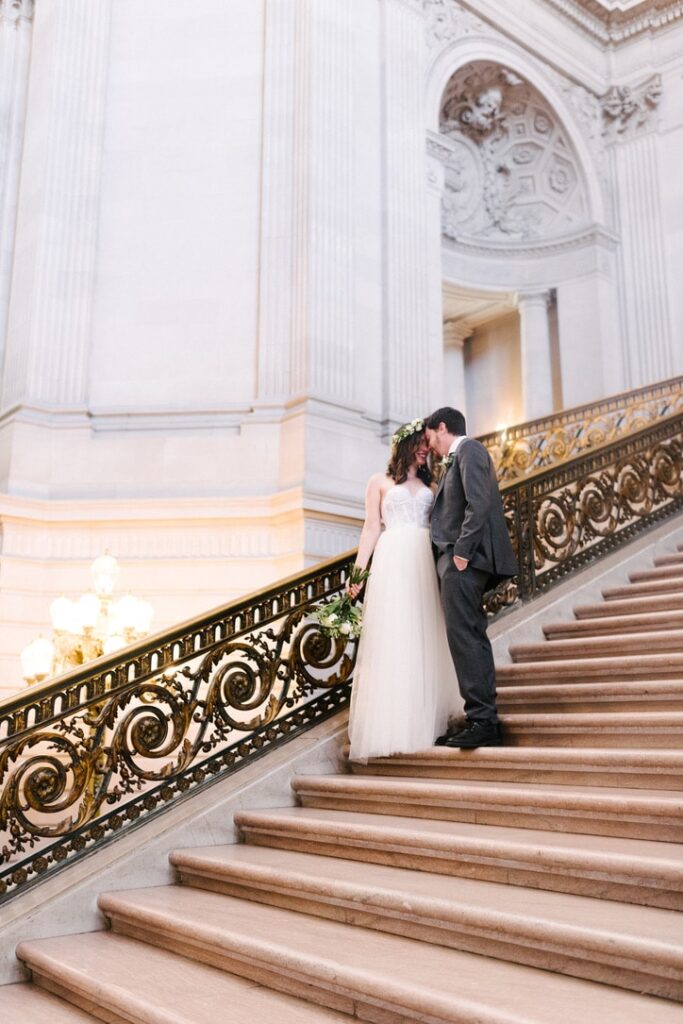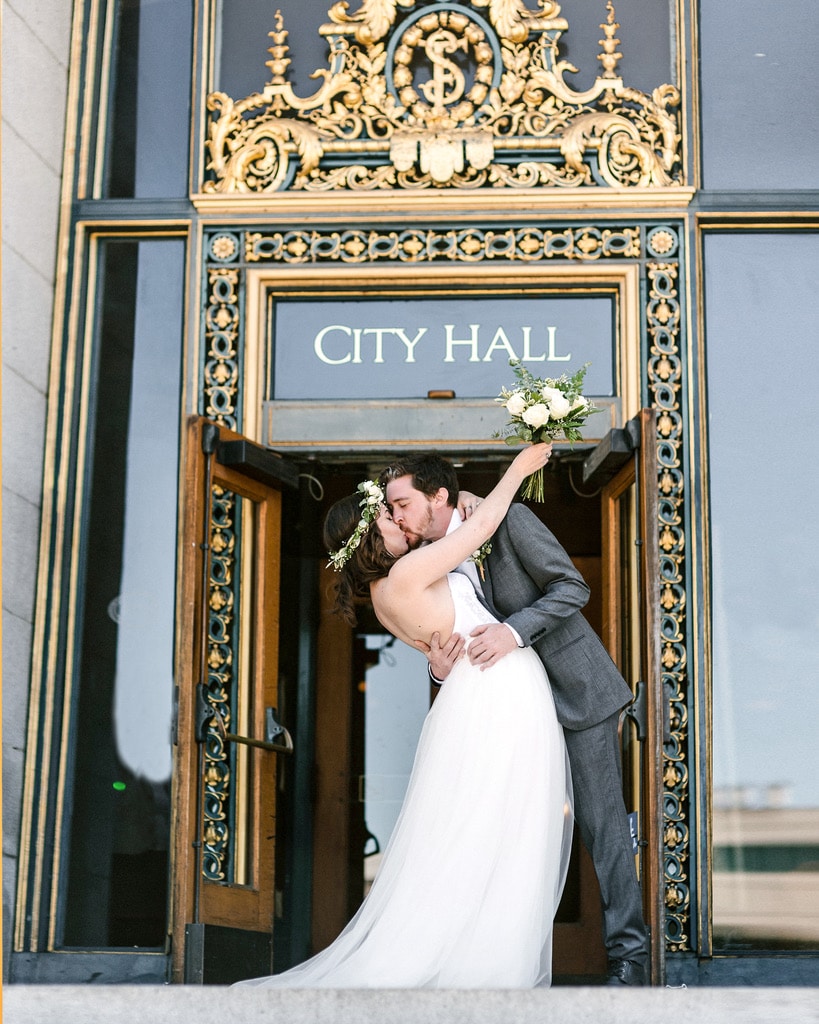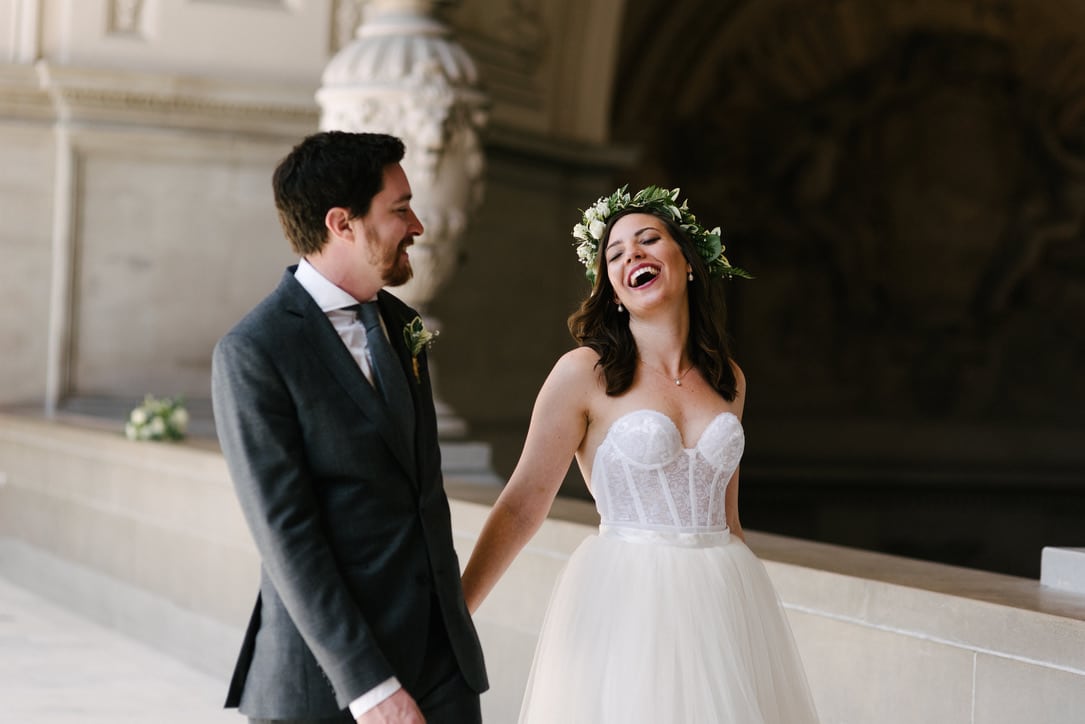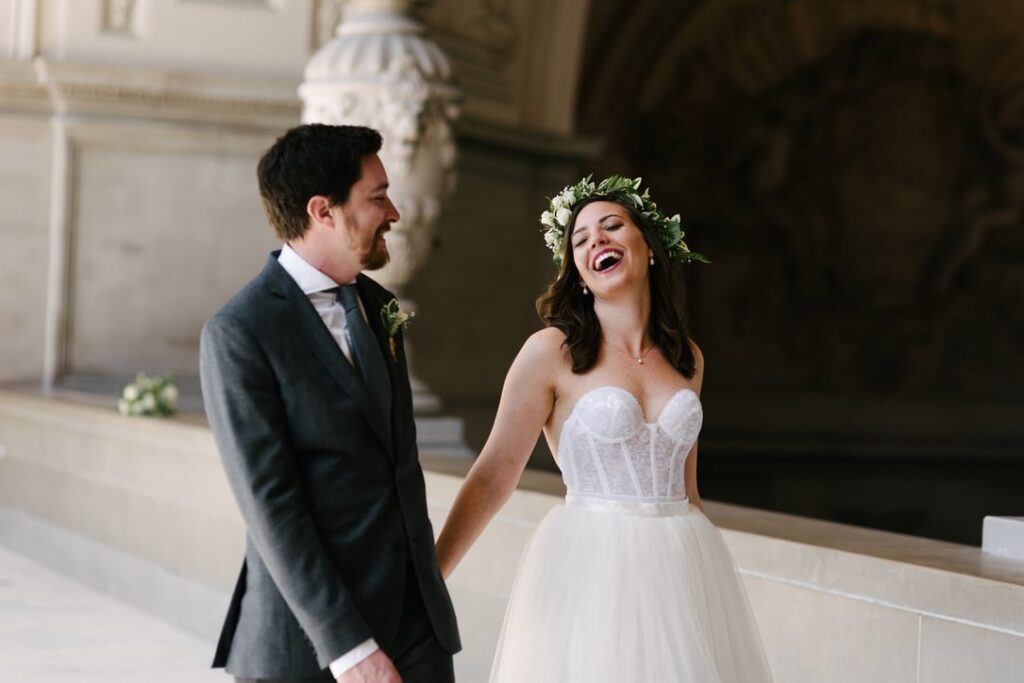 8. reception brunch:
After the ceremony we Lyfted to Kitchen Story. Finding a location that provides brunch on a weekday and took reservations was a challenge!
Kitchen story does both! Well… kinda. Even though we were on time, they gave our reserved table to someone else. We were stuck in the back by the kitchen arguably the worst table in the house.
I was not happy. Especially because I confirmed our reservation not once, not twice, but four times. I confirmed once a month (as they requested) leading up the event.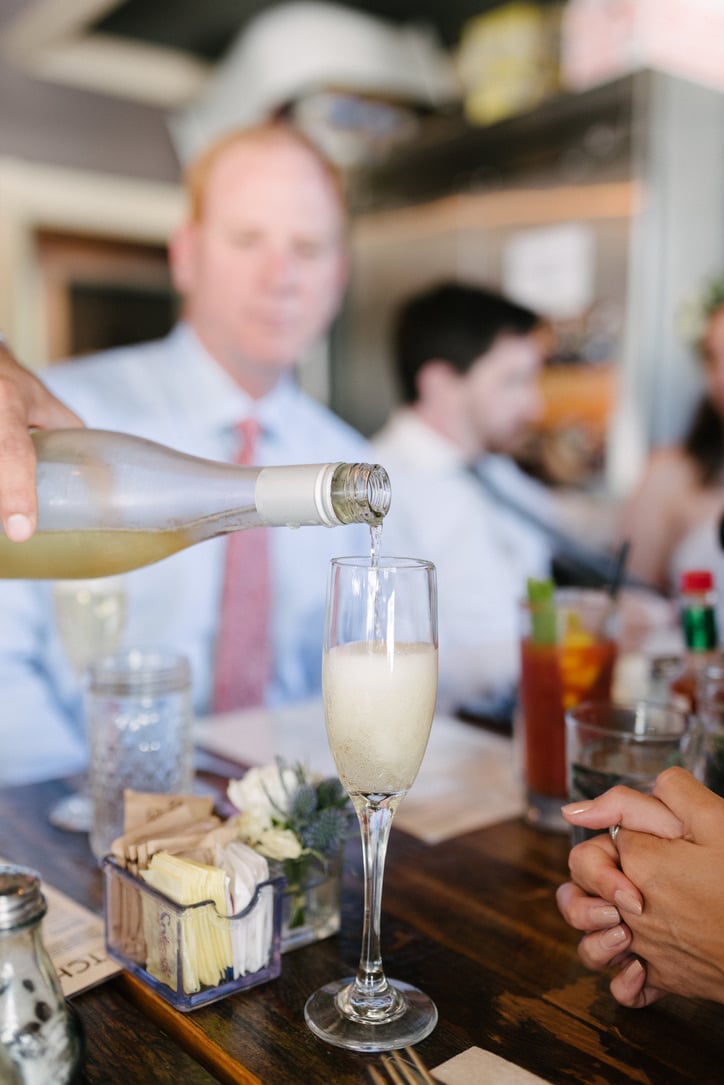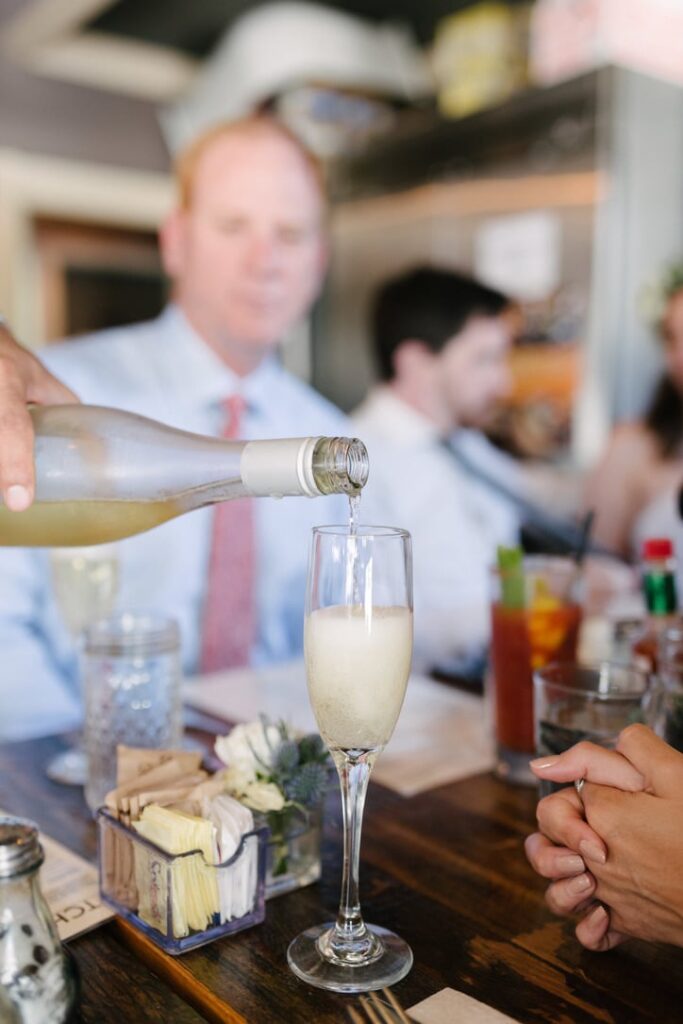 They gave our table to some hot shot wine mogul. He apparently felt very bad about Kitchen Story's mistake and supplied our table with very, very nice wine from his winery in New Zealand.
The food was still FABULOUS! I will definitely be back because their brunch is simply bomb.
Everyone could not stop raving about their meal.
There were a couple of plastic straws served in some drinks and some people ordered lunch. Some of the lunch entrees had paper in the baskets, but this is SF so they'll be composted!
Dad gave a toast, Mom gave a toast, and my Mother-In-Law gave a toast. It was really wonderful!
After brunch wrapped up, we all lyfted back to the hotel for a little R&R before cake and champagne! Our photographer left at this point and I don't have many pictures.
Danielle, Justin, and me all decided to go get coffee. We went back to the hotel room, grabbed our reusable to-go mugs and walked down to Blue Bottle Coffee.
Walking through SF in a white dress and with a flower crown garnered me a lot of attention. People were congratulating us left and right. We also got our coffee on the house!
We've been joking that we should wear these outfits more often! JK, jk, jk.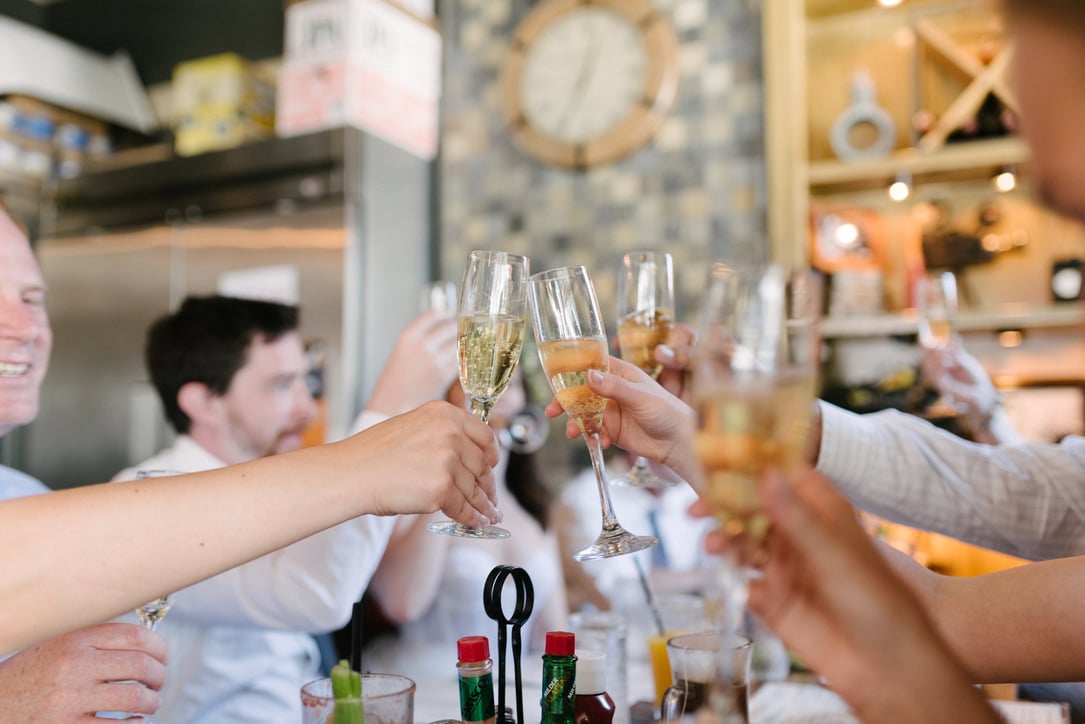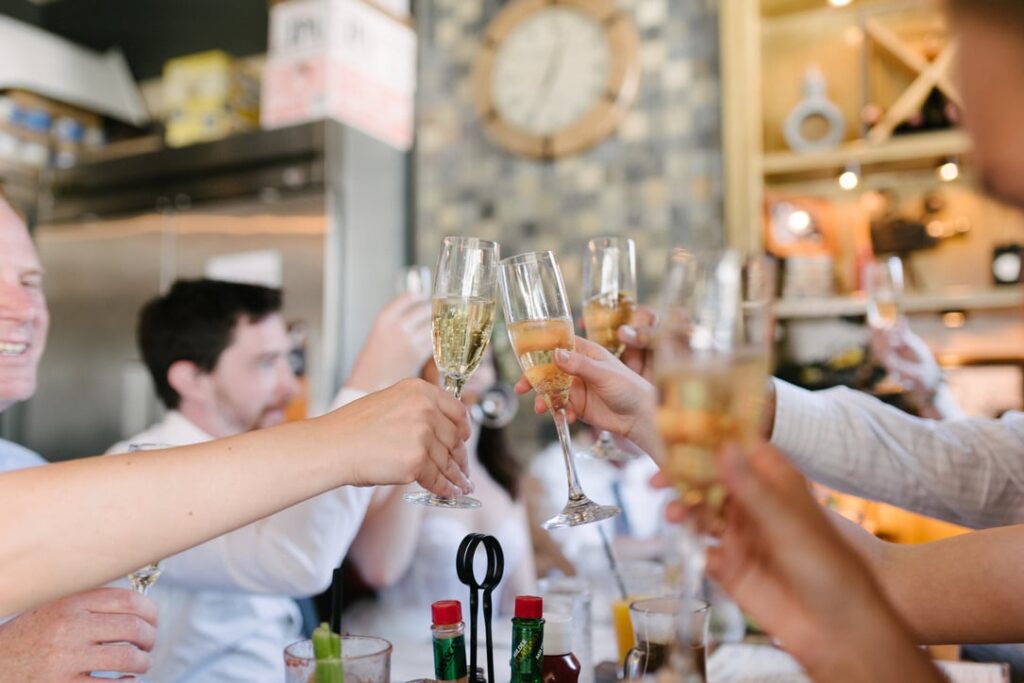 9. cake:
I don't have a very good picture of the cake, but it also came from Whole Foods. My mom was such a champ.
She brought my cake carrier all the way to whole foods to get the cake to-go so we could avoid a single use cake holder.
Thanks, mom!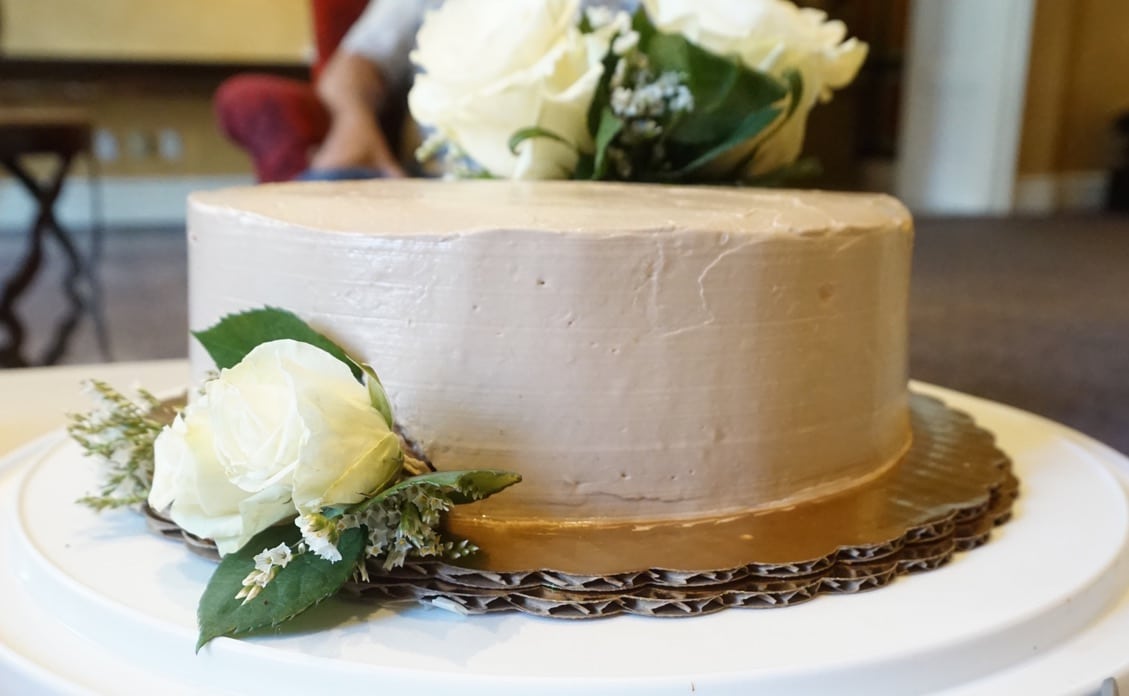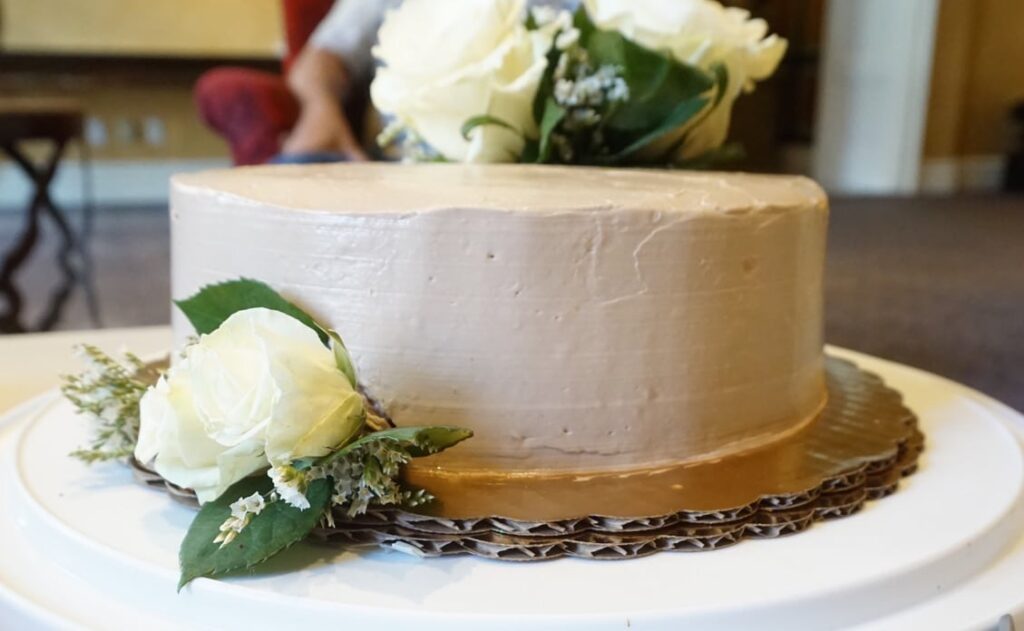 10. after party:
After we ate our fill of cake, we relaxed and sipped on champagne until our reservations were ready at Bourbon and Branch.
The family was all very intrigued. This time we went to the main room. They had the upstairs ready for all of us and it was so awesome! They were so accommodating.
As a bonus, their cocktail napkins were ALL cloth!! It made me want to buy some cloth cocktail napkins. We all spent the evening chatting and drinking lots of yummy drinks before turning in and saying our goodbyes.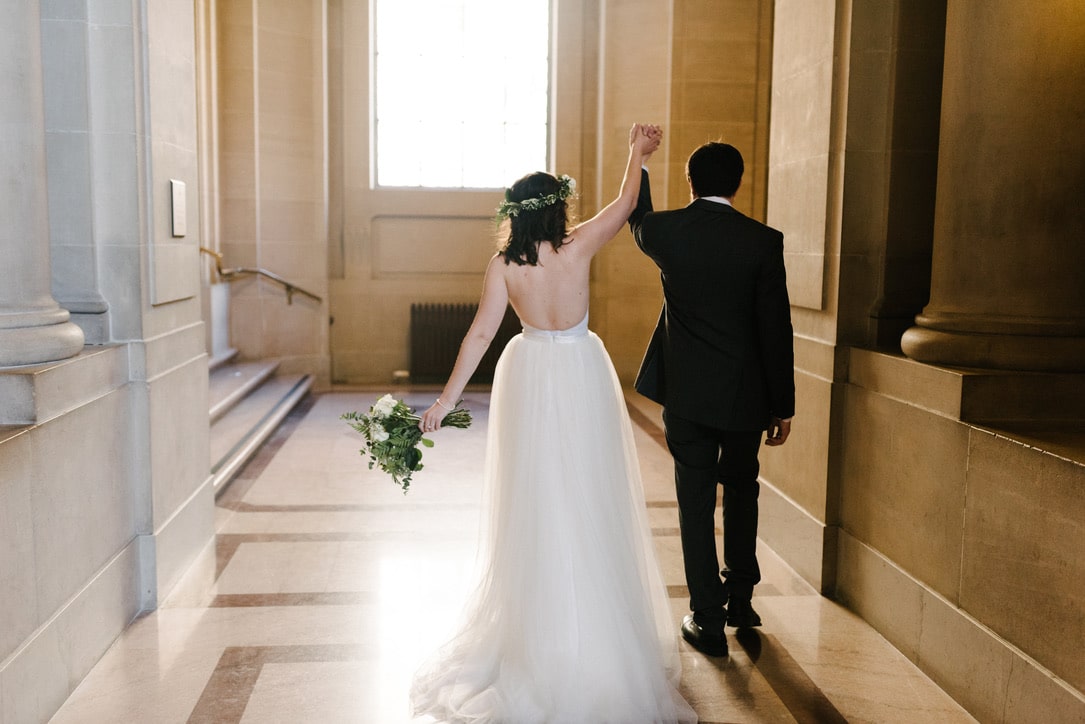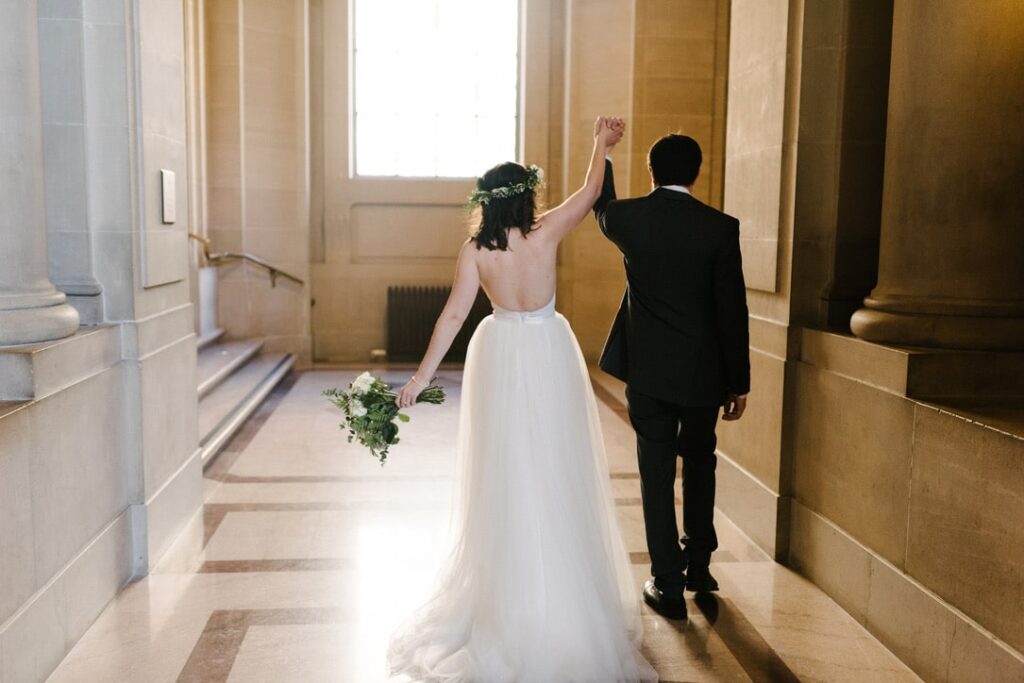 Then Justin and I headed up to our suite like….. nailed it.
All the trash produced from the wedding was a plastic holder for the safety pins and a couple of plastic straws. How do you think we did for our ZW wedding?