My Zero Waste Bachelorette Party
June 27, 2017 | Kathryn Kellogg
Last Updated on July 5, 2023
My sustainable bachelorette party was months ago! But, I have had several requests for my top eco friendly details — because throwing a zero waste party can feel impossible.
These zero waste bachelorette party ideas will show you what I did for my own party, as well as provide you with a springboard for throwing your own party with sustainable party decorations and activities. These unique bachelorette party ideas keep all the fun of a bachelorette without all of the waste. We went out to sustainable locations so we didn't even have to worry about too many eco friendly party decorations — we were just able to focus on fun!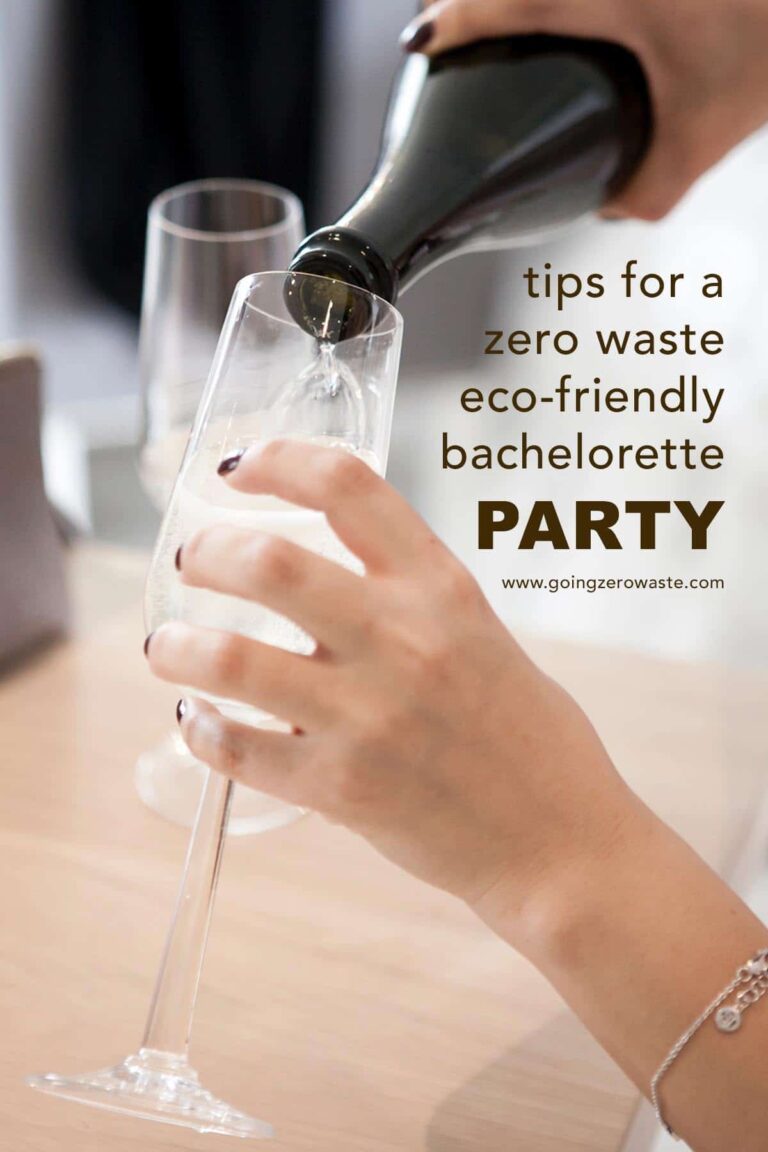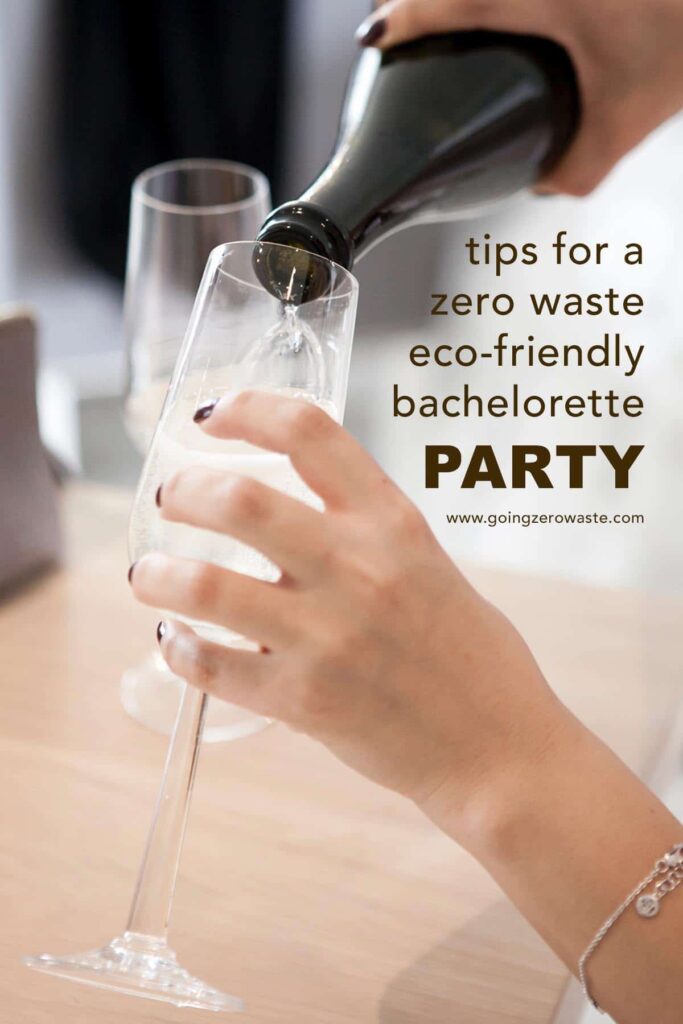 eco friendly bachelorette party
The party planning was completely out of my control, but my two best friends were in charge! I wasn't worried about trash for one second.
When you have awesome friends, they respect you and your lifestyle choices. All I wanted was a fun night out to celebrate our friendship! Seriously, they are THE best and they didn't disappoint with their sustainable bachelorette party ideas.
Since I got married at the courthouse, I knew I wasn't actually going to have bridesmaids. But, just because you have a simple wedding doesn't mean you get to miss out on all of the fun.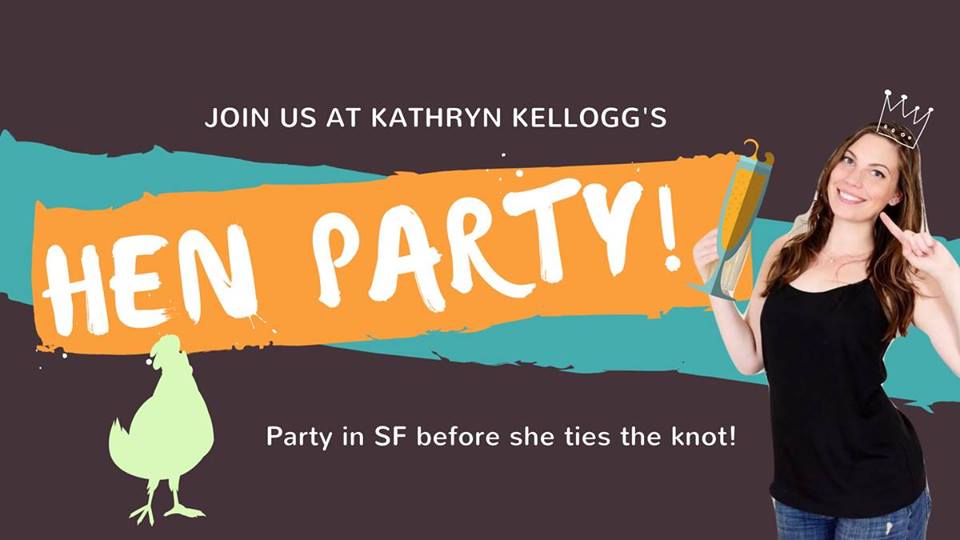 sustainable bachelorette party ideas
opt to rent
When I went wedding dress shopping, I fell in LOVE with a white jumpsuit. I was so torn between the jumpsuit and a dress. I wound up going with a dress, but I continued to lust after the jumpsuit.
All sorts of crazy thoughts ran through my head… "What if I changed into a jumpsuit for the reception? What if I got a jumpsuit for the cake? Or the honeymoon?"
And, I have to admit, I still really, really want a jumpsuit.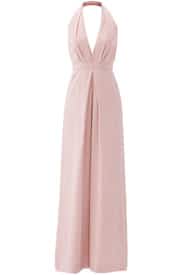 I was browsing Rent the Runway when I stumbled upon the PERFECT blush jumpsuit. The clouds opened, and I could hear heaven's angels sing, "Ahhhhh."
I knew I had to rent it.
Unfortunately, it arrived in a plastic garment bag. I was pretty crushed. I'm not sure if I'll rent from them again. But, I did LOVE the jumpsuit. It fit almost perfectly, and it was amazing for the evening.
I still think renting an outfit is better than buying, and it's a good option if you tire of clothing easily.
make it a whole-day affair
So, let me set the scene…
Saturday morning, I was whisked away wearing no makeup, jeans, and a white tank top. Danielle took me to the BART, where we hopped on and rode it all the way to SF. When we got out, we were surrounded by the March for Science on Earth Day. 
That's right! How fitting. My bachelorette party fell on Earth Day. We watched and supported the marchers for a while before heading into my favorite zero waste store… you guessed it: Credo.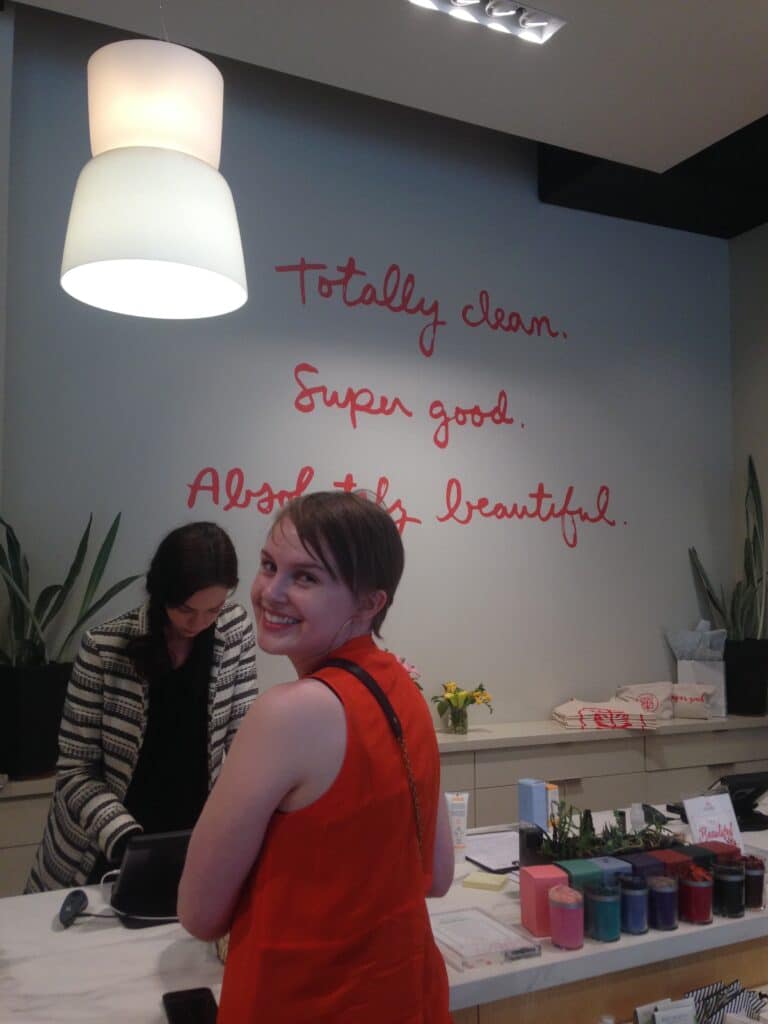 I bought some makeup for the wedding and for the evening.
Then we found our hotel. We stayed at the Sir Francis Drake, and it was so lovely!!! You can see my Klean Kanteen on the counter. Carrying your own water minimizes single-use waste!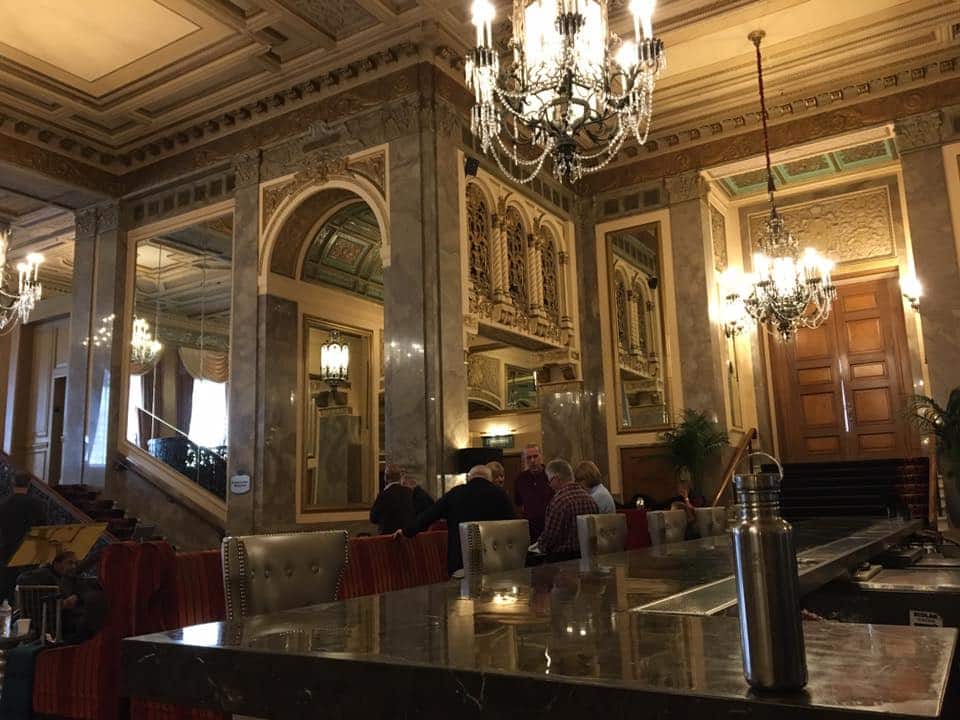 sustainable party decorations
Ali had been up in the room decorating with sustainable party decorations. Compostable crepe paper lined the ceilings, and she put together a killer playlist. I have to admit — being in musical theatre, my musical tastes are a little obscure. But, she nailed it. 
And we got to sing "Take Me or Leave Me" in perfect harmony… one of the highlights of my evening. 
We got dressed and drank lots of champagne in reusable champagne flutes. The hotel sent up a fruit platter all on reusables! I was also given several gifts. Danielle did an excellent job of sourcing classy, made-in-the-USA goods from Etsy. 
unique bachelorette party ideas
An easy tweak to make your bachelorette party unique is to change up your verbiage! I made it clear that I wanted to call it a hen party, because I think that sounds much classier than a bachelorette party. 
It also allows for different types of apparel and accessories than the typical bachelorette supplies. While we stuck to some basics (hello, crown and sash!), we also got unique items that are usable later on.
Focusing on sustainability means you can come up with some really unique bachelorette party ideas that can last beyond the night.
I got the most amazing crown, which I will wear for literally any event I can get away with — including my backyard BBQ. Plus, I can also wear for every birthday. 
I was also presented with the most beautiful sash that says, "Bride to Be." I pinned it with the stinkin' cutest little hen pins. We also got screen printed hen party cloth napkins! 
We opted not to do t-shirts. I think we all knew we would never wear them again. However, I love to wear my hen pin on all sorts of cardigans.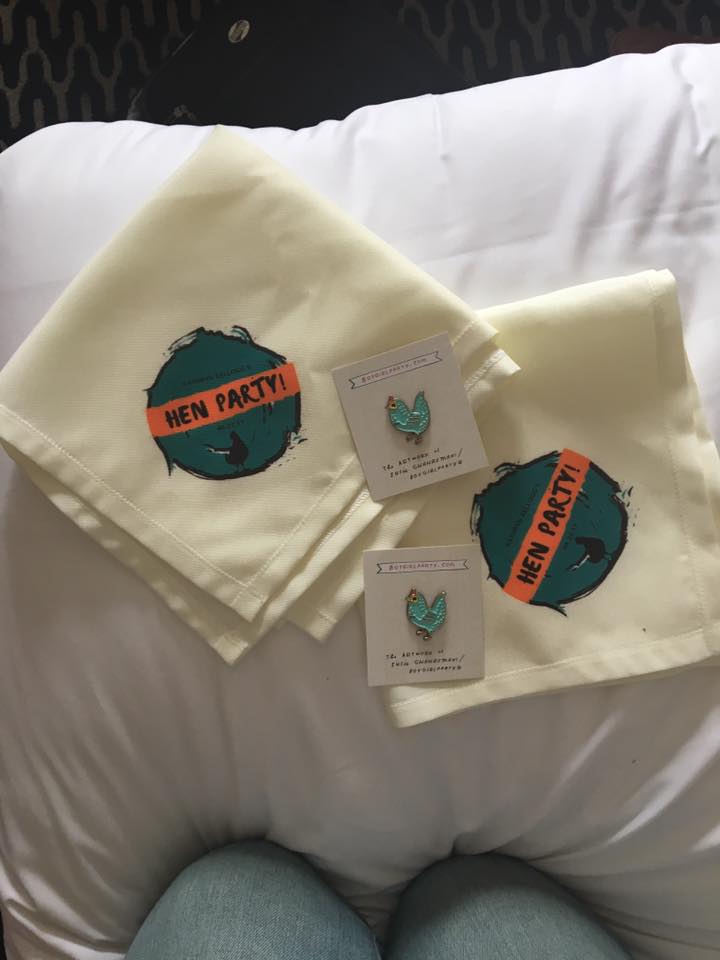 evening activities
Then we kicked the night off with a Lyft to Asia SF where we partied for a while in the downstairs club.
Eventually, we made it upstairs where they served dinner, cocktails, and a burlesque-ish style show. It was SO much fun.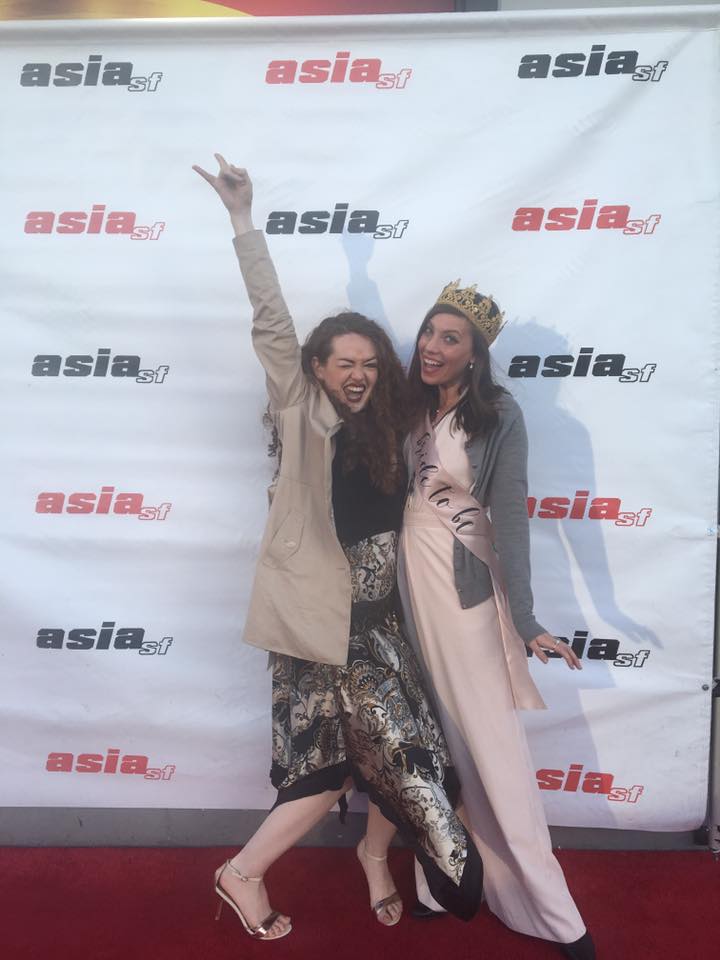 After the show, we headed to the Speakeasy for the after party. Ali is an actor in the speakeasy show, so we got the hookups! I mostly spent my time at the blackjack table perfecting ways to count cards with the dealer. 
I had so much fun playing cards!! It was another highlight of the evening.
At both places we went, we never had to worry about disposables. Even the restaurant had cloth napkins! They really took everything into consideration when booking the event. 
We got back pretty late from the Speakeasy, but we hit up the rooftop bar at the hotel. Had time for another drink, and then we went to bed.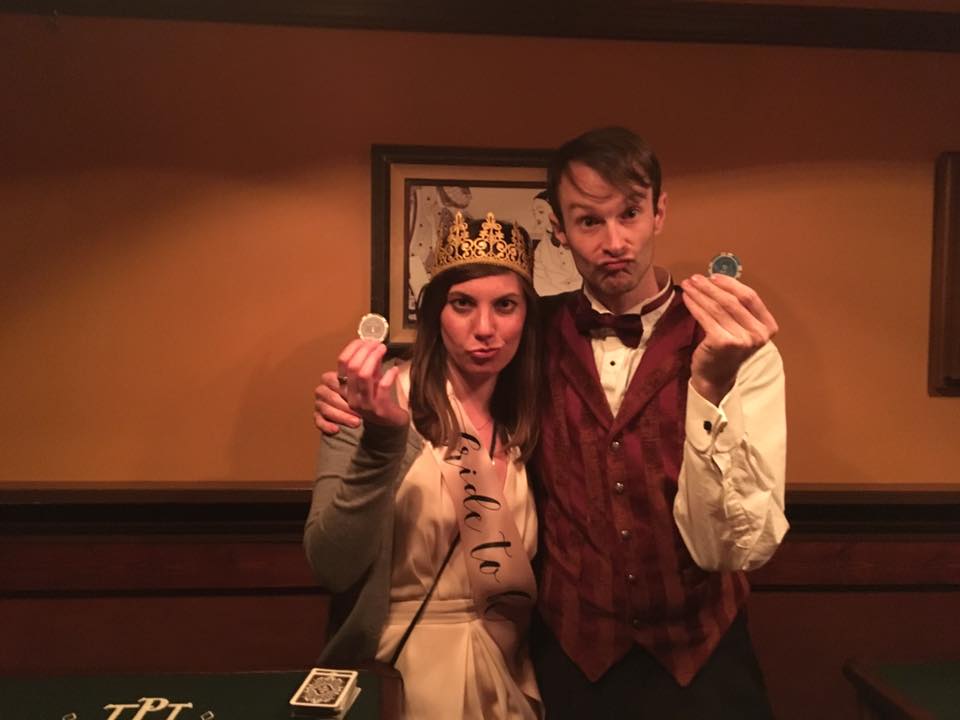 It was the most perfect zero waste bachelorette party I could have asked for.
tips for planning a zero waste bachelorette party
1. take it easy on the favors
It's a lot of fun to have little trinkets that are memorable and special. But, keep them to a minimum so they will be special. No one needs penis-shaped straws and wine charms. No one will use those again, and I encourage you to think outside the box with your bachelorette party ideas.
If you really want some sort of penis-shaped something, I would do it in the form of a cake. You get the gag and then it can be eaten. Yum!
I would even be skeptical of getting t-shirts. Will you really wear those again?
2. keep it simple
There's no reason to go overboard. A few eco friendly party decorations here and there, plus a few of your favorite people, are all you need. You can feel super special just being surrounded by those you love. I had the best night because my friends are so awesome. 
There was no need to fly half away around the world. And there was no need for lots of gag gifts and decorations that would only be thrown away the next day. 
3. plan ahead
My bridesmaids double checked every place we were going to go for reusables. Yelp is a great way to check out menus and dishware at your next stop.
Always make sure to double check the place for reusables before booking! 
faqs
what are your go-to eco friendly party decorations?
Confetti and paper decorations are perfect examples of classic party decorations that are typically made of plastic. However, you can find biodegradable confetti and rice paper decorations for decent prices to achieve the same look. As mentioned above, compostable crepe paper and streamers also exist!
Other ideas could include solar powered lighting, fresh flowers, or a homemade pinata!
what are other unique bachelorette party ideas that can be done sustainably?
Focus on activities rather than 'stuff.' A yoga retreat, pottery making, or wine tasting can make an amazing hen party memorable without creating a lot of trash.
Keep in mind the hobbies, tastes, and preferences of the bride-to-be. It's easy to find sustainable activities to do with them that don't require plastic twisty straws or penis confetti that will just end up in landfills.
---
Most importantly, HAVE FUN!
Unexpected trash can always happen. But, just roll with it. You can't plan for everything in life.
I had the best party and I can't thank my friends enough. They are the absolute best. I met Ali while doing Midsummer Night's Dream my first year in CA, and I met Danielle through blogging!!
Life is crazy and wonderful.
If either of you are reading this post right now, thank you so much for making my hen party amazing! I will remember this night of awesomeness forever. I love you both so much.
Hugs and kisses,
KK
---