The Ultimate Guide to Zero Waste Cleaning
February 25, 2020 | Kathryn Kellogg
Last Updated on April 11, 2020
Switching to a zero-waste cleaning routine has been one of the best things I've done for my wallet, health, and the environment.
Switching up my cleaning caddy was one of the very first zero-waste swaps I made and I couldn't be happier.
If you're just starting to try and reduce your waste, I think starting with your cleaning caddy is a great idea.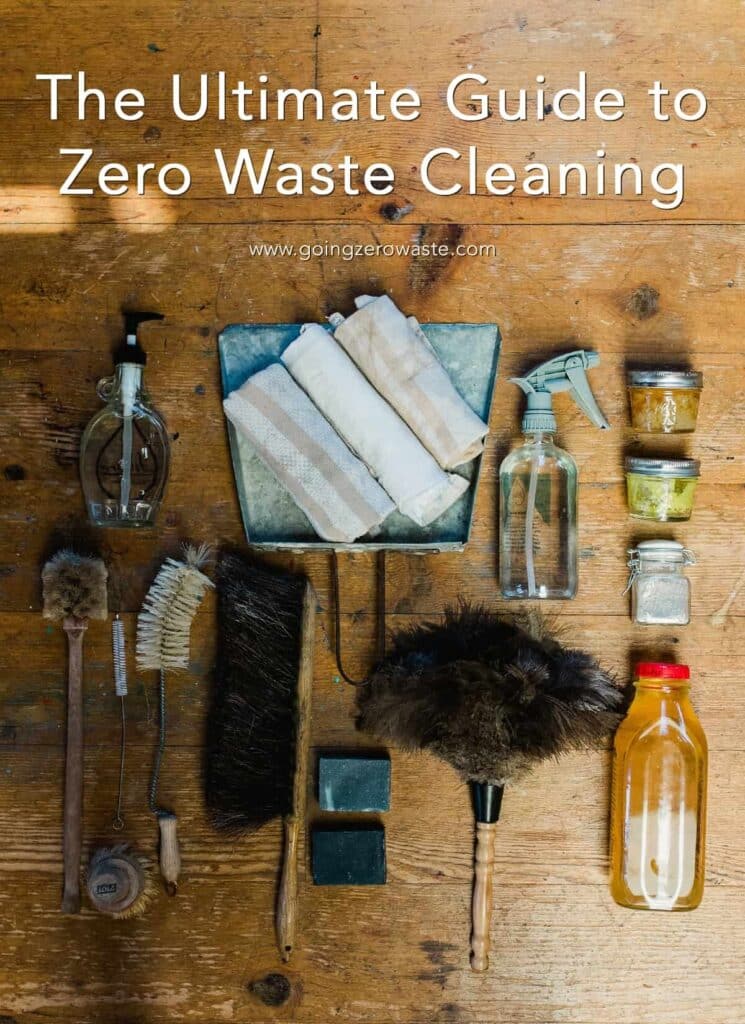 This post contains affiliate linking for more information please see my disclosure policy.
Most conventional cleaning products are irritating to both the nose and throat due to artificial fragrances, volatile organic compounds (the same building blocks that create smog), and other toxic ingredients.
Most conventional cleaners are also packaged in plastic and many of them aren't biodegradable meaning they won't break down in nature.
Why are we using cleaning products that will wind up in our waterways and natural environments if they're toxic and won't breakdown?
cleaning supplies:
First, let's talk about the tools we clean with.
Most cleaning tools in your house are probably made from plastic, and that's a-ok!
There's no reason to run out and replace your cleaning supplies with plastic-free counterparts.
I still have a plastic toilet brush that will probably last me for the next decade.
But, once it finally breaks and is no longer functioning, I will probably upgrade to a nice, chic bamboo one.
But, I'm also really intrigued by this steel and silicone brush… I don't know if you'd ever have to replace it.
I keep all of my supplies in a metal cleaning caddy which was a Christmas gift from Justin a few years ago. You can find a similar one online or at a your local craft store.
In my caddy, I stash a feather duster, cleaning spray, wooden dish scrubs, a hand broom, a few reusable bar towels (they're the BEST at absorbing water), a small container of baking soda, vinegar, and a metal dustpan.
Let's take a closer look at some zero waste cleaning supplies:
cleaning recipes:
I like to DIY my cleaning products because it's soooo cheap, easy, and doesn't take much time at all.
There's also the added benefit of knowing exactly what ingredients are in your cleaners.
However, there are a few really great cleaning brands out their like blueland.
They sell tablets that you mix with water in your own home, they're also cruelty-free, zero waste, and biodegradable.
Here are a few of my favorite recipes.
To get all of my cleaning recipes, be sure to check out my book 101 Ways to Go Zero Waste!
areas of the home:
Now that you have a good idea of which tools and recipes you might want to try, here's a little run down of how both Justin and I clean the house.
kitchen:
Now, I typically tackle the kitchen.
After making a big meal, I tend to wash the dishes using either a DIY dish soap (recipe in my book 101 Ways to Go Zero Waste) or one like Filaree.
I use my bamboo dish scrubs for things that need to be hand washed and load the dishwasher.
Dishwashers do save more water than handwashing so if you have a dishwasher, load it up!
I typically use cast iron pans when cooking so here's a blog post on how to clean those pans, if you have any which I highly recommend because they're awesome and they'll last forrrevverrrr.
Then lastly I wipe down my counters, oven and sink with my all-purpose cleaning spray and a rag.
bedroom:
Now, I have a dog who just loves to snuggle in our bed which isn't super great.
So, we make sure to change our sheets every week, and always keep the pillows and top sheet covered so she isn't rubbing all over what we directly sleep on.
One of the best ways to clean out the air in the bedroom (dog) is to simply open the window!
If you're looking for tips on laundry, be sure to pick up a copy of my book! I'm also very spoiled because Justin does all the laundry and hangs everything to dry. It's a total dream.
And, be sure to check out my blog post, if you're interested in finding organic and sustainable linens for your bed.
bathroom:
I also typically clean the bathroom, and swear by my tub scrub. Seriously.
Go read the comments on that post. Everyone is obsessed. I spread the scrub all around the tub and then use a bamboo scrubber, specifically for the bathroom, to wipe away any grime.
Then I use the all-purpose cleaning spray for the toilet, mirror, and sink. I use my old plastic toilet brush for inside the bowl and rags for everything else.
floors:
Since every room has floors, I figured it'd be best to have this as a sperate entry.
Justin also tackles all of the flooring. He vacuums every other day with our Dyson because Nala sheds like crazy.
Around once a month he hits the floors with a mop. He just puts a little bit of Dr. Bronners soap in the bucket to clean the floors.
Well, that's it. That's our big bi-weekly cleaning routine. Do you have any zero waste cleaning tips and tricks up your sleeve?