Zero Waste & Eco Friendly Cleaning Guide
February 25, 2020 | Kathryn Kellogg
Last Updated on October 12, 2023
This guide is what you need to get started with zero waste and eco friendly cleaning! Jump start your zero waste lifestyle by switching to all natural cleaning products.
There are many zero waste cleaning products that you can make yourself with a few basic supplies. Eco friendly cleaning is not only better for the environment, but it's much less expensive too. We'll teach you what cleaning tools you need for each room as well as what all natural cleaning products work best.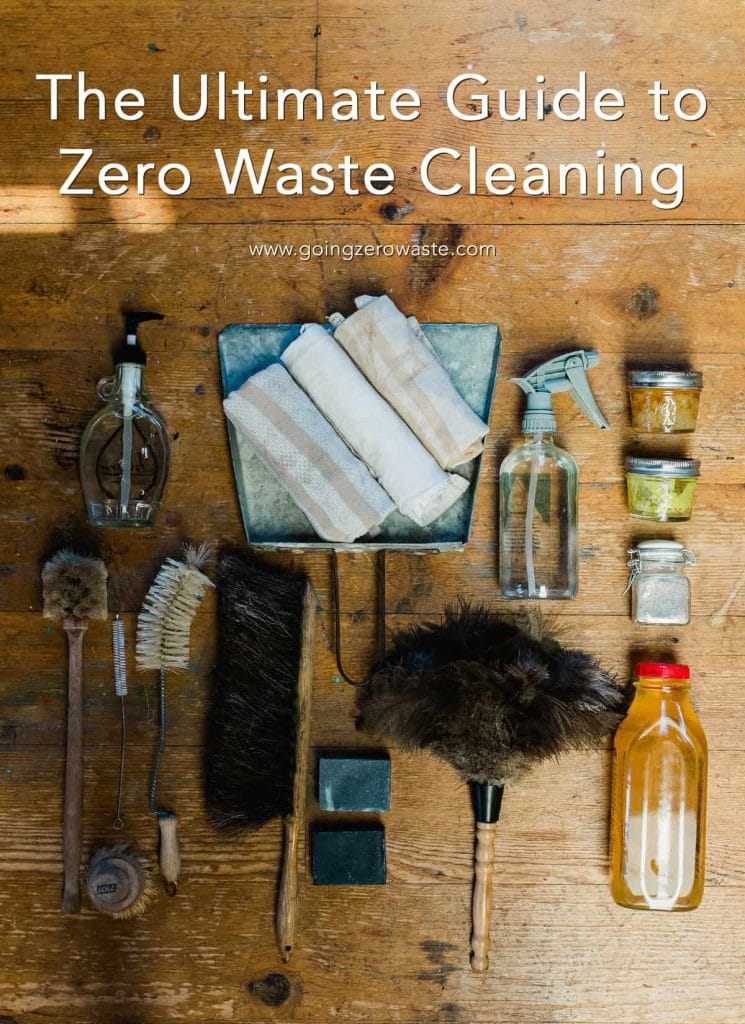 This post contains affiliate linking for more information please see my disclosure policy.
eco friendly cleaning
Switching to a zero-waste cleaning routine has been one of the best things I've done for my wallet, health, and the environment.
Most conventional cleaning products are irritating to both the nose and throat due to artificial fragrances, volatile organic compounds (the same building blocks that create smog), and other toxic ingredients. GROSS!
Plus, most conventional cleaners are also packaged in plastic and many of them aren't biodegradable meaning they won't break down in nature.
Why are we using cleaning products that will wind up in our waterways and natural environments if they're toxic and won't breakdown?
That's why I knew it was time to make the switch to zero waste cleaning, and I couldn't be happier.
reusable cleaning products:
First, let's talk about the tools we clean with. Most cleaning tools in your house are probably made from plastic, and that's a-ok! There's no reason to run out and replace your cleaning supplies with plastic-free counterparts. If you do then odds are the waste will still end up in the landfill, and that is going to defeat the purpose.
As a matter of fact, I still have a plastic toilet brush that will probably last me for the next decade. But, once it finally breaks and is no longer functioning, I will probably upgrade to a nice, chic bamboo one. I'm also really intrigued by this steel and silicone brush… I don't know if you'd ever have to replace it.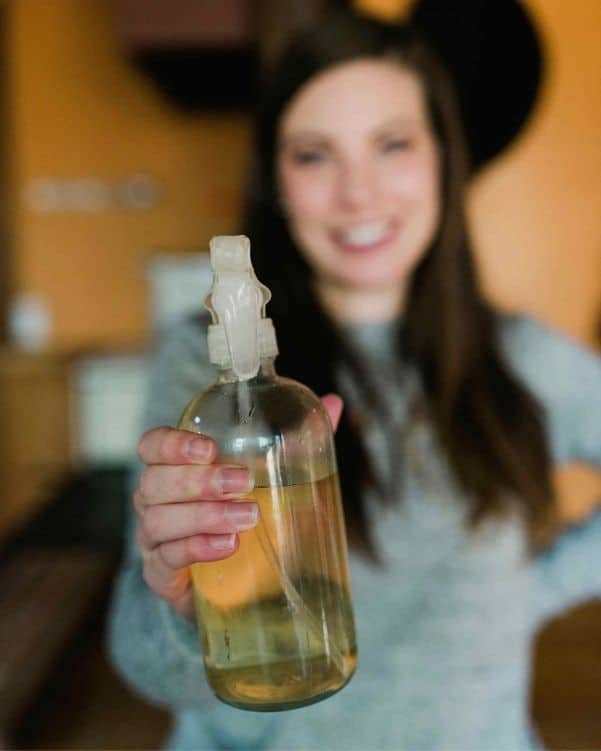 cleaning caddy
Switching up my cleaning caddy was one of the very first zero-waste swaps I made and I couldn't be happier.
If you're just starting to try and reduce your waste, I think starting with your cleaning caddy is a great idea.
I keep all of my supplies in a metal cleaning caddy which has been amazing!
In my caddy, I stash a feather duster, cleaning spray, wooden dish scrubs, a hand broom, a few reusable bar towels (they're the BEST at absorbing water), a small container of baking soda, vinegar, and a metal dustpan.
Let's take a closer look at some other zero waste cleaning supplies:
Feather duster: You can certainly get a plastic-free feather duster. Just be aware that most plastic-free feather dusters are made from ostrich feathers and wooden handles. I recommend getting one second-hand, so that way it's already in existence and you're just keeping it out of the landfill. If you feel like feather dusters just move dust around, or onto the floor, you can always just vacuum it up afterward.

Rags: You can use these in lieu of feather dusters to wipe up the dust, or other messes. I prefer 100% cotton bar towels. They do a great job at absorbing liquid and picking up dust. They are one of the best reusable cleaning products out there because they take a long time to wear out.

Cleaning spray: This versatile all-purpose cleaning spray works on just about every surface, and in every room. It can be used to clean mirrors, windows, sinks, countertops, and more.

Dish scrubs: I like bamboo dish brushes because they last such a long time. There are several different kinds too – like a bamboo bottle brush which has a long handle or a handheld pot brush which I use on my tub and tile. These can be composted at the end of their life.

Wooden hand broom + metal dust pan: If you want to sweep up some small accidents without breaking out the vacuum, get a hand broom

and

a metal dustpan

. Mine are both secondhand, so if you're looking for something similar, I'd check out an antique mall.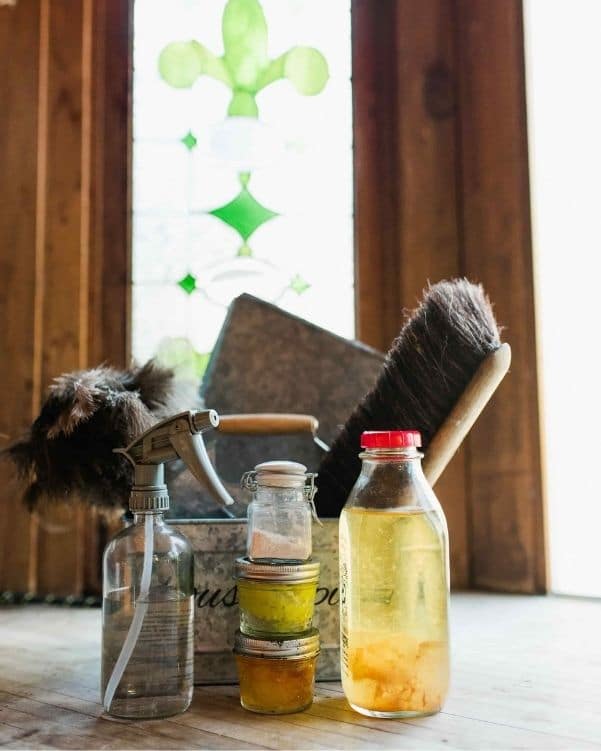 more reusable cleaning products and supplies
Wooden broom: When you have to sweep something up, but don't want to break out the vacuum, a classic wooden broom is the way to go. Most brooms on the market are made from plastic (including the bristles!), but you can certainly still find wooden brooms

with natural bristles online. I've also heard that a few people have had great luck at TJMaxx with finding a

bamboo swiffer

with a reusable and washable pad.

Wooden toilet brush: Most toilet brushes are made from plastic. But, there are several options like a bamboo one or the steel and silicone brush I mentioned earlier.

Mop: Finding a plastic-free mop is easy if you stick with what I like to call the old-school janitor mop. Justin insisted on having this sort of mop, and since he felt so passionately about it, I told him he could have his mop if he did all the mopping. He accepted, and it's probably the best purchase I've ever made.

Vacuum: I personally have a Dyson Animal, and I can't recommend it highly enough. Dyson offers a lifetime warranty, so if you do buy one of their vacuums, you can feel pretty good about that purchase because their vacuums are built to last. Fun fact: dust is compostable. Most carpet is made from plastic, but if you have 100% wool or silk rugs you can compost what's in your vacuum.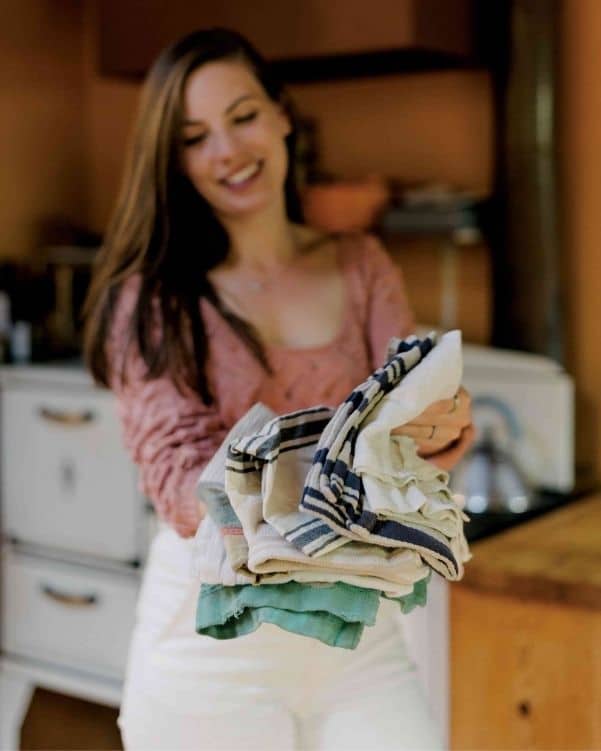 make your own all natural cleaning products:
I like to make DIY zero waste cleaning products. This makes zero waste cleaning super cheap, easy, and doesn't take much time at all.
There's also the added benefit of knowing exactly what ingredients are in your zero waste cleaning products.
Here are a few of my favorite recipes.
To get all of my cleaning recipes, be sure to check out my book 101 Ways to Go Zero Waste!
There are also a few really great cleaning brands out there like blueland. They sell tablets that you mix with water in your own home, plus they're cruelty-free, zero waste, and biodegradable.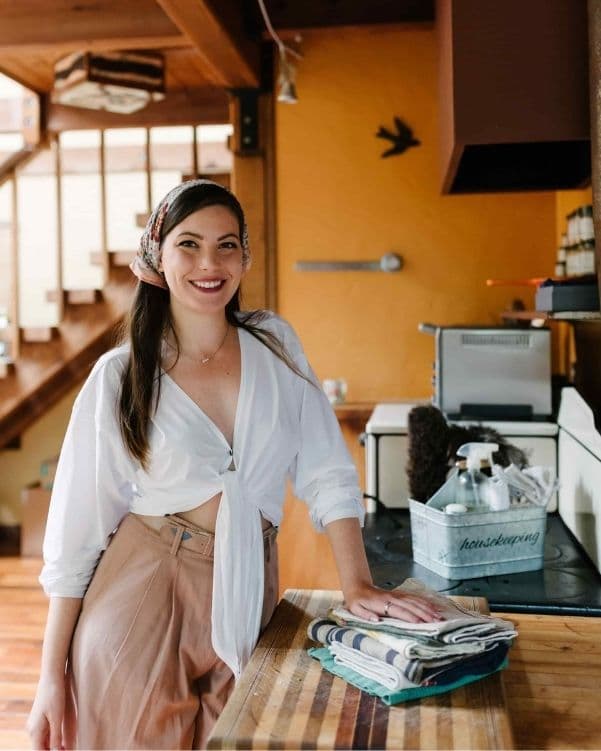 eco friendly cleaning around the home:
Now that you have a good idea of which tools and recipes you might want to try, let's break down how to clean each room.
kitchen:
It's no surprise that the kitchen is the heart of the home and can get pretty dirty!
After making a big meal, I tend to wash the dishes using either a DIY dish soap (recipe in my book 101 Ways to Go Zero Waste) or one like Filaree.
I use my bamboo dish scrubs for things that need to be hand washed, then load the dishwasher. Dishwashers do save more water than handwashing, so if you have a dishwasher, load it up!
I typically use cast iron pans when cooking — here's a blog post on how to clean those pans. If you have been on the fence about investing in cast iron, I highly recommend it because they're awesome and they'll last forrrevverrrr.
Lastly, I wipe down my counters, oven, and sink with my all-purpose cleaning spray and a rag.
bedroom:
Now, I have a dog who just loves to snuggle in our bed which isn't super great. But who can resist such a snuggly companion?
So, we make sure to change our sheets every week, and always keep the pillows and top sheet covered so she isn't rubbing all over what we directly sleep on.
One of the best ways to clean out the air in the bedroom is to simply open the window!
If you're looking for tips on laundry, be sure to pick up a copy of my book! I'm also very spoiled because Justin does all the laundry and hangs everything to dry. It's a total dream.
And, be sure to check out my blog post, if you're interested in finding organic and sustainable linens for your bed.
bathroom:
I swear by my tub scrub. Seriously. It's one of the best zero waste cleaning products ever.
Go read the comments on that post. Everyone is obsessed. I spread the scrub all around the tub and then use a bamboo scrubber, specifically for the bathroom, to wipe away any grime.
Then I use the all-purpose cleaning spray for the toilet, mirror, and sink. I use my old plastic toilet brush for inside the bowl and rags for everything else.
floors:
Since every room has floors, it's important to use eco friendly cleaning products as much as possible.
We vacuum every other day with our Dyson because our dog sheds like crazy.
Around once a month we hit the floors with a mop. One of my favorite all natural cleaning products is Dr. Bronners soap. Just put a little in the bucket with water and clean the floors. They are clean & beautiful.
frequently asked questions
how often should you deep clean your house?
You should do a deep cleaning in your home at least 2 times a year. Dust bunnies, grime, and other bacteria can hide out of sight, so it's a good idea to deep clean. Under beds, under and behind sofas, closets, pantry, and everywhere else in your home should be cleaned.
how do I limit the amount of time spent cleaning?
While there are a few people out there who love cleaning, many of us don't! So, it's important to minimalize what needs to be cleaned, and making a plan will allow you to spend less time on big cleaning projects.
The first defense is to get rid of things that you don't use. Donate them to charity, give them to your friends, or donate to secondhand shops as much as possible. If there is less stuff around there is going to be less to clean and keep track of.
Secondly, work out a cleaning calendar and form habits to clean on a regular basis. This will minimize the amount of time you spend cleaning overall because you pick up after yourself right away instead of dealing with big messes.