Zero Waste Cleaning with Fillaree
November 7, 2016 | Kathryn Kellogg
Last Updated on April 7, 2020
I am so excited to tell you guys about Fillaree. Fillaree is a zero waste company that specializes in small batch, organic cleaning products.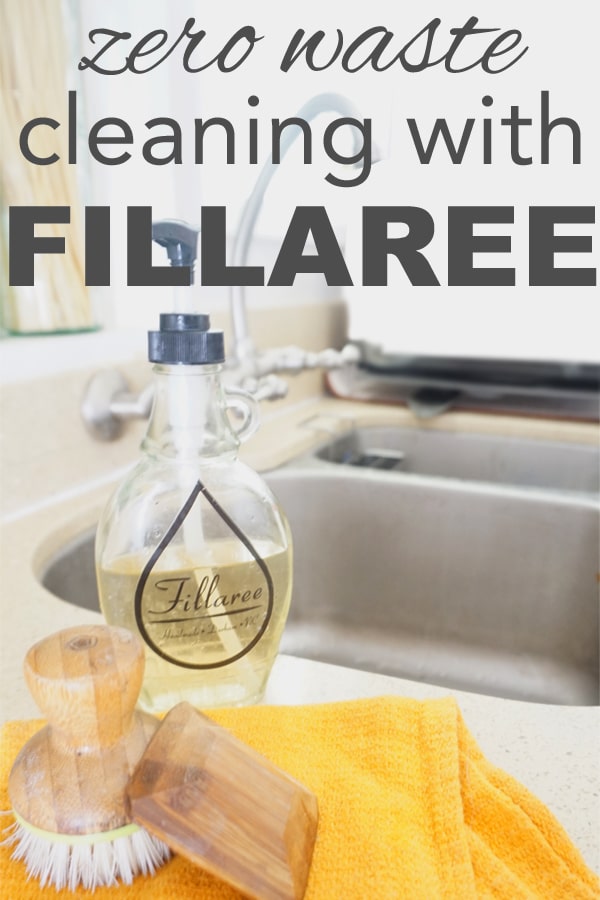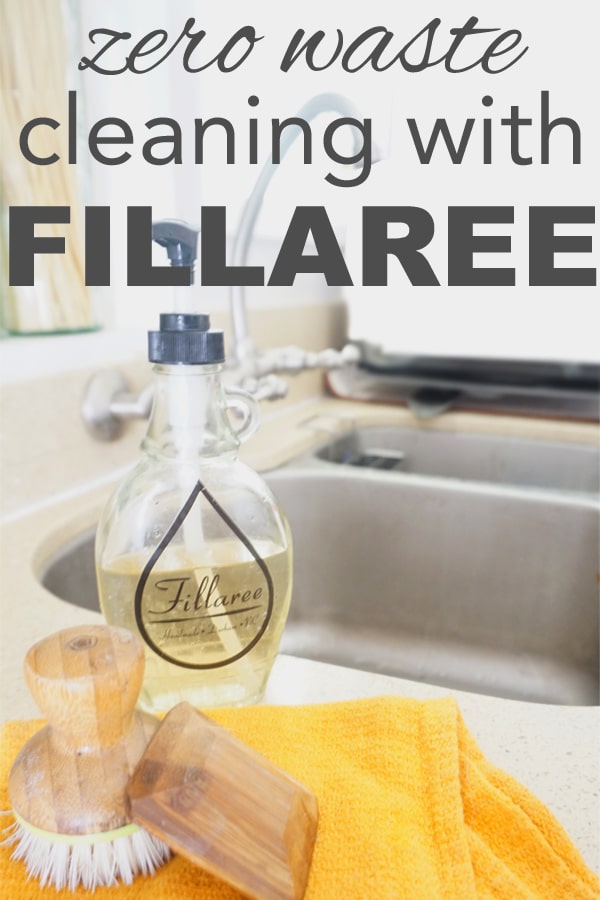 This post was sponsored by Fillaree. I received dish soap to try for free. All thoughts and opinions are my own. Please see my full disclosure for more information.
The founder, Alyssa, started making cleaning products in 2014 around the same time her mother was diagnosed with ovarian cancer. The connection between cancer and plastic led her down a path of natural living. Sound familiar?
She learned the art of soap making – which is so cool! Having dabbled in soap making myself, it is definitely an art.
Beyond just the dangers of plastic, cleaning companies (even organic ones) don't have to disclose the ingredients they use. Isn't that scary?
Who knows what's in the stuff we're spraying in our home? Unless you're making it yourself, make sure you're working with a company you really believe in.
Fillaree uses only the purest and safest ingredients. I've had so much fun testing out their products. All of their products are packaged in glass, stainless steel, or thick plastic for refills.
My favorite product has been the dish soap. No spots left on the dishes, no streaks, and nothing cloudy, it's everything you want in a dish soap. Plus it's amazing on caked on gunk and grease.
I've also tested their hand soap and clean dream spray. The clean dream spray is a wonderful all purpose cleaner! I've used it on my counters, the stove top, oven, and even as a dusting spray.
All of her products smell amazing, but the best part is that you can refill the bottles! Even if you don't live near one of their refill stations, she has a mail in refill program. How cool is that!?
Shes' taking the zero waste business model to the next level. In fact, she sent me upcycled glass bottles for testing. I love that my dish soap came in a maple syrup bottle. This is a company that really cares about the environment.
Picture from Fillaree
I highly recommend that you check out her store. It just opened this weekend. If you're too busy to make your own cleaning products, I would definitely entrust that job to Fillaree. If you have a co-op, let them know you'd like to see something like this in your store.
I am thrilled to see so many hand-crafted, zero waste businesses growing. This movement is seriously influencing the way we consume. The more we make our voice heard, businesses will rise up to meet our needs.