Top 5 Best Bidet Attachments
October 2, 2015 | Kathryn Kellogg
Last Updated on March 4, 2022
Bidet attachments may seem a little daunting. However, during the Covid quarantine, when the toilet paper shortage was real, many of us started turning to this zero waste gadget. And might I add, it's my fave!
Adding a bidet toilet attachment is fast, easy, and environmentally friendly. Using a bidet allows you to cut back on toilet paper usage, which means it's easier on your plumbing. Additionally, they help save water, clean away bacteria, and are cost effective. They are beneficial to people of all ages and are easier on the environment than toilet paper and flushable wipes.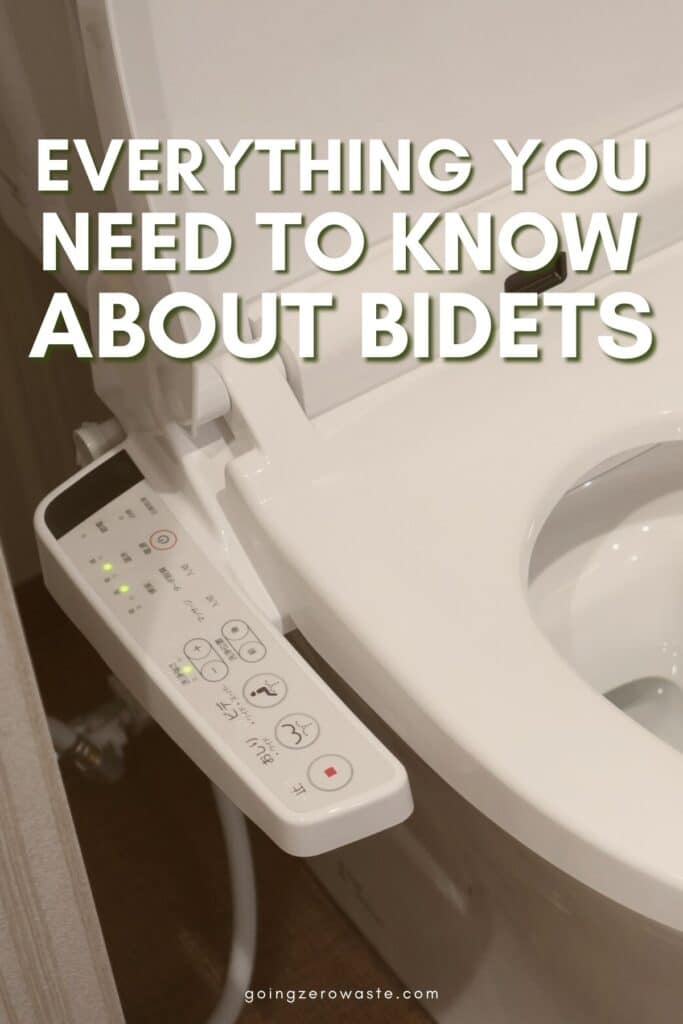 I've been on a bidets journey, and in the end, we were thrilled to purchase and install this bidet attachment. In this post, I'll help you find the best bidet attachment for you and answer common questions like, "how does a bidet work?" I'm excited to share with you all the reasons why I love bidets (and I think you will love them too)!
why toilet paper is so bad for our environment:
Americans use 8 million tons of toilet paper a year. Natural forest habitats that have been around for 100's of years are being destroyed to keep up with demand. We cannot create and regrow that biome fast enough to makeup for the emissions.
Many companies aren't using recycled paper or even controlled trees – they're using virgin pulp. If every US house used just one roll of 100% of post-consumer recycled TP a year it would save 423,900 trees! That is huge!
For a full guide on eco-friendly toilet paper options, be sure to check out this post! The Ultimate Guide to Sustainable Toilet Paper.
history of bidet toilet attachment
Bidets aren't super popular in America, but they're incredibly popular almost everywhere else in the world. Ever since Justin heard about the Happy Toilet, he was dying to get one.
Originally, bidets were handheld devices invented in France in the 1700s, and they have evolved to the point that now you can control a modern bidet with remote control! How awesome is that?
Bidet attachments are popular all over the world, but have had a hard time gaining traction in the U.S. They're most popular with the elderly, people who suffer from arthritis, or anyone who has difficulty turning.
But we can all benefit from adding a bidet toilet attachment.
why bidets are beneficial
Easy to install & uninstall
Keep you feeling clean and fresh
Helps eliminate hemorrhoids and removes bacteria
Reduces the amount of toilet paper you need
Easy on plumbing
Saves trees
Budget friendly
Eco Friendly
Saves water
Did you know it takes 37 gallons of water to make one roll of toilet paper?
How does a bidet work?
Bidet attachments typically have one or two dials. One controls the stream of water and the strength it sprays, and the other controls the temperature of the water.
The attachment easily hooks up onto the back of your toilet and has a small spigot at the back to control the temperature and the strength of the water stream. A small stream of water comes out of the back and sprays your bottom to wash away anything that might be left behind after you finish your business.
And, if you lean forward, you can also clean your female parts which is fantastic when it's – you know – that time of the month. Be sure to check out some low waste period options too.
best bidet attachments
I've moved A LOT. Sometimes I take the bidet with, and sometimes I leave it behind to bless the next tenant's life. So, I've been able to try a few different types bidet attachments, and they've all been very easy to install, uninstall, and use.
brondell bidet attachment:
Non-electric
Multiple water pressure and temperature settings
Fully adjustable bidet attachment
Easy to install
Self-cleaning nozzle
/ SHOP BRONDELL /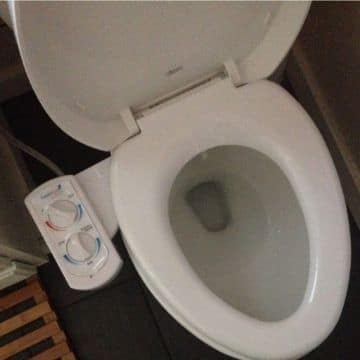 tushy bidet attachment:
Non-electric
Multiple water pressure and temperature settings
Fully adjustable bidet attachment
Easy to install
Self-cleaning nozzle
/ SHOP TUSHY /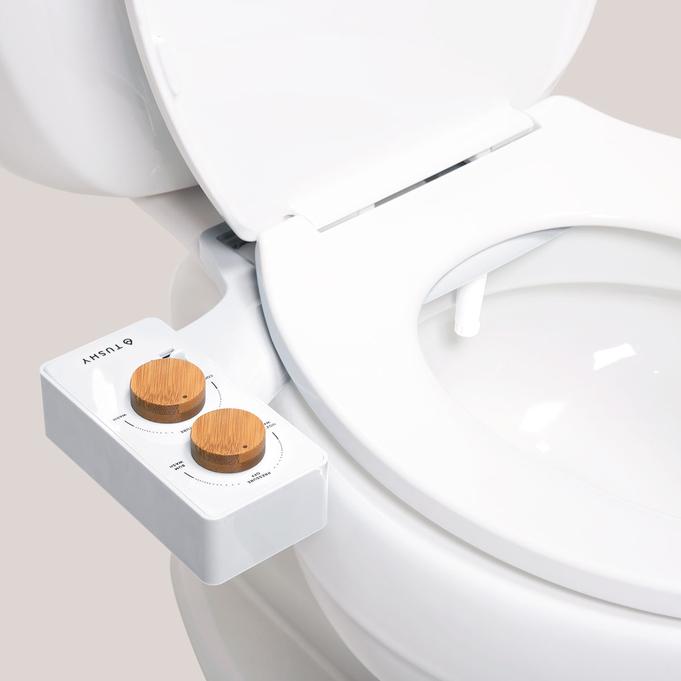 toto bidet toilet seat:
Multiple water pressure and temperature settings
Heated bidet seat
Air deodorizer neutralizes bathroom odors with powerful air filter
Adjustable warm air dryer
Automatic self-cleaning nozzle
Swanky side panel
/ SHOP TOTO /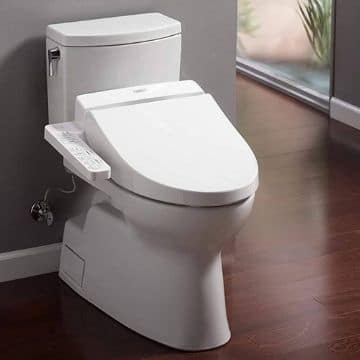 omigo bidet toilet seat:
Multiple water pressure settings and nozzle positions
Heated seat with soft closing lid
Front and Rear washes with self cleaning nozzles
Built in LED night light
1 year warranty
/ SHOP OMIGO /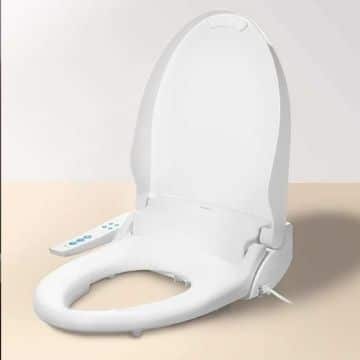 greenco budet bidet attachment:
Non-electric
Multiple water pressure setting
Fully adjustable bidet attachment
Easy to install
/ SHOP GREENCO /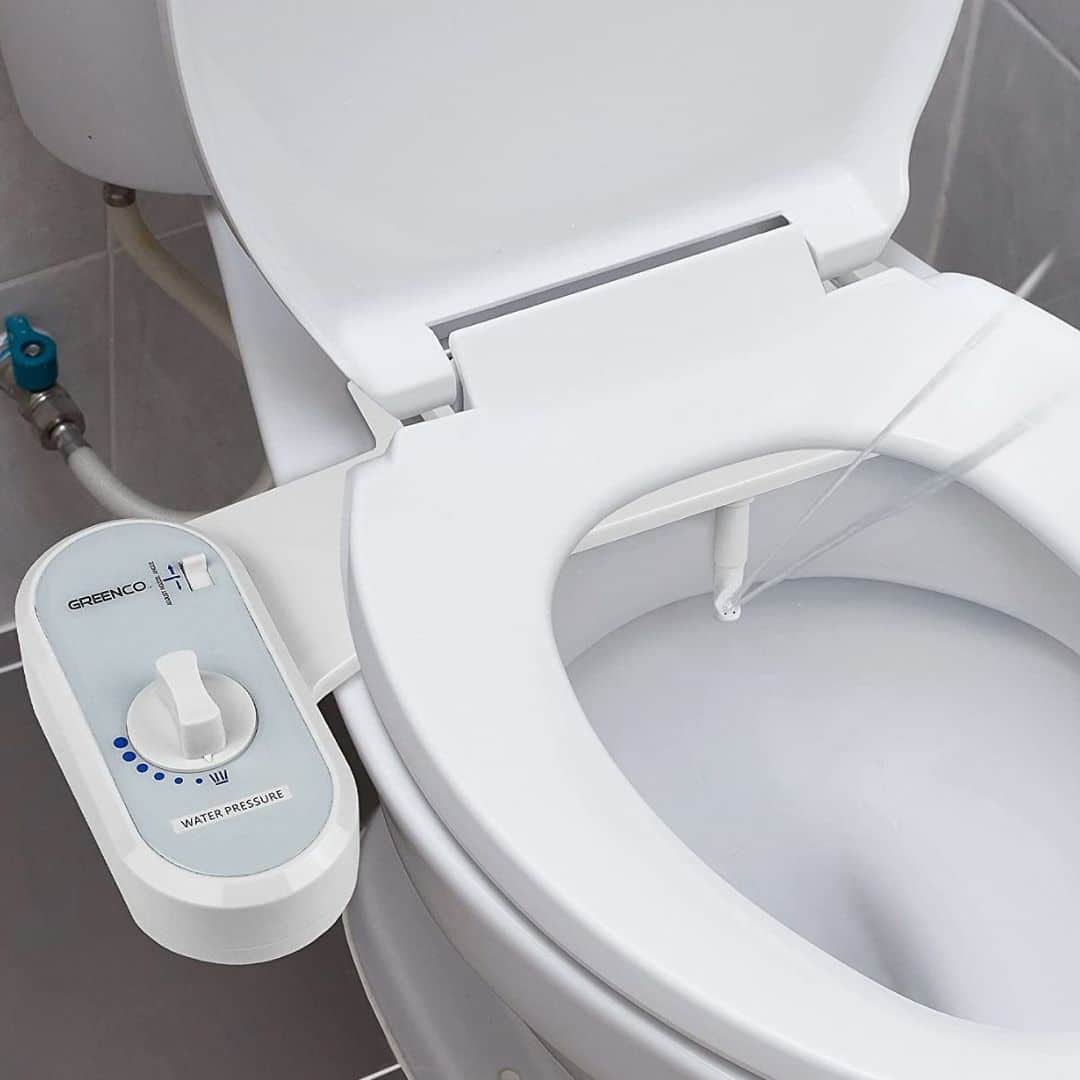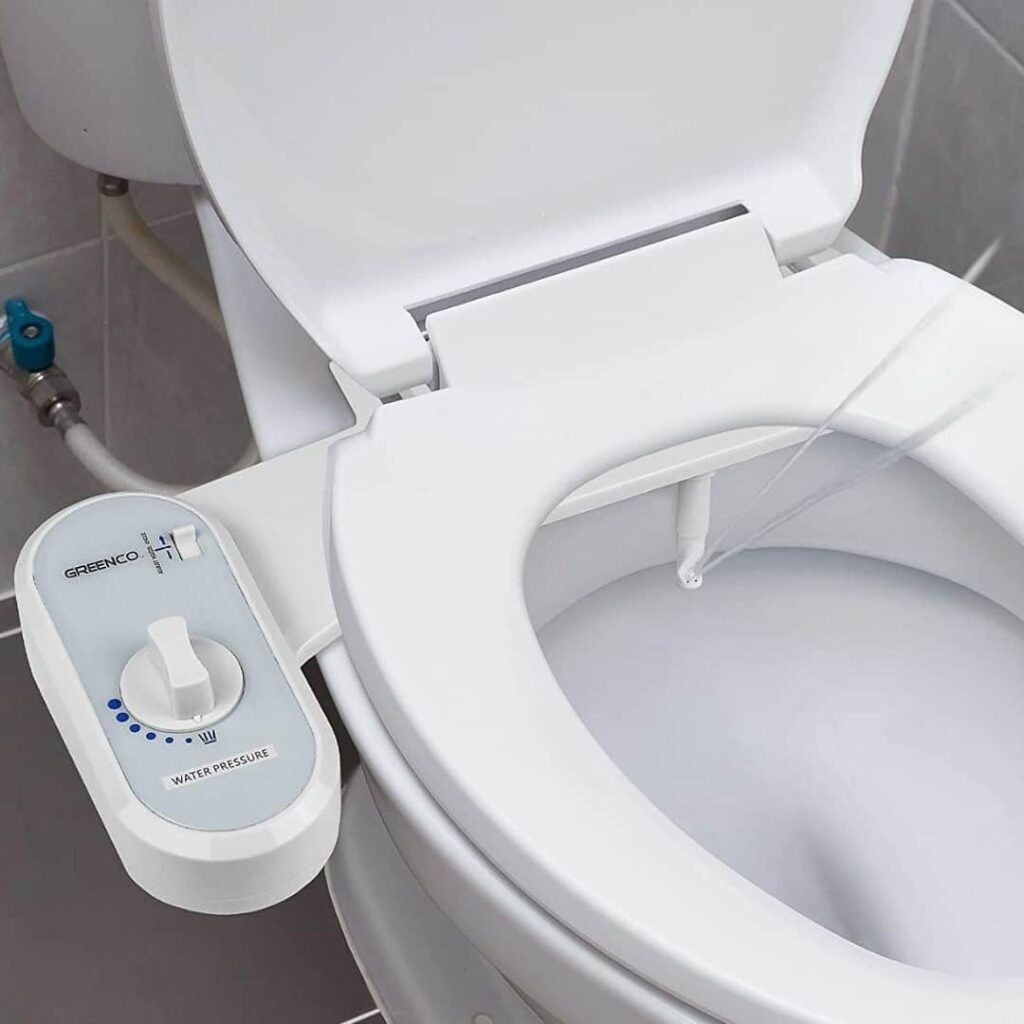 do you need a new toilet to use a bidet?
No, you can buy one of the best bidet attachments that hooks right up to your toilet, or you can invest in a toilet seat bidet that is already attached. You would just need to hook it up to the waterline.
do bidets hook up to electricity?
No, you simply turn the bidet toilet attachment on and it will spray water. There is no need for electricity!
is it hard to add a bidet toilet attachment?
Nope, you can install a bidet attachment in around 30 minutes, even if you have zero plumbing skills.
Reference: 
http://www.scientificamerican.com/article/earth-talks-bidets/
http://www.newsweek.com/toilet-paper-or-bidet-dirty-facts-79083
http://articles.mercola.com/sites/articles/archive/2014/10/18/bidet-use.aspx