17 Sustainable Bedding Brands
September 18, 2018 | Kathryn Kellogg
Last Updated on June 16, 2022
Sustainable bedding is comfortable, better for the environment, and eco friendly. When it comes to where we lay our heads at night, we want to make sure that it's as comfortable and safe as possible.
These are the best bedding brands that are eco friendly, sustainable, and fair trade. Each company has strong values including fair wages and a focus on using sustainable materials. We will break down the reasons that makes each bedding brand company sustainable, so keep reading to learn more.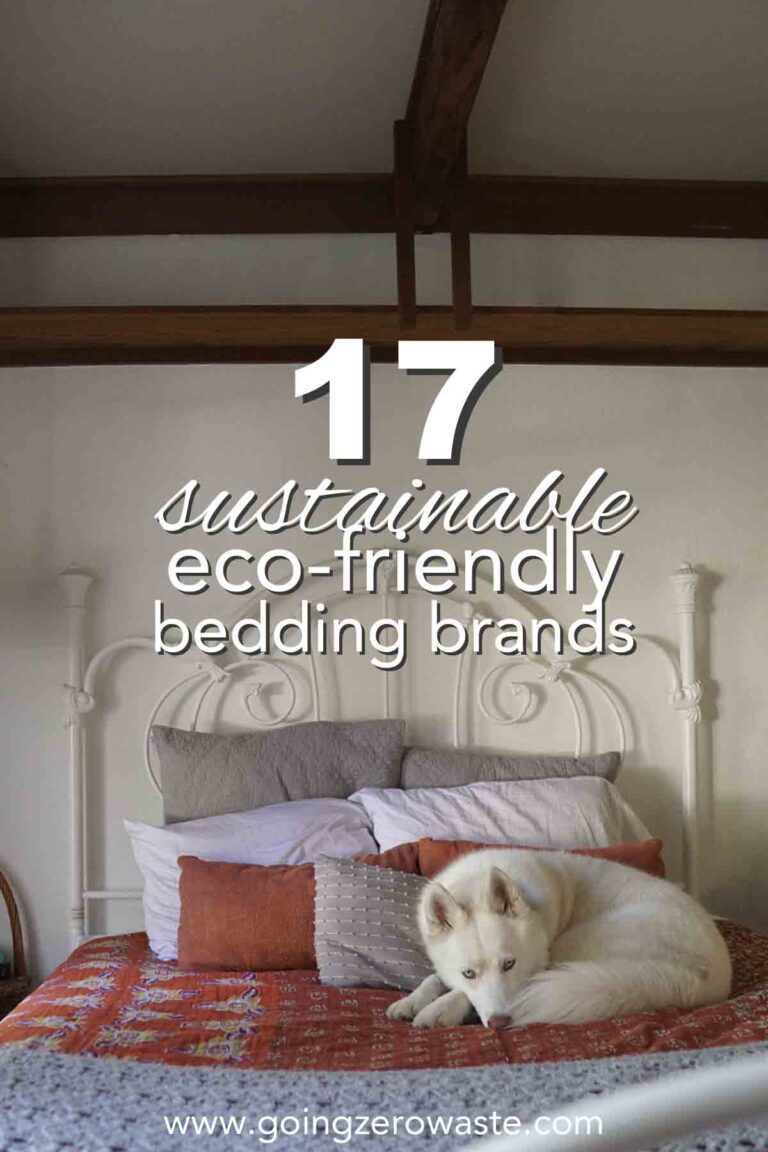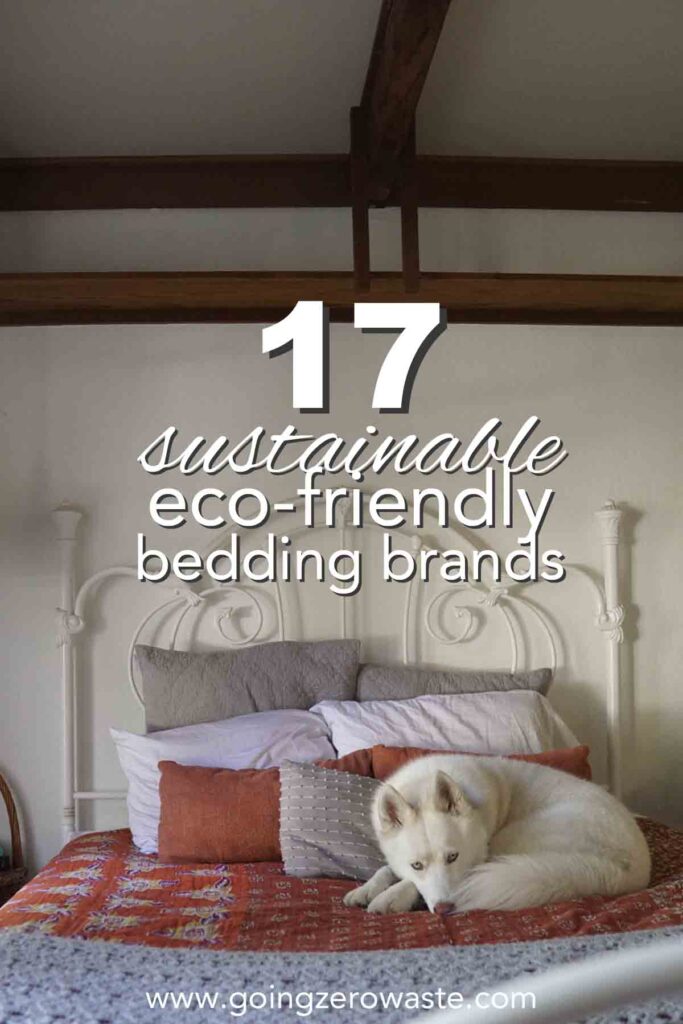 sustainable bedding
If you follow me on Instagram and follow along regularly, you might know of the great sheet demise. 
It was a bright sunny day. I went out to grab some dinner with my sweet husband, and whence I returned, I noticed one very, very adorable doggie had managed to slash my favorite linen sheets. 
She felt no regret. She felt no remorse.
So I decided it was time to look into eco-friendly and sustainable bedding options. The silver lining out of all of this is that I get to share all of my discoveries with you! Hopefully, the next time you need new sheets this guide will make it a little easier.
If you're also in the market for a new mattress, mine is from the Futon Shop and I cannot recommend it highly enough!! I LOVE them as a company, and the product is brilliant. Read more about the organic and zero waste mattress I have.
eco friendly bedding
Here are a few of the certifications you'll see popping up below and what they mean: 
CERTIFIED B CORP:
A Certified B Corporation is a company that has passed B Lab's certification process. There are five significant conditions for a Certified B Corporation which are:
Accountability: Directors are mandated to consider the company's impact on all shareholders.
Transparency: Certified B Corporations must publish and make public a report of their social and environmental performance; this report is assessed by a neutral, third-party standard.
Performance: Corporations much attain a minimum score on the B Impact Assessment test & re-certify every two years.
Availability: Any business can become a Certified B Corporation, no matter what type of business entity it is or in which country/state it is incorporated.
Cost: Certification fees vary, based on revenues.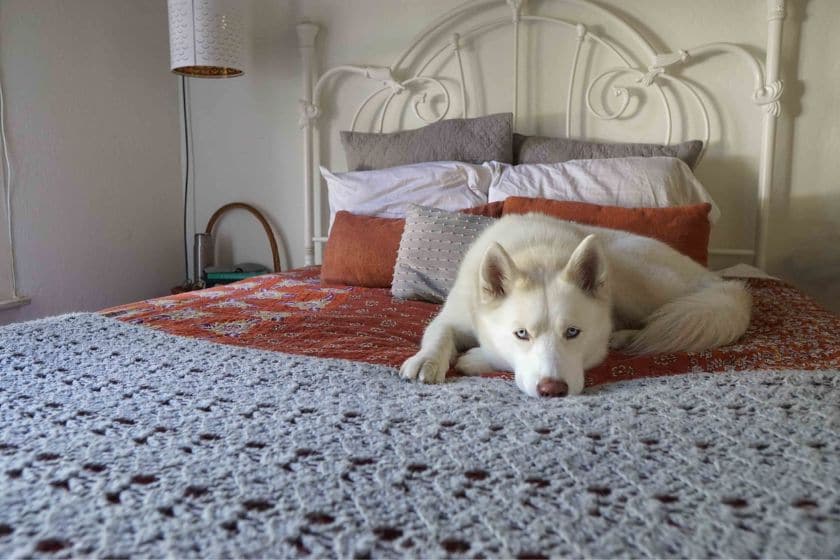 GOTS CERTIFIED:
The Global Organic Textile Standard (GOTS) is the world's leading textile processing standard for organic fibers, including ecological and social criteria, backed by independent certification of the entire textile supply chain.
The aim of the standard is to define globally recognized requirements that ensure the organic status of textiles, from harvesting of the raw materials through environmentally and socially responsible manufacturing all the way to labeling in order to provide credible assurance to the end consumer.
Textile processors and manufacturers should be able to export their organic fabrics and garments with one certification accepted in all major markets.
OEKO-TEX® STANDARD 100:
The STANDARD 100 by OEKO-TEX® is a worldwide consistent independent testing and certification system for raw, semi-finished, and finished textile products at all processing levels, as well as accessory materials used.
Examples of articles that can be certified: raw and dyed/finished yarns, woven and knitted fabrics, accessories, such as buttons, zip fasteners, sewing threads or labels, ready-made articles of various types (garments of all types, domestic and household textiles, bed linen, terry products and much more).
GREEN BUSINESS CERTIFICATION:
Green America certifies businesses that are committed to using business as a platform for social change.
Since 1982, Green America has evaluated over 8,000 small businesses. Green businesses adopt principles, policies, and practices that improve the quality of life for their customers, employees, communities, and the planet.
The members of the Green Business Network are changing the way America does business.
Some of the items linked are affiliate links which means you choose I make a slight commission for referring you. For more information please see my disclosure policy. 
best bedding brands
grund eco friendly bedding:
Grund is the brand that I went with! I got a basic queen set in white. Grund sells bath mats, towels, rugs, and blankets. 
After sleeping on linen for a while, I really wanted to give classic sheets a try — but without all of the nasty pesticides that go into growing conventional cotton.
It's a family-run operation, and they control the entire production process down to the yarn.
The cotton they use is 100% GOTS certified organic, and Grund has gone the extra mile to be OEKO-TEX Standards & Green Business Certified.
They are made from 100% Organic material, with zero use of bleach, formaldehyde, or any other toxic substances or dyes, and the sheets were shipped without any plastic which was awesome! 
I've slept on them for a couple of months now and I really like them. They remind me a lot of hotel sheets. They're cool and crisp. I've also been really impressed with the quality — I highly recommend. They are truly some of the best organic sheets you can buy.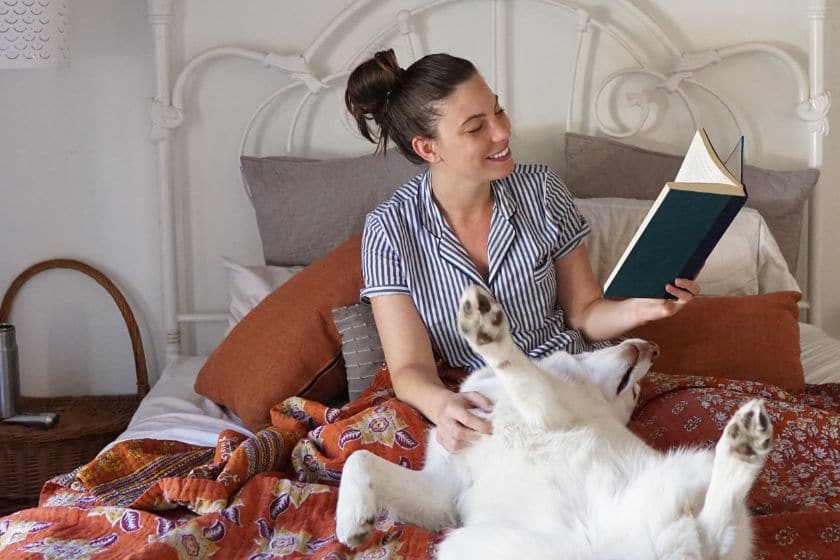 american blossom linens:
I've spent a few weeks sleeping in a set of organic sustainable sheets from American Blossom Linens and I just had to share them!
Thomaston Mills, the company that manufactures American Blossom Linens has been in business since 1899.
In the 1800s, one of the most valuable things a family owned was their linens. If a fire broke out, they would strip their beds and throw their sheets out the window to try and save them.
These sheets are very thick, and very high quality. Honestly, it wouldn't surprise me if this eco friendly bedding lasted 50+ years.
The sheets are made in Georgia using 100% USA Organic Cotton grown by family farmers in West Texas.
They're environmentally responsible, traceable, and will only get softer after each wash. I have a set of the Classic American Made Organic Cotton Sheets. These sheets are not bleached so they're not a true white, but a really pretty natural white which I prefer.
As a bonus, their queen and king bed sets come with two sets of pillowcases, which is amazing because I always sleep with two pillows!
The sheets came in a box without any plastic packaging, and they're offering all GZW readers 15% off with the code ZEROWASTE15!
made trade:
Made Trade is unique in that they offer a variety of different pieces from different artisans and makers all over the world. They have an amazing selection of really cute bedding, blankets, and throw pillows. Not to mention the best organic sheets!
I'm thinking about snagging a few of these knit pillows for my office.
Made Trade's mission is to make shopping easy because they do all of the homework for you!
They figure out the answers to questions like, "Where was it made? How was it made? Was the maker paid a living wage? Were the materials sourced responsibly?"
From their website:
"We call it being 'ethically elevated.' It means we put artistry above efficiency. Fair wages above profits. Sustainability above mass production. Quality craftsmanship above mindless consumption. And transparency above everything, as we painstakingly hand-select only the most artfully-designed, ethically-made goods that put people and our planet first." Read more here
If an item can answer all of those questions positively, then it makes it into the shop so you can feel good about the pieces that you're buying.
biome:
Another one of the best bedding brands I want to talk about is Biome. It was my first time sleeping on linen sheets, and I really loved it. I was drawn to linen for a couple of reasons:
Linen is a very sustainable fabric and it's naturally hypoallergenic and antibacterial.
Since I deal with acne I really wanted to find a bedding that would aid in my skin care routine, and it did.  
Linen is breathable and enhances comfort by keeping you cool in summer and warm in winter. 
Biome is a zero waste, plastic free store that does the homework for you. Biome is a certified B Corporation. Any of the brands in the shop have to meet strict criteria to be sold: 
Honesty in labeling.
Meets our strict standards.
Zero harm to people or animals.
Brands with passion and ethics.
Good from the maker to the end.
Performs better than unsafe alternatives.
They have organic cotton sheets, linen, and hemp.
holy lamb organics:
Whenever I'm in the market for a new comforter, Holy Lamb Organics will be my first stop. They are a completely zero waste company. No waste – ever!
I'm very impressed with their zero waste commitment and no plastic packaging policy. Their company is rooted in permaculture philosophy and sustainability.
They make mattresses, comforters, sheets, pillows, etc. My friend has one of their comforters and absolutely loves it.
Their sheets are outsourced and made by another company, but their comforters are made in the U.S. by them.
Holy Lamb Organics is 100% GOTS certified organic, OEKO-TEX Standards, and Green Business Certified among several others.
coyuchi:
Coyuchi has you covered on a number of fronts from towels, duvets, shower curtains, table cloths, and even bath robes! 
Something I find to be really intriguing is their rental option. You can rent sustainable sheets and towels for certain periods of time and then send them back to the company. They will take responsibility for recycling, upcycling, or renewing them, and then sending them on to a new life.
This whole process very much mimics corporate responsibility in a circular economy. Read this blog post for more information on what is a circular economy.
Coyuchi is committed to minimally processed fibers and adheres to strict manufacturing processes such as GOTS and Fair Trade USA standards.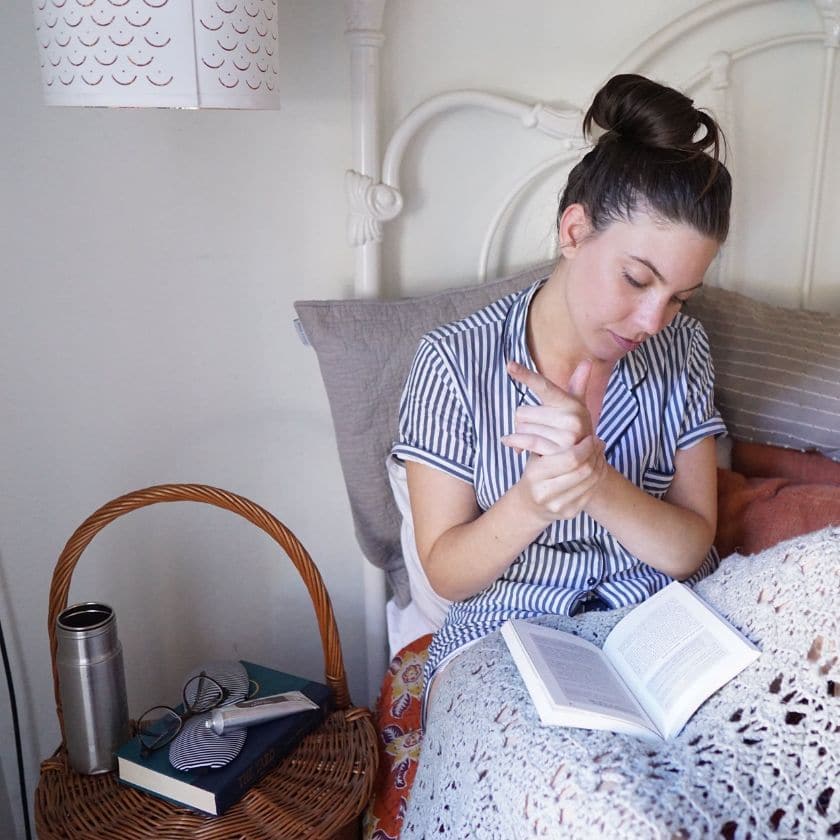 anchal:
I fell in love with Anchal after writing my Eco-Friendly Dorm Room post and I picked out one of their throws or quilts for every profile in the post. 
I fell in love so much that I had to get one for my own bed. In orange… of course! They're soft, cozy, and I love the colors! This is from their collection made of vintage saris. 
Anchal is a non-profit 501c(3) social enterprise that addresses the exploitation of women around the world. Through their artisan program, Anchal provides alternative careers in textile design and production to exploited and marginalized women in India.
Anchal works directly with female commercial sex workers who are seeking a way out of the trade.
They have organic cotton quilts as well as their upcycled sari quilts. 
sol organics:
After publishing this blog post, SOL Organics reached out to me to see if I'd be interested in trying their sheets. I got the Percale Organic sheets in dove gray and I really like the texture of these sheets.
They're not silky smooth. They feel a little more raw which I really like. I'd compare it to a linen cotton hybrid kind of feel. They have that texture so I feel like I sleep in place instead of sliding around on super satiny sheets. Does that make sense?
The sheets are a little thin, so if you're looking for heavy duty winter sheets, these might not be the ones for you. But, they are perfect for spring, summer, and early fall!
If you're looking for more year-round sheets or sheets for winter check out the sateen sets!
The company is certified Fair Trade, Organic Cotton, and GOTS certified, and they ship completely plastic free! They're shipped in a self-bag made from 100% organic cotton which can be composted, but I'm using it to buy lettuce from the farmers market!
Then, they're wrapped with 100% recycled paper and put inside a recycled brown shipping box. No plastic whatsoever!
And, as a huge bonus, they're offering all GZW readers 20% off with the code 'GZW20' just apply it at checkout.
View this post on Instagram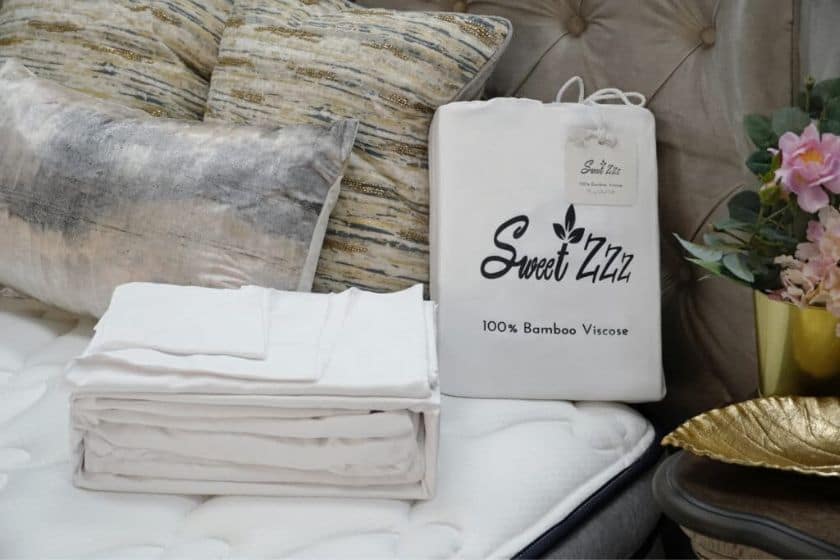 sweet zzz sustainable bedding:
Sweet ZZZ sells mattresses, pillows, bedsheets, and even weighted blankets. I love the fact their sheets are made of organic bamboo viscose, making them antimicrobial, durable, and breathable.
This eco friendly bedding is also certified as safe even for babies and toddlers. Perfect for families!
In terms of sustainability, bamboo trees grow very fast and they require very little water (much less than cotton) so the whole process of making these sheets is green and eco-friendly. Bamboo is also a renewable resource.
These sheets are also incredibly soft. At 400 bamboo viscose thread count, the Sweet Zzz bamboo sheets are among the softest in the world. Even softer than 1000 TC Egyptian cotton.
And better yet, they keep you cool (cause no one likes night sweats). These sheets are naturally cooling and stay dry for a more comfortable sleeping experience. Perfect for warmer climates or summertime use.
Perhaps best of all, these bamboo sheets come with a lifetime warranty and 50-day free returns. Warranties are important because that means a product is built to last.
more of the best bedding brands to consider:
I wanted to mention a few other places to pick up sustainable sheets. Similar to my sustainable undies post, I talked in-depth about the brands that I had personal experience with either firsthand or through a good friend. 
But, I also want to mention several other brands I've heard of in case you'd like to do some more research. Let me know in the comments section if there's a brand you love that I've missed!