12 Organic and Non Toxic Mattress Brands for Your Sustainable Home
March 23, 2021 | Guest Post
Last Updated on September 1, 2023
These 12 organic and non toxic mattress brands are a game changer for your sustainable home. I will always prioritize buying organic sheets and organic mattresses because we spend 1/3 of our lives in bed. Conventional mattresses can emit toxic VOCs (aka Volatile Organic Compounds), and I'd rather not have that in my bedroom.
The average mattress has a slew of chemicals and flame retardants which isn't something I want to be spending 8+ hours on. An organic cotton mattress negates that problem! This makes a non toxic mattress a must-have in my home. A healthy mattress contributes to healthy sleep, so I found the best non toxic mattress companies out there for a healthier home, healthier environment, and healthier you!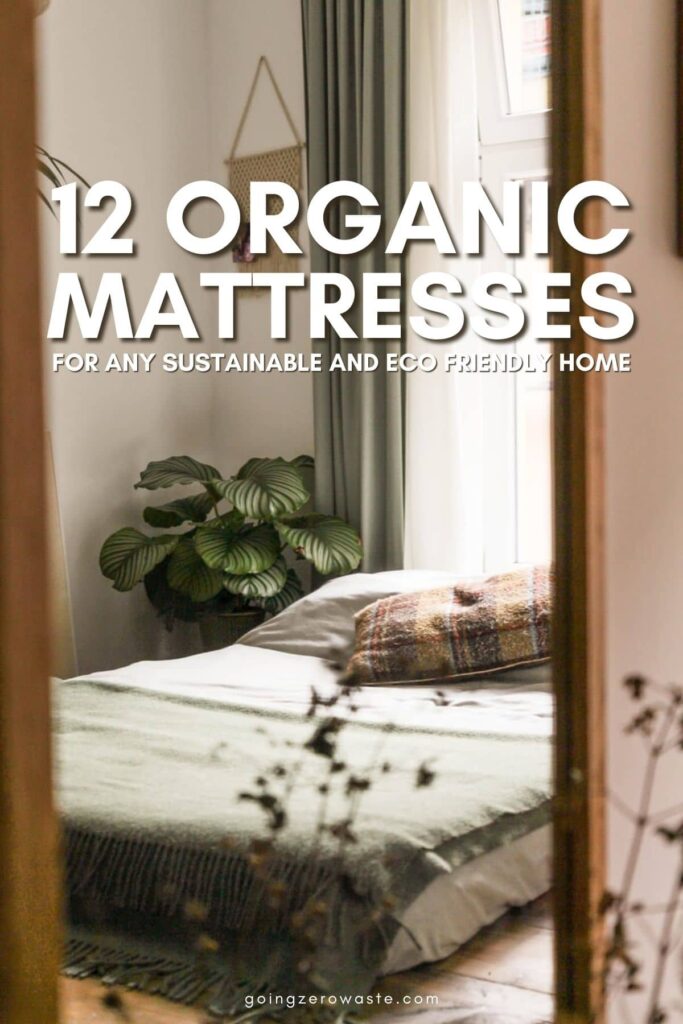 non toxic mattress
Most people don't know that their mattresses are made from, you guessed it – plastic! The oh-so-popular-memory foam is actually polyurethane. It's why a lot of new mattresses have strange smells. The plastic is off-gassing, but we'll get into that a little bit later in the post!
So, if you're in the market for a new mattress, I highly suggest investing in a sustainable and organic cotton mattress that uses more natural, non-toxic and sustainable materials.
Here are 10 of the best non toxic mattress brands worth checking out, for your health and the planet.
how to choose a healthy mattress:
Before we get into the eco-friendly and organic mattresses, it's important to cover what you should be looking for in a healthy mattress. Not all mattresses are created equal after all, even in the sustainability sphere. 
The best non toxic mattress prioritizes sustainable and ethical materials, ethical business practices, and quality products.
organic and natural materials:
One of the most important things in a non toxic mattress is the materials used to make it. You want natural and ideally organic materials that are sustainably sourced.
Global Organic Textile Standard/GOTS Certified organic cotton and wool is ideal. This ensures the fabric is truly organic and sourced from green supply chains.
Also, wool from New Zealand sheep is another sustainable choice because the wool is ethically sheared in a way that doesn't harm the sheep. Sheering New Zealand sheep is essential to ensure they maintain a high quality of life.
In fact, one of my favorite active wear brands is based in New Zealand and they use merino wool. Check out my blog post on sustainable activewear for more information.
Natural latex is another eco-friendly material, especially Talalay latex, because it has received the OEKO-TEX Standard 100, Europe's highest environmental consumer product standard. This means it's free of harmful substances or chemicals. Dunlop latex is all-natural as well and another good choice too.
Natural latex, unlike synthetic, is sustainably sourced from rubber trees. You'll want to look for Global Organic Latex Standard/GOLS Certified latex to ensure you're getting the best mattress quality.
GOLS ensures the late has come from trees which are grown to meet organic practices and ethical manufacturing processes. For example, one GOLS regulation is that all the trees are grown in an area where no chemical fertilizers have been used for at least four years.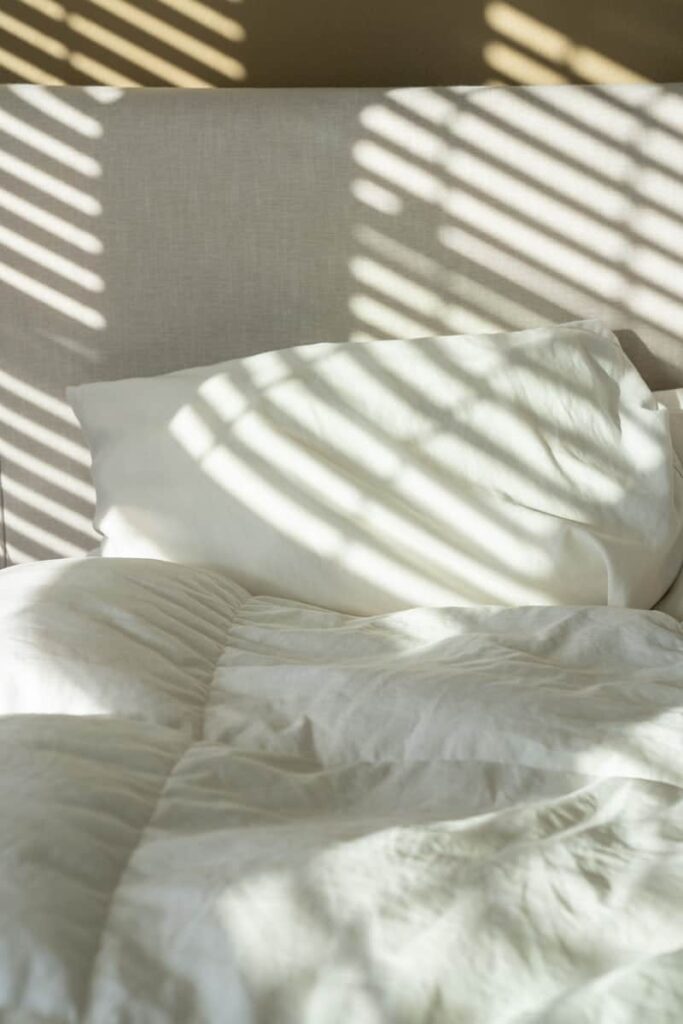 sustainable businesses that give back
It's important to look for companies that go above and beyond when it comes to the ways they give back and manage their business. Supporting companies that make their mattresses in the USA and donate to environmental causes is a great start.
Purchasing made in the USA mattresses helps reduce carbon dioxide emissions in the atmosphere because it takes much less time to get to you. Plus, you're helping support your local economy, which is great!
A lot of sustainable mattress companies are also giving back to their communities in many ways, usually by donating to local environmental non-profit organizations.
Several of the mattress companies listed are charitable in that they donate some of their money to non-profits like 1% For The Planet, or by donating high-quality natural mattresses to people in need.
It's also a great idea to consider brands with thoughtful, minimalist packaging. The last thing you want is to deal with excessive amounts of plastic or boxes, as this takes a toll on our natural resources.
RELATED: 17 Organic and Sustainable Bedding Brands
non toxic mattress brands focus on longevity:
You want a mattress that will last a long time, but sadly, most mattresses aren't built to last very long. Typically, mattresses last around seven to ten years, then they're thrown away.
It's estimated 40 million mattresses are thrown away each year in the USA, and most go directly to landfill. Worse yet, more than 80% of a mattress can't be recycled, so that's a huge waste of resources.
To keep mattresses out of landfills, it's ideal to buy one that will last you well beyond just seven years. That's why all the mattresses listed here have warranties for 10 to 25 years.
materials to avoid in mattresses:
No matter the kind of mattress you get, you should always avoid certain materials that are toxic and bad for the environment. Be sure to avoid mattresses made with any of these.
Here's a list of materials to avoid.
Foam: Both Polyurethane Foam and Memory Foam is made from petroleum, aka fossil fuels, and releases volatile organic compounds (VOCs) over time. It's also highly flammable, which means a large amount of equally toxic flame retardants must be added to foam mattresses.
Synthetic latex: Made from two petroleum-based compounds, styrene and butadiene, these are VOCs which can pose serious health risks.
Flame retardants: Antimony, Boric Acid and Halogenated Flame Retardants have all been linked to various health problems and may even cause cancer. They don't fully bind to materials, so they release over time into your bedroom.
Vinyl: The production of this material uses toxic chemicals and additives that have been linked to asthma, allergies and even genital defects. The chemicals used to make vinyl leach out over time.
the best non toxic mattress companies:
Is your head spinning from all this information? Fear not: I've compiled a list of sustainable and organic mattress companies for a perfect nights sleep. All of these mattresses are comfortable, durable and eco-friendly.
I've gone ahead and highlighted some of my favorite features of each brand, but it isn't an exhaustive list. Be sure to check out their websites for more information.
RELATED: 10 TIPS FOR GETTING A BETTER NIGHT'S SLEEP
brentwood home
100% GOLS certified organic latex
100% GOTS certified organic cotton and wool from New Zealand
Organic hybrid beds
25 year warranty
Responsibly made in Los Angeles
Greenguard Gold certified
Gives back to social and environmental initiatives
/ BRENTWOOD HOME /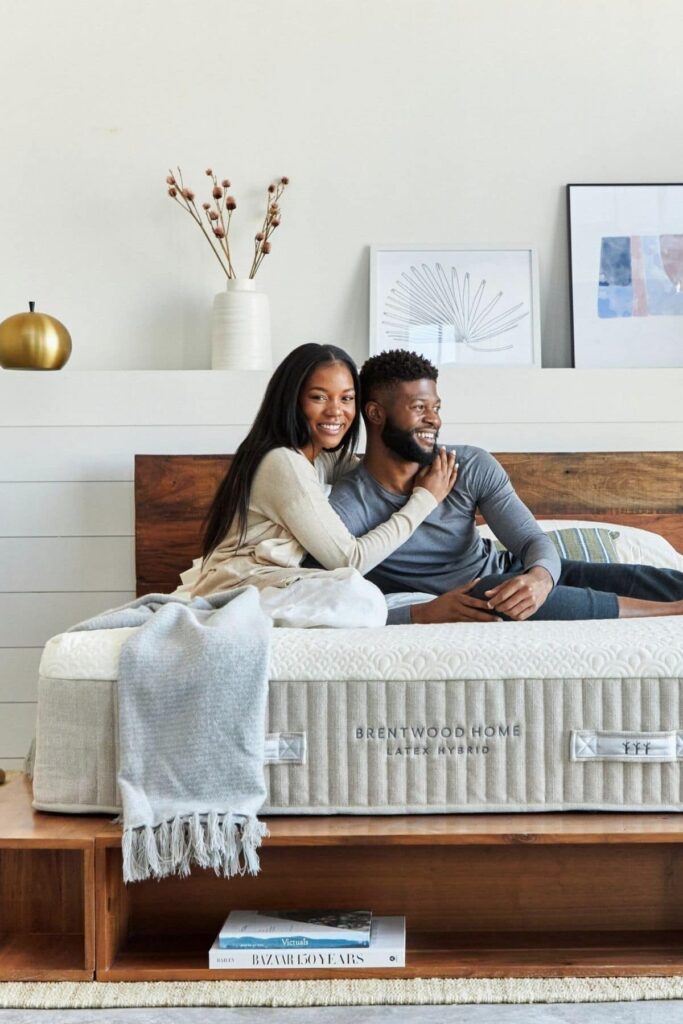 saatva
Certified organic cotton and New Zealand wool
All-natural latex
Made in the USA
15 year warranty
Eco-friendly memory foam
Inner springs from recycled stainless steel
Adjustable orthopedic options available
/ SAATVA /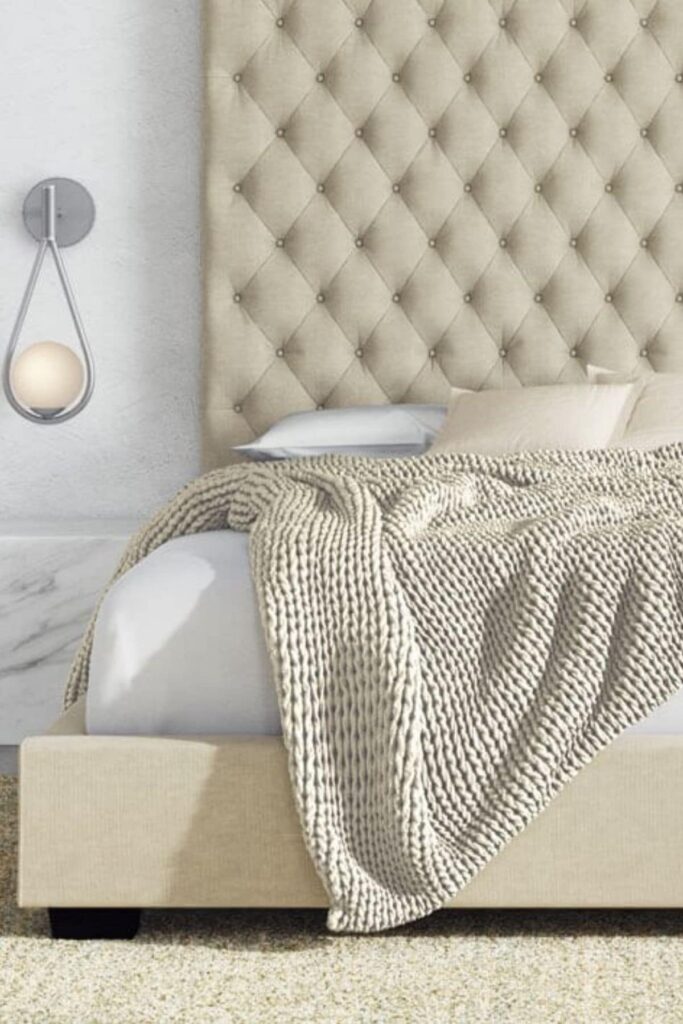 the futon shop
USDA organic cotton
GOLS certified organic latex
GOTS certified organic wool
OEKO-TEX coconut and hemp coir
OEKO-TEX camel hair and horse tail
Handcrafted in San Francisco
Vegan mattress options
20-30 years life expectancy
/ THE FUTON SHOP /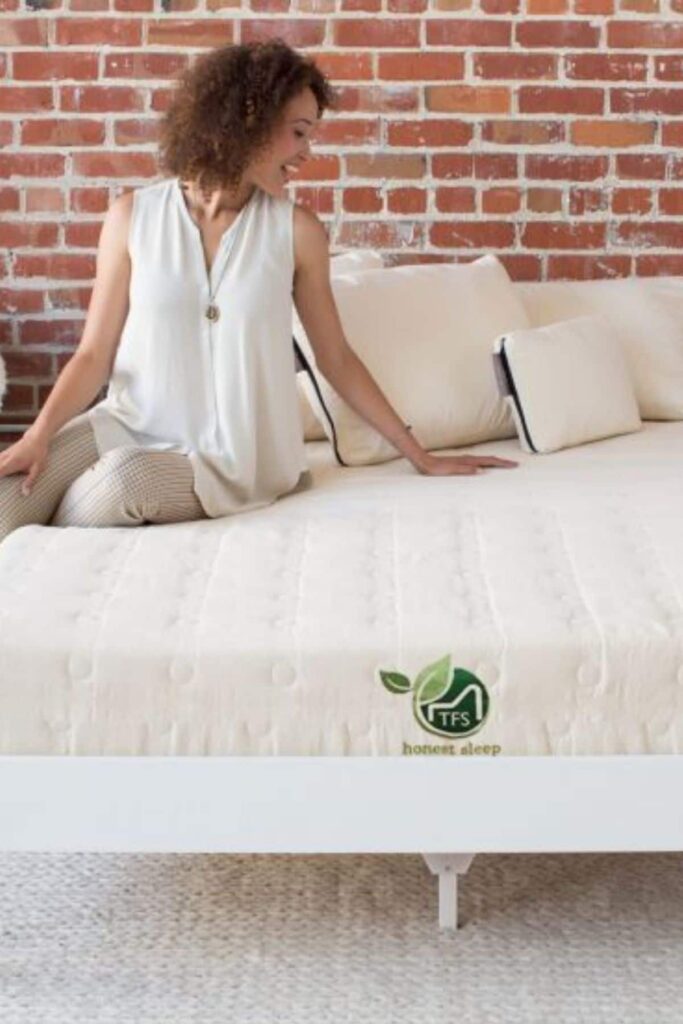 avocado mattress
100% GOTS organic certified cotton and wool
100% natural latex
Handmade in California
Vegan version available
Carbon negative
Upcycles material byproducts
25 year warranty
1% for the Planet
/ AVOCADO MATTRESS /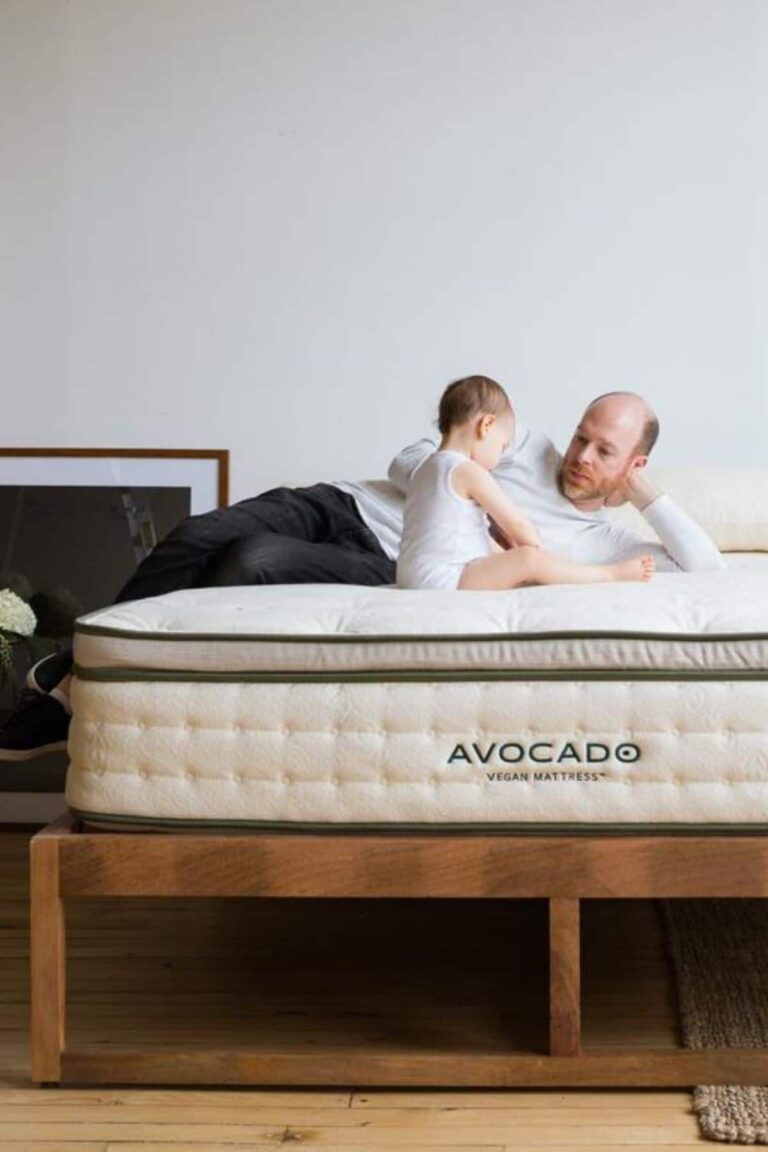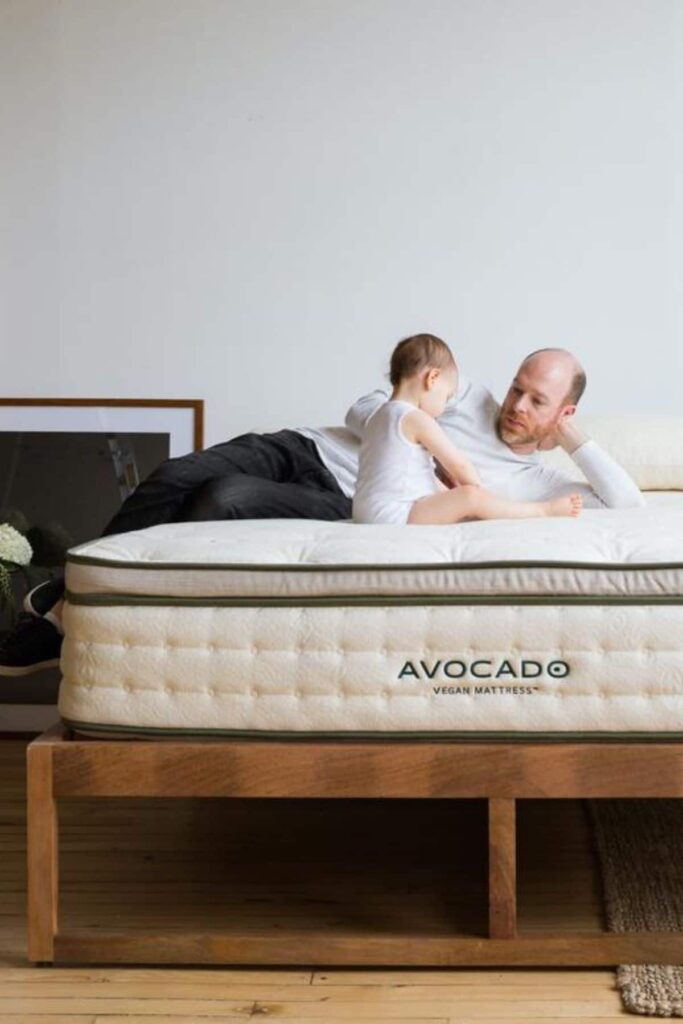 birch
GOTS certified organic cotton
Organic birch wool
100% natural Talalay latex
25 year warranty
Natural fire retardant from wool fibers and rayon
Handmade in the USA
Fair trade certified factory
/ BIRCH /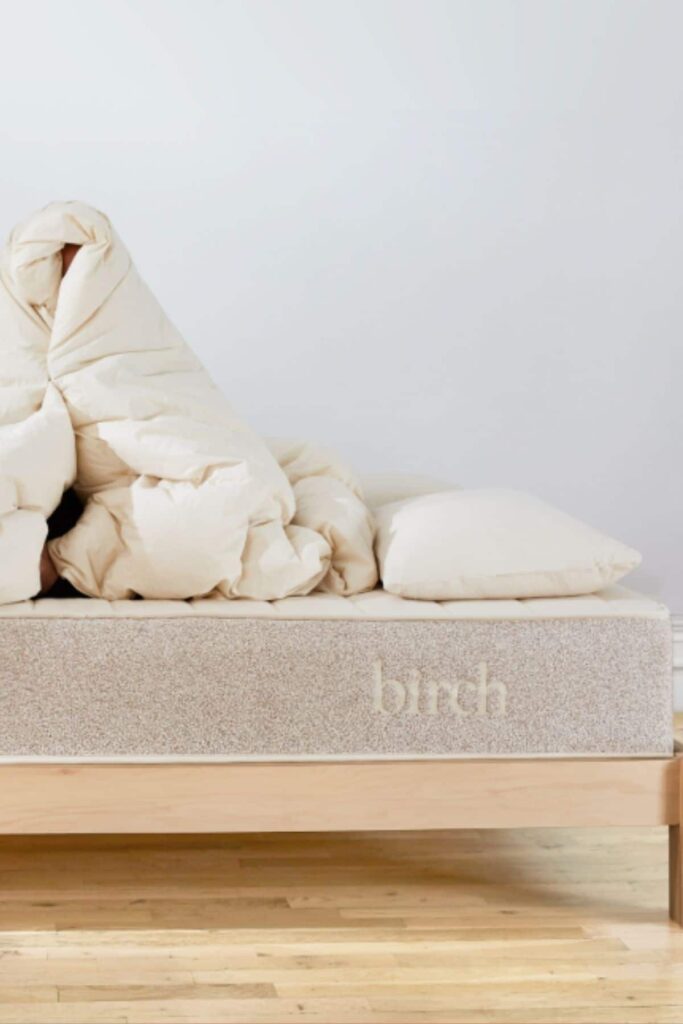 bear mattress
Designed for athletes and active people
Made from CertiPur certified foam
Bear Hybrid is Greenguard Gold Certified
Environmentally friendly hybrid
Made in the USA
20 year warranty
/ BEAR MATTRESS /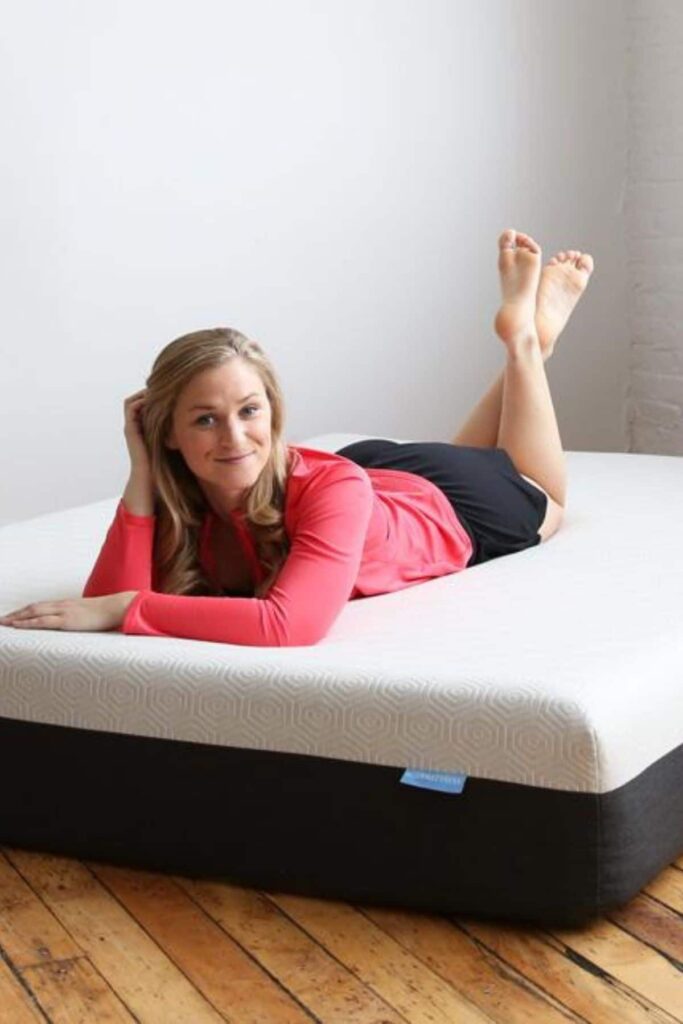 plushbeds
100% GOTS certified cotton and wool
100% GOLS certified organic latex
CertiPur certification
Greenguard Gold certified
25 year warranty
Gives back to social and environmental initiatives
Adjustable orthopedic options available
/ PLUSHBEDS /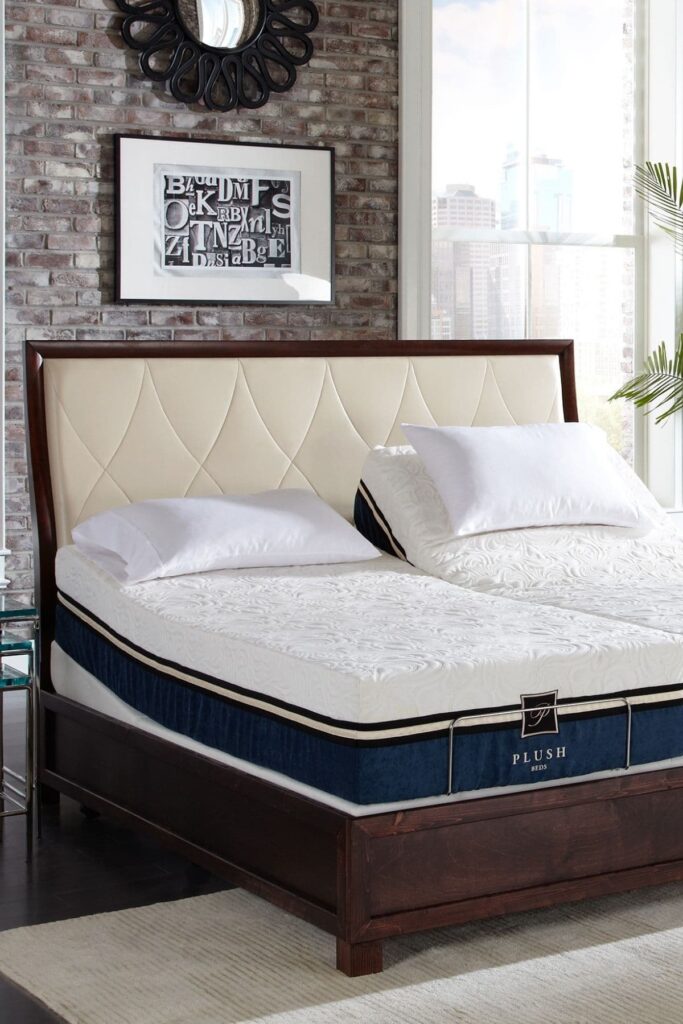 happsy
Certified organic cotton, wool and latex
Greenguard Gold certified
Hybrid design
20 year warranty
No flame retardants, glues or adhesives
Rainforest alliance
Gives back to seven environmental organizations
/ HAPPSY /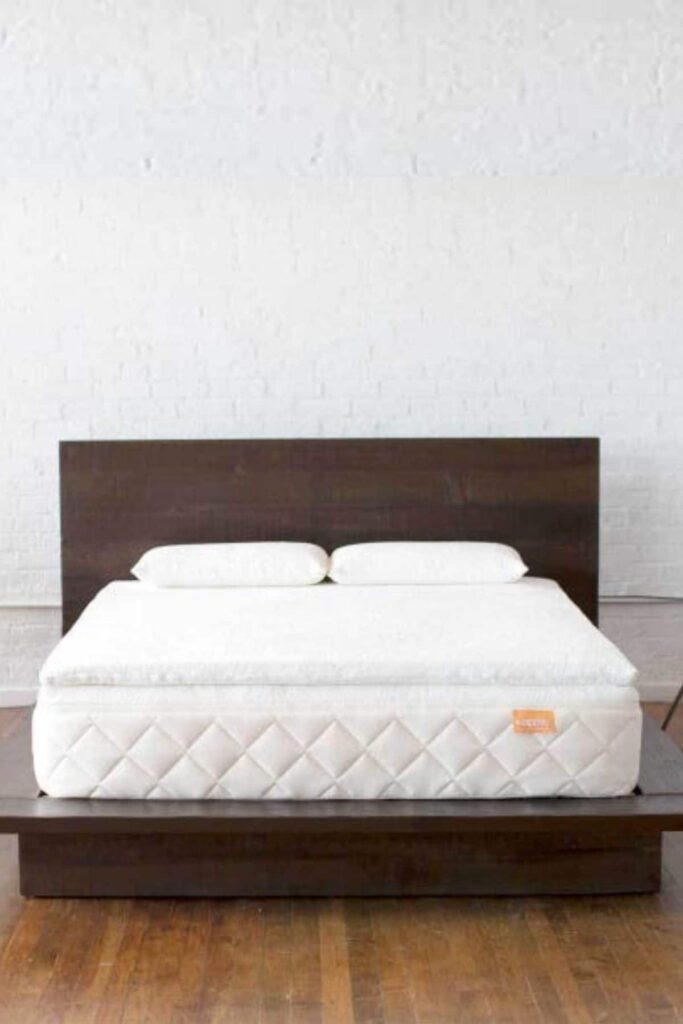 my green mattress
GOTS certified organic cotton
Oeko Tex certified all-natural American eco-wool
GOLS certified natural Dunlop latex
Latex-free option, Pure Echo
Certified organic factory
Handmade in the USA
Military discount
20 year warranty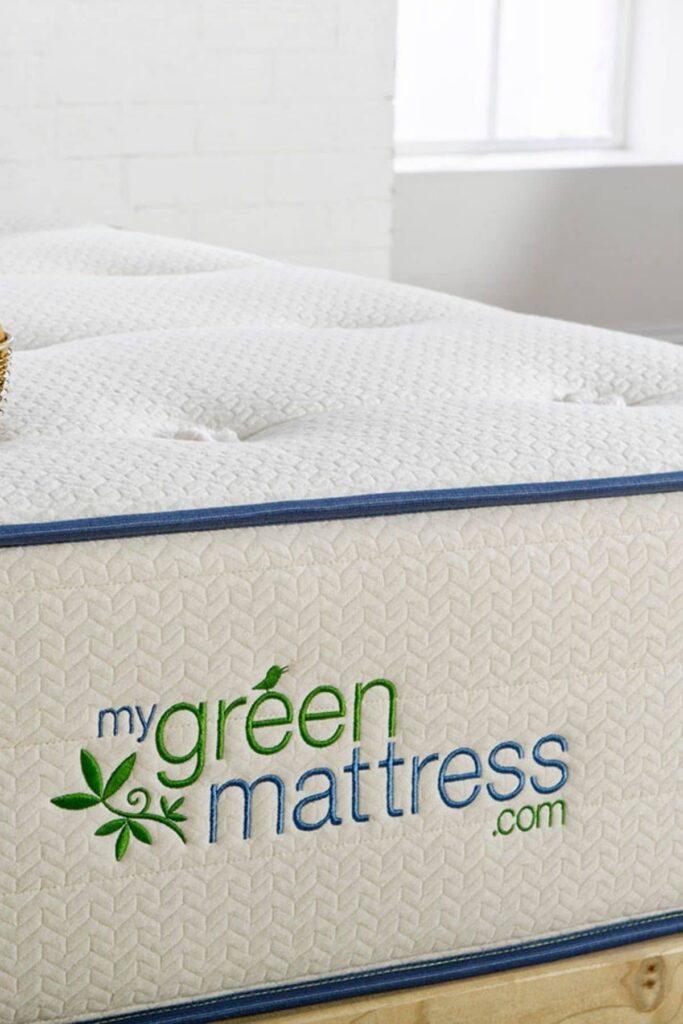 naturepedic
Certified organic cotton and wool
GOLS and FSC natural latex
Certified Non-Toxic
Greenguard Gold certified
Supports several environmental non-profits
10-20 year warranty
/ NATUREPEDIC /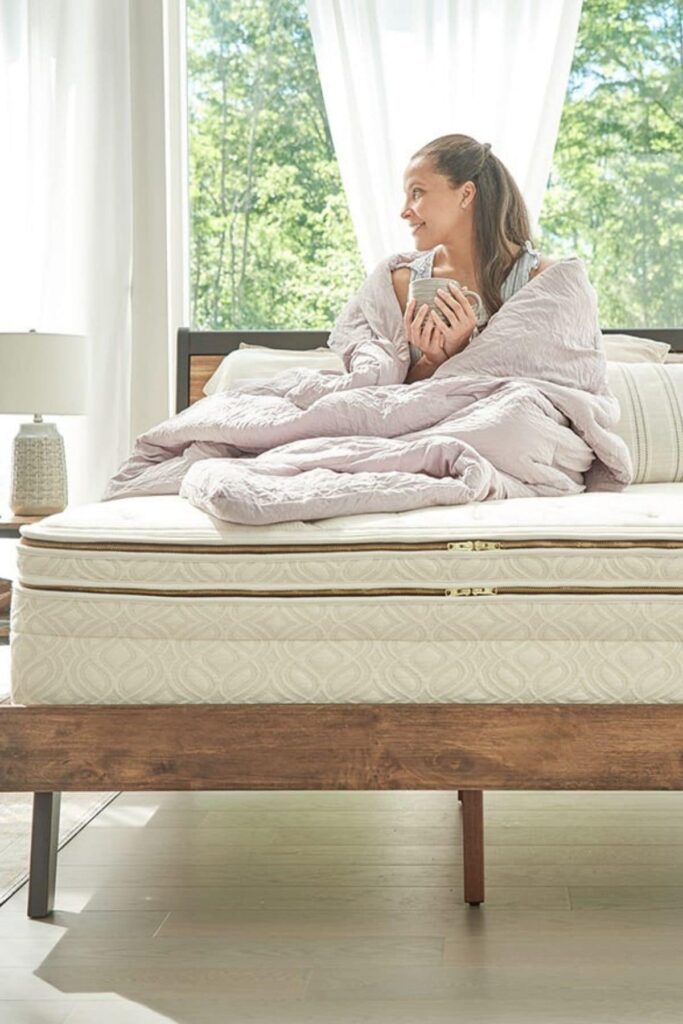 eco terra
100% Organic cotton and wool
Natural Talalay latex
Handcrafted in California
Polyurethane-free
15 year warranty
No fillers, additives, or chemical off-gassing
/ ECO TERRA /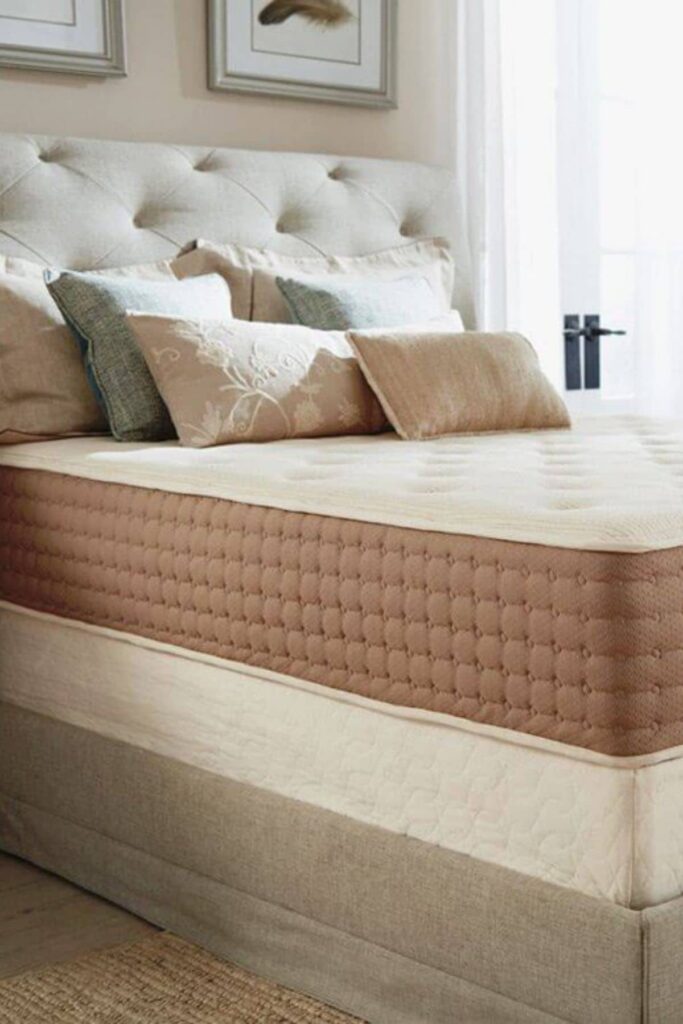 essentia
GOTS certified organic cotton
GOLS certified organic Dunlop latex
Made in Canada
Certified organic factory
Comfort guide to find your perfect match
20 year warranty
100% vegan
/ ESSENTIA /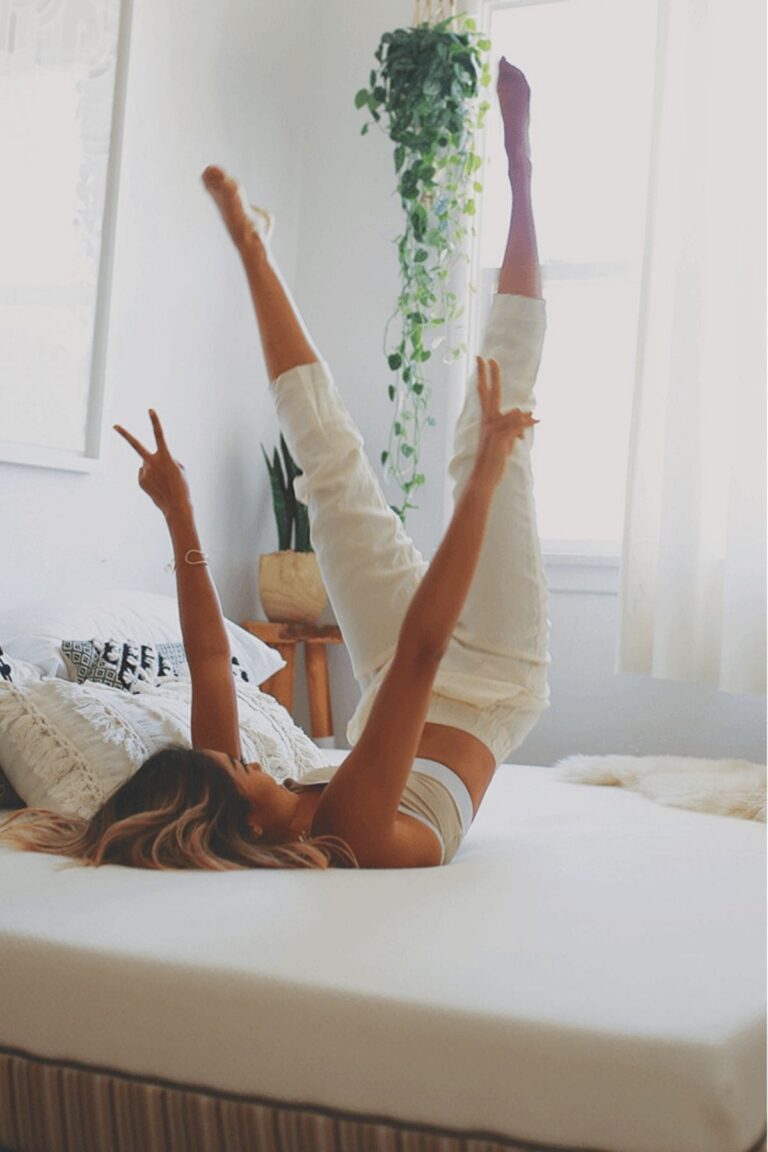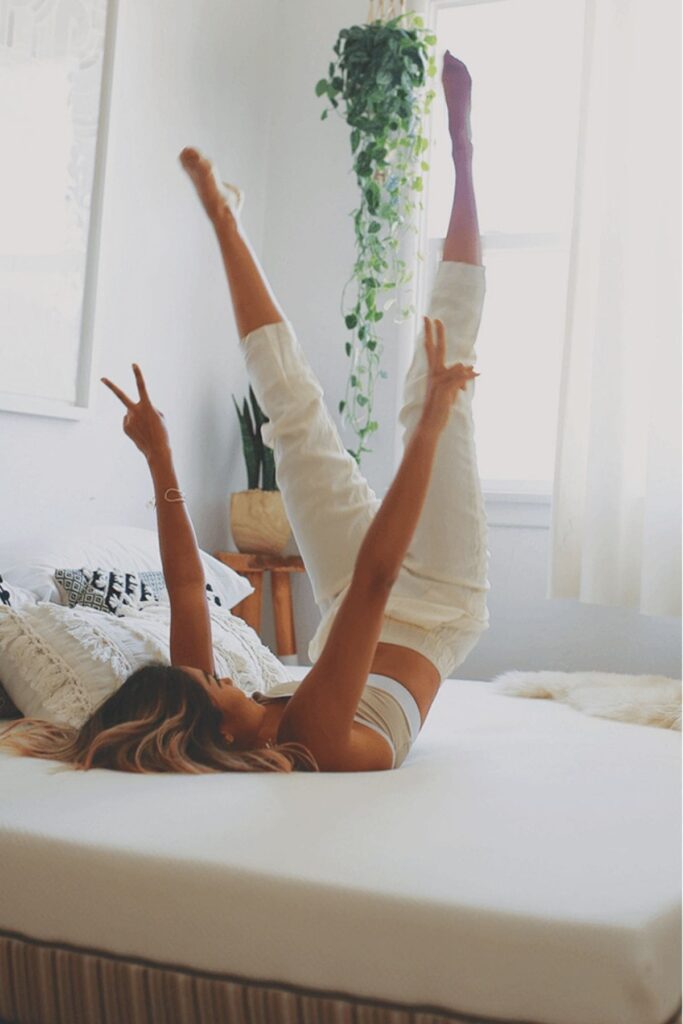 faqs
will an organic cotton mattress be firm enough?
Yes! Some people think of glorified duvets stuffed with handfuls of cotton when they think of organic or sustainable mattresses. However, the material used actually has very little to do with how firm or soft a mattress is! You'll be able to find a non toxic mattress that suits your needs and preferences, I promise!
is every non toxic mattress eco friendly?
Unfortunately not! That's why it's so important to consider the business and manufacturing practices of each company you choose. Just because they choose non toxic materials doesn't mean they're doing so sustainably. As with anything, it's important to do your research!
If you're in the market for a new mattress, maybe you need new sheets as well? Check out these 17 sustainable and organic sheet companies. Would you give these eco-friendly mattresses a shot? What's your favorite mattress brand? Leave them in the comments below!