Pulled Jackfruit Tacos
July 29, 2016 | Kathryn Kellogg
Last Updated on September 11, 2020
I kinda have a jackfruit obsession. I've been talking about it non-stop for three months.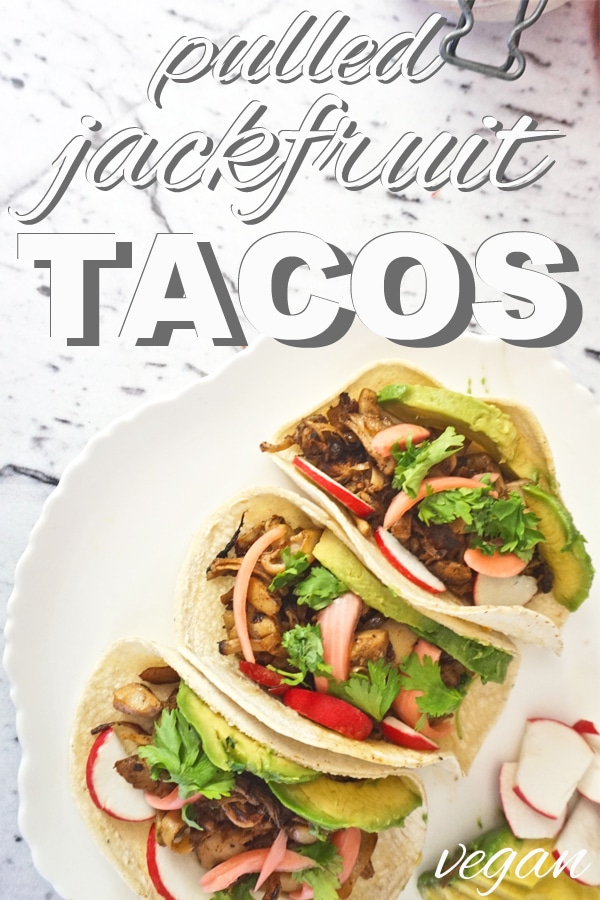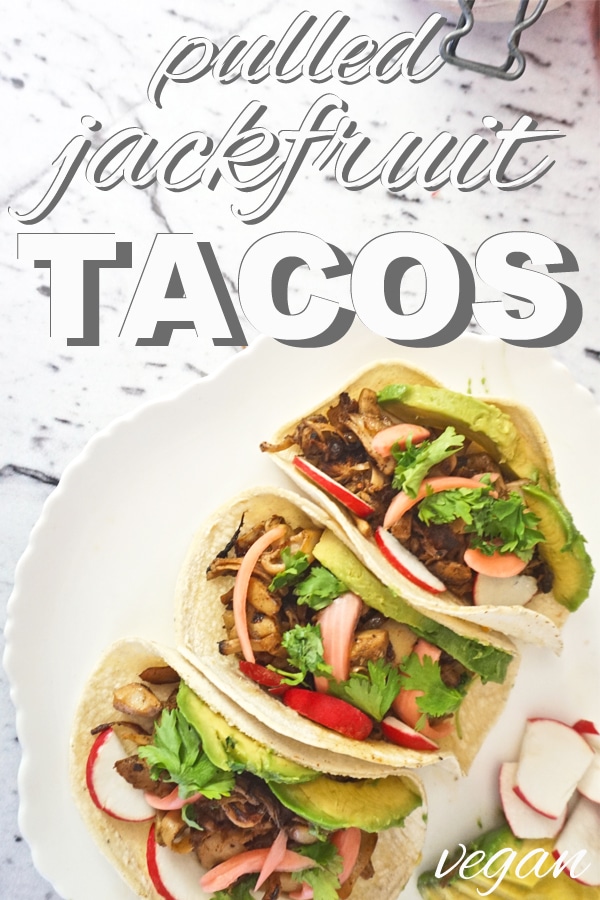 I like any meat substitute that is easy. My typical go to is mushrooms. It's so easy to swap mushrooms into any dish, and it takes less time than preparing meat.
I love being in the kitchen, but I also love being on the couch. I have no desire to spend hours making substitutes. Of course there are special occasions when I'll take the time to make something elaborate, but I like to keep it simple. Especially on a week night.
For 4th of July, I was so excited to make pulled jackfruit sliders. I had been planning it for quite some time. I found a small jackfruit at my local tortilleria, where I get tortillas and tortilla chips without packaging. It looked perfect! It was about the size of a bowling ball.
By the time the weekend of the 4th rolled around my tiny little jackfruit was replaced with 30lb jackfruits. They were enormous – practically the size of Nala.
So, I did something I haven't done in a long time… I bought a can. Yes. A can of jackfruit. And, I have to say – I have no regrets.
So, what is a jackfruit?
I'm glad you asked! It's this spiky green fruit that has incredible flavor capabilities. It's bland and like a sponge, so it soaks up any type of flavor you put down. It has a similar texture to meat. It doesn't have quite the chewiness, but it is toothsome! Which isn't something you can say about tofu. So, it's basically a dream come true.
It also looks very, very similar to pork. In fact, you could probably trick your very skeptical boyfriend into eating it…. and he may love it! But, I wouldn't recommend it. Because, once you break that trust; you'll never get it back. And, he'll question and pick apart everything you serve him for the rest of eternity… not that I know from experience….
Just avoid simmering the jackfruit. I made that mistake the first time. It got far too soft and mushy. High heat, people. I want char marks. You know how I feel about the char. And, if you don't… you can watch my bbq video where I say the word char and caramelize 32 times.
I would like to try this recipe with a fresh jackfruit. When I come across a smaller one, I will give it a go. There's just no way I could handle a 30lb jackfruit. If any of you have some fresh jackfruit lying around and give this a go, let me know!
pulled jackfruit tacos
2 Servings
Jackfruit Filling
1 20oz Can of Young Jackfruit in Water
1/4 Teaspoon of salt, pepper, sweet spanish smoked paprika, garlic, ground coriander, ancho chili, chili powder, and all spice
1 Teaspoon of Spicy Horseradish Mustard AKA Deli Style Mustard
1 Teaspoon of Tamari or Soy Sauce
1 Tablespoon of Raw Apple Cider Vinegar
3-4 Drops of Liquid Smoke
1/4 of a Yellow Onion Diced
3 Tablespoons of Olive Oil
Toppings
1 Avocado
2 Radishes
Pickled Red Onion
6 Tortillas
Juice of Half a Lime
This easily makes 6 tacos…. or three very large tacos if you're like me and don't want to share.
First step is to drain your can of jackfruit. Make sure you get jackfruit in water. While you're working on making your topping, start sautéing your onion in olive oil on medium heat.
After you drain it, place it on the cutting board and cut off the center piece. It's very hard.
After you remove the center, you're left with the fibrous outside. Use your hands to shred or pull the jackfruit. Inside you'll find seeds. In the picture above you can clearly see the hole the seed came from. There will be one or two seeds inside of each piece. They are pretty tender as far as seeds go, so if you miss one – it's no big deal. I'm just not a huge fan, so I like to remove them.
After you'll be left with a shredded pile of Mmmmmm….. goodness. Now it's time to add some spices. Pulled jackfruit is notorious for looking like pulled pork. Like, identical. And, when I think pulled pork – I think bbq. I mean…. I am from Texas. These are some classic flavors. So, I'm starting out with a "dry rub" so to speak.
I buy them in glass from Oaktown Spice and get the containers refilled.
I also really hate doing dishes. So, I just throw the spices on the cutting board and mix with my hands; because, I'm a heathen. Mmmmm. It looks so good. Next step is to throw it into the skillet with the now translucent onions.
This whole process takes about 6 minutes, when you're not taking step-by-step photos.
Now, you're going to want to add your liquids. Add the Tamari, liquid smoke, apple cider vinegar, and mustard. Keep the jackfruit on medium for 3-5 minutes stirring occasionally. All of the liquid will evaporate.
Liquid smoke and mustard are two things I still buy in packaging. They come in glass containers. Looks like I should update my post about what I buy in packaging.
You can start cutting up your toppings at this point. After 3-5 minutes is up, flash it on high heat for another 3-5 minutes. You don't want to stir it. You want it to get slightly charred.
Look at how much color has developed. It's smoky, salty, and slightly sweet. Not pungently or deeply sweet like molasses in bbq, it's more effervescent since it's coming from a fruit.
I like to squeeze some fresh lime juice while it's still hot.
Then it's time to decorate. I personally feel that salsa would really over power these tacos. So, I keep it simple with a couple of pickled red onions. Which are a necessity. You need some acid to brighten the taco. Not too much though. Just two or three to get the perfect bite.
The avocado adds a nice creamy texture to balance the toothsomeness of the jackfruit. Add some radishes for crunch and a little bit of cilantro for pepperiness. And, you have the perfect bite!
I would seriously eat these tacos everyday if I could. It's the perfect blend of my favorite things – Texas bbq and tacos. This recipe is also a total winner on buns! Pulled jackfruit sliders? I'm there. Please send me an invite to your bbq.
When I made these at my 4th of July party, even the omnivores were getting down. In fact, they said the jackfruit was the best thing I made. Boom!
Have you had jackfruit before? How do you like to eat it?