How to Cook a Whole Pumpkin
November 8, 2019 | Kathryn Kellogg
Last Updated on November 3, 2022
The pumpkin, the whole pumpkin, and nothing BUT the pumpkin so help me God.
A few weeks ago, right before Halloween, I issued a plea on Instagram. Please, enjoy pumpkins responsibly!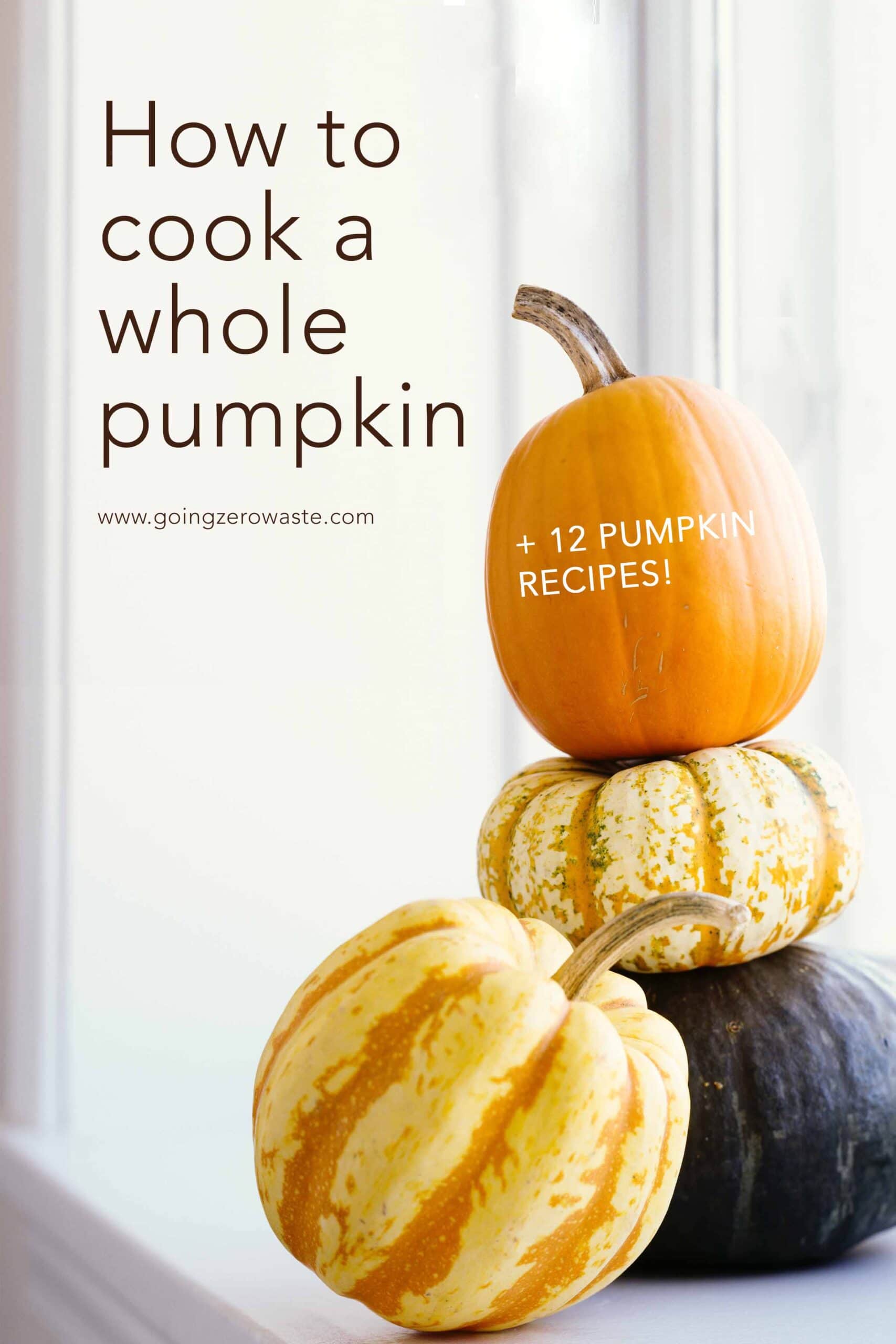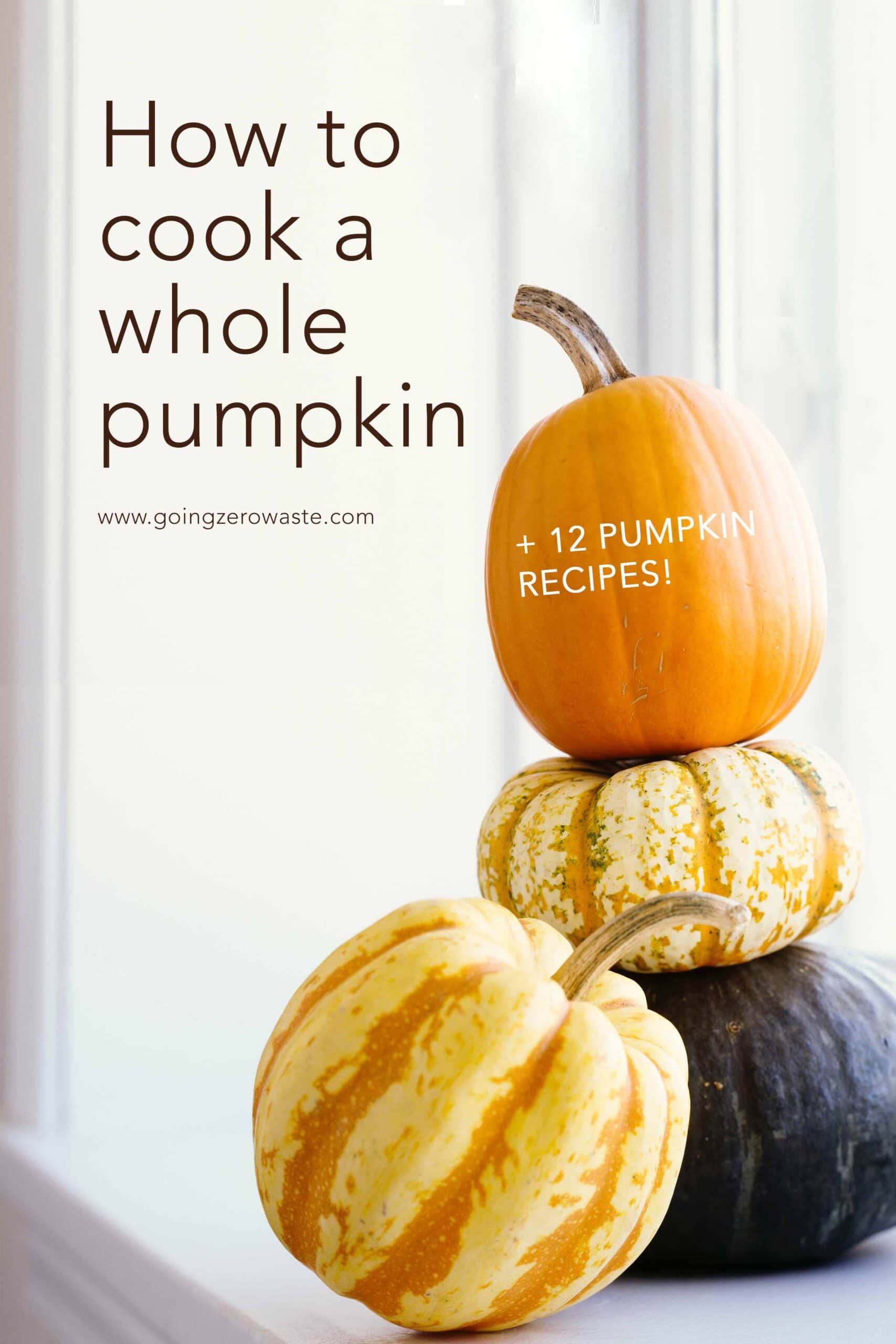 I love pumpkins. I mean who doesn't? ⁠
⁠
I love carving pumpkins, decorating the house with pumpkins, and I played Cinderella so it was reliable transport for at least one enchanted evening. ⁠
Major flashback to press photos from the show!
And, of course, I love eating pumpkins! Every year during the fall my mom would make THE BEST pumpkin bread and pumpkin pie.
I have such fond memories of sneaking into the kitchen to steal a slice with my grandmother.
I've never had a pumpkin spice latte, but I bet it tastes delicious!
I gave up coffee last year due to the caffeine causing adverse reactions with my skin, you can read more about it in this post Why I Quit Coffee, but it just dawned on me… that I could try it with decaf!
Here's a homemade PSL recipe that I want to give a try!
Fact is, growing pumpkins is pretty intensive. Did you know it takes 4.5 months for a pumpkin to reach maturity?
That's half the time it takes to birth a baby! And, think of all the resources that go into it from land use to water.
More than 2 billion pounds of pumpkins are grown every year for all our pumpkin needs, and according to the US Department of Energy, 1.3 billion pounds are UNEATEN and sent to the LANDFILL.
Cue the heartbreak.
That's just devastating! With the number of pumpkins, the UK throws out the entire nation could have a piece of pie! (source)
⁠
Beyond the food waste, food in landfills can't break down.
It's stuck in limbo releasing methane a greenhouse gas 30x more powerful than carbon. ⁠You can read more in my post on composting!
⁠
So, if you're going to get down on some pumpkins this fall, like me, please eat them and then compost them! ⁠
A bunch of people requested a full blog post on how to roast, slice, dice, and recipes for using their pumpkins up in the most delicious ways and I'm happy to oblige!
how to make pumpkin puree:
Now, the most of the pumpkin bought in store is pumpkin puree which is VERY simple to make.
Cut your pumpkin in half

Scoop out the seeds and strings (but save the seeds!)

Place the pieces cut-side down on an oiled baking sheet.

Roast in the oven at 350 degrees until the flesh is soft, tender and can be easily pierced with a fork. The roasting time will depend on the size of your pumpkin but expect around an hour

Pull the pumpkin out of the oven and scoop out the flesh

Toss the flesh into a food processor or high powered blender
Voila! You now have pumpkin puree.
View this post on Instagram
how to make pumpkin pie filling:
Fun fact! Most of the canned pumpkin pie filling you see on the store shelves don't actually contain any pumpkin.
Yep. You read that right! Don't believe me? You can read more.
Now, pumpkin pie filling typically has added sweetener and spices so if you're looking for pie filling, just add a bit of sugar and pumpkin pie spice.
Here's a recipe from Food Network to go from whole pumpkin to pie.
how to roast pumpkin seeds:
I have an entire blog post with the recipe for roasted pumpkin seeds – be sure to check it out! It even has a video embedded if you're more of a visual learner.
Toss the seeds in a bowl with a little bit of olive oil and salt

Spread the seeds in a single layer on a baking sheet

Bake at 300 degrees for about 45 minutes or until golden brown; stir occasionally
These are perfect for snacking as is, but I like to add them as a topping to pumpkin soup and to add crunch for salads.
View this post on Instagram
more recipes and ideas!
I hope these ideas get you so excited to turn your pumpkin into something delicious and tasty!