2 Showstopping Vegetarian Mains for Thanksgiving
November 16, 2018 | Kathryn Kellogg
Last Updated on May 7, 2021
Thanksgiving is amazing, but when you're a vegetarian what do you put at the center of the table?
I love sides as much as anyone, but it is nice to have a showstopper – a main – a kick-ass focal point that would put any turkey to shame!!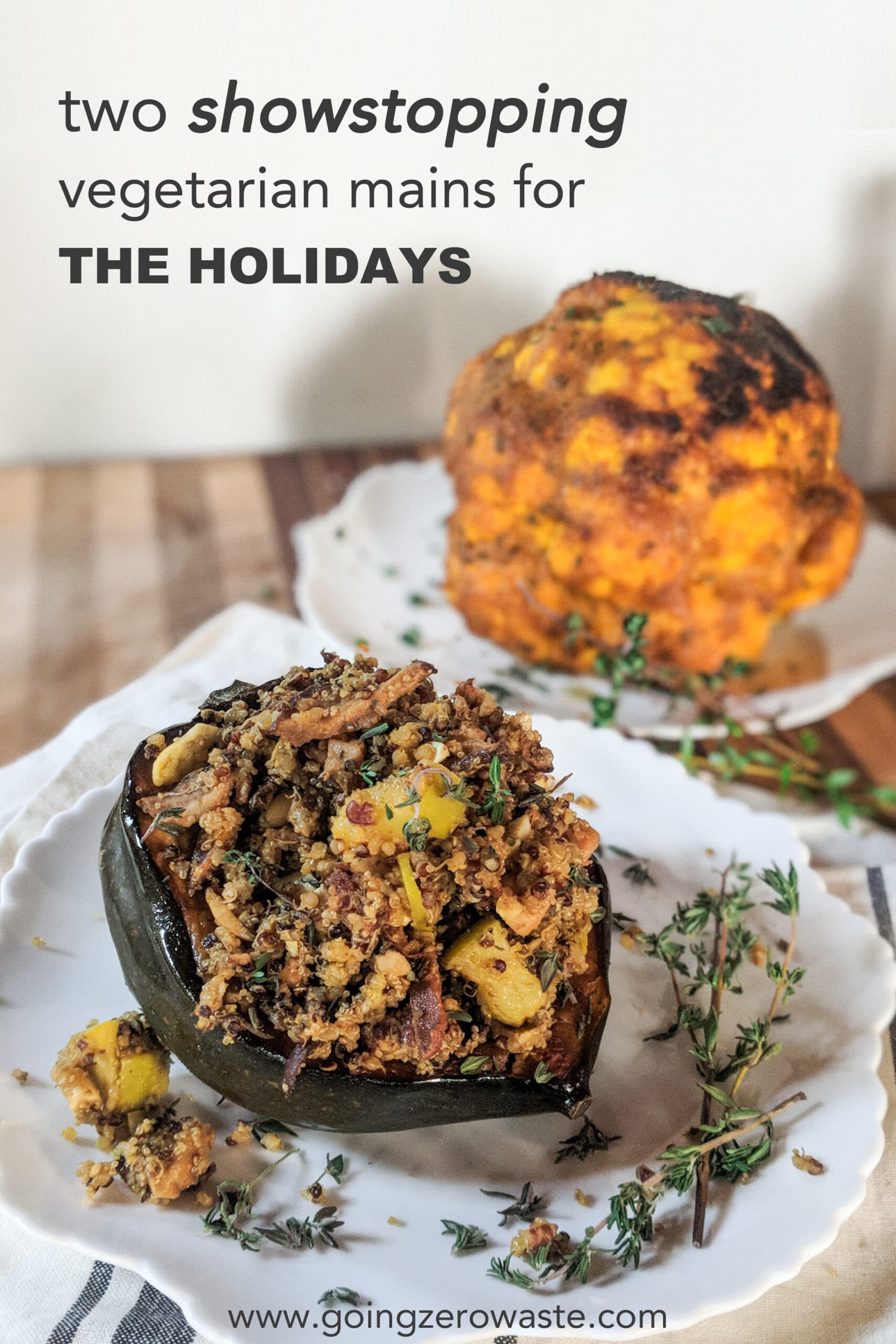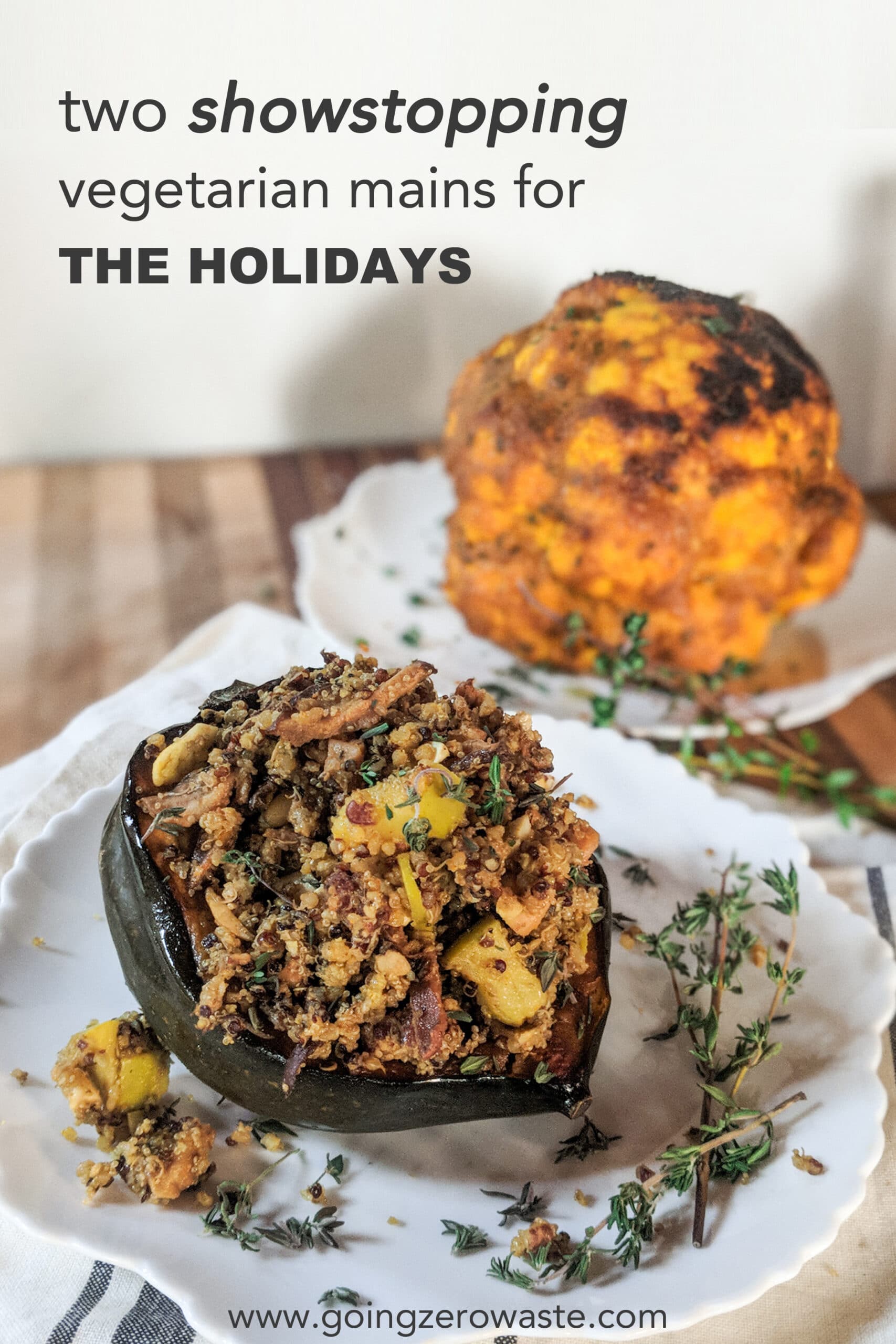 I love to have something that really ties the plate together, and I think both of these options would be a beautiful edition to your menu.
If you haven't checked out my zero waste Thanksgiving guide make sure to grab a copy, it has an entire guide including a grocery list, menu, recipes, and even a cooking schedule!
roasted cauliflower:
I love this roasted cauliflower. It has this beautiful crust on it that makes more beautiful than a golden brown turkey!
45 Minutes / 400 Degrees / 4 Servings
1 head of cauliflower

2 tablespoons of flax meal

2 tablespoons of nutritional yeast

1 teaspoon of salt

1 teaspoon of garlic powder

1 teaspoon of onion powder

1 teaspoon of parsley

1 teaspoon of mustard powder

1 teaspoon of turmeric

1 teaspoon of smoked paprika

1 teaspoon of cumin

1/4 cup of olive oil

1/4 cup of water

juice of 1 lemon
carefully remove all of the leaves from the cauliflower leaving the stalk fully intact

place the cauliflower in a pan stalk side up

mix all of the ingredients together in a bowl

pour half of the mixture into the cauliflower and tap it to make sure the mixture is evenly dispersed through the cauliflower

bake the cauliflower stalk up for 20 minutes

take the cauliflower out and turn it so the florets are on top

spread the rest of the mixture over the cauliflower

since there's flax meal, it might get a little congealed so feel free to add 1-2 more tablespoons of water

bake for 25 more minutes until golden brown

pull out of the oven and let it cool for half and hour

slice into steaks and serve with a side of gravy
You can grab my gravy recipe in my Thanksgiving Guide!
stuffed acorn squash:
This is such a festive edition to the table and a complete celebration of fall produce.
30 Minutes / 400 Degrees / 2 Servings
1 acorn squash

2 cups of cooked quinoa*

1/4 cup of toasted pecans

1/4 cup of toasted cashews

3/4 cup of shiitake mushrooms

3/4 cup of granny smith apples or dried cranberries

zest and juice of one lemon

salt and pepper to taste

fresh sprigs of thyme
slice the acorn squash in half and scoop out the seeds and insides

salt the acorn squash generously

place the acorn squash flesh side down on a greased cookie sheet

place in an oven at 400 degrees for 30 minutes and the flesh is caramelized and fork tender

chop the nuts

sauté the mushrooms and the apples together until tender with the lemon zest and lemon juice

add in the quinoa and the nuts and salt and pepper to taste

once the squash is out of the oven scoop the quinoa stuffing inside

top with fresh thyme and serve
If you make any of my recipes this holiday season, please tag me on Instagram! Be on the look out next week because
I'm going to be sharing recipes for Thanksgiving leftovers, AND I'm going to be sharing an awesome giveaway…. it's going to be good. 😉