6 Best Non-Toxic Bakeware Sets For a Eco-Friendly Kitchen
October 5, 2023 | Kathryn Kellogg
Last Updated on October 11, 2023
I don't know about you, but when the weather turns colder and the holidays start to approach, it makes me want to fire up my oven and bake cookies, pies, and bread and other family favorites.

I have had the same baking sheets over 10 years and they're in really rough shape. I'm in need of a few replacements, and during my research, I learned that some bake sheets contain PFAS.
PFAS, also known as forever chemicals, can be found in non-stick cookware (and that includes bakeware), along with food packaging, firefighting foam, household items, outdoor gear that's "water repellent". We'll discuss why this is problematic below, but switching to non-toxic bakeware is one way you can reduce your exposure.
This post was sponsored. All thoughts and opinions are my own; for more information please see my disclosure policy. Some of the links in this post are affiliate links; for more information please see my disclosure policy.
Today, more than 97% of the U.S. population has PFAS in their bodies, according to the Centers for Disease Control and Prevention (CDC). According to a study released by the USGS, nearly half of US tap water, from both public utilities and private wells, contains forever chemicals.
So I try to limit any unnecessary exposure and here are some of the best bakeware brands I came across during my research. All these brands are naturally non-stick without the use of PFAs.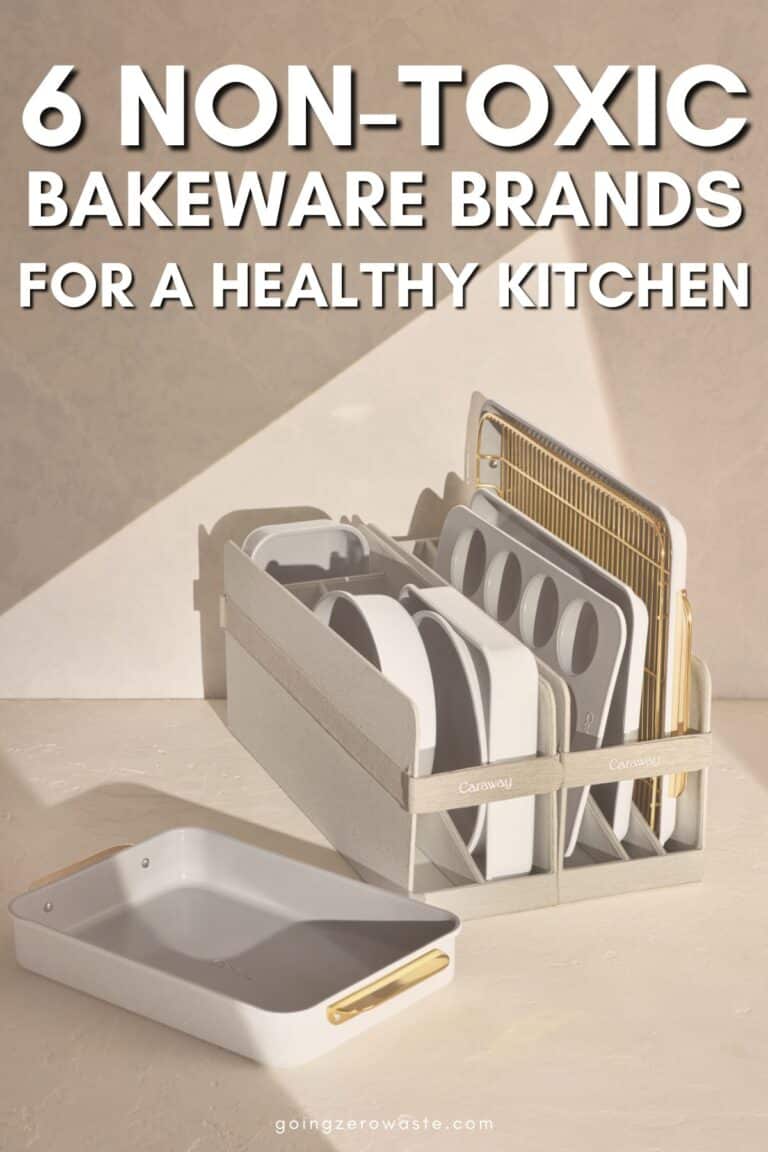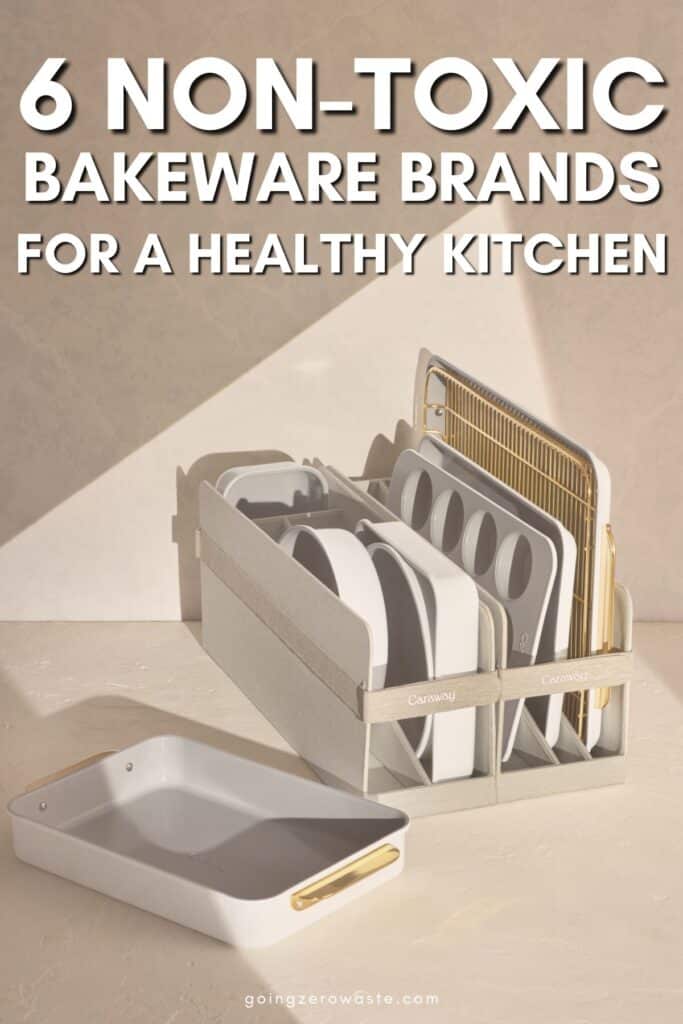 what bakeware is safest?
The safest bakeware for your health is non-Teflon coated options. The least toxic bakeware is made from materials such as cast iron, stainless steel, ceramic, and glass because these materials can withstand very high temperatures and don't leach any toxic chemicals into your food.
Most bakeware you'll find in stores are made out of some kind of metal (like steel or aluminum) with a non-stick coating on top.
The non-stick coating is almost always Teflon, the most well known brand of non-stick coating that contains PFAS chemicals.
PFAS (aka Per- and polyfluoroalkyl substances) are linked with negative health concerns, including cancer and infertility.
PFAS don't break down in our bodies, earning them the nickname "forever chemicals." Instead they just just stay and build up in our bodies year after year.
Seeing as there are over 9,000 different kinds of PFAS, you'll want to look for bakeware brands that are labeled "PFAS-free", not just "PFOA-Free" or "PFOS-free", the most common types.
All the brands listed in this post are free of Teflon and they're PFAS-free, making them some of the safest bakeware options on the market.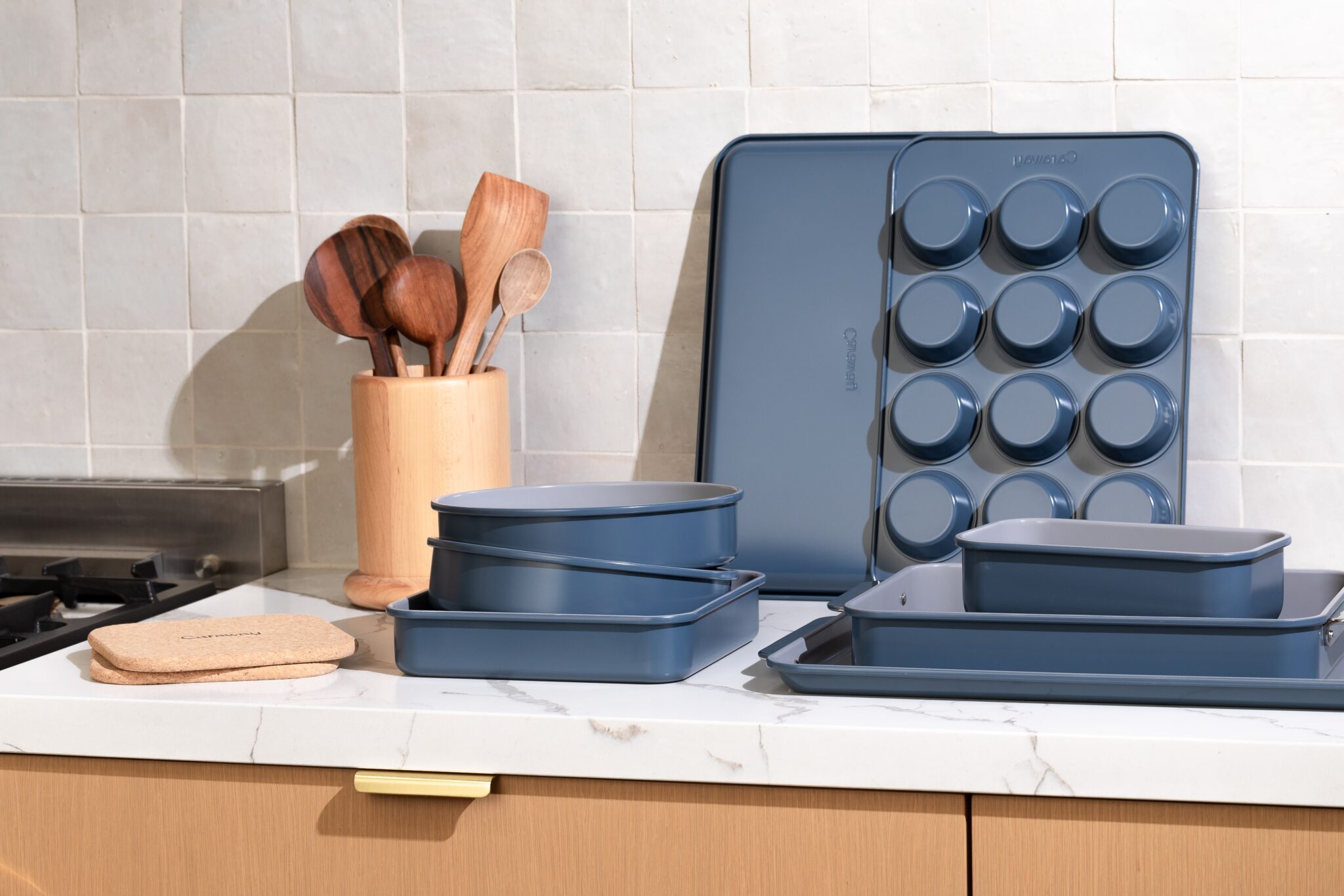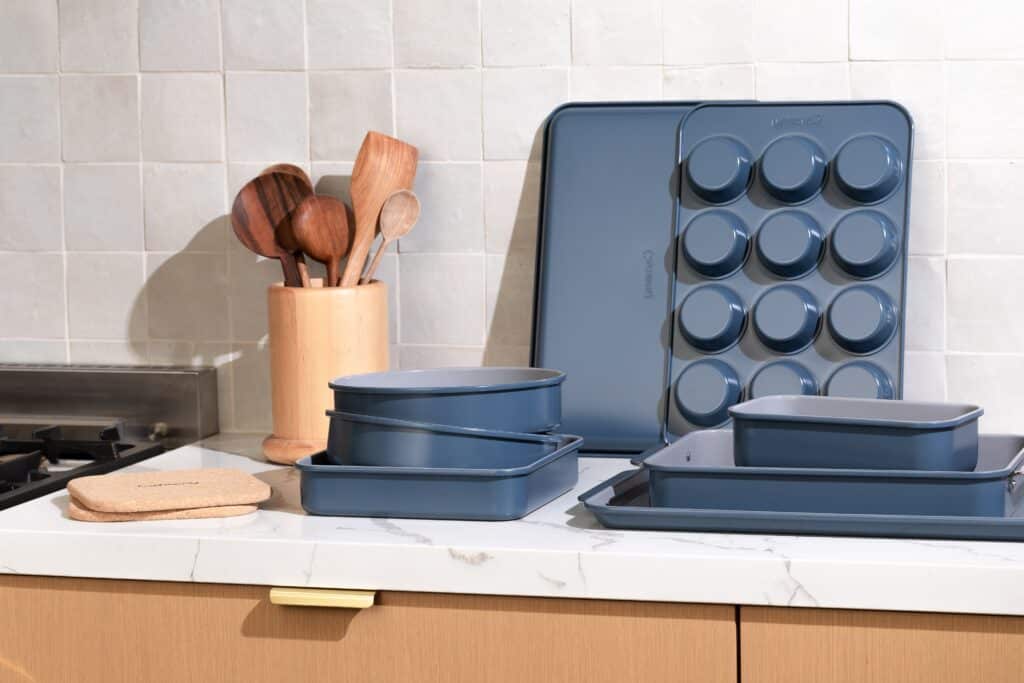 is ceramic bakeware non-toxic?
Ceramic bakeware is non-toxic, as long as you double check it is free of lead and cadmium. Ceramic provides a natural non-stick surface without the use of toxic chemicals during production.
It's worth noting there is a difference between 100% ceramic and ceramic-coated bakeware. Ceramic-coated bakeware is made with a metal core (usually aluminum but sometimes stainless steel) covered with a silica (sand)-based "sol-gel" solution that's sprayed around it to give it the non-stick quality.
Ceramic-coated bakeware in comparison to 100% ceramic bakeware, is a lot more lightweight, easier to clean, and is less likely to break if dropped.
Just be mindful that ceramic bakeware of any kind will break if exposed to extreme temperatures, similar to glass. A good rule of thumb is to let it cool after baking with it before cleaning it.
how do I make my kitchen non-toxic?
Beyond choosing non-toxic bakeware, there are additional ways you can have a non-toxic kitchen.
Having a "non-toxic kitchen" basically means making more informed decisions that promote a healthy lifestyle. This also trickles into a sustainable lifestyle, because usually wellness of self = wellness of planet.
RELATED: 10 Wellness Habits For Living Healthy
For example, baking homemade zucchini muffins using zucchini from your garden is a lot healthier for you and the planet. You get to control all the ingredients in the muffins (aka, less or zero sugar), and it's not being mass produced and put in plastic packaging like the ones you might find in stores.
Here are some other ways to keep your kitchen non-toxic:
Ditch teflon-coated cookware for these non-toxic cookware brands
Opt for glass snapware, glass jars and silicone bags for food storage
Avoid plastic film wrap and choose Beeswrap instead
Filter your water to avoid PFAS found in tap water
Choose organic, locally grown, plastic-free produce from the farmers market
Grow your own herbs on your windowsill
Clean using eco-friendly products
gzw approved non-toxic bakeware sets
Here are some brands that are making non-toxic bakeware and get the Going Zero Waste seal of approval.
I've compiled a list of the best non-toxic bakeware on the market. All the bakeware listed below are made from ceramic, glass, stainless steel or cast iron.
I've gone ahead and highlighted some key features of each brand, but it isn't an exhaustive list. Be sure to check out their websites for more information.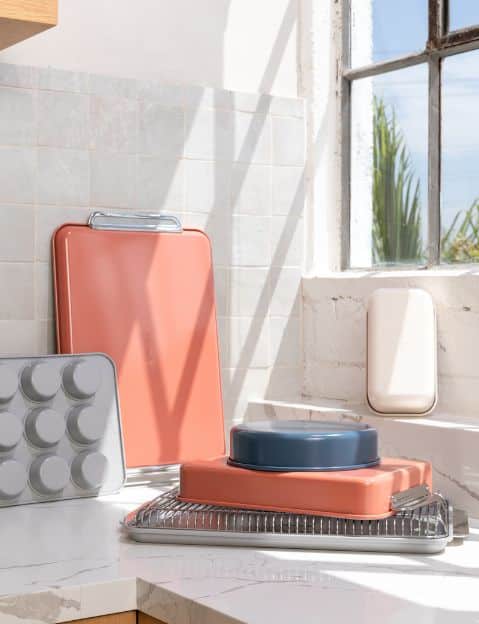 Ceramic bakeware
Free of PTFE, PFAS, PFOA, lead, cadmium, + toxic metals
Ethical manufacturing where employees are safe + paid living wages
Thoughtful packaging shipped in recycled cardboard with zero plastic bags
Recycle locator on website for end of life recycling
Get 10% site-wide using this link
---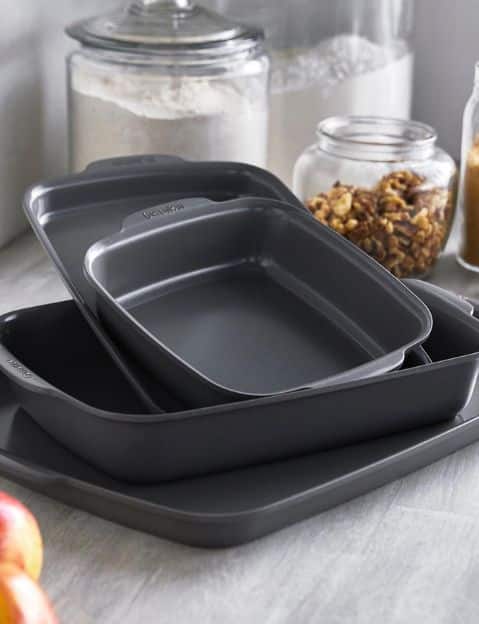 Ceramic nonstick bakeware
Free of PFAS, PFOA, lead, and cadmium
Recycling program available
Factory generates 30% of its power from the solar panels
Recycled cardboard packaging
---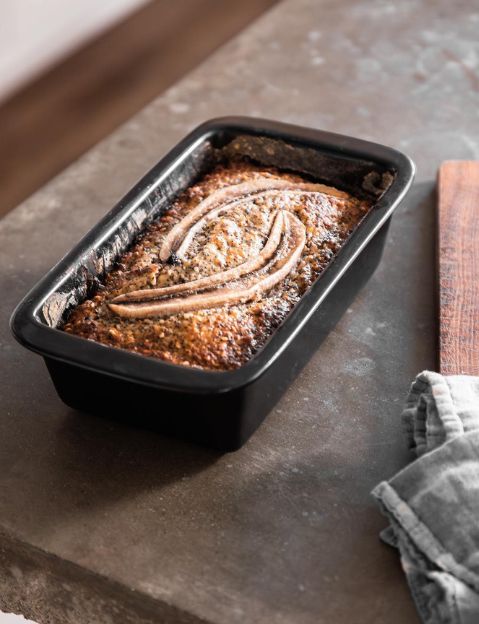 Pure ceramic bakeware
No lead, cadmium, PFOA, PFAS, non-stick coatings, or metal core
Handmade by skilled artisans
Can withstand extreme temperatures
Microwave, oven, BBQ, freezer, and dishwasher safe
FDA Certified & California Prop 65 compliant
---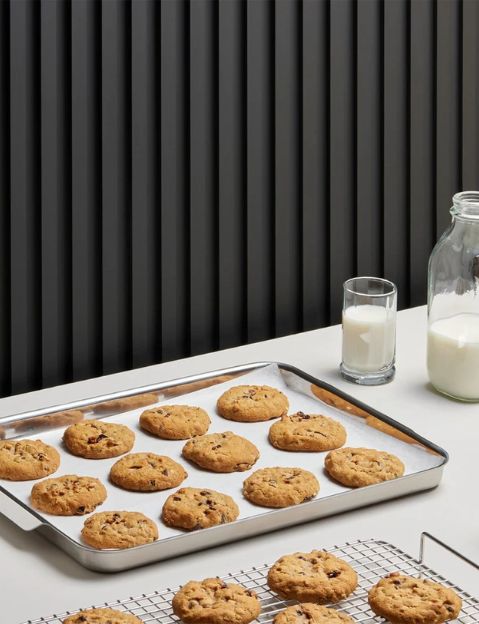 Stainless steel bakeware
Manufactured in ethical factories
Offset 100% of shipping-related carbon emissions
1% For the Planet member
---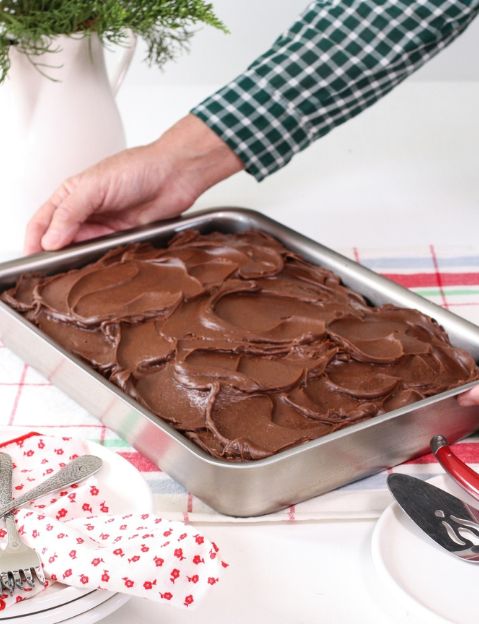 Stainless steel cookware
Free of harmful coating such as PFAS, PFOS, PFOA and PTFE
Handcrafted in USA
Lifetime warranty available
---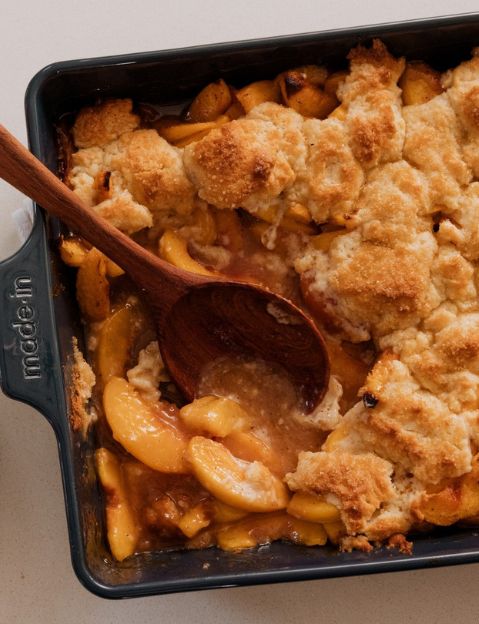 202-Year-Old Porcelain Recipe and ceramic clay bakeware
Artisan crafted + chef-approved
Recycling program available
USA based factory