11 Non-Toxic Cookware Brands For a Healthy Kitchen
November 16, 2022 | Kathryn Kellogg
Last Updated on August 10, 2023
Have you noticed everyone using the term non-toxic cookware? Well, it's not just a trend: A majority non-stick cookware contain forever chemicals which may be linked to adverse health conditions such as decreased fertility, hormonal imbalances, and even cancer.
Recently, PFAs, aka forever chemicals, have been found in rainwater. But how exactly are they getting there?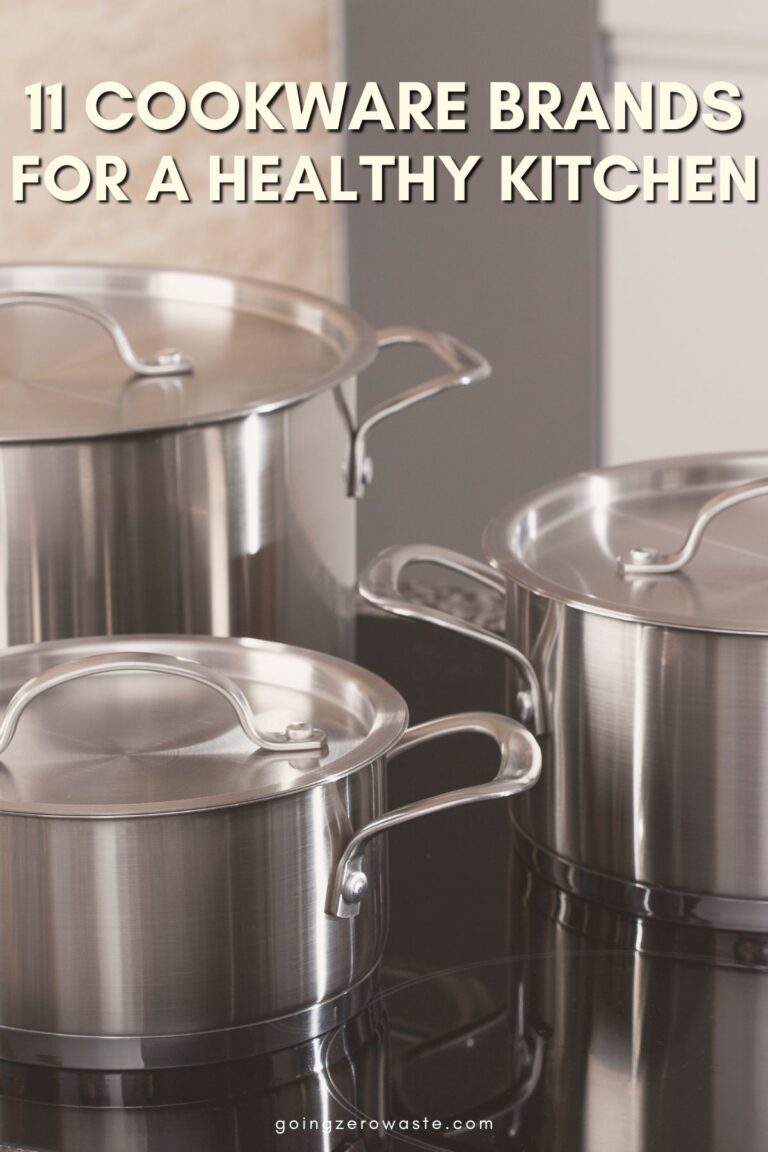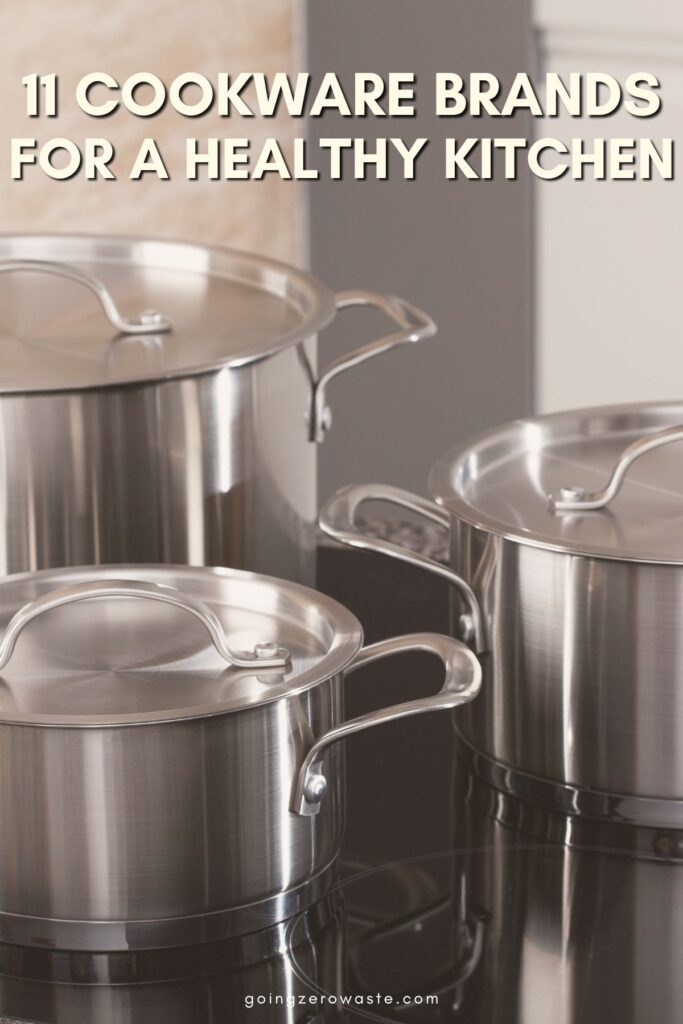 Some of the links in this post are affiliate links; for more information please see my disclosure policy.
Well, PFAS can be found in a variety of different products from non-stick cookware to cosmetics. When a factory makes or uses PFAs, it can travel through wastewater and contaminate natural water, soil and air around it.
Over time, PFA-containing items in landfills can also leach chemicals into the surrounding environment too. For this reason, we should be avoiding PFA-containing items, like Teflon coated pots and pans.
On top of this, it's essential we start buying durable non-toxic cookware items made to last. High-quality cookware that's designed to be passed down as heirlooms reduces the amount of resources and energy needed to make new ones.
Here are the best non-toxic cookware brands on the market. All these brands are naturally non-stick without the use of PFAs.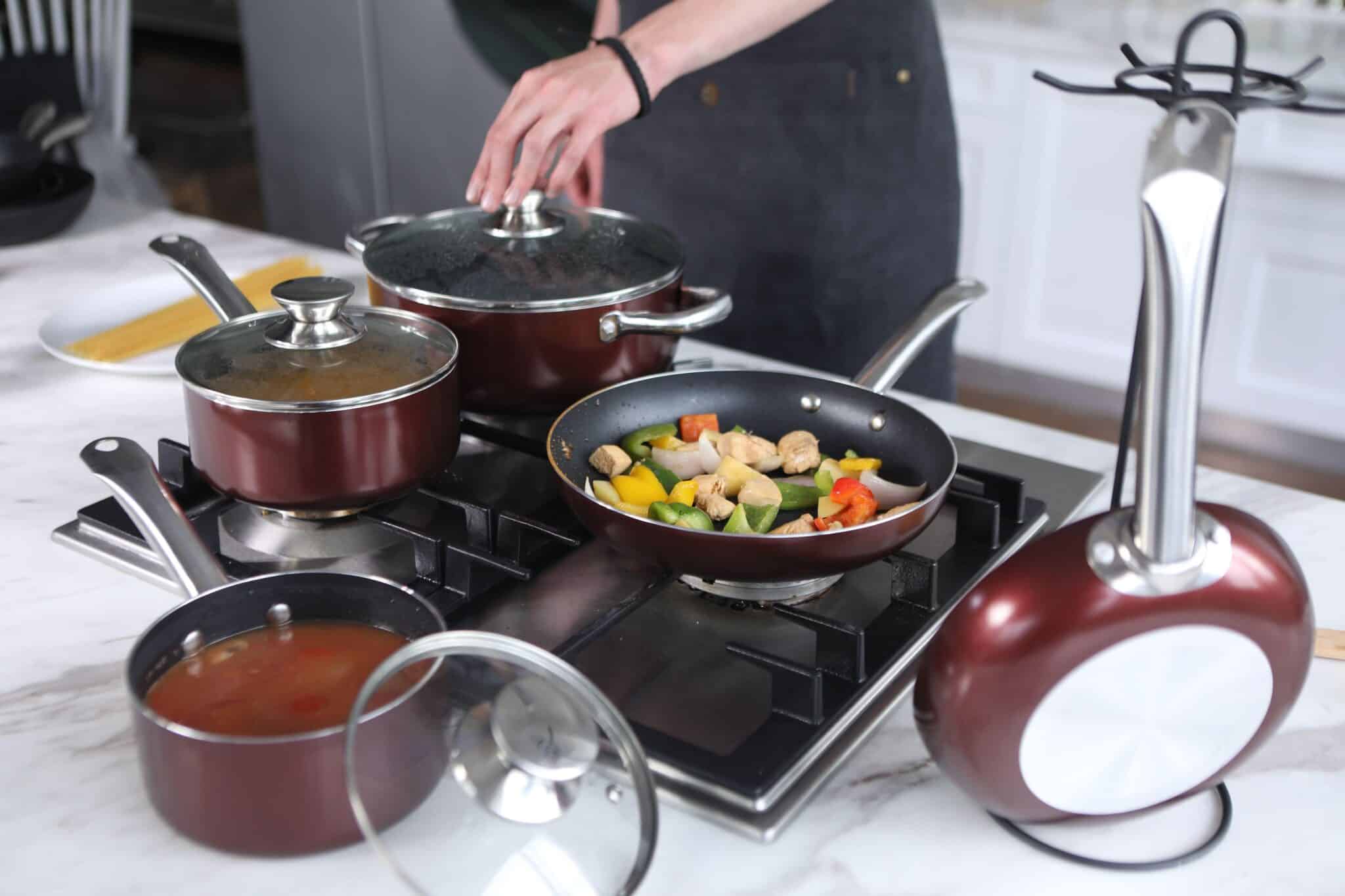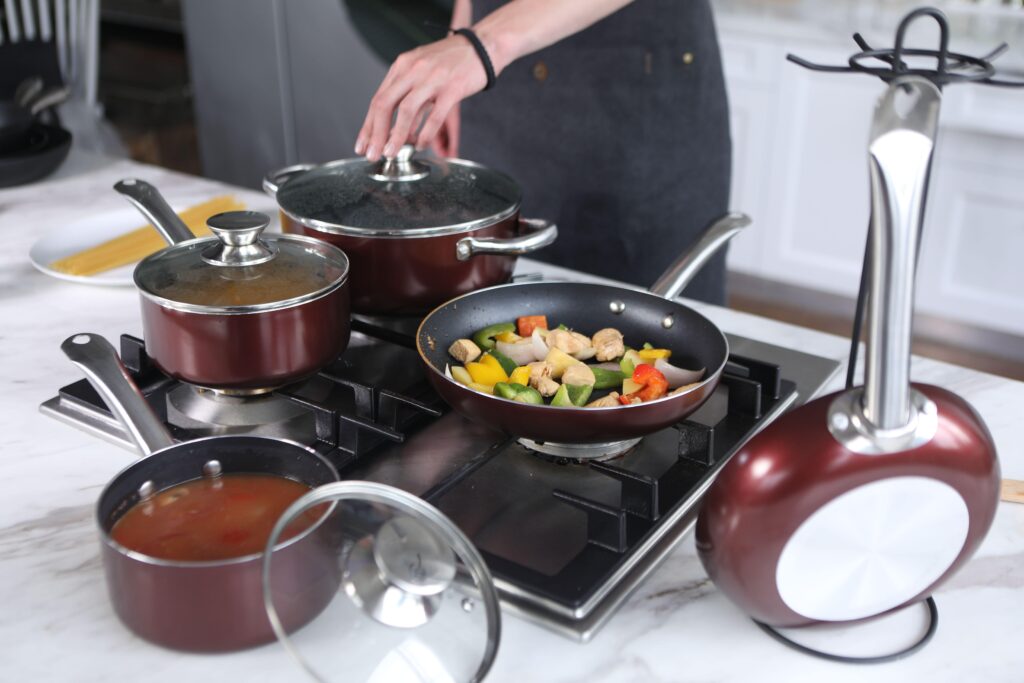 what cookware should you avoid?
You should avoid anything coated in Teflon (usually non-stick pans). Teflon is made with a specific kind of Perfluorocarbon (PFC) that makes the surface of cookware resistant to sticking.
The problem with this is when Teflon coated pans get overheated (above 500 degrees F), the Teflon coatings on nonstick cookware start to break down, releasing toxic chemicals into the air.
It only takes 2.5 minutes for a traditional non-stick pan on high heat to exceed 500 degrees F and begin releasing forever chemicals. And FYI, the chemicals in Teflon can easily kill pet birds when cookware overheats. If it can do that to a bird, what's it doing to us?
Well, research by the Environmental Working Group & many other scientists demonstrated these 'forever chemicals' , aka PFAs, take decades or longer to leave the body and they never break down in the environment.
Inhaling these fumes may lead to Teflon flu, which has flu-like symptoms such as chills, body aches, headaches, and fever. The onset typically occurs after 4-10 hours of exposure.
There's also the concern that particles of PFC may flake off from Teflon cookware and be ingested. While webMD says they don't cause any harm when ingested, it's better to be safe than sorry.
The average person consume about five grams of small plastic particles every week, which is about the weight of a credit card. Plastic has also been found in human blood, lungs, feces and placentas. The health complications of this are unknown, but it can't be good.
RELATED: Induction Cooktops: Why I Ditched Gas
what is the least toxic cookware?
The least toxic cookware are non-stick pans and pots, like cast iron, stainless steel, ceramic, glass, and enamel-coated cast iron. These options don't have any Teflon coating on them, making them safe to use.
Personally, I think the best option is cast iron simply because it's practically indestructible, non-toxic, and extremely versatile. You can use it on the stovetop, in the oven, or out camping. Plus, it won't break with extreme temperature changes.
Truly, this cookware is zero waste: It makes an amazing family heirloom you can pass down through the generations. If the owner knows how to use it, it will always be relevant.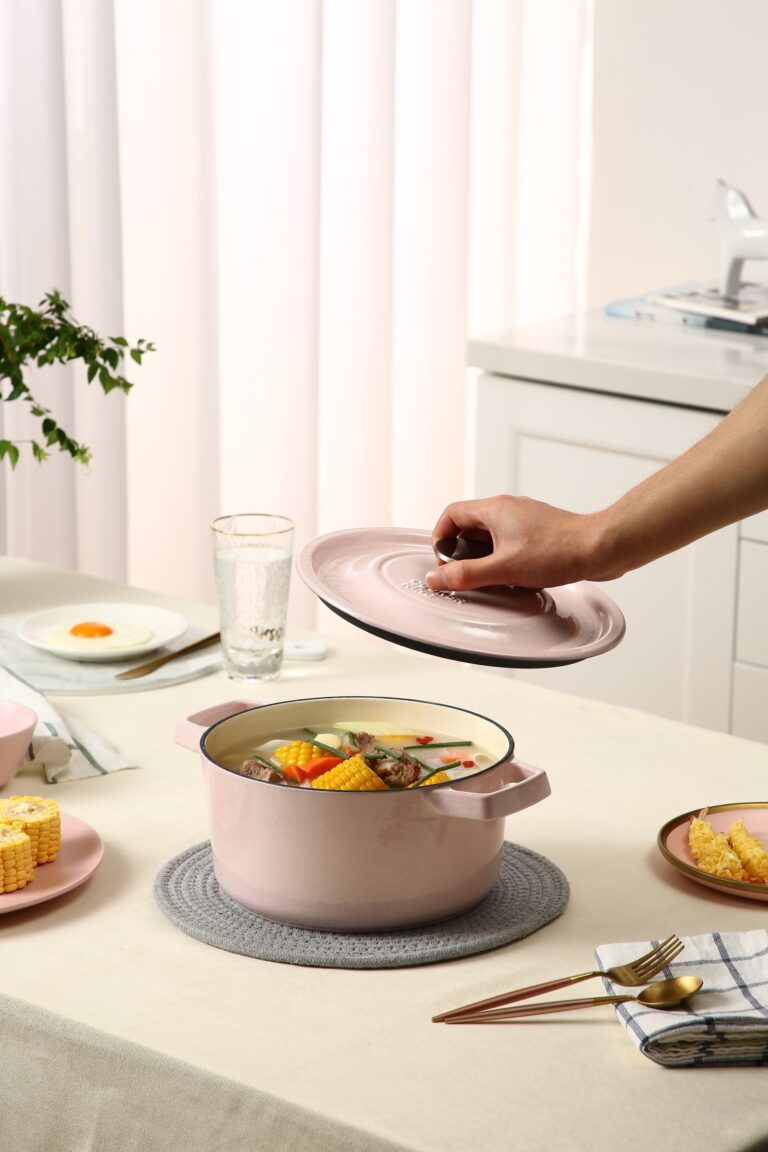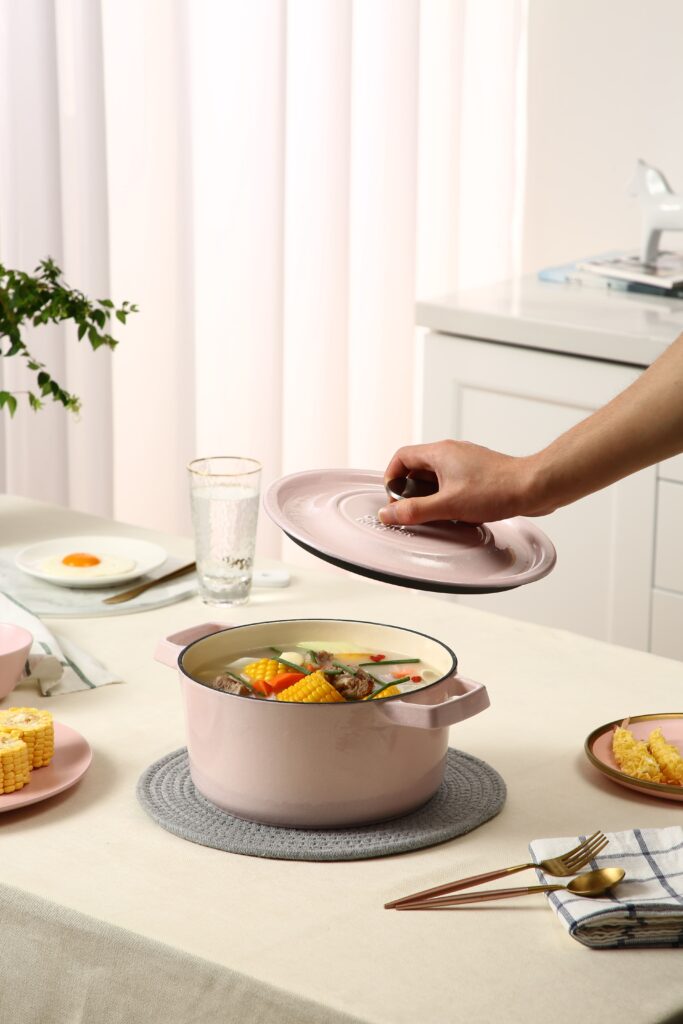 what is the healthiest form of cookware?
The healthiest form of cookware is non-Teflon coated options. But that can mean a lot of things. Here are some of the best materials to choose from that are naturally non-stick.
best non-toxic cookware materials to choose from:
Cast iron: Super durable, and can last lifetimes. If you score your grandma's cast iron, or find some while thrifting, I recommend Zero Waste Chef's guide to maintain and reviving cast iron pans. Please note that iron can leach into your food while using these pans.
Enamel-coated cast iron: Made of cast iron with a glass coating, the cookware heats like iron cookware but doesn't leach iron into food. It's a good option for cooking acidic foods, like tomato sauce.
Stainless steel: Super durable and can be recycled. Cookware with 18/8 or 18/10 stamped on the bottom are the least likely to leach into food. Please note these can leach nickel and chromium into food—particularly when cooking acidic foods (like tomatoes).
Lead-free ceramic: Always double check they're free of toxic exposures like lead and cadmium. The safest option is 100% ceramic pots and pans, not ceramic coatings or ceramic enamel. Be mindful ceramic will break if exposed to extreme temperature changes, similar to glass.
Glass: This can't be used on stovetop, but you can use it for bakeware. It's considered one of the safest options to contain food in, because it doesn't leach anything.
what is non-toxic cookware made of?
Non-toxic cookware is made of materials that are safe at high temperatures, like stainless steel, cast iron, and carbon steel. Aka, things that don't have coatings on them.
Here are the best non-toxic cookware options on the market that get the Going Zero Waste seal of approval. Each of these brands have received raving reviews and/or been around for years.
I've gone ahead and highlighted some of my favorite features of each brand, but it isn't an exhaustive list. Be sure to check out their websites for more information.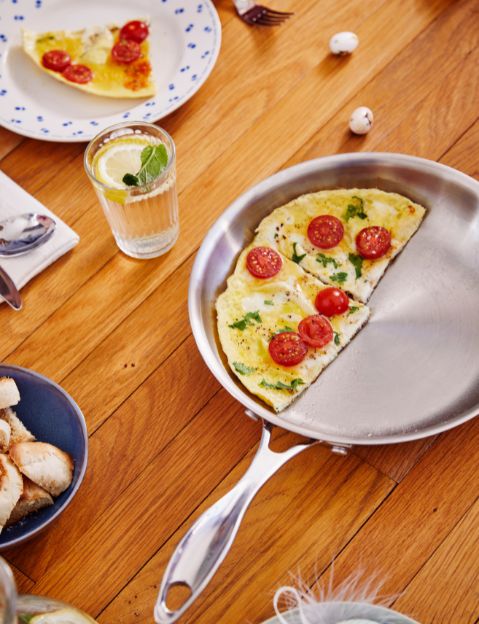 Aluminum/cast aluminum, stainless steel, carbon steel and cast iron cookware
Recycled WWII materials + fashioned them into aluminum pots and pans
Founded in 1949 in Belgium
Over 40 premium quality cookware products
Use code zerowaste to get $10 off first order
---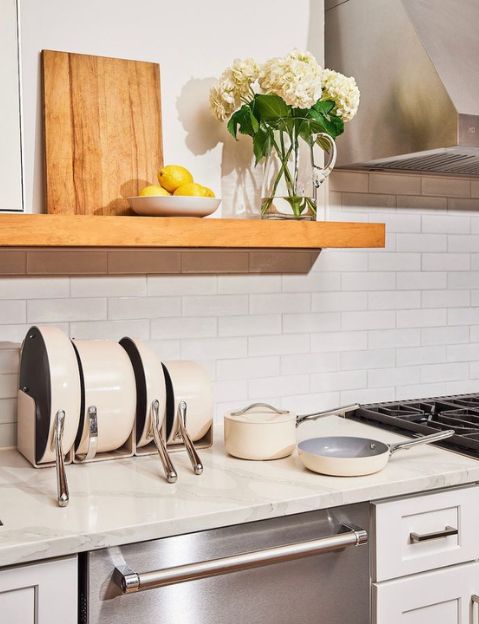 Ceramic cookware
Free of PTFE, PFAS, PFOA, lead, cadmium, + toxic metals
Ethical manufacturing where employees are safe + paid living wages
Thoughtful packaging shipped in recycled cardboard with zero plastic bags
Recycle locator on website for end of life recycling
---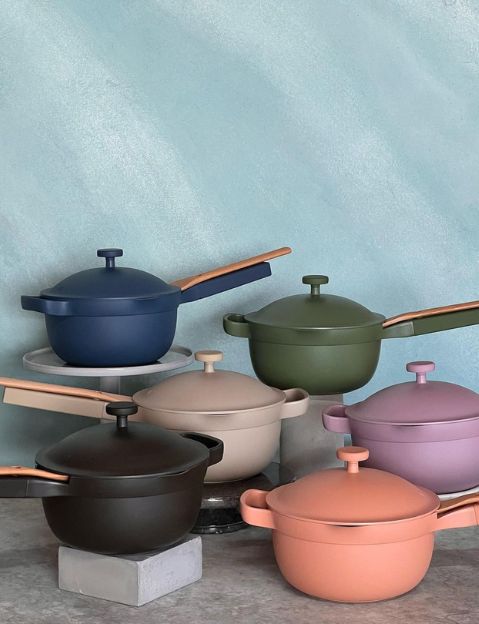 Ceramic non-stick cookware
No PFOA, PTFE, GenX chemicals or other questionable materials
sol-gel non-stick coating that is made primarily from silicon dioxide
Plastic-free shipping: Packaged with biodegradable and recyclable corrugate
Designed in LA, manufactured in by artisans & factory partners in Thailand, China and Mexico
---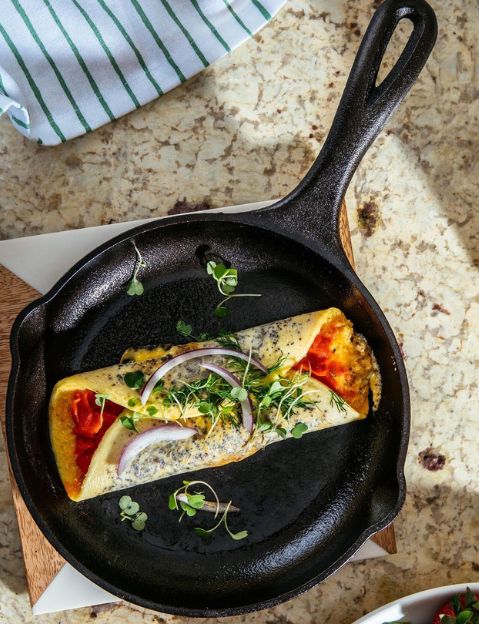 Cast iron cookware
Companywide recycling programs
Biodegradable packaging materials
Uses foundry equipment that reduces pollution + consumption of energy
USA made
---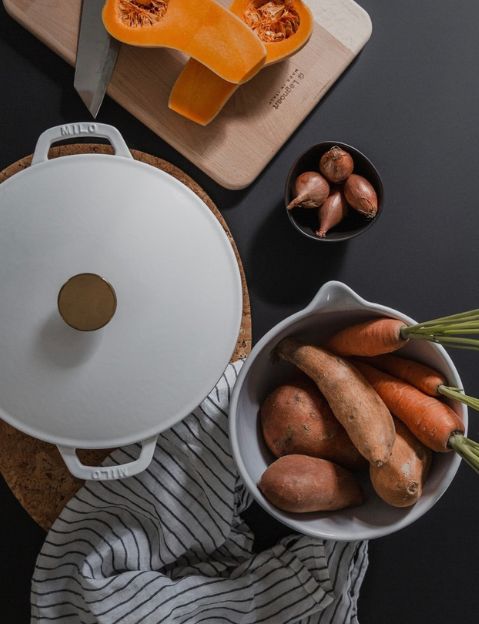 Cast iron cookware
Enameled Dutch ovens + cast iron skillets
40% recycled cast iron
Offset 100% of shipping-related carbon emissions
1% For the Planet member
---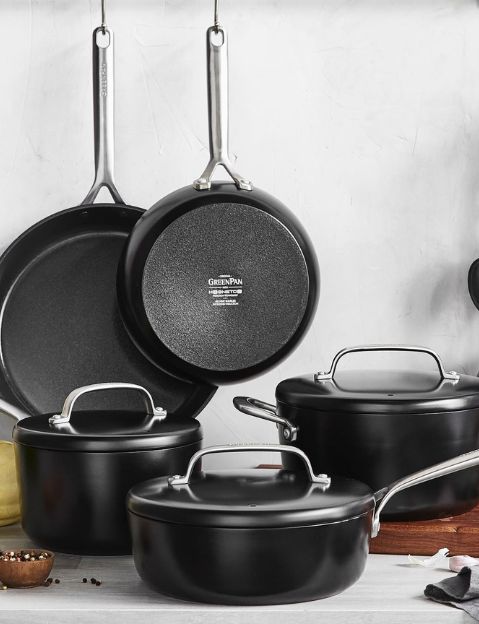 Ceramic nonstick cookware
Free of PFAS, PFOA, lead, and cadmium
Recycling program available
Factory generates 30% of its power from the solar panels
---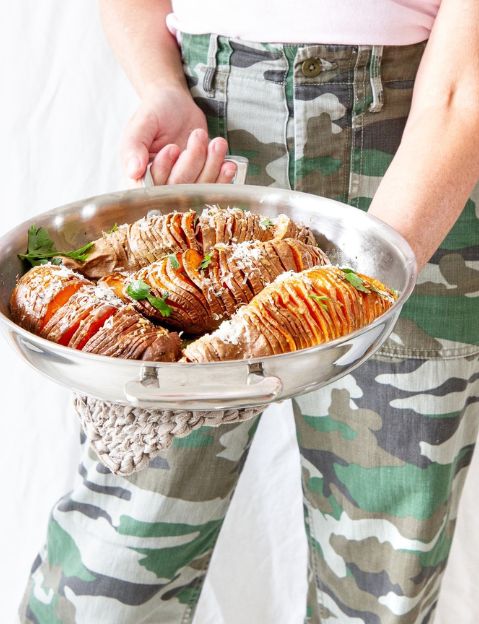 Stainless steel cookware
Free of harmful coating such as PFAS, PFOS, PFOA and PTFE
Handcrafted in USA
Lifetime warranty available
---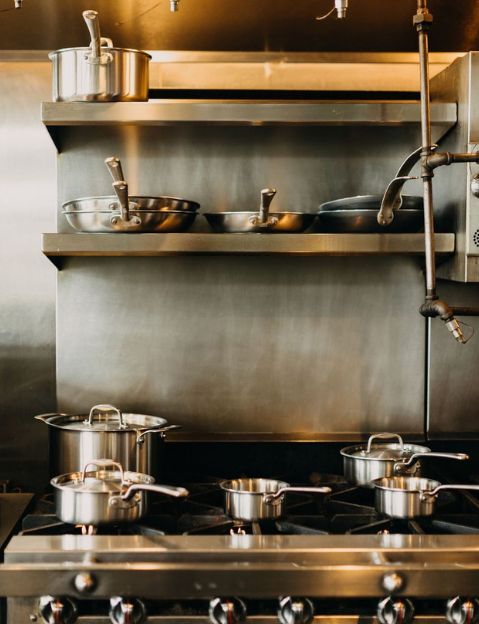 Stainless steel and carbon steel cookware
Artisan crafted + chef-approved
Recycling program available
USA based factory
---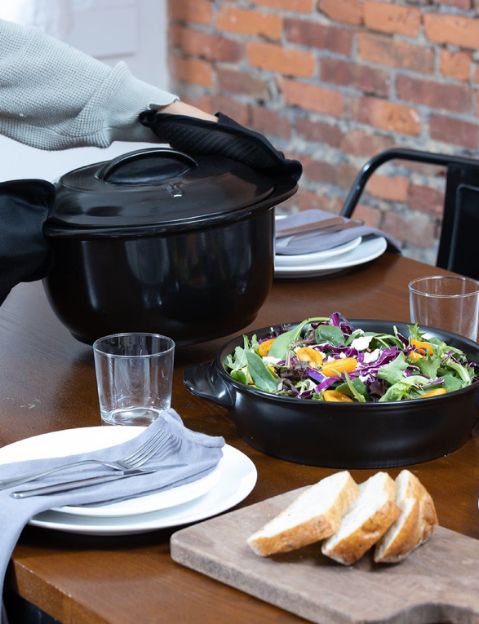 Pure ceramic cookware
No lead, cadmium, PFOA, PFAS, non-stick coatings, or metal core
Handmade by skilled artisans
Can withstand extreme temperatures
Microwave, oven, BBQ, freezer, and dishwasher safe
FDA Certified & California Prop 65 compliant
---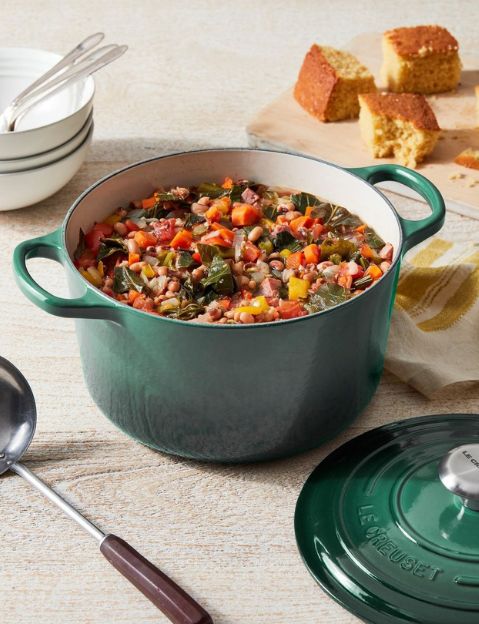 Enameled cast iron cookware
A variety of colors
Best known for their Dutch ovens
Lifetime limited warranty available
---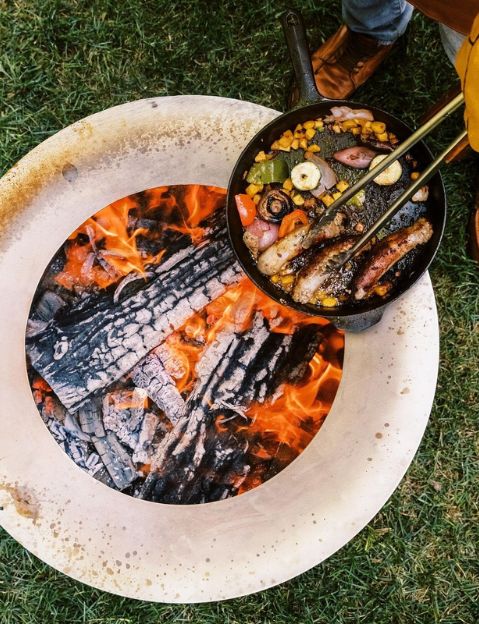 Vintage-style cast iron cookware
Lighter + smoother
Arrives pre-seasoned
compatible with all stovetop burner types, including glass and ceramic induction ranges
Made in the USA
So, what do you think of these non-toxic cookware brands? Let me know your favorites in the comments below!