I Tried Who Gives a Crap Toilet Paper, and Here's How It Went
December 8, 2017 | Kathryn Kellogg
Last Updated on January 27, 2022
Let's talk toilet paper. We don't use as much of it as we used to thanks to our bidet attachment.
I bought a 24 roll box of Who Gives a Crap eight months ago, and finished the last roll yesterday so Who Gives a Crap couldn't have timed their gift any more perfectly.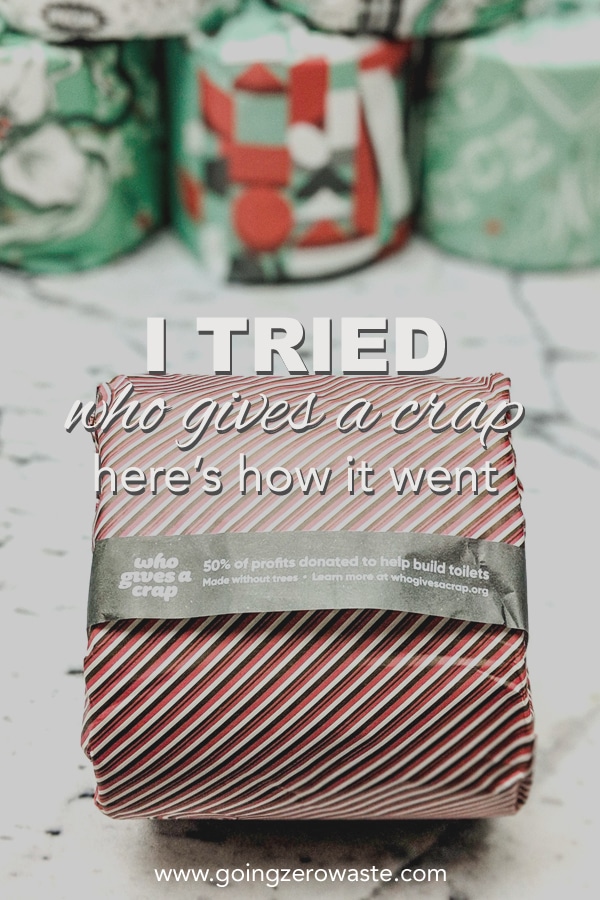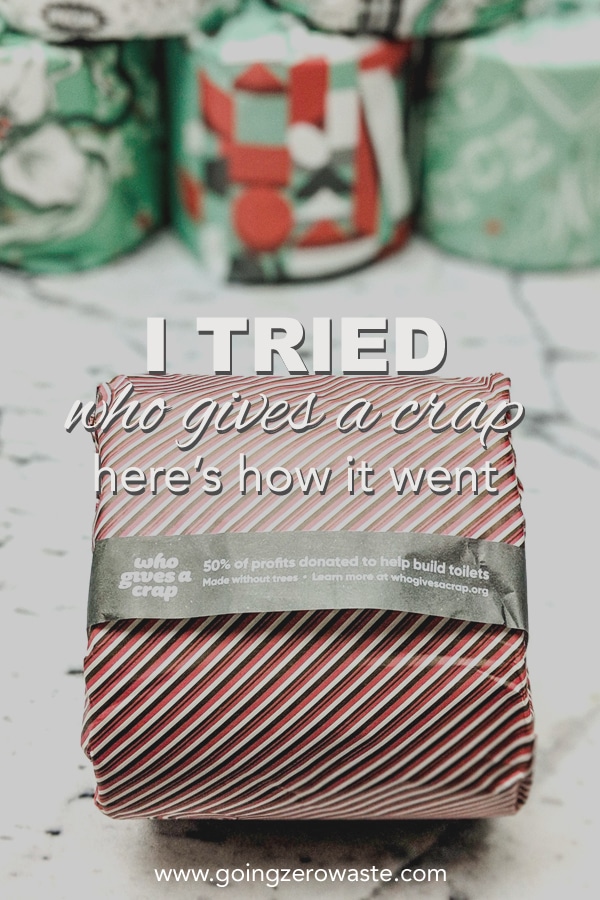 This post was sponsored by Who Gives a Crap, as always all thoughts and opinions are my own. For more information please see my disclosure page.
Who gives a crap review
They sent me a box of their exclusive holiday line. (The holiday line isn't available anymore, but their regular line is just as cute and colorful!)
is it really plastic free?
Yes! The rolls come in a cardboard box, wrapped in paper, with a cardboard core, and no other packaging. Everything is recyclable and can be composted in a backyard bin for your garden.
how does it arrive?
It arrives in a cardboard box that's clearly branded which sparked a great conversation with my mail lady.
I always love easy conversation starters when it comes to reducing waste. I spoke with my mail lady for a couple of minutes about the problem with normal toilet paper. Did you know we flush 27,000 trees down the toilet each day?
We can break this habit by buying bamboo or 100% recycled toilet paper, both offered by Who Gives a Crap. My mail lady was so intrigued, that I opened the box and gave her a roll to try! I know she's going to love it.
In a similar spirit, you can get $10 off your first subscription with the code 'GOINGZEROWASTE'!
how do you store it?
Another thing I love about Who Gives a Crap is you have the option of ordering half a case! I've heard many people complain about living in small spaces and not having the ability to store 48 or 96 rolls of toilet paper.
I currently live in 300 sq. ft. so I completely understand your plight.
I'm storing part of the box under my bed, and the rest on my bathroom shelf. I have the very festive holiday rolls. I'm embarrassed to say, right now, it's the only holiday decoration I have up in my tinyish home.
These festive wrappers can be upcycled to make a cute wrapping paper for smaller gifts or even darling little bows.
I'm working to change that this weekend. I have been feeling the holiday spirit in other ways though! Have you seen all the holiday content I've been cranking out??
how well does it work?
When you use a bidet, your bottom is very wet. You need a strong toilet paper that's not going to fall apart. Who Gives a Crap's bamboo toilet paper absorbs water without tearing and falling apart. As a bonus, it has all all the softness of a 3 ply without the guilt.
do they walk the walk?
It's important to make sure the companies you're supporting are really working towards making a difference. I can 100% stand behind Who Gives a Crap and their mission.
Who Gives a Crap has already donated over a million AUS dollars to their projects. They donate 50% of their proceeds to fund hygiene and sanitation projects like clean water and toilets. Did you know, 40% of the world's population doesn't have access to a toilet?
You can read more about their impact report here.
Beyond just their amazing philanthropic side, based on the materials they use, Who Gives A Crap has calculated they've produced enough to save over 50,000 trees, and saved 98 million liters of water and saved almost 6,000 tons of greenhouse gas emissions.
what's the catch?
No catch! It's a total steal. Price wise it costs .25 cents for 100 sheets. It's a great value so you can stay in budget, go plastic free, and help people in need.
I think it's pretty clear to see why Who Gives a Crap, will always be on my bathroom shelf. You should grab a box and don't for get to take $10 off with the code 'GOINGZEROWASTE'. Just a little gift from me to you. 😉