10 Sustainable Valentine's Day Gifts
February 1, 2020 | Kathryn Kellogg
Last Updated on October 12, 2023
These Valentine's Day gifts will show all the people you love most that you care — and that includes Mother Earth!
These Valentines Day gift ideas are the perfect alternative Valentines Day gifts for the typical consumer-driven, plastic-laden, cheap gifts that flood the holiday. You can easily celebrate a perfectly eco friendly Valentines with this gift guide. I've curated the 10 best sustainable Valentine's Day gift ideas, regardless of how or who you're celebrating with!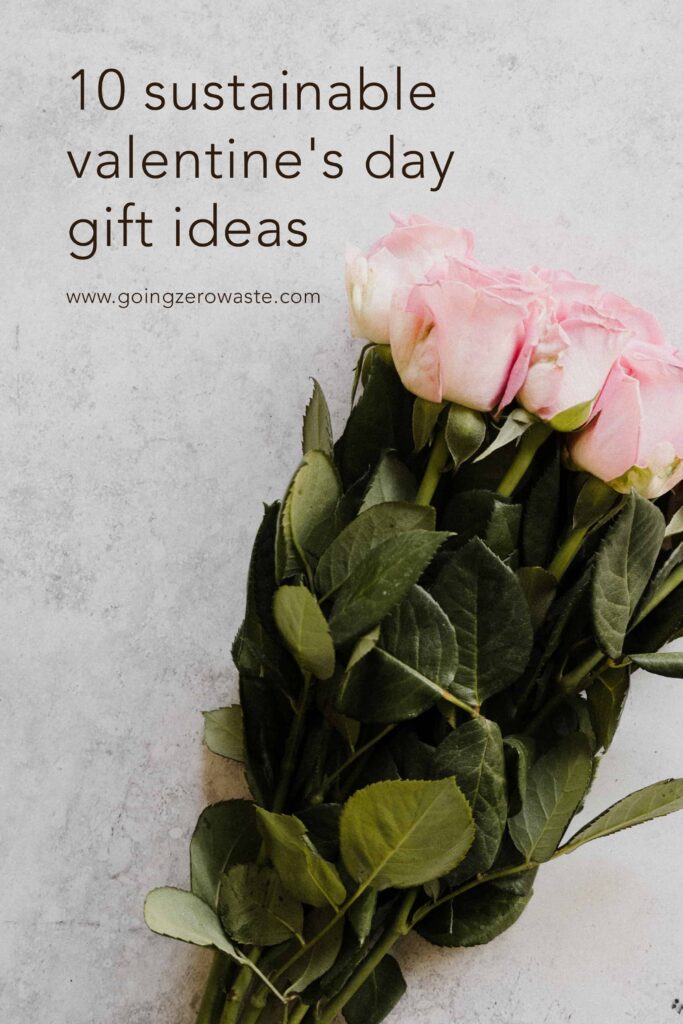 This post was sponsored as several of the links below are affiliate links.
For more information please see my disclosure policy.
valentine's day gifts
Valentine's Day is hands down my favorite holiday.
That might surprise you – but it's not the consumerism aspect I love, it's the idea of showing affection and appreciation to those I love most.
And, it's the only holiday where it's socially acceptable to express your love with bad puns.
There's way too big an emphasis on romantic love – I think this day should be treated as a day to celebrate love in ALL forms.
I think it's just a nice reminder to appreciate your friends and family! So this gift guide covers Valentine's Day gifts for anyone and everyone.
That said, if you do have a significant other, you don't need to get them plush red teddy bears that'll just end up gathering dust.
There are so many thoughtful ways to spend Valentine's Day with those you love without creating waste.
To help you celebrate, I'm sharing with you some alternative, eco-friendly Valentines Day gift ideas!
Let's spread the love – and a sustainable lifestyle – together.
valentines day gift ideas for your significant other
if you're feeling sexy:
Wanna feel extra sexy? Check out these recycled lace lingerie sets by Azura Bay.
Not only are these undergarments made from recycled lace, but they're also size-inclusive and made fair trade in Europe (Bulgaria and Latvia to be exact).
More than 15 million tons of used textile waste is generated each year in the USA.
We certainly need to support efforts being made to reduce that amount – like purchasing recycled lace undergarments! It keeps good material out of the landfill.
Even if you don't have a partner to impress, it's nice to treat yourself every once and a while. You deserve to feel sexy while supporting the planet!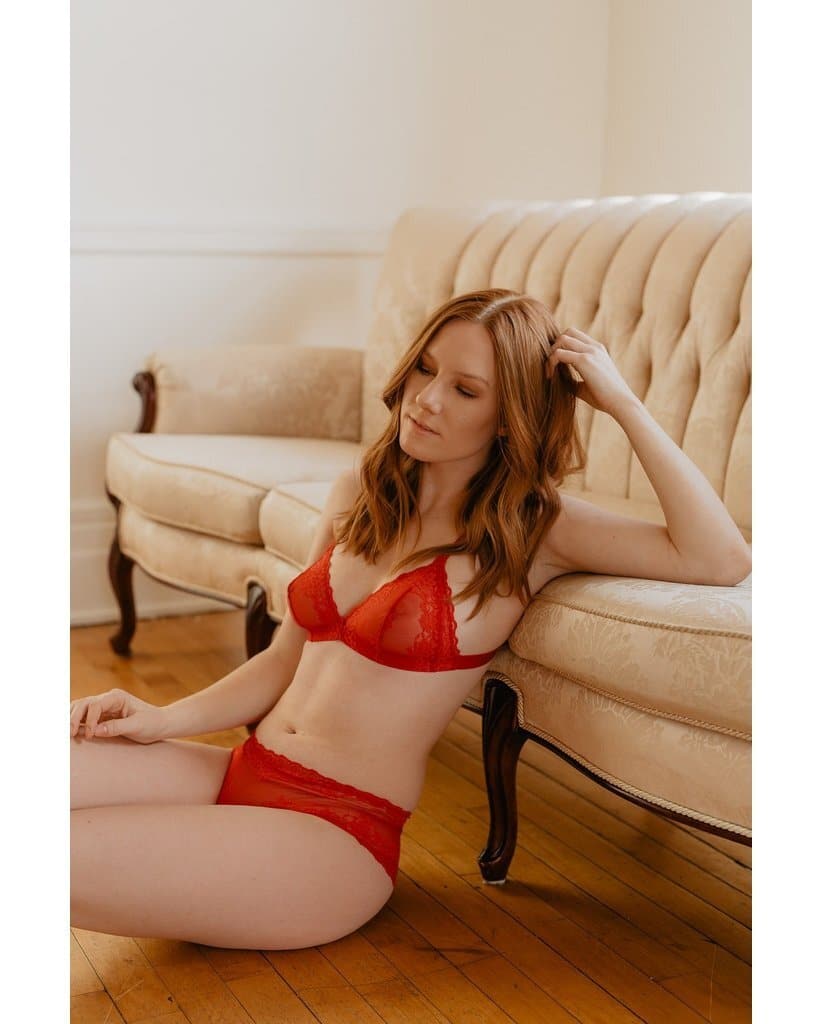 to get frisky:
Want to get a little naughty under the sheets? Be sure to get the bed ready with SOL Organics bed sheets.
I love SOL Organics because they're fair trade certified and use organic cotton to craft their sheets!
They also have a GOTS certification, which means they only use eco-friendly and socially responsible production facilities.
They don't use any pesticides, chemical fertilizers, or dyes to grow their cotton.
Also, their sheets are never processed with industrial solvents, irradiation, or genetic engineering.
Everything SOL Organics sells is free from formaldehyde, pesticides, herbicides, endocrine disruptors, and phthalates.
I recommend grabbing their sateen sheets – these are great for winter snuggling (among other things) but will also transition nicely into spring and summer as well.
They're super soft and silky smooth, but very durable.
to get extra romantic:
Want to start a romantic Valentine's Day tradition? Write love notes to your significant other in this gorgeous tree-free leather journal!
Not only is this notebook super fitting for Valentine's Day (it's red and has a heart on it), but it's also handcrafted by artisans working with fair trade partners from Noah's Ark.
Feel free to sketch each other in it, write love poems to one another, or just write sweet little nothings for their eyes only.
Each Valentine's Day, you can grab the same notebook and repeat the process, all while looking back over your past notes.
Justin and I have had this tradition since our one-month anniversary and it's my all-time favorite way to have an eco friendly Valentines. I look forward to the tradition every year!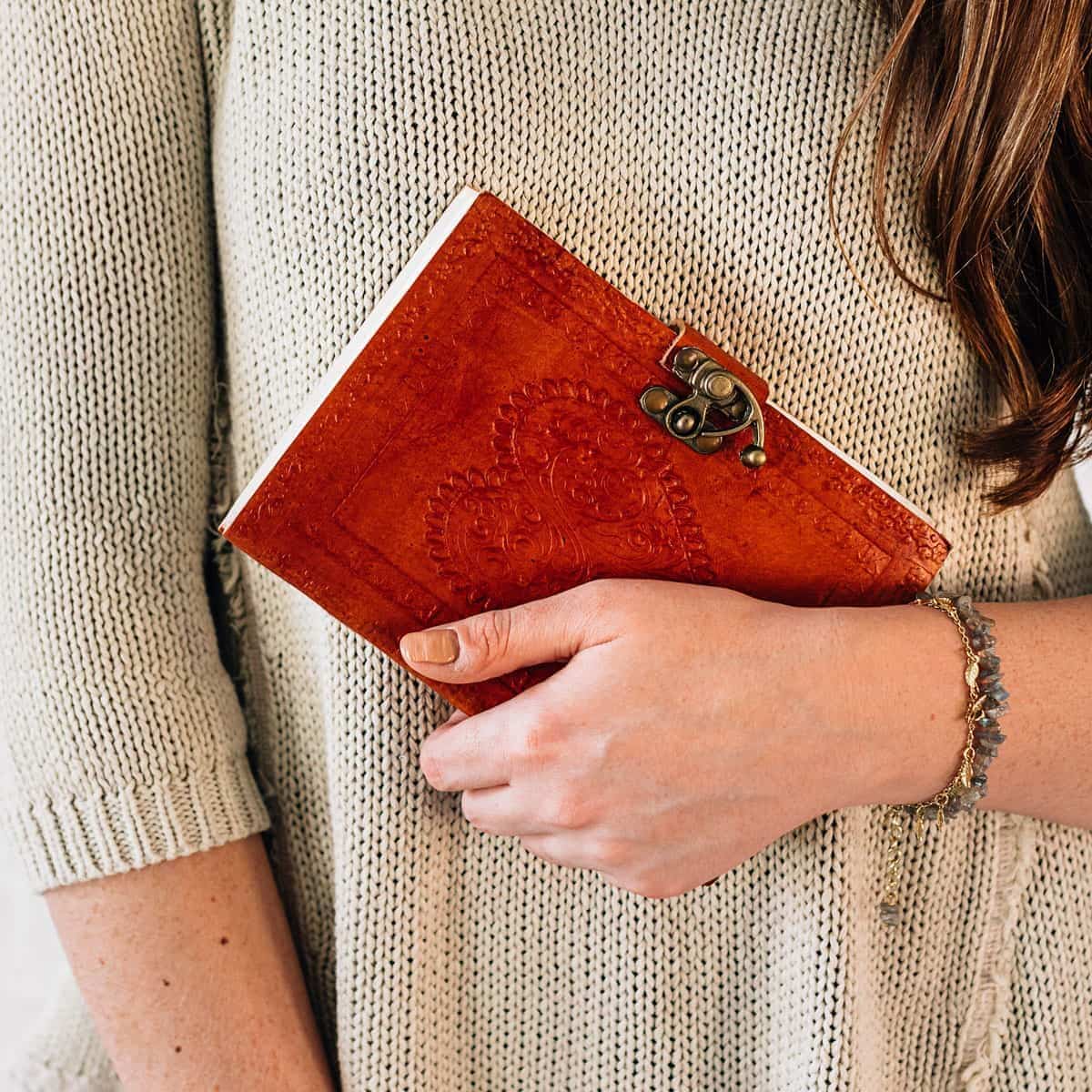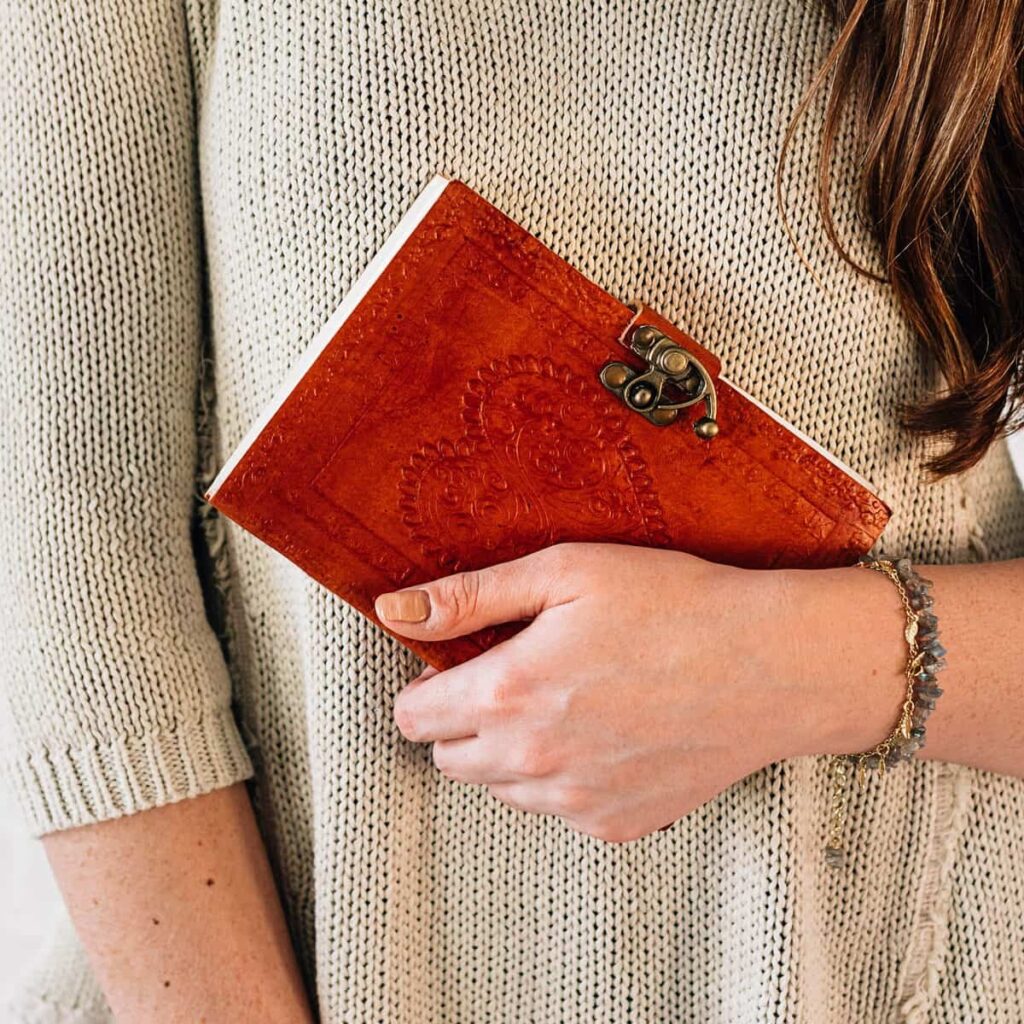 for the traditional candlelit dinner:
Got a hot date? Why not set up a traditional candlelit dinner for two? It's fun to go out, but sometimes staying in and cooking is even more romantic.
Impress your sweetheart with a delicious, plant-based meal. This butternut squash risotto with kale has my mouth watering. I also highly recommend these chocolate truffles for dessert – super easy to whip up!
Oh – and don't forget the candlelight, of course. I recommend this Awaken candle from Shanti Creations – it'll set the perfect mood.
Did you know conventional candles are loaded with questionable ingredients?
They emit toxins into the air as they burn – not exactly romantic.
The Awaken candle from Shanti Creations is so nice because it's made with coconut wax, essential oils, and cotton wicks.
It smells like a white floral bouquet of lily and rose petals with hints of sandalwood. No toxins here!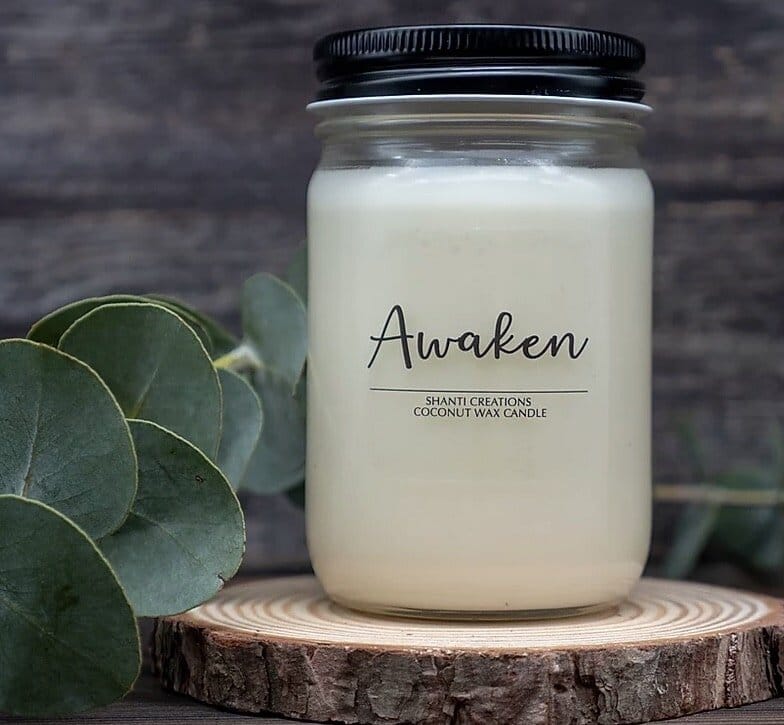 for the perfect exchange:
Are you and your partner a perfect match? Match even more with these hemp his + her undies from Azura Bay.
These undies are made from organic hemp and cotton blend.
They're soft, antibacterial, and easy on the earth. Hemp is great for the planet because it grows fast and doesn't need any pesticides.
You'll feel super cute knowing you match with your sweetie, and not sacrificing the planet.
To make this an extra festive gifting, give your SO their pair and then show them that you match! If you get my drift… (wink wink).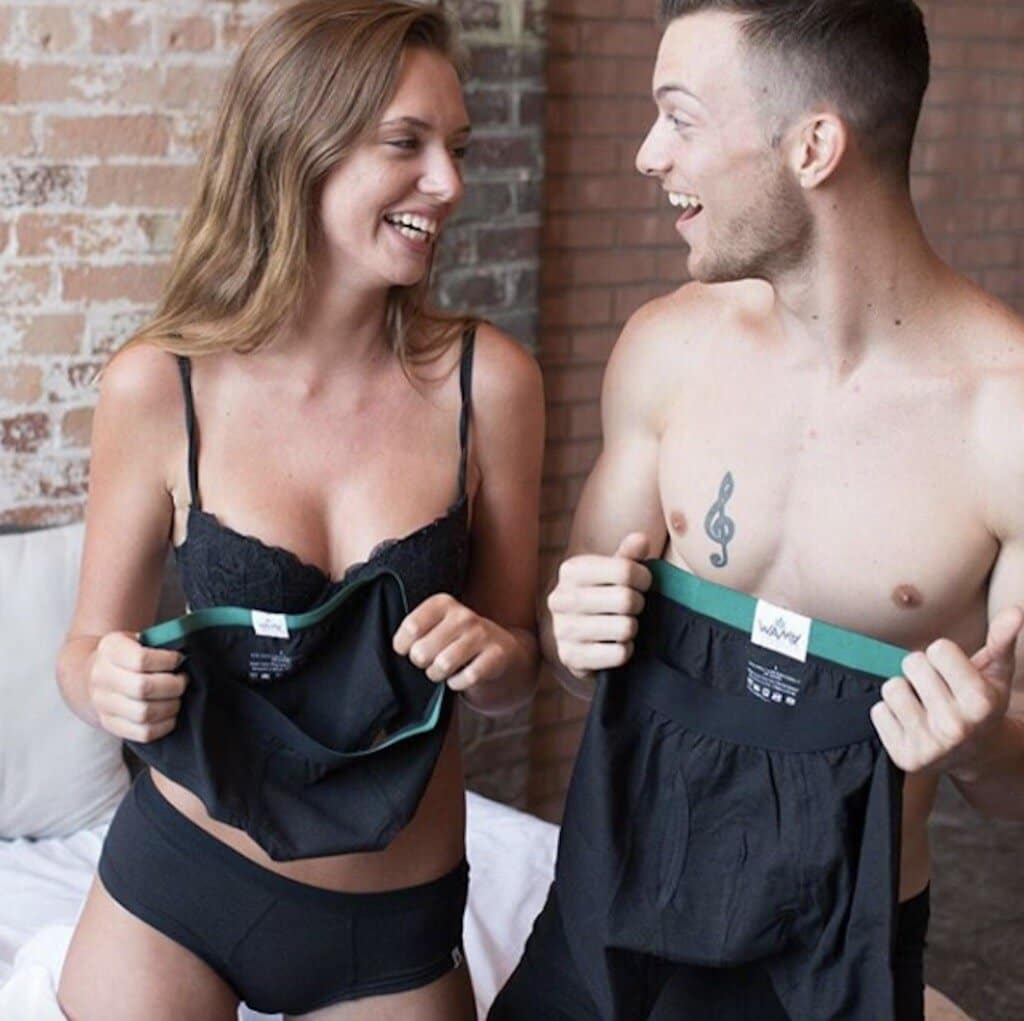 alternative valentines day gifts for moms
for the perfect token of your love:
Lots of jewelry you find on the market isn't exactly eco-friendly.
This heart pendant from Luna and Rose is, though – it's made from recycled sterling silver which isn't super easy to find.
I love Luna and Rose because they have an entirely closed-loop production system, meaning they have zero waste from any of their collections.
They also participate in 1% For the Planet, meaning they pledge to donate at least 1% of their annual sales to charities that give back to the environment.
I love how this heart pendant is subtle but beautiful.
You don't have to gift it to just a significant other – it makes a lovely gift for friends or moms too!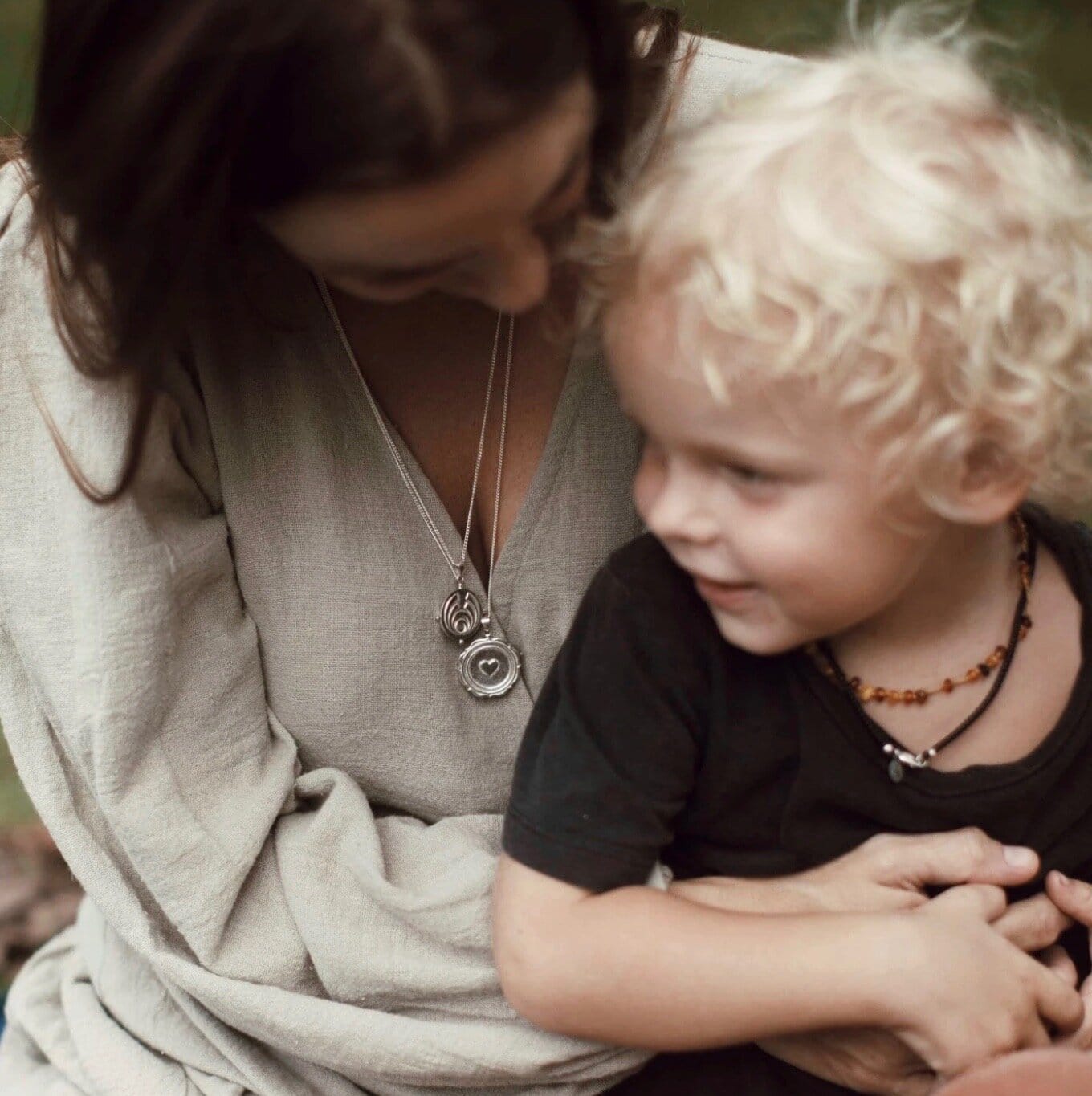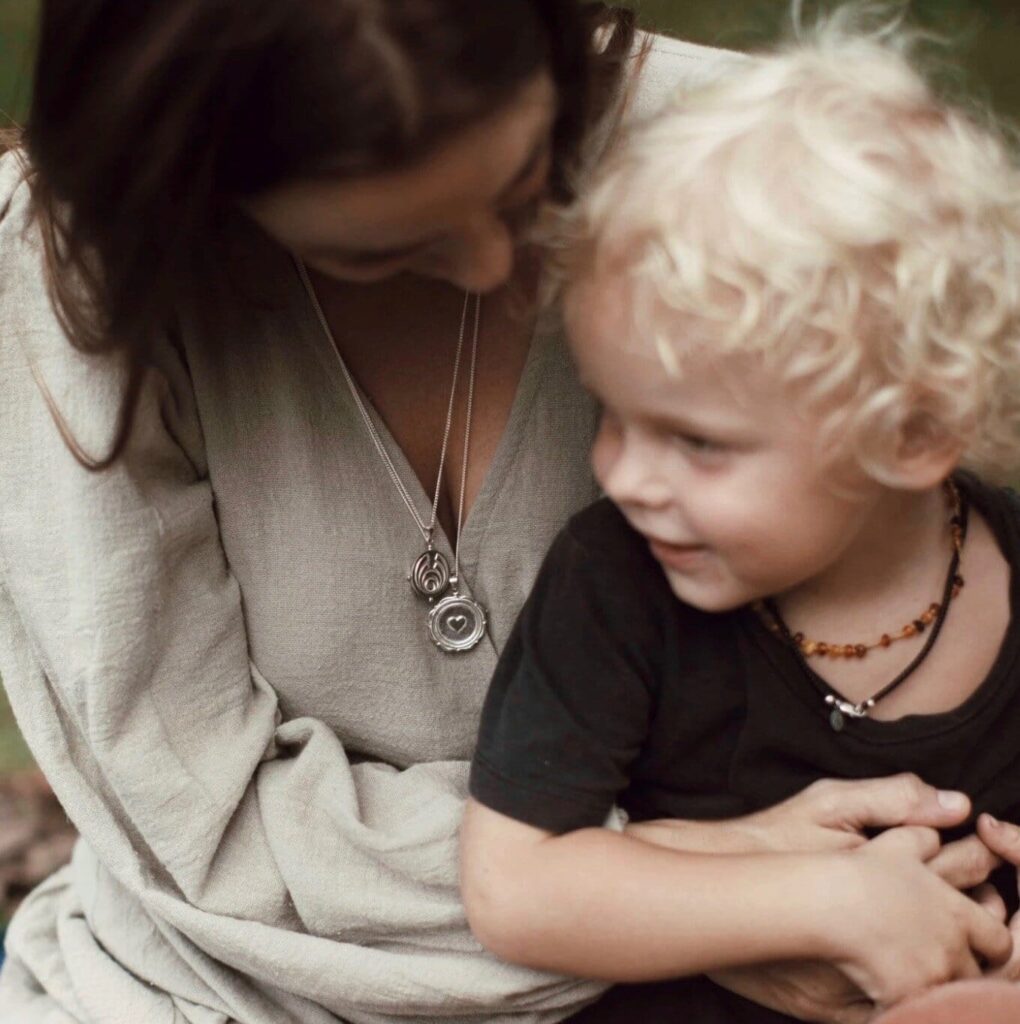 to replace flowers:
Gifting flowers is nice, but they often come wrapped in plastic and are likely grown overseas — which results in a lot of carbon emissions.
Why not gift your mom a tree instead, using Treedom?
With Treedom, you plant a new tree in just a few clicks. You choose it online and farmers plant it in their country.
If you choose to gift a tree to someone, you can select how you'd like it delivered (by message, email, or by greeting card – the actual tree doesn't get delivered to them, of course).
There are some cute Valentine's Day themed offers on Treedom right now where you can plant two trees – one for you, and one for your sweetie.
You will be able to learn all about your tree, including its history.
You will be able to see photographs right after the tree is transplanted, you'll know where it's growing, receive pictures and updates from the field, and always know what the weather is like around it. It's such a unique gift.
If you want to gift flowers, I highly recommend the Montana based florist, Earth Within Flowers.
They believe in supporting local Montana as well as organic floriculture by sourcing blooms from Northwest farmers, their cutting garden, and wild foraging from surrounding natural areas.
They create beautiful dried flower arrangements for delivery worth checking out.
to snuggle up all year long:
Nothing beats Valentine's Day pajamas – you can wear them year-round because they're just that cute.
Especially these heart pajamas from Lonely Hearts. 
I have an older version of this sleep set, but with rainbow hearts and I love it!
Loney Hearts is manufactured in New York City using local deadstock and certified organic cotton made in green textiles.
Deadstock fabric is essentially fabric that would otherwise go to the landfill, so it's truly sustainable.
That said, this pajama set is made from 100% organic cotton. Let Mom get some much-deserved shut eye in the coziest, softest, cutest sustainable Valentine's Day pajamas.
These also make a fantastic gift for that special someone!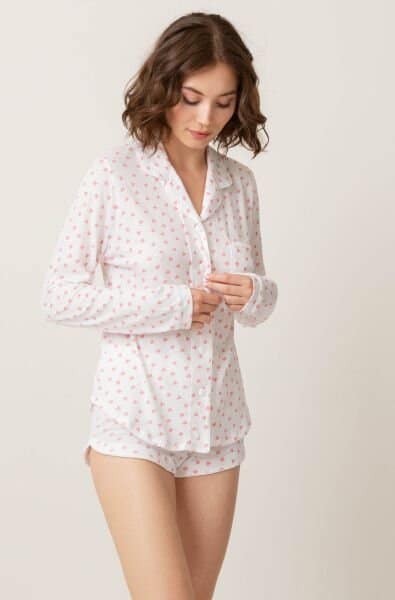 to send your love:
It's super thoughtful to make a homemade Valentine's Day card for a loved one. I absolutely love sending cards to all my friends and family.
If you're not into making your own, no worries.
This tree-free Valentine's Day card from Earth Hero is way too cute, plus eco-friendly! You know, I love the "nuts for you" pun on the front.
It's made from 100% post-consumer recycled paper. Even the envelope is tree-free, made of wheat straw.
This card is also printed with solar energy, processed without chlorine, and the paper was made with wind power!
Ten Thousand Villages also sells a bunch of eco-friendly cards for Valentine's Day as well.
I especially love this handmade 'Owls in Love card' – it's made using nuisance plants by artisans working in the Philippines. 
eco friendly valentines for friends
for something sweet:
Instead of gifting chocolates from the convenience store, why not spoil your lover with Alter Eco?
Alter Eco creates yummy, organic, plastic-free chocolate using all-natural ingredients. It's ethically made so you have absolutely no guilt while eating these tasty treats.
This brand is also a certified B corporation and they're even working to regenerate the rainforest.
Since 2008, they've planted over 30,000 trees and offset 14,400 tons of CO2 as part of their goal to be carbon neutral.
Plus, their truffles aren't wrapped in plastic – they're wrapped in compostable candy wrappers.
The wrappers are made from plant-based, non-GMO, renewable material you can compost.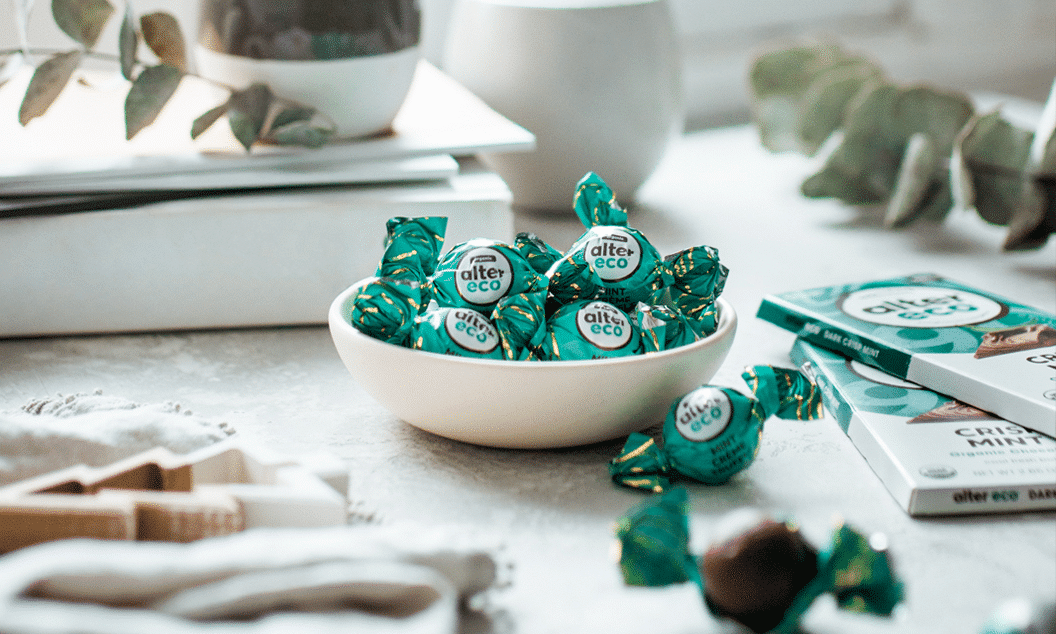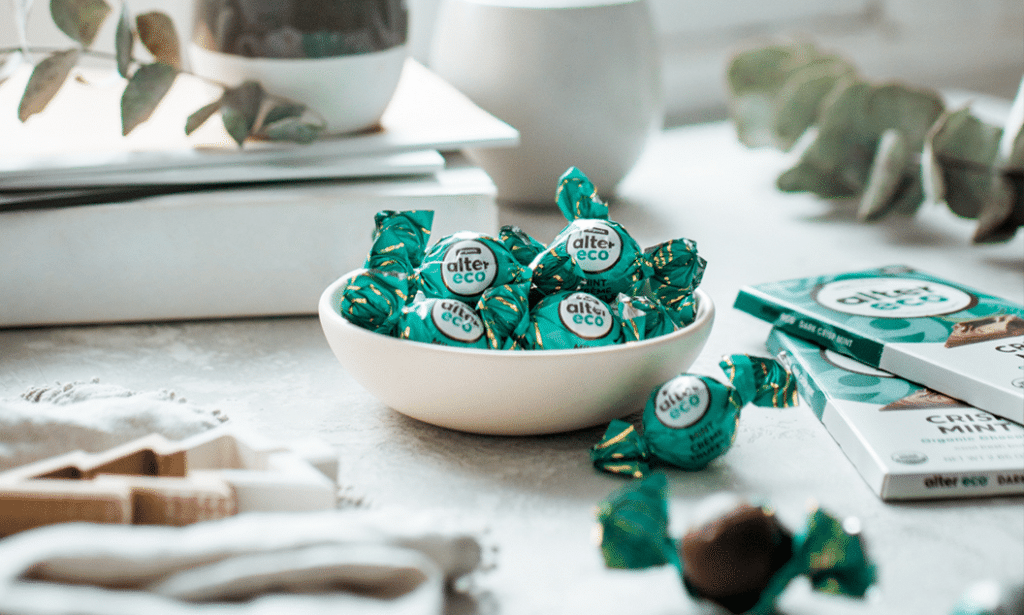 to keep your toes warm:
Don't get cold feet! Check out these cozy socks from Thought in hearts and stripes.
The design is adorable, but what I love most is the fact these socks are made from a super soft bamboo blend.
It's breathable, naturally anti-bacterial, and anti-fungal. Plus, you get a pack of three!
These cute socks make an excellent Valentine's Day gift (or you can always keep them and treat yourself).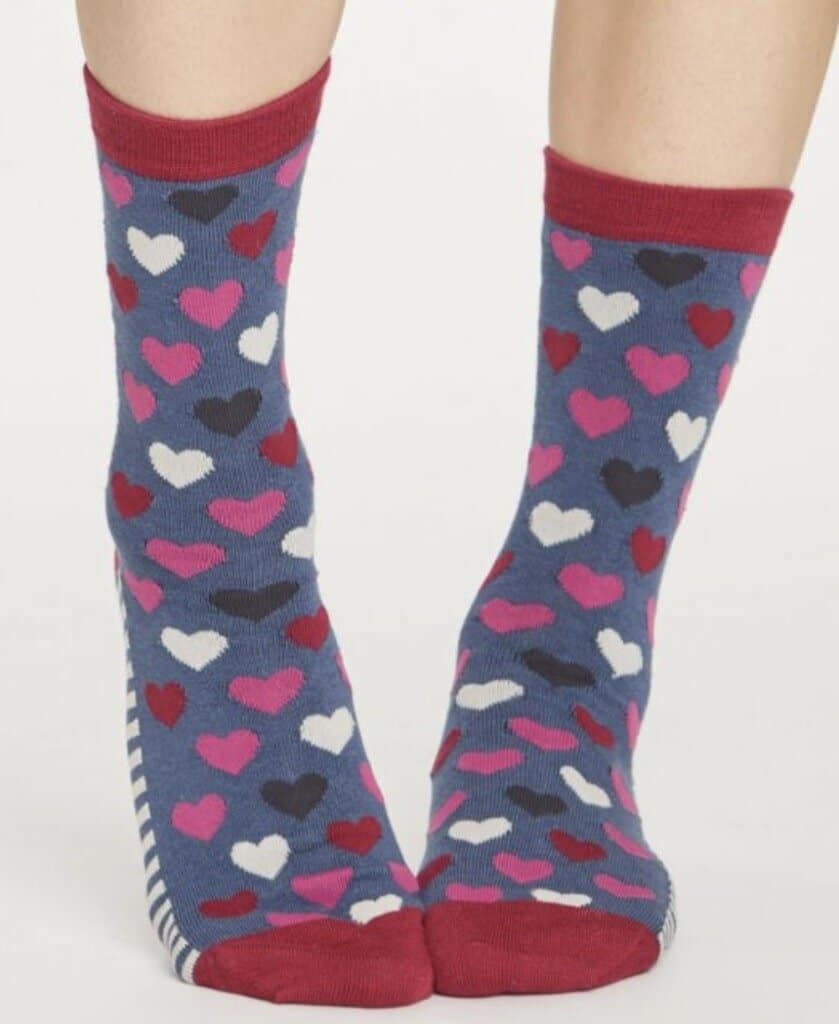 clean perfumes:
Want to smell alluring without harming the environment? I recommend Skin by Clean Reserve, especially for Valentine's Day.
This perfume smells warm and spicy without the phthalates and toxins found in ordinary perfumes.
It's vegan, cruelty-free, gluten-free, and features eco-conscious packaging.
The scent is inspired by – you guessed it – the simple, delicate scent of bare skin.
Perfect for Valentine's Day, it's inviting all while remaining fresh and pure.
I also really love the Phlur fragrances.
They're all vegan, cruelty-free, hypoallergenic and gluten-free.
Plus, Phlur fragrances are sustainably sourced and packaged with recycled materials.
They always use clean, high-quality ingredients – never parabens, phthalates, BHT, phenoxyethanol, and nitro or polycyclic musks.
I personally really love the scent Añoranza — it's ideal for Valentine's Day due to its enchanting fresh floral scent that exudes romance and glamour. 
The literal translation of this perfume's name is "yearning," which is also very fitting. It's defined by notes of mint leaves, jasmine, mariposa, and rum.
to pucker up:
Want the prettiest (but cleanest) pout around? Try this radiant ruby lip crème by Aether Beauty – it's such a gorgeous shade!
I love the fact that Sephora sells clean beauty products – it means eco-friendly beauty truly is catching on and becoming more accessible.
What I love about this sustainable lip product is that it's made with 100 percent recycled plastic, the first fully recycled lip component in the beauty industry. Plus, it's sustainably packaged using FSC paper and soy inks.
Of course, the ingredients are great too.
This lip color is formulated without sulfates, parabens, and phthalates. It's vegan, cruelty-free, and gluten-free.
If you prefer a more subtle lip tint, I recommend cabernet cutie from The Humble Hive.
This cocoa butter infused lip and cheek stain comes in a compostable tube that's four times bigger than typical lip balm tubes!
It's not vegan (because there's beeswax in it), but it is made using simple, natural ingredients like cocoa seed butter, coconut oil, beeswax, and alkanet root powder.
faqs
are sustainable Valentine's Day gifts expensive?
They don't need to be! The features on this list cover a range of budgets but you can show some love for zero dollars if you're creative! It's about thought and effort.
You can re-gift, upcycle, or make your own alternative Valentines Day gifts if you need to celebrate on a budget.
what are some gift-free ways to celebrate Valentine's Day?
Quality time! Take time to visit (bonus points if your phones stay in your bag). Go for a walk. Take a picnic or go out for a meal and catch up. I'm a believer that you can celebrate any holiday gift-free if you're willing to put in the time and effort to do so.
I hope that you enjoyed this list.
If you're curious about other ways to have a more sustainable Valentine's Day for kids and coworkers, I've got a whole blog post on that How to Have a More Eco-Friendly Valentine's Day.
I hope that your day is full of love from your friends and family — and that you take some time to appreciate yourself too!
How do you plan on making Valentine's Day zero waste?