How to Make Apple Cider Vinegar from Scraps
October 12, 2018 | Kathryn Kellogg
Last Updated on July 18, 2021
Remember that apple sauce recipe from Monday? Well I hope you saved your peels and cores because now it's time to make some homemade apple cider vinegar!
Yes, you can actually make vinegar. I know it sounds wild, but it's honestly a piece of (apple) cake!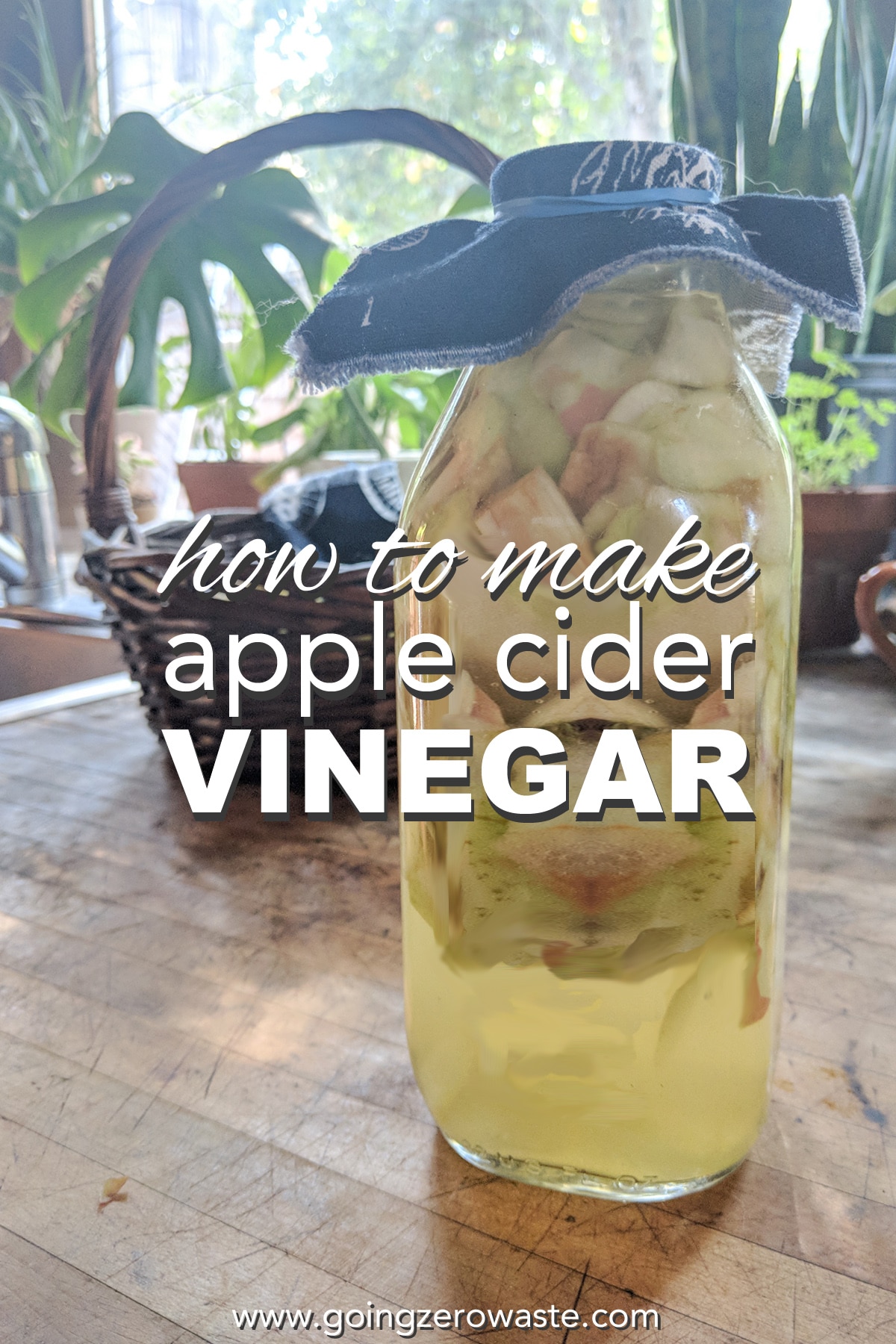 homemade apple cider vinegar:
I've been making my own apple cider vinegar for over five years now. It's SO easy, and SO cheap. There are a few different ways that you can do it. You can use a whole apple that's been chopped and chunked or you can use the peels and cores!
I personally prefer to use peels and cores because it's a great way to use up food that would other wise be going to the compost bin.
Don't get me wrong composting is great! I'm a big fan, and think it's incredibly important. You can read more in a few of my composting blog posts:
But, it's always better to make use and eat your scraps before they hit the bin. Keep those resources in play for as long as possible and save some money too.
Because, when a 'waste' product becomes something delicious and yummy – that's MY kind of recipe!
If you're looking for more recipes that utilize scraps, check out this blog post on full of ideas for cooking with food scraps.
homemade apple cider vinegar FAQ:
I have a full video tutorial on my instagram that you can watch here, and I'm answering some of the most common questions.
does it matter what kind of apples you use?
You can use any type of apple – in fact, you could even use a different fruit altogether. You could make a pear cider vinegar, pineapple, persimmon, fig or anything your heart fancies.
Depending on the sugar content of the fruit, you might just need to add a little bit more to your starter.
do you have to use sugar when making apple cider vinegar?
Sugar is a very important part of the fermenting process. One of the comments on my instagram post explained the process so well, I'm going to quote them. "To make vinegar, you first need to make an alcohol – so the sugar is there so that the yeasts on the apple cores can consume it to create an apple cider, and then bacteria converts that alcohol to acetic acid, making a vinegar.
"You technically could do it without the sugar, but you'd need to make the sugar in the apples much easier to access (probably by juicing them) in order for the yeasts to colonize your solution faster than mold spores could. Refined sugar is very accessible food for yeasts (but not molds or bacteria), so adding it has a preservative effect and gives the yeast a head start and reduces the chance that molds or pathogenic bacteria will colonize your solution before it ferments!" – Chel-z Birch Wyse
can you use honey instead of sugar?
I tried using honey to make a batch of apple cider vinegar, and it didn't go super well. I've heard it's possible, but it's a much longer process. It works so much better with the sugar so even if you're a very low sugar household, like we are, it's worth getting some!
I'd borrow half a cup from a friend / family member or just get a scoop from your local bulk bin. That's certainly one benefit of buying without a package is that you can get exactly what you need. For more info on bulk bins check out my blog post The Ultimate Guide to Zero Waste Grocery Shopping.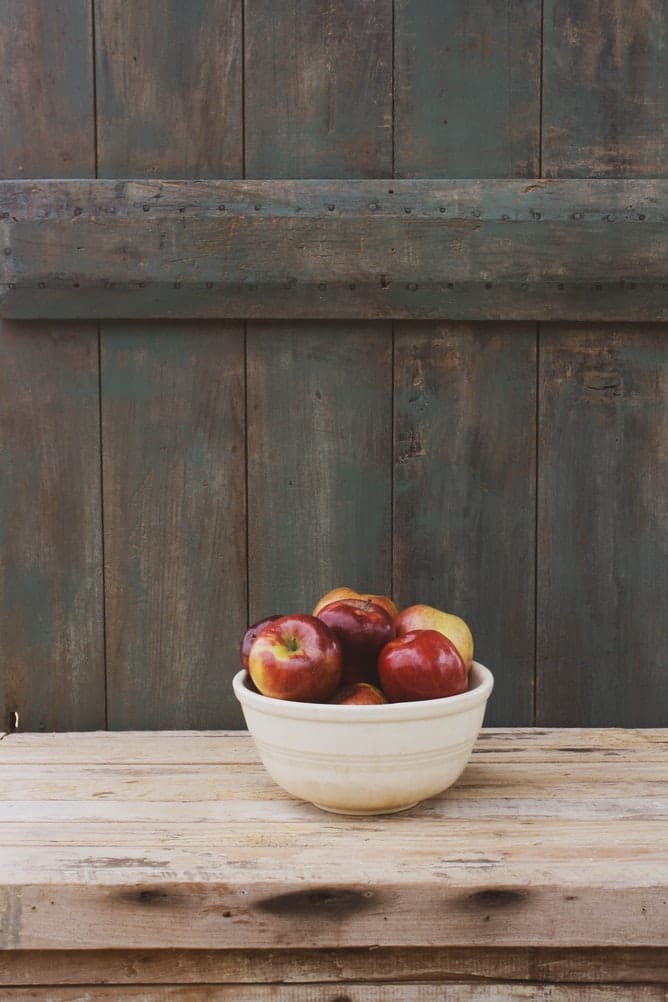 do you need to remove the seeds from your apple cores?
If you're making apple cider vinegar from apple scraps – which you totally should because #EndFoodWaste, you might be wondering if you need to remove the apple seeds.
You certainly can if you're feeling overly cautious, but you won't be crushing them, grinding them, ingesting them or even leaving them in the mixture. And, the average person would have to eat over 100 seeds to get sick. (source)
does homemade apple cider vinegar need a preservative?
Vinegar is a preservative, but until it's fully converted you do need to keep a close eye on it to ensure all of your apples stay submerged. If the apples hit the air they can grow mold, and if they do your batch will be bad.
If you want a fool proof hack check out the last bullet point!
how do you use your homemade apple cider vinegar?
Here's 7 uses for homemade apple cider vinegar. It's one of the most versatile products in my home!
salad dressing
homemade pickles (I love pickled green beans and red onions!)
I use a splash when cooking rice for a little bit of acidity
A splash for a produce wash
Hair rinse to remove any excess build up
A natural weed killer
P.S. A homemade vinaigrette is perfect for topping this spinach, apple, walnut salad.
does vinegar go bad?
Good news, your vinegar will last pretty much forever! It's a fermented product, and the 'expiration' date on most vinegars you buy in store is completely arbitrary. According to the vinegar institute. "Because of its acid nature, vinegar is self-preserving and does not need refrigeration."
can I make the process faster?
Ok, so this is my FAVORITE vinegar hack. Whether you have homemade apple cider vinegar with the mother or you still have some store bought – you can create an eternal fountain of vinegar.
If your vinegar is in a jar with a small opening, transfer it to one that's a bit larger. It will help it ferment a bit faster.
Fill the jar with half apple cider vinegar with the mother and the other half with water. Place a small swatch of cloth over the lid with a rubber band, and in about a week or two, you'll have a full bottle of ACV. It really is that easy!
Additional notes: I keep the bottle just like you see below with the swatch of cloth on top and keep the vinegar constantly going, and my bottle has been going strong since 2017.
the tools:
You need to make sure that you're using a very clean quart sized jar!
rubber band
swatch of cloth
the ingredients:
2 cups of apple peels and cores
2 tablespoon of sugar
3 cups of filtered water
how to make apple cider vinegar:
place the apple pieces in the glass jar
fill the jar with filtered water
add in the sugar and shake until it dissolves
cover the jar with the swatch of cloth and a rubber band
let the jar sit in a dark place for about 3-4 weeks
stir it occasionally and make sure that the apple pieces are fully are submerged
after 3-4 weeks, strain out the apple pieces and compost
leave the liquid in the jar for another 3-4 weeks
then it's ready to use!
other notes:
Your vinegar should be bright and well…. vinegary. If it's overly sour or moldy, it's not good.
This same process can also be used to turn old red wine into red wine vinegar and you can get my tips for that in my post How to Use Up Your Leftovers from Thanksgiving.
Would you try making your own apple cider vinegar?