Apple Pie Overnight Oats
October 9, 2018 | Kathryn Kellogg
Last Updated on April 9, 2020
It is day two of Apple Week and I'm coming atcha with one of my FAVORITE breakfast recipes, apple pie overnight oats!
Yesterday, I shared a recipe for my favorite Crockpot Apple Sauce, and it's sooooo easy to make!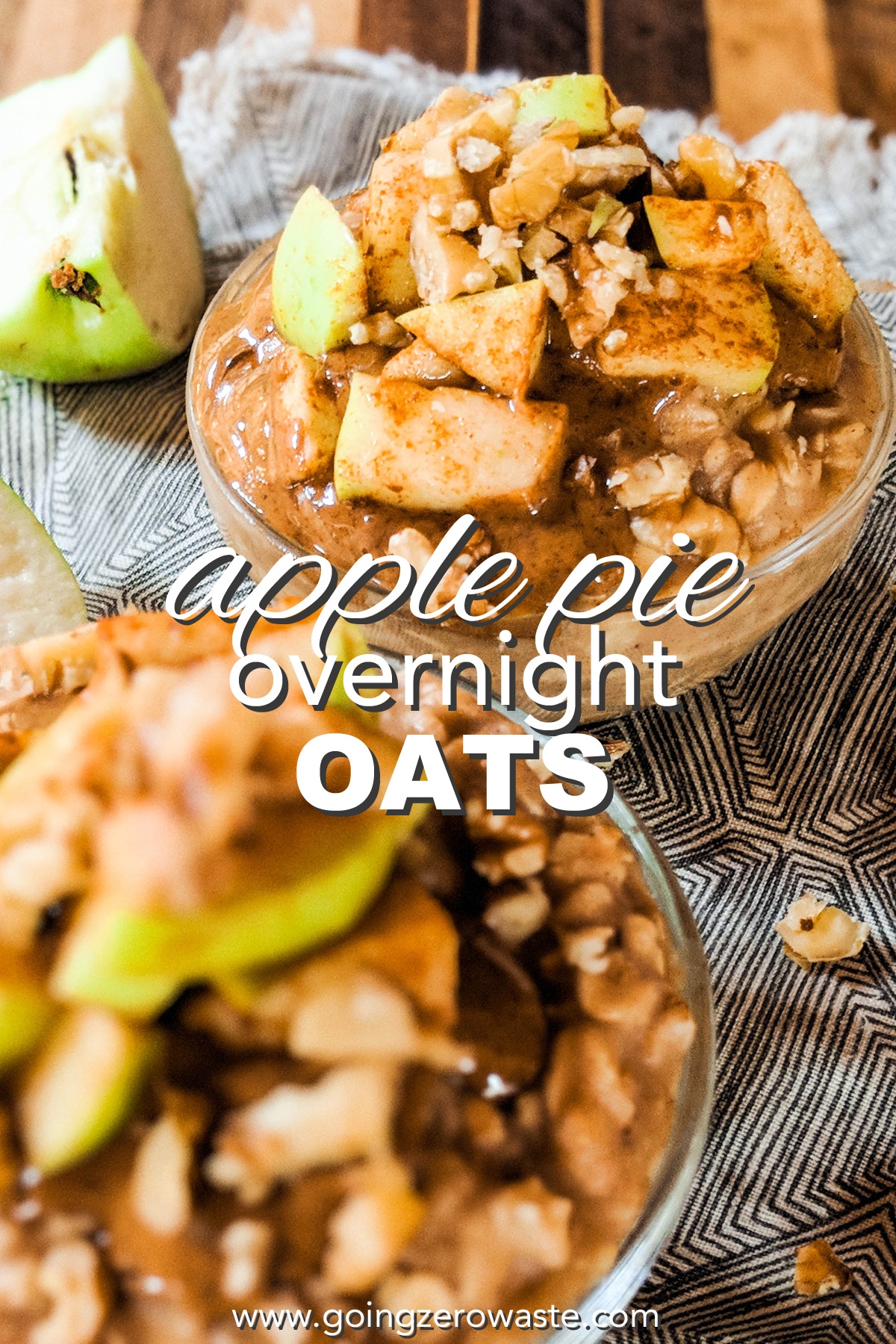 If you're looking for more tasty apple recipes, make sure to check back as there are several more coming later this week like How to Make Apple Cider Vinegar from Scraps and my favorite Apple Salad.
As far as the oats go, you don't have to make them in an overnight way, you can easily make it on the stove top.
I like to do overnight oats if I need to grab my breakfast and go, but if I'm working from home, I just make them on the stove as it only takes a few minutes.
I have really grown fond of oatmeal for breakfast. I don't particularly love cold foods so having a nice warm bowl of oatmeal and a cup of hot tea makes me really happy.
As an added bonus, a bowl of oatmeal will stick with me, unlike a smoothie which tends to have me hungry within a couple of hours.
Plus, a bowl of oats is super inexpensive to make especially when prepped with apples from the backyard!
I think oats are one of the easiest ingredients to find in bulk bins without any packaging. If you're new, make sure to check out my blog post The Ultimate Guide to Zero Waste Grocery Shopping.
Apple Pie Oats
1 Cup of Old Fashioned Oats
1 Cup of Milk
1 Cup of Applesauce
Pinch of Salt
1 Teaspoon of Cinnamon + more for topping
1 Teaspoon of Nutmeg
1 Teaspoon of All Spice
Optional Toppings
Overnight:
Combine all of the ingredients except for the optional toppings in a 16 oz mason jar
Stir well
Place in the fridge overnight
Add optional toppings in the morning if you like
Stovetop:
Place the oats, milk, and apple sauce in a sauce pan on the stove
Combine over medium to low heat for 3-5 minutes
Add in the salt, cinnamon, nutmeg, and allspice
Place into a bowl and top how you desire!
If you're making the apple week recipes, I'd love it if you'd tag me on Instagram! I love it when y'all make the recipes.
When fall rolls around are you a fan of apple cider or pumpkin spice?