How to Freeze in Mason Jars
January 19, 2018 | Kathryn Kellogg
Last Updated on September 15, 2020
Mason jars are the handiest little kitchen items to have around. It's easy to store food in them whether it be a portable lunch, dry good storage, or even for the freezer!
For 13 more unexpected uses for mason jars check out this blog post here.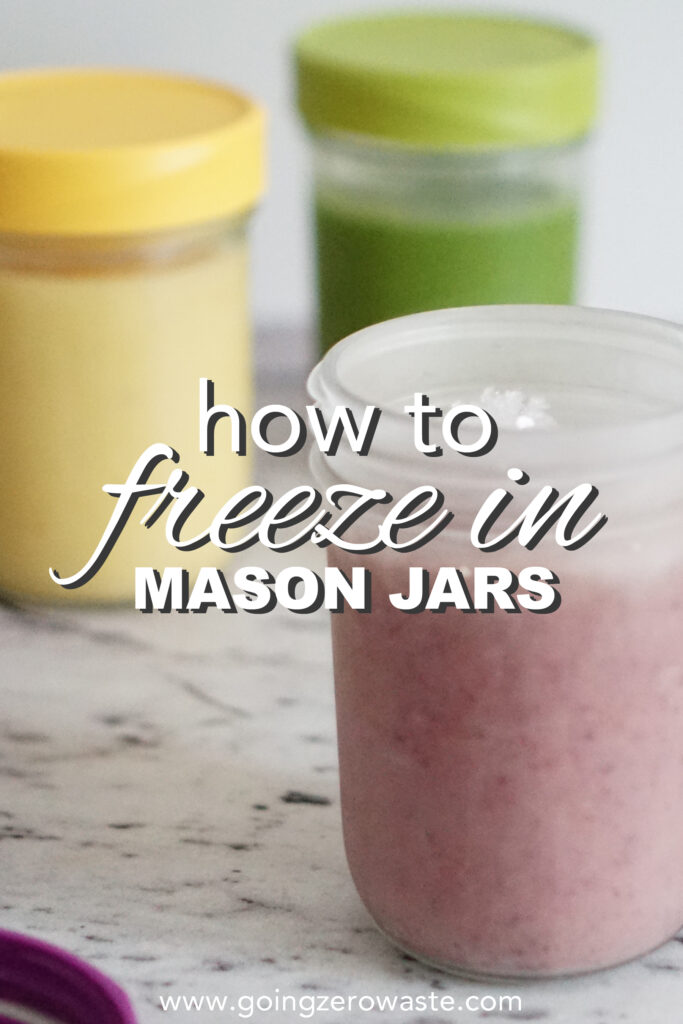 This post was sponsored by iLids. I received these items to try for free. All thoughts and opinions are my own. Please see my disclosure policy for more information.
Can You Freeze Mason Jars
Yes, you can freeze in mason jars. I do so with a little help from my iLids.
I know you've heard horror stories of broken glass and inevitable death, but I promise it's not that scary.
First of all, if the jars do decide to have an earth shatteringly good time in your freezer, the breaks tend to be clean and kept intact by the frozen liquid.
I have had a glass jar break on me. When it broke, it cleanly split into three pieces. I let the jar defrost in the sink (bye-bye homemade veggie stock) picked up the big chunks of glass and threw them away.
Yes, I threw them away! In my trash jar posts, I talk about my broken glass tally. I don't store it in the jar because that sounds dangerous. Broken glass cannot be recycled.
Please do not put broken glass in the recycle bin. Most workers sort recyclables by hand, and you don't want to endanger them.
how does this work?
The key is to fill to the appropriate line. Liquid expands when it's frozen. By leaving ample room at the top, you allow for this expansion without breaking.
If you have a straight jar, you should leave 1-2 inches at the top. If your jar has shoulders, you should fill 1-2 inches below the shoulder.
I'm still nervous!
If you're still nervous, then try freezing in the jar without the lid on. Once the liquid is frozen, screw the lid on tight and you'll be fine.
You can see in the photo below, how the liquid rises when it's frozen. It rises in the middle and has a hump like a camel.
Why do my lids keep rusting?
When I freeze in my metal mason jar lids or store them in a humid environment like under the sink or in the bathroom, my lids tend to rust.
I have finally found a great solution to this problem, and I am so excited to be working with iLids! iLids are made in the US and they are in a whole bunch of stores nation wide!
Of course, you can always shop online. For more information about shipping and zero waste read this blog post here.
The lids are made of recycled Polypropylene #5 and can be recycled when their life is complete. However, that should take a long time. These lids are super sturdy!
They have gaskets on the in the lids which keep everything leak proof, and if something happens with your gasket… you can get a replacement from the company!
Yes these lids are made from recycled content, recyclable, and there's a built-in way to repair a gasket. This is a zero wasters dream!
I love how colorful and playful they are. If color really isn't your thing, don't worry they have some neutrals too.
There's a solid lid which is great for food storage, but they also have some with drink lids designed to be used with and without a straw. I personally would still use a straw as I don't like to drink directly from plastic.
The lids are super easy to clean by hand or they can be put in the dishwasher.
On top of being my go to lids for freezing, they're perfect for parties! It's the perfect way to distinguish between glasses and hold reusable straws to prevent a lot of unnecessary party spillage. Definitely a must have for BBQ season just around the corner.
Do you have any tips for freezing? I find utilizing my freezer is such an easy way for me to prevent food waste!