Rainbow Grocery: A Guide to Zero Waste Shopping
February 2, 2016 | Kathryn Kellogg
Last Updated on April 3, 2020
I am so happy to finally have visited Rainbow Grocery. I felt like a kid at disney world.
I would love to go back and take more detailed notes, but I was too enamored to focus.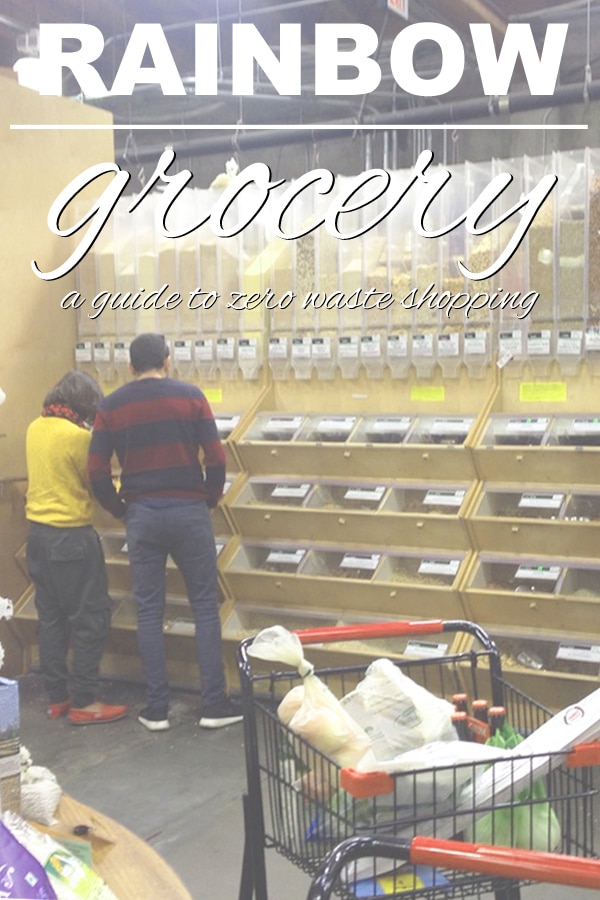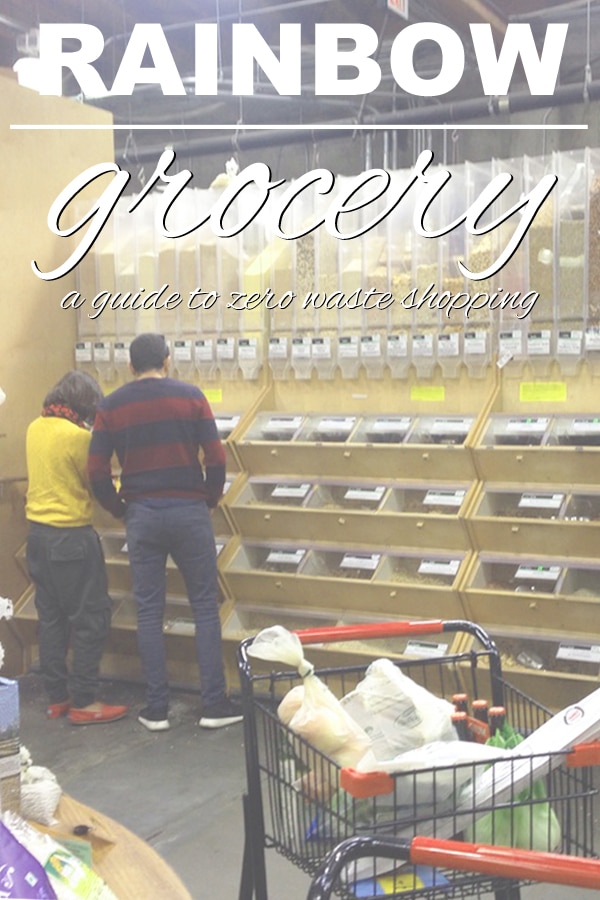 If you've had difficulty finding anything, Rainbow probably has it. This is a list of things that stood out to me.
Thankfully, I had two friends to help document our excursion Gillian and Danielle from No Need for Mars. We met almost a year ago! 
beauty section:
Activated Charcoal
Epson Salts
Lotion
Shampoos
Xylitol
diatomaceous earth
Washing Soda
Laundry Detergent
Skin Cleanser
Shea Butter
snacks:
Every type of dried fruit imaginable: bananas, persimmon, dates, pears, raisins, crystalized ginger, mango, blue berries, inca berries, pineapple, etc.
Chocolate covered everything
Ginger Snaps
Trail Mixes
Granola
Pretzels
Nuts
I was actually a little disappointed in the snack department (no cheddar whales), but I find most other bulk stores only have snacks; so, I didn't mind one bit.
The most impressive part of the store is the wet good section.
wet goods:
Kimchi
Miso
Salsa
Tofu
Maple Syrup
Honey
Molasses
Nut Butters
Sauerkraut
Olives
Olive Oil
Safflower Oil
Canola Oil
Seasame Oil
Grapeseed Oil
Tahini
Nutella
ACV
Liquid Aminos
Coconut Oil
Tamari
Agave
My dad sent me a penguin jar filled with maple syrup for Christmas two years ago.
I finally had the opportunity to refill him! Such and exciting day. I mean look at my face – sheer joy and amazement. 
They built a tree where you can pump maple syrup into your own container. So. Exciting.
Rainbow has an AMAZING selection of jars to choose from incase you need one!
I know you've read here several times, that I don't need anymore jars – but I was a total sucker for a large tuliped weck jar.
It made it a lot easier to scoop peanut butter. As you can tell, I was struggling. 
But, Rainbow has sinks by all of their sticky ingredients to clean off your hands and jar!
coffee, herbs, tea, spices:
When I'm back I will take more notes on theses sections. But, they did have bee pollen, which should help with Justin's allergies this spring.
dry goods:
Dry Pasta: Bowtie, Macaroni, Tortellini, Spaghetti, but upfront they have freshly made raviolis! (next on my list of things to buy)
Flours: Spelt, Rye, All-Purpose, Oat, Bread, Rice, Buckwheat, Whole Wheat, Semolina etc.
Sugar: Sucant, Coconut, White, Brown, Powdered Sugar
Grains: Quinoa, Brown Rice, White Rice, Farro, Millet, Grits, Sushi Rice, Barley, etc.
Beans: Garbanzo, Pinto, Navy, Black, Fava, Cannellini, etc.
Xanthan Gum
Agar Agar
Beet Root Powder
Whey Powder
Oats
Dry Milk
Salts
Cornstarch
Arrowroot
Baking Powder
Baking Soda
This is just the tip of the iceberg at rainbow grocery. If you are ever in the area, I highly recommend you check it out.
how does it work?
There are several scales scattered throughout the store.
You weigh your container *before* filling it. You can use containers you brought or purchase some from Rainbow. 
Fill up your container with what ever you like and take a picture of the bin number with your phone. That way you don't have to write it on a tab. 
When you check out, the cashier will subtract the weight of your container.
Then they'll ask what's inside, you'll give them the bin number. They'll also subtract $.05 for each container you bring! 
Wasn't that easy?
You can read a more in depth article about zero waste shopping here.
If you don't have access to bulk check out my article here.